The Beginner's Guide to Crypto Apps
There are a lot of crypto apps to choose from.
Here's what to look for in features and pricing.

All of our content is written by humans, not robots.
Learn More
The content on this page is provided for informational purposes only. Security.org does not offer financial or investment advice, nor does it advise or encourage anyone to buy, sell, or trade cryptocurrency. It is advised that you conduct your own investigation as to the accuracy of any information contained herein as such information is provided "as is" for informational purposes only. Further, Security.org shall not be liable for any informational error or for any action taken in reliance on information contained herein.
If you want to invest in crypto, the easiest way to get started is to download a crypto app. A crypto app will allow you to buy or sell crypto within seconds, anytime you want. Like with all apps you download from the internet, you'll want to have the right digital security set-up in place before you dive in. Digital threats are literally everywhere today and you don't want to expose your identity or your finances to crypto hackers.
There are actually a lot of crypto apps available. For example, a search for "crypto apps" in the Google Play Store brings up these results, among others:
Coinbase
Voyager
Crypto.com
Binance
Gemini
Robinhood
Trust Wallet
Kucoin
Nexo
OKX
Which of these apps is right for you? And how can you even begin to narrow down your search?
Good questions. In this article, I'll explain how to judge between different cryptocurrency apps. I'll review things like security, coin selection, fees, user interface, added features, and customer service. And I'll explore all of the important factors you should keep in mind while shopping for a crypto app.
Let's start with a basic explanation of what a crypto app is.
What Is a Crypto App?
Technically, any app that lets you interact with cryptocurrency in some way is a "crypto app."
But for this article, I'm going to focus on the most popular type of crypto apps: crypto investing apps. These are apps that allow you to buy crypto with cash or sell crypto for cash. For example, Coinbase, Crypto.com, Gemini, and Robinhood are examples of crypto investing apps.
Pro Tip: Once you've chosen a crypto investing app, you may also want a wallet app for long-term storage or for sending and receiving crypto. You can read all about wallet apps in my complete guide to crypto wallets.
Now let's dive into how to choose a crypto investing app.
What to Look for in a Crypto App
All crypto apps allow you to do basically the same things: sign up for an account, verify your identity, attach a bank account or debit card, make deposits, buy crypto, sell crypto, and make withdrawals.
So the differences between apps are usually found in these seven factors:
Security: Is your crypto or cash safe when it's in the app?
Coin selection: Does it have the coins you want?
Fees: Are its fees low enough?
User interface: Is the interface simple and easy to use?
Deposit and withdrawal methods: Is depositing expensive and slow, or is it fast and cheap?
Customer service: Can you contact customer service through online chat or by phone, or do you need to submit a ticket and wait for a response via email?
Additional features: Does the app have special features you like, such as a debit card or futures trading?
Now let's take a deeper dive into these important factors.
Security
One of the most important issues to consider with a crypto app is security.
Many crypto apps have been hacked in the past and lost millions of dollars in cryptocurrency. For example, this happened to Crypto.com in January, 20221 and AscendEX in December 20212.
Because this kind of hack can occur, it's important to know which policies an exchange uses to prevent security breaches and what its reimbursement policies are if a breach does occur.
Luckily, most reputable exchanges use standard security practices to minimize the chance of a breach, and they reimburse users if a breach does occur. (Both Crypto.com and AscendEX did reimburse users, and none of their customers lost any money.)
Here are a few standard security practices to look for when evaluating a crypto app:
Holds 90 percent or more its crypto in "cold wallets" not connected to the internet (to minimize losses if a breach does occur)
Has a history of reimbursing users after hacks or has never been hacked
Offers two-factor authentication (2FA) as an extra layer of defense for your account
Sends you an email alert if someone tries to send your crypto to an address you haven't used before
Delays withdrawals to a new address for 24 hours (or some other reasonable time period) to give you a chance to respond to the alert
Most exchanges do all of these things. So in general, you won't find that one app has better security than another. But if you do find that an app doesn't offer 2FA, for example, or that doesn't alert you when a withdrawal to a new address is attempted, you should consider using a different app.
That's all that I'll say about security in this guide. But if you want to take a closer look into how to protect your crypto investments, be sure to check out our full guide to investing in crypto safely.
Now let's talk about coin selection.
Coin Selection
All of the crypto apps you're likely to encounter will carry Bitcoin, and the vast majority will carry Ethereum. But beyond these two coins, the offerings of each app will vary a lot.
In general, coins that have very high market caps will be available on more exchanges. So if you want to invest only in the most popular coins, the coin selection on your app might not matter much.
But if you're looking for more obscure cryptos that haven't been discovered yet, the coin selection of an app may become very important.
Here are a few U.S. apps that have a great coin selection:
Coinbase: 160+ coins
Crypto.com: 150+ coins
Kraken: 110+ coins
Uphold: 90+ coins
These apps have an excellent coin selection. But they still may not have exactly the coin you are looking for. If there's a particular coin you absolutely must have, you may want to search for it on CoinGecko or CoinMarketCap to see which apps carry it.
This information is usually at the bottom of the coin's page and looks like this: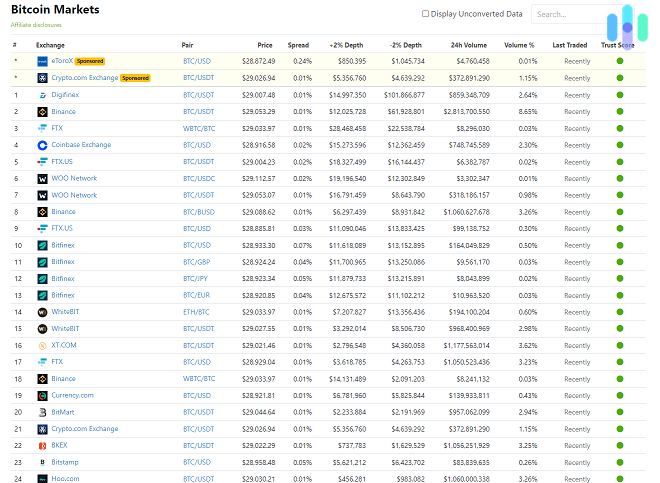 Even if an app has the coins you want, this may not matter if it turns out to be too expensive to use. So let's talk about fees.
Fees
Most crypto apps charge a commission or fee for each purchase. So if an app has very high fees, this can turn an otherwise good app bad.
High fees are especially bad for users who do frequent trading. If you buy crypto once every two weeks, the fees may not affect you that much, but if you are trading in and out of different cryptos multiple times a day, these small differences in fees can add up very quickly.
Here are a few apps with very competitive fees:
Binance.US: 0.1% or less per trade
FTX.US: 0.2% or less per trade
Crypto.com: 0.4% or less per trade
Kraken: 0.1% to 0.26% per trade
In addition to trading fees, apps also charge fees for making debit card deposits and withdrawals. So if you plan to use debit cards for transfers to and from the app, you may want to check on the fees for these first.
In the next section, I'll go over some important issues to consider when looking at an app's user interface.
User Interface
When you use any app, you probably want it to be simple and easy to use. But on the other hand, you also want it to have all of the features you expect.
Crypto apps vary wildly in terms of which of these aspects they emphasize. Some apps have very easy to use interfaces that are made for beginners and buy-and-hold investors. On these apps, you can buy any crypto by pushing a few buttons, and each order gets filled within a few seconds.
But these beginner-friendly apps don't provide a lot of the information that serious traders look for, nor do they allow for advanced order types that trigger buying or selling at particular prices.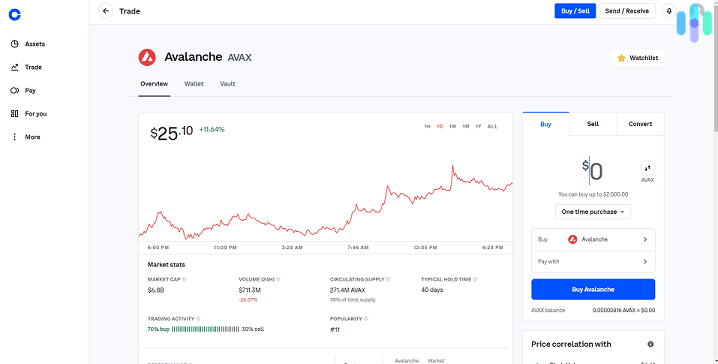 On the other side of the spectrum are apps that are made for serious crypto day traders. With these apps, each coin's page has a candlestick chart, depth-of-market display, and buttons that can be used to draw trendlines or put indicators on the chart. The order form usually defaults to "limit orders" that will fill only at the price you set, which means that your order may never be filled unless you specifically change the order type.
On the other hand, these apps allow you to do all kinds of complex orders, such as stop-losses, limit orders, and take-profit points.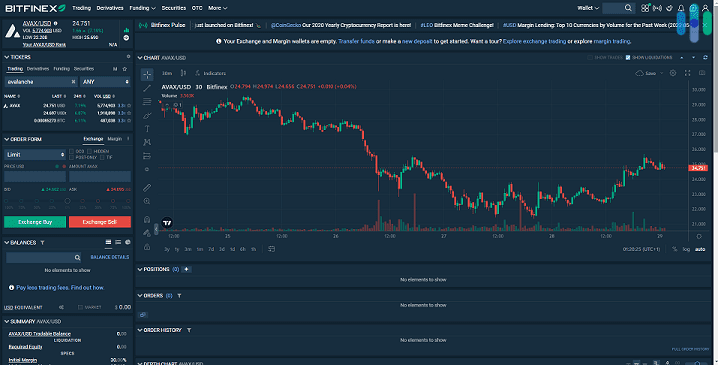 So, when deciding on which crypto app to use, it's important to figure out which type of crypto investor you are. Do you just want to buy crypto and hold onto it? Or do you plan to actively trade crypto each day? How you answer these questions will help to determine which crypto app is the best for you.
Here is a table listing some popular applications and the type of interfaces they have:
| App | Type of interface |
| --- | --- |
| Coinbase | Beginner-friendly / long-term investor |
| Crypto.com | Beginner-friendly / long-term investor |
| Coinmama | Beginner-friendly / long-term investor |
| Robinhood | Beginner-friendly / long-term investor |
| eToro | Beginner-friendly / long-term investor |
| Kraken | Choice of either |
| Uphold | Beginner-friendly / long-term investor |
| FTX.US | Beginner-friendly / long-term investor |
| Binance.US | Advanced / Serious trader |
| Bitfinex | Advanced / Serious trader |
| Kucoin | Advanced / Serious trader |
Now that we've gone over user interfaces, let's move on to another big concern for many crypto users: deposit and withdrawal methods.
Deposit and Withdrawal Methods
Before you'll be able to buy any crypto through an app, you'll need some method to deposit money into it. Apps vary quite a bit in terms of what deposit methods they allow. Some allow ACH transfers, debit card payments, and Paypal deposits, while others allow only wire transfers.
If you have a large amount of capital that you're planning to invest all at once, the deposit methods may not matter much. After all, wire transfers can be done for a flat fee, so they're almost always the cheapest way to transfer large amounts of cash.
But if you're a crypto saver who is just getting started, who, say, wants to buy $100 or $200 worth of crypto every week or two, wire transfers will probably be too expensive compared to debit card or ACH. But if your app doesn't allow debit cards or ACH, you'll be stuck paying too much for deposits.
A lack of speedy or cheap withdrawal methods can also cause issues for some users. If you sometimes need to dip into your crypto savings to pay bills or buy groceries, you're not going to want to wait around for three days for an ACH transfer to be received by your bank (and you certainly don't want to wait for a wire transfer). In this case, you may want to find an app that offers a debit card or that allows for PayPal or instant debit card withdrawals.
The bottom line is that deposit and withdrawal methods can turn out to be a huge factor in whether an app makes you really happy or really irritated.
Here is a list of some apps that allow debit card and ACH deposits:
Coinbase
Crypto.com
Coinmama
Robinhood
Uphold
As far as withdrawals are concerned, Coinbase and Crypto.com offer debit cards to all users. They can allow you to dip into your crypto savings quickly and easily if you ever need to. Coinbase also offers Paypal withdrawals and instant withdrawals to any debit card.
Just in case your app gets a little "buggy" or you have some other issue, let's talk about customer service.
Did You Know: We wrote a full review of the Kraken app. So if you see yourself as more of an advanced crypto investor, be sure to give Kraken a closer look.
Customer Service
Most crypto apps just work. You generally don't need to contact customer service when using them.
But if something does go wrong, like your deposit gets lost or your withdrawal isn't received by your bank, having an app with an attentive customer service team can make the difference between being panicked and being minorly annoyed.
Most crypto apps offer customer support through an email ticket system, including Binance.US, CEX.io, and FTX.US.
But some also offer phone support or even 24/7 support via chat. For example, Crypto.com offers chat support directly through its app, and Coinbase has a support phone number that any user can call to straighten out issues with its app. You can read our Crypto.com review to get more information about its customer service and other factors.
So some apps are definitely better than others at providing options for contacting staff.
If getting help quickly is important to you, you may want to consider using an exchange that offers faster support options such as phone and chat.
All right, that's almost every major factor to consider when evaluating a crypto app. The one thing left to cover is the issue of added features or tools.
Added Features and Tools
Some crypto apps have features or tools that really make them stand out from the competition. If you're really interested in one of these features, you may prefer it over other apps for this reason alone.
For example, Crypto.com has a really great debit card feature. It offers a debit card to all users. This card can be used to spend money received from selling crypto on the app. And the card offers crypto "cash back" rewards for using it. These rewards pile up and multiply over time, allowing users to reinvest their cash back rewards.
For another example, Kraken offers a built-in NFT marketplace that lets you buy and sell NFTs without paying "gas fees." If you're a collector of Ethereum NFTs, this may be such an advantage that it will determine which app you use.
So while all of the other factors here are important, you may also want to keep an eye out for exchanges that have unique features.
Wrapping Up
Getting started with a crypto app is very easy. You can download a crypto app from Google Play or the Apple App Store, or just go to the developer's official website and use the web version of it.
Most apps take no more than a few minutes to sign up for. The biggest hassle you're likely to encounter is the identity verification process. But as long as your camera can take good pics, you're likely to find that even this process doesn't take too long.
To recap, here's the list of factors to look for in a crypto app:
Security: Most reputable crypto apps allow for 2FA, store most crypto in cold wallets, and either have a history of reimbursement or have never been hacked.
Coin selection: Make sure it has the coins you want.
Fees: Low fees are especially important if you're an active trader. If you're a buy-and-hold investor, other factors may be more important.
User interface: Some interfaces are more for beginners or buy-and-hold investors, while others have interfaces made for active traders.
Deposit and withdrawal methods: If you tend to make a lot of small deposits or withdrawals, you're probably going to want the ability to use ACH and a debit card. Debit card and PayPal withdrawals will be important if you ever need to use some of your funds in an emergency.
Customer service: If you ever have an issue with your crypto app, chat and phone support are nice features to have. Otherwise, you'll have to use an email ticketing system.
Additional features: While all of these other factors are the main ones to consider, you may want to keep an eye out for unique features, like Crypto.com's cash back debit card and Kraken's built-in NFT marketplace.
Keep these factors in mind when deciding on a crypto app. This should help to narrow down your options and allow you to find the perfect crypto app for you.
Still not sure which app to get? Start with our guide to the best crypto apps, or check out our review of Coinbase, which is one of the best crypto apps around for beginners.