Binance Review 2023
Binance is an inexpensive, speedy exchange with enough power to satisfy the experts, but might be a little overwhelming for crypto novices.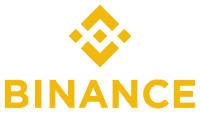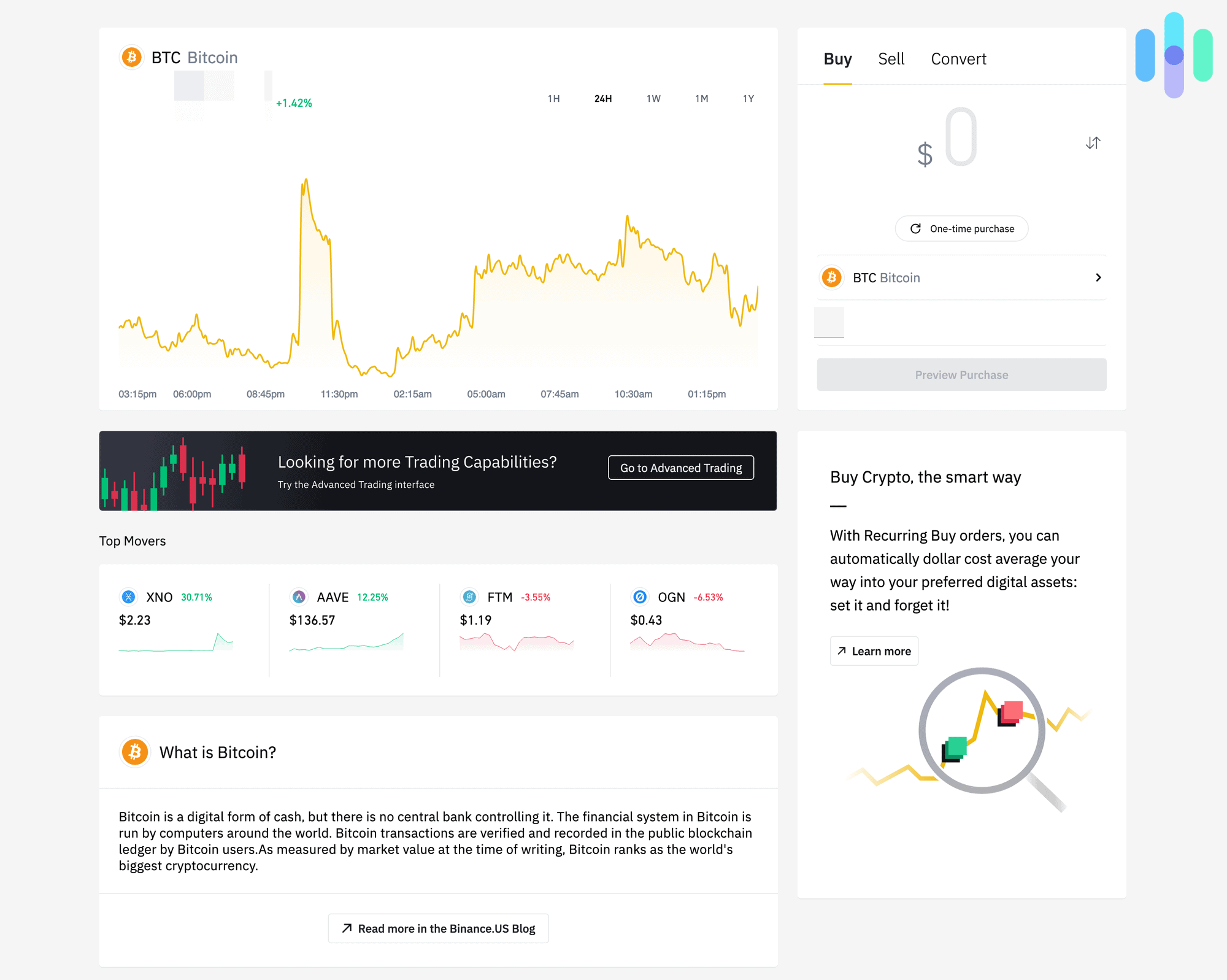 What We Like
Low fees: Binance's trading fees are among the cheapest in the industry.
Advanced trading options: Binance offers the ability to trade options as well as set trigger conditions for particular types of trades to execute.
Great analytic tools: If you want to keep an eye on the markets in real time, Binance gives you the power to do exactly that.
What We Don't Like
Not very user friendly: Binance's UI can feel a little cluttered and clunky at times.
Questionable regulatory history: As of 2021, Binance is under investigation for tax fraud, money laundering, and insider trading in the U.S.
Bottom Line
If you're looking to take things to the next level, Binance is certainly an exchange to check out. While it still offers a basic interface for newbies, its advanced options and powerful tools will keep advanced traders happy.
The content on this page is provided for informational purposes only. Security.org does not offer financial or investment advice, nor does it advise or encourage anyone to buy, sell, or trade cryptocurrency. It is advised that you conduct your own investigation as to the accuracy of any information contained herein as such information is provided "as is" for informational purposes only. Further, Security.org shall not be liable for any informational error or for any action taken in reliance on information contained herein.
So let's say you've been dabbling in crypto for a while. You understand the U.S. cryptocurrency regulations. You've got a decent amount of crypto in your wallet. You've positioned yourself well across several different currencies. You even have a solid grasp of the digital security threats with buying and trading cryptocurrency – avoiding scammers and hackers and the like — and now you're looking to take things to the next level.
If that's you, you'll need an exchange that offers you the tools you need to grow as a crypto investor, as well as the trading options you require to make some pretty advanced plays. In other words, if you're ready to take the training wheels off, it's time to take a look at Binance.
Editor's Rating
Supports over 65 cryptocurrencies
Instant trading options
Wide selection of trading and order options
Binance Overview
Originally based in China, Binance was founded in 2017 by Changpeng Zhao. Since then, it's grown to the largest international crypto exchange in the world by volume.1 That said, for the purposes of this article, we're only going to be looking at the U.S.-based platform, which is a little more limited in scope.
First of all, it's only available in 45 states. You should look at our state-by-state crypto laws and regulations resource to make sure you're compliant, but if you live in Hawaii, Idaho, New York, Texas, or Vermont, right off the bat you're going to need to look for another exchange. For everyone else, though, Binance might be a viable option.
FYI: Remember, while the two are under the same umbrella, Binance and Binance U.S. are two different companies. We're only focusing on Binance U.S. here.
One thing to keep in mind is that Binance was under investigation for tax fraud, money laundering, and insider trading in the U.S. in 2021.2 While that should give you pause, remember that the crypto market is largely unregulated, and governments across the globe are looking to gain transparency into them.
Binance does offer some pretty pronounced benefits for traders, namely its low fees, its powerful trading tools, and its ability to perform advanced trading. It's certainly not the most intuitive platform I've seen, but it's definitely one of the most powerful.
With that out of the way, let's talk about one of the most important factors of any crypto exchange — its security.
Binance's Cybersecurity
Despite its regulatory missteps, Binance runs a tight ship when it comes to the security of the exchange (from what I can tell, anyway). The company's user-level security seems sound with two-factor authentication, advanced access controls, and security notifications.
Pro Tip: Even if an exchange is locked up tighter than Fort Knox, you can still fall victim to scams and hackers if you're not doing everything you can to keep yourself safe. Read up on exactly how to do that in our guide to protecting your cryptocurrency.
At the platform level, data is secured using end-to-end encryption, cold storage facilities for the vast majority of user funds, and real-time monitoring of withdrawal attempts, password resets and email address changes. Unusual activity will automatically trigger suspended withdrawals for a minimum of 24 hours.

For added security, all of Binance's U.S. dollar balances are FDIC insured, meaning that if your cash balance is stolen, you can be reimbursed. What's more, Binance U.S. has never reported a breach, although $40 million worth of bitcoin was stolen from the Binance global exchange in 2019.3
Overall, Binance's security seems robust, and most users — as long as they're taking the proper steps to protect themselves — should be able to sleep at night knowing that their investments are relatively safe from hackers.
Pro Tip: Binance does offer a deposit and withdraw function, but it just doesn't call this function a "wallet." You can "withdraw" to someone else's wallet address if you want, or you can have someone else "deposit" funds to your exchange address. Simply put, Binance labels these functions in such a way as to make it clear that it is an exchange, and that an exchange is not a wallet. Learn more in our deep dive into crypto wallets.
Now that you have an understanding of what this exchange is all about and what it does to protect your funds, let's talk about the currency available to trade.
Crypto Supported by Binance
First, a quick reminder: While the international Binance exchange supports over 500 different cryptocurrencies and virtual tokens, the U.S. version supports about 65. Among those, though, you're going to see a lot of familiar faces, including:
Bitcoin
Ethereum
Harmony
Orchid
Helium
Chainlink
Stellar Lumens
PaxGold
While Binance doesn't offer as many options as mentioned in my review of Coinbase, there's certainly enough here to keep most traders happy.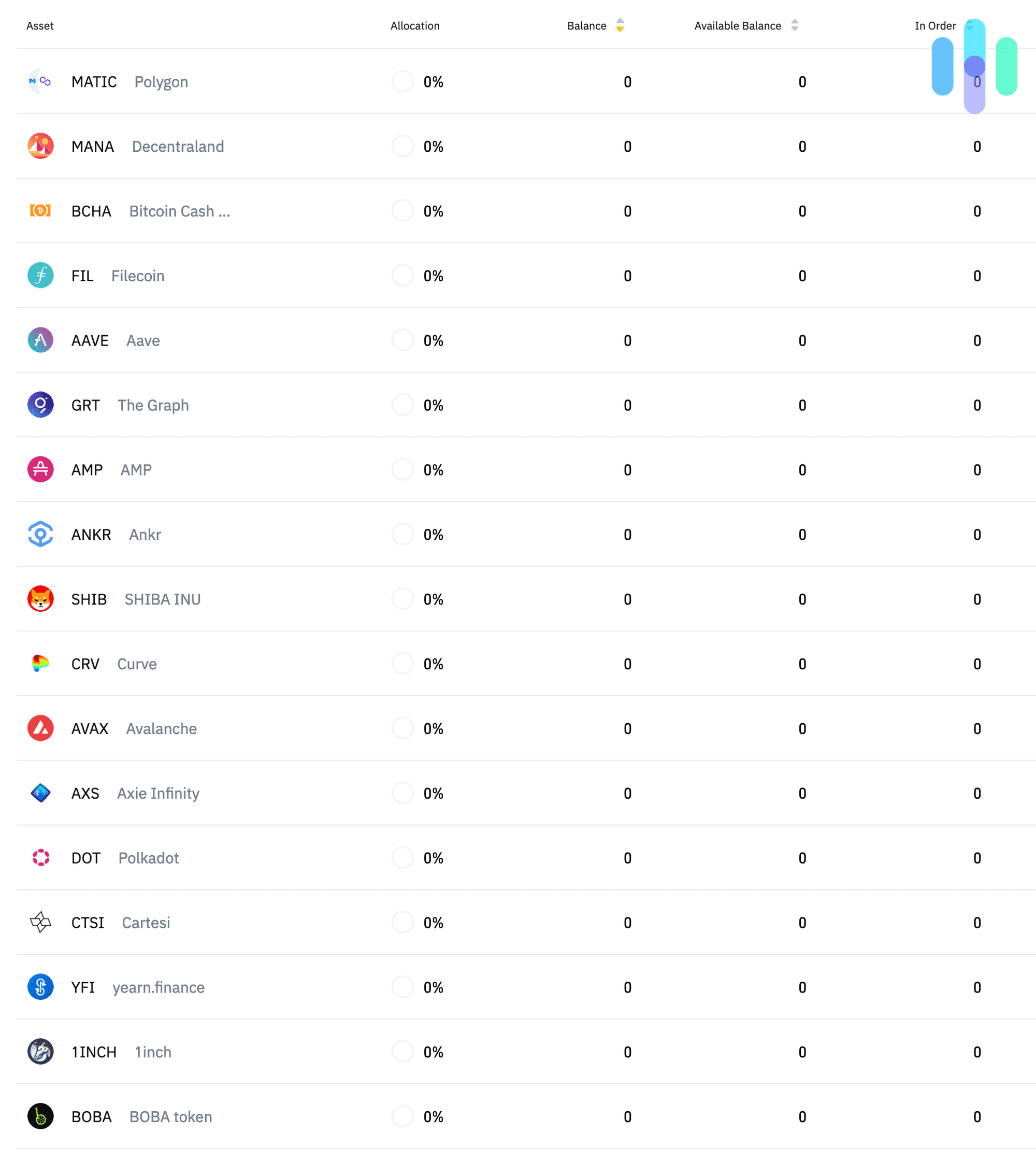 So just to recap — Binance offers a wide array of crypto to trade using advanced methods, coupled with some pretty powerful analytical tools (we'll dig into those in just a bit). While it isn't the most transparent exchange out there, its security posture seems solid, and its reputation seems to be improving. If you're still on board, let's talk about getting your Binance account set up.
FYI: There are so many options when it comes to cryptocurrencies, it can be difficult to know which ones will boom and which ones will bust. I suggest taking a look at our analysis of exactly how cryptocurrencies gain value before you start investing blindly.
Establishing a Binance Account
It's relatively simple to get set up with Binance. First, head over to the Binance website, and hit the "Get Started" button. You'll enter your email address and a password to create your account, and your phone number to set up SMS two-factor authentication.
You're also going to need to upload a government-issued ID, like a driver's license, a state ID, a passport, or a visa to complete your account setup. While this might seem like a bit of a hassle or an invasion of privacy, Binance has this security measure in place to make it harder for bad actors to tamper with your account or compromise your identity.
Pro Tip: Binance says the verification process can take a few minutes up to a few days. I used my smartphone to upload my driver's license, but it took a few tries to go through. While it might be a little counterintuitive, don't take the images in landscape mode — keep the phone vertical. Once I did that, it only took a few minutes.
Once your account has been set up, your identity verified, and a funding source added, you're ready to start trading. Let's talk about that now.
Trading on Binance
There are two ways to trade on Binance: the basic and the advanced interface. The basic is — obviously — more basic and user-friendly. If you're new to trading crypto, this is where you'll want to stay, at least for a while. Here you'll be able to buy and sell whichever cryptocurrency you select, convert cryptos from one to another, withdraw your funds, and set up recurring orders. There are also some handy resources available on the page so you can learn more about the world of cryptocurrency.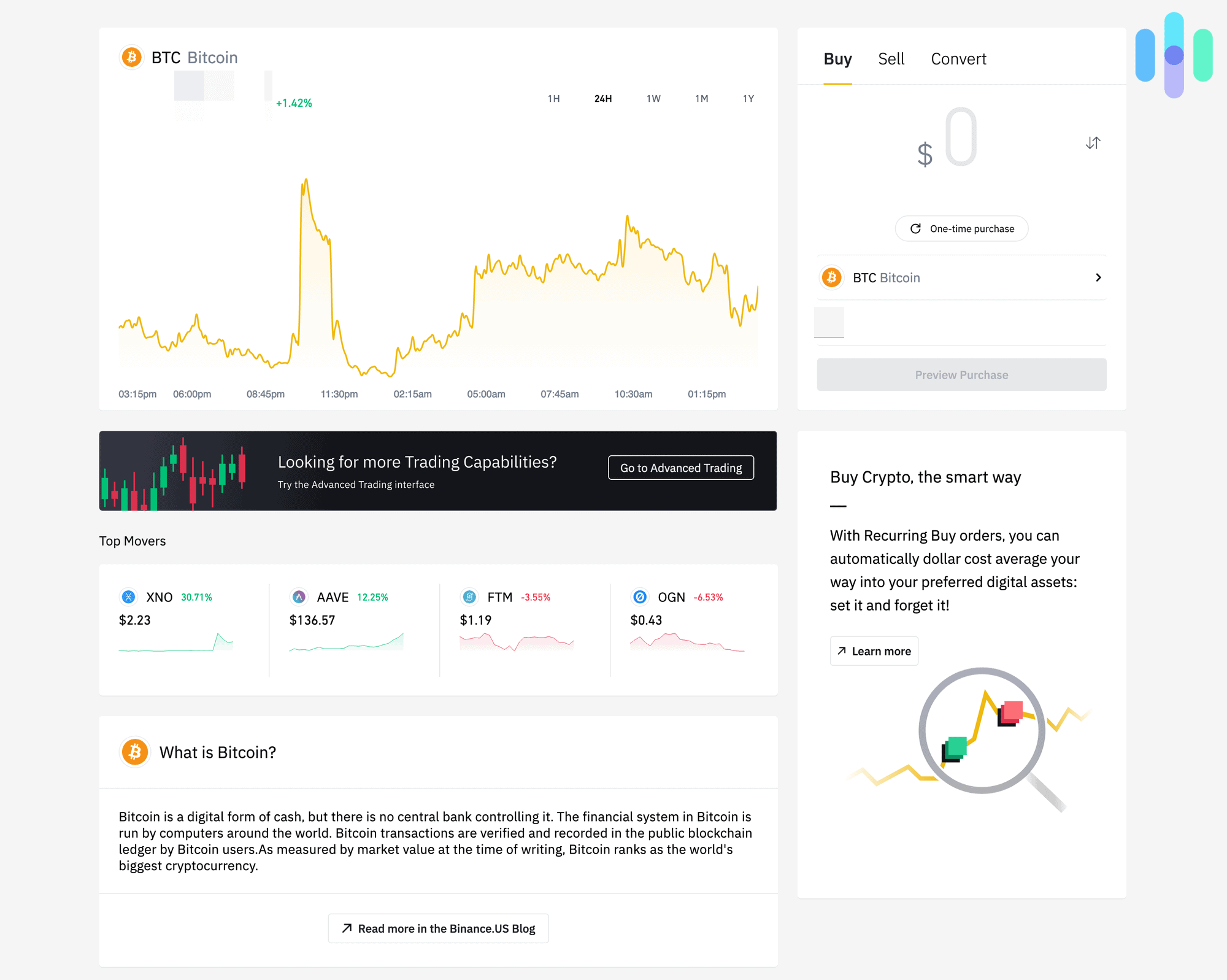 Like I said above, if you're brand new to crypto, you're going to want to stick to the basic interface for a while to get your bearings. If you're ready to go full-blown "Wolf of Wall Street" though, you can head over to the advanced interface.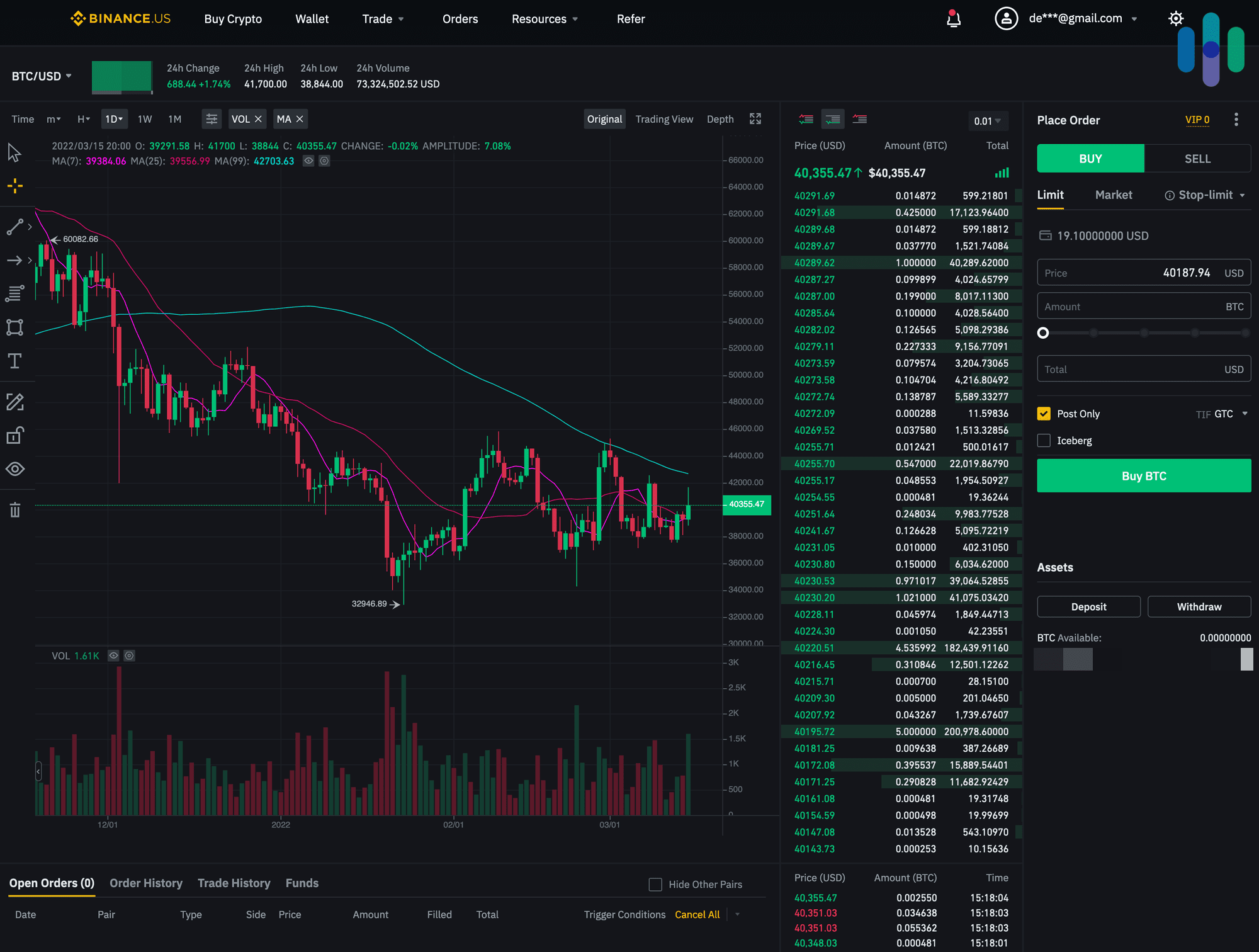 Now if you have no idea what you're looking at, you're not alone. This interface is for highly experienced traders looking to deeply analyze market conditions in real time to make advanced trades, purchase options, and set specific trigger conditions.
It's beyond the scope of this article to get too deep into Binance's advanced functions, but the big takeaway is that their tools are powerful enough to keep professional day traders satisfied. With that said, here are some of the more advanced features of Binance:
Purchasing call options
Purchasing put options
Real-time technical analysis
Setting trigger conditions for trades
Pro Tip: If you're not sure what you're doing, you probably shouldn't mess around with the advanced features of Binance. You can run into trouble if you start purchasing options without a clear strategy. I'd suggest first reading up on purchasing cryptocurrency safely before you get too deep.
It's also worth pointing out that Binance has a pretty robust mobile app that's available on both iOS and Android devices. Although it doesn't have a lot of the advanced features you'll get on the desktop client, it's still certainly good enough to help you make trades on the go.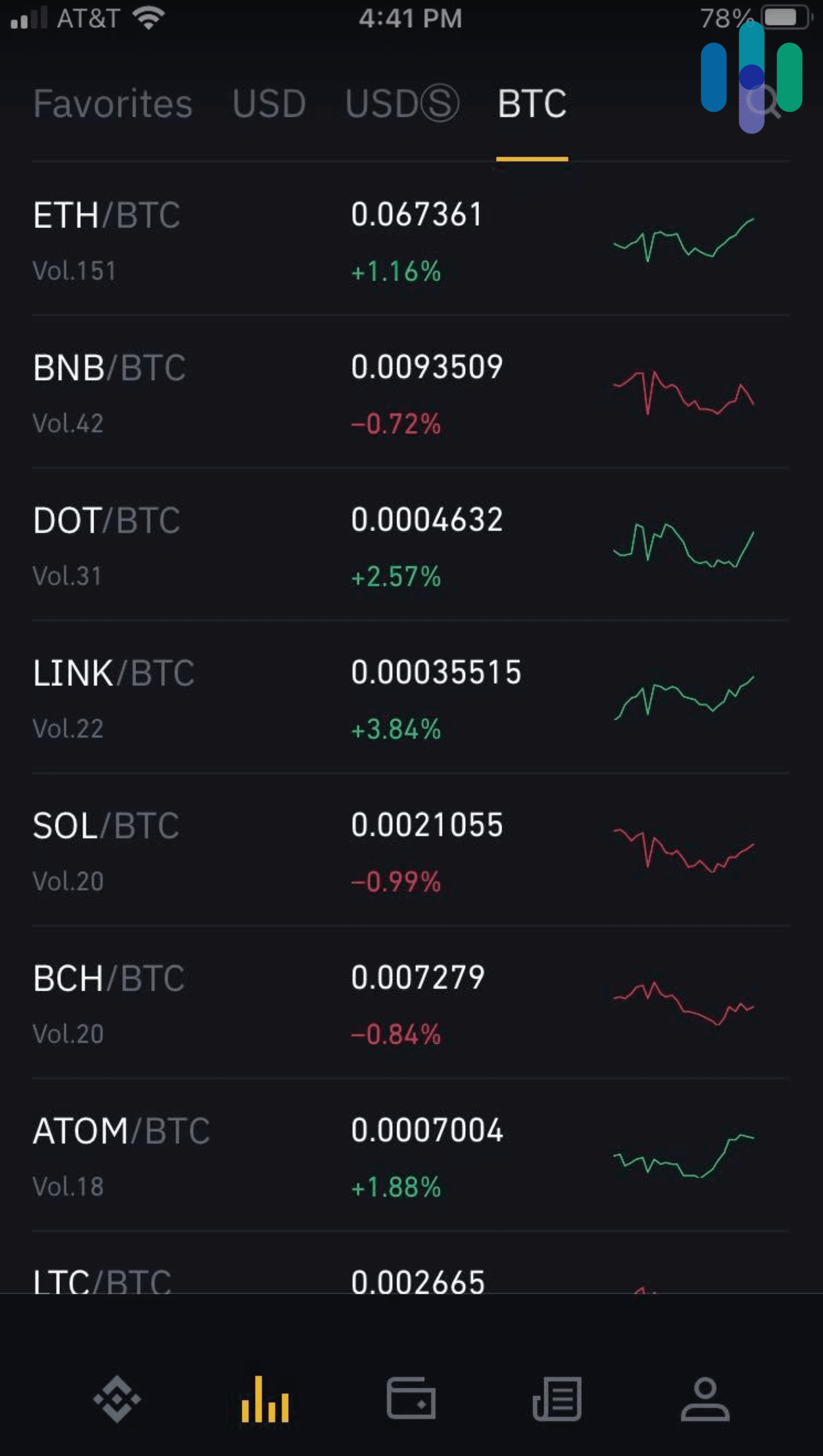 Now that you understand how to trade on Binance, we need to talk about one of this exchange's biggest selling points — its fee structure.
Binance Fees
Simply put, Binance offers some of the lowest transaction fees in the industry. It uses a maker/taker fee structure — meaning that fees are different if you're providing rather than taking away liquidity — and the transaction fees will depend on your 30-day trading volume. Generally speaking, there is a 0.1 percent spot trading fee, a 0.5 percent instant buy/sell fee, and debit card withdrawals that incur a 4.5 percent fee. Here's a real quick breakdown:
Binance's General Fees
| Payment Type | Fee |
| --- | --- |
| Crypto Wallet | None |
| Debit Card | 4.5 percent |
| Wire Transfer | $15 |
| ACH Transfer | None |
| Crypto Conversion | None |
| Trades | From 0 percent to 0.1 percent |
| Buy/Sell Crypto | 0.5 percent |
Adding slightly to the complication, Binance offers VIP status for folks whose 30-day USD trade volume and amount of BNB — Binance's cryptocurrency — exceed certain thresholds. The different VIP levels achieved will determine your fee structure. Also, if you pay those fees using BNB, you'll be entitled to an additional 25 percent off.
You're not going to need to worry about this unless you're moving serious amounts of crypto around, but here's how the breakdown looks if you're curious:
Binance Fee Structures for Different VIP Levels
| VIP Level | 30-Day Trade Volume | BNB Balance | Maker/Taker Fee in Percentage | Maker/Taker Fee when Paid with BNB in Percentage |
| --- | --- | --- | --- | --- |
| VIP 0 | Less than $50,000 | >0 BNB | 0.10/0.10 | 0.0750/0.0750 |
| VIP 1 | >$50,000 | >50 BNB | 0.09/0.09 | 0.0675/0.0675 |
| VIP 2 | >$100,000 | >100 BNB | 0.08/0.09 | 0.06/0.0675 |
| VIP 3 | >$500,000 | >200 BNB | 0.07/0.08 | 0.0525/0.06 |
| VIP 4 | >$1,000,000 | >400 BNB | 0.05/0.07 | 0.0375/0.0525 |
| VIP 5 | >$5,000,000 | >800 BNB | 0.04/0.06 | 0.03/0.045 |
| VIP 6 | >$10,000,000 | >1,500 BNB | 0.0/0.06 | 0.0/0.045 |
| VIP 7 | >$25,000,000 | >2,500 BNB | 0.0/0.05 | 0.0/0.0375 |
| VIP 8 | >$100,000,000 | >4,000 BNB | 0.0/0.04 | 0.0/0.03 |
| VIP 9 | >$250,000,000 | >6,000 BNB | 0.0/0.03 | 0.0/0.0225 |
| VIP 10 | >$500,000,000 | >6,000 BNB | 0.0/0.02 | 0.0/0.015 |
Now if you're going cross-eyed from looking at these numbers, the takeaway is that Binance's fees are some of the lowest you'll find. If you're looking to trade crypto without giving a significant chunk of it to a third party, Binance might be the right exchange for you.
If you're wondering exactly how it measures up against the competition though, now might be a good time to look at how it stacks up with other popular exchanges.
Binance vs. Similar Exchanges
| Exchange | Binance | Coinbase | Sofi | Gemini |
| --- | --- | --- | --- | --- |
| Fees | Up to 4.5 percent | Up to 5.98 percent | Up to 1.25 Percent | Up to 3.99 percent |
| Account Minimum | $10 | $2 | $10 | $0 |
| Promotions | None | $5 in BTC | $10 in BTC | $20 in BTC |
| Advanced Trading Options | Yes | No | Yes | No |
Now that takes care of all the nuts-and-bolts information you need to know about Binance: fee structures, trading capacities, tools available, and the differences between the basic and advanced interfaces. Now let's pivot a bit and talk about some of the factors that won't impact your day-to-day use, but are important nonetheless.
Binance's Customer Service
Binance doesn't have the best reputation for customer support, and similar to Coinbase, it seems like the majority of complaints all center on difficulties speaking to a real live person when there's a problem, and difficulties withdrawing funds.
Here's a review from Jim C. that's been edited for length:
"Support is completely nonexistent. I submitted a help request with one, simple question. But 5 WEEKS later, still have received no response other than the initial, auto-generated email stating, 'Due to an influx of unexpected volume, our response may be slightly delayed.' Slightly? If more than 5 weeks is 'slightly' delayed I'd hate to find out what they consider to be an extremely long delay."
That said, there are a significant number of positive reviews. Here's one from another investor:
"I like their whitelisting option, and their trading fees are super cheap. IMHO if you want to keep crypto on exchange and trade for capital gains, you won't find a more user-friendly and cost-effective exchange."
If you run into an issue, there are three ways of reaching out to Binance:
Submit a ticket
Live chat for basic questions
Tweet @BinanceHelpDesk
Now that we've unpacked Binance in detail, it's time to bring it all home. So, what's the final verdict here?
The Good and the Not So Good
Overall, I'd say Binance is a solid exchange if you can overlook its checkered past. But should you select it as your exchange of choice?
Is Binance Right for Me?
So right off the bat, if you're a highly experienced crypto trader, you're probably going to like Binance. It puts all the tools you need at your fingertips with their advanced interface, and their capacity for advanced trading makes them a solid choice for veterans. But where does that leave the newbies?
Pro Tip: There are tons of different exchanges out there, and some are more appropriate than others for specific types of traders. Shop around before you commit yourself.
One thing that I really like about Binance is that it has room to grow into. With other exchanges, you're either in kindergarten or a Ph.D. program. By offering basic and advanced interfaces, Binance straddles both worlds. It's accessible enough that beginners won't feel totally lost, and as you gain more experience, you can graduate to more advanced styles of trading.
Would I recommend Binance to someone who's never used a digital exchange to trade stocks or crypto? Probably not. But if you have a general understanding of this world and you're looking to expand that knowledge, this might be a good platform for you.
If Binance seems a little overwhelming at the moment, I'd encourage you to check out our Everything You Need to Know About Crypto resource. Once you've reviewed that material, you're going to have a much steadier footing and a lot more confidence.