Bitfinex Review 2023
Bitfinex is a large, highly-liquid crypto exchange with advanced trading tools. But it isn't licensed in the U.S.
All of our content is written by humans, not robots.
Learn More
By

Tom Blackstone
, Cryptocurrency Expert
Last Updated
on
Oct 21, 2022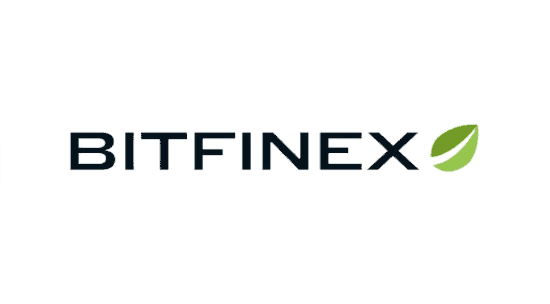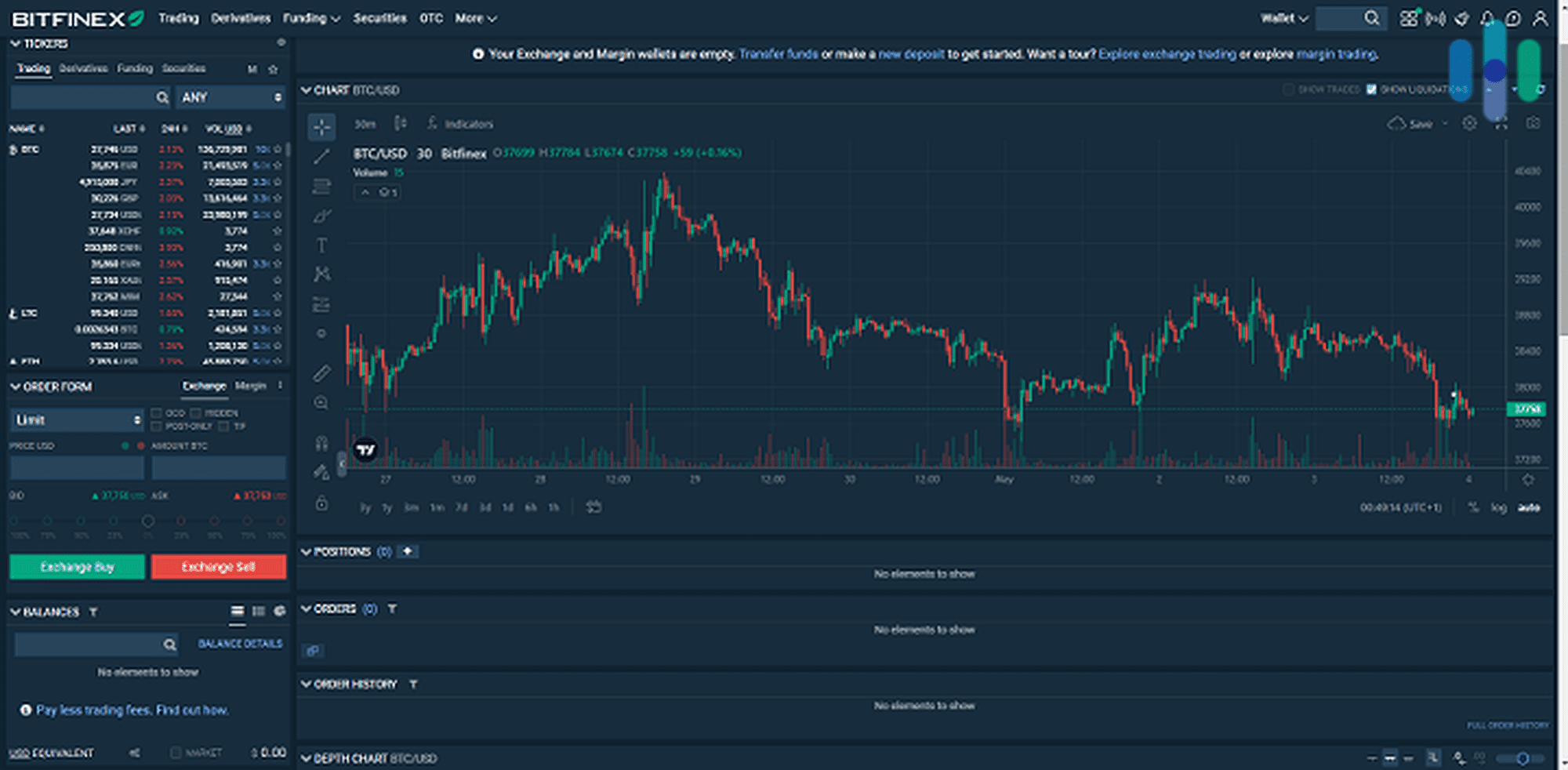 What We Like
Great coin selection: It offers over 180 different coins.
Advanced trading interface: It offers candlestick charts, indicators, and other tools for serious traders.
Extremely low fees: It has a maximum of 0.1 percent per trade fee, and declines from there.
What We Don't Like
Not licensed in the U.S.: This makes Bitfinex risky for U.S. investors. It also means that Americans can't deposit cash into it.
No beginner interface option: Beginners may find Bitfinex to be difficult to use.
Bottom Line
If you've already got a primary cryptocurrency exchange, Bitfinex can be a great second exchange. It can be used to gain access to coins that may not be available at your primary exchange or that aren't even available in the U.S. Bitfinex also has low fees and a sophisticated trading interface, so it may be an excellent choice for serious crypto traders. But if you live in the U.S., Bitfinex isn't a great option as a primary exchange, since it won't allow you to deposit cash from your bank.
The content on this page is provided for informational purposes only. Security.org does not offer financial or investment advice, nor does it advise or encourage anyone to buy, sell, or trade cryptocurrency. It is advised that you conduct your own investigation as to the accuracy of any information contained herein as such information is provided "as is" for informational purposes only. Further, Security.org shall not be liable for any informational error or for any action taken in reliance on information contained herein.
Are you comfortable using crypto networks to make deposits and withdrawals? And are you interested in a highly liquid offshore exchange with a huge variety of coins?
Are you also looking for an exchange that offers high levels of digital security to protect your crypto investments? Things like IP verification, two-factor authentication, and email encryption? These security practices, after all, are extremely important in the rapidly changing word of cryptocurrency.
If this sounds like you, you might consider using Bitfinex.
Bitfinex was launched in 2012, and it quickly made a name for itself by offering Bitcoin (BTC) margin trading. By 2014, Bitfinex was the largest or second-largest crypto exchange as measured by order book size.1 At the time, over 40 percent of all Bitcoin orders were part of the Bitfinex order book.
Bitfinex has also consistently ranked in the top 10 of global crypto exchanges by volume.
It's an unlicensed exchange, so there are additional risks to using it compared to a U.S. licensed exchange. I've written a guide to the risks of using an offshore exchange in order to explain the potential dangers.
Now let's talk about Bitfinex's security.
Bitfinex's Cybersecurity: Is It Secure?
Bitfinex has made some missteps in the past when it comes to security, but it seems to be trying to change its ways.
It was the victim of one of the most famous crypto exchange hacks in history: the Bitfinex hack of 2016.2 Over $472 million worth of Bitcoin were lost in the attack. But the exchange did reimburse all users within eight months of the attack taking place.
Since then, Bitfinex has made improvements in its security protocols.
Here are security protocols Bitfinex has implemented to protect accounts:
Two-Factor Authentication — uses Google Authenticator or U2F
IP verification — allows you to limit access based on your IP address
Email notifications — reports logins to you through email, and provides a link to freeze the account if you don't recognize the login
Email encryption — a feature where you can choose to have your emails from Bitfinex encrypted with Open PGP
Address whitelist — this means that before withdrawing to a new address, you have to whitelist the address and wait 24 hours before using it; you're then notified by email if a new address is added.
Overall, Bitfinex seems to have good security. The hack of 2016 was a big embarrassment to the team, but they seem to have learned their lesson and have since improved their security.
Next, let's consider Bitfinex's coin selection.
FYI: If you're planning to store your crypto for a long period of time, you may want to move it into a private wallet to keep it safe. See our guide to crypto wallets to help with this process.
Available Coins on Bitfinex
Bitfinex has one the largest collections of coins of any crypto exchange. It has over 180 coins, including popular ones like Bitcoin, Litecoin (LTC), Ethereum (ETH), and Ethereum Classic (ETC), as well as obscure ones like Bit2Me (B2M), Stargate Finance (STG), and Luxochain (LUXO).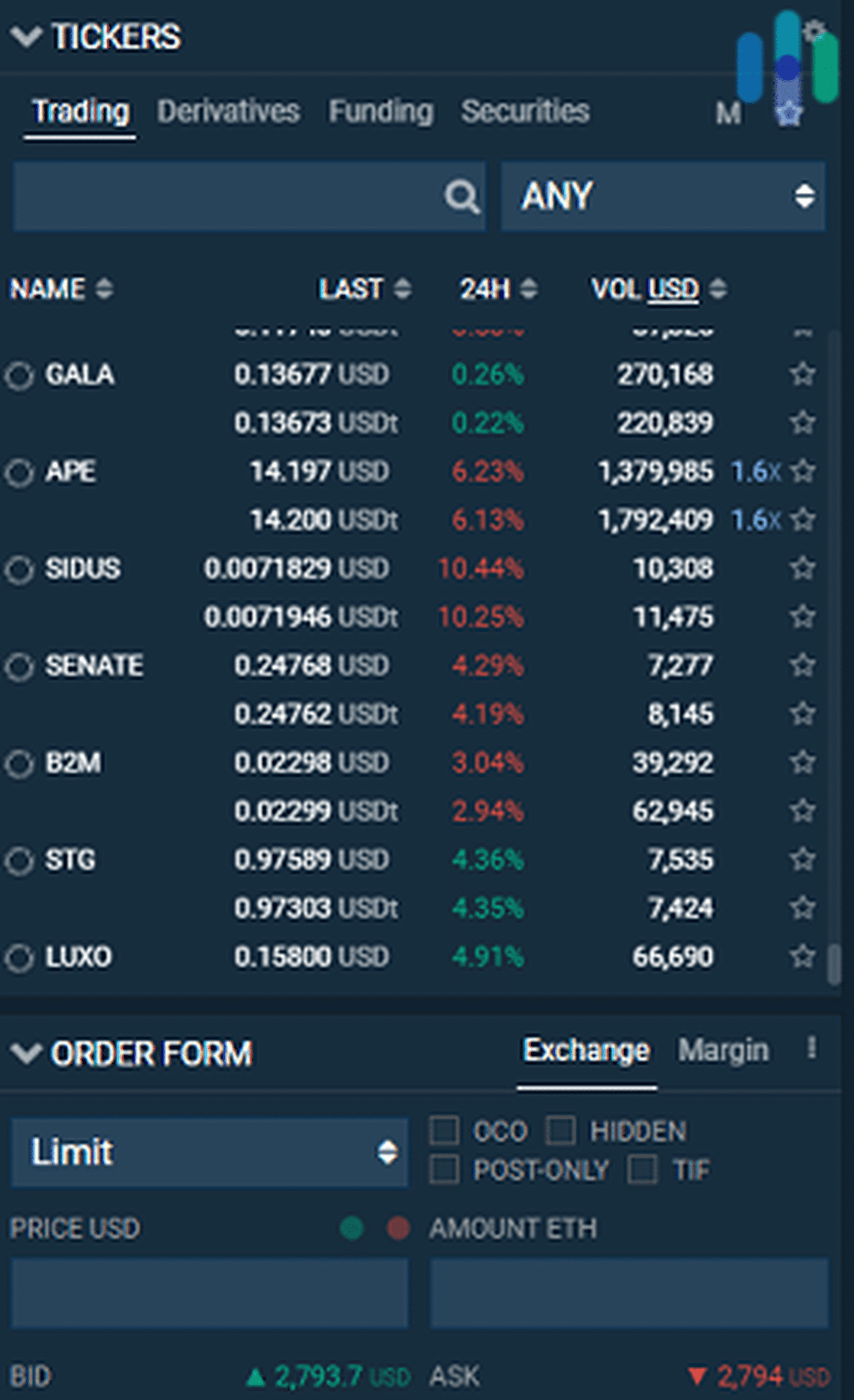 So Bitfinex has plenty of coins to choose from. Next, we'll talk about how to get a Bitfinex account and get started trading.
Pro Tip: Savvy investors try to find coins that will grow in value over time. But it's often not obvious what makes one coin grow in value while another goes nowhere. In order to demystify this, we put together a resource on what makes crypto grow in value.
How to Create an Account and Trade on Bitfinex
Signing up
The sign-up process at Bitfinex is fairly straightforward. Here's how to create an account:
From the homepage, click the "Sign Up" button in the upper-right corner.
Enter a username, your email address, a password, and a country of residence (the USA is not an option!).
Download an authenticator app if you haven't already done so.
Use the authenticator app on your phone to scan the QR code shown on your desktop screen.
You'll see a code for Bitfinex in your authenticator app. Enter this code into the webpage on your desktop.
Click "next."
Open your email inbox and click the link within the message you've received from Bitfinex.
Click "login." You'll be brought back to the login page.
Login to Bitfinex.
That's all there is to signing up. Next, you'll need to make your first deposit.
Making a deposit on Bitfinex
Because it's an unlicensed exchange, you can't make cash deposits to Bitfinex. The only way to make a deposit is through a crypto network. Here is how to make a deposit using Bitcoin. The process is similar no matter which crypto network you use.
Hover your mouse over the word "wallet" in the upper-right corner.
Click "deposit."
Scroll down through the list of currencies, and click on "Bitcoin."
You'll see three different wallet accounts: Exchange, Margin, and Funding. Underneath "Exchange," click the words "Click to generate address." A deposit address will display.
To the right of the address, click the clipboard logo to copy the address to your clipboard.
Within your Bitcoin wallet, paste the address, and send the funds.
Bitfinex interface
The Bitfinex dashboard has a lot of information on it. I must say, I found it to be confusing when I first used it. But here's an explanation of what each part of the interface does.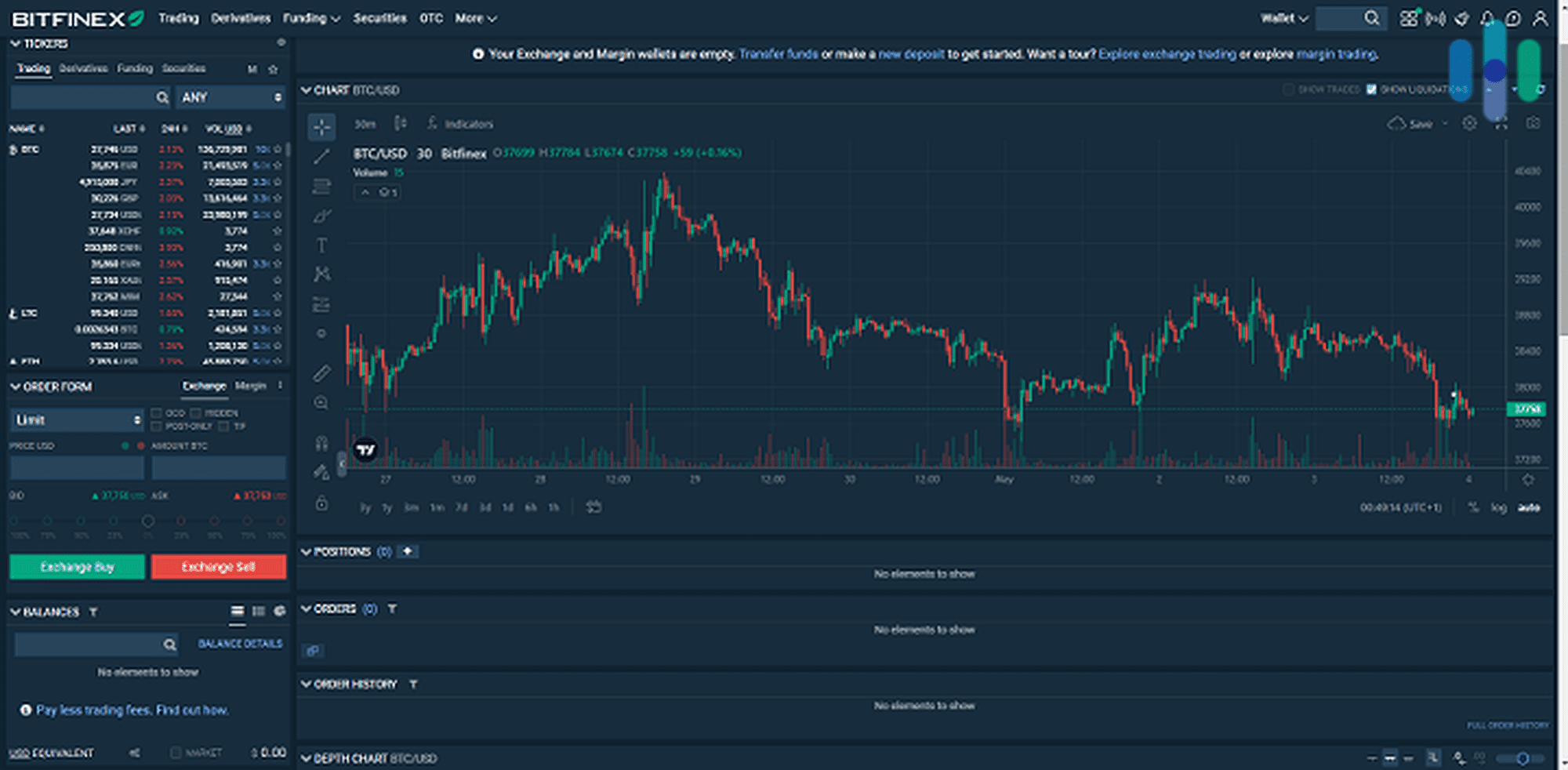 Tickers (upper-left): Use this to select the currency pair you want to trade.
Order form (lower-left): Use this to place orders for the selected pair. If you want to buy or sell the coin immediately, change the order type to "market" before you place it.
Balances (far lower-left): This lists all of the crypto balances in your exchange wallet. Balances from your funding or margin accounts are not shown.
Candlestick chart (takes up most of the screen): If you're a serious trader (or a newbie trader that wants to be serious), this is what you'll spend most of your day staring at. You can draw lines on this chart, switch between time intervals, apply indicators, and  do pretty much anything else you need to in order to understand price action.
Orders (middle-bottom): Shows your current unfilled orders. If you placed a limit order, it might show up here until it gets filled.
Order history: Let's face it. Sometimes you'll get confused and not know what you just bought or sold. So just look at this section to find your entire order history.
I won't say that the interface is easy to use. It's definitely not as beginner-friendly as Coinbase, which you can read all about in our Coinbase review. But it does have lots of features that day traders and position traders will enjoy. So if you think of yourself as more of a trader rather than an investor, you may really like the Bitfinex interface.
FYI: If you want to trade crypto on your mobile device, you should look into Crypto.com. We did a full analysis of Crypto.com and found lots to like about the exchange.
Now let's talk about the cost of using this platform.
Bitfinex Fees
You'll like that Bitfinex has very low fees compared to other exchanges. They charge a maximum of 0.2 percent per trade. The greater your 30-day trading volume, the lower your fee. The table below shows the fee at different levels of trading volume.
Bitfinex trading fees
| 30-day volume | Fee for market orders | Fee for limit orders |
| --- | --- | --- |
| Any volume | 0.2% | 0.1% |
| $500k or more | 0.2% | 0.08% |
| $1 million or more | 0.2% | 0.06% |
| $2.5 million or more | 0.2% | 0.04% |
| $5 million or more | 0.2% | 0.02% |
| $7.5 million or more | 0.2% | No fee |
| $10 million or more | 0.18% | No fee |
| $15 million or more | 0.16% | No fee |
| $20 million or more | 0.14% | No fee |
| $25 million or more | 0.12% | No fee |
| $30 million or more | 0.1% | No fee |
| $300 million or more | 0.09% | No fee |
| $1 billion or more | 0.085% | No fee |
| $3 billion or more | 0.075% | No fee |
| $10 billion or more | 0.060% | No fee |
| $30 billion or more | 0.055% | No fee |
Unus Sed LEO discounts
You can get a discount on fees if you hold the Bitfinex native coin, Unus Sed Leo (LEO). The more Unus Sed Leo you have in your account, the greater the discounts.
Keep in mind that these discounts only apply to market orders, not limit orders.
This table shows the discount for each level.
| Level | 1 | 2 | 3 |
| --- | --- | --- | --- |
| Amount of Unus Sed Leo | More than $1 worth | More than $5,000 worth | More than $10,000 worth |
| Crypto-to-Crypto discount | -15% | -25% | -25% to -25.06% |
| Crypto-to-Stablecoin discount | -15% | -25% | -25% to -25.06% |
| Crypto-to-fiat discount | No discount | -10% | -10% to -10.06% |
Other fees at Bitfinex
Whenever you withdraw crypto from Bitfinex, the crypto network will charge a transaction fee for the withdrawal. This fee will be passed down to you by the Bitfinex platform. Other than that, there are no other fees at Bitfinex that you will encounter as an unverified user.
Now let's compare Bitfinex to similar exchanges.
Bitfinex vs. the Competition
| Exchange | Bitfinex | Kucoin | Coinbase | Binance.US | Crypto.com |
| --- | --- | --- | --- | --- | --- |
| Fees (excluding debit card processing) | Up to 0.2% | Up to 0.1% | Up to 1.49% | Up to 0.1% | Up to 0.4% |
| Coin selection | 180+ coins | 600+ coins | 160+ coins | 60+ coins | 150+ coins |
| Debit card deposits | No | No | Yes | Yes | Yes |
| PayPal or debit card withdrawals | No | No | Yes | No | Yes |
| Advanced trading options | Yes | Yes | No | Yes | No |
| Margin/futures | No (not for unverified, U.S. residents) | Yes | No | No | Yes |
Bitfinex Customer Service
Bitfinex offers customer service through an email ticketing system. If you have a problem, you can submit a ticket at cs.bitfinex.com.
It does not offer phone or chat support. So if you have an emergency, there's not much to do other than submit a ticket and wait.
This is definitely a disadvantage to using Bitfinex compared to more customer service-friendly exchanges like Kraken and Crypto.com. We've published a full review of Kraken that goes into more detail about its customer service and other features.
Trustpilot reviews
Crypto exchanges generally have terrible customer service reviews on Trustpilot. But surprisingly, Bitfinex is an exception to this rule.
61 percent of reviews say that Bitfinex is "great" or "excellent," while only 36 percent rate it as "poor" or "bad." Positive reviews say that the app is fast and customer service responds quickly. Negative reviews mostly complain that the platform blocked withdrawals and asked them to verify their identities.
FYI: Offshore exchanges don't normally require identity verification, but they may require verification for accounts that are flagged as suspicious. So unfortunately, there's no 100 percent foolproof way to avoid verification.
Now let's take a look at Bitfinex's mobile app.
Bitfinex Mobile App
Bitfinex offers an excellent mobile app for making trades on the go. The app features both a "Lite" and "Pro" version. But you don't need to download each of these separately. Instead, you can switch between either version from within a single app.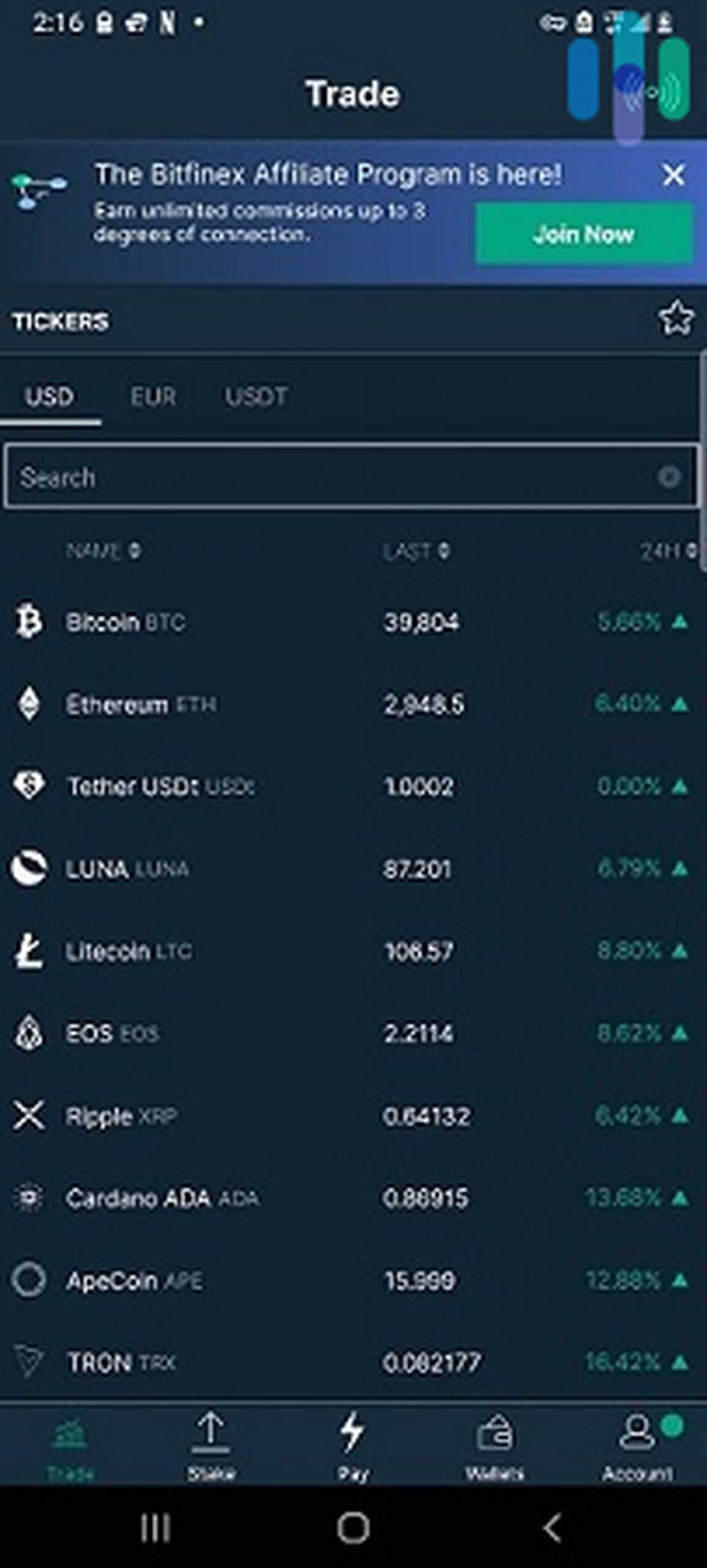 The Lite version of Bitfinex mobile features all of the functions you need to trade crypto. The Pro version includes additional features used in margin trading and margin lending.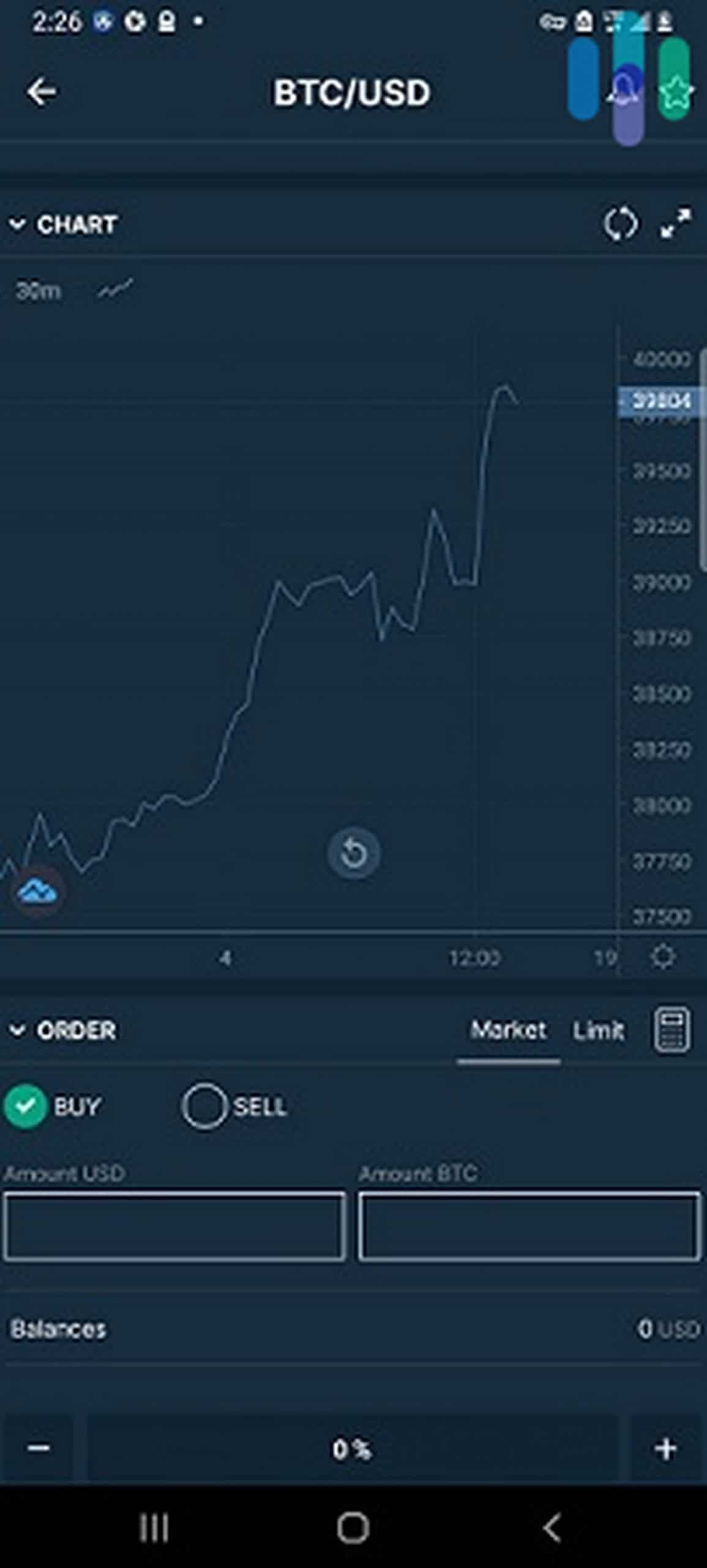 I checked out the Lite version of the app and found that it was very easy to use. The "Tickers" section is on a separate page from the candlestick chart, so the dashboard is less cluttered on the mobile version when compared to the web version. Other than that, the experience of using the two different versions was similar.
Pro Tip: The Metaverse is one of the latest trends in crypto investing. You can read all about it in my guide to Crypto Metaverse investing.
We've gone over all of the major factors to consider with Bitfinex, including coin selection, security, customer service, and more. So let's get to the point: should you use Bitfinex? Let's start with a brief summary.
The Good and the Not So Good
Overall, Bitfinex is an excellent exchange for serious traders or for investors who want access to a large number of coins. However, the unlicensed nature of Bitfinex means that it is inherently more risky to use than alternatives. So it's not best for everyone.
Is Bitfinex Right for Me?
If you're a serious trader who is comfortable making crypto deposits and withdrawals, you might like Bitfinex. It is one of the largest crypto networks in the world, with great liquidity and low slippage. It has an excellent coin selection, low fees, and advanced trading options.
However, the biggest problem with Bitfinex is that it isn't licensed in the U.S. This means that if you live in the U.S., you can't make fiat deposits or withdrawals from Bitfinex. So you'll need to already have cryptocurrency before using it.
If you already have another exchange account, this might not be a big deal.
But if you're new to crypto and looking for an exchange to get started with, Bitfinex won't work. You can't use it as your primary exchange if you live in the U.S.
Bitfinex is also risky for U.S. residents to use. If your deposit gets flagged as a "possible money laundering transaction," you could be asked to verify your identity. In this case, you may have to come clean and admit that you are a U.S. resident violating the terms of service of the exchange.
Your deposit could also be placed on hold for several days or even weeks while customer service straightens out what to do with you.
Because of these risks, U.S. residents may want to seriously consider using a licensed exchange like Coinbase, Kraken, or Crypto.com, instead of Bitfinex.
Just to be clear, most U.S. residents don't have a problem withdrawing from Bitfinex. But a few have complained that they've had their withdrawals put on hold until their identity was verified. So I just want to make sure you're aware of the additional risk involved.
If you're OK with taking these additional risks, Bitfinex can be a great exchange. It's one of the largest and most reputable exchanges in the world. It has been criticized for the security lapse that led to the hack of 2016. But it seems to have learned from this mistake and appears to be doing a better job now of protecting users.
If you decide that Bitfinex is not the right exchange for you, you may want to check out our Binance.US review to see if that exchange could be a better fit.