6 Celebrities Who Are Still Bullish on Crypto
Despite the recent decline in crypto, these celebrities are sticking with it for the long haul.
All of our content is written by humans, not robots.
Learn More
Crypto has had a tough year in 2022. Both Bitcoin and Ethereum have lost more than half their value, and that's scared many investors away from the crypto market. But some investors are sticking with crypto in the belief that it will eventually turn around.
Whatever your gut instinct says about crypto market trends, one thing is for sure. Digital security is going to play a huge role in crypto's future. Can exchanges protect us against the legions of crypto fraudsters out to pick our digital pockets? That's what's on the average investor's mind these days.
But plenty of A-list celebrities are also giving serious thought to crypto. Some of them are actually huge fans. We've got an exciting roundup of six of the most famous celebrity crypto investors for you today.
But first, let's talk about what's going on in the crypto market.
Celebs Surviving the Crypto Winter
The crypto market is going through a phase called a "crypto winter." During the entire history of crypto, winters have occurred twice, and each time they have caused staggering declines in the crypto market. These bear markets seem to happen every four years, almost like clockwork.
But so far, the market has always pulled out of a crypto winter within 12-15 months. There's no guarantee that this pattern will continue. But for now, the four-year pattern seems to be holding up.
You can read more about what might be causing this cycle in my article Crypto Winter or Crypto Ice Age?
The bottom line is that, for celebs who are investing in crypto, the goal is to survive the crypto winter because the crypto spring should (fingers crossed!) get here eventually. Along with it should bring the warmth and returns we've grown to love and expect with crypto investing.
OK, that's enough about the market. Here's the list of six celebrities who are STILL bullish on crypto.
1. Snoop Dogg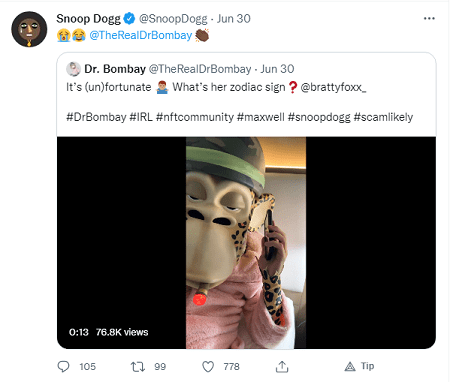 Snoop Dogg is mostly well known for his iconic rap songs. But he's also an astute investor. He acquired an interest in Reddit before it took off, and provided capital to cannabis companies before marijuana was legalized in California.
Snoop Dogg is also a big supporter of crypto and NFTs. He anonymously opened an NFT-related Twitter account under the name "Cosmo De Medici." The account was linked to a wallet with several CryptoPunks and Art Blocs that were each worth over a million dollars. After gaining some notoriety with this account, he suddenly revealed who he really was by posting to his @SnoopDogg account the message, "I am @CosmoDeMedici."
Snoop also created his own content in The Sandbox metaverse app. Called "The Snoopverse," it features a virtual reality mansion, Snoop-related avatars, and live concerts within the app.
The Snoopverse was part of The Sandbox Alpha 2, and should be available in the public launch of the app as well. You can read more about The Sandbox in my guide to the Crypto Metaverse.
Despite the crypto winter, Snoop Dogg is still bullish. He says that the crash has eliminated con artists and scammers, leaving the legitimate projects standing, which he thinks is a good thing. He told CNBC:
"I feel like this weeded out all the people who weren't supposed to be in the space and who were abusing the opportunities that were there."

1
2. Ashton Kutcher and Mila Kunis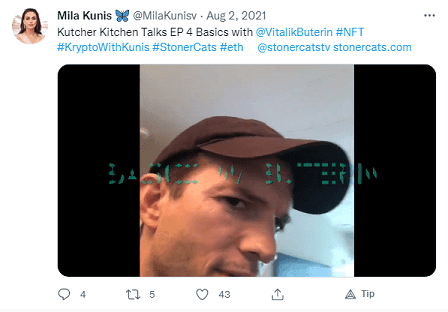 Many people are aware that these "That '70's Show" co-stars have been married since 2015. But it's less commonly known that they are both prolific investors and commentators on crypto. Ashton first got involved in 2012. He told Mila about Bitcoin, but she thought it was "horrible" and argued that it was illegal because it wasn't FDIC-insured. He invested in it anyway.
Since that time, Bitcoin has risen from $13.50 per coin to a soaring $65,000 per coin, before falling more recently to $23,700 per coin. Either way, we understand where Mila was coming from when she said she'd never been happier to be wrong.
Mila Kunis is a production partner at "Stoner Cats," an animated series and related NFT collection. The episodes of the series can only be watched by viewers who own a Stoner Cats NFT. Each NFT in the series has sold for over $1,000.
Last summer, the couple posted a comedic video to Twitter called "Kutcher Kitchen Talks, Episode 1." It featured Ashton asking Mila questions about cryptocurrency as if he was confused and didn't understand it. She tried to expertly answer each question without laughing. At the end, there's a surprise cameo appearance by Ethereum Founder Vitalik Buterin.
The video was a hit in the crypto community. It got 31,000 likes and was retweeted over 7,000 times.
In April, Ashton invested in Moonpay crypto exchange. So he is apparently still bullish in spite of the crypto winter.
Note:: Moonpay is a fairly new crypto exchange that tries to simplify the process of buying crypto. But it has higher fees than most other exchanges. Crypto.com and Robinhood are two other options for beginner-friendly exchanges. You can read about them in our review of Crypto.com and Robinhood review.
3. Gwyneth Paltrow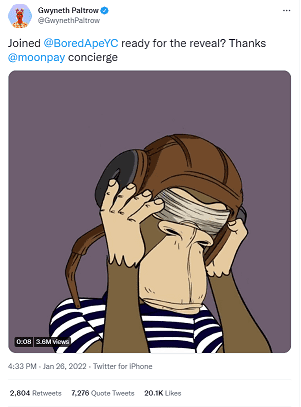 Gwyneth Paltrow starred in some of the biggest hit movies of the 1990s, including "A Perfect Murder" and "Shakespeare in Love." Today, she's also well known for her role as Pepper Potts in Marvel's "Avengers: Endgame," as well as her successful (and controversial) wellness company, Goop.
Paltrow is a serial crypto promoter and investor. In 2017, she became an advisor for Abra crypto exchange. The following year, she published a beginner's intro on how to invest in Bitcoin and cryptocurrency.2 In 2021, she acquired an interest in TeraWulf — a Bitcoin mining company that claims to use eco-friendly mining techniques. And most recently, in April 2022, she invested in the buzzing crypto startup, Moonpay.
Despite the crypto winter, Paltrow is still bullish. In June, she told the Wall Street Journal:
"I also think that there's a high probability that crypto will really be the future and even though some people still remain very skeptical, I think it's here to stay."

3
4. Adrian Grenier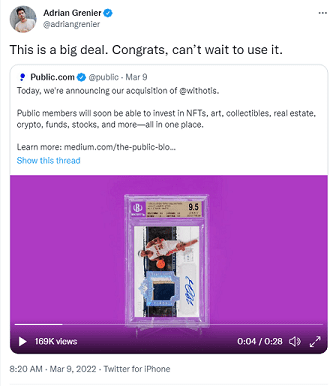 Adrian Grenier of "Entourage" fame surprised fans when he retired in 2020 to become a farmer in Bastrop, Texas. But he told CNBC he did it to "focus on getting back to basics and appreciating nature."4 Grenier hopes to build a self-subsistent farming community in the area. But he doesn't want the U.S. dollar to be used. Instead, the community will use Bitcoin as its primary method of payment.
Grenier has been an advocate of environmentalist causes throughout his life, so his support for Bitcoin mining has drawn criticism due to the cryptocurrency's high carbon emissions. But he has responded to the critics by saying that Bitcoin has positive uses that should be weighed against its environmental costs.
Despite the crypto winter, Adrian is still bullish. He told Yahoo Finance in April:
 "Crypto can fix a lot of the systems that are broken currently, and are quite wasteful across all industries."

5
5. Lionel Messi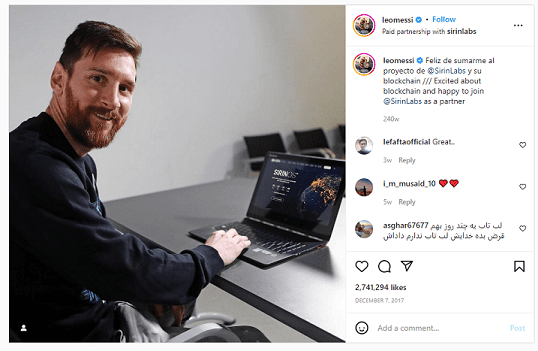 Lionel Messi, the star forward for Paris Saint-Germain and captain of the Argentina national team, is widely regarded as one of the greatest soccer players of all time. He keeps a low profile and doesn't reveal much of his personal life on social media. But a few pieces of evidence have surfaced that prove Messi is a crypto enthusiast.
In 2017, Lionel announced that he had formed a partnership with Sirin Labs, creator of the Finney crypto phone. The phone includes a built-in hardware wallet and cryptocurrency exchange. Lionel was named as a "brand ambassador" for the company.
In August 2020, Messi signed with Paris Saint-Germain after having played for FC Barcelona for the previous 17 years. As part of the deal, he is reported to have received a $29-$35 million sign-on bonus, a significant portion of which consisted of crypto fan tokens from the new team.6
FYI: Crypto fan tokens are governance tokens that allow fans to make decisions about a football club. For example, they may allow fans to vote on such things as jersey colors, armbands, or even player of the week.
Messi went one step further in March 2022. He signed a deal with Socios.com to promote crypto fan tokens throughout the world. Socios' homepage now prominently displays Messi's endorsement in multiple places.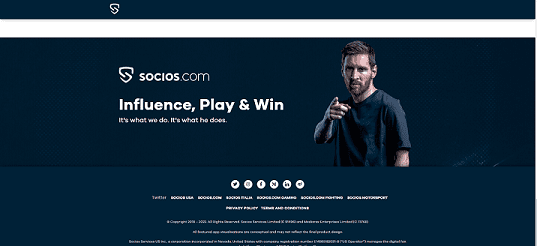 Celebrities Keep Supporting Crypto
So why do so many celebrities keep supporting crypto? One reason may be because they have so much money to invest. They don't want their cash sitting around earning nothing, and crypto looks like a better opportunity to them than other options.
Another reason may be because the technology is changing quickly, and they think newer trends in crypto offer unique experiences for consumers. Take NFTs, for example. Aside from video game items, NFTs barely existed before 2021. Now they're everywhere. Mila Kunis leveraged this new trend to make her money work for her. She didn't just sell JPEGs of digital art like everyone else. She did something unique by creating an animated series that was unlocked with the NFTs she was selling.
Fan tokens in sports are another new development. Lionel Messi saw that they offered a unique experience to soccer fans, allowing them to feel like they are part owners of a football club instead of just spectators. So he capitalized on that opportunity.
For Snoop Dogg, the metaverse offered a similar opportunity. It allowed fans to experience his music in a unique way that wouldn't have been possible on the old web.
It remains to be seen whether other celebrities will join the crypto community. Crypto is still seen as speculative hype by many people, celebrities included. But for these particular celebs, crypto is a long-term investment that they don't intend to let go of.