Coinbase Review 2023
Coinbase offers a great trading experience for beginners and veterans alike, but there are a few minor drawbacks to keep in mind.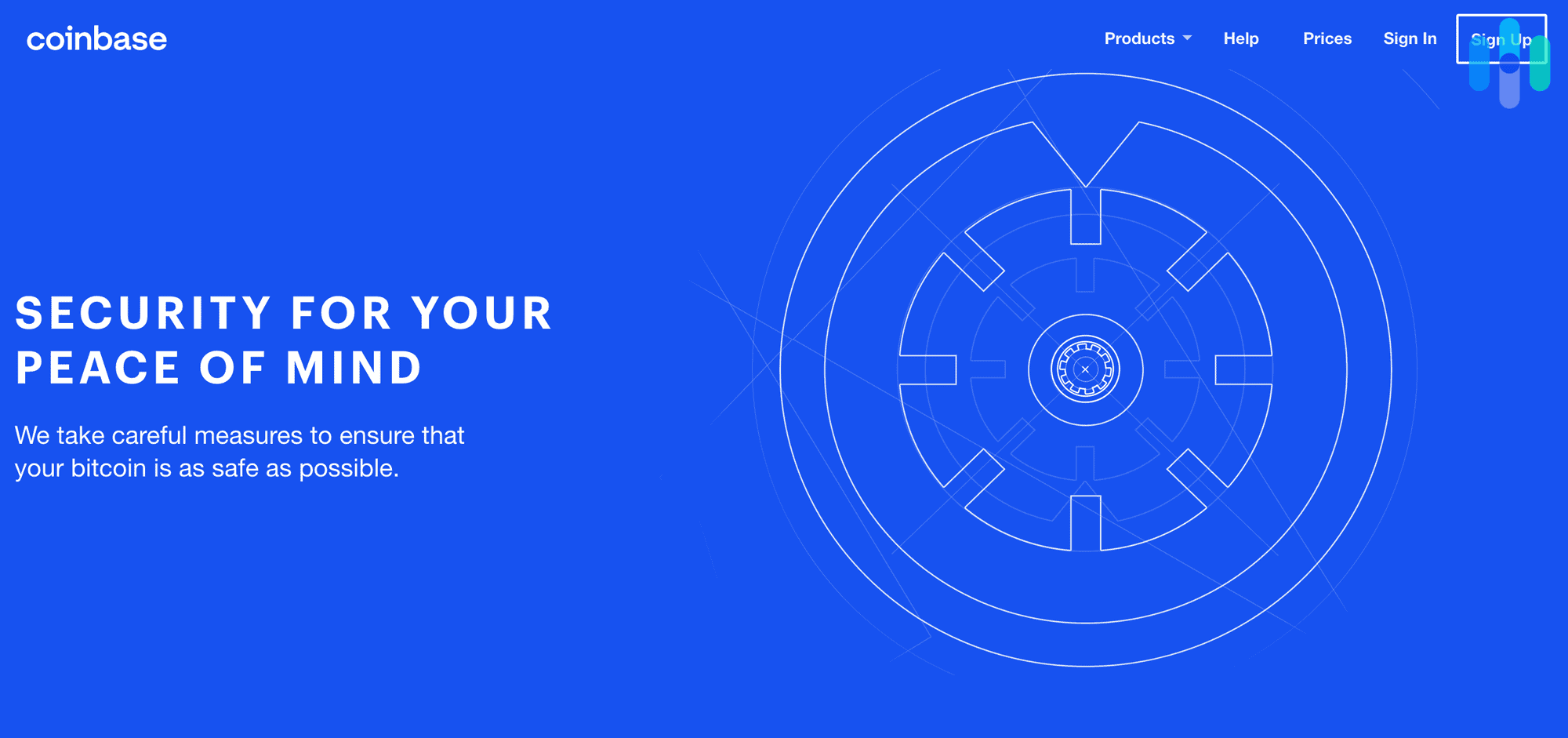 What We Like
User friendliness: Coinbase is one of the best exchanges for beginners. It's simple UI will have a newbie trading in no time.
Excellent security: While no exchange is 100 percent secure, Coinbase takes great measures to adapt to the ever-evolving threat landscape.
Long list of crypto supported: Coinbase offers support for nearly 100 different cryptocurrencies.
What We Don't Like
High Fees: Coinbase's trading fees are a little higher than some of its major competitors, and the fee structure can be a little confusing.
Poor customer service reputation: Coinbase has a lot of complaints online, and a reputation for being non-responsive to users experiencing problems.
Bottom Line
Simply put, if you're new to the cryptocurrency world, Coinbase is probably the best place to start. It doesn't have some of the advanced trading tools offered by other exchanges, but if you're looking to figure out if crypto trading is right for you, this exchange will get you up and running.
The content on this page is provided for informational purposes only. Security.org does not offer financial or investment advice, nor does it advise or encourage anyone to buy, sell, or trade cryptocurrency. It is advised that you conduct your own investigation as to the accuracy of any information contained herein as such information is provided "as is" for informational purposes only. Further, Security.org shall not be liable for any informational error or for any action taken in reliance on information contained herein.
You've heard about cryptocurrency, and it has piqued your interest. Why wouldn't it? Some guy made a million bucks off some meme called "doge," right?
We get that you want to get in on the action, even if there are some regulations to consider and digital security concerns to think about. If you're going to want to start dabbling in this world, you want to make sure you're not going to become fodder for hackers and scammers, right?
The good news is crypto investing is a lot more mainstream than it was just five years ago. Bitcoin is now accepted at gas stations across the country, and if you'd bought $100 worth 10 years ago, you'd be a millionaire many times over.1
As they say, the best time to plant a tree was 20 years ago, and the second-best time is today. So how exactly do you get started in the crypto world? And how can you protect yourself against crypto fraud and other digital security threats? After all, it's not like you can walk into a bank and ask for $50 worth of Bitcoin, right? Well, not yet. That's why you'll need to go through a reputable exchange like Coinbase.
FYI: An exchange is an online platform for buyers and sellers of cryptocurrency. The sales take place by trading one digital currency for another or purchasing a digital currency using conventional fiat money. That said, not every exchange is exactly trustworthy. Learn more in our guide to determining the legitimacy of a crypto exchange.
So far, so good. Now let's talk about the exchange itself.
Editor's Rating
Extremely user friendly
Large number of cryptocurrencies supported
Fully insured in the event of cyber attack
Coinbase: An Overview
Coinbase is one of the most well-known, user-friendly crypto exchanges on the market. Great for beginners and experienced traders alike, it supports a large number of cryptocurrencies and maintains a serious cybersecurity posture.
Founded in 2012 as a platform to exchange Bitcoin exclusively, the company has expanded exponentially with customers in over 100 countries trading approximately $547 billion per quarter. The platform's reach is huge, supporting more than 89 million users across the globe.2
FYI: The global cryptocurrency market is worth over $3 trillion. For reference, that's roughly one-tenth of the value of the entire New York Stock Exchange.3 How did all of this wealth accumulate, though? Learn more in our explanation of how cryptocurrencies gain value.
With two distinct exchanges — more on that later — as well as a stand-alone crypto wallet, Coinbase positions itself as a great place to get established in the crypto trade or as a no-nonsense platform for veteran traders to, hopefully, strike it big.
Coinbase has some distinct drawbacks though — namely its fees and reputation for poor customer service. We're going to get into all that, but, first, a word about the most important aspect of any exchange: security.
Coinbase's Cybersecurity
Just like physical security is critically important to banks, digital security is crucial for cryptocurrency exchanges. No exchange is 100 percent secure and no trader is 100 percent safe from scams, but Coinbase does everything it can to ensure it's keeping pace with industry best practices, including using two-step verification on all accounts, running all website traffic over encrypted networks, and using military-grade 256-bit encryption wherever it can be applied.
FYI: Coinbase is insured for theft, but your holdings will not be covered if your loss was the result of an individual breach resulting from user error. That means you're responsible for keeping your account and wallet safe by using good digital security practices. Learn more about that in our guide to keeping your crypto safe.
Additionally, 98 percent of customer funds are geographically distributed and stored offline, an important security measure to protect customers from theft and loss. Coinbase takes extreme care to stay abreast of all cyber threats, including using SQL injection filters and verifying the authenticity of POST, PUT, and DELETE requests to prevent CSRF attacks.
We'll slow down. If you're new to crypto, that may not make a lot of sense. What does it all mean, exactly? It means Coinbase is one of the most cyber-secure exchanges out there. That said, you should still practice good digital and crypto hygiene, such as using strong passwords and two-factor authentication, keeping your devices physically secure, and storing your cryptocurrency in an off-exchange wallet. More on that in our All About Crypto Wallets resource.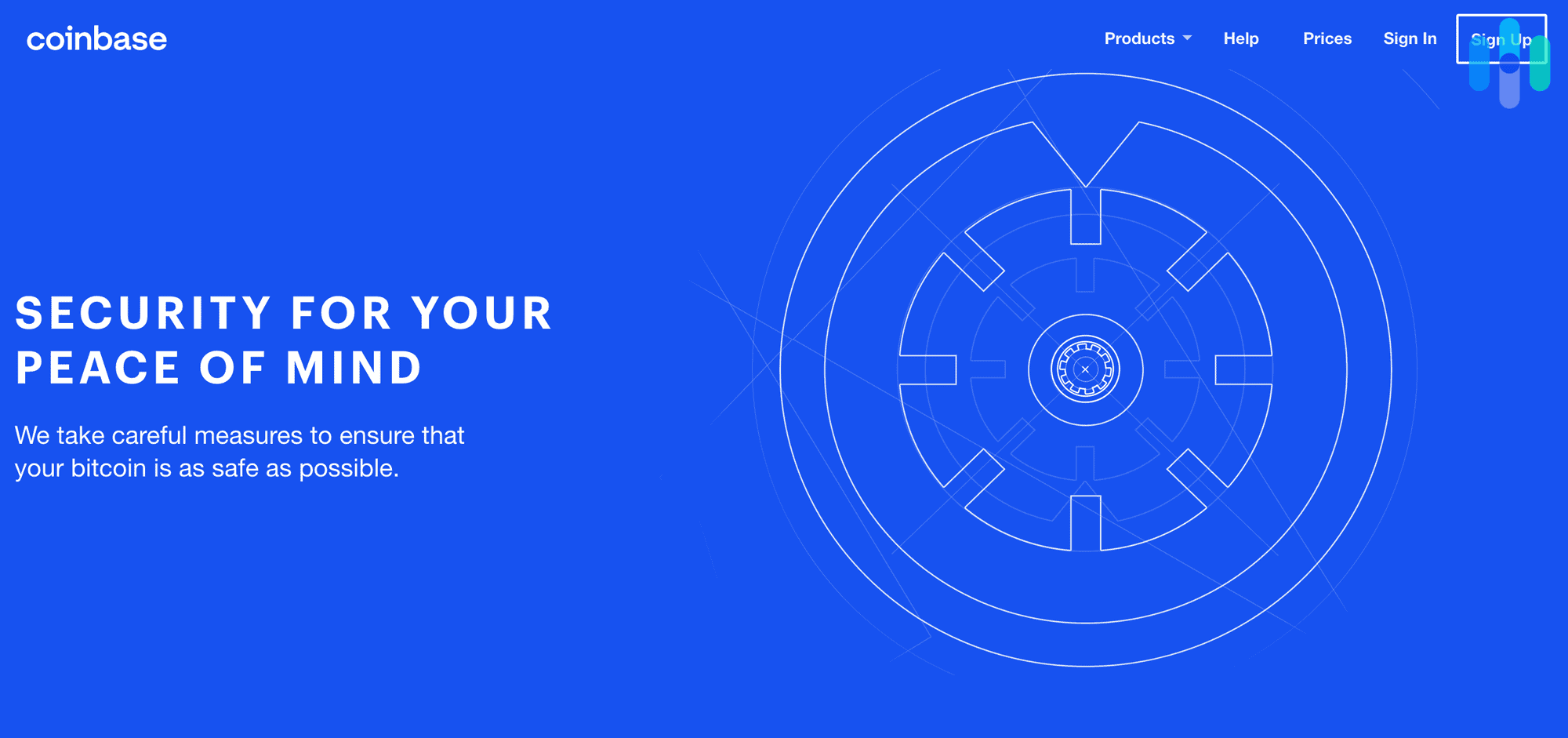 Adding to that peace of mind is Coinbase's insurance. The exchange carries crime insurance that protects digital assets held across its storage systems from loss and theft, including breaches.
That doesn't mean you'll be protected if some scammer gains access to your personal account, but you can rest easy knowing you'll be safe if there's some unforeseen attack and hackers make off with the contents of your wallet through no fault of your own.
Feeling confident? Great. Now let's talk about the fun stuff: What cryptocurrencies can you trade on Coinbase?
Cryptocurrencies Supported on Coinbase
Short answer? A lot. Coinbase supports nearly 100 digital currencies, and it adds new ones all the time. All the heavy hitters are included.
Bitcoin
Ethereum
Avalanche
Cardano
Solana
And the list goes on and on. If you're looking for an established coin, then chances are you'll find it on Coinbase. Most traders will be more than satisfied with the list of assets they have to choose from.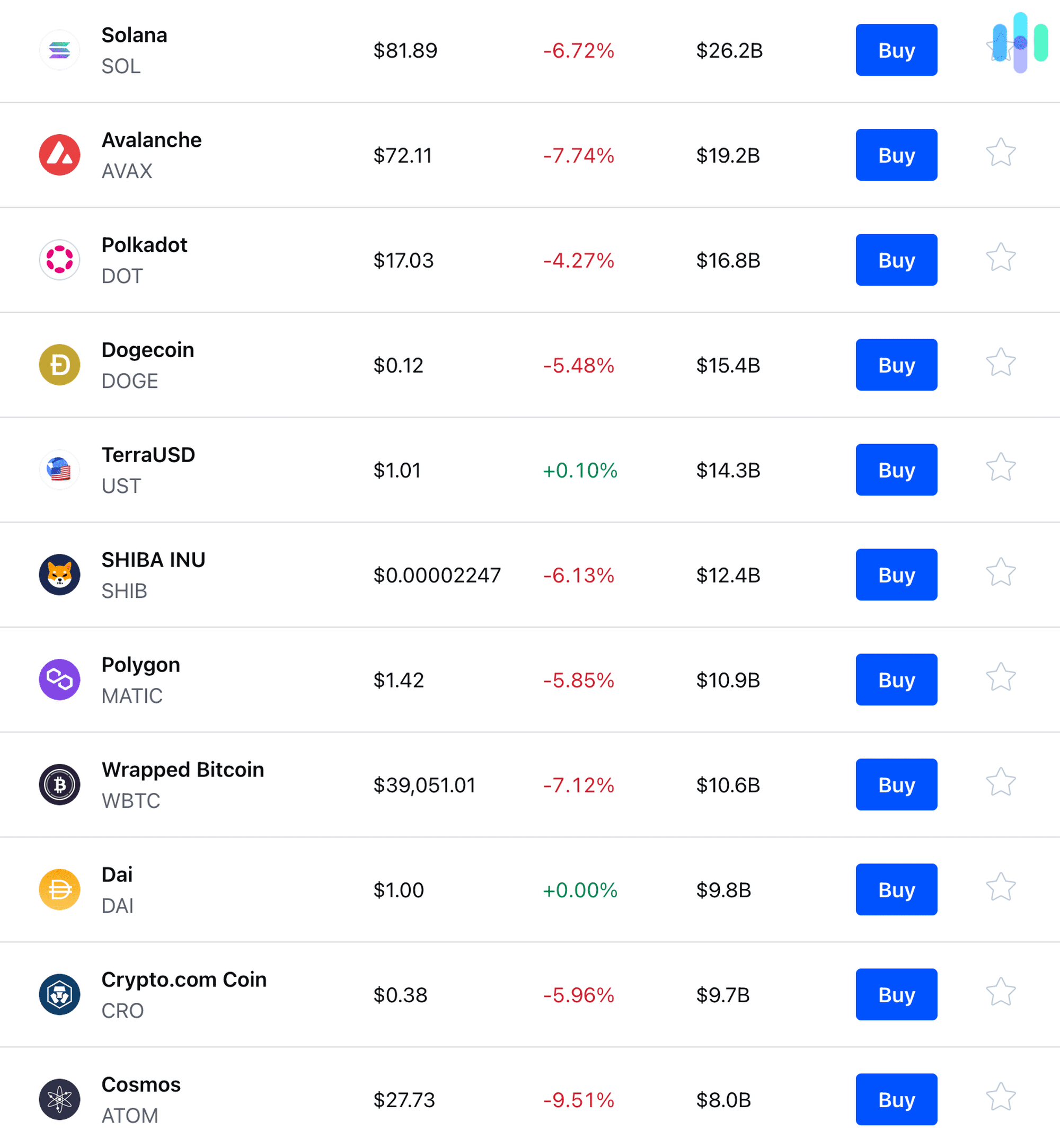 FYI: Bitcoin is far and away the most valuable cryptocurrency on the market. At the time of this writing, the all-time high price for a single Bitcoin was just over $67,000. If you're ready to buy, you're going to want to make sure you're purchasing crypto safely.
One drawback, however, is that Coinbase isn't exactly cutting edge when it comes to altcoins. If you're looking to invest in the next big thing as soon as it goes public, then this may not be the exchange for you.
If you're ready to get going, then let's talk about getting set up and trading crypto on Coinbase.
Getting Set Up and Trading on Coinbase
If you've ever used an online brokerage app like Robinhood to trade stock, then you'll feel at home on Coinbase. If not, don't worry. Coinbase is designed to be user-friendly, and it's a good choice for folks who are totally new to this world.
You'll start by creating an account. The process is easy enough: You'll enter your first and last name, an email address, and a password.
Pro Tip: Just for creating your account, Coinbase will give you $5 worth of Bitcoin for free.
Once you've verified your email address, you'll be asked to set up two-factor authentication by entering your phone number. You may be wary of giving out personally identifying information, but this extra security measure is helpful to keep your account safe.
You'll then select your citizenship and enter some more personal information, including your address, your birthday, and the last four digits of your Social Security number. Coinbase is legally required to collect this info, but, if you're concerned about privacy, remember the exchange goes to great lengths to protect its users' privacy.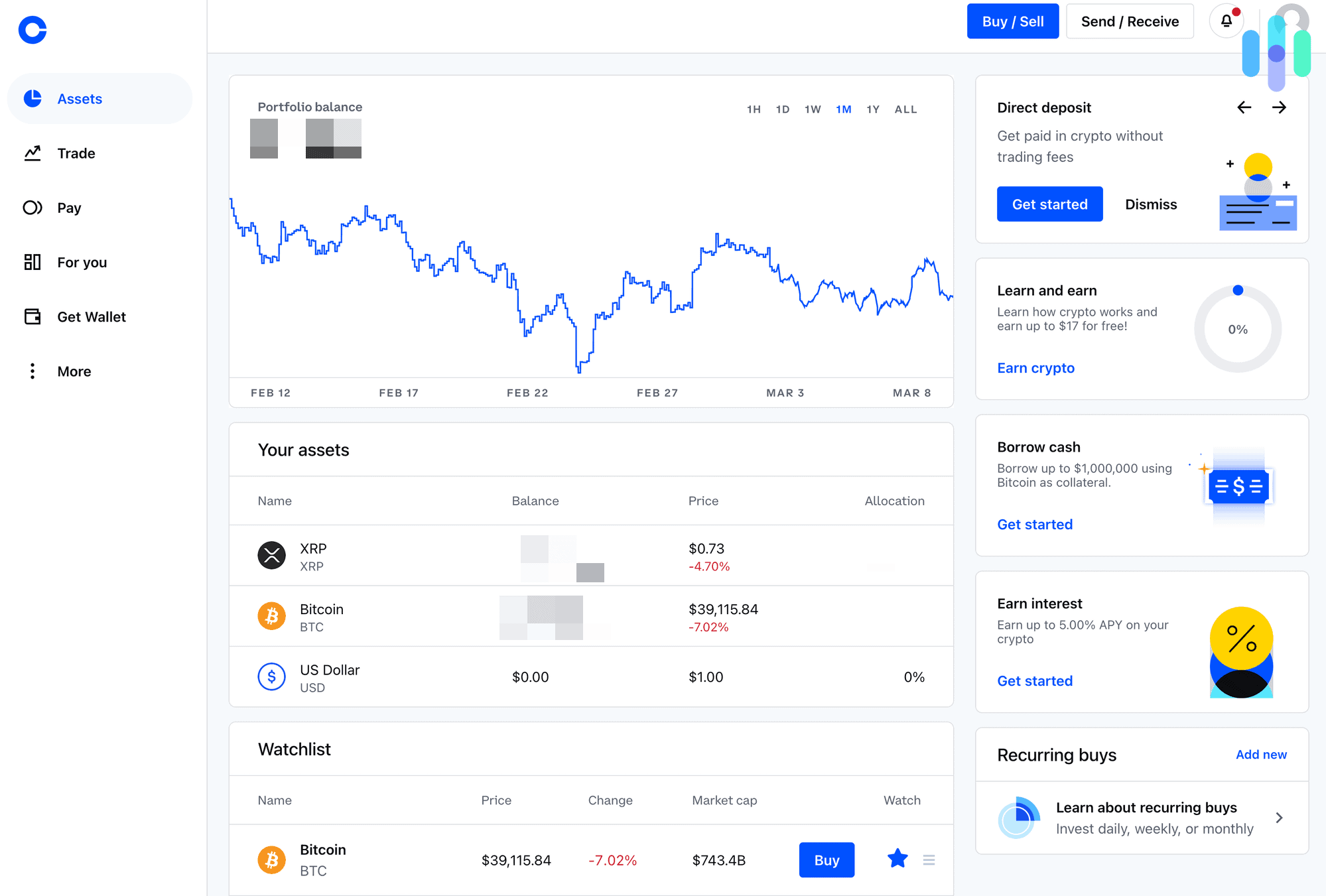 Once you're finished, you're off to the races. You'll be directed to your dashboard, where you have all sorts of options.
Trade: This is where you'll see the list of coins available to purchase. You'll be able to see relevant information about them, including their performance, market cap, volume, and circulating supply.
Pay: This is mainly used to withdraw crypto to your private wallet. You can also use it to pay businesses or individuals.
Wallet: This is where you can download Coinbase's wallet software. There are a lot of wallets out there, and, regardless of whether you use this particular wallet, that's where you'll want to store any crypto you're not using to actively trade. It's generally a lot safer to keep your crypto in a wallet than an exchange.
Coinbase Learn: This unique feature lets you earn crypto by watching videos about different currencies and features of Coinbase. If you want to be a crypto expert, then why not get paid (in crypto) while you learn?
Recurring Buys: Even in the volatile world of cryptocurrency, investing is still a long game. With this feature, you'll be able to set up daily, weekly, or monthly recurring purchases. A set-it-and-forget-it way to invest in crypto.
This may all sound great — and I'm inclined to agree — but we have to talk about one of the major drawbacks of Coinbase: its fees.
Coinbase Pricing and Fees
All exchanges take a small percentage on each transaction you make; that's how they provide their service. It's usually not even an amount you'd notice, but we still need to talk about it since Coinbase's fees are considerably higher than some competitors and its fee structure can be a little confusing. Here's how it breaks down:
Coinbase Trade Fees
| Trade amount | Fee |
| --- | --- |
| Less than $10 | $0.99 |
| Between $10 and $25 | $1.49 |
| Between $25 and $50 | $1.99 |
| Between $50 and $200 | $2.99 |
Anything above $200 will be a percentage of the individual transaction. In addition to these fees, though, you'll incur other costs for various funding and withdrawal methods. Here's how that looks:
Fees for Other Coinbase Transactions
| Method | Fee |
| --- | --- |
| Bank account | 1.49% |
| USD wallet | 1.49% |
| ACH transfer | Free |
| Debit or credit card | 3.99% |
| Crypto conversion | 2% |
| Wire transfer | $10 incoming, $25 outgoing |
That may seem a little confusing, but, in the context of trading on Coinbase, it makes a lot more sense. The big takeaway is that these fees are a little higher than Coinbase's major competitors, like I speak about in my Binance exchange review.
Let's have a quick look at how Coinbase stacks up against its competition.
Coinbase vs. Similar Exchanges
| Exchange | Coinbase | Binance | SoFi | Gemini |
| --- | --- | --- | --- | --- |
| Fees | Up to 5.98% | Up to 4.5% | Up to 1.25% | Up to 3.99% |
| Account minimum | $2 | $10 | $10 | $0 |
| Promotions | $5 in BTC | None | $10 in BTC | $20 in BTC |
| Advanced trading options | No | Yes | Yes | No |
Before we're done talking about fee structures and transaction costs, we need to talk about one last thing: Coinbase Pro.
Coinbase vs. Coinbase Pro
Coinbase Pro is for serious traders moving large amounts of crypto. If you see a comma or two (or three) in your balances, then you may want to consider switching. Pro offers several tools that more advanced traders can use to zero in on their targets, but one of the main benefits is its simplified fee structure. And just so you know, it doesn't cost anything extra to join Coinbase Pro.
Coinbase Pro's fee structure is based on two factors: your trading volume and the liquidity of the cryptocurrency at the time of purchase. If it's immediately available, then you're charged a "taker" fee. If you need to wait for a buyer, then you're charged a "maker" fee. Here's how it works:
| Trade volume | Taker fee | Maker fee |
| --- | --- | --- |
| Up to $10,000 | 0.5% | 0.5% |
| Between $10K and $50K | 0.35% | 0.35% |
| Between $50K and $100K | 0.25% | 0.15% |
| Between $100K and $1M | 0.20% | 0.10% |
| Between $1M and $10M | 0.18% | 0.08% |
| Between $10M and $20M | 0.18% | 0.08% |
| Between $20M and $50M | 0.15% | 0.05% |
| Between $50M and $100M | 0.15% | 0.05% |
| Between $100M and $300M | 0.1% | 0.02% |
| Between $300M and $500M | 0.08% | None |
| Between $500M and $750M | 0.06% | None |
| Between $750M and $1B | 0.05% | None |
| More than $1B | 0.04% | None |
Now for the other area where Coinbase doesn't receive high marks: customer service.
Coinbase Customer Service
We'd argue Coinbase's customer experience is pretty solid, but there is no shortage of customer service complaints online.
If there's a problem, then you can talk to an automated chatbot, email a support ticket, or call an automated phone system. Most online complaints feature a common theme: It's nearly impossible to talk to an actual human. Here's a Trustpilot complaint from Kristen B that's been slightly edited for length:
I use the "Message" box to explain my problem. The "live" help does not understand or doesn't care to understand how to fix the problem, and after 10 minutes of back and forth decides to advise me to try again to put in my user name. That wasn't helpful. Then I call the U.S.A. support number and … hold for 42 minutes before hanging up.4
Yikes.
Will your experience be the same? It's difficult to say, but it's best to go into this with the understanding that you're on your own to figure it out if something goes wrong.
We're not too excited about Coinbase's customer service reputation, but let's hit one more highlight before we get to the final verdict.
Coinbase Mobile App
Coinbase offers a mobile app that is just as easy to use as its desktop counterpart, albeit with fewer controls and information. All the basic functionality is there, and you're perfectly capable of managing your account from the app.
Pro Tip: Coinbase's theft insurance will not cover you if your account is compromised by your own actions, which means you need to keep your devices digitally and physically secure. You may want to consider using a virtual private network.
Coinbase is available on Android and iOS devices if you're looking to trade on the go.
Now that we've discussed pretty much everything there is to know about Coinbase, it's time to get down to brass tacks. Should you use this exchange? Let's start with a summary.
The Good and the Not So Good
In our book, the pros outweigh the cons — especially if you're just looking to dip your toes into crypto. We're concerned about the poor customer support, but we can let it slide given Coinbase's great security posture. That said, just because Coinbase checks most of our boxes doesn't necessarily mean it's the right exchange for everyone.
Is Coinbase Right For Me?
If you're brand new to crypto or you've done some trading and want to learn more about the industry to step up your game, then you should absolutely check out Coinbase. It is approachable enough for newbies and advanced enough for hobbyist traders to feel in control.
If you're a crypto professional — meaning you're day trading with Scrooge McDuck–level fortunes or you've quit your job to focus exclusively on these marketplaces — then you're likely going to find Coinbase a little too basic.
Ultimately, your success in the crypto world requires prudent strategy, a steady hand, and an exchange that offers the tools you'll need to be successful. If you're not ready to get started right now and would instead like to learn more about this world, head over to our Everything You Need to Know about Crypto resource. We bet you'll find exactly what you're looking for there.