Crypto.com Review 2023
Crypto.com is an excellent exchange for mobile app users. But it may not be best for users who prefer to trade from a desktop.
All of our content is written by humans, not robots.
Learn More
By

Tom Blackstone
, Cryptocurrency Expert
Last Updated
on
Jan 23, 2023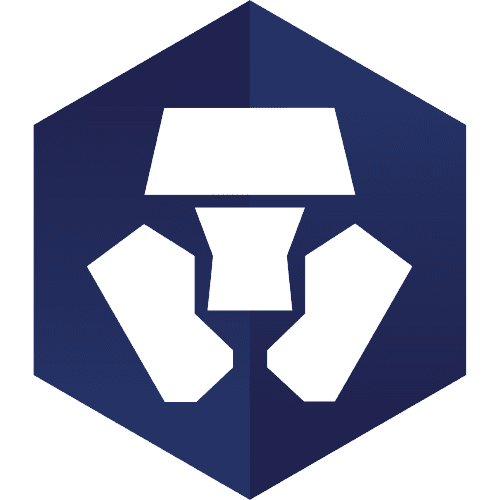 What We Like
Low fees: 0.4% or less per trade
Debit card for spending crypto: Makes it easy to sell crypto and withdraw cash
Large coin selection: Over 150 coins to choose from
What We Don't Like
No desktop app: Crypto.com is only available as a mobile app
No crypto-to-crypto trades: If you want to swap one crypto for another, you have to first sell the crypto you have, then buy the crypto you want
Bottom Line
If you're mostly interested in a mobile crypto app, Crypto.com is an excellent choice. It has low fees and great coin selection. The exchange also has a great debit card program that offers cash-back rewards, free Netflix, and other perks for crypto savers. But if you prefer to use your desktop or laptop for crypto trades, you might not like Crypto.com, as it's only available on mobile.
The content on this page is provided for informational purposes only. Security.org does not offer financial or investment advice, nor does it advise or encourage anyone to buy, sell, or trade cryptocurrency. It is advised that you conduct your own investigation as to the accuracy of any information contained herein as such information is provided "as is" for informational purposes only. Further, Security.org shall not be liable for any informational error or for any action taken in reliance on information contained herein.
So you've been hearing about cryptocurrency, and you're ready to dive into the market. But you don't just want to hold onto your crypto, you want to use it. You may want to buy things in stores with it, especially if the price goes up. And you're comfortable with using a mobile app to manage your portfolio.
You also understand the digital security threats that come with trading crypto, and you've taken steps to ensure your safety online. You're well aware of the potential scams, and you're avoiding cyber attacks through good digital hygiene like utilizing strong passwords and two-factor authentication.
Now you're looking for an exchange that prioritizes digital security and also has with low fees and a large coin selection. If this describes you, Crypto.com has lots to offer.
Today I'm going to unpack my experience using Crypto.com. What is the user experience like? Are the fees worth it? And what features and tech does the app offer? I'll answer all of these questions and more in today's Crypto.com review. So let's dive in.
Editor's Rating
Debit card program with cash-back rewards
Beginner-friendly interface
150+ coins
Getting to Know Crypto.com

Crypto.com was founded in 2016. It was originally named "Monaco."1
The people at Monaco were concerned that very few stores accepted cryptocurrency. They wanted to build a bridge between the future crypto payment system that they knew was on the way and the current, legacy debit card system that most people still used. Their solution? A crypto exchange attached to a debit card, with cash-back rewards for the use of the card.
Monaco issued its token, MCO, in 2017, and promised that holders of the token would be able to stake it to earn greater cash-back rewards from the debit card. It raised over $26 million in the ICO.
FYI: The Monaco token has now been replaced with Cronos (CRO). All of the original investors were given Cronos in a token swap, and MCO no longer has any utility.
In 2018, Monaco changed its name to Crypto.com. Since then, it has become the fifth-largest cryptocurrency exchange in the world. It handles over $1.5 million worth of crypto trades each day.
Now let's consider the security of Crypto.com. Is it a safe exchange?
Crypto.com Privacy and Security
I investigated Crypto.com's security practices as stated by the company, and I searched for information about a history of hacks. Here is what I found.
Crypto.com hack
First off, Crypto.com doesn't keep user funds in hot wallets, so none of its customers lost any crypto or cash in the hack in early 2022. All of the losses were absorbed by the company itself.2
According to the company, an attacker found a way to make withdrawals from accounts without entering the accounts' 2FA codes. A total number of 483 accounts were hacked, and over $34 million worth of crypto was stolen by the attacker.
The attack was discovered by Crypto.com's risk monitoring system, and withdrawals were halted for 14 hours while the team investigated. The exchange resumed normal functioning after this time had passed.
To prevent future security breaches, the team implemented new security features, including:
A new 2FA system
Mandatory 24-hour delay on crypto withdrawals to new addresses
Email alerts when new crypto addresses are whitelisted
Next let's go over the exchange's current security measures.
Cold wallet storage
Crypto.com says that it keeps 100 percent of customer funds in cold wallets — out of the reach of hackers. This means that in order for a hacker to steal your funds, they would need to physically steal the cold wallets this crypto is stored on.
FYI: A "cold wallet" is a private key stored on a device that is not connected to the internet. Stealing crypto from a cold wallet is extremely difficult, and usually can't be done unless the thief takes physical control of the device. You can read more about cold wallets in our guide to crypto wallets.
In order to allow for withdrawals, Crypto.com keeps some of its own crypto in the exchange's hot wallets, and it reimburses itself from the cold wallets whenever users make withdrawals. This way, it always has enough crypto to pay users for whatever it owes to them.
Withdrawal protection
Whenever you attempt to withdraw to a new crypto address, you have to first whitelist the address through the app. And when you've whitelisted the address, you have to wait 24 hours before you can make the withdrawal.
Overall, Crypto.com seems to have above-average security protocols. Despite being hacked for $34 million, it has paid what it owed to all of its users, and has implemented strong security protocols to prevent future hacks.
Pro Tip: No matter how secure an exchange is, it can never be as safe as a private wallet. So if you're not actively trading your crypto, you may want to move it off the exchange and into your own wallet. Here are some of the best crypto wallets available.
Now let's take a look at Crypto.com's coin selection.
Cryptocurrency Selection on Crypto.com
Crypto.com is one of the better exchanges when it comes to coin selection. It has over 150 different coins available. Major cryptos like Bitcoin (BTC), Ethereum (ETH), US Dollar Tether (USDT), and Binance Coin (BNB) can be found at Crypto.com, as well as lesser known coins like Multichain (MULTI), Tectonic (TONIC), and DappRadar (RADAR).
Crypto.com also carries sports-related governance tokens like Juventus Fan Token (JUV) and S.C. Corinthians Fan Token (SCCP). These tend to be harder to find on other exchanges.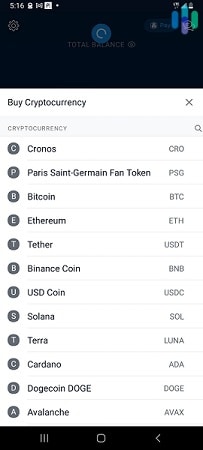 Overall, Crypto.com has great coin selection. In the next section, we'll discuss Crypto.com's most impressive feature: its debit card rewards program.
Crypto.com Debit Card Rewards
Probably the biggest difference between Crypto.com and its competitors is its debit card program.
Once you've signed up for a Crypto.com account, you can get a basic "Midnight Blue" Crypto.com Visa card mailed to you. This card allows you to spend your Crypto.com fiat balance at any retailer that accepts Visa.
If you run out of cash, you can "top up" the card using the crypto you hold in the app. So essentially, you can spend your crypto at any place that takes Visa cards (in other words, just about everywhere).
You also get 1 percent cash back every time you use the card. So if the card you currently use doesn't give cash back, you may want to consider transferring your spending money to the app.
This cashback is paid in the form of Cronos. You can sell your Cronos immediately after receiving it to lock in the dollar value of your reward, or you can stake it to earn more Cronos in the future. It's up to you.
If you choose to stake your Cronos, you can get higher level versions of the card that pay even greater cash back and have better perks. Here is a chart showing how much Cronos you need to stake for each level of the card and what the rewards are for each level.
| Card Type | Midnight Blue | Ruby Steel | Royal Indigo or Jade Green | Frosted Rose Gold or Icy White | Obsidian |
| --- | --- | --- | --- | --- | --- |
| CRO staked | 0 | $400 | $4,000 | $40,000 | $400,000 |
| Cash back | 1% | 2% | 3% | 5% | 8% |
| Spotify | No | Free | Free | Free | Free |
| Netflix | No | No | Free | Free | Free |
| Amazon Prime | No | No | No | Free | Free |
| Expedia | No | No | No | 10% off | 10% off |
| Airbnb | No | No | No | No | 10% off |
| Airport lounge access | No | No | Yes | Yes and bring one guest | Yes and bring one guest |
| Bonus rewards | No | No | No | Yes | Yes |
| Welcome pack | No | No | No | Yes | Yes |
| Private jet partnership | No | No | No | No | Yes |
By the way, all of the cards of Ruby Steel level and above are metal, not plastic. So that's another perk to staking CRO.
The only other exchange with a similar debit card program is Coinbase, and its card doesn't have an extensive number of rewards as Crypto.com's. So this is definitely an advantage to using Crypto.com.
Getting Started on Crypto.com
Signing up with Crypto.com is pretty simple and trouble-free. Just take the following steps:
Open a browser on your phone and navigate to Crypto.com.
Scroll down the page, and click either the Google Play or Apple App store link for the app.
Click the install button.
When it finishes installing, launch the app.
Click Create New Account.
Enter your email address.
Slide the puzzle into the correct space to prove that you're not a bot.
Open your email inbox, find the confirmation email, and click the link to finish creating your account.
Identity verification
As soon as you log into your account for the first time, you'll be confronted with a warning that you need to verify your identity before going further.
Enter your full name, take a picture of the front and back of your driver's license or passport, and take a selfie. You should receive an email within an hour or two saying that you've passed.
Did You Know: Crypto.com has to verify your identity so that it doesn't get penalized by U.S. FinCEN regulations. There are other legal risks to crypto investing you may want to know about as well.
The most common reasons for not passing are blurry driver's license photos or an unclear selfie. So if you're in a dark room, you may want to wait until you get into a well-lighted area before going through this process.
There are no "verification levels" at Crypto.com like there are on some other exchanges. Instead, all accounts officially have the following withdrawal limits.
| | Through ACH | Through wire transfer |
| --- | --- | --- |
| Daily | $100,000 or 5 withdrawals | $1,000,000 or 5 withdrawals |
| Monthly | $1,000,000 or 30 withdrawals | $10,000,000 or 30 withdrawals |
In addition to these limits for fiat withdrawals, there's also a 10-Bitcoin limit on crypto withdrawals.
Crypto.com's dashboard
Once you've set up your account and gotten verified, you'll be taken to the Crypto.com dashboard. See what each tab does below.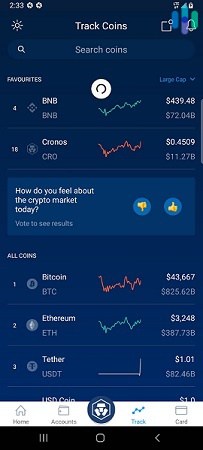 Home: At the top of this tab are the Trade and Transfer buttons. These take you to pages where you can buy or sell crypto or send and receive it. Below these buttons is your list of favorites. It shows Binance Coin, Cronos, Bitcoin, and Ethereum by default. If you scroll down further, you can see the list of top gainers for the day.
Accounts: This tab gives you access to your crypto wallet and fiat wallet. It also shows your total portfolio balance. So you can use this to see at a glance whether you are up or down for the day.
Crypto.com button: It might not be obvious at first (or, at least, it wasn't to me), but the Crypto.com logo in the middle can be clicked. This brings up a kind of "site map" that lists practically every subpage in the app. So if you ever feel lost, just click this button. You'll likely find what you're looking for.
Track: This tab lists all of the coins offered on the exchange, along with their prices. It also shows a small chart for each coin, allowing you to see what its price action has looked like over the course of the day. Coins that have gained for the day are in green, whereas coins that have fallen are in red.
Card: You can use this tab to order the Crypto.com debit card and start earning cash back.
Overall, the Crypto.com app is pretty easy to sign up for and use. The only significant problem is just getting used to the idea that the app is mobile-only. But for a strictly mobile app, it works well.
Now let's discuss Crypto.com's fees.
Crypto.com's Low Fees
Crypto.com's fees are on the lower end of the spectrum when compared to other changes. It charges significantly less than other beginner platforms like Coinbase or Coinmama.
Pro Tip: Once you've got an exchange account, you may wonder which crypto is best to buy. Check out our guide to what makes cryptocurrency gain value for some tips on how to choose the right coin.
Trading fees
Crypto.com charges a maximum of 0.4 percent per buy or sell order, as long as you don't use a debit card to make the cash transfer. If you do greater than $25,000 worth of trading volume over 30 days, the fee declines. It also declines if you make limit orders instead of market orders. Here is a chart showing the fees for each level of volume on Crypto.com.
| 30 day volume | Market orders | Limit orders |
| --- | --- | --- |
| $0 <= $25,000 | 0.40% | 0.40% |
| >$25,001 <= $50,000 | 0.35% | 0.35% |
| > 50,000 <= $100,000 | 0.25% | 0.15% |
| > $100,000 <= $250,000 | 0.16% | 0.10% |
| > $250,00 < $1 million | 0.15% | 0.09% |
| > $1 million <= $20 million | 0.14% | 0.08% |
| >$20 million <= $100 million | 0.13% | 0.07% |
| >$100 million <= $200 million | 0% | 0.06% |
| > $200 million | 0.10% | 0.04% |
Other fees
If you buy crypto with a credit card, Crypto.com charges an additional 2.99 percent on top of the trading fee. But this fee is waived if you use a debit card instead. If you use PayPal to make a deposit, the fee is 2.1 percent.
If you lose your Crypto.com debit card, the exchange will charge you $7 to replace it. If you lose any of the higher tier cards, it will charge you $50 to replace it.
You may get hit with a $25 fee if you transfer cash from the exchange to a bank account. But you can avoid this by using the Crypto.com debit card or by just withdrawing crypto instead of cash.
Now here's how Crypto.com stacks up to the competition.
Crypto.com vs. the Competition
| Exchange | Crypto.com | Kraken | Coinbase | Binance.US |
| --- | --- | --- | --- | --- |
| Fees (excluding debit card processing) | Up to 0.4% | Up to 0.26% | Up to 1.49% | Up to 0.1% |
| Coin selection | 150+ coins | 90+ coins | 160+ coins | 60+ coins |
| Debit card deposits | Yes | No | Yes | Yes |
| Debit card with cash back | Yes | No | Yes | No |
| Advanced trading options | No | Yes | No | Yes |
| Margin/futures | No | Yes | No | No |
Crypto.com Customer Service
Crypto.com provides 24/7 customer service through its in-app chat system. If you need help with anything, you can click the chat icon in the upper-right section that looks like two cartoon bubbles.
I tested this system out by typing "Hello, is anyone there?" In response, the app gave me a message that indicated it might take up to 20 minutes to get a response. It also gave me a list of general topics from the help section to browse while waiting.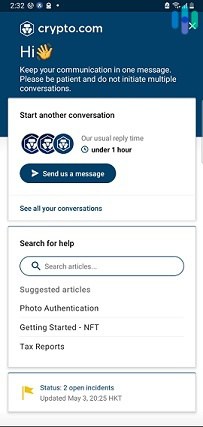 Within about a minute, I got a response from someone named "Hampton" that referred to me by name and thanked me for contacting support. So yes, there are definitely real people on the other side of that chat box.
If you have problems specifically with the Crypto.com debit card, you can call 888-824-8817. By the way, this is the number to call if you lose your card or someone steals it.
If the chat line is backed up and you would rather email, you can contact the team at contact@crypto.com.
Next, let's consider Crypto.com's reputation for customer service.
FYI: Scammers are always trying to steal crypto from unsuspecting users. But practicing good security habits can often foil their plans. To help explain what these habits are, I've written this guide to protecting your crypto.
Trustpilot reviews
As is the case with almost every crypto exchange, Crypto.com has a poor customer service record on review sites like Truspilot.com.
63 percent of reviewers have rated Crypto.com "bad" for customer service, while only 24 percent have rated it "excellent."
Negative reviews usually complain about identity verification. They claim the team asks for the same documents over and over again, only to reject them. Positive reviews rave about the debit card and cash-back program or say that the app is especially fast. Positive reviews also say that customer service reps tend to be friendly and helpful when contacted through chat.
The Crypto.com app doesn't have a desktop version. But there is a completely separate platform called "Crypto.com Exchange" that is often confused with this app, and it is only available for desktop. So let's go over the difference between these two platforms.
The Crypto.com App vs. the Exchange
In most cases, when someone mentions the "Crypto.com exchange," what they mean is the Crypto.com app we've been discussing in this review. But there is also an app officially called the "Crypto.com Exchange." Confusing, right? Let's try to clear it up.
The Crypto.com Exchange is a platform for institutional clients, like brokerages and hedge funds. It allows these clients to trade one crypto for another. Deposits and withdrawals can only be made with crypto; fiat transfers are not allowed on Crypto.com Exchange at all. Investors also can't swap fiat for crypto or crypto for fiat on it.
The only trades you can make on Crypto.com Exchange are crypto-to-crypto trades.
Here are some other differences between the Crypto.com app and Crypto.com Exchange.
Crypto.com Exchange has both a desktop and mobile app, while the regular Crypto.com app is only available for mobile.
Crypto.com app allows you to make fiat-to-crypto and crypto-to-fiat trades, but you can't make crypto-to-crypto trades on it at all.
Crypto.com Exchange is not fully available in the U.S. Institutional clients can sign up for the waitlist to use it when it becomes available, but that's all they can do right now. Crypto.com app is fully available in the U.S.
Maybe Crypto.com will rename its institutional product to something less confusing in the future. In the meantime, I hope this explanation has cleared things up.
Next, let's summarize the benefits and disadvantages of using Crypto.com.
The Good and the Not So Good
Is Crypto.com Right for Me?
At this point, you may be wondering if Crypto.com is right for you. The answer is that it really depends on what you want to use it for.
Are you a frequent crypto trader who's trying to time the market? If so, you might not like the simple interface provided by the Crypto.com app, and you may be better off with Binance (read our Binance review) or Kraken (read our Kraken review). These apps provide complex order types that professional traders often use.
But if you think of yourself as more of an "investor" rather than a trader, Crypto.com might be perfect for you.
Crypto.com is especially good for someone who wants to spend crypto and earn cash-back rewards. There really is no comparing Crypto.com's debit card rewards to the competition.
Crypto.com is also great for investors who are comfortable making trades from a mobile device. If you prefer to trade from a desktop, you might want to try Coinbase instead. You can read more about this popular exchange in my full Coinbase analysis.
Overall, Crypto.com is a great exchange for most crypto users. It has an easy-to-use interface, good coin selection, and low fees, all of which make it one of the best crypto exchanges out there.