KuCoin Review 2023
An unregulated platform for experienced traders, KuCoin offers one of the best selections of cryptocurrencies
All of our content is written by humans, not robots.
Learn More
By

Tom Blackstone
, Cryptocurrency Expert
Last Updated
on
Oct 21, 2022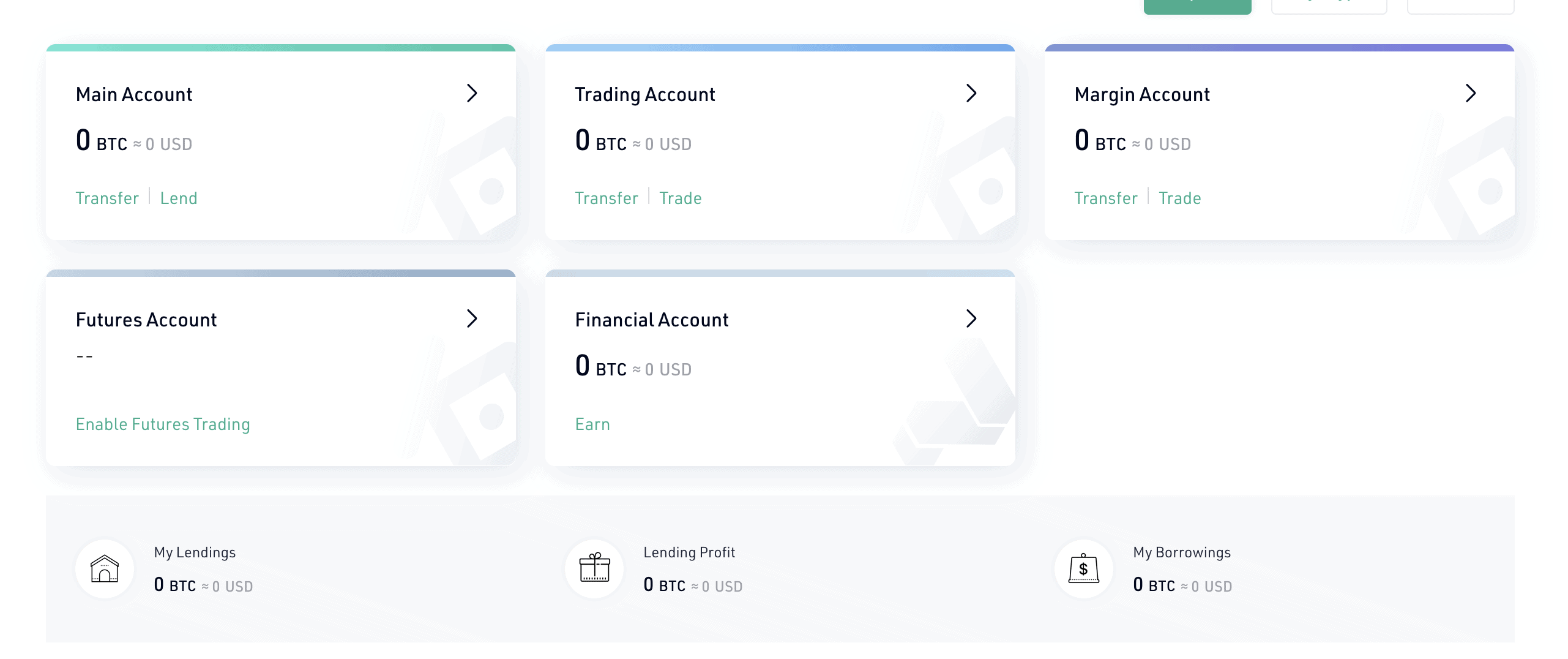 What We Like
Low fees: Its fee structure is a little confusing at first, but KuCoin's fees are some of the lowest in the business.
Huge list of tradable crypto: KuCoin's list of supported cryptocurrencies is a mile long and gives users access to emerging altcoins.
Prioritizes privacy: If you're looking to trade crypto without a lot of oversight, then KuCoin may be right for you.
What We Don't Like
Not licensed to operate in the U.S.: KuCoin isn't licensed to operate in the United States, so U.S.-based users will have to assume some additional risk.
Cannot purchase crypto with fiat currency: KuCoin is a crypto-only exchange. If you want to purchase coins with fiat money, then you'll have to do so through a partner.
Bottom Line
If you're an advanced crypto trader looking for an exchange to give you all the tools you're looking for and more, then KuCoin is likely a good bet. It has excellent market analytics and provides users with the ability to do some pretty fancy financial footwork.
KuCoin is an unregulated exchange that offers a wide variety of coins for investors to trade using quite a few advanced techniques. For experienced traders looking to branch out into more esoteric currencies or explore more potentially lucrative trading options, KuCoin is a great choice (with one caveat).
The kicker? U.S. cryptocurrency regulations dictate that KuCoin is not licensed to operate here. You can still use the exchange if you're stateside, but it will be limited and you'll assume much higher risks than your international counterparts.
This brings up the topic of digital security, which is so vital when investing and using crypto exchanges. We always recommend focusing on privacy and security when dealing with crypto. So let's see just how safe (or unsafe!) KuCoin is while we dive into the features and benefits of this popular exchange.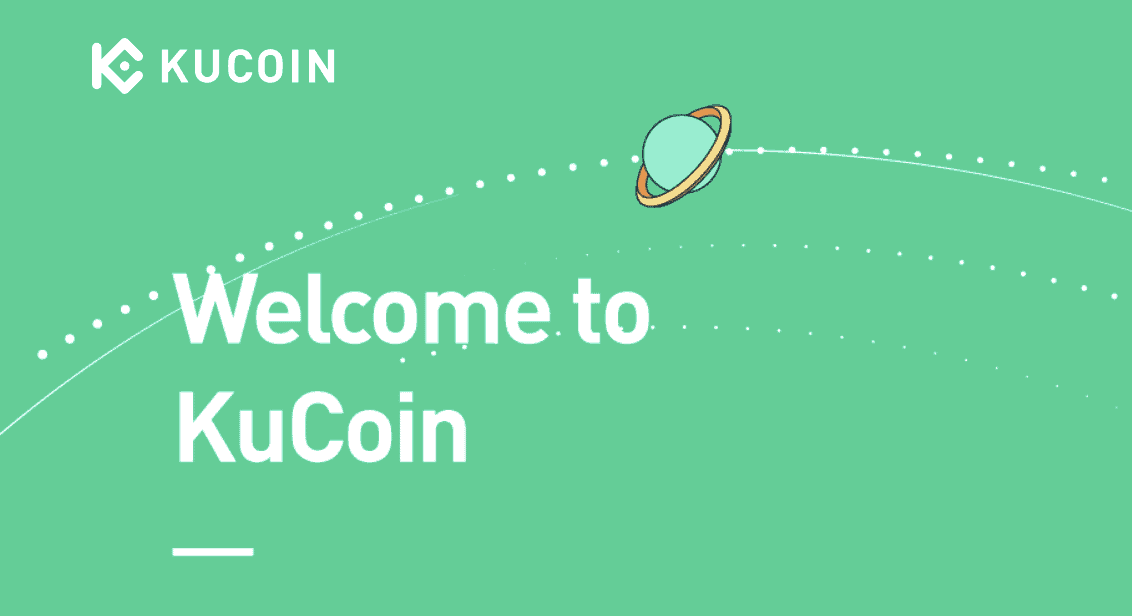 An Overview of KuCoin
Based in Seychelles, KuCoin has a presence in over 200 countries and is used by over 10 million traders. KuCoin is the fifth-largest crypto exchange in existence, by market cap. Unlike most exchanges, though, KuCoin deals exclusively in cryptocurrency, which means you can't just digitally swipe your debit card to purchase Bitcoin or Ethereum.
Why? Banks and debit cards won't do business with an exchange that isn't licensed. Dealing strictly in cryptocurrency allows KuCoin to avoid many of the regulatory nuisances other exchanges have to deal with.
On the other hand, it means you'll need to already have some cryptocurrency before you can use KuCoin. Most people make deposits to KuCoin using USDT, Ethereum, or Bitcoin.
Before getting your heart set on KuCoin, take a look at our guide to safely buying cryptocurrency and how to select a legitimate exchange. If you're feeling confident with that material, then let's dig in a little deeper.
KuCoin's Security
KuCoin takes industry-standard approaches to security, including two-factor authentication, encryption of all customer data, and email confirmation upon login. It also has an internal risk-management team and offers the ability to create an additional password for trading on top of the one you'll use to log in to your account.
KuCoin's hot wallets were hacked in 2020, however, and about $285 million worth of crypto was stolen. The majority of stolen coins were recovered, and the remaining funds were reimbursed by KuCoin's insurance. The hack caused the company to upgrade and enhance its security significantly. "The experience gained from this incident will enable us to quickly advise and support other industry partners in the event of a security crisis in the future," CEO Johnny Lyu said.1 KuCoin now uses Onchain Custodian to secure the assets on the exchange.
Before we move on to comparing KuCoin with its competitors, we have to discuss the one big risk you take when using it: the lack of mandatory KYC.
Know Your Customer (KYC) at KuCoin
KuCoin doesn't require know your customer (KYC) for accounts that do less than 5 BTC worth of withdrawals per day (over $200,000 at today's Bitcoin price), which means most people can use KuCoin without proving their identities.
FYI: Know-your-customer regulations are a set of standards that financial and investment services use to verify their customers and help prosecute crimes. It is required by the Financial Crimes Enforcement Network (FinCEN) in the U.S. and by other regulatory agencies throughout the world.2
There are a lot of advantages to using an exchange with no KYC. It's less of a hassle to use because you don't need to upload your driver's license and wait for the photo to be approved (or rejected because you took a blurry photo). You also don't need to worry about your personal information being leaked on the internet if the exchange gets hacked.
Most Americans have been able to use KuCoin with no problems, but there are some risks you should be aware of if you decide to use KuCoin or any exchange that doesn't require KYC.
KYC can help protect you in case you get accused of money laundering. It can show that you are not trying to hide your identity, which can be helpful if any of your transactions get flagged as suspicious by the exchange's algorithms.
If you haven't verified your identity, then the exchange may temporarily freeze your assets if it suspects you of having gotten your deposit illegally.
If that happens to you, then you may have to contact support to prove your identity and the source of your funds before you can get your deposit back.
Again, most folks have not had problems withdrawing from KuCoin. But because it is unregulated, we want to make you aware of the risk.
Pro Tip: If you attempt to use KuCoin from a U.S. location, the exchange may be forced to block you in order to comply with regulations. Some people choose to use a VPN to hide their IP address.
Now that you have an understanding of what KuCoin is and how it approaches the market, let's take a look at how it stacks up against some of its competitors.
KuCoin vs. Similar Exchanges
| Exchange | KuCoin | Binance | SoFi | Coinbase | Gemini |
| --- | --- | --- | --- | --- | --- |
| Fees | Up to 0.1% | Up to 4.5% | Up to 1.25% | Up to 5.98% | Up to 3.99% |
| Account minimum | $0 | $10 | $10 | $2 | $0 |
| Promotions | Up to $100 USD | None | $10 in BTC | $5 in BTC | $20 in BTC |
| Advanced trading options | Yes | Yes | Yes | No | No |
As you can see, KuCoin has some great promotions and advanced trading options.
Now let's turn our attention to one of the main selling points of KuCoin: its huge selection of crypto.
KuCoin's Crypto Selection
KuCoin offers a much broader selection of crypto than most other exchanges, and it's a gold mine (figuratively speaking, of course) for traders looking for smaller, more niche currencies.
Pro Tip: What makes one coin more valuable than another? Why do some boom and some bust? Read our explainer on how cryptocurrency gains value for the big picture. 
KuCoin currently supports over 600 coins and over 750 currency pairs. A full list is available on the exchange's site, but the shortlist includes:
Bitcoin
Ethereum
Luna
Litecoin
XRP
KCS
The long and short of it is, if you're looking for a specific coin — even if it's a little obscure — you're probably going to find it on KuCoin.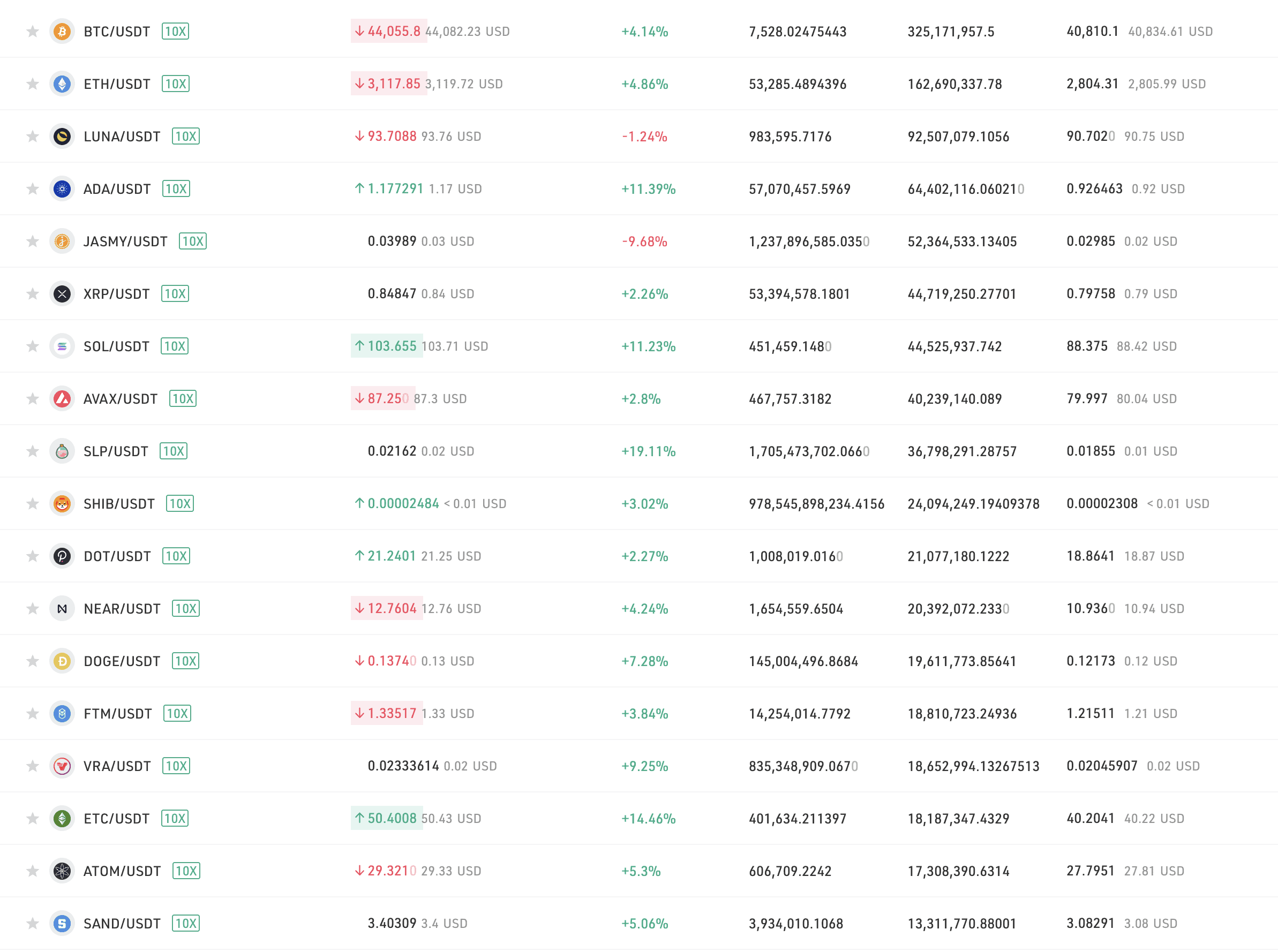 How much is it going to cost to trade these coins though? Glad you asked.
KuCoin's Fee Structure
Another one of KuCoin's selling points is that it has some of the lowest fees in the industry. The structure, however, is pretty complex.
You won't pay any monthly account fees, it's free to deposit crypto, and, similar to the structure I laid out in my Binance review, you will receive a discount based on your average monthly holding of KuCoin's proprietary token, KCS.
Trading incurs a fee of between 0.0125 percent and 0.1 percent — significantly lower than the industry average — and margin trades incur a 0.1 percent flat fee. Keep in mind that trading on margin incurs interest rates.
Withdrawal fees are based on the crypto you're withdrawing. Here's how that looks with some of the more popular currencies:
Withdrawing Crypto With KuCoin
| Cryptocurrency | KuCoin withdrawal fee | Minimum withdrawal |
| --- | --- | --- |
| Bitcoin | 0.0005 BTC | 0.001 BTC |
| Ethereum | 0.004 ETH | 0.01 ETH |
| XRP | 0.1 XRP | 20.1 XRP |
| Cardano | 1 ADA | 2 ADA |
Like a lot of major exchanges, trades in KuCoin are based on a taker/maker structure, which means that rates change if the trade you're executing creates or removes liquidity from the currency in question. Your fees go down depending on your 30-day trading volume, as well as the amount of KCS you hold. Here's how that looks, measured in BTC.
KuCoin's Taker/Maker Structure
| 30-day volume | KCS balance | Maker fee | Taker fee |
| --- | --- | --- | --- |
| N/A | < 1,000 | 0.10 percent | 0.10 percent |
| N/A | 1,000 to 9,999 | 0.07 percent | 0.10 percent |
| 300 to 499 | 10,00 to 19,999 | 0.07 percent | 0.10 percent |
| 500 to 999 | 20,000 to 29,999 | 0.06 percent | 0.07 percent |
| 1,000 to 1,999 | 30,000 to 44,999 | 0.05 percent | 0.07 percent |
| 2,000 to 2,999 | 45,000 to 64,999 | 0.04 percent | 0.06 percent |
| 3,000 to 4,999 | 65,000 to 84,999 | 0.04 percent | 0.06 percent |
| 5,000 to 9,999 | 85,000 to 109,999 | 0.03 percent | 0.05 percent |
| 10,000 to 19,999 | 110,000 to 149,999 | 0.02 percent | 0.04 percent |
| > 20,000 | > 150,000 | 0.01 percent | 0.01 percent |
Remember, if you pay your fees in KCS, you'll get a 20 percent discount.
It's a lot to process on paper, but the takeaway is that KuCoin's fees are among the lowest in the industry, especially if you're trading in significant volume.
FYI: Compared to other exchanges, KuCoin has the lowest fees in town. However, you need to weigh that against the risks of using an unregulated trading platform.
Now that you have a good idea of what you can trade and how much it'll cost, let's take a look at what it feels like to use KuCoin and how you can use its tools to execute some pretty advanced market maneuvering.
KuCoin's Trading Experience
Getting set up on KuCoin is a breeze. Due to its unregulated nature, all you really need to get started is an email address or phone number. Input that, confirm, and boom — you're off to the races.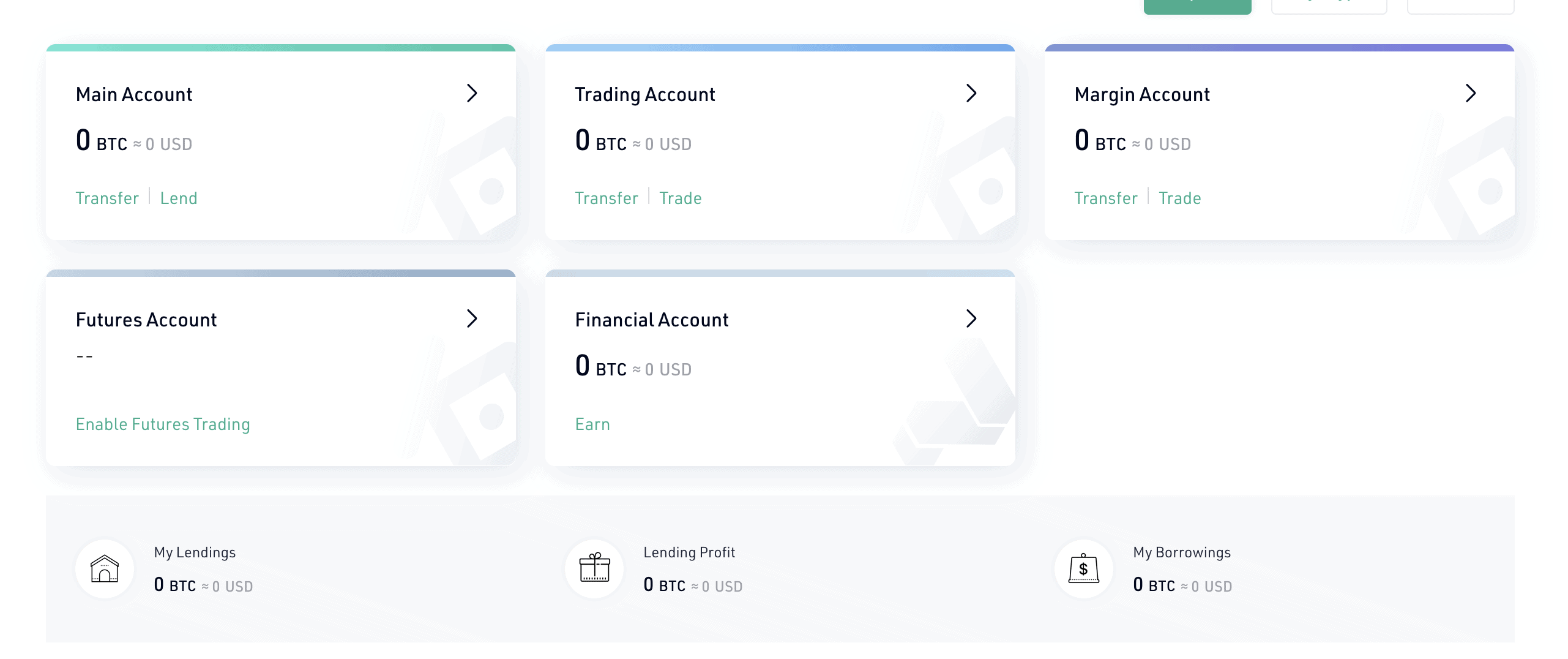 On your asset overview page, you'll see your accounts, including:
Main account: used to deposit and withdraw crypto for purchases via credit or debit, and for margin lending
Trading account: used to trade cryptocurrency
Margin account: used for margin borrowing and trading; this needs to be activated by agreeing to KuCoin's terms of service
Futures account: used for futures trading
Financial account: used for financial management, with an annual yield of up to 20 percent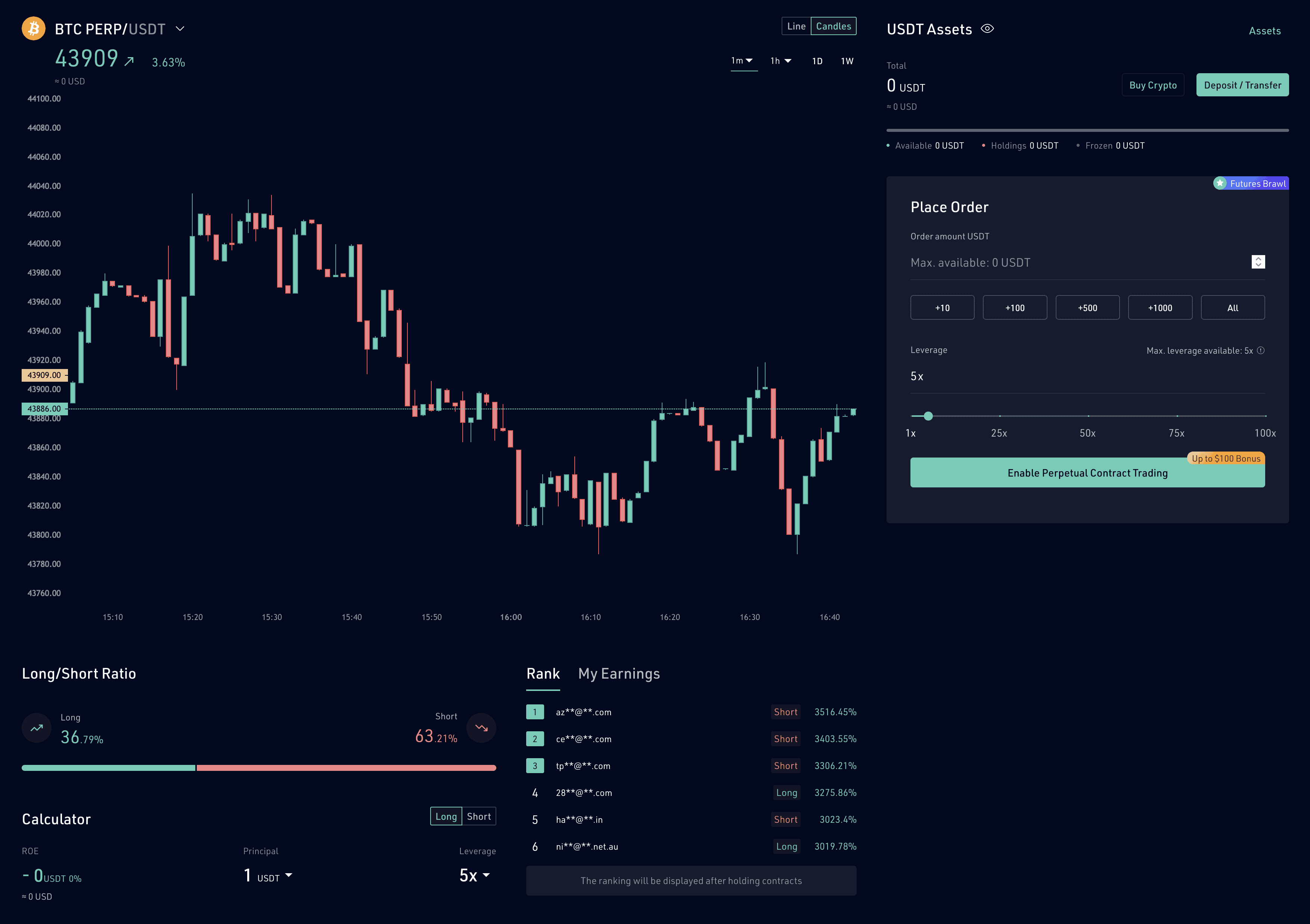 Using these five accounts, you can perform pretty much any type of trade you desire. If you want to strap on your suspenders and power tie, you can. KuCoin allows you to earn interest by staking and loaning out your crypto.
Staking is sort of like earning dividends on traditional stocks. Some cryptos allow you to "stake" your coins to help validate their network and keep it secure. You earn by agreeing to tie up your share for a certain period of time.3
Pro Tip: Make sure you know what you're doing before you start venturing into more advanced trades. Margin and futures trading makes an already risky marketplace even riskier. KuCoin offers plenty of resources to help you better understand what's going on.
You can also earn interest by loaning out your coins. It works sort of like a savings account, although the amount you'll see in returns varies by the specific crypto and the demand for it. KuCoin uses these loans to finance its margin trading and claims that lenders will always be repaid in full. The company also says you can expect a return of between 8 and 12 percent.
KuCoin offers one last unique feature: a trading bot that can be programmed to buy and sell cryptocurrencies based on a set of criteria so you don't have to stare at the analytics changing in real time until your eyes bleed. Note, however, that these bots have been reported as a little glitchy, and sometimes it's not always clear how they're working or the strategies they're using.
Pro Tip: Cryptocurrency is the financial equivalent of the Wild West, so make sure you're approaching these markets with caution. Check out our guide to the cryptocurrency pitfalls to avoid so you're not taken by surprise.
By now you should have a pretty clear idea about whether KuCoin is right for you. If all of this gets your gears going, then you may have found your exchange of choice. If it all sounds like Greek to you, then you may want to read my review of Coinbase. It's a lot more user-friendly and geared toward people new to cryptocurrency.
We have one last thing to discuss before I give you my final verdict though.
KuCoin's Customer Service
Unfortunately, we have to dock KuCoin a few points here. Its customer service reputation online is less than stellar. The company itself boasts 24/7 customer service and a wealth of troubleshooting resources on its site, but review aggregators like Trustpilot tell a different story.
Over three-quarters of its reviews are negative, with most focusing on "hacked accounts," unresponsive customer service, and problems withdrawing funds.
Keep in mind, however, that very few people run to these types of sites to sing the praises of whatever company they're reviewing, and very few exchanges I've explored have glowing reviews. Take this with a heaping plate of salt.
Now let's talk about where I think KuCoin really knocks it out of the park.
What KuCoin Gets Right
Right off the bat, three things really impress me about KuCoin:
Its low fees. Unequivocally, its fees are the lowest I'm aware of. The structure is a bit confusing at first, but KuCoin is likely the best option if you're looking to pay the smallest amount per transaction.
Its impressive list of supported cryptocurrencies. It also trades a tremendous number of currencies, with some of the more obscure coins readily available. If you're interested in pouncing on the next big crypto, then you're likely to find it here.
Its nearly unlimited depth of trade functionality. KuCoin's advanced trading capacities are impressive. It truly gives experienced traders all the tools they could possibly need to execute highly advanced, split-second maneuvers.
Now, for the not-so-great aspects.
Where KuCoin Falls Short
KuCoin's advantages are certainly substantial, but its drawbacks need to be considered.
It's not licensed to operate in the U.S. This is a big one. Since it's not licensed to operate in the United States, most of our readers will have to assume some pretty substantial risks if they select it as their trading platform. If federal regulators crack down on exchanges, then your funds may be frozen temporarily. If you can't prove you got your funds from a legitimate source, then you may not get them back at all.
It has a reputation for security issues. Even though KuCoin tightened its security after the major breach in 2020, the lingering rumblings of hacked accounts still drag down its online reputation. The veracity of these claims is suspect, but it should give you pause.
It's not for newbies. Think of it this way: If you just learned how to drive, you don't need a sports car, right? Going 175 miles per hour sounds exhilarating, but you're going to crash immediately if you don't know what you're doing. If you're a novice cryptocurrency trader, then KuCoin probably has too much under the hood for you.
With all of that in mind, here's the final word.
Is KuCoin Right for Me?
KuCoin is an extremely powerful platform with a tremendous list of tradable cryptocurrencies, but if you're in the U.S., you should consider the risks of using this unregulated, unlicensed exchange.
If you're already experienced in this world and feel relatively confident in your skills and expertise, then you might consider adding KuCoin to your toolbelt. If you're just starting out or still learning, then you could get into serious trouble making trades that'll come back to bite you. No one wants to blow the mortgage payment by accidentally buying puts when you should have bought calls.
If you're feeling a little reticent about stepping on the gas, then maybe take a pause and shore up your knowledge with our Everything You Need to Know About Crypto resource. You'll find a ton of information that's sure to give you a better handle on the exciting world of cryptocurrencies.