Robinhood Crypto Review 2023
Robinhood Crypto is an excellent exchange for beginners. But experienced users may not like its small coin selection.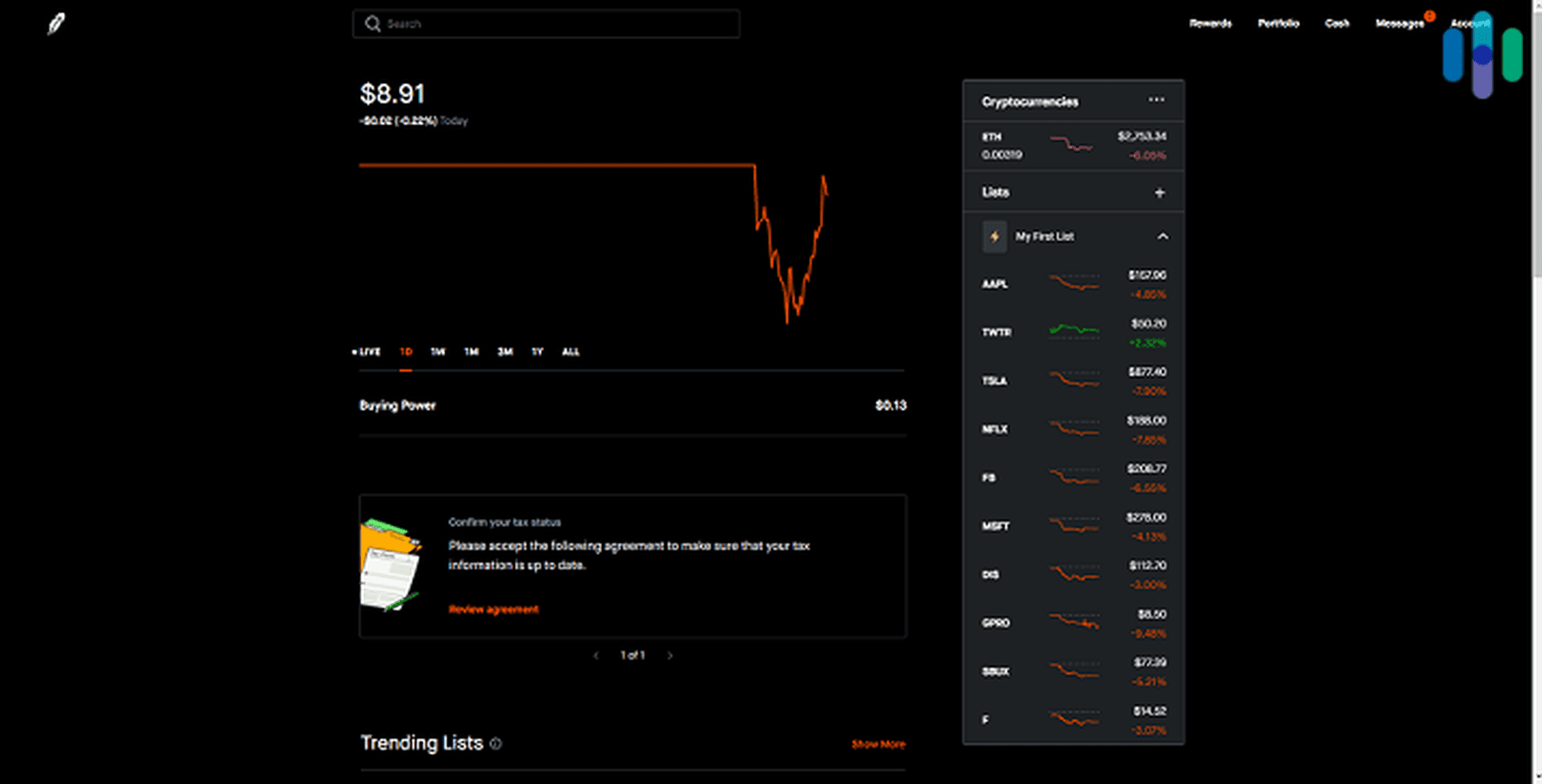 What We Like
No fees: Robinhood makes money through rebates from liquidity providers, so it charges you nothing.
No-withdrawal option: If you choose not to set up your "crypto wallet," withdrawals are nearly impossible. This can make for an ultra-secure form of storage.
Beginner-friendly interface: Robinhood's interface is simple and easy to use.
What We Don't Like
Cumbersome account setup: It can take 1-3 days to get approved for the Robinhood "crypto wallet." Until then, your crypto may be stuck in the exchange. The process for getting this set up is also a bit buggy.
Very limited coin selection: Offers only 11 of the most popular cryptos. Low-market cap, exotic coins are not available.
No advanced trading tools: Doesn't offer candlestick charts, indicators, or other advanced trading tools.
Bottom Line
Robinhood Crypto is an excellent crypto brokerage for beginners and buy-and-hold investors. It's simple and easy to get started with. By default, crypto cannot be withdrawn from Robinhood. This means that it is ultra-secure, just like the stock brokerage accounts most people are used to. Robinhood makes you go through some extra hassles before it will let you withdraw crypto, so it may not be best for experienced crypto users. It also may not be the best exchange for serious traders who are looking for advanced trading tools.
The content on this page is provided for informational purposes only. Security.org does not offer financial or investment advice, nor does it advise or encourage anyone to buy, sell, or trade cryptocurrency. It is advised that you conduct your own investigation as to the accuracy of any information contained herein as such information is provided "as is" for informational purposes only. Further, Security.org shall not be liable for any informational error or for any action taken in reliance on information contained herein.
So you've heard about this crypto thing, and you want to get started investing in it as simply and easily as possible. That's great!
The first thing you'll want to think about is your digital security. And there's a lot to consider in that regard. Investing in crypto isn't like traditional financial markets, and the onus is on you to make sure you're protecting yourself from dodgy currencies, bad actors, and scams.
While you might not be ready to mess with 2-factor authentication (2FA), whitelisted addresses, seed words, and other more high-tech security measures, you do want to know that your crypto will be secure. And since you're starting out, you're going to want to trade crypto with no commissions or fees.
If this describes you, Robinhood may be the perfect exchange.
Editor's Rating
No fees
Ultra-secure
Easy-to-use interface
What Is Robinhood Crypto?
Robinhood began as a purely online stock brokerage service in 2013. It became famous for offering commission-free stock trading. In 2018, Robinhood launched "Robinhood Crypto," to offer cryptocurrency to Robinhood users.
Just like its stock-brokerage service, Robinhood Crypto offers commission-free sales. It also offers a default no-withdrawal option for ultra-secure crypto investing.
Now let's discuss the security at Robinhood Crypto.
Robinhood Crypto's Security
I've researched Robinhood Crypto's official statements about security. Here's what I found:
By default, crypto cannot be withdrawn from Robinhood.
The vast majority of crypto held by Robinhood is kept off-line, in cold wallets.
A portion of assets is insured by underwriters at Lloyd's, and placed by Lloyd's broker, Aon. Lloyd's is one of the most reputable insurance marketplaces in the world.
Robinhood employs security experts to test for vulnerabilities to the platform.
Coin transfers from cold to hot wallets require signatures from a list of authorized staff. The list of authorized staff rotates, and the members of this committee are not disclosed to the rest of the team.
As a U.S.-based crypto brokerage, Robinhood has a money transmitter license from FinCEN and the governments of all states that it operates in.
Overall, Robinhood seems to have great cybersecurity.
But does it have the coins you want? The next section will discuss Robinhood's coin selection.
Cryptocurrencies Supported on Robinhood Crypto
Robinhood has a fairly weak coin selection compared to most crypto exchanges. If you only want the most popular cryptos, you can find them at Robinhood. But if you're looking for the newest coins that have just started being hyped on crypto news sites, you may be disappointed with Robinhood's offering.
Only 11 coins are available. Here is a complete list:
Ethereum (ETH)
Bitcoin (BTC)
Solana (SOL)
Dogecoin (DOGE)
Shiba Inu (SHIB)
Polygon (MATIC)
Litecoin (LTC)
Bitcoin Cash (BCH)
Ethereum Classic (ETC)
Bitcoin SV (BSV)
Compound (COMP)
While it doesn't have much to choose from, the good news is that all of the major cryptos are here. So if you just want to dip your toes in the top of the crypto pool, Robinhood will give you what you want.
FYI: Some coins grow in value over time, while others may flounder forever. To help distinguish between the two, I've written a guide to how a cryptocurrency gains value.
One of the best things about Robinhood is how easy it is to set up an account and start trading. So I'll go over that next.
Getting Started on Robinhood Crypto
Here is how to set up an account and start trading with Robinhood Crypto.
Signing Up
Click the sign-up button in the upper right corner of the homepage.
Enter your first and last name, email address, and a password, and click "next."
Enter your address and phone number, and click "next."
If the address shown is correct, click "confirm address."
Click "send by text."
Enter the code you received through text, and click "next."
At this point, the app will ask you for your Social Security number and a few more pieces of info, then you'll be taken to the dashboard.
Robinhood Crypto Dashboard (Trading and Depositing)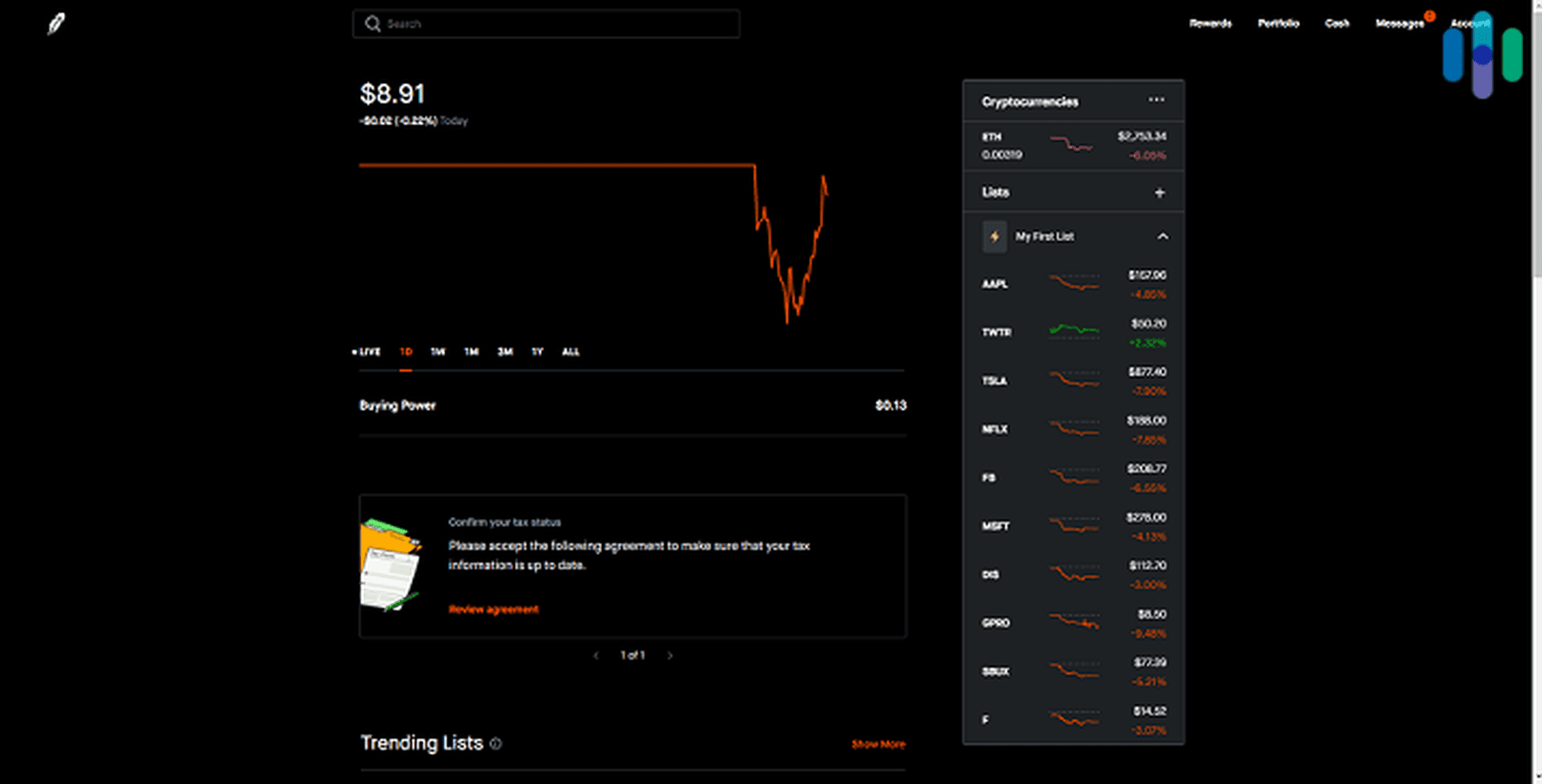 The Robinhood Crypto dashboard starts off on the "portfolio" tab. Here, you can see the total value of all of your assets. Below the chart, you can click different time frames to see how your portfolio has performed over different time periods.
Making a trade
If you want to buy or sell a particular crypto, just enter it into the search bar at the top of the screen. As soon as you type the name of the coin, a drop-down menu will display with different options.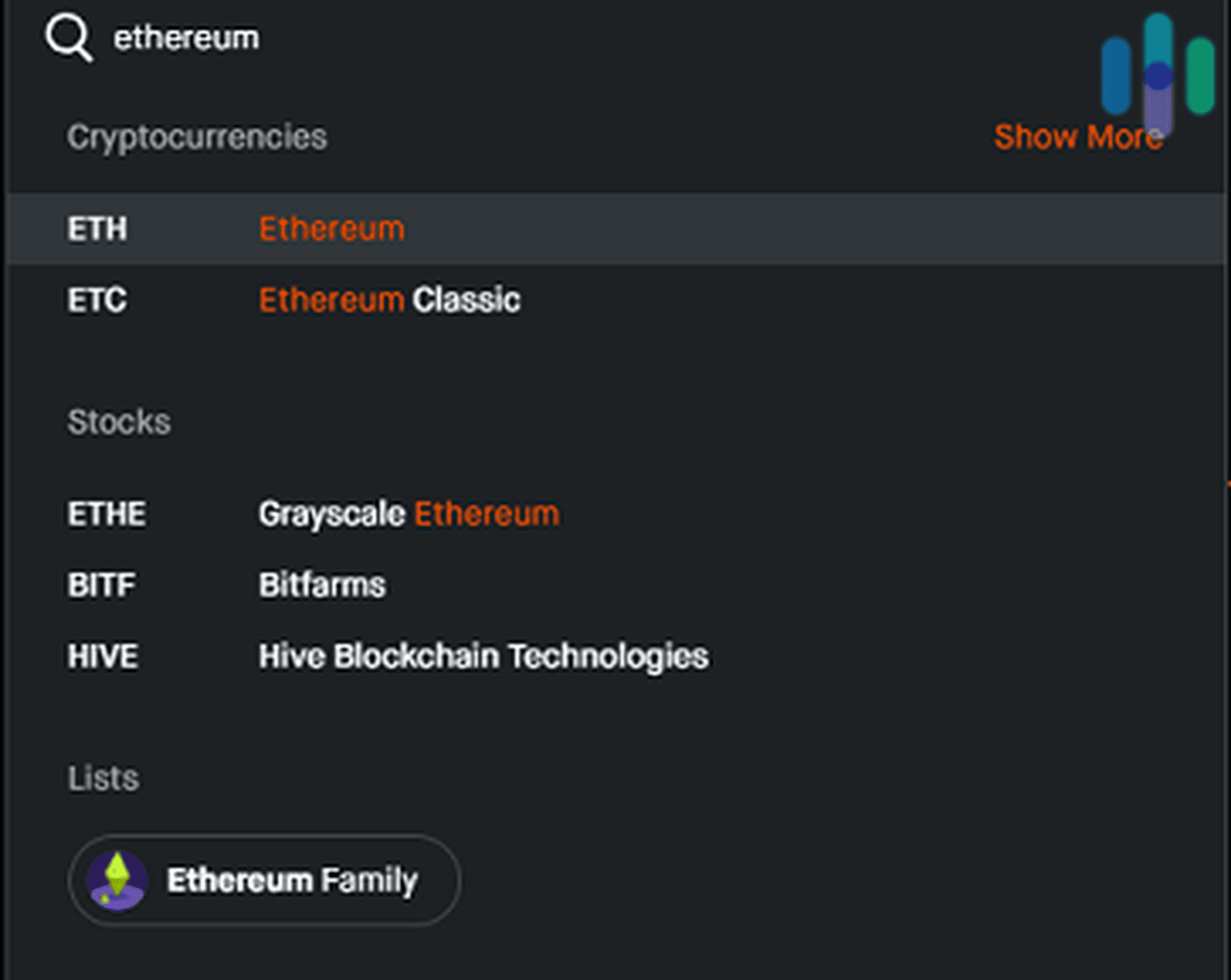 Select the coin to bring up a chart in the middle and order form on the right.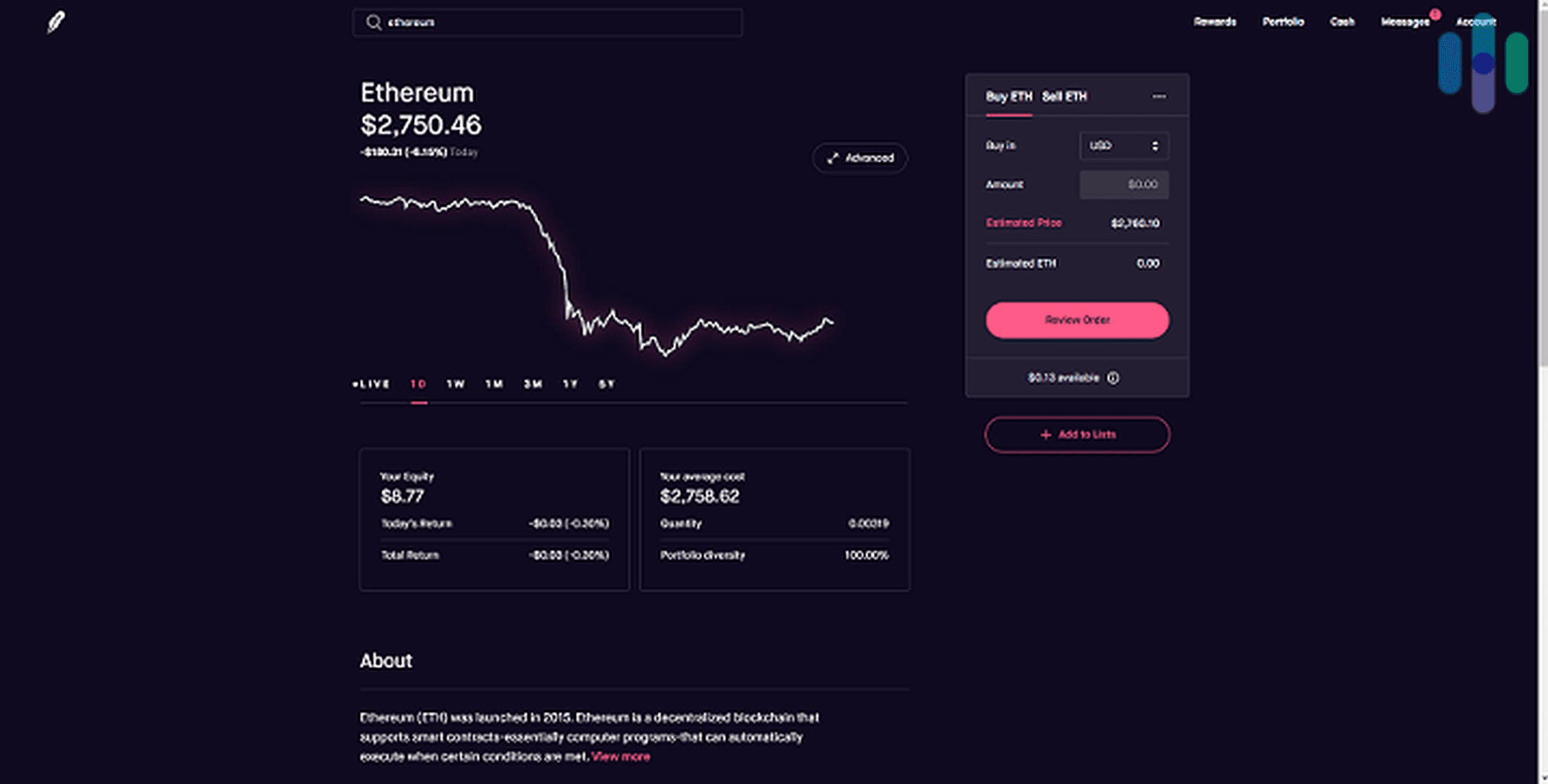 If you want to buy the coin, enter the dollar amount you want to buy, then click "review order." Confirm the order on the next page to finish the transaction.
Selling crypto at Robinhood is similar to buying. Just switch the tab at the top of the order form to "sell (coin)" instead of "buy (coin)."
I found Robinhood Crypto's trading interface to be simpler than most of its competitors. By default, the chart at Robinhood has no indicators and the "order type" is automatically set to "market." This makes for a less confusing display compared to exchanges like Binance or Bitfinex.
If you do want to see more information, you can click "advanced" on the chart to add indicators, and choose "limit order" from a drop-down menu at the upper right if you want to only buy or sell at a particular price. But unless you tell it otherwise, the Robinhood interface assumes that you just want to buy or sell crypto, nothing fancy.
Depositing
If you need to make a deposit to your cash balance, first click "transfers" under the "account" tab in the upper right, then click "add new account" to link your bank account. Once you've done this, the app will walk you through how to finish the transaction.
Overall, I found Robinhood Crypto to be one of the easiest-to-use crypto apps I've seen.
In the next section, I'll go over another great feature of Robinhood Crypto: it's zero commission, zero fee structure.
Robinhood Fees
At this point in the review, I normally discuss the fees that a crypto trading platform charges. But in this case, there isn't much to talk about. Robinhood doesn't charge fees to its users. Every trade is free of commissions or any other charge.
Of course, the liquidity providers or "market makers" that provide crypto through Robinhood do make money on their trades, just like they do on any exchange. They take advantage of the "spread" or the difference between the best bid and best ask price on exchanges throughout the world.
Robinhood also makes money on its trades by receiving rebates from these market makers for providing them with a large volume of trades. But unlike other exchanges, Robinhood doesn't charge a commission or fee to users on top of these rebates.
FYI: The process of depositing to an exchange, buying crypto, and withdrawing it can be confusing sometimes. So I wrote this resource on buying crypto safely in the U.S. to explain it all.
Now let's look at how Robinhood stacks up to the competition.
Robinhood Crypto vs. the Competition
| Exchange | Robinhood Crypto | Coinbase | Crypto.com | Binance.US | Kraken |
| --- | --- | --- | --- | --- | --- |
| Fees (excluding debit card processing) | No fee | Up to 1.49% | Up to 0.4% | Up to 0.1% | Up to 0.26% |
| Coin selection | 11 coins | 160+ coins | 150+ coins | 60+ coins | 90+ coins |
| Debit card deposits | No | Yes | Yes | Yes | No |
| PayPal or debit card withdrawals | Yes, through Robinhood Cash Card | Yes | Yes | No | No |
| Advanced trading options | No | No | No | Yes | Yes |
| Margin/futures | Not on crypto | No | Yes | No | Yes |
Robinhood Crypto Customer Service
Robinhood offers 24/7 customer service support over the phone. To receive a phone call from staff, first select "help" from the "accounts" tab in the upper right corner. Then, select "contact us," and follow the steps to enter your phone number and request a phone call.
You don't have to call and be put on hold. Just go back to whatever you were doing; the staff will call you when your turn in line comes up.
I found it refreshing to see that Robinhood offers phone support, since most crypto exchanges only offer support through an email ticketing system.
Trustpilot reviews
As with most financial apps, Robinhood has near-universal bad reviews for customer service. A few reviews are positive. These rave about the lack of fees and the convenient user interface. I also found one reviewer who said he was hacked and that customer service helped him get back into his account afterwards.
However, Robinhood's reviews aren't especially negative compared to other crypto exchanges or brokerages.
Now let's consider how its mobile app works.
Robinhood Crypto Mobile App
If you sometimes need to trade when you're away from your office, you'll need a good mobile app to use. Robinhood doesn't disappoint here.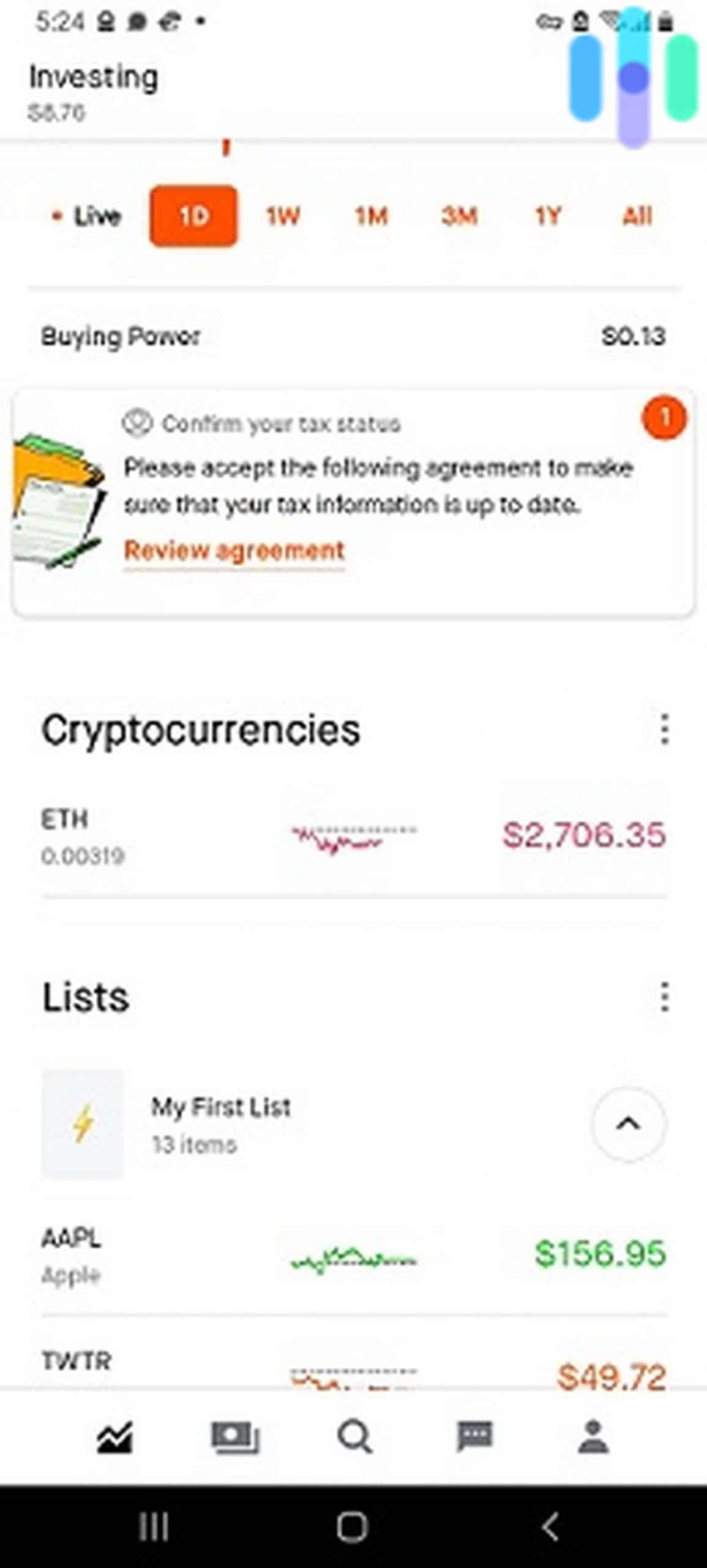 Its mobile trading app has all of the functions of the desktop version, and it's just as easy to use. The search function is an icon at the bottom of the screen instead of a field at the top. Other than that, the desktop and mobile apps work pretty similarly.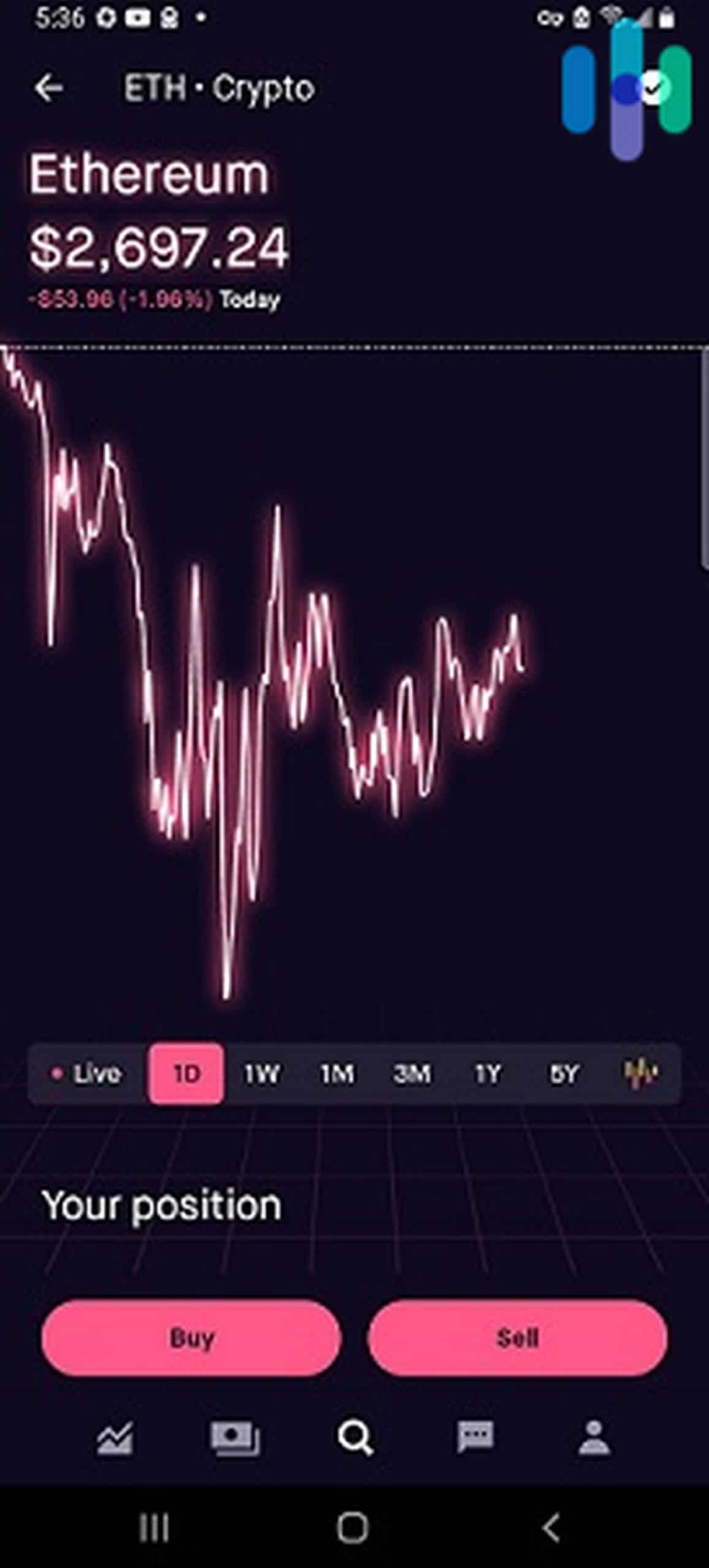 So far, I've discussed most of the advantages and disadvantages of using Robinhood Crypto. But there's still one issue I haven't gone over: the Robinhood Crypto wallet. So let's consider that now.
The Robinhood Crypto Wallet
When Robinhood first started offering crypto, it didn't allow withdrawals at all. The only thing you could do with your crypto at Robinhood was to hold it and hope the price went up.
Robinhood came under a lot of criticism for this policy. But in April 2022, it released the Robinhood Crypto Wallet. This is a new feature that allows you to withdraw crypto into your own personal wallet if you go through a few extra steps.
FYI: The "Robinhood Crypto Wallet" is not an actual crypto wallet. It doesn't store a private key for you or allow you to have full control of your crypto. It's just a function that allows you to withdraw cryptocurrency into your own wallet or send it to someone else. For more information on how a wallet works, read my guide to crypto wallets.
To get started with the crypto wallet on desktop, first go to a coin's page, then click the three dots in the upper right of the order form. Next, select "send" from the menu options. You'll be guided through a series of pages that will allow you to set up the crypto wallet.
In my testing, I found this process to be a little buggy on the desktop. The first day I tried it, the option to "send" was available in the webapp, but uploading photos for ID verification produced an error message that blocked progress.
The second day, the option to "send" disappeared completely. So it looks like the team hasn't quite worked out the kinks for this feature on desktop yet.
However, I did find that I could complete the process successfully using the mobile app. In this case, the "send" option is a big, pink button below each coin's chart.
FYI: In order to finish the setup process, you'll need to verify your identity by uploading photos of your ID. You'll also need to turn on 2FA to enhance the security of the account.
When I tried to activate crypto wallets using the desktop app, I received a message informing me that it may take up to five days to process the application. Yikes! When I tried through the mobile app, the message said "1-3 days." That's a little better.
The bottom line is this: If you're an experienced crypto user who intends to withdraw your crypto immediately, you may want to use a different exchange for now, as it looks like withdrawing crypto is currently a bit more of a hassle with Robinhood than with other exchanges.
We've covered all of the basics to help you decide if Robinhood is right for you. Now here is a summary of the benefits and disadvantages of using it.
The Good and the Not So Good
But is Robinhood the best crypto exchange for everyone? In the next section, I'll consider who might benefit from Robinhood Crypto, and who might be better off going with a different exchange.
Is Robinhood Crypto Right for Me?
Robinhood Crypto is an excellent exchange for crypto beginners. If you've used a stock brokerage account before, the experience of using Robinhood Crypto will probably feel very familiar. You can search for whatever coin you want, buy it, and watch it go up and down in value over time.
Each day, you can check your portfolio of crypto investments to see how they are doing. And if you want to sell and withdraw cash, you can do so simply and easily.
So for beginners, Robinhood Crypto is a great place to get started.
And if you decide later that you want to withdraw your crypto, store it in a wallet, and get started making crypto payments or using decentralized applications (dApps), you can sign up for Robinhood Crypto Wallet.
However, if you're an experienced crypto user who is comfortable making crypto withdrawals, there may be exchanges that are better suited to you than Robinhood. For example, you may want to try Coinbase or Crypto.com. Both of these exchanges have superior coin selection compared to Robinhood Crypto, and they both make withdrawing easy.
Robinhood also might not be best for serious crypto day traders, since it doesn't allow you to draw trendlines, use indicators or other tools you might be used to.
But for people new to crypto, Robinhood Crypto is a great choice.