Five Crypto Projects That Could Change Entire Industries
Up until now, crypto has been a niche industry that hasn't changed the lives of regular people that much. These crypto projects may change that.
All of our content is written by humans, not robots.
Learn More
The content on this page is provided for informational purposes only. Security.org does not offer financial or investment advice, nor does it advise or encourage anyone to buy, sell, or trade cryptocurrency. It is advised that you conduct your own investigation as to the accuracy of any information contained herein as such information is provided "as is" for informational purposes only. Further, Security.org shall not be liable for any informational error or for any action taken in reliance on information contained herein.
Cryptocurrency and blockchain promised to change the world as we know it. But so far, they've resulted in only a few niche applications, like play-to-earn video games, crypto lending apps, and NFTs. Whatever happened to blockchain voting and other futuristic crypto ideas?
Don't worry. The revolution is still in progress. When crypto networks were first created, they faced technical problems of low storage capacity and throughput. We were also asking ourselves just how secure our new digital wallets actually were. Makes sense considering the crazy number of scammers crawling the web for easy marks these days. No matter what you're doing online, digital security is a top concern.
The good news for crypto investors is that those problems are on the verge of being overcome. Some of the newest crypto projects are poised to revolutionize social media, freelancing, and ride-sharing — not to mention our understanding of digitally secure online transactions.
Here are five projects that have the potential to revolutionize industries.
1. Aleph Network (Social Media)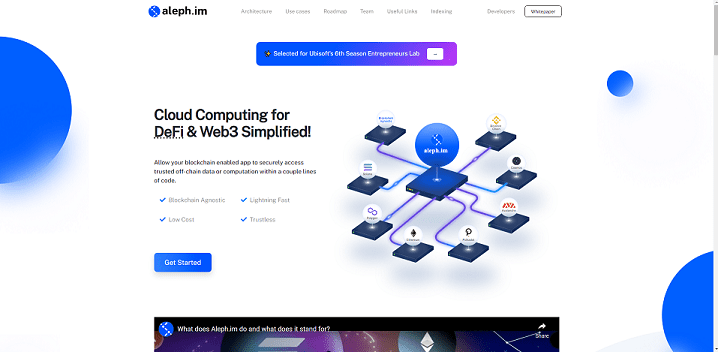 Some of the most successful companies in the world became top dogs by creating social media apps. Apps like Facebook, Twitter, Instagram, and Tik Tok have proven to be profitable sources of revenue and have changed society as we know it.
But the social media industry has also been plagued by scandal. It has been accused of manipulating users through algorithms, causing addiction and depression, and censoring political views it disagrees with.
For years, crypto gurus have argued that a new social media app that runs on a public blockchain should be created. On this new app, users could pay for each post they make with a crypto wallet (at less than a penny per post), and there would be no advertising. And because the platform would be decentralized, no one would be able to remove messages from it. Users could block types of content they don't want to see, but these blocks would not affect what other users see.
There was one glaring problem: The technology just wasn't there yet. Blockchains can't store enough data, and they aren't fast enough to run a social media app. So it seemed like creating a blockchain social media app was impossible — until now.
Over the past few years, Aleph Network has been working to solve this problem. It has created a decentralized cloud computing network that can store and process just as much data as most centralized networks can. It works in conjunction with crypto networks that already exist, including Ethereum, Avalanche, Binance Smart Chain, Solana, and a few others.
FYI: Avalanche, Binance Smart Chain, and Solana are at the forefront of the Proof-of-Stake revolution in crypto that is allowing users to earn high yields just for holding their crypto. But there are risks to staking crypto you should be aware of. I've written a complete guide to how staking works that provides more information about how to stake safely and securely.
Since Aleph Network was created, some developers have managed to produce a crude blogging app1 and a Twitter clone2 with it. These apps are not production-quality yet, but given the amount of progress that has been made, we should start to see the first-ever high-quality blockchain social media apps soon.
Aleph Network is best used for social media apps that have mostly text and images. But the next project on this list tries to improve the video-sharing process.
2. LBRY/Odysee (Video Sharing and Streaming)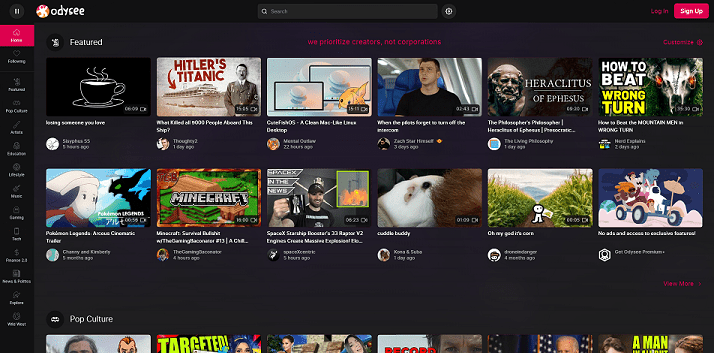 Video sharing and streaming is another industry that is being revolutionized by the blockchain. Right now, YouTube dominates the market for independently produced short videos.
But YouTube's content moderation policies are often criticized as arbitrary. In response to this, the LBRY network and Odysee are trying to seize market share from YouTube.
LBRY is a decentralized network of video-streaming hosts. It uses a blockchain to store metadata about videos, while the actual videos are stored on a peer-to-peer network similar to BitTorrent.
Users can view LBRY videos through the LBRY desktop application or through their web browsers using Odysee. Odysee is essentially the web version of LBRY.
FYI: LBRY Inc., the company that created the LBRY platform, has been accused by the U.S. Securities and Exchange Commission of selling unregistered securities. According to the complaint, the Library Credits (LBC) cryptocurrency is a "security" similar to a stock in a company. LBRY Inc. denies this claim and says that LBC is just a regular cryptocurrency, like Bitcoin. This doesn't affect users of the platform much. But I mention it here just to make you aware of it. You can read more about how securities laws apply to crypto in my guide to crypto laws in the U.S.
In the beginning, Odyssey had a problem with slow downloads and buffering. But the development team recently made changes that have made the site more competitive with YouTube in terms of viewer experience. Most videos now play without pausing to buffer.
The team also released a browser extension called "Watch on Odysee." If a user has this extension installed and clicks on a video that is also available on Odysee, their browser will automatically redirect them to the Odysee version of the video.
LBRY/Odysee is well known for its hands-off approach to content moderation. Videos don't get banned from the app or the developer's nodes unless they violate the law.
In the future, developers can create alternative LBRY web portals that will block objectionable content, even if the content is not illegal. But this will not prevent other viewers who use different portals from seeing unfiltered content.
LBRY/Odysee is poised to revolutionize video sharing by putting content moderation into the hands of users.
But social media and video streaming are not the only niches that crypto is transforming; financial apps are also being revolutionized by it.
3. Ultimate (Consumer Finance)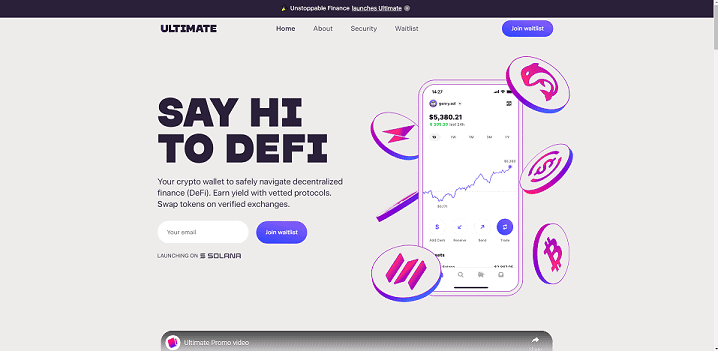 One of the biggest changes in crypto over the last few years is the rise of decentralized finance (DeFi) apps. Hundreds of financial apps now run on blockchains, including lending apps like Curve and Compound, decentralized exchanges like Uniswap and SushiSwap, and yield optimizers like Yearn.
These apps offer much higher yields than traditional banks or financial apps. But they're also difficult for beginners to use. In order to use a DeFi app, the user has to learn how to sign up for a crypto exchange, buy crypto, transfer the crypto to their wallet, and deposit it into the app. Each step involves learning new concepts and understanding how to keep track of private keys, seed words, and other sensitive information. Many users give up before they make it to the final step.
A project called Ultimate seeks to solve this problem. Ultimate is a mobile wallet in development that allows users to buy crypto and invest in DeFi directly through the interface.
When a person uses an Ultimate wallet, they don't have to write down seed words to back up their crypto account. Instead, they can backup their account through a combination of their favorite cloud storage platform (iCloud, Google Drive, OneDrive, etc.) and the Ultimate servers themselves.
Pro Tip: Your seed words or mnemonic phrase allows you to backup your crypto account in case your device crashes. It's important to store these words in a place where they cannot be lost or destroyed and where no one else can find them. Check out our guide to crypto wallets for more info on how to back up and secure your wallet.
Once a person sets up their Ultimate wallet, they can immediately buy crypto using cash, invest it in a DeFi app, and make a 5% to 15% yield, or more, from a list within the wallet's interface.
The Ultimate wallet also allows users to track their portfolios across multiple DeFi apps. In this way, it makes using DeFi just as simple as using a traditional app like Acorns or Robinhood.
Ultimate is still in development, but a limited version of it is scheduled for launch for iOS devices later this year.3
If you don't want to wait for Ultimate, you can learn how to use DeFi the old-school way using my explanation of decentralized finance.
So crypto is poised to transform personal finance. But what about work itself? Can crypto change the way we find jobs and earn money?
4. Atlas.Work (Freelancing)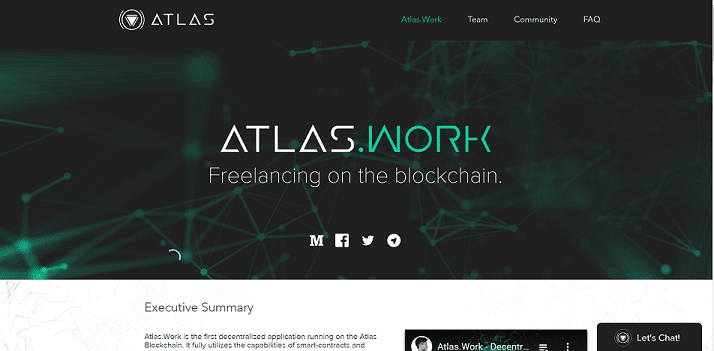 We used to live in a world where nearly everyone had a full-time or part-time job. But today, self-employed freelancers make up about one-third of all workers in the U.S.4
Many freelancers use sites like Upwork or Freelancer.com to find work. Workers who are skilled in UX design, web development, content marketing, and other tech fields can often be found on these sites.
But some freelancer platforms also have notoriously high fees that cut into workers' profits.
Part of the reason fees are so high is because of the costs and uncertainties of using banks and debit cards. If a client is unhappy with a freelancer's work, it could complain to the debit card company and reverse the transaction. Freelancer sites have to charge higher prices to compensate themselves for this risk.
FYI: Banks and debit cards can be annoying to deal with even when buying crypto. Many apps charge higher fees if you buy with a debit card, but bank transfers are usually slower. You can get the full details of the fees each app charges in our list of the best crypto apps.
Another reason that fees are so high is because of the cost of arbitration when freelancers and clients get into disputes. On mainstream freelancer sites, these arbitration processes must be done manually.
But a crypto project called Atlas.Work is being developed to solve these problems. On Atlas.Work, jobs, proposals, and offers are posted to the Atlas blockchain. If a client and freelancer agree on terms, the client can put crypto funds in a smart contract escrow. The escrow can then be released when both parties agree that the job has been done.
On Atlas.Work, there is no need for clients to use debit cards or banks to fund their accounts. All transactions are handled through cryptocurrency. And freelancers pay only a 3% fee to convert their earnings from one crypto to another. There is no per-job or per-hour fee on the platform.
To reduce the cost of arbitration, Atlas.Work uses a decentralized arbitration system to settle disputes. This system employs smart contracts, rankings, and machine learning to ensure both freelancers and clients are treated fairly.
The platform is still being developed. But the company that is creating Atlas.Work has announced that there will be a closed alpha for the app soon, and it's actively looking for people to test it out.
In the future, maybe we'll all use Atlas to work from home and get paid in crypto. But sometimes, we'll still want to leave the house and catch a ride to another part of town. That's where this next project may be able to help.
5. Drife (Ride Sharing)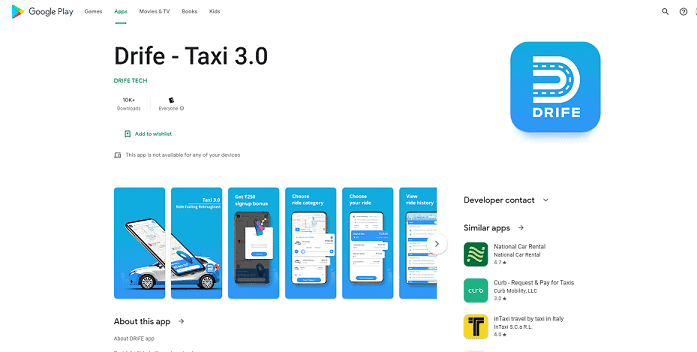 If you didn't have access to your own car, taxi cabs used to be the fastest way to get around. But over the past 13 years, ride-sharing services have come to edge out taxis as the most convenient way to catch a ride.
Still, ride-sharing services have their own problems. Drivers often make less than minimum wage after paying for commissions, gas, repairs, and other costs. And riders sometimes face surge pricing that can dramatically raise fares.
A crypto project called Drife is attempting to fix these problems and revolutionize ride-sharing in the process.
Pro Tip: The crypto wallets used in Drife and other crypto apps can be targeted by hackers and scammers. But protecting yourself from these bad actors is easy if you know what you're doing. You can find out how to help protect your crypto from being stolen or lost in my complete guide to investing in crypto safely.
Instead of charging a commission on each trip, Drife charges a yearly subscription fee of just $55. It uses a blockchain-based digital auction system to determine prices. The developer claims that this reduces the surge spikes that are prevalent with centralized ride-sharing services. Riders are also allowed to choose their drivers based on ratings, fare price, and features like child seats and storage capacity.
The Drife app runs on the Aeternity crypto network. All ride bookings, payments, driver ratings, and other essential processes are performed through smart contracts.
The app is available only in India right now. But the developers say that they are close to getting regulatory approval in Brazil, France, and the UAE, after which they will go after the massive EU and U.S. markets.
So, in the near future, you may be booking a ride on the blockchain instead of using a central server.
There's More to Come
These projects show that crypto is getting better at disrupting traditional industries.
But now that blockchain networks are getting better at scaling, we may see even more of these projects in the future. We may see music services that sell NFT albums, allowing "owners" to buy and sell albums the way they did in the CD era. Or we may see stock trading apps that run on a blockchain. The possibilities are limitless.
But right now, these are a few crypto projects that may be completed soon and are incredibly disruptive to current business models in various industries.