What Is Omegle? What Parents Need to Know
Should you let your kids use Omegle? Here's what you should know.
All of our content is written by humans, not robots.
Learn More
If your initial reaction to hearing your teenager mention Omegle for the first time was "What's an Omegle?" you're not alone.
Omegle has been in the back of our minds since its early days, mostly because of the nature of how it works. As we'll discuss, it's a talk-to-strangers platform that privately connects (gulp!) our kids with imperfect strangers, placing them in a private chat room to do who knows what. While it sounds like a parent's worst nightmare, is Omegle really all that bad?
Now that we've become parents ourselves, it's about time we fully discuss what Omegle is and what parents everywhere need to know about this platform.
So let's roll up our sleeves and get right into it.
What Is Omegle?
Omegle is one of the many "talk to stranger" websites scattered around the web. It's also one of the biggest. It launched in 2009 and gained popularity in the early 2010s (which was when we first heard about it), but it has been making a resurgence since the pandemic hit. Teenagers are rediscovering the platform and flocking toward it, and according to latest data, there are almost 140,000 active Omegle users every hour.1
Here's how Omegle works:
You enter a virtual queue, where you wait for the site to connect you to a random user. It will then create a chatroom just for you and the stranger, where you can text chat, video chat, or both. It doesn't always have to be random, though. You can list topics that interest you — like video games, music, or cars — and it will connect you to users with similar interests.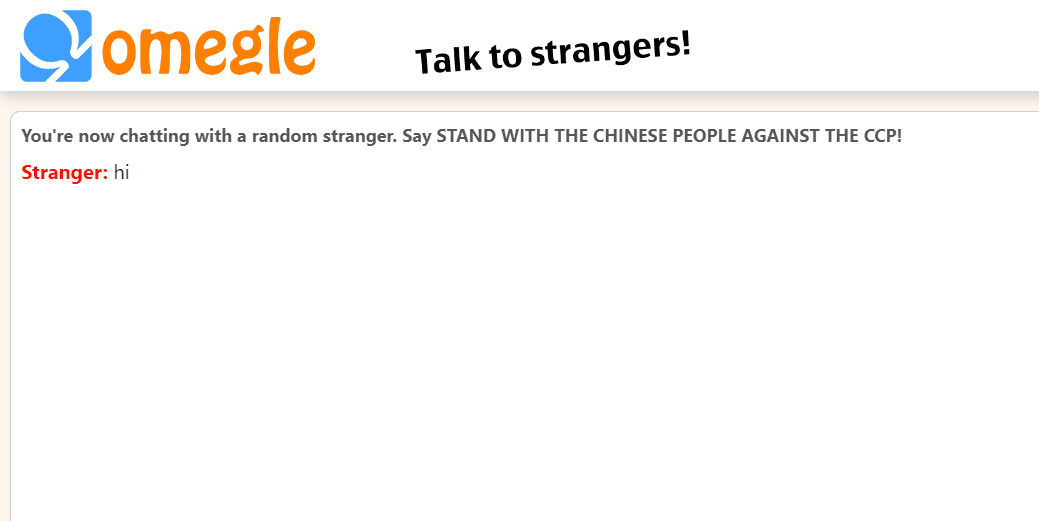 FYI: Omegle users are anonymous. In other words, users don't have to provide any information about themselves to start a chat.
Is Omegle Safe for Teens?
The mere fact that Omegle connects users with strangers should make parents take pause. We preach to our kids about the dangers of talking to strangers, and those same dangers apply to virtual spaces. Keeping our kids safe from strangers over the internet is part of protecting our kids online.
Omegle agrees that it's not a safe place for kids and teenagers. Its terms of service explicitly state that one must be over 18 years old to use the service.
The problem is, because Omegle doesn't collect and verify personal information, it doesn't actually know how old its users are. The only thing standing between teenagers and the platform is a checkbox to acknowledge that they have read and that they agree to the terms of service. So Omegle is woefully lacking in safeguards for our children.

Pretty much the only thing we can do as parents is to block Omegle, much like how we block adult websites using a network firewall or parental control software.
Tip: With parental control software, you can block websites at the device level as opposed to the network level when using firewalls. That means your kid won't be able to access blocked sites even if they connect to a different network, use a VPN, or use mobile data.
The Dangers of Omegle to Children
Let us reiterate that Omegle is not safe for children and teenagers. They shouldn't be on the platform in the first place.
But let's face it: Kids, especially teenagers, like to hide things from their parents and do the opposite of what we tell them to — or in this case, tell them not to. As you're reading this, thousands of teenagers are on Omegle chatting with complete strangers.
It's critical that we learn the dangers that Omegle harbors so we can watch out for them and better help our kids understand why Omegle is not a safe place. Here are four reasons to keep your kids off Omegle.
1. Online Predators
Omegle and other similar "talk to stranger" sites are infamous for being hunting grounds of online child predators. These predators know that minors are on the platform, and they devise cunning strategies to find them.
For example, in the Interests section, they may put in things they know are popular among younger users, like a particular celebrity, boy band, song, or video game. They may also put in a local high school, for example, in hopes of connecting with a kid who attends that school.
After connecting on Omegle, predators may try to groom their victims by taking the conversation to a different messaging platform or even setting up an in-person meeting.
2. Obscenities and Inappropriate Behavior
Omegle may also expose our kids to inappropriate behavior and obscenities. "Flashing" is a common occurrence on the platform. There are thousands of adult videos of Omegle users just baring themselves to random strangers.
Cyberflashing is a criminal offense in the United Kingdom,2 but in the United States, only Texas and California have laws against it3. Even with these laws, Omegle users are anonymous, so it's not easy to find and penalize offenders. Besides, no amount of money can replace our children's innocence.

3. Identity Theft
Even though Omegle users are anonymous, it can become an avenue for identity thieves to steal personal information. Even something as simple as exchanging names or social media profiles can lead to identity theft.
What's even more concerning is that Omegle doesn't restrict users from giving personal information. Although some chats can be moderated, Omegle doesn't censor text chats containing phone numbers, email addresses, and other types of personal information.
Younger users in particular are susceptible to identity theft, as they are often less familiar with the dangers of sharing personal information with people on the internet.
4. Cyberbullying
Lastly, cyberbullying runs rampant on social platforms, but more so on sites like Omegle where users can remain anonymous. Cyberbullying takes many forms. Cyberbullies may use race, gender, body type, looks, or religious beliefs to bully others. They may also use insults, obscene language, or even gestures. Whatever form it takes, cyberbullying can have a huge impact on one's mental state, especially teenagers who are still developing and learning to balance their emotions.
How Can Parents Block Omegle?
It's pretty clear that the best recourse, aside from talking to our teenagers about the dangers of Omegle, is to block it from their devices. Here is a short overview of how you can do just that.
Network Blocking
One of the most basic things you can do is to block Omegle from your home network. Here's how:
Access your router's dashboard. The process depends on your router, but you'll usually find tutorials by Googling your router model.
Under settings, look for the website blocking tool. You'll usually find this in the Security or Parental Control section.
Enter Omegle's URL and save the new settings.
Note that with a network block, you're preventing your teenager's devices from connecting to the website only when they are on your home network. When they are using mobile data or connected to a different network, they may still be able to access Omegle.
Parental Control Software
A more effective solution is to use parental control software, but of course, the outcome will depend on which software you use. The best types of parental control software are the ones that let you filter and block content on the device level, which means your kids won't be able to access blocked content no matter what network they use.
Operating systems like Microsoft, Android, and iOS have free parental controls built in. You can also purchase parental control software from third-party providers.
Typically, you'll download an app on your device and another on your kid's device to set up parental controls. You'll be able to set up filters from your device, and the good thing about parental control software is that your kids won't be able to change the settings easily from their devices. Only parent accounts can make changes.
Final Words
It's not always easy to keep an eye out for our children and watch their every move online. But remember: Our kids need our guidance, support, and understanding when it comes to these matters. It is also our job as parents to protect them.
The best we can do is to try to keep an open, healthy, and honest communication. Talk to your child about how they can stay safe online, and teach them how to be good citizens of the online world. Doing so will help prepare them for when they become adult enough to use the internet without parental controls or filters. For now, though, it's best to keep them away from "talk to stranger" sites like Omegle.
Omegle FAQ
Have some more questions about Omegle? We've got answers right here!