YouTube Kids App Parental Controls and How to Set Them Up
Keep your kids safe as they freely explore YouTube Kids with these parental controls.
All of our content is written by humans, not robots.
Learn More
YouTube Kids is heaven-sent. We say that as parents ourselves. Whenever we need a few minutes of peace and quiet, we put our kids in front of the iPad and let them have some face time with Blippi and his friends. And for the most part, the app does its job: It keeps our little ones busy watching engaging, educational, and age-appropriate videos.
There's just one problem. One time, we caught YouTube Kids showing our son a video that was better suited for a teenager instead of a two-year-old. It was a high school-level science experiment, so nothing inappropriate or obscene, but that's when we knew we had to set up stricter parental controls. Better late than never, right?
Setting up YouTube Kids' parental controls is easy, but it can be overwhelming with all the settings and options available. But don't worry; we're here to guide you through it. Whether you're setting up parental controls for a toddler or an older kid, all the information you need is right here.
Did You Know? In 2017, a parent made a startling discovery that her son had been watching a knockoff Paw Patrol video featuring some of the main characters getting into a gnarly car crash and one character jumping off a building. The video snuck past Google's moderation and made it to YouTube Kids. It has been taken down since, but there are many similar videos that still exist on YouTube.
Where to Start
The very first thing you should do is create a YouTube Kids profile. You can create as many profiles as needed. In our case, we have profiles set up for each of our kids. This lets us separate parental control settings for each while having convenient controls using the same Google account.
When creating a profile, you will be asked to provide a nickname as well as the age of the kid for whom you're creating it. You can also put in their birth month, although this is optional.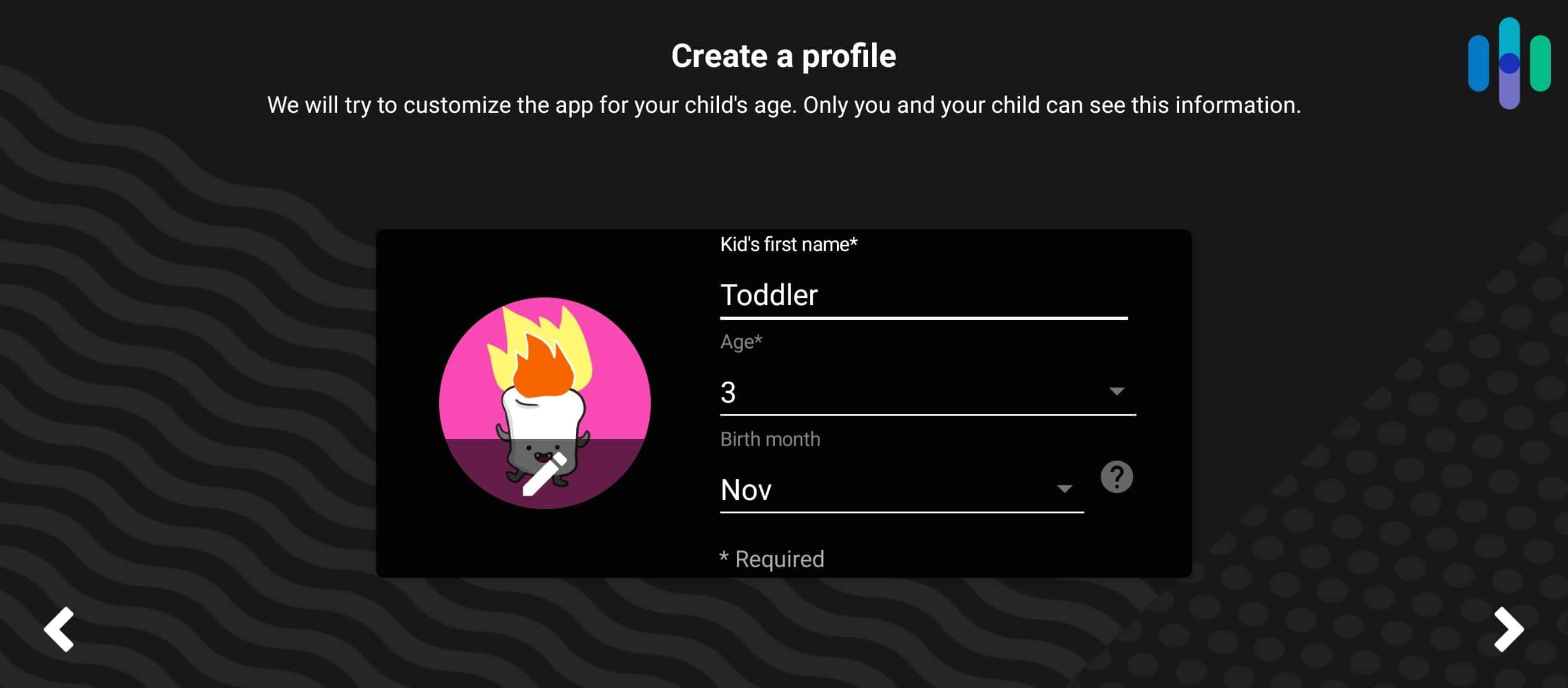 The next step is choosing the age bracket. This option impacts the recommended videos and types of searchable content within the app.
You can choose an age bracket that is higher or lower than your kid's actual age — this is up to you as the parent. (We recommend not selecting "Older" for children age 5 and younger.) The three options are:
Preschool: Usually for kids 4 years old and younger
Younger: For kids between 5 and 8 years old
Older: For kids between 9 and 12 years old or older
FYI: The parental controls you set up on YouTube Kids apply only to the app and not YouTube as a whole. To create parental controls on YouTube, you'll need to log in with your account and enable Restricted Mode on the device your child uses. From there, you can set age and content restrictions.
Do Age Settings Work?
As parents, we naturally have our doubts. Does setting an age bracket actually affect what types of videos appear on the app, or is it just a formality? We conducted a quick experiment to find out.
We created three different profiles: Preschool, Younger, and Older. Then, we did a search for "science experiments" using each account.
With the Preschool profile, the top results were videos of a dad doing science experiments with his kid who couldn't be more than four years old.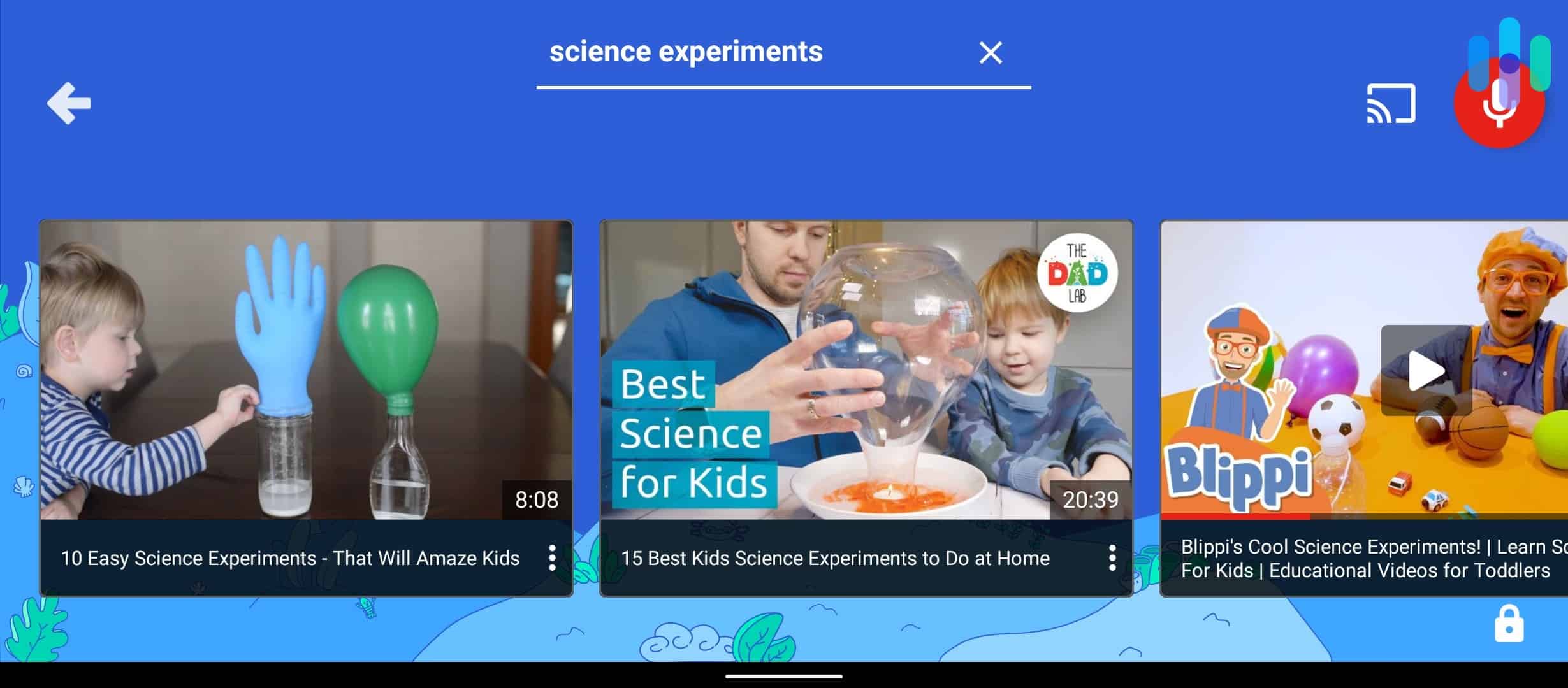 With the profile set to the Younger age bracket, the top results were videos of a kid doing DIY experiments, such as a homemade volcano.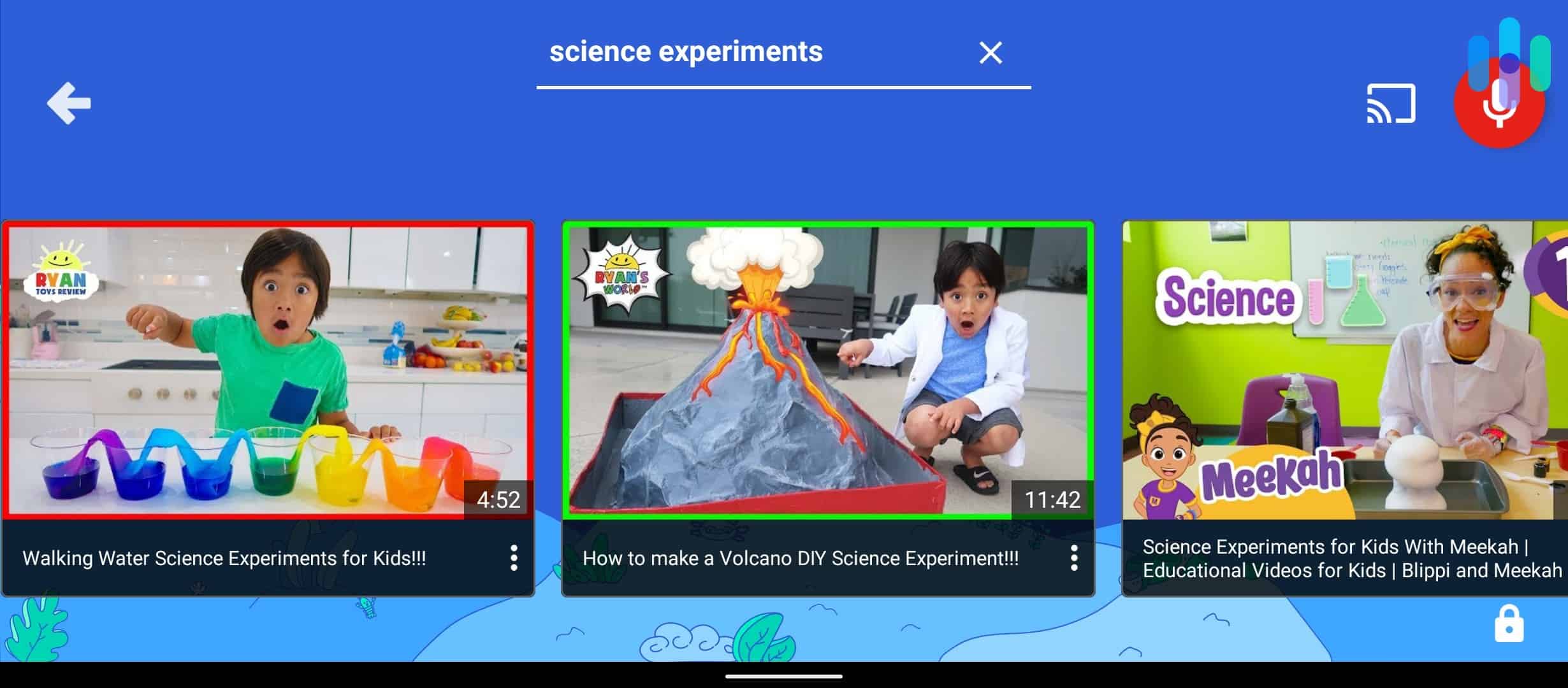 Lastly, with the profile set to the Older age bracket, the top results were videos that tackle more advanced topics, like liquid density and osmosis.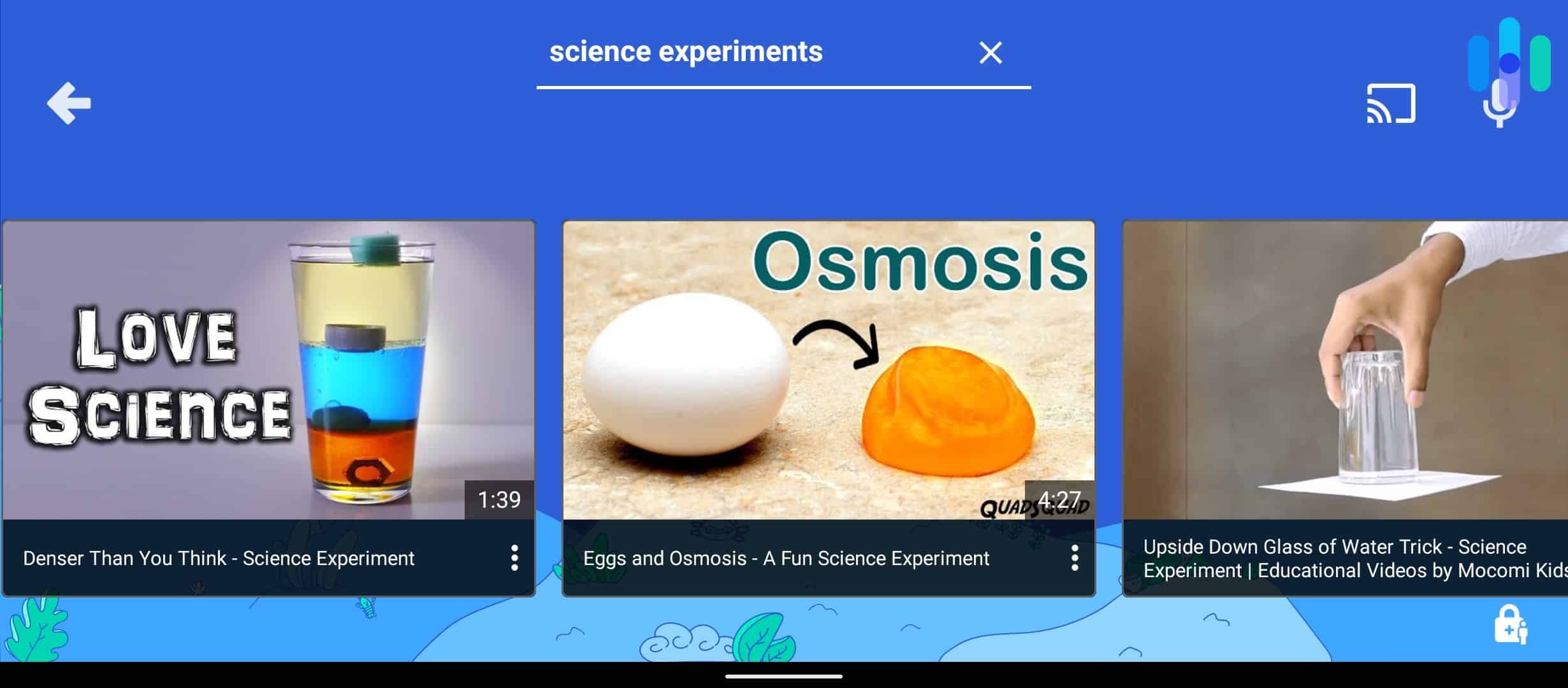 At the very least, this experiment put our minds at ease. Now we know that our toddler won't be shown videos on topics beyond his age, while also knowing that he has the freedom to explore educational videos that interest him.
Approve Content Yourself
Aside from age brackets, there's actually another approach to customizing what videos appear on the app. This approach is for parents who want to have absolute control of what their kids see, as they approve which videos, channels, or genres are made available.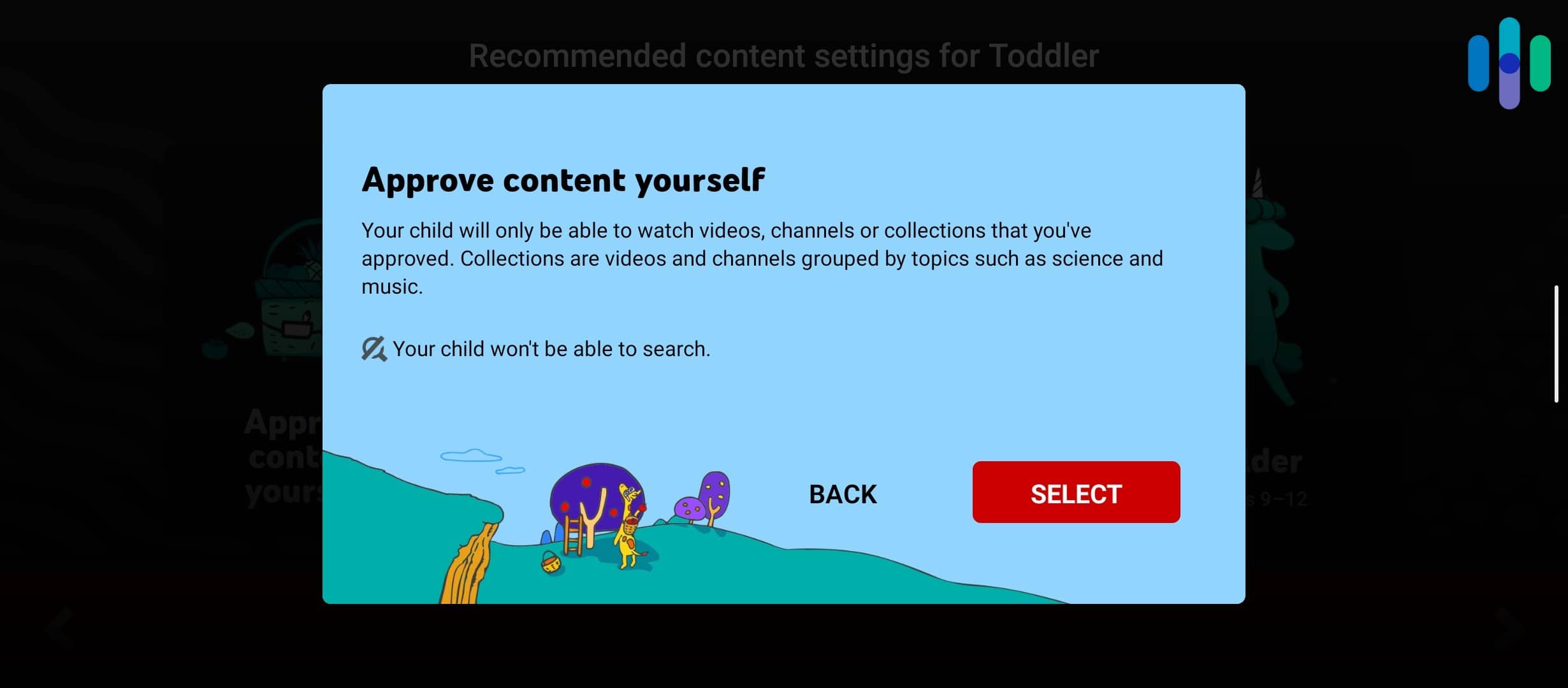 Too authoritarian? Not really. The Approve Content Yourself setting was introduced following a controversy in 2017 when knockoff videos of popular child-themed shows snuck past Google's moderation. Instead of the usual kid-appropriate educational videos, these knockoffs featured disturbing themes such as suicide.1 Yikes!
When the Approve Content Yourself setting is active, the search function is taken away, and it's replaced by Collections, which is a compilation of videos and channels approved by you. Your little one can still browse the Collections freely, only this time, you're absolutely sure you've handpicked only appropriate videos. It takes a bit more time to set up, but that's just what we're willing to go through to protect our kids online.
YouTube Kids Parental Controls Beyond Content Filtering
Setting up parental controls is more than just about filtering what your kid sees. It's about ensuring your child's overall digital safety and well-being. So let's check out YouTube Kids' other parental control options that will help you do just that.
Screen Time Limits
Some organizations recommend that kids younger than 5 years old spend no more than an hour per day in front of a screen, and kids age 5 and above no more than two hours.2 Screen time limits is a highly debatable topic, but we can all agree that too much screen time is bad.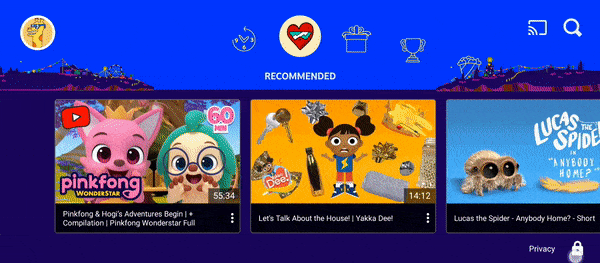 Here's how you can limit the amount of time your little one spends on YouTube Kids:
Open the app and click the lock icon at the bottom right corner of the screen.
Select Timer.
Use the slider or plus and minus buttons to set the limit from one minute to one hour.
Once the timer expires, the app locks and will need verification from you to unlock.
FYI: By default, the verification process requires parents to answer a simple arithmetic equation, which won't be much of a challenge for kids attending school. To set up a fixed parent passcode, go to Settings (lock icon), Parent Verification, and Create Passcode. You'll be asked to create a four-digit passcode, which will be used for all parent verifications moving forward.
Allow/Remove Searching
Although YouTube Kids uses a combination of algorithmic and human moderation to handpick videos that go into the YouTube Kids app, search results are purely algorithmic.3 And if we can learn anything from the 2017 YouTube Kids controversy, its' that algorithms don't catch everything.
If you don't want to take a chance, and if you think letting your little one search freely on the app might cause more harm than good, you can turn off the search feature.
Here's how:
Tap the lock icon at the bottom right corner of the app.
Select Settings.
Choose the kid profile you want to edit and enter your Google password.
Scroll down to Allow Searching and toggle it off.
If you want to turn off search for multiple kid profiles, tap on the profile tabs at the top of the screen and repeat step 4 for each.
Watch History
One of the reasons that we use parental controls is to let our kids have the freedom to watch their favorite content without our constant supervision. But it would also be nice to know what they've been watching for deeper insights into their current interests and to spot any red flags.
Here's how to check your child's watch history:
Open the YouTube Kids app on their device and log in to their profile.
On the carousel at the top, scroll to the one with the clock icon. It's the one to the left of the Recommended videos.
The screen that opens shows the last 100 videos watched by your child on that device.
The small box to the right shows the five most-viewed channels by your child.
When you're done, tap the arrow with a drawing of a house to go back to the Recommended videos.
Our Final Thoughts on YouTube Kids
That's about it for YouTube Kids' parental controls. There are many other settings you can customize on the app, like pause watch and search history, clear history to reset recommendations, and set up a secret code for each child profile for their privacy, but as far as parental controls go, we've discussed the best YouTube Kids has to offer.
In general, YouTube Kids is one of the safer apps for our young ones. It's designed for kids, after all, and the parental controls it offers are pretty decent.
That said, be sure to check out the most dangerous apps for kids, as they are the polar opposite of kid-friendly, so you'll want your kids to stay away from them.
FAQs on YouTube Kids Parental Controls
We tried to cover everything about YouTube Kids' parental controls, but if we missed anything, check out if it's covered below.