SkyBell HD Video Doorbell Review
The SkyBell HD is SkyBell's latest video doorbell, a waterproof device with color night vision.
What We Like
Durable: Waterproof and can work in temperatures from 40 to 140 degrees Fahrenheit
Video quality: 1080p HD video display
Viewing range: Field of view of 120 degrees
What We Don't Like
Installation process: Must be hard-wired and installed professionally
Not smart home-ready: No smart platform integrations
App and software: Poor app reviews
Bottom Line
Working in temperatures from -40 to 140 degrees Fahrenheit, the SkyBell HD is a video doorbell for all seasons. It also boasts 1080p HD video, color night vision plus a mobile app for remote viewing.
SkyBell Technologies is a popular video doorbell brand not only because they make good doorbells, but also because they provide the doorbells offered by some of the top home security companies. Today, we're taking a look at one of SkyBell's earliest doorbell models, the SkyBell HD. While it's no longer offered by SkyBell to consumers directly, some alarm companies still offer this particular model.
In this review, I'll go over the SkyBell HD Video Doorbell's design, features, functionality, convenience, and finally, the SkyBell app so you'll know if it's the right doorbell for you if your alarm company offers it. Let's get started with the SkyBell HD now!
Skybell app ratings
| Skybell app | Rating |
| --- | --- |
| iOS | 2.1 |
| Android | 2.2 |
Editor's Rating
Works in temperatures from -40 to 140 degrees Fahrenheit
Color night vision
Week of free cloud storage
SkyBell HD Pros and Cons
Let's make sure you're reading the right review before I go too far into detail.
The best qualities about the SkyBell HD are its temperature range of -40 to 140 degrees Fahrenheit, its 1080p HD video display, and free cloud and local storage.
But I'm not loving the SkyBell HD's lack of person detection, smart platform integrations, and poorly-rated app.
SkyBell HD Video Doorbell Design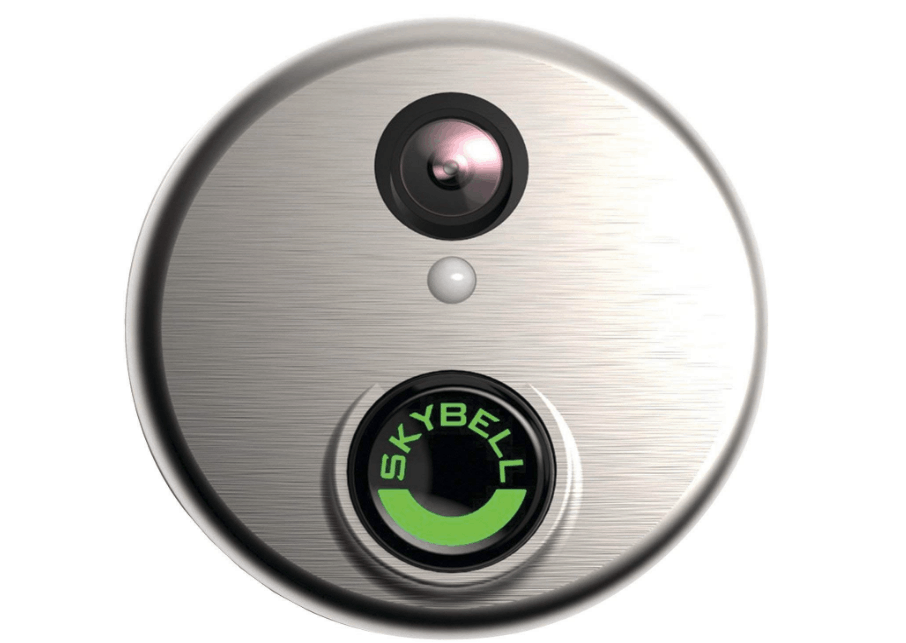 SkyBell's HD Video Doorbell is a round silver circle with three additional circles on its face- the actual doorbell button, a small white protrusion that houses the motion sensor, and the purple-toned camera. Like all SkyBell cameras, the brand name is written on the bell in an alarming lime green, which clashes with the purple of the camera.
I'm not loving the round shape of the doorbell, nor its colors. It looks like part of a P.A system in an early 2000s elementary school more than it does a doorbell. All in all, the aesthetics leave something to be desired.
But surfaces aside, the SkyBell HD Video Doorbell is waterproof and can work in temperatures from minus 40 to 140 degrees Fahrenheit. The doorbell will be hard-wired into your house, so installing it might require a bit more tinkering than with battery-powered video doorbells. The camera records when it senses motion for 35 seconds or longer if you answer your notification. Finally, the video doorbell connects through Wi-Fi, so make sure you have a strong internet connection.
SkyBell HD Video Doorbell Features
Aside from the doorbell itself, you're buying the SkyBell HD Video Doorbell mainly for its video camera. In this section, I'll tell you about the camera's technical specifications, along with my own personal experience. I also want to tell you about a few cool features of the doorbell under the subsection "Extras".
Video
Wouldn't it be crazy if a video doorbell called SkyBell HD didn't have HD vision? Thankfully, SkyBell HD lives up to its name. It has a 1080p HD video display, a nice field of view of 120 degrees, and the ability to zoom up to five times. Those are all impressive specs, except perhaps the 120-degree viewing angle.
That 120-degree viewing angle is pretty standard for video doorbells, but we're currently seeing video doorbells with a much wider field of view, even up to 180 degrees. Keep in mind that the SkyBell HD was released over five years ago, and 120 degrees was impressive then. If you want better coverage, though, know that there are other options.
Audio
The camera has two-way audio which will allow you to speak to whoever's on your welcome mat. Most people don't know that the first thing robbers do to see if you're home is ring your doorbell. If no one answers, the coast is clear. However, with two-way audio, you can pretend to be home even when you're not- just talk into the SkyBell app! It's a simple solution that could make a real difference for your home's security.
Night Vision
The SkyBell HD offers color night vision, which I don't prefer if it uses bright visible light to illuminate the surroundings. That's what most cameras with color night vision do, but fortunately for SkyBell, color night vision isn't powered by bright lights. It uses subtle, multi-color night lights instead, and brightens the image with the help of its image sensor.
That said, there's one downside: Color night vision doesn't work well in complete darkness, so leave a porch light on if you do decide to get a SkyBell HD.
Storage
SkyBell gives you local storage and cloud storage for a week- no subscription required. I love that both cloud and local storage are available as you can backup your footage two ways, ensuring that you won't lose it.
Smart Platform Integration
Unfortunately, the SkyBell HD does not integrate on its own with any smart home platforms like Google Assistant, Amazon Alexa, or Apple HomeKit. However, if you integrate it into a security system that supports those smart platforms, you'll be able to access SkyBell's features through Alexa or Google Assistant.
Artificial Intelligence

Another negative point of the SkyBell HD Video Doorbell is its lack of artificial intelligence capabilities. While some cameras can tell people from pets, cars, and other non-human moving objects, this video doorbell cannot. What does this mean for you? Well, you'll probably receive a lot of irrelevant notifications from things you don't care about- a car driving by, a dog running across your lawn, etc. Hopefully, SkyBell can add person detection and even facial recognition in the future, as it will lead to smarter, more specific notifications.
| Detection capability | SkyBell HD |
| --- | --- |
| Motion | Yes |
| People | No |
| Facial recognition | No |
| Vehicles | No |
| Packages | No |
Extras
SkyBell gives you some cool customizations with your video doorbell. One, you can silence the doorbell's chime so it won't wake someone up (an ideal setting for new parents). Second, you can take screenshots of your livestream, which could help catch a perp or capture a cute moment. Finally, if your SkyBell HD Video Doorbell is stolen, SkyBell will replace it for free! That's a pretty good deal.
Installing the SkyBell HD Video Doorbell
To install the SkyBell HD Video Doorbell, you'll need a power drill, a wire stripper, and a Digital Doorbell Adapter. This isn't something you can do yourself, so you'll want professional installation.
The SkyBell App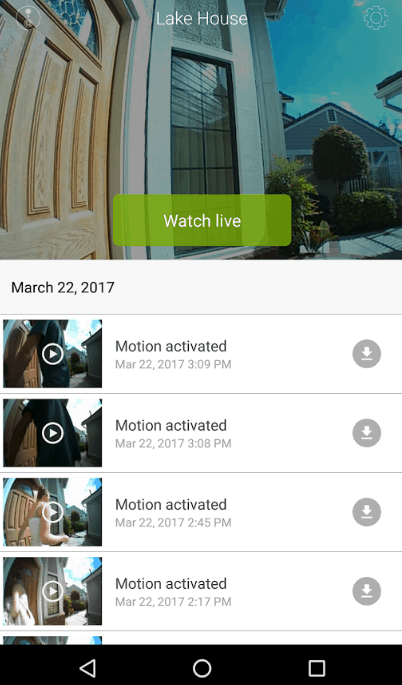 Let's talk about the SkyBell app. It's where you'll access and control your video doorbell on the go, so I'm going to talk about its features and customer reviews.
Features
From the SkyBell app, you can livestream footage, take screenshots, review event history, speak to visitors, receive notifications, share access to guests, and adjust your settings.
Reviews
According to SkyBell's customers, the app does not live up to its features. It only has a 2.9 rating from the Google Play store and a 2.2 rating from the Apple Store. Many people complained that the camera was not picking up motion and that customer support was extremely hard to reach. Definitely a bit of a red flag.
Recap of the SkyBell HD Video Doorbell
Looking for the perfect video doorbell can feel a little like The Princess and the Frog. With a plethora of choices, how can you be sure that the SkyBell HD Video Doorbell is right for you?