All About Homeowners Insurance
Everything you need to know to make an informed decision on a homeowners insurance policy
All of our content is written by humans, not robots.
Learn More
Your home is one of your biggest, most important investments. So why wouldn't you want to protect it?
Now, we know sourcing alligators for a moat might be more interesting than reading about home insurance, but trust us — taking the time to understand and purchase an adequate homeowners insurance policy is the best way to protect your home and family.
Since you're reading this, we're going to assume you're in the market for home coverage. Good on you! By the end of this article, you'll have a better understanding of what homeowners insurance is, how to shop for a policy, and how to select a provider that's right for you.
So without further ado, let's jump right in.
Pro Tip: Want to cut to the chase and learn about our favorite home insurance provider? If so, have a look at Lemonade Insurance policies — they're refreshingly affordable and easy to work with.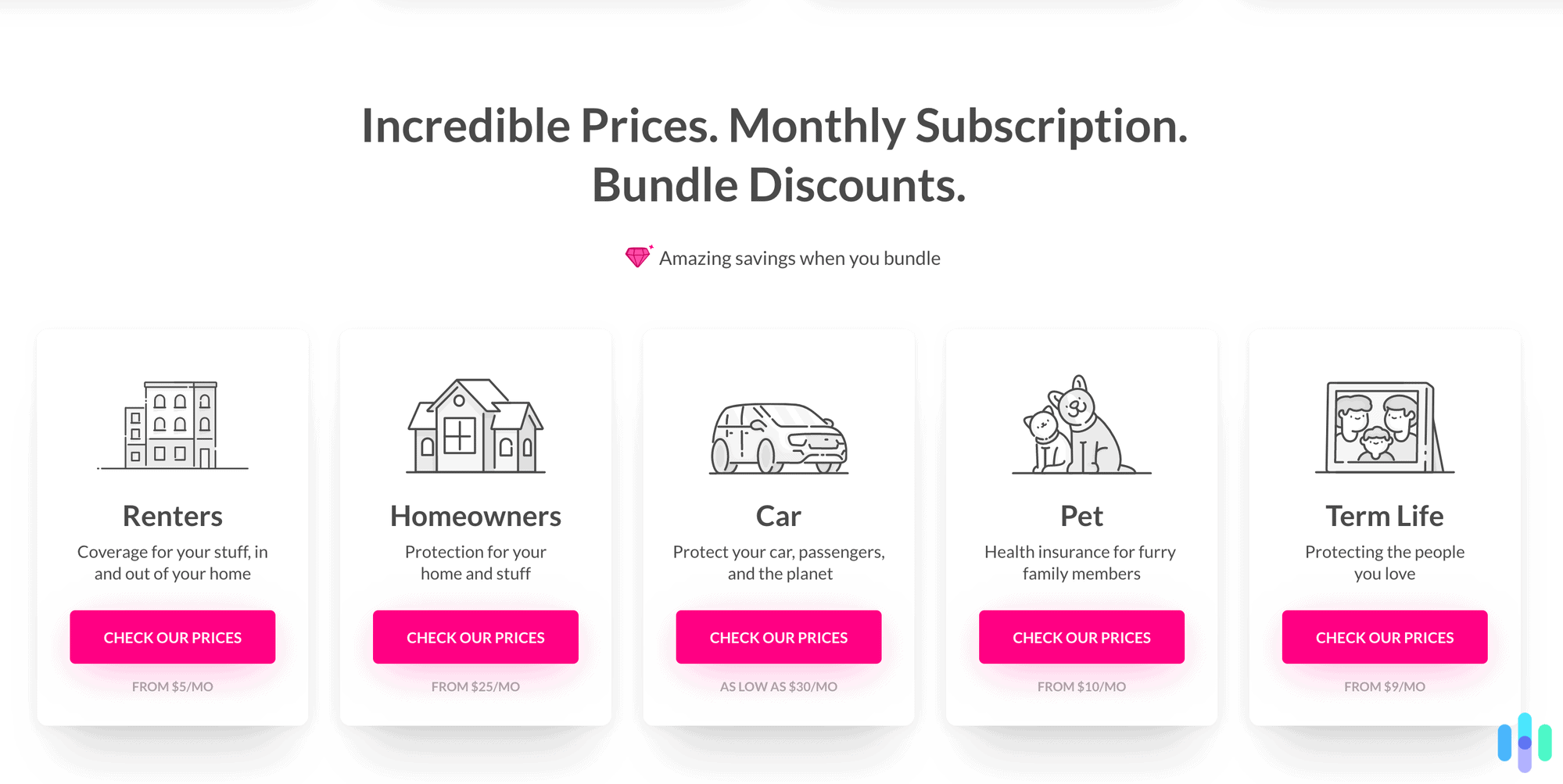 What Is Homeowners Insurance?
At its core, homeowners insurance protects you if your home and/or your belongings are damaged so badly that you wouldn't be able to pay for the repairs out of pocket. In other words, it's a way for you to avoid financial ruin should catastrophe strike your home. (Home insurance to the rescue.)
Pro Tip: Homeowners insurance covers a lot of perils, but you're not going to be protected from every disaster. Make sure you speak with your insurer to fully understand what will and won't be covered by your policy.
There are some more technical ins and outs that we're going to get into in a bit, but that's the gist. Adequate homeowners insurance protects you after a disaster. Before we go further, though, here's why it's so important.
Why Do I Need Homeowners Insurance?
The simple answer to this question is that home coverage is required by lenders to secure a mortgage. Why? It might sound cynical, but the banks want to protect their investment.
You technically don't own your home until that last mortgage payment is settled. And if your house is flattened by a tornado, you're probably not going to be in the financial position to rebuild it and continue making payments.1 So in an event like a fire or storm, you won't be left turning your pockets inside out and shrugging your shoulders … so long as you're covered with a home insurance policy.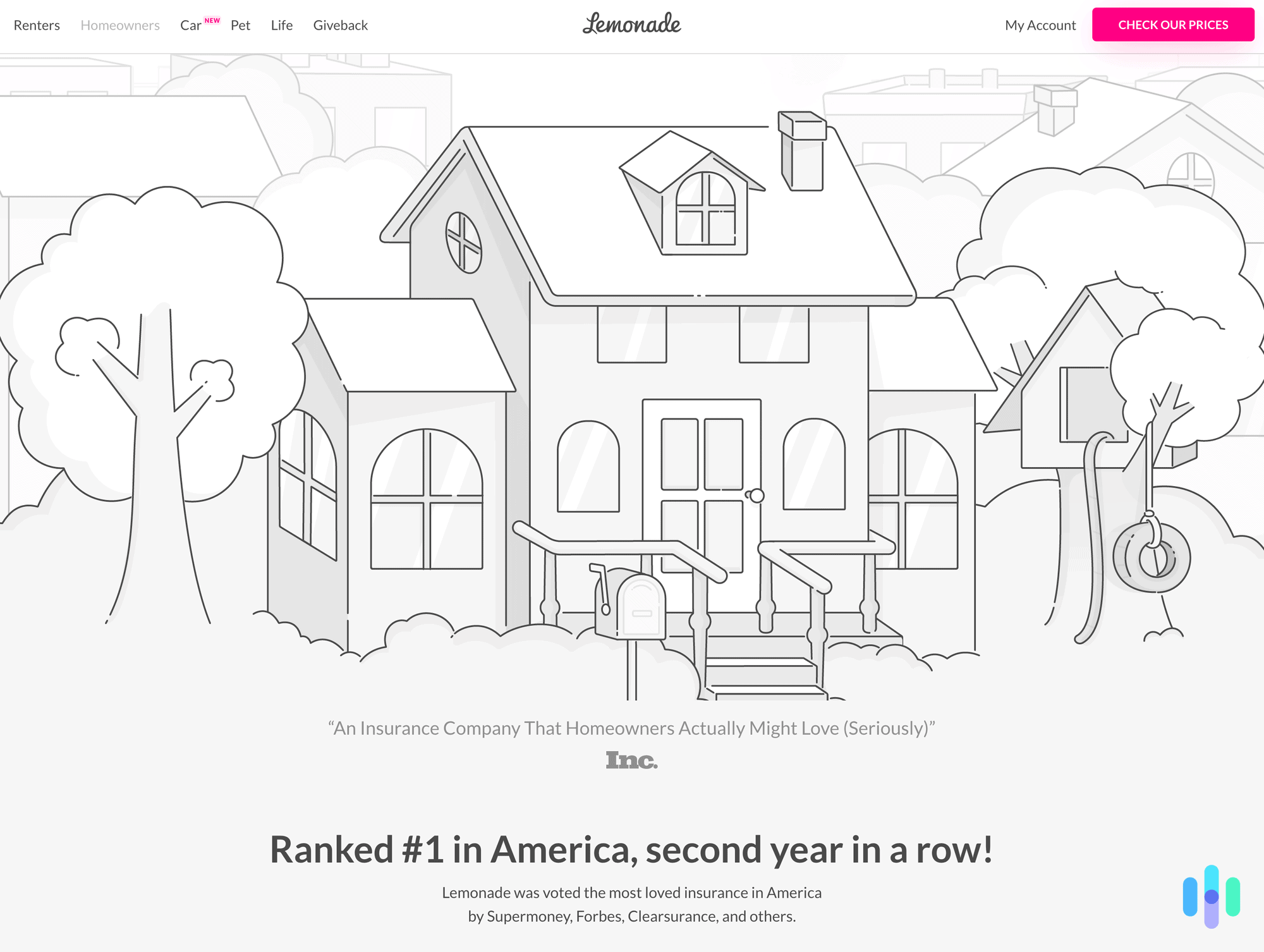 Got it? Good! Now we can talk a little more about the intricacies of homeowner insurance policies.
What Does Homeowners Insurance Cover?
There are several different types of homeowners insurance policies, but we're going to cover HO-3 policies only. This is by far the most common coverage type. In fact, the National Association of Insurance Commissioners estimates something like three-quarters of single-family home policies sold in America are HO-3.
So what does an HO-3 home insurance policy cover, exactly? While the language in your policy might differ slightly, there are six key protections to look for:
Dwelling
Personal property
Other structures
Personal liability
Medical costs
Loss of use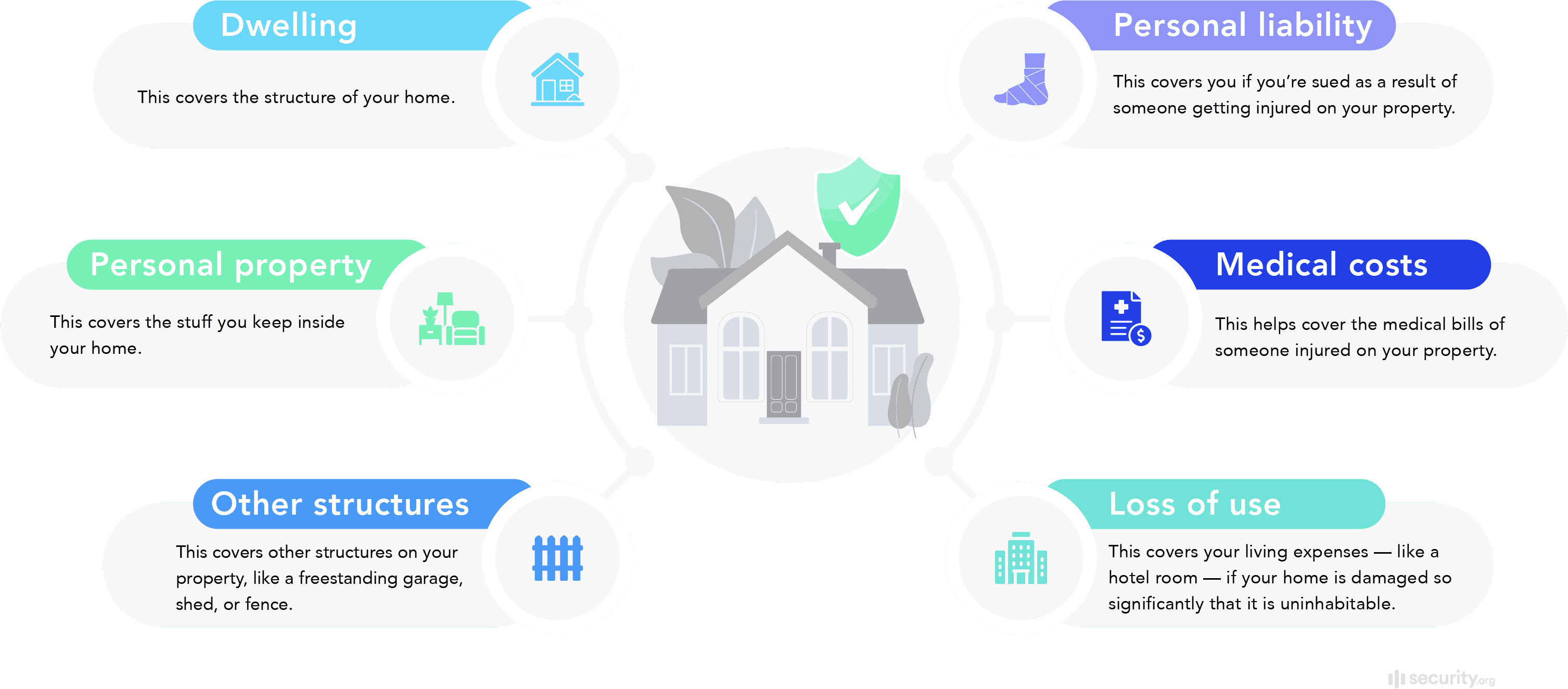 All of these coverages are applied to covered incidents only, meaning events that are named in your policy, like fires and storms. There are, however, destructive events that a typical homeowners insurance will not cover. Let's take a look at those now.
What Does Home Insurance Not Cover?
Homeowners insurance will go a long way in protecting you from calamity, but there are exemptions included in your policy that are important to pay attention to. Here are the events that a typical HO-3 homeowners insurance policy will not protect you from.2
Earth movements
Floods
Pests and infestations
Mold and rot
Anything above your limit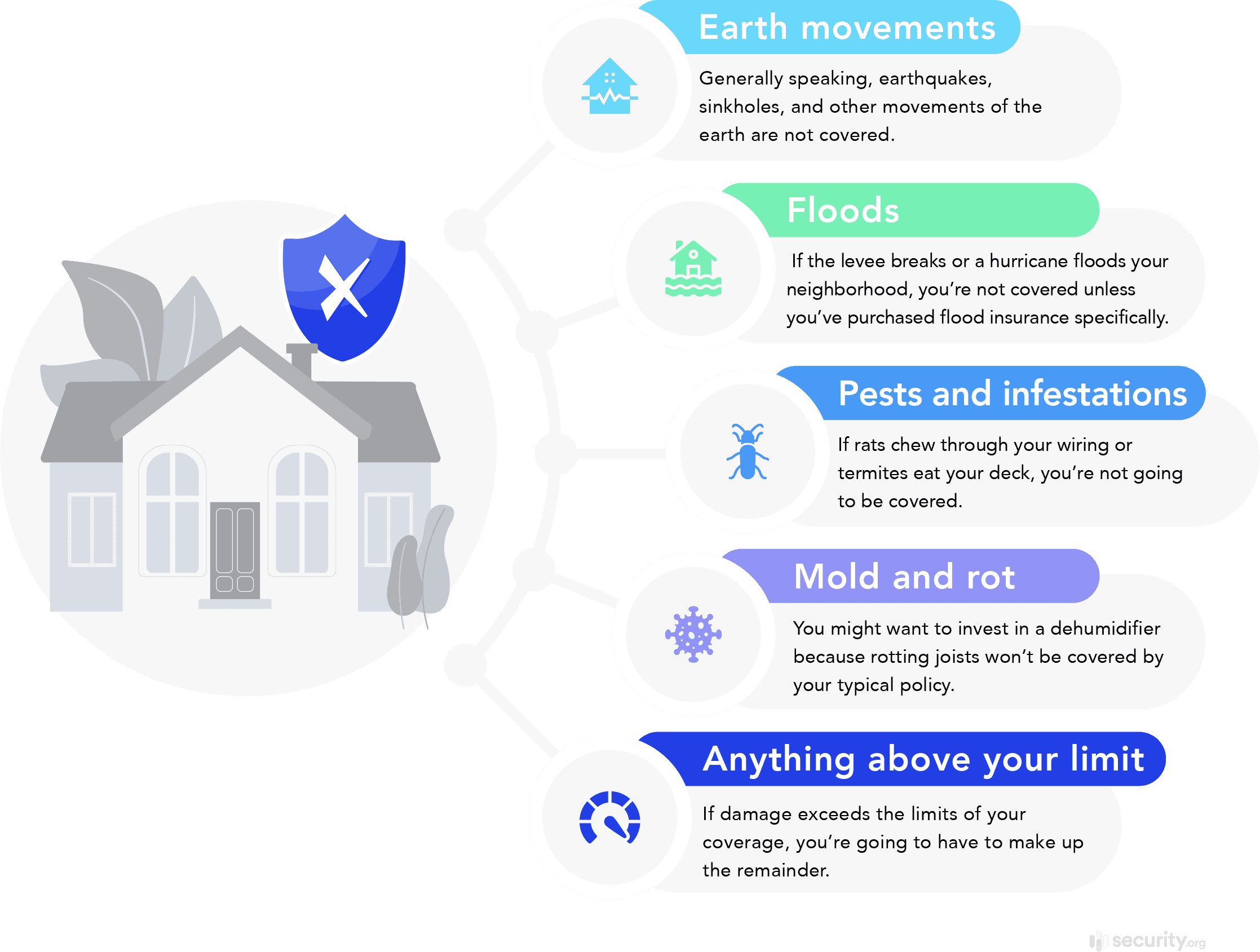 Pay attention to that last one. Even with standard homeowners insurance policy, you might end up with a hefty bill if your coverages weren't adequate to cover the extent of the damage.
Let's say the delivery guy falls down your icy porch stairs and breaks his back. That's obviously a terrible situation, but it'll be much worse if your medical coverage is limited to, say, $5,000. Once your deductible is met and your coverage limit is paid out, you're still going to be on the hook for the remainder of his bills.
Pro Tip: Most insurance providers are flexible in the policies they write. If you have a unique circumstance or want to be protected against a specific peril, they're likely to work with you. Just be sure to ask your insurer.
So, that begs the question …
How Much Homeowners Insurance Should I Buy?
A lot of folks subscribe to the idea that you should purchase a policy that is, or is at least close to, the purchase price of your home. That is a big mistake. Here's why:
Let's say someone buys a home for $300,000 and secures a homeowners insurance policy for that amount. Three years later, a fire destroys their home. It's a horrible situation, but their homeowners insurance should pay out enough to fix everything, right?

Well, as it turns out, material and labor costs in their area went through the roof, so even with their insurance payout, they won't have enough money to rebuild their house. They may have just enough to pay off the remainder of the mortgage and a few grand left to furnish an apartment. Ouch.
Pro Tip: The majority of your protections are going to be based on the limit of your dwelling protection. Feel like your "other structures" protection is a little scant? You might need to bump up the dwelling limit.
Don't want to find yourself in this situation? Here's what you do instead: Look at the current home construction rates per square foot in your area, and purchase a policy based on that figure. Don't stop there, though. Update your policy annually in accordance with this fluctuating figure. Remember, the worst time to find out your coverage is inadequate is when you really need it.
Now that you've got a better idea of what you need and how to purchase it, let's talk about the elephant in the room. How much is home insurance going to cost you?
How Much Does Homeowners Insurance Cost?
It's a fair question, but it's a bit like asking, "How much is a new car?" Do you want a four-cylinder or a V8? Do you want the base model or the fully loaded one? Do you want a Kia or a Cadillac? The answers to these questions are going to determine if you spend $18,000 or $85,000 on your new ride.
The good news is homeowners insurance is nowhere near as expensive as a car, but the distribution of cost is about the same. You can get a bare-bones policy for maybe $60 per month, or comprehensive coverage for north of $300 per month. It all depends on what protection you want, what your deductible is, and how high your limits are.

There are also factors that come into play that you won't be able to change, including where your home is located, how old it is, how it was constructed, and how much it's currently worth. These factors and more are going to come into play when determining what your premium will be.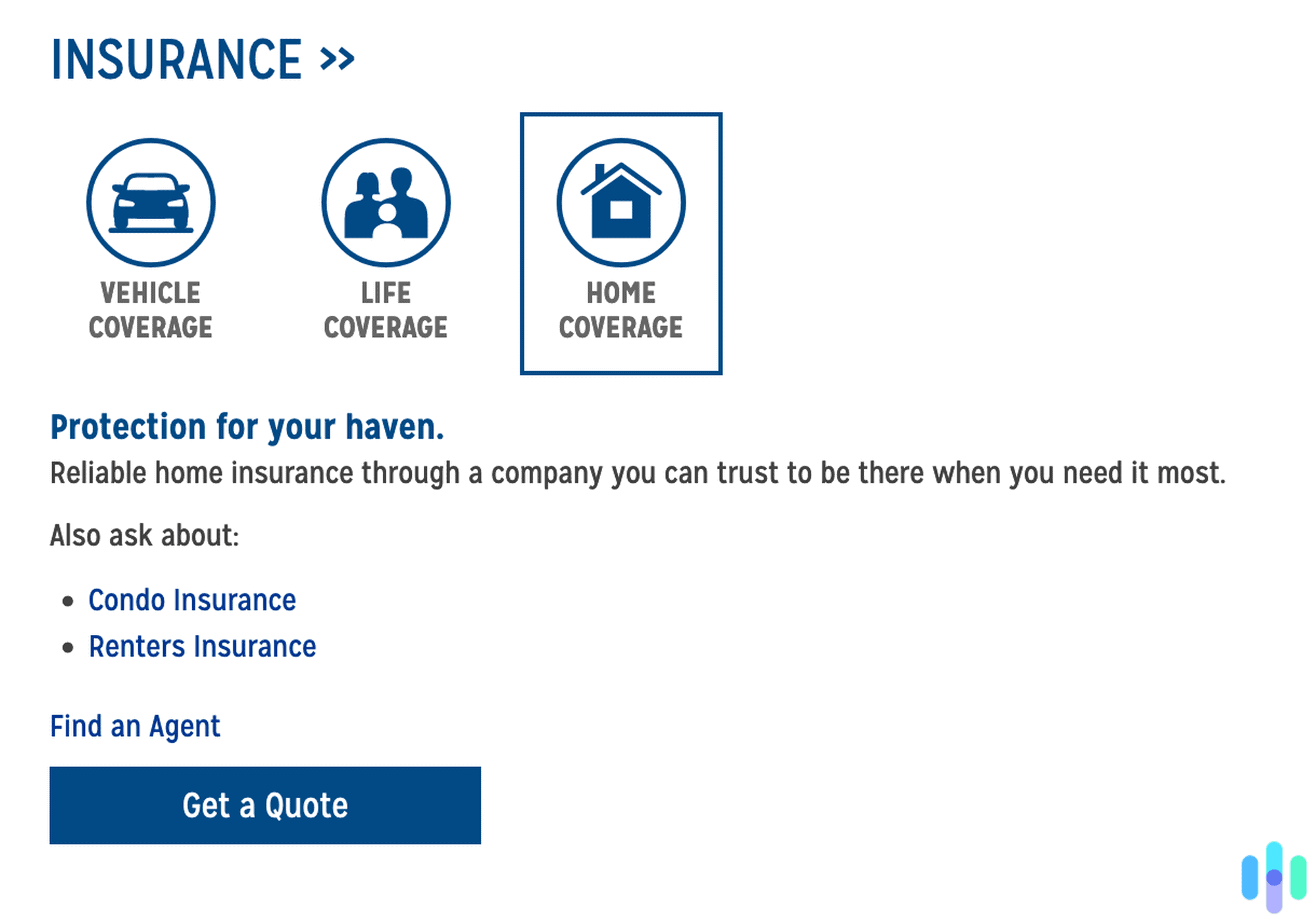 We get it: You're looking for a meaningful number. For an average home without any major underlying factors — like your roof is 40 years old or it's located in tornado alley — a decent policy will probably run you between $100 and $150 per month, depending on your coverage. It's also worth noting that this will be rolled into and paid out of your escrow, so you're not going to have to cut a check every month.
That said, there are a few ways to drive these costs down. Let's take a look at those now.
How to Save Money on Homeowners Insurance
Home insurance providers like Lemonade rely on keeping their customers happy, so it's in their best interest to offer a few perks to sweeten the deal. Oftentimes, this means you'll be able to save a few bucks on your premium if you qualify for particular discounts. Every provider is different, and the deals they offer will be too, but there are a few that seem to be pretty universal. These include:
Installing a home security system
Not making claims for a certain amount of time
Switching from another provider
Bundling different policies
Like we said, not all providers will offer these discounts, and some might offer discounts others won't. It's always best to check with your insurer to make sure you're not leaving cash on the table.
We mentioned Lemonade a couple of times on this page, so what's the story? Well, Lemonade is our favorite home insurance provider. Their policies are surprisingly affordable, the coverage is complete, and it only takes a minute to sign-up. Watch our Lemonade Insurance overview video to learn more.
So now that you have a good idea of what you need and how much you're going to pay for it, let's talk about your next step: shopping around for a plan.
How Do I Shop for Homeowners Insurance?
It's pretty simple to shop for homeowners insurance. Most major providers offer handy online quote tools that allow you to select the coverages you're comfortable with based on a handful of factors about your home that you likely know off the top of your head. These might include your home's age, its location, its purchase price, and its construction. Most of these tools can generate a quote within a few minutes.
We always recommend shopping around, though. Get quotes from at least five different providers, and compare the coverages offered and the price of the premium.
Finally, as a friendly reminder, make sure to update your policy at least once a year to ensure your limits are still accurate. After all, the worst time to find out you're not covered is when you need coverage. By updating your policy periodically, you're going to be able to take advantage of any discounts your provider might offer, and you might even decide to switch providers based on fluctuations in premium prices.
So that's all there is to know about homeowners insurance. By now you should have all the information you need to make an informed purchase. Best of luck and stay safe!
Homeowners Insurance FAQs