Frontpoint vs Lifeshield
Lifeshield, now Blue by ADT, is pretty different from Frontpoint. Our experts explain why.

Best Features

Fast and easy DIY installation
Smart home features and integrations
Industry's best customer service
Most Affordable

Affordable equipment
ADT has 150+ years of experience
Simple DIY installation
Update: Frontpoint now has monthly contracting and has dropped its Protection plan. ADT has purchased Lifeshield and it is now called ADT Self Setup. 
Frontpoint is one of the most popular security companies in the country, the first in the U.S to include smart security across all of their systems. They were also the first security company to make a self-guided setup through a mobile app. We love innovation!
Lifeshield is a lesser-known but still popular security company founded by Louis Stilp. Stilp was frustrated when he couldn't find a security system that wasn't hard-wired, so he decided to make one himself. Lifeshield is the only security company offering four layers of backup protection— landline, cellular, Wi-Fi, and battery. Pretty impressive. But how do Frontpoint and Lifeshield stack up to each other?
In this comparison, I'll compare Frontpoint and Lifeshield's system components, installation processes, professional monitoring options, customer support, and mobile apps. Let's jump in and see who comes out on top!
Key Similarities
I know you're reading this review to find out if Lifeshield or Frontpoint is better, but they do have stuff in common like:
Cellular backup: both Lifeshield and Frontpoint include cellular backup with their security systems.
Good customer support: reviews mentioning Lifeshield and Frontpoint's customer support were generally positive.
Decent apps: both the Frontpoint app and the Lifeshield Interactive app have decent reviews in both the Google and Apple stores.
So far, so good.
Key Differences
Enough of that Maya Angelou "we are more alike than unalike, my friends" noise. What are the biggest differences between Lifeshield and Frontpoint's security systems?
Professional monitoring: while all Frontpoint's systems include 24/7 professional monitoring, Lifeshield allows you to self-monitor.
Contracts: While both systems have options for monthly contracting, Lifeshield also has a three-year option available.
Cancellation fees: if you want to cancel your Frontpoint contract before it ends, you won't have to pay any cancellation fees, while Lifeshield's cancellation fees are negotiated with your salesperson.
Clearly, Frontpoint's systems are more flexible than Lifeshield's, but it's too soon to pick a winner, so let's talk about what you get with each system.
System Components
| Feature | Customized Frontpoint Package | Lifeshield's Security Advantage Package |
| --- | --- | --- |
| Base Station | N/A | Yes |
| Keychain Remote | N/A | Yes |
| Wireless Security Tablet | N/A | Yes |
| Keypad Panel | Yes | Yes |
| Entry Sensors | Yes | Yes |
| Motion Sensors | Yes | Yes |
| Glass Break Sensors | Yes | N/A |
| Smoke/Heat Sensors | Yes | Yes |
| Indoor Camera | Yes | Yes |
| Video Doorbell | Yes | N/A |
| Smart Lock | Yes | N/A |
| Radio | Yes | N/A |
Both the customized Frontpoint package I bought and Lifeshield's Security Advantage package includes keypad panels, entry, motion, and smoke/ heat sensors, and indoor security cameras. Frontpoint's extras include a glass break sensor, video doorbell camera, smart lock, and radio, while Lifeshield also has a base station, keychain remote, and wireless security tablet.
Installation
If you like installing things yourself, you're lucky — Frontpoint and Lifeshield offer DIY installation. But as I'm sure you know, sometimes DIY isn't as easy as its made out to be. Let's see how Frontpoint and Lifeshield's installation processes compare.
Installing Frontpoint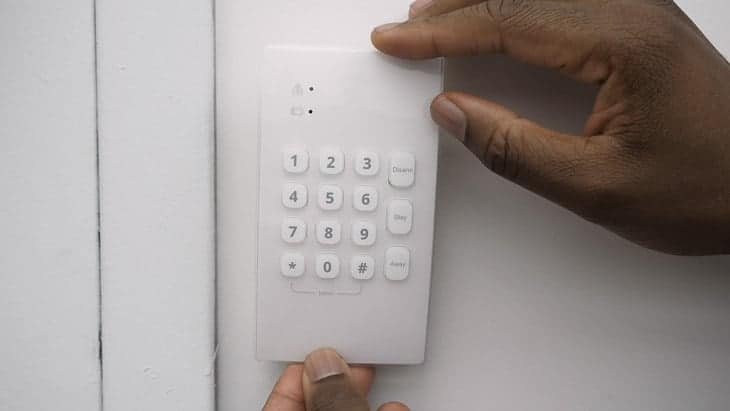 Frontpoint has DIY installation which you can perform without help. All of Frontpoint's systems come pre-programmed with your Hub, so all you have to do to install items is peel and stick. The most complicated part of the process is installing the camera, as you need to plug in the ethernet and power cables, add the camera on Frontpoint's website, and connect to home Wi-Fi, but overall, the entire process took under an hour. Not half bad!
>> Learn More: See our Frontpoint Review
Installing Lifeshield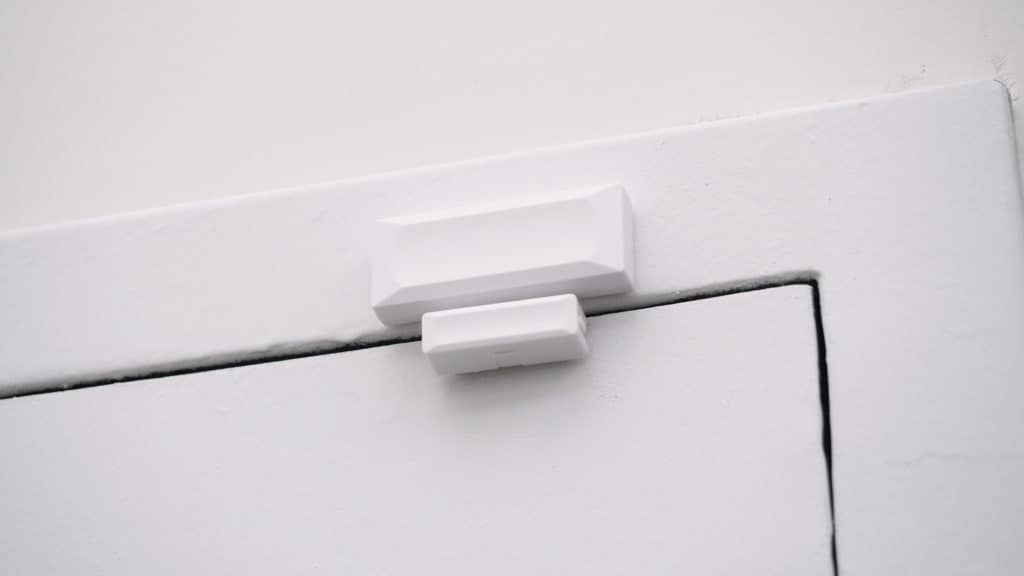 Lifeshield also has DIY installation, but it's a bit more complicated. Because I had power adapters and ethernet cables for so many different system components, I had to get a bigger hub. The sensors were peel-and-stick, which was easy— just make sure you install the motion sensor as high as possible if you're a pet owner, otherwise, you'll get some unnecessary notifications. I also loved the 3M adhesive on the back of the fire safety sensor. You can rest assured that once you stick a sensor to the wall, it's staying there for good.
Top System Installation
Overall, Frontpoint's system was easier to install and took less time. Anyone who's ever installed any add-on electronics knows how multiple cables can get confusing. Frontpoint's mostly peel-and-stick system takes cables out of the equation, simplifying your installation process.
Professional Monitoring
Professional monitoring means that you're not alone in handling your home's security. Let's say you're vacationing in Bermuda and there's no cell service. What would you do if one of your alarms went off? Would you even know about it, or would you just allow the break-in to happen? That's where professional monitoring comes in. They'll contact emergency services when you can't, so I recommend getting professional monitoring with any home security system.
Frontpoint and Lifeshield Monitoring Options
| | Frontpoint Interactive Plan | Frontpoint Ultimate Plan | Lifeshield Security Essentials Plan | Lifeshield Security Advantage Plan |
| --- | --- | --- | --- | --- |
| 24/7 Professional Monitoring | Yes | Yes | Yes | Yes |
| Cellular Backup | Yes | Yes | Yes | Yes |
| Wi-Fi Backup | N/A | N/A | Yes | Yes |
| Landline Backup | N/A | N/A | Yes | Yes |
| Battery Backup | N/A | N/A | Yes | Yes |
| Automated System Checks | Yes | Yes | N/A | N/A |
| Expandable and Portable | Yes | Yes | N/A | N/A |
| Unique User Codes | Yes | Yes | N/A | N/A |
| Crash and Smash Protection | Yes | Yes | Yes | Yes |
| Geo-location Services | Yes | Yes | N/A | N/A |
| Mobile Alert & Notifications via Email & Text | Yes | Yes | Yes | Yes |
| Remote Access and Control | Yes | Yes | Yes | Yes |
| Sensor History | Yes | Yes | N/A | N/A |
| Live Video Streaming | N/A | Yes | Yes | Yes |
| Video and Image History | N/A | Yes | Yes | Yes |
| Motion Triggered Alerts | N/A | Yes | Yes | Yes |
| Night Vision Enabled | N/A | Yes | Yes | Yes |
| Light Control | N/A | Yes | N/A | N/A |
| Smart Lock Control | N/A | Yes | N/A | N/A |
| Additional Hardware | N/A | N/A | N/A | Extra motion sensor, video camera |
| Monthly Price | $44.99 | $49.99 | $29.99 | $39.99 |
Frontpoint's pricing includes professional monitoring and cellular backup with every package, while Lifeshield allows you to self-monitor. Under Lifeshield's system, you can choose between security essentials and Security Advantage. Both have four layers of backup protection which ensure that your system will stay on even if your power goes out, along with professional monitoring. The only difference between the two plans is hardware— Security Advantage comes with an additional motion sensor as well as a video camera.
Now let's talk about the more esoteric features on the above chart.
Automated System Checks
All of Frontpoint's security systems test themselves at least once every hour to ensure everything is online and running.
Unique User Codes
Frontpoint allows multiple users to access one account so that your friends and family can control your security system. Unique user codes are part of all Frontpoint systems.
Crash and Smash Protection
Many robbers will break your main security panel, disabling your entire system. With all of Frontpoint's systems, however, your professional monitoring team will be alerted the second your panel is broken. From there, they can contact emergency services if need be. Frontpoint's Interactive and Ultimate plans include Crash and Smash Protection along with both of Lifeshield's paid plans.
Geo-location Services
With geolocation services, you'll be able to hook up phones to your security system to track a person's location. This might be useful for someone elderly, a child, or anyone without a smartphone. Geo-location services are available under Frontpoint's Interactive or Ultimate plans.
Sensor History
Finally, there's sensor history available with Frontpoint's Interactive and Ultimate plans. This feature is pretty self-explanatory- you'll be able to see an event history of your sensors in the Frontpoint mobile app. This feature could be handy if you need to make a police report.
Frontpoint and Lifeshield Contracts
Frontpoint has monthly contracting and you won't have to pay anything extra if you want to cancel. This is a new feature of the company, and in my opinion, it's a real game-changer.
Lifeshield offers both a month-to-month and three-year contract in which your rate is locked in. If you do a three-year contract and want to get out of it early, your termination fee will depend on exactly when you cancel and why you want to cancel— is it a faulty system or just not for you? Be sure to negotiate cancellation terms with your salesperson.
Frontpoint and Lifeshield Moving Policies
As both Frontpoint and Lifeshield are self-installed, you must tell the respective companies before you move your system. Frontpoint will make sure that you have a cellular signal there, while Lifeshield will research the location for necessary permits. Neither company requires any additional moving fees, which is great.
Top System for Monitoring
I have to give Lifeshield the crown for its monitoring, mainly for its affordability and flexibility. For less than $30 per month, the Lifeshield Security Essentials plan gives you professional monitoring, cellular backup, notifications, and livestreaming. At the same time, the same features would cost an extra $20 per month with Frontpoint. I also like that Lifeshield gives you the option to self-monitor. I'm all about options, so Lifeshield definitely beats Frontpoint regarding professional monitoring.
Customer Support
| | Frontpoint | Lifeshield |
| --- | --- | --- |
| Features | Online FAQ's, Phone | Online support center, online chat, phone |
| Amazon Rating | N/A | N/A |
| BBB Overall Rating | A+ | A+ |
| BBB Customer Rating | 4.5 Stars | 1.5 Stars |
| Google Rating | 4.5 | 5 |
Customer support is always important, but it's particularly important regarding your home's security. While every company claims that customer satisfaction is their number one priority, I look to online customer reviews to see the real story.
In my own experience, Lifeshield's customer support team is less than helpful. They kept redirecting me to a website with little to no information, and it took a while for me to find pretty simple technical specifications. Lifeshield's customer ratings from the Better Business Bureau echo my experience.
Frontpoint, on the other hand, is known for its excellent customer support, with a 4.5 rating from Google. Their customer reviews can only be described as glowing.
"The customer support is as good as I've every experienced with any business of any type— maybe the best there is…I feel secure and protected with Frontpoint,"
wrote Tom Riddle in a recent five-star review. They're also loved by the Better Business Bureau, which is particularly picky.
Top System for Customer Support
Frontpoint has much better customer support than Lifeshield, backed up by their stellar ratings on the Better Business Bureau and Google. In fact, I'd venture to say that Frontpoint has some of the best customer support ratings out there for a security company. While it's nice to imagine that you won't need customer support, there may come a day when you do, and since your home's security is such an important matter, Frontpoint gets a low of brownie points for its helpful customer support.
App
Today, every smart security system depends on its app to keep you connected, whether you're in the next room over or in Timbuktu. Let's see whether Frontpoint or Lifeshield has the better app.
The Frontpoint App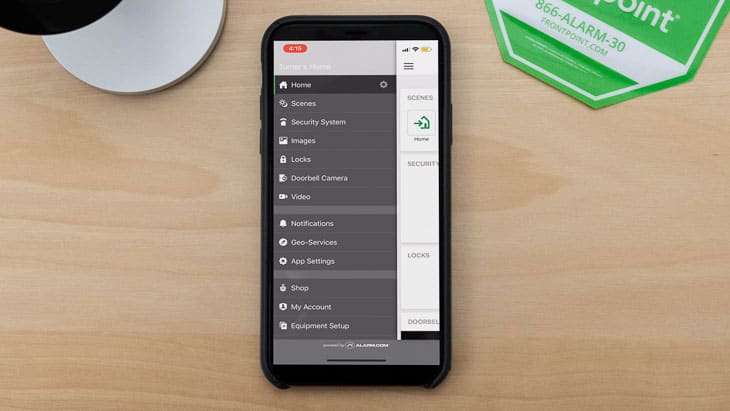 Using your Frontpoint app you can arm or disarm your system, receive notifications, livestream or view recorded video, and control all of your connected devices. The app has positive ratings from Google and Apple of 4.1 and 4.5, respectively.
The Lifeshield App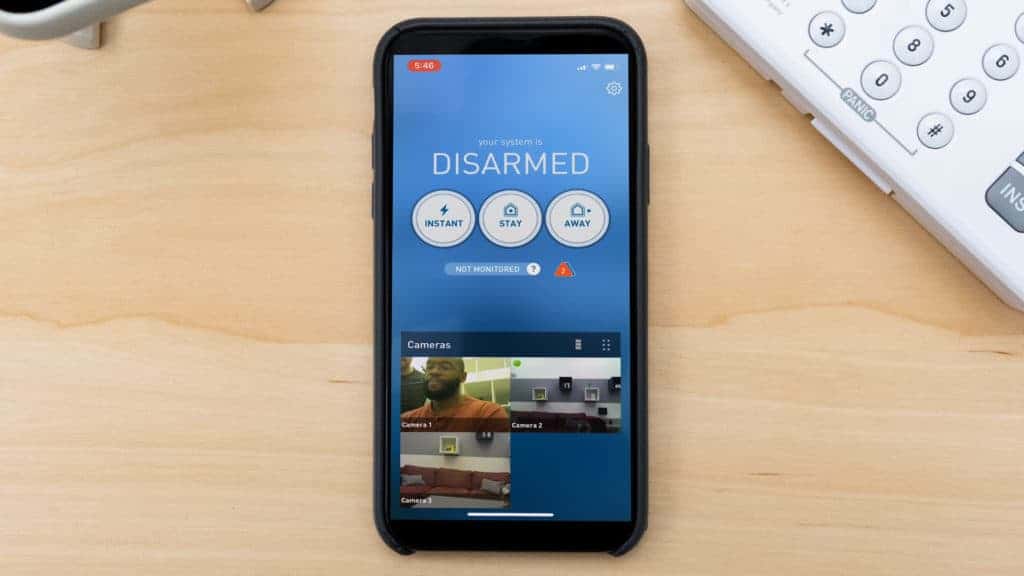 On your Lifeshield app you'll be able to arm and disarm your system, control security codes and connected devices, livestream footage, set up notifications, check out the crime in your area, and view recent events including video and photo storage. The app has so-so ratings of 3.7 and 3.9 on the Google and Apple stores.
Top System App
Both apps are user-friendly and have similar features, but Frontpoint's app works better than Lifeshield's, especially if you're an iPhone user. However, this battle was close, as both apps have ratings well above 3.5.
Recap of Frontpoint and Lifeshield
I recommend purchasing a security system from Frontpoint rather than one from Lifeshield due to its superior installation, customer support, and app. The only thing I wish Frontpoint had is an option to self-monitor and lower monthly fees like Lifeshield. Despite this, I think Frontpoint's team does better securing your home.