LifeShield vs Vivint SmartHome
Our experts put Lifeshield, now Blue by ADT, head to head with Vivint, another top security system.

Best App

Advanced smart home capabilities
Professional installation
Cellular monitoring
Best Monitoring

Affordable equipment
ADT has 150+ years of experience
Simple DIY installation
Update: Vivint now offers 24/7 professional monitoring and cellular backup for $39.99 a month plus $5 per camera for 14 days of cloud storage. Without this plan, your system will be a local alarm only. Also, after a recent company update, Vivint provides free professional installation. ADT has purchased Lifeshield and it is now called Blue by ADT. 
When it comes to choosing a home security system, it can feel a little bit like you're in a prison of too many choices. If you're here, it's probably because you've narrowed it down to LifeShield or Vivint. Congratulations! Now the fun really starts.
LifeShield is known for having not one, not two, not three, but a whopping four layers of back-up protection, meaning your system will always be on. On the other hand, Vivint has 1.3 million customers in the U.S and Canada and is worth more than two billion dollars. They are both good options, but which system is right for you?
I bought LifeShield's Security Advantage package and Vivint's basic security system. In this comparison, I'll review Lifeshield and Vivint's key similarities and differences, system components, professional monitoring options, customer support systems, and mobile apps. It's anyone's game, and I'm excited to see which company will come out on top. Let's get started!
Key Similarities
Before I compare the two companies, I want to talk about what they have in common.
Self monitoring: Both LifeShield and Vivint give you the opportunity to self-monitor your system.
Cellular backup: Included in all LifeShield and Vivint systems is cellular backup, which ensures that your system will stay on regardless of a power outage.
Disappointing customer support: Neither company is known for its helpful customer support team.
Flexibility and cellular backup are great, but if you're looking for amazing customer support, you might want to look elsewhere (like at our review of the Frontpoint security system, one of the best security companies for customer support).
Key Differences
Enough of what LifeShield and Vivint have in common. You came here to find out how they differ!
Installation: While LifeShield offers DIY installation, your Vivint security system will be installed professionally for free.
Contracts: LifeShield has a flexible month-to-month contracting option, while Vivint only offers three-and-a-half to five-year contracts.
App: Vivint has the highest-rated security app around, while LifeShield's app reviews are less than stellar.
Upfront costs: While you'll pay for all of the LifeShield equipment up front, Vivint allows you to pay in monthly installments— see the chart below for more details.
Vivint Package Breakdown
Package Name
Smart Security Service
($29.99/mo.)
Smart Home Service
($39.99/mo.)
Smart Home Video Service
($49.99/mo. for first 2 cameras)
SkyControl Panel
Yes
Yes
Yes
Glance Display
Yes
Yes
Yes
Google Home
Yes
Yes
Yes
Google Home Mini
Yes
Yes
Yes
Smart Sensor
Yes
Yes
Yes
Motion Sensor
Yes
Yes
Yes
Recessed Door Sensor
Yes
Yes
Yes
Glass Break Sensor
Yes
Yes
Yes
Smoke Detector
Yes
Yes
Yes
CO Detector
Yes
Yes
Yes
FireFighter
Yes
Yes
Yes
Flood/Freeze/Heat Sensor
Yes
Yes
Yes
Panic Pendant
Yes
Yes
Yes
Key Fob
Yes
Yes
Yes
Smart Lock
No
Yes
Yes
Garage Door Controller
No
Yes
Yes
Nest Thermostat E
No
Yes
Yes
Nest Learning Thermostat
No
Yes
Yes
Vivint Element Thermostat
No
Yes
Yes
Lamp Module
No
Yes
Yes
Doorbell Camera
No
No
Yes
Ping Camera
No
No
Yes
Outdoor Camera
No
No
Yes
Smart Drive
No
No
Yes
That does it for the major similarities and differences. Now let's dig into the meat of the systems— their system components.
System Components of LifeShield and Vivint
Feature
Lifeshield's Security Advantage Package
Vivint's Basic
Security System
Base Station
Yes
No
Keypad
Yes
No
Keychain Remote
Yes
No
Keypanel
No
Yes
Wireless Security Tablet
Yes
No
Motion Sensors
Yes
Yes
Entry Sensors
Yes
Yes
Smoke Sensors
Yes
Yes
Carbon Monoxide Sensors
No
Yes
Indoor Camera
Yes
Yes
Smart Lock
No
Yes
Video Doorbell
No
Yes
Both LifeShield's Security Advantage package and Vivint's Basic Security System include motion, entry, and smoke sensors, plus indoor cameras. LifeShield also provides you with a base station, keypad, keychain remote, and a wireless security tablet, while Vivint throws in a key panel, carbon monoxide sensor, smart lock, and video doorbell.
Installing LifeShield and Vivint
Installation is one of the key differences between LifeShield and Vivint, which you'd know if you've been paying attention (just checking in)! While LifeShield allows you to install your security system yourself (DIY system install), Vivint will be installed by a professional. I want to talk about my experiences installing both systems. Which system was easier to install?
Installing LifeShield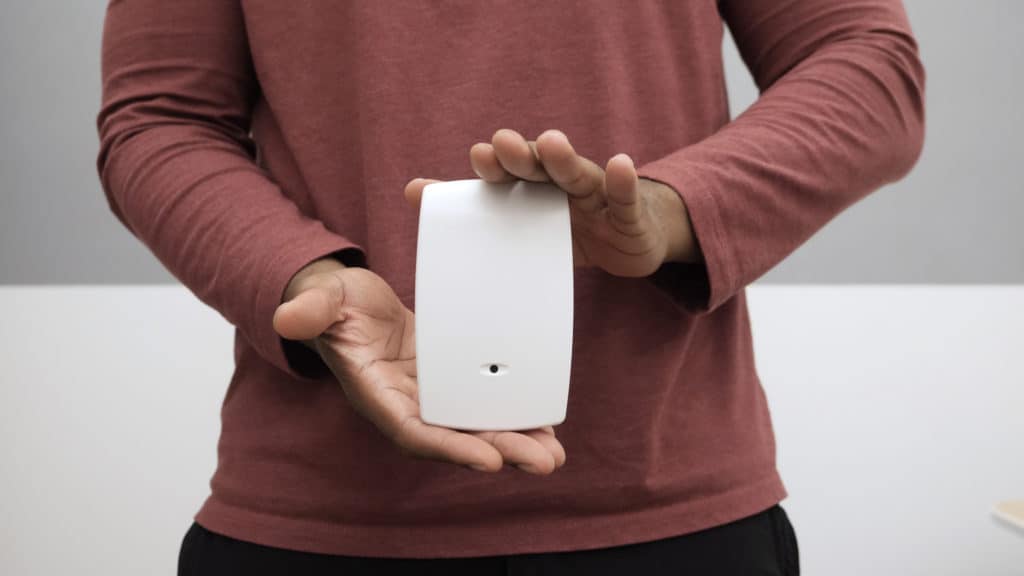 Like I said before, LifeShield offers 100% DIY installation. For some people, this may be preferred— you get out of having to pay an installation fee. However, it should be noted that LifeShield's system has many cables— power adapters, ethernet cables, etc. I actually had to get a bigger hub because I had too many system components. Besides that, nothing was very difficult to install— everything comes pre-programmed with the base station, and the sensors are peel-and-stick. All in all, it wasn't my favorite DIY installation process, but it wasn't half bad either.
Installing Vivint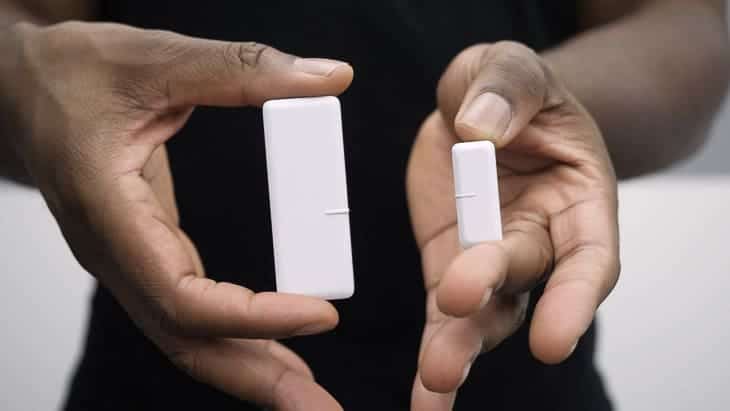 Unlike LifeShield, you'll have a professional deliver and install your Vivint security system. You'll set up a delivery/ installation time when you first buy your Vivint system. Personally, I had a great experience with Vivint's professional installation. My technician was courteous, professional, and knowledgeable. I especially appreciated the booties he wore around his shoes to keep my floor clean!
Top System Installation
Since DIY and professional installation are so different, comparing them doesn't seem fair, so I'm going to call it a tie for this category.
Professional Monitoring
LifeShield and Vivint allow you to monitor your system on your own through their respective mobile apps, but is this system called self-monitoring? No.
You might be wary of paying another monthly fee (on top of the monthly fee included with your Vivint system). However, professional monitoring is essential to your home's security, and I'll explain why.
Unless you're a hermit, there are times when you won't be around to handle your home's security. Whether you're at work, on vacation, or simply at the store, if an emergency happens, you want to ensure that someone is there to handle is, 24 hours a day, seven days a week. That's where professional monitoring comes in. They'll monitor your security system and can call police, the fire department, or the hospital if something goes wrong. Think of them like Big Brother, but not in a creepy way.
LifeShield and Vivint both offer professional monitoring, but how they go about it couldn't be more different. Let's get into the details.
LifeShield and Vivint Monitoring Options
Lifeshield Package Options
Plan
Security Essentials
Security Advantage
Base Station, Keypad, Keychain Remote, Wireless Security Tablet, Motion Sensor, Door/Window Sensor, and Fire Safety Sensor
Yes
Yes
Additional Motion Sensor
No
Yes
Video Camera
No
Yes
4 Layers of Backup Protection –
Internet, Cellular, Landline, and Battery
Yes
Yes
Smash/Crash Protection
Yes
Yes
24/7 Professional Monitoring
Yes
Yes
Monthly Price
$29.99
$39.99
LifeShield gives you 24/7 professional monitoring as an option. No matter which plan you choose, Security Essentials or Security Advantage, you'll receive four layers of backup protection, smash/ crash protection, and 24/7 professional monitoring.
What do the four layers mean? Even if your power goes out, even if the burglar cuts your phone lines, even if your Wi-Fi goes out, even if your batteries all die or the power is out in your neighborhood, your LifeShield security system will stay on. Phew, that was a long one! I love how many redundancies there are— most systems only have cellular backup. I can rest assured that my LifeShield security system will stay on no matter what.
Smash/ crash protection means that my system will stay on even if a burglar smashes my base station. The only difference between the two plans is hardware— Security Advantage gives you an additional motion sensor and a video camera.
Vivint Video Camera Cost Breakdown
| Number of Cameras | Monthly Price |
| --- | --- |
| Two | $49.99 |
| Three | $54.99 |
| Four (Maximum on One Account) | $59.99 |
Vivint also offers a self-monitoring option, or 24/7 professional monitoring with the Smart Home Video Service package. Your monthly price is based on the amount of cameras you have, up to four on one account. As you can see, monitoring is pricey, starting at just under $50 a month for two cameras.
>> Learn More: See our Vivint Pricing page.
LifeShield and Vivint Contracts
With LifeShield, you can choose between a month-to-month or three-year contract. Regarding cancellation fees with the long-term contract, you can negotiate terms with your salesperson. The longer you're with LifeShield, the lower the fee will be, among other factors.
Vivint only offers long-term contracts of three and a half or five years. While you can cancel anytime without a fee, you will have to pay for the remainder of the equipment.
LifeShield and Vivint Moving Policies
As LifeShield is self-installed, you'll be able to pick it up and move it to your new abode. The only thing you'll have to do is send LifeShield your new address. They'll research the location for permits and will re-enter a monitored status. Most importantly, moving your LifeShield system won't cost you anything. Phew!
Unfortunately, to move Vivint you'll need to pay another $129 installation fee. You can choose to either move your panel and get new starter equipment, or move your entire system. Rats.
Top System for Monitoring
The choice is clear— LifeShield has better professional monitoring options than Vivint. They provide a month-to-month option, which is great for someone who doesn't want a long-term commitment, but the prices are way lower. In fact, Lifeshield's most expensive monitoring option costs less than Vivint's least expensive plan! 'Nuff said.
Lifeshield and Vivint Customer Support
Is there any phrase that elicits more groans than customer support? Maybe "going to the DMV" or "getting a root canal," to answer my own question. But let me point out that not all customer support systems are created equal. Although it's rare, it is possible to have a customer support team that actually supports customers. Do LifeShield and Vivint fulfill that dream?
Lifeshield
Vivint
Features
Online Support Center,
Online Chat,
Phone
Call,
Livechat,
Online Database
Amazon Rating
N/A
N/A
BBB Overall Rating
A+
B
BBB Customer Rating
1.5 Stars
1.5 Stars
Google Rating
5
3.8
Personally, I didn't have a great experience with LifeShield's customer support team. Not only is their website buggy and uninformative, but when I talked to humans, they had trouble answering basic questions. However, their reviews were mixed, with amazing ratings from Google and the Better Business Bureau's overall score.
I also wasn't in love with Vivint's customer support. I was on hold for a while, was tossed between multiple people who didn't have any answers for me, and was told to look at the website, which isn't very informative. Customers gave Vivint mixed reviews for its customer support.
"If you want customer service you will not get it here. Chat takes 10 minutes before someone responds… then they pass you onto the Customer Loyalty Team which then takes another 20 minutes to respond. Don't try calling. You will be on hold from 30-40 minutes,"
read a one star Google review from Neil Fortier.
>> Learn More: See our list of the Best Overall Home Security Systems
Top System for Customer Support
I'm going to be honest: it feels like both LifeShield and Vivint lose when it comes to customer support. With either company, you can expect to be put on hold for long periods of time, transferred between support reps who don't seem to know what they're doing, and directed to websites that only serve as dead ends. However, LifeShield has better reviews than Vivint from both the Better Business Bureau's overall and Google ratings. In sum, LifeShield's customer support is the lesser of two evils.
The LifeShield and Vivint Apps
We've come to the end of our comparison, and the last thing I want to talk about is LifeShield and Vivint's mobile apps. Think of your mobile app as a command center on the go. Whether you're cozy in bed or on vacation in the South of France, you'll need an app that easily controls your security system. Let's see who wins the battle of the app, LifeShield or Vivint.
The LifeShield Interactive App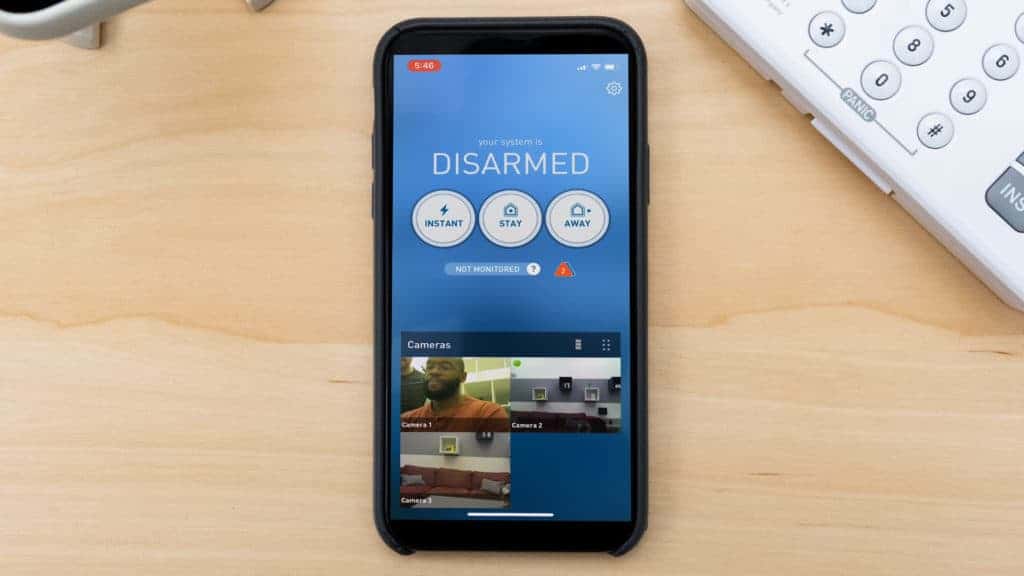 The LifeShield app allows you to arm and disarm your security system, control security codes, livestream footage, and control any connected devices. You'll also be able to check out the crime in your area and review video and photo storage.
People generally liked the LifeShield app, with ratings of 3.7 and 3.9 from the Google Play and Apple stores, respectively. Unfortunately, many people complained of delayed notifications with a recent update.
The Vivint Smart Home App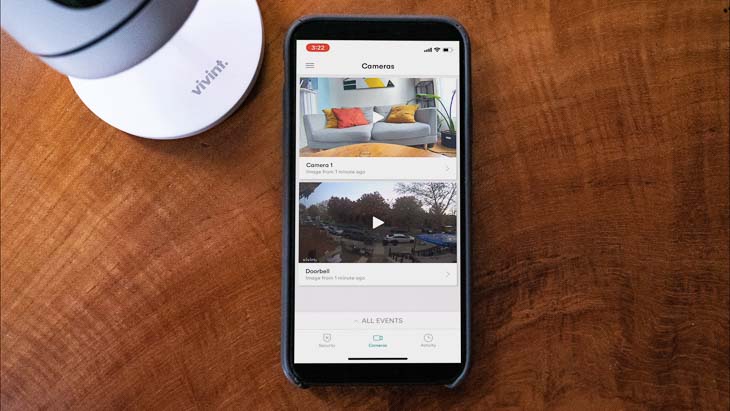 You'll use the Vivint Smart Home app for the most modern systems, not the Vivint Classic app. Through the Smart Home app, you can arm or disarm your security system, control your connected devices, see and speak to visitors through your video doorbell, and livestream footage.
The app has fantastic ratings— a 4.5 from iPhone users and a 4.6 from Android users. People thought the app was super user-friendly and synced with the physical system well.
Top System App
It's no competition— Vivint takes the cake over LifeShield if we're talking mobile apps. Their app is nearly universally loved by both iPhone and Android users, two groups notoriously at odds. If you're looking for a great security app, Vivint has one of the finest around.
Recap of LifeShield vs. Vivint
If I had to choose between LifeShield and Vivint, I would choose Vivint.
I realize that not everyone shares my opinions of the world, so I'll break it down for you.
Pick Vivint if you'd like…
Professional installation: If you're not a DIY type of guy, Vivint provides excellent professional installation.
Great mobile app ratings: Whether you're tech-savvy or not, Vivint's high app ratings don't lie— Vivint Smart Home is both user-friendly and useful.
No upfront costs: Instead of paying a lump sum for your equipment, you'll pay it in monthly installments.
To learn more, read our full review of the Lifeshield security system, or our review of the Vivint security system.