Minut vs Notion Security System Comparison
Neither security system requires monthly fees, but which one worked better? Our experts dive in.

Best Professional Monitoring

Minimalist systems with multi-functional sensors
Integrations with Nest, IFTTT and HomeAdvisor
Professional monitoring for only $15 a month
Best App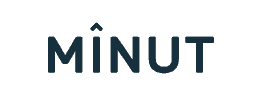 Entire security system in one device for $129.99
No mandatory monthly fees
Currently works with Alexa, Google Assistant and IFTTT
If a security company can be described as "hip," Minut and Notion definitely fit the bill. Minut is a Swedish startup made up of former Apple and Google employees. Their security system consists of only one component, the Point. Since 2014, they've sold over 10,000 units worldwide- not bad for such a new company!
Notion is also a new company, founded in 2013. Currently, they're partnered with three out of the five top insurance providers in the U.S, which means that you may qualify for some awesome discounts. Like Minut, Notion's security system is extremely minimalist.
I purchased the Point from Minut and the Starter Kit from Notion. The two security systems have a lot in common, like DIY installation, no monthly fees, and simple design. But which one is the right security system for you?
In this comparison, I'll go over the systems' similarities, differences, and system components. Next, I'll break down how monitoring works, customer support, and their mobile apps. Our comparison of Minut and Notion starts…now!
Key Similarities
Before we delve into this, I want to make sure you're in the right ballpark. Here is what Minut and Notion have in common:
DIY installation: neither Minut nor Notion will require a professional to install.
Self-monitoring: Both companies give you the option to self-monitor your systems.
Great customer support: customers found both Minut and Notion's customer support systems to be helpful.
If all that sounds good, let's move on to how the two systems differ.
Key Differences
Minut and Notion's main differences include:
Smart platform integrations: while Minut integrates with Google Assistant, Notion integrates with Nest and HomeAdvisor.
Professional monitoring: Notion offers professional monitoring through NotionPRO, while Minut doesn't offer professional monitoring of any kind.
App ratings: While both apps were well-received, Minut's app has significantly better ratings.
Now, I want to break down exactly how each system works. Strap in, folks!
System Components
| Feature | Minut | Notion |
| --- | --- | --- |
| Point/Bride | Yes | Yes |
| Sensors | N/A | Yes |
| Sliding Door or Window Accessory | N/A | Yes |
If you're looking for simple systems, Minut and Notion are great options. Minut comprises  of only one physical component — Point, along with its charging and mounting accessories.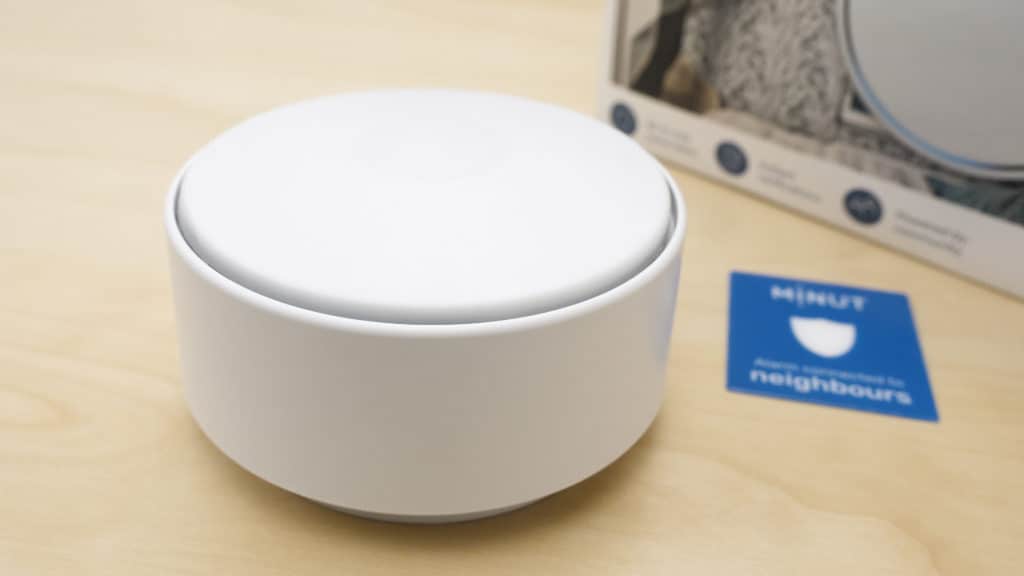 Point is an all-in-one alarm that combines many detections: mold, glass breaking, humidity, temperature, and motion. The Point comes equipped with a built-in siren for scaring intruders. Plus, it's tamper-proof, so you'll be notified if someone tries to mess with it. While the Point doesn't have any smoke detection, it can make your smoke alarm smart and notify you when it goes off. The only thing missing is carbon monoxide detection and entry sensors— but overall, the Point is incredibly thorough. I'm a minimalist, so I'm absolutely loving the simplicity of the Minut security system.
Notion's All-In-One starter kit is a bit more complicated, as it has three sensors, a bridge or base station, plus one sliding door or window accessory. Still, these systems are modern, and with modernity comes simplicity. Like the Point Smart Alarm, Notion's sensors can be programmed to detect different things— motion, doors, and windows being opened or closed, alarms sounding, water leaks, and more. Given the unique designs of the Minut and Notion security systems, I'm excited to see what's next.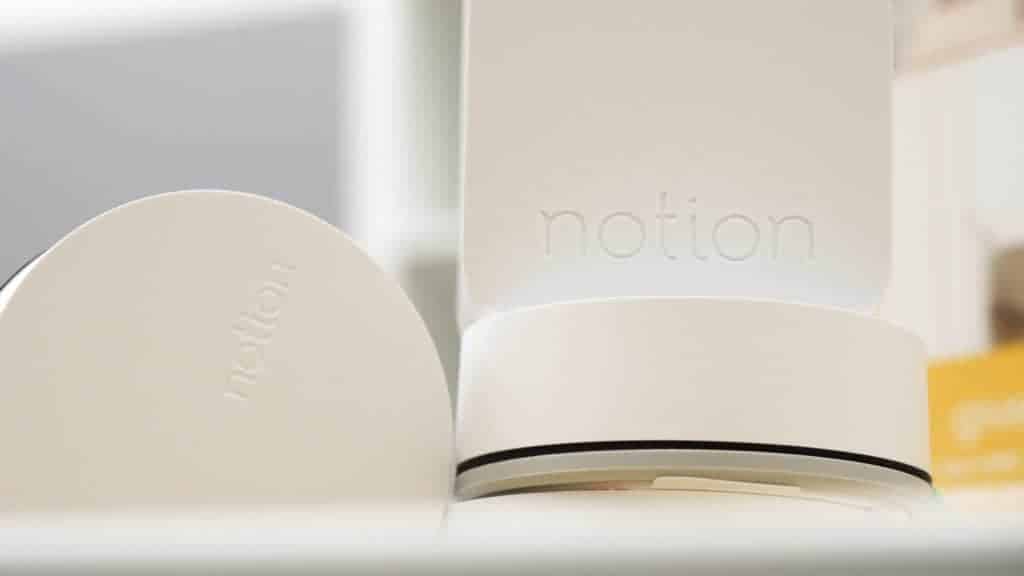 As you can see, neither system comes with security cameras, but if you'd like to integrate a camera with your system, both systems integrate with IFTTT. In addition, Minut integrates with Google Assistant, with Amazon Alexa and Apple HomeKit integrations coming soon. In the same vein, you can use a Nest camera with your Notion security system.
>> Learn More: See our picks for the Best Home Security Systems
Like I said above, Notion integrates with HomeAdvisor, the popular home services website. What does that mean for you? In the Notion app, you'll be able to easily connect with a home services professional the second your sensor detects an issue. Say you have a water leak. You'll immediately receive a notification along with an option to contact a plumber. If you'd like to find a plumber, HomeAdvisor will find you an available plumber who can call you directly to schedule a visit. This entire process takes no more than a minute. I love this feature because it makes getting help as convenient as possible. No more endless scrolling on Yelp for you!
Professional Monitoring
Most old-school security systems come with 24/7 professional monitoring— and no, it's not as creepy as it sounds. Professional monitoring means that you'll have a team of people making sure your home is safe and secure, day in and day out. If they see an issue, they're the ones responsible for calling emergency services. It's great for vacations, business meetings, or anytime you cannot deal with your home's security.
While Notion offers professional monitoring through NotionPRO, Minut does not offer any. Both give you the option to self-monitor your system. If you do want professional monitoring through NotionPRO, it'll cost just $15 a month, and you don't have to make any long-term commitments. This is definitely on the cheaper side, and I'm pretty thrilled about it.
Keep in mind that Minut and Notion won't work if your power goes out. Neither system has cellular backup, which is a shame.
Although Minut doesn't offer professional monitoring, they do have a paid option if you want to expand your system or add multiple users.
| | Basic | Plus |
| --- | --- | --- |
| Sensor History | 90 Day | Unlimited |
| Multiple Homes | N/A | Yes |
| Multiple Users | N/A | Yes |
| Add Friends & Family to Home | N/A | Yes |
| Monthly Price | $0.00 | $7.99 |
If you have a few different homes or people you'd like to add to the Minut app, then Minut Plus is a handy solution for only $7.99 a month.
Minut and Notion Moving Policies
As you self-install or DIY, you can pick the Minut and Notion security systems up and go if you move. You won't have to pay additional fees, and you can contact Notion for new sensor adhesives. Easy as pie! 
Top System for Monitoring
Since Notion is the only one with professional monitoring, it wins by default. Now let's move on to customer support.
Customer Support
| | Minut | Notion |
| --- | --- | --- |
| Customer support center | Yes | Yes |
| Live Chat | Yes | N/A |
| Email | Yes | Yes |
| Phone | N/A | Yes |
| Amazon Rating | 4.1 | 4.1 |
| BBB Overall Rating | N/A | A+ |
| BBB Customer Rating | N/A | N/A |
| Google Rating | N/A | N/A |
Call me a cynic, but if something goes wrong with your home security system, you will want a customer support system that solves your problem in the shortest time possible. I turned to online reviews to see how Minut and Notion's customer support stack up to each other.
Both Minut and Notion received a 4.1 rating on Amazon, a very good score. When I looked at Notion's reviews mentioning customer support specifically, I was pleased to see a very detailed review full of praise.
"I had a few user-errors during set up, and I can't begin to explain how helpful customer service had been. Julian was emailing us back and helping answer questions on weekends and evenings, immediately after we would send him a question,"
wrote an Amazon user in a five-star review. Unfortunately, none of Minut's Amazon reviews mentioned customer support, but that was mostly because the systems were easy to set up and worked well.
As Minut and Notion are newer security companies, they didn't have all the ratings I'm interested in, namely the Better Business Bureau's overall and customer ratings and the Google ratings. It also doesn't help that Minut is based in Sweden, preventing it from having a page on the BBB. Still, you can see from the chart that people are loving both companies, which is a very good sign.
The only things I'm slightly disappointed with? The first is Minut's lack of phone service. Although many people (read: millennials) prefer live-chat over a phone call, I still think that every company should have this old-school option. On the flip side, Notion doesn't have live chat, my personal favorite mode of communication.
I'm being nit-picky, so let me be clear: whether you choose Notion or Minut, you can rest assured that the customer support you receive will be top-notch.
Top System for Customer Support
Since Minut and Notion have such awesome customer support, choosing the best one was a difficult if not impossible choice. Numerically, their reviews were equal, so I'm going to declare a tie for this round. Truly, choosing the best customer support between Minut and Notion would be like choosing between my children— if I had any.
App
| | Minut | Notion |
| --- | --- | --- |
| App name on Apple Store | Point- Smart Home Alarm | Home Awareness |
| App name on Google Play Store | Point- Soft Home Security | Notion |
| Features | Receive notifications about your alarm | Control all connected devices, view statuses, change settings, get notifications |
| Google Play Rating | 4.2 | 3.5 |
| Apple Store Rating | 4.8 | 4.2 |
If you've been paying attention, you know that you'll monitor your security system through your mobile app. That's why it's particularly important that Minut and Notion's apps are user-friendly, not buggy, and incredibly useful. Let's talk a little more about each app.
The Minut App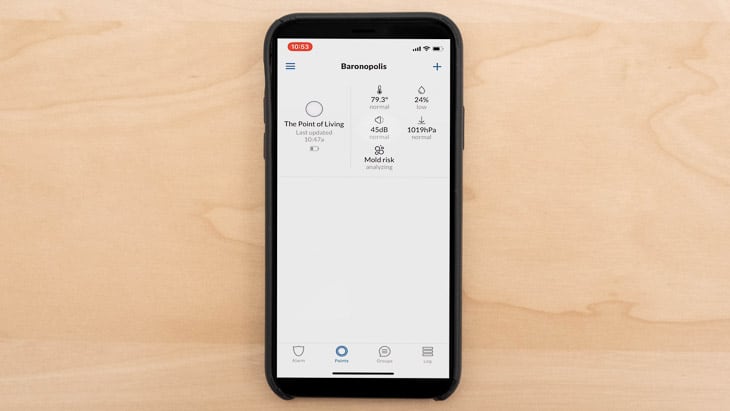 Minut's app is called Smart Home Alarm on the Apple store and Point: Soft Home Security on the Google Play store— a bit confusing, I know. The app is what will give you notifications about your system, like if the Point detected motion. You can also use it to chat with other Minut-using neighbors and view settings and event history. Both iPhone and Android users liked the app with ratings of 4.8 and 4.2, respectively. Can't do much better than that!
The Notion App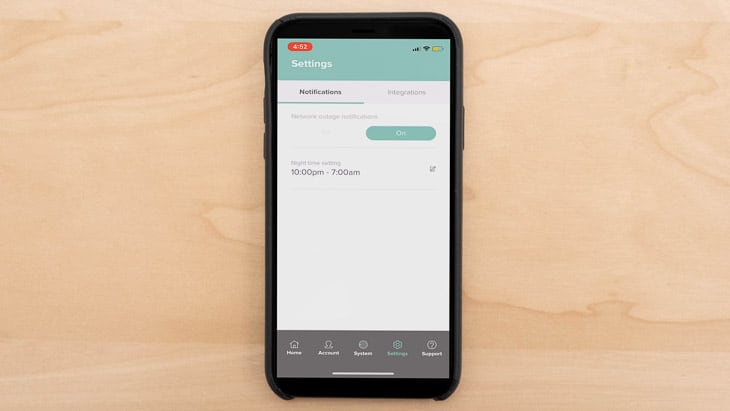 Notion's app is called Home Awareness on the Apple store and Notion on the Google Play store. It's here where you'll control any connected devices, view the statuses of your security system, change settings, and receive notifications. While iPhone users like the Notion app, Android users were less satisfied, giving it a lower rating of 3.5. Many people said that the app kept crashing and wouldn't connect to any sensors— it seems like it's in need of an update.
Top System App
Although Notion and Minut both have good apps, Minut is the clear winner. With both Apple and Google reviews above four stars, this app simply works better, especially for Android users.
We've come to the end of our comparison. Now let's see who's the winner overall, Minut or Notion.
Recap of Minut vs. Notion
Clearly, Minut and Notion are very similar systems. Both are minimalist, have DIY installation, and self-monitoring. So who's the winner?
Overall, I would choose Notion over Minut because of its professional monitoring and Nest integration. If you still aren't sure, I'll break it down for you.
To learn more, read our written review of the Minut Point Smart Alarm system or our review of the Notion security system.
FAQ
We don't like leaving our readers with questions still in their minds, so take a look at these FAQs and our answers to them.