Identity Guard Mobile App
Here's what our experts thought of the Identity Guard app, available for iOS and Android.
Identity theft protection powered by IBM® Watson™ AI
Impressive $1 million in identity theft insurance
Multiple service levels, from basic to advanced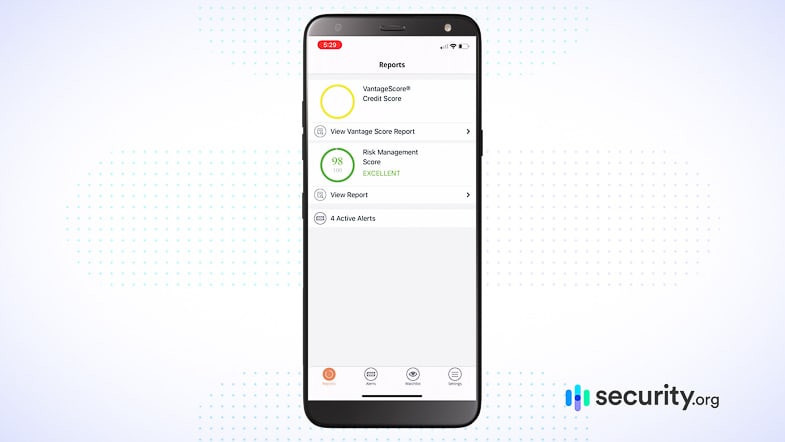 All of our content is written by humans, not robots.
Learn More
By

&

What's your credit score? Is anyone opening bank accounts using your information? Are your usernames and passwords being sold on the dark web? Without an identity monitoring software, it's highly unlikely you know the answers to any of these questions. Fortunately, there are a number of services available including Identity Guard, which we tested out for ourselves in our Identity Guard review. This article focuses specifically on Identity Guard's mobile applications, both for Classic and Watson accounts, available on iOS and Android.
How Identity Guard Protected Our Identities
Before we get into our experience using Identity Guard's apps, we went to talk a little bit more about what the software does in the first place. Depending on which plan you go with (we went with the top-tier Ultra option to test out all of Identity Guard's features), the service will cover different areas, including:
Credit scores and reports: With the Ultra plan, we got regular credit scores and reports from all three credit-reporting agencies, Experian, Transunion and Equifax. As a side note, Experian has its own ID monitoring; read our analysis of Experian IdentityWorks.
Bank account takeovers: Clearly, if someone takes over our bank accounts, we want to be alerted ASAP.
Requests to open savings or checking accounts: See above.
Address used on financial forms: If Identity Guard found someone using our addresses on financial statements or forms, we'd get alerted.
Dark web: The dark web is a place where a lot of illegal activity happens.

1

Users need a hidden service protocol called The Onion Router to access it, which renders them anonymous. It's not surprising that it's known for being full of sales of dangerous or illegal products and services as well as stolen information.
In addition, Identity Guard had a number of digital security features like:
Browser extension: We downloaded Identity Guard's browser extension, which protected against tracking, data mining, ads, flash and phishing attacks. It's estimated that the average American sees anywhere from 6,000 to 10,000 ads a day,

2

so this browser extension is much appreciated.
Mobile app: In addition, we tried out the Anti Phishing by Identity Guard app, which is made to find and block phishing on browsers like Chrome, Samsung and Dolphin. Since we use Safari on our mobile devices, we tried it on an iPhone 8+, but more on that in a bit.
The Identity Guard Classic App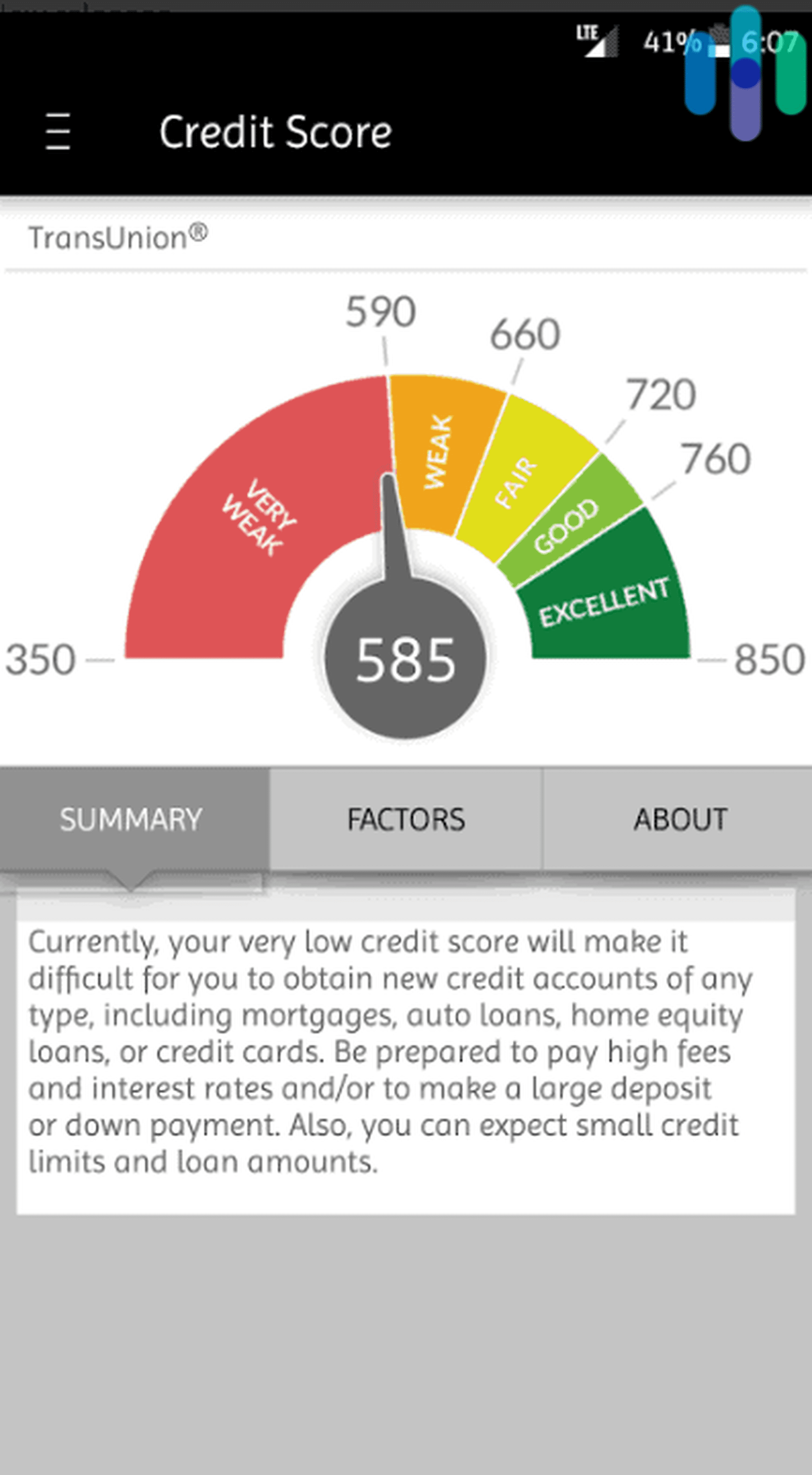 Although Identity Guard no longer sells their Classic services on their website, if you purchased Identity Guard in the past, you might still have a working Classic account. If that's the case, then you'll use the Identity Guard Classic app, like us when we first tried out Identity Guard.
Tip: If you are new to Identity Guard and just made an account, you'll use the regular Identity Guard app; the Classic app isn't available to new customers anymore.
When we weren't on our laptops, the Classic app let us get alerts, view our credit information, and even see recent news on identity theft. But while the Android app has a 4.6 rating, the iOS app only has a 2.4 rating, so maybe not the best identity protection app for iPhone users.
The Identity Guard App (For Watson Users)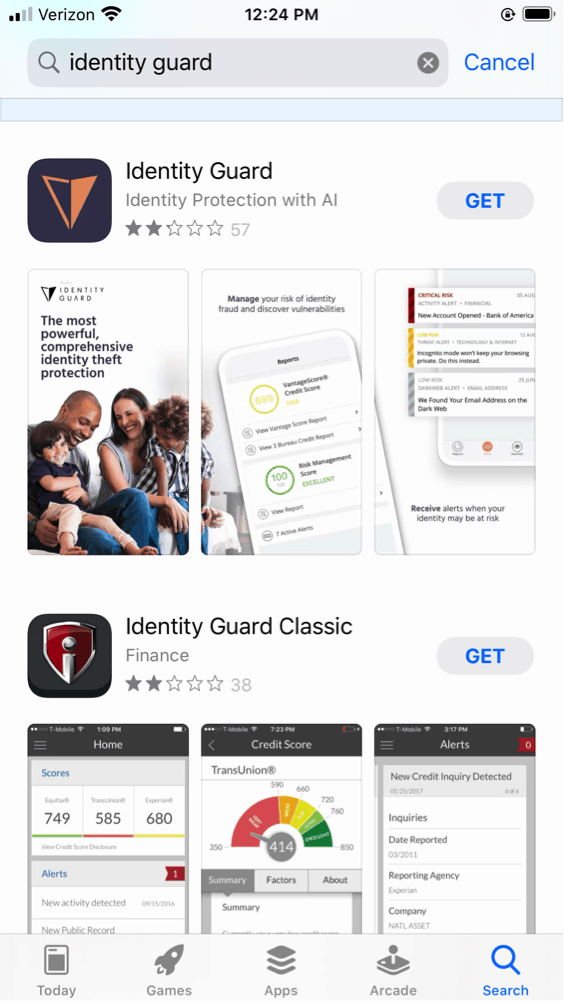 To check out the app available for Watson users, we signed up for a new membership and downloaded the Identity Guard app. However, we had some issues signing in on the app, even though we were using the same username and password we just created on our laptop, so we emailed support from the app itself. After not receiving a response for about a month, an issue in its own right, we ended up just canceling our service and making a new account. For some reason, then we could sign into the Identity Guard app with no problem.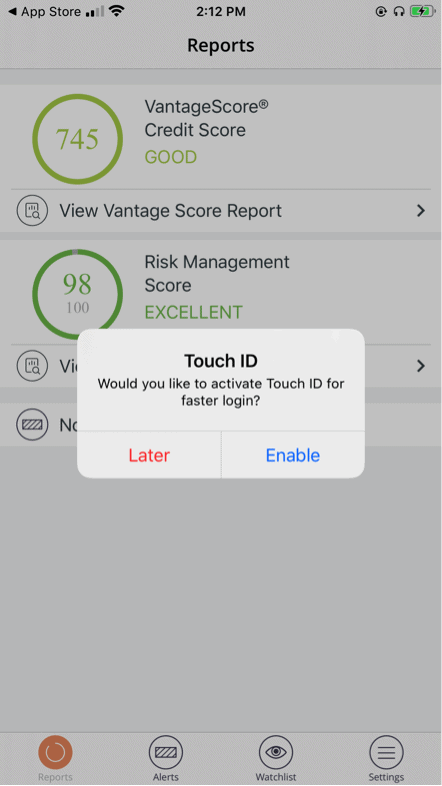 Immediately after signing into the app, we were asked if we wanted to enable touch ID, meaning fingerprint biometrics. Of course, we always enable multi-factor authentication when it's available. Not only is it easier than having to remember our usernames and passwords, but it's also more secure, as our fingerprints are totally unique to us and prevent unauthorized access.
Hot Tip: When Identity Guard asks you to turn on Touch ID, select yes! You'll only have to put your finger on the button to access your account, preventing you from having to remember your username and password.
In general, the Identity Guard app is very simple. At the bottom of the screen, we could navigate to reports, alerts, watchlist, or settings. Or, if we knew what we wanted to see, we could simply do a search at the bar on top.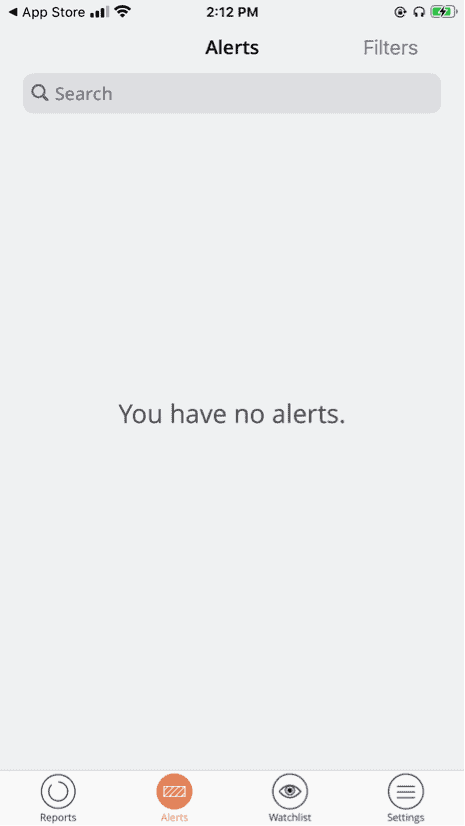 Reports covered our credit and risk management scores. As you can see, we're pretty fortunate in both of those departments.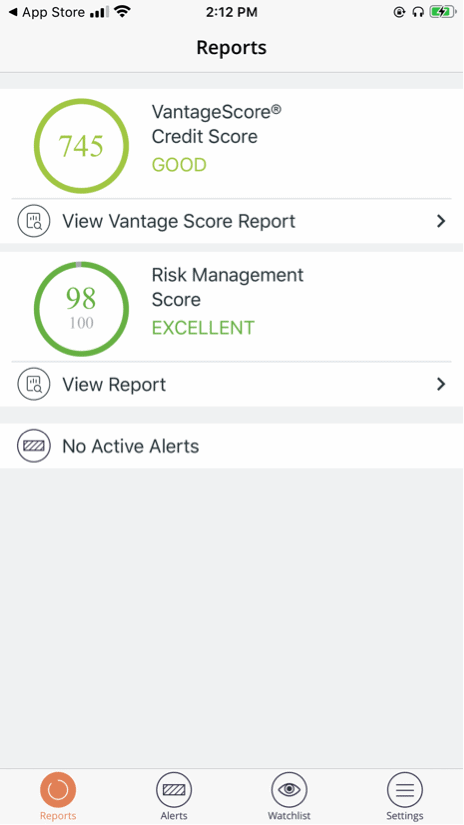 Finally, the watchlist was a list of our financial activity, the dark web scan, and the threat questions that we hadn't answered in the following areas:
Personal info: The total number of adults living in our homes, how many of them are under 18, whether or not we had been the victims of data breaches, credit card fraud, identity theft, or other financial crimes in the past, what industries we work in, our annual household incomes and what industry we work in.
Technology and Internet: The manufacturer of our routers, desktops, laptops, and tablets, whether or not we used password managers, wearables, or fitness trackers, and how we use the Internet, including our Internet Service Providers, email providers, Internet browsers, networks, operating systems, and the anti-virus and anti-malware software we use, if any.
Finance: The financial institutions we've had accounts with in the past decade.
Shopping: The amount of websites we have login credentials with, where we shop, both in-store and online, as well as any online services or subscriptions that we currently use.
Healthcare: The healthcare insurance providers we've used in the last decade.
Home and travel: Whether we rent or own our primary homes, what percentage of our time we spend traveling outside our primary home and work areas, and what car and home insurance providers we've used in the last 10 years.
Social media: The dating apps and websites we use, plus our active social media accounts.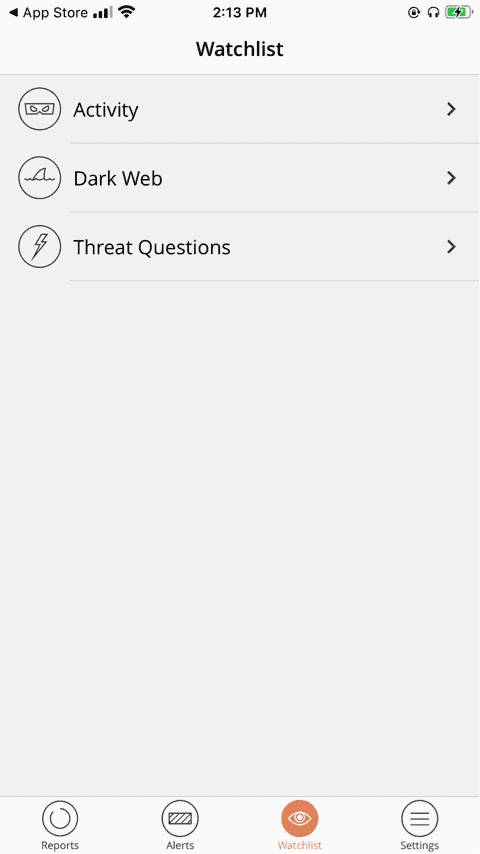 In total, there were 32 questions to answer, which was a lot. Of course, we didn't have to answer each and every question, but the more we answered, the more Identity Guard would have to monitor. It was pretty easy to answer all the questions; we liked to think of it as a multiple-choice quiz, but one where only we knew all the right answers. Answering the questions (well, 28 of them, anyway) took about 10 minutes, but even after that, we had no alerts, which we suppose is a good thing.
FYI: You can choose how little or how much information you give to Identity Guard. Just know that the more data you give them, the more they can monitor for signs of identity theft.
And that was about it for the Identity Guard app! Aside from the initial sign-in issues, the Identity Guard app was really easy to use. But of course, that's our experience with the app. Based on App Store and Google Play Store reviews, it seems that the newer app isn't the most user-friendly. Currently, it holds a 2.4 rating on Google Play and a 2.1 rating on the App Store.
The Anti Phishing by Identity Guard App
Back when we first tested Identity Guard, it had an app called "Anti Phishing," which was exactly the purpose it served. While it's no longer available, here's our experience with that app.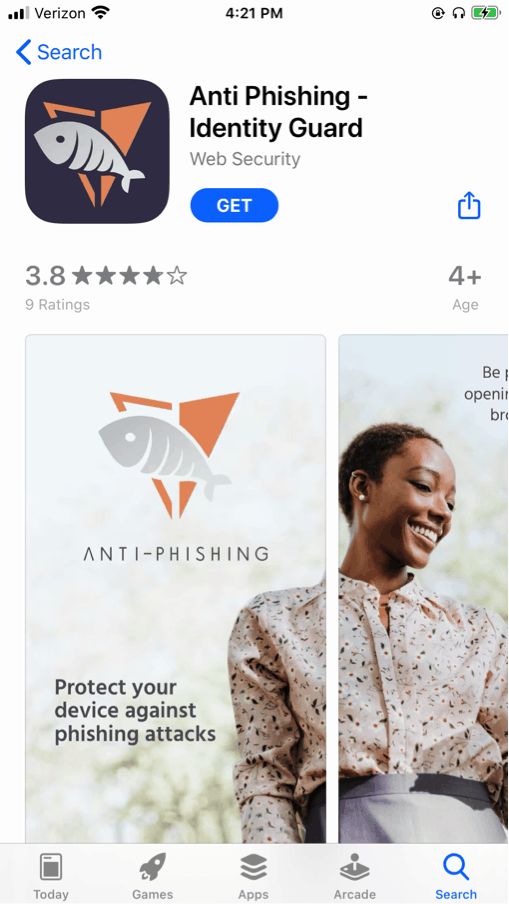 Once we opened the app, we were prompted to enable notifications and change our phone settings to allow the app to do its thing on Safari. Although they didn't provide a list of exact steps, they did show us a short video, which, after watching for a few times, we understood.
Basically, we just had to go into our iPhones' settings, click on Safari, then Content Blockers, and then turn the Anti Phishing by Identity Guard app on.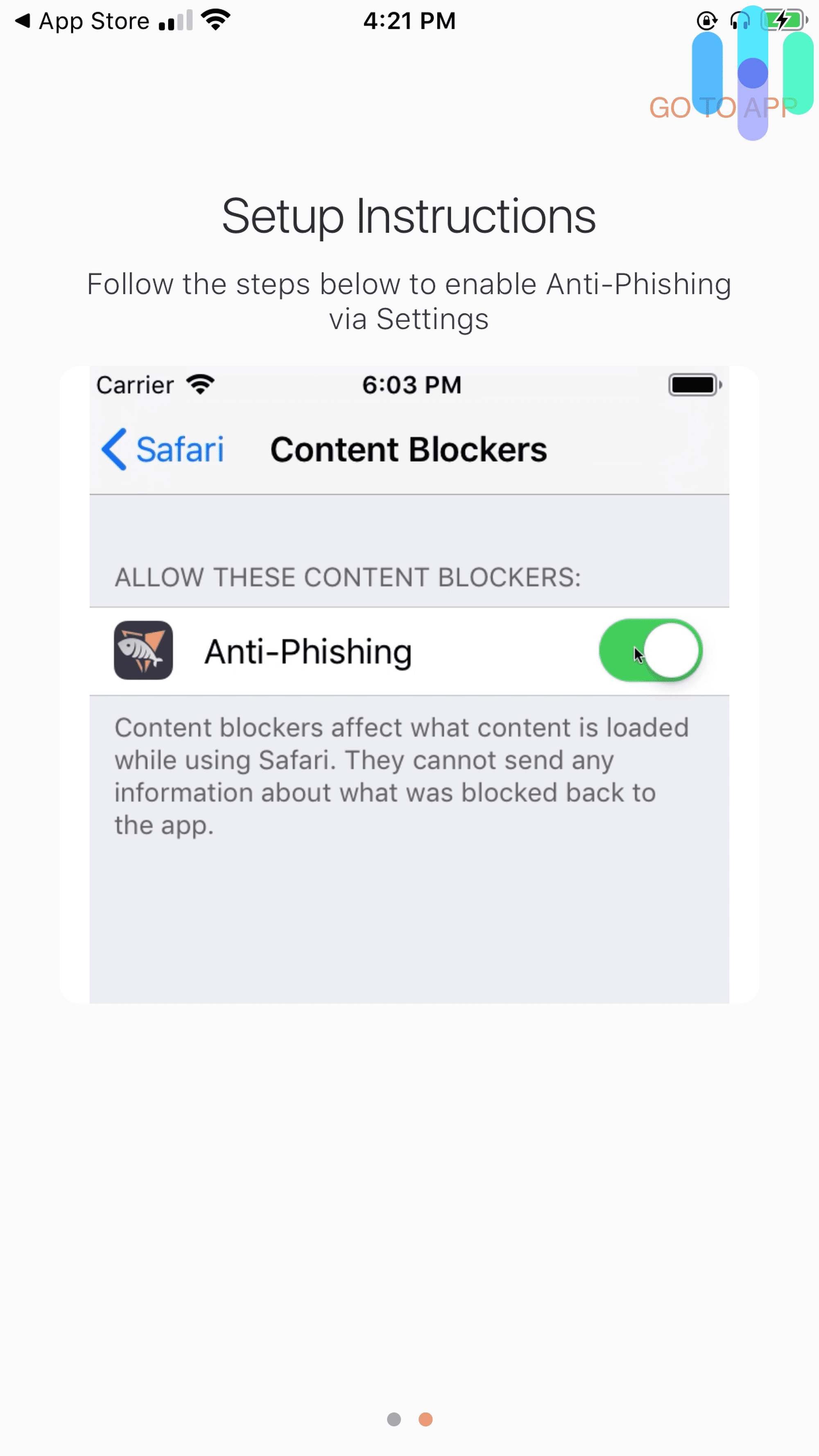 And that completed the process. When we got to the app, we could see that it had already added 1,587 sites, meaning it would automatically scan them for phishing attempts, and that was only in the past 24 hours— color us impressed!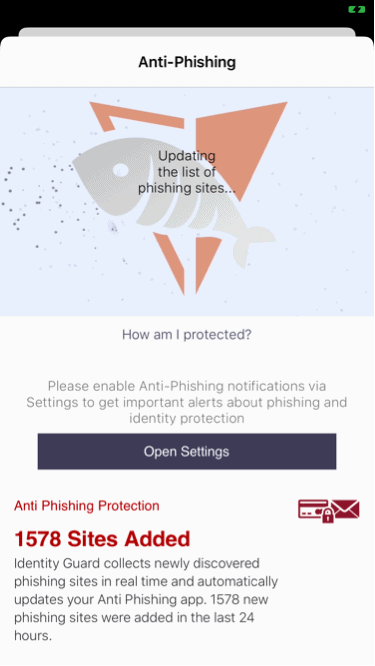 The More You Know: Phishing grew by over 40% in 2018 alone.3 Identity Guard's anti-phishing app is free, and you can get it whether or not you have an account with them, so there's really no reason not to!
Recap of the Identity Guard App
Identity Guard has multiple apps; the Classic for their older customers, the regular app for new customers, and the Anti Phishing app, for anyone with an iOS or Android device. We tried out all the apps for ourselves and we have to say that they work pretty well, making managing our on and offline identities a snap. If you want to learn more about what Identity Guard has to offer, check out our in-depth looks at its credit monitoring, plans for families or spouses. Or, if Identity Guard doesn't sound like the right identity theft protection service for you, try reading our reviews of LifeLock, IdentityForce or ID Watchdog. Like Identity Guard, we've tested them all out for ourselves and can assure you that they're quality services.