Identity Guard Spouse Coverage
Identity Guard can protect you and your spouse from identity theft by monitoring credit, criminal areas, and more.
Identity theft protection powered by IBM® Watson™ AI
Impressive $1 million in identity theft insurance
Multiple service levels, from basic to advanced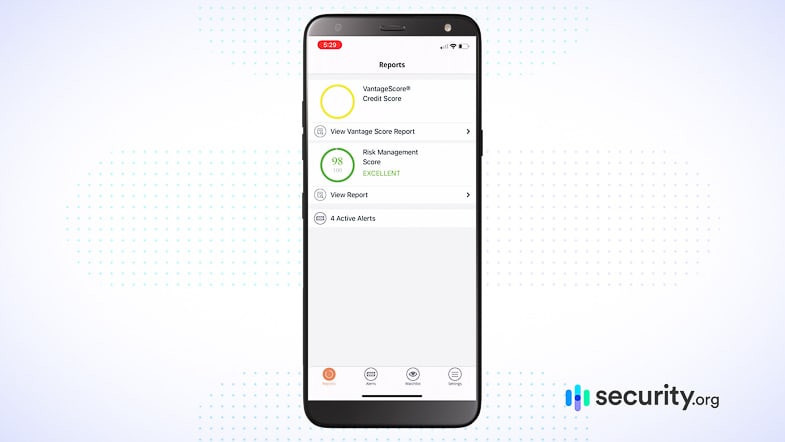 All of our content is written by humans, not robots.
Learn More
By

&

"In sickness and in health" doesn't technically cover identity theft, but it should. Let's face it: as part of a married couple, it's your responsibility to protect your spouse from danger, and if you're Internet-using humans like most of the United States, that includes identity theft. In 2017, one in 15 adults was the victim of identity theft, up from one in 20 the previous year, so this is definitely something that should be on your radar. In this article, we're breaking down exactly how Identity Guard can protect you and your spouse from having your identities stolen: how it works, how much it costs, and why it's important. Let's get started!
How Will Identity Guard Protect My Spouse?
Under the Ultra plan, which we tested out in our Identity Guard review, Identity Guard monitored our credit from the three major credit bureaus, Experian, Transunion and Equifax. Aside from credit monitoring, the service included monitoring for the following areas:
Dark web: The dark web is an area of the web where everyone is anonymous, so as you can imagine, it contains billions of stolen passwords. Identity Guard scanned the dark web for our credential to ensure we were safe.
Bank account: Under the Total and Ultra plans, we were alerted if anyone took over our bank accounts or tried to open a checking or savings account in our names.
Now, that's not quite as comprehensive as some other identity monitoring services we've reviewed that monitor everything from 401(k) alerts to sex offender regestries, but Identity Guard certainly covers the basics of identity monitoring. Plus, they threw in a few cybersecurity tools for safe browsing and anti-phishing to make our accounts even more secure. But how much does it cost?
FYI: Identity Guard doesn't cover as many areas as some of its competitors, but it does cover the key criminal and financial areas, along with credit monitoring from all three bureaus with the Ultra Plan.
How Much Does Spouse Protection Cost with Identity Guard?
Rather than buying two individual subscriptions, it'll be more affordable to cover you and your spouse under one family plan, which will also protect any children you have.
| | Value | Total | Ultra |
| --- | --- | --- | --- |
| Dark Web Scan | Yes | Yes | Yes |
| Risk Management Report | Yes | Yes | Yes |
| Safe Browsing Tools | Yes | Yes | Yes |
| Anti-Phishing Mobile App | Yes | Yes | Yes |
| Monthly Credit Score | No | Yes | Yes |
| Address Monitoring | No | Yes | Yes |
| Credit Changes and Reports from 3 Bureaus | No | Yes | Yes |
| Bank Account Takeovers | No | Yes | Yes |
| Requests to Open Checkings or Savings Account with Your Information | No | Yes | Yes |
| Tax Refund Alerts | No | No | Yes |
| Credit Score and Report | No | No | Yes |
| Social Insight Report | No | No | Yes |
| Monthly Family Price | $14.99 | $29.99 | $39.99 |
| Yearly Family Price | $150 | $300 | $400 |
| Yearly Savings | 17% | 17% | 17% |
Plans are available on either a monthly or yearly basis starting at $14.99 a month or $150 a year, saving you 17%. This is a great price, as some services cost the same for individual coverage. To learn more, check out our page on Identity Guard's pricing.
How Safe Is Identity Guard?
In order for Identity Guard to monitor our credit, financial and criminal areas in the first place, we had to feed it a ton of personal information, from our names to our Social Security numbers to our private addresses. That's why it's important that Identity Guard stores our data safely. Having a security breach kind of defeats the purpose of the identity monitoring service in the first place. And data breaches aren't uncommon; in 2019, for example, there were 1,473 data breaches in total with 164.68 records exposed. Not so safe and sound.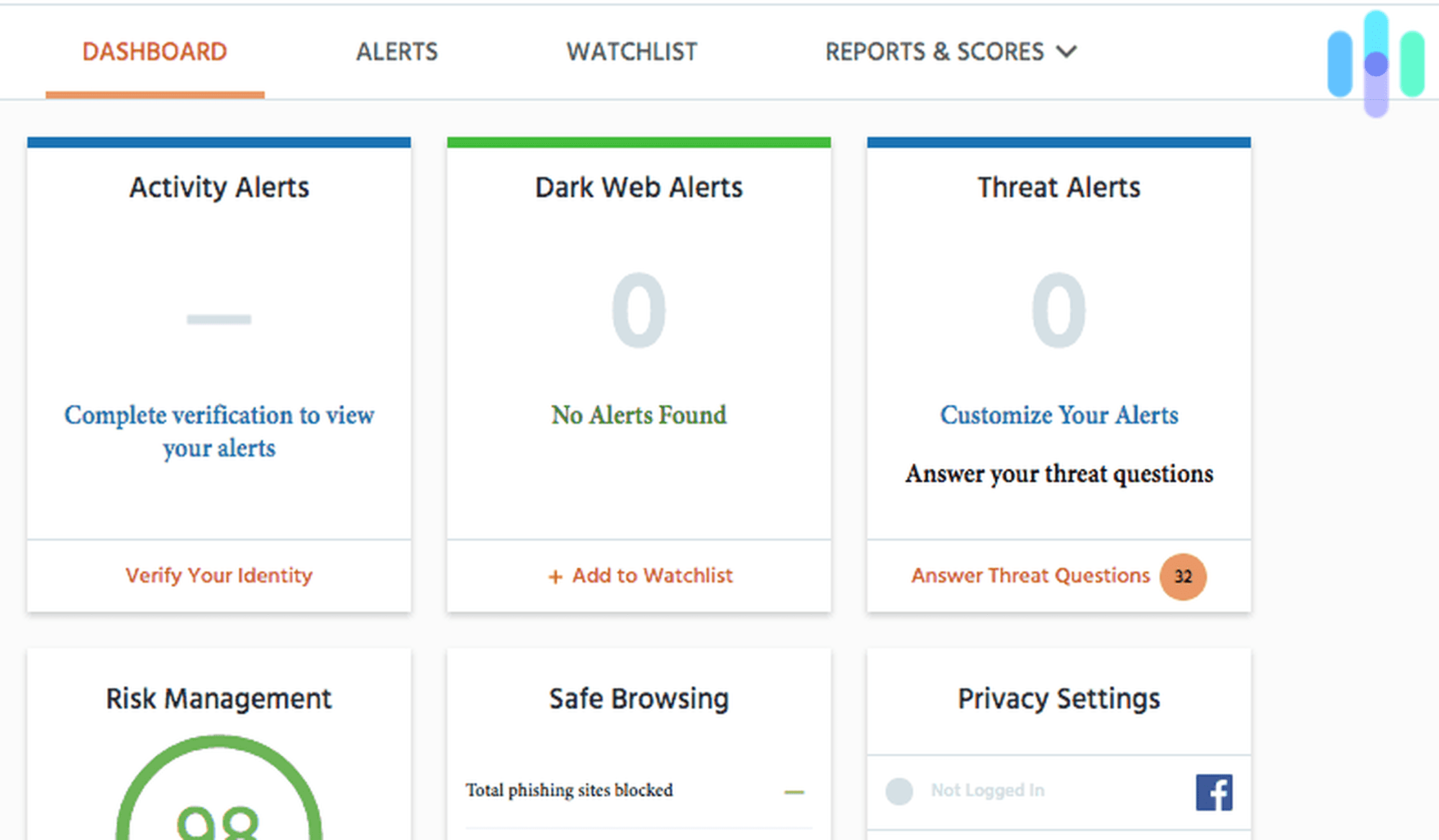 To figure out how safe our information would be in Identity Guard's virtual hands, we checked out their privacy policy. While the company does share information with third parties, it's never for marketing or ad purposes, which was comforting. Plus, our data was encrypted, although it was only with 128-bit, 256-bit being the industry standard, making their security a bit iffy.
On top of that, Identity Guard is based in the United States, meaning that the company could be forced to hand over customer data under the jurisdiction of Five Eyes, Nine Eyes and 14 Eyes, international surveillance alliances. But to be straightforward, all of the identity monitoring services we've reviewed are based in the United States, so that's typical.
Overall, Identity Guard isn't the best for privacy, but they aren't the worst, either. In sum, unless you're super concerned about privacy, Identity Guard is sufficient.
Is Identity Guard Easy to Use?
Setting up Identity Guard for you and your spouse will take a bit longer than it took for us to set up an individual account, but not by much. You'll start by selecting a family plan, either Value, Total, or Premier and creating a username and password for yourself and your significant other. From there, Identity Guard will ask you for some personal information like your name, address, billing information, birthday and Social Security number; same goes for your spouse. After you pay, you'll be entered into the Identity Guard dashboard, but first, you'll need to verify your identities through a few multiple choice and threat questions. Once your identities are verified, Identity Guard can actually start the monitoring process.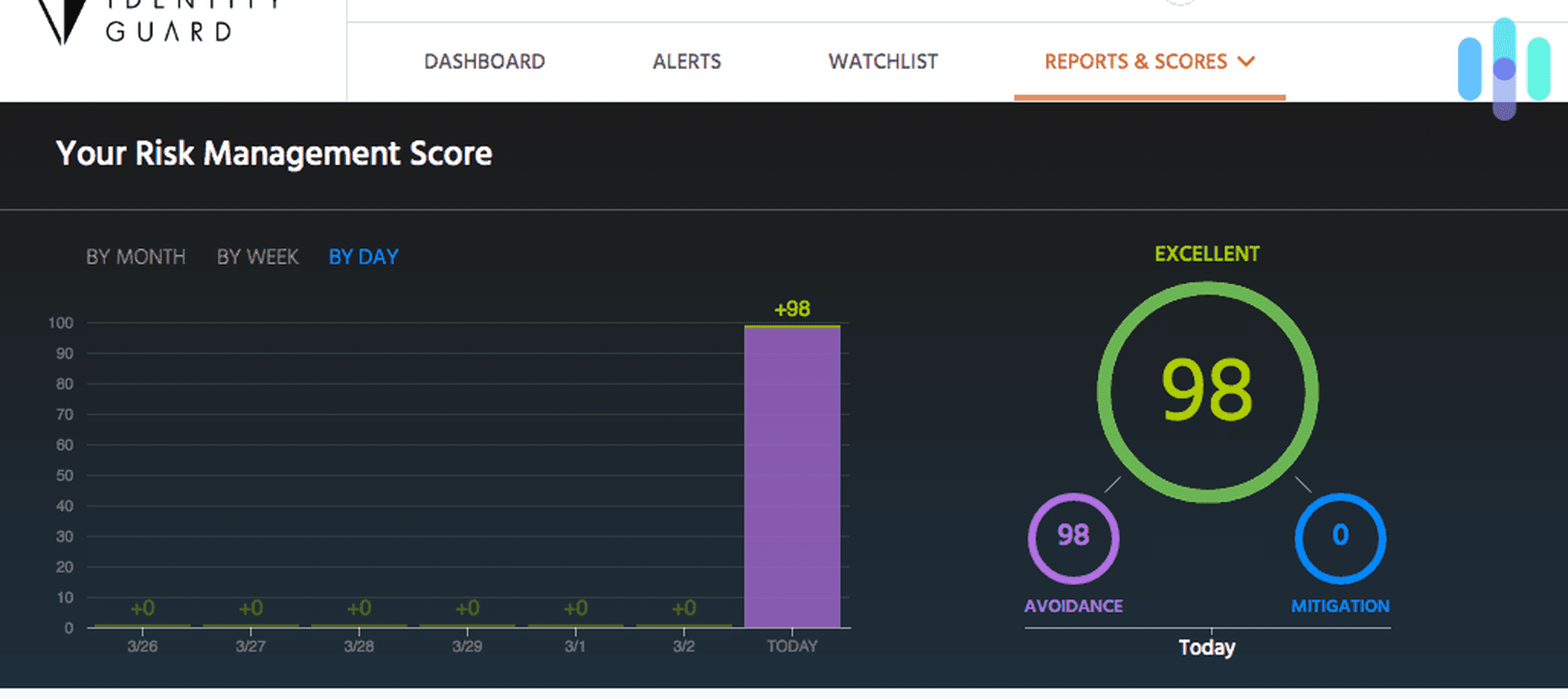 From there, all you have to do is wait to get alerted, but to get the most protection, fill in as much information as you can. The more information you give Identity Guard, the more they can monitor, so in this case, more is more!
The Identity Guard App
If you and your spouse want to monitor your identities on the go, download the Identity Guard app onto your phones, available for iPhones and Androids. It's here we got to see our credit score, plus how it changed over time; the app also alerted us when necessary, which thankfully, wasn't needed for us. However, if someone opened a bank account in our name, we'd get alerted as soon as Identity Guard detected it.
Customer Support with Identity Guard
Need help using Identity Guard? Instead of bothering your spouse about it, be proactive and contact the company itself. Here are you options:
Phone: Support over the phone is available from eight in the morning until 11 at night from Monday to Friday, or, if you need some help on the weekends, Saturday from nine AM to six PM (since Identity Guard is based in Philadelphia, this is all on EST).
Email: You can also email customercare@identityguard.com to get help.
FAQs: While Identity Guard has a few FAQs on their website, we found that the section was too minimal to be super helpful.
In sum? Your best bet is to call them directly, although with such an easy setup and app experience, you probably won't need to.
How To Sign Up for Identity Guard For My Spouse
Signing up for identity monitoring with Identity Guard only takes a few minutes. Simply click here and choose the Family plan; again, we recommend doing the Ultra plan for total coverage, which costs either $39.99 per month or $400 per, again, saving you 17%. Considering in most states, you and your spouse are seen as a single person, it's worth it for the peace of mind alone.
Is Identity Guard Worthwhile?
Sure, Identity Guard has its shortcomings, but that doesn't mean we couldn't trust it to monitor our identities. For the average person and their beloved spouse, it certainly covers the basics of identity and credit monitoring, for a price that doesn't break the bank. Starting at just $14.99 a month for a couple and all of their children, it's hard to find a more affordable service. But let's break down exactly who we think Identity Guard would be best for.
Still unsure about Identity Guard? We've compared it to other identity monitoring services like Complete ID, Credit Karma and IdentityForce. Or, read more about Identity Guard's app, credit monitoring or family plans. While the service doesn't have a free trial, trying it out for a month won't break the bank too much; alternatively, you can sign up for a year and cancel within 30 days to get a refund if you want to test it out. Whatever you choose, the risk on your part will be minimal to non-existent.