Traveling for Business? 3 Must-Have Digital Security Products
Seasoned business travelers know that having the right VPN makes all the difference.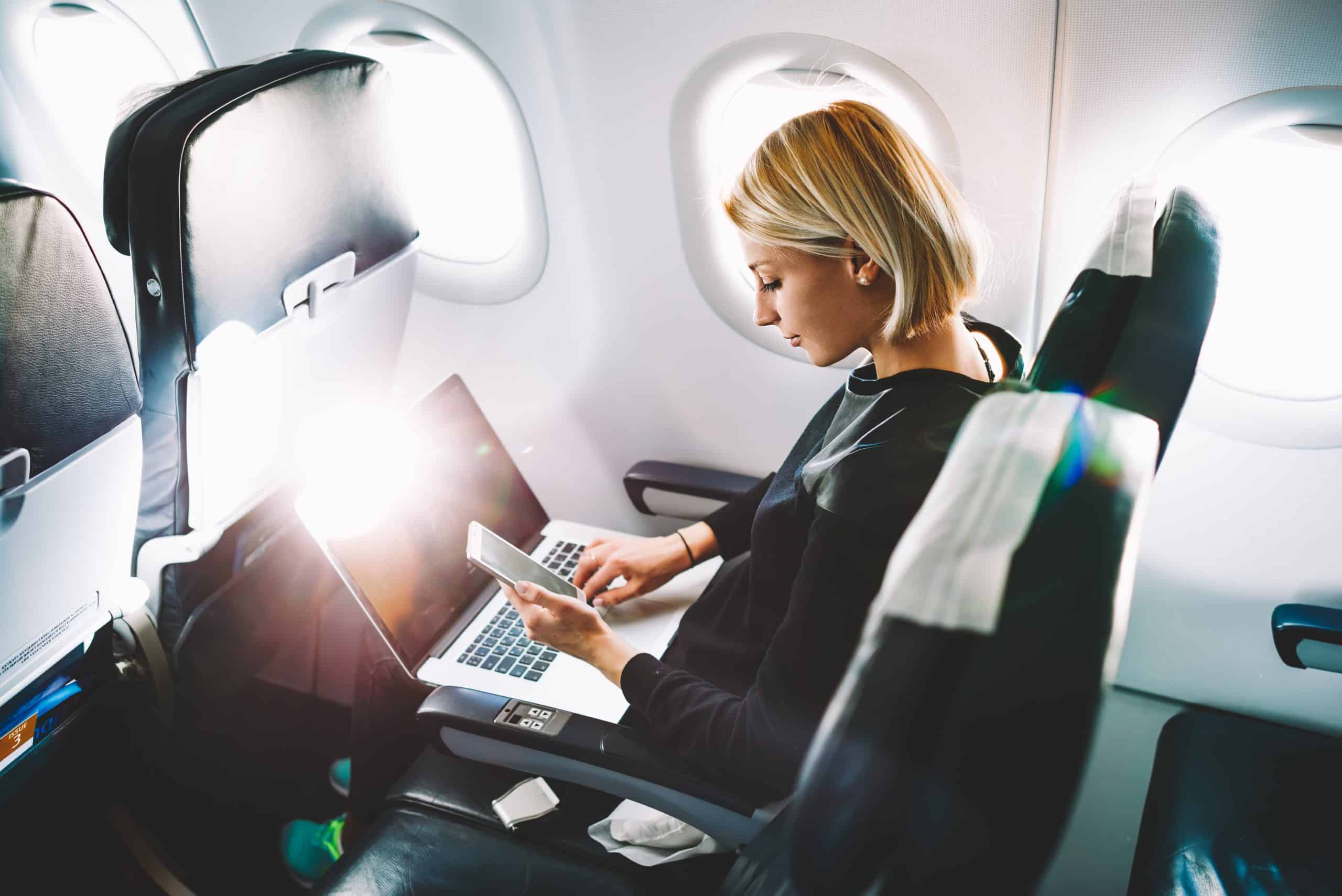 Everyone needs a virtual private network (VPN). Everyone. A VPN is an encrypted tunnel that protects your internet activity from prying eyes. If you're not using one, anyone might be tracking you, especially if you're logged on to a public server. Business travelers, though, need VPNs more than most.
Of course, anyone who travels passes through several different public servers every day. You might start your day with a hotel Wi-Fi network. When you get to the airport, you log on to the airport's network. Then you connect to the network on the plane, use another airport connection once you've arrived at your destination, and finish up with another hotel Wi-Fi network. That doesn't even count citywide Wi-Fi networks you might connect to while in a cab or public networks available at restaurants. Every one of those connections leaves you vulnerable unless you're using a strong VPN.
And, if you're traveling for business, your laptops and phones have special targets on them. You're passing sensitive documents and information back and forth with your office all day long, and cyber thieves are always looking to get their hands on that kind of material.
Just realizing you need a VPN? Or that your current VPN isn't providing you with the security you need? Don't panic. We'll help you understand just what a VPN is and what it does, and we've got a list of some great products that include features no business traveler should ever be without.
A VPN Is an Absolute Must
First things first: What is a VPN, and why do you need one?
As mentioned, a VPN is an encrypted tunnel connecting your device — laptop, phone, tablet — to a secure server. Once you're in that tunnel, no one can see what you're up to. No one can see the files you're exchanging, the sites you're visiting, or the apps you're using.
As a bonus, most VPNs assign you a new IP address, one to replace the address that's associated with your device. This new address is anonymous and untraceable. That means, in addition to hiding your online activity, a VPN ensures no one can track your movements around the web. You're protected from identity thieves, corporate espionage, and even government surveillance.
If you travel for business, you probably know why you need that sort of protection. If you log on to an airport Wi-Fi network without a VPN, virtually anyone else on the same network can see the files you are sending and receiving. That puts your company at risk of losing valuable proprietary data. Worse still, it puts your clients at risk. Try convincing your customers to trust you once you've suffered a data breach simply because you didn't bother to use a VPN.
Choose Wisely: Three Great VPNs for Business Travelers
The good news is that there are lots of great digital security products out there, many with some fantastic features that make them just right for business travelers. Here's three we're particular fans of.
NordVPN: Maximize Your Security
NordVPN is a particularly good choice for international business travelers. As we note in our complete NordVPN review, the company has over 5,200 servers located in 60 countries around the globe. Wherever your client meetings might be, you're almost guaranteed to find a server nearby.
NordVPN's biggest strength for business travelers, though, is its outstanding security. The company uses state-of-the-art AES-256 encryption, the same encryption used by the U.S. military. In addition, NordVPN employs a new technology known as multihop. Instead of routing your internet connection through one secure server, NordVPN routes it through two or more. The more "hops" you make, the harder you are to follow. That should ensure your hotel neighbors can't see your company's fourth-quarter projections or peek into your customer database.
PureVPN: Maximize Your Entertainment
How does that saying go? All work and no play makes Jack a dull boy. You work hard and you deserve your downtime, whether that means grabbing 20 minutes in the airport lounge or half an hour while you're in the sky over Denver. In other words, you want a VPN that not only keeps your internet connection secure, but can also deliver quality entertainment for when you're not working.
As we point out in our PureVPN analysis, this product has plenty of great security features. For one thing, the company doesn't log any customer activity. It doesn't keep track of sites you visit, timestamps, or IP addresses. And, since it's located in Hong Kong, beyond the reach of the Fourteen Eyes surveillance alliance, the government can't force it to turn over information anyway.
At the same time, though, PureVPN offers access to all the best streaming services, so when you do have a little time to yourself, you can catch up on the latest HBO series and movies or maybe catch a game on NBA League Pass. The cool thing is, a VPN allows you to access content that's available only in other countries. So, when you're in Chicago, you can still catch up on the best comedies coming out of Britain. It works in reverse as well; that is, if you should find yourself in Tokyo, you'll still be able to watch American Netflix.
ExpressVPN: Maximize Your Time and Resources With Split Tunneling
Like NordVPN, ExpressVPN is very secure. For instance, the company is headquartered in the British Virgin Islands. That puts it outside of the Fourteen Eyes. No matter the circumstances, no government can ever compel ExpressVPN to turn over any data about you or where you've been on the web.
Better yet, ExpressVPN has something called split tunneling. Maybe this sounds familiar: After a long day of making presentations and participating in hard-nosed negotiations, you fill your ice bucket and lay down on your hotel room bed, ready to unwind. You pull up the most recent episode of House of the Dragon. After all, ExpressVPN is one of the best VPNs for streaming. Then your phone pings. Your boss needs you to adjust a proposal number and re-send the final document to the prospective customer. With split tunneling, you can keep watching HBO through your hotel's Wi-Fi network while you send the proposal through the VPN. Split tunneling lets you maintain two connections at once — one to the VPN and one to the regular internet — so you can do two things at once without giving up bandwidth.
Even More Tips for Digital Safety on Business Trips
Installing a VPN is perhaps the most crucial piece of advice that we can offer any business traveler. However, there's a lot more you can do to make sure your devices are protected.
Invest in identity theft protection. You can do everything possible to secure your devices and tiptoe as quietly as possible through the internet, and someone may still manage to steal your PII (personal identifying information). That's why it's so useful to have a subscription to one of the best identity theft protection services. Companies like Aura scour the internet 24 hours a day looking for any sign your personal data has been compromised. If it finds something, it will send you an alert so you can begin correcting the problem immediately. Many services also offer identity restoration and up to $1 million in insurance to help you put your life back together.
Install antivirus software. Even with a VPN, you're still vulnerable to downloading malware. Whether it's adware, ransomware, or a good old-fashioned virus, once you've brought something on to your device, your security is compromised. One of our best antivirus software packages, though, can scan every file you download looking for threats. And, if some nasty piece of code should sneak past, antivirus software can help you get rid of it.
Keep your devices updated. Hackers and identity thieves are always looking for holes in apps and other software that they can exploit. Of course, app and software companies do their best to plug these holes with patches as quickly as they can find them. However, patches work only if you stay up to date with the latest version of the software you're running. Make sure all your devices are set to download and install the most recent updates so you're always as protected as you can be.
Hang on to your devices. It may seem obvious, but the easiest way to lose your data is to have someone physically steal your device. If you're traveling, you probably find yourself in a lot of locations where pickpocketing is rampant. A lot of us are afraid to miss a call, email, or text from work, and we leave our phones sitting on our restaurant tables when we go out to eat or perched precariously on the armrest of our seat at the airport. That's an invitation to an identity thief to simply swipe and go. Set vibration alerts and keep your phone in your pocket so it's not a temptation.
Secure your devices. If your laptop, tablet, or phone should be lost or stolen, you don't want to make it easy for crooks to access your information. Yet many people don't bother to secure their devices with passwords, codes, or biometric scanners. The moment you purchase a new device, you should find some means of preventing others from opening it. Even better? Use multi-factor identification if it's offered.
Turn on device tracking. Again, it's always a good idea to consider the worst-case scenario. If you should lose one of your devices, you want to be able to find it again if you can. The only way you can do that reliably is to turn on tracking features or download apps that can help you find your device, even if you left it in that little pocket on the back of the airplane seat in front of you.
Final Thoughts on Safe Business Travel
We sometimes wonder how business travelers survived before the digital age. How did they know where they were going without GPS-equipped mobile phones? How on earth did they check in at airports? What did they do in the cab on the way to the hotel without Candy Crush?
With our many devices and gadgets, life today is infinitely easier for the business traveler. All those digital conveniences we rely on, though, come with their own set of dangers. Public Wi-Fi networks, for instance, can be incredibly handy for getting work done even while you're waiting in a hotel lobby for your room to be ready. You can never tell who else might be on that network and what sorts of nefarious activities they might be up to. Make sure you're protected when you're online, whether you're in Tuscon or Tuscany. Install a travel-friendly VPN, and you can be productive without having to worry what might go wrong.