All About Metaversities: Virtual Education Just Went Full VR
Online courses are so 2020. These days, higher education is all about the metaversity.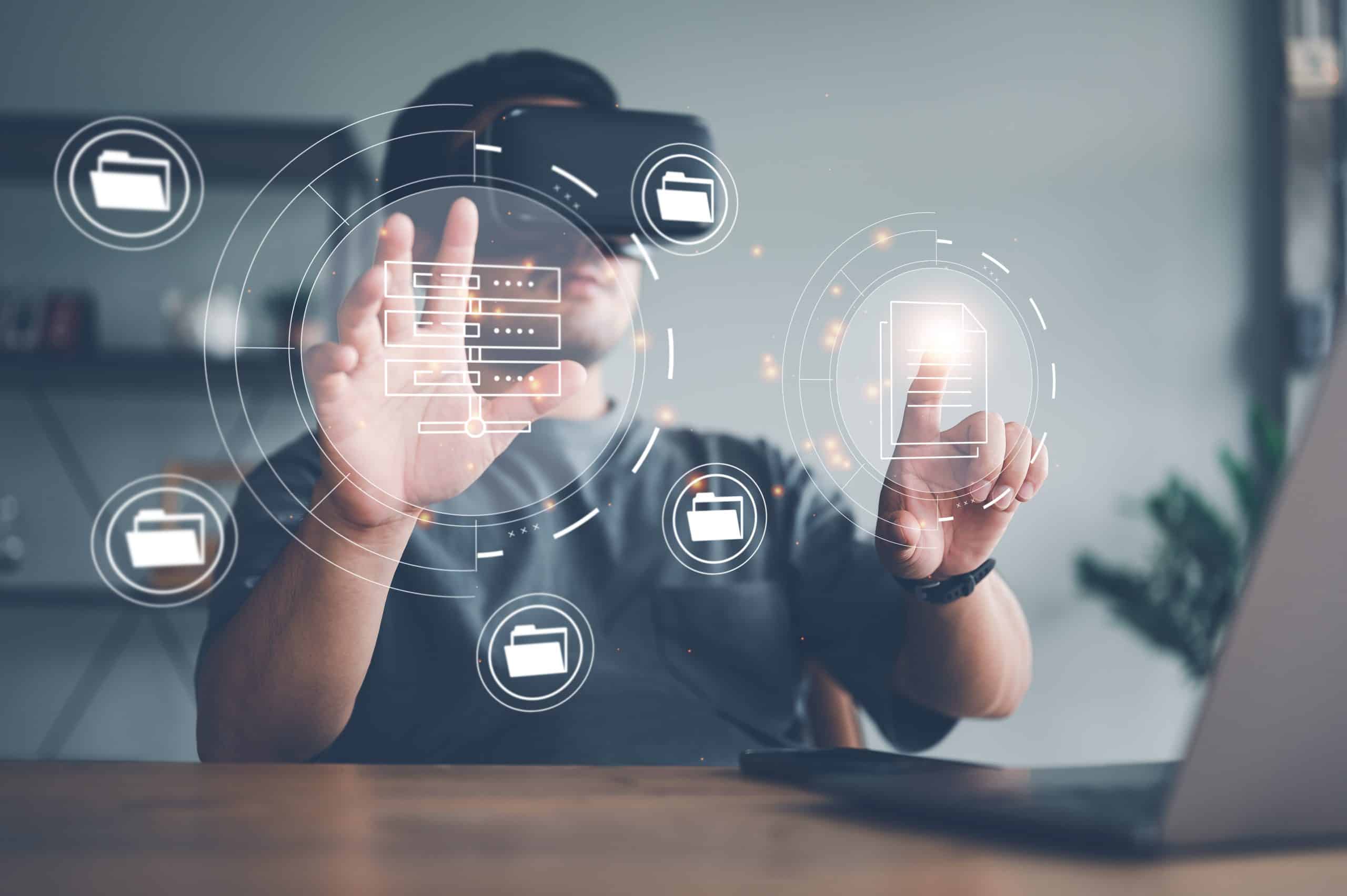 Just What Is a Metaversity?
In simplest terms, a metaversity is a virtual reality (VR) version of an actual university, a digital twin that you can experience in the same way you would experience a brick-and-mortar university, only by putting on a pair of VR goggles instead of going to campus. Let's go a little further and explore what all this means.
What's a Day at a Metaversity Like?
In some ways, it's like a day at any other university. You stop by the coffee shop in the student union to check in with your friends. You show up to your astronomy class a few minutes early and review notes with a classmate. Once classes are done, you head over to the quad to toss the football around. Then you make your way to the library to grab a couple of books you need for the Shakespeare paper that's due next week.
If you're attending a metaversity, though, you can do all that without leaving your couch.
You've probably seen commercials for online universities: "Go to class in your pajamas!" Yeah, this isn't like that. Those courses involve logging on to a platform on your laptop, reading a bunch of lecture notes, reading your classmates' posts, and typing up your own responses. Pretty dry stuff.
What we're talking about is an immersive VR experience, where you put on a headset and find yourself in the digital twin of your school's campus. You can walk around, see friends, and actually talk to people. OK, so the coffee you drink is only virtual, but when your biology professor lectures on the human heart, he can take you on a three-dimensional tour of a heart — not on a screen, but as though you're actually inside it walking around.
Does that sound like a science fiction fantasy? Students at Morehouse College in Atlanta have been attending a metaversity version of their school since March 2021, and new metaversities are opening all the time, from South Dakota State University to Florida A&M University.
A Brief History of Online Education
Online courses aren't exactly a new idea. Colleges and universities have been experimenting with distance learning since the arrival of the internet. These days, every school takes advantage of course website platforms where professors can post assignments and students can upload their work.
More and more, whole courses are now offered online as well so that you can attend any school you want, no matter where you live. Want to go to Harvard but don't want to leave the beach in Santa Monica? No problem. There are advantages for you, but there are advantages for Harvard too. It can admit more students, and that means more tuition dollars.
Online courses do have their drawbacks. Until recently, you couldn't interact in real time with your instructors. And even though Zoom and other video conferencing apps have made it easier to talk with a professor, teachers still can't offer the kind of hands-on training you'd get in a real classroom. More importantly, you don't feel like you're a student at a school. Logging on to a course page just isn't like walking through the hallways of a classroom building.
In the past decade, some forward-thinking schools and instructors have invested in Second Life, a sort of World of Warcraft without the gaming experience. The University of Kentucky has a campus there. So does the University of Texas at Arlington. You can walk your avatar across campus to a classroom that looks very much like a real classroom and watch a professor deliver a lecture.
For all its efforts to create an immersive, three-dimensional world, though, Second Life still takes place on a flat, two-dimensional computer screen. And the experience can be a bit clunky.
Online Education 2.0: The Metaversity
Enter the VR headset. The Oculus Rift and VR headsets like it have been a game changer for VR, a giant leap forward in our ability to create digital worlds. If you haven't had the experience of putting on one of these headsets, it can be mind-blowing the first time. There are limitations: You can't smell a flower in VR yet or taste a chocolate chip cookie. Visually, though, it's essentially a re-creation of reality. The VR world exists in front of you, behind you, above you, below you. Moving through the space of the VR world isn't all that different from moving through the space of the real world.
Meta's (formerly Facebook) investment in this technology has opened up new possibilities, including metaversities. Suddenly, schools can marry all the benefits of online education to most of the benefits of in-person education. As for Meta, it gets to show off just what this technology can do. The company is betting that every student who attends a metaversity will wind up buying their own pair of goggles once they graduate.
Again, Morehouse was the first school to offer a metaversity experience. However, Morehouse has been followed by nine more metaversities:
South Dakota State University
Florida A&M University
The University of Kansas School of Nursing
Southwestern Oregon Community College
The University of Maryland Global Campus
West Virginia University
California State University, Dominguez Hills
Alabama A&M University
New Mexico State University
How Does a Metaversity Work?
What can you do at a metaversity? Theoretically, you can do anything that you can do at an actual university. What does that mean in concrete terms?
Attend classes: You attend class just as you would if you were on the physical campus. You sit at a desk, take notes, raise your hand, and ask questions while your classmates do the same.
Visit professors during office hours: Don't just Skype with your instructor about your assignment. Go to their office, take a seat, and chat about it.
Read in the library: Bored with studying at the kitchen table? Put on your VR goggles and head over to the library. Find a quiet nook somewhere or a study carrel, and get some work done.
Form study groups: Get a few of your classmates to meet you in the library or at the on-campus coffee shop, and study for the big test that's coming up on Friday.
Attend meetings: Are you on the graduation committee? Or maybe you've joined up with other students to save the spotted owl. You don't have to come to campus to get involved. Just put on a headset, and you're there.
Hang out: The very best part of college is simply hanging out. You can do that out on the grass, in lounge areas, or in the student union. Heck, you can play pingpong with your friends, or racquetball. Plus, it should be only a matter of time before you can catch a Saturday afternoon football game in VR.
Classroom Benefits
Metaversities don't just re-create the university experience, though; in many ways, they improve on that experience. Consider how VR headsets might soon be used in the classroom.
Recordable lectures: Can't remember what the professor said about how to solve that equation? Just pull up the actual lecture and rewatch it — not in audio, not even in video, but in VR. Or highlight parts of the lecture you think are especially important, and just go back and watch those parts.
Immersive explanations: It's one thing when an architecture professor draws an arch on the blackboard; it's another when they can build one in front of the class and you can walk through it.
Practical demonstrations: It's not just the professor who can do neat tricks with VR. If you're attending class in a metaversity, you could dissect an elephant or create an Elizabethan tavern to act out scenes from Shakespeare.
Field trips: You aren't limited to your classroom, either. As the metaverse expands, you may be able to visit an archeological dig. You could go on a safari to better understand primate behaviors, or watch a surgeon work on a human brain. The possibilities are virtually endless.
Staying Safe in Metaversities
The metaverse offers stunning new possibilities. It's not just that you can attend a metaversity. With headsets, you may soon be able to take your kids to visit the Louvre. You may be able to go whitewater rafting in the Grand Canyon. Or, maybe you'll learn to cook standing in the kitchen with a five-star chef.
If it's digital, though, it can be dangerous. Just like in the real world, you have to be cautious with VR. How do you do that? The technology is complicated, but safety doesn't have to be.
Be careful where you go. Not every place in the digital world is safe, and we're not just talking about the dark web. You can easily pick up malware downloading pirated software or be tricked into it on a fake website. Take precautions, like visiting only sites that use "https" rather than "http" and researching apps before you download them.
Be careful whom you interact with. Just as there are some shady places to visit online, there are also a fair number of shady people in the metaverse. It won't be any safer than Facebook or Instagram. You'll still need to pay close attention to privacy settings and be careful about what information you share with others.
Be careful what you do: Finally, you have to be careful about what you do online as well. For instance, we all want to make our friends jealous by posting pictures of our family vacation, but wait until you get home. Otherwise, you're letting potential home invaders know your house is empty.
Safety isn't just about modifying your behaviors. You also need some tools.
Sign up for a VPN. A virtual private network, or VPN, routes your internet connection through an encrypted tunnel. In addition, the top VPNs assign you an anonymous IP address so that you never have to worry about who might be tracking you.
Install antivirus software: Antivirus software scans your downloads, looking for malware. It can also take a look at websites before you get to them to make sure they're safe. The best antivirus software can even help prevent you from falling victim to phishing schemes.
Purchase identity theft protection. Good identity theft protection services monitor all aspects of the web to make sure no one is selling or using information related to your identity. As a bonus, they insure you against identity theft and offer recovery services should you become a victim.
Final Thoughts on Metaversities
The future is here, in the form of metaversities and so much more. That future looks incredibly bright. The newest technologies have the capacity to reshape our lives and open up unlimited possibilities.
For all its potential, though, the digital world comes with dangers. In the three decades we've had the internet, we've witnessed the evolution of viruses, the onset of government surveillance, and an explosion in identity theft. We can only imagine what dangers might lurk when we're all wearing VR headsets and using three-dimensional printers to make dinner.
So embrace the technological changes and all the benefits that come with them. Just don't start thinking it will be a boundless utopia where you'll never have to worry about anything again. Use common sense, make sure you have the right tools, and stay safe out there.