If you've experienced package theft before, then you probably don't think of it as a laughing matter. But, we've decided to bring levity to a situation that has affected two out of five Americans, and one out of five in the last 90 days alone! And so, we bring you the funniest ways that people dealt with package theft, whether that means laying traps for potential package thieves or the most clever thieves themselves. After all, what's life about if you can't have a sense of humor?
Before getting to the good stuff, here are a few other resources we have on package theft at Security.org:
The Guy Who Glitter Bombed Package Thieves
Glitter is notorious as the craft supply that won't quit...literally. Once you get glitter on yourself or your clothes, it seems to stay for days if not weeks, which is what inspired former NASA engineer Mark Rober to create a glitter bomb for package thieves. See it go off below!
The Package Disguised As A Pillow
Anyone that's had packages stolen probably doesn't have much faith in the mail service, but one mailman went above and beyond when he placed a package in between throw pillows, captured on Reddit.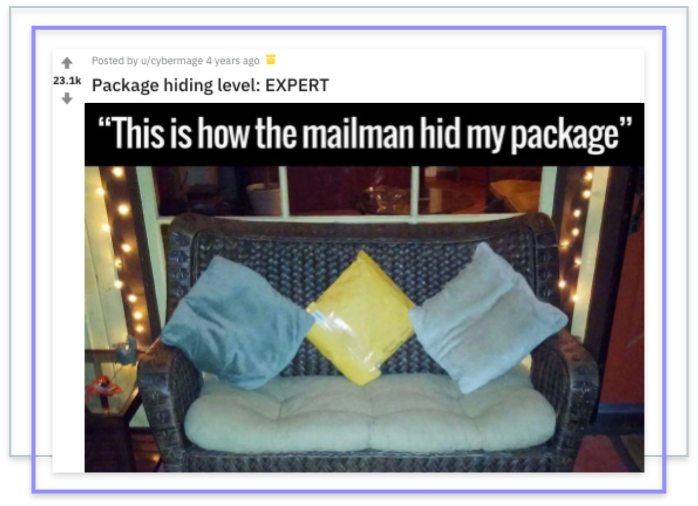 If only all mailmen were that courteous, we wouldn't have this much package theft in the first place!
Amazon Boxes Filled With Trash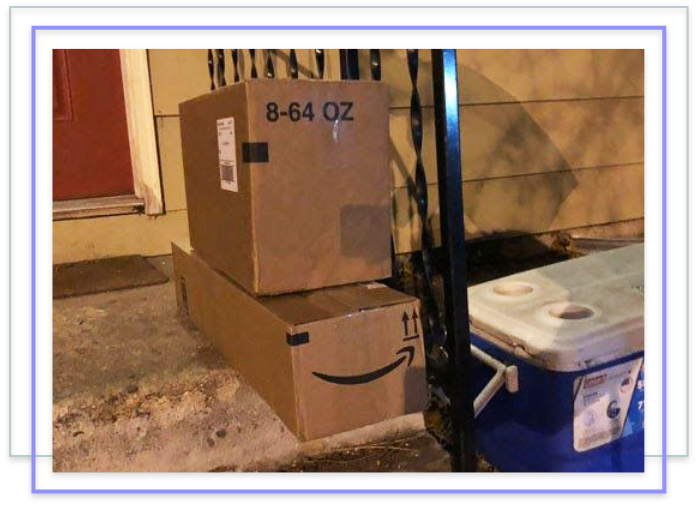 Don't have the time, energy or skill to create a glitter bomb for package thieves? Colorado resident Christine Hyatt told Bored Panda that she filled her old package boxes up with trash, leaving them out for thieves to steal. After 20 stolen packages, you'd do the same!
Ring the Alarm on Package Thieves
Sometimes, larceny laws just don't do the trick, and you need to take matters into your own hands. After buying and installing a Ring camera, a Kansas City resident captured a package thief red-handed. Once the user set off the alarm, the thief went running as fast as his little legs could take him.
The Youngest FedEx Employee
The image of kids stacked on top of each other impersonating adults isn't something you normally see out of cartoons or the movie Little Rascals, but in Austin, Texas, it was a reality, basically. Austin resident Lisa Geshell told KVUE captured a kid in a Fedex uniform deliver a package for her, child labor laws be damned!
Report Package Theft
Of course, some things are only funny when they happen to other people. We have a guide on how to prevent package theft if you don't want to end up on one of these lists (or if you just want to actually receive your deliveries). Prime Day, Black Friday and Cyber Monday are upon us, so make sure your packages are safe before you can save!
Got A Funny Story? Win A Video Doorbell!
Got a funny or interesting package theft-related story to share? If your story makes us LOL the most, you could win a free video doorbell to make sure you're never a victim of package theft again! Submit your story to us, extra points if you have pictures or videos to boot.