In 2017, a series of accusations spanning several decades implicated Harvey Weinstein in the sexual assault and harassment of numerous women, including several prominent and well-known actresses. The crimes Weinstein was accused of and the stories that emanated from the initial report inspired the rebirth of the #MeToo movement in 2017. The #MeToo movement, a phrase that was first used in 2006, focuses on helping victims of sexual assault find the support they need and share their stories should they chose to do so.
While the #MeToo movement has gained national attention in the two years since its relaunch, sexual assault isn't the only type of nonfatal violent crime Americans endure. Every year, millions of men and women suffer violent victimizations (defined as rape or sexual assault, robbery, aggravated assault, and simple assault), and not all of these crimes have found as much mainstream media attention.
For a closer look at violent victimization in America, we analyzed over two decades worth of data from the National Victimization Analysis Tool. Read on as we decipher trends in nonfatal crimes across the country to determine how cases of violent victimization have changed since 1993, which types of crime are the most common, and where these crimes are the most likely to occur.
Downward Trends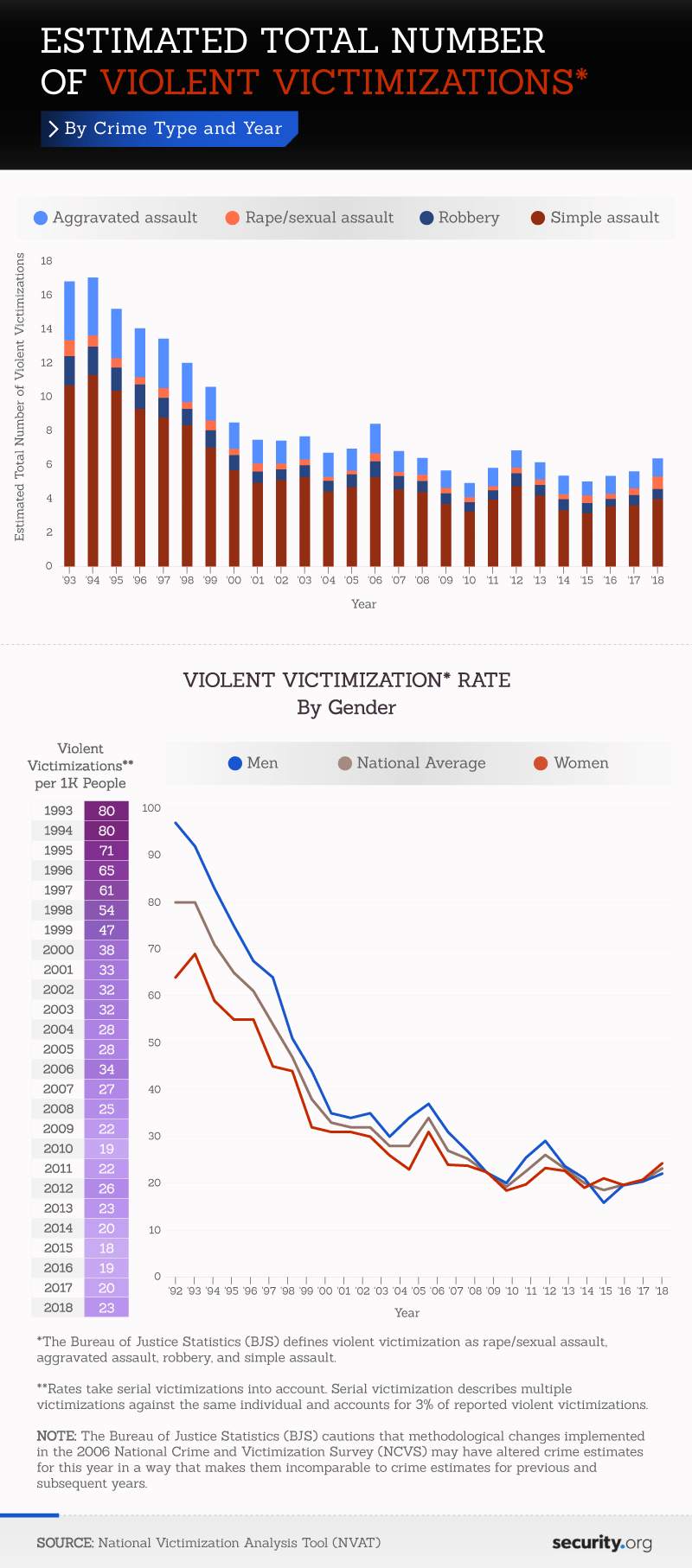 Across the U.S., reports of violent crime peaked in the '90s and have fallen substantially in recent years. Despite the misconception that crime rates in America continue to grow, rates of violent crime has plummeted since 1993, with spikes of increased criminal activity during certain years.
In 1993 and 1994, there were more than 16 million estimated counts of violent victimizations ranging from simple assault, aggravated assault, and rape. Excepting 2015 and 2018, men experienced higher violent victimization rates overall since 1993. While experts can't identify a single event that could have reduced the rate of crime in America so dramatically, many point to higher rates of incarceration across the U.S. and a shift in income inequality as likely catalysts for the change. Discounting rates reported in 2006, which the Bureau of Justice Statistics (BJS) has stated are incomparable to rates reported in other years due to methodological changes in that year's data collection process, violent victimization rates have largely continued to decrease with each passing year.
Over the last 25 years, simple assaults accounted for the highest percentage of violent, nonfatal crimes, reaching their peak at 11 million records in 1994 before plummeting to less than 4 million records in 2010.
Varying Degrees of Assault
In 1993, the rate of reported sexual assault cases climbed to 4.3 rapes for every 1,000 people across the U.S. By 2016, the rate of sexual assault in America fell to 1.2 out of every 1,000 people, but it also began trending upward again for female victims. In 1993 and 2018, women were roughly 8 times more likely than men to experience sexual violence. Studies show that among men and women, the reported cases of sexual assault and rape may be extremely low compared to the total number of actual crimes.

Across three other forms of violent victimization since 1993 – aggravated assault, robbery, and simple assault – men were almost always more likely than women to encounter these types of crimes. However, in 2015, women were more likely to be the victims of simple assault and aggravated assault compared to men. While the volume of violent victimizations has fallen dramatically since 1993, our analysis shows robbery and rape or sexual assault seem to be on the rise again if one considers rising trends since 2016. Most troublesome of all such trends, perhaps, is the extreme spike in sexual crimes reported in 2018; a rate of 4.6 offenses per 1,000 women represents the highest thus far this century.
Where Violence Occurs
Violent crimes can happen anywhere, but as our analysis found, violent crimes occurred in public spaces for the majority of men. For women, however, violent crimes were more likely to take place at home. While rates of domestic violence have also fallen sharply since the '90s, roughly 12 million men and women are victims of intimate partner violence every year.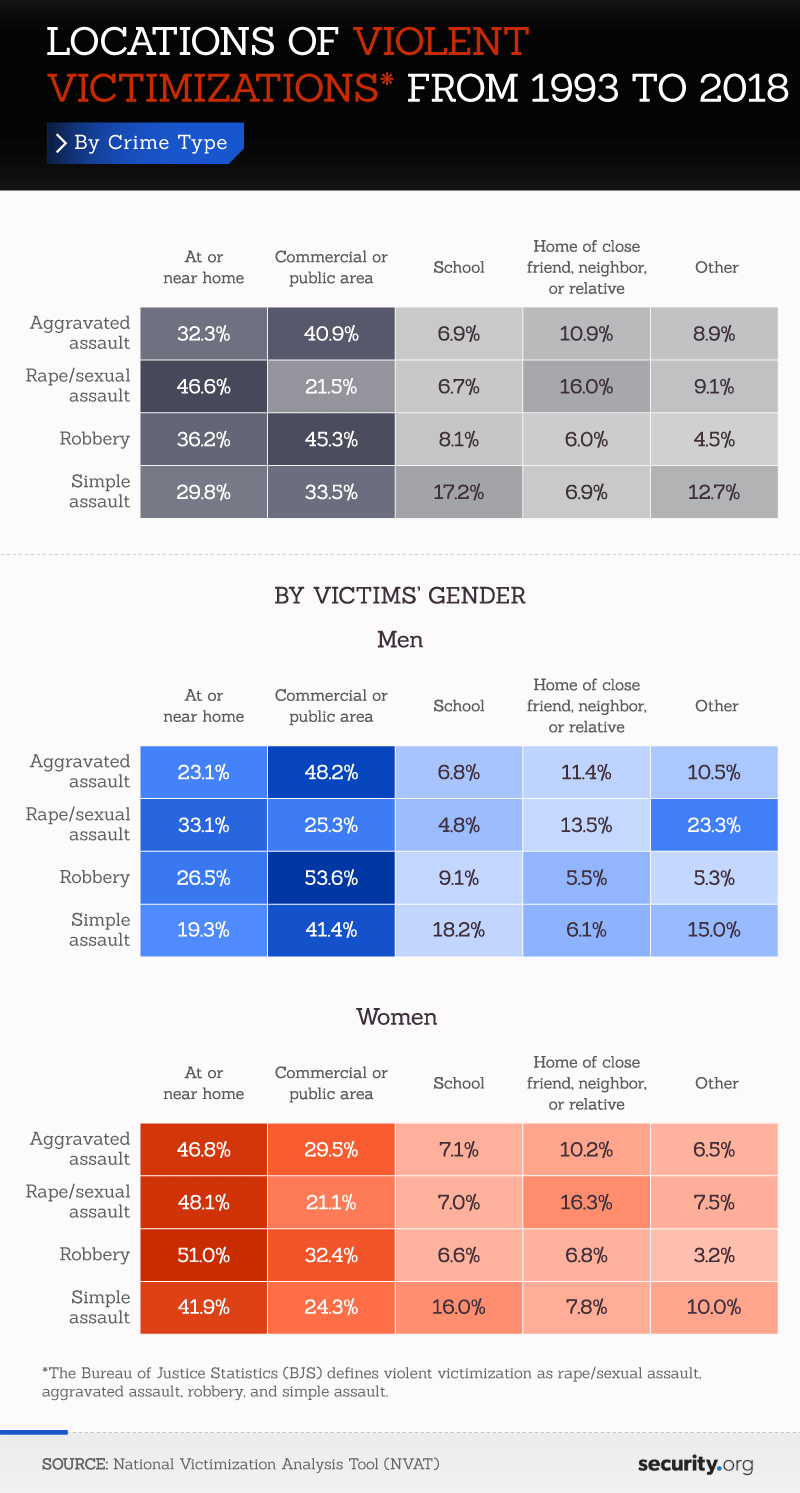 Except for rape (where nearly 33% of cases occurred at or near the home), the most significant share of violent cases against men were recorded as happening in a commercial or public area. In some cases, innocuous places were more likely to be the scene of the crime for men, including schools (where 18.2% of simple assaults occurred), and roughly 1 in 4 sexual assaults against men happened in other locations entirely.
For women, more than 2 in 5 violent assaults of any kind (including rape, robbery, and serious violence) perpetrated against them happened at or near their own homes. And roughly half of all cases of rape or robbery against women were reported as happening at the places they lived or close to them. Over sixteen percent of rape cases against women between 1993 and 2018 even took place at the home of a close friend, neighbor, or relative.

While some years may report a smaller uptick in the total number of violent crimes reported, the overall trajectory in the last three decades has dropped substantially. Compared to 1991, where over 5,800 crimes were committed for every 100,000 people in the U.S., 2015 saw the overall crime rate fall for the 14th consecutive year.
Still, while the rate of violent victimizations in America may be on the decline, the overall rate declines in rape, aggravated assault, robbery, and simple assault aren't equally distributed across the nation. Instead, we found Southern states (including Texas, Florida, Georgia, and Tennessee) often reported the lowest reductions in violent crimes, particularly robbery (-74.1%), and rape or sexual assault. Sexual crimes in the south were the only class of offenses analyzed in any region to increase between 1995 and 2018, doing so by50%. That said, the South's 2.1 sexual crimes per 1,000 still represents the lowest rate of any region.
Taking Safety Precautions
While the overall rate of violent victimizations in America has fallen dramatically since 1993, millions of Americans still experience sexual assault, aggravated assault, robbery, and simple assault every year. As we found, simple assault makes up the highest percentage of violent victimizations in the U.S., although women were far more likely than men to endure rape or sexual assault. Despite seeing large decreases in the number of reported crimes every year, violent victimizations are still more common in some areas of the country compared to others.
Methodology
This study was conducted using 1993–2018 data from the Bureau of Justice Statistics' National Victimization Analysis Tool (NVAT), an online tool compiling the results of an annual survey on victimization administered by the federal government. Due to methodological changes in data collection in 2006, measurements obtained from 2006 data should be considered with caution. In 2006, the Bureau of Justice Statistics began basing data collection off of the 2000 Decennial Census to recognize population shifts and residential areas that developed over time. Pen and paper interviewing methods were also replaced with computer-assisted personal interviewing (CAPI). To learn more about why these changes influenced results and their corresponding rate calculations, click here.
Below are definitions of crimes in this analysis as presented by the Bureau of Justice Statistics:
Aggravated Assault: Attack or attempted attack with a weapon, regardless of whether an injury occurred and attack without a weapon that resulted in serious injury1
Simple Assault: Attack without a weapon resulting either in no injury, minor injury (for example, bruises, black eyes, cuts, scratches, or swelling), or an undetermined injury requiring less than two days of hospitalization. Also includes attempted assault without a weapon.
Robbery: Completed or attempted theft, directly from a person, of property or cash by force or threat of force, with or without a weapon, and with or without injury.
Rape: Forced sexual intercourse including both psychological coercion as well as physical force. Forced sexual intercourse means penetration by the offender(s). Includes attempted rapes, male as well as female victims, and both heterosexual and same-sex rape. Attempted rape includes verbal threats of rape.
Sexual Assault: A wide range of victimizations, separate from rape or attempted rape. These crimes include attacks or attempted attacks generally involving unwanted sexual contact between the victim and offender. Sexual assaults may or may not involve force and include such things as grabbing or fondling. It also includes verbal threats.
1Definition adjusted from Bureau of Justice Statistics (BJS) website for grammatical clarification
Fair Use Statement
Want to share the safety information from our study? We welcome the redistribution of our findings and graphics for any noncommercial purposes with the inclusion of a link back to this page.