REAL ID – Everything You Need To Know

REAL ID - Everything You Need To Know How to Obtain a Real ID and Frequently Asked Questions
If you have visited an airport over the past year you have likely seen signs warning you about the upcoming changes in ID requirements. Flyers have until October of 2021 to make sure they have a REAL ID compliant identification, and for the millions who still do not have a compliant ID, air travel is the main reason for getting an updated card. Since some states have updated driver's licenses to meet the standards of the REAL ID act and some have not, it has caused confusion. Will my ID work the next time I fly? What do I have to do to get one? Here are your REAL ID questions answered.
Table of Contents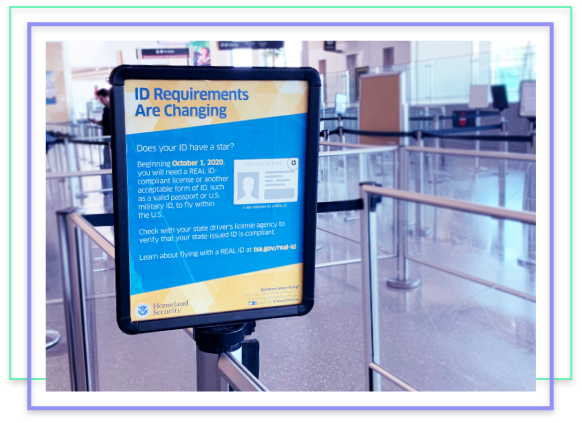 What is REAL ID?
The REAL ID Act was passed back in 2005 and established minimum security standards for state-issued identification cards and driver's licenses that will be accepted by federal agencies. Passed after September 11, the REAL ID act aims to make IDs more difficult to forge or fraudulently obtain. Driver's licenses and IDs for all US states have been or will be updated to comply with the REAL ID, but each has done so on its own timeline with most not issuing compliant IDs until 20181.
You DO need a REAL ID to2:
Visit a federal facility that requires identification such as entering a military base without a military ID
Enter a nuclear power plant
Starting Oct. 2021 - Fly on a commercial airline without a passport or other TSA-approved I D
You DO NOT need a REAL ID to:
Vote
Drive
Receive federal benefits
Going into federal facilities that do not require ID
Getting healthcare services
Buy alcohol or cigarettes
Travel by car or train
Fly with a companion if you are under 18
How do I know if my ID is compliant?
A September 2019 survey showed that 72% of Americans either did not have a compliant driver's license or were unsure whether they did or not3. Some states have been issuing REAL ID compliant licenses for years so you may already have one. A black or gold star on the front of your driver's license will let you know your ID is compliant and acceptable for domestic air travel.
There are many other forms of identification that are REAL ID Act compliant including4:
US passport or passport card

DHS trusted traveler cards (such as Global Entry)
Permanent resident card
Border crossing card
Enhanced driver's license
Federally recognized, tribal issued photo ID
Foreign passport
How do I get a REAL ID?
While the new REAL ID driver's licenses themselves are not much different than previous versions, the process required to get them is now common across states and is more secure since it requires documents that make fraud more difficult. To obtain a REAL ID compliant driver's license you will have to show up in-person to a DMV location with documents that prove your legal name and date of birth, social security number, address, and citizenship or immigration status. There is no additional cost to getting a REAL ID compliant license other than the normal cost of a renewal.
While processes are different by state, many allow you to make a reservation beforehand in an attempt to limit your wait time. Before the recent extension of the deadline due to the coronavirus outbreak5, people were reporting long lines and wait times for getting a new ID. With the extension there is more opportunity to be compliant before the deadline, and if you have a passport or other form of compliant ID there may not be a reason to rush out for a new ID. But, if you do need to obtain one before the October 2021 deadline, follow these steps:
Visit the driver's licensing agency website for your state to find out exactly what documents you need
Collect or obtain your documents - getting these together can take time for some
If possible, sign up for a reserved time to visit the DMV
For a potentially faster process, submit your documentation online ahead of your visit
Visit your local DMV to provide documentation or verify your pre-submitted documentation and finish your application
Despite the REAL ID Act being passed 15 years ago, the US still has a long way to go in terms of compliance. As of January 2020, 95 million Americans had REAL ID compliant driver's licenses, meaning another 181 million had yet to get them6. Some have simply not taken the time, and a few are concerned about an increased risk of identity theft, calling the REAL ID Act "hacker bait"7. The extended deadline can give some relief to those without an acceptable form of ID, but if you want to fly without your passport a trip to the DMV is in your not too distant future. You can spend the time now to make sure you are able to provide all of the documentation required, making the renewal as smooth as possible.
Sources: