REAL ID: Everything You Need To Know in 2023
HOW TO OBTAIN A REAL ID AND FREQUENTLY ASKED QUESTIONS
Written By: Security.org Team | Updated: January 13, 2023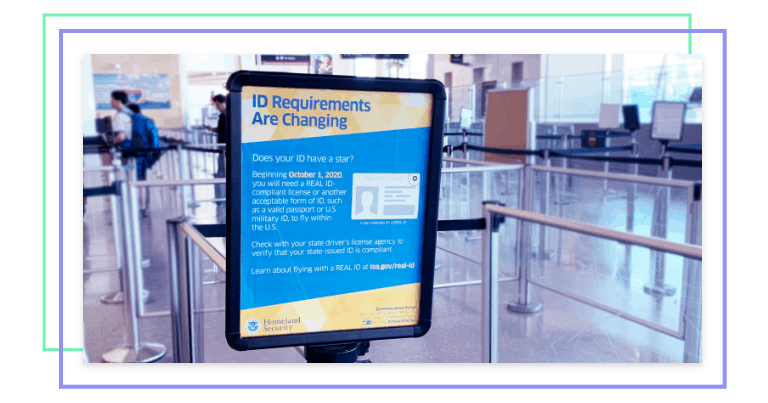 If you have visited an airport in the past few years, you've probably noticed signs about upcoming changes in ID requirements. Air travel is the main reason for flyers to get an updated card, although the deadlines keep moving. The latest change gives passengers until May 7, 2025, to ensure they have REAL ID-compliant identification.
While all states offer compliant IDs, consumers usually have the option to get a regular, non-compliant ID. This adds to the confusion surrounding REAL IDs. Will my ID work the next time I fly? What do I have to do to get one? Do all states automatically issue compliant IDs now? Here are your REAL ID questions answered.
Table of Contents
What is REAL ID?
Congress passed the REAL ID Act to close some security gaps the September 11, 2001, terrorist attacks exposed. The act establishes minimum security standards for federal agencies to accept state-issued identification cards and driver's licenses.
The REAL ID Act aims to make IDs more difficult for people to forge or fraudulently obtain. Each state operated on its own timeline to offer compliant IDs, with most being able to issue them after 2018.
Depending on the state, a REAL ID may be called a star ID, travel ID, secure ID, or enhanced driver's license.
How do I get a REAL ID?
REAL ID is more common now, and the licenses are not much different than regular versions. You need more documents proving who you are to make fraud more difficult.
If you already have a REAL ID and want to renew or replace it remotely, you can as long as your personally identifying information is materially the same.
To obtain a REAL ID-compliant driver's license for the first time, check the procedures for your state. State licensing websites give different instructions for compliant and non-compliant licenses, so ensure you read the information for REAL IDs.
Generally, you must go to a DMV location in person and bring documents that prove your legal name and date of birth, Social Security number, address, and citizenship or immigration status. There is no cost to getting a REAL ID-compliant license beyond the typical cost of getting or renewing a license.
Each state has a different process, but many DMVs allow you to make a reservation beforehand to limit your wait time. Follow these steps to get your REAL ID before the 2025 air travel deadline:
Visit your state's driver's licensing agency website to find precisely what documents you need. Double-check that you're looking at REAL ID requirements, not the requirements for a standard license.
Collect or obtain your documents. Getting these together can take time.
Sign up for a reserved time to visit the DMV.
If available, submit your documentation online ahead of your visit for a faster process.
Visit the DMV to provide documentation, verify your pre-submitted documentation, and finish your application.
You may receive a temporary license at the DMV, with the actual one arriving a few days later. If you have any flights planned, give yourself a few weeks to a month to be safe. The Transportation Security Administration will not accept temporary IDs even if you are legitimately just waiting for your REAL ID with a picture to arrive in the mail.
Do I still need a passport if I have a REAL ID?
The answer depends on your situation. You will need a passport to fly internationally. However, you do not need a passport for domestic air travel if you have REAL ID. If you are driving into Canada or Mexico with an enhanced driver's license, you do not need a passport.
Even if you have a valid passport, you may want a REAL ID for domestic air travel. It's convenient since many people always carry their driver's license, and they can leave their passport safe at home.
Do all states automatically issue compliant REAL IDs?
All states do not automatically issue compliant IDs. Residents can usually choose between standard and REAL ID. For example, the South Carolina driver licensing site explains, "REAL ID driver's licenses and identification cards are now available. When applying for a South Carolina license, you may choose if you'd like to purchase a license that is a REAL ID with a gold star or a standard license that says 'Not for Federal Identification.'"
Meanwhile, the Washington State Department of Licensing website says to, "decide if you want a standard driver's license or an enhanced driver license (EDL)."
Wyoming, however, is an example of a state where most drivers should be REAL ID-compliant. That is because the state has issued REAL ID-compliant licenses since 2011 and significantly reduced the options for standard licenses. State identification cards are less likely to be REAL ID-compliant, but that is changing, too.
The Final Word on REAL IDs
Despite the REAL ID Act being passed in 2005, the U.S. has some way to go regarding compliance. The compliance deadlines for air passengers keep being pushed back, with May 7, 2025, serving as the newest deadline. Further, only about half of Americans have compliant licenses. That could mean a rude awakening for some air travelers in 2025 when they try to get through security checkpoints but are not allowed.
The extended deadline does give travelers another two years of relief. However, the need for REAL ID is inevitable if you fly unless you use passports. Spending a little time now to upgrade your driver's license can mean trips that go smoothly in the future.