Ride-Sharing Safety: What You Need to Know
Billed as a taxi service for the 21st century, ride-sharing apps turn everyday people into chauffeurs and make it possible to order and pay for a ride with the tap of your smartphone.
Though they're just one plank of the burgeoning sharing economy (Airbnb, Postmates and WeWork are other prominent examples), for many Americans, apps like Uber and Lyft are among the most regularly used of these services.
A study by consulting firm PricewaterhouseCoopers estimates that by 2025, the sharing economy will command a roughly equal share of revenue as traditional providers in an array of economic sectors.
New examples of these types of apps and services appear on what feels like a monthly basis, and many vanish just as quickly, but Uber and Lyft have seemed to persevere despite being beset by controversy and questions over things like their environmental impact, ethics and safety concerns.
Uber, in particular, has been questioned for its corporate practices, and after dozens of news reports of assaults taking place on their service, the company in 2019 released an internal analysis of data covering fatal accidents, fatal assaults and sexual assaults for the two-year period prior to the report. Lyft has reportedly said that it, too, is preparing a study on internal safety records, but the company has given no indication of when that document will be made public.
How much of a concern is the safety of riders, drivers, pedestrians and others who use apps like Uber and Lyft? And how can everyone who uses these apps make sure they're staying as safe as possible?
Accidents
There is scant public evidence to tell us how many accidents in recent years have involved a ride-sharing vehicle. The report Uber published in 2019 details the number of fatal accidents but omits all other accidents, and Lyft has yet to publish any data about accidents related to its platform.
According to the National Highway Traffic Safety Administration, more than 6.7 million traffic accidents took place in 2018, the most recent year for which the administration has published complete data. That figure represents an increase of about 4% from the previous year.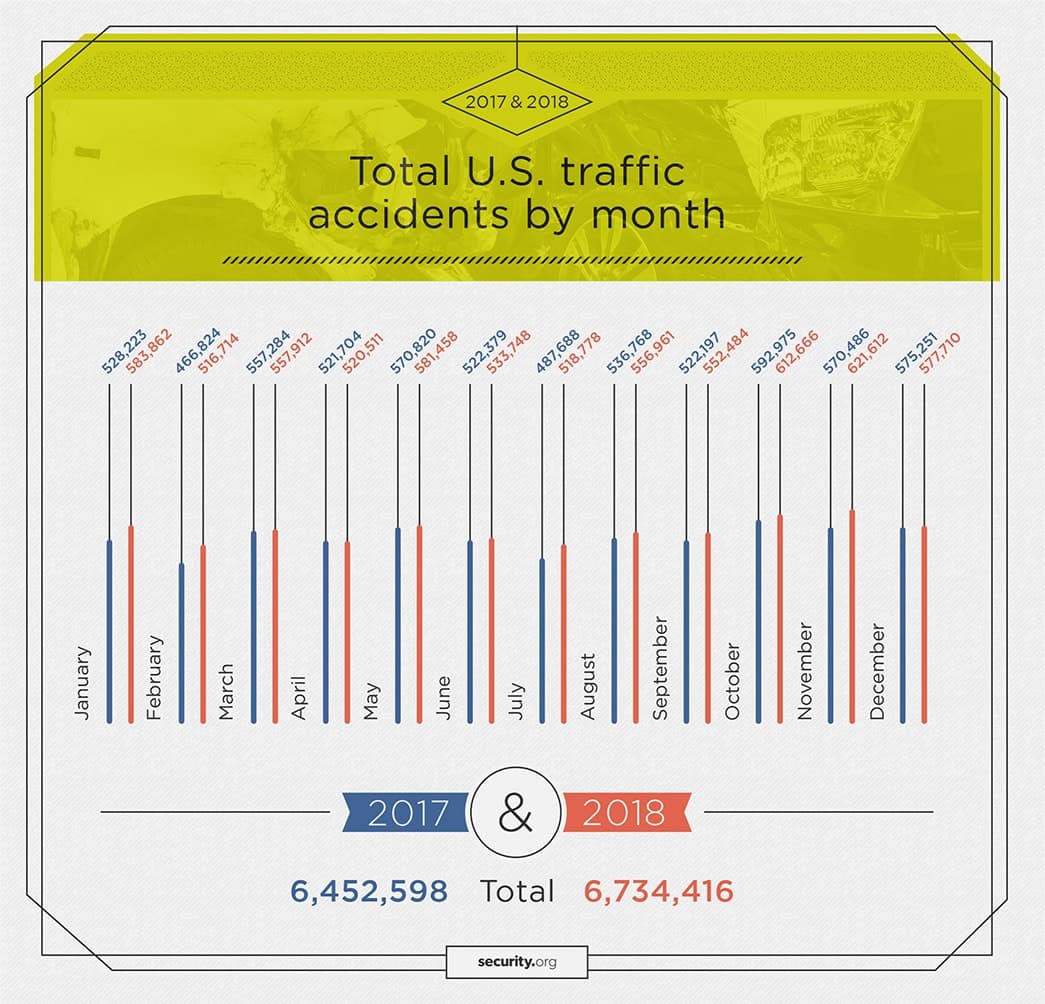 But the majority of vehicle accidents do not result in serious injury, and even fewer are fatal. While the number of accidents causing injury saw a slight increase between 2017 and 2018, the number of fatal crashes actually declined by about 2%.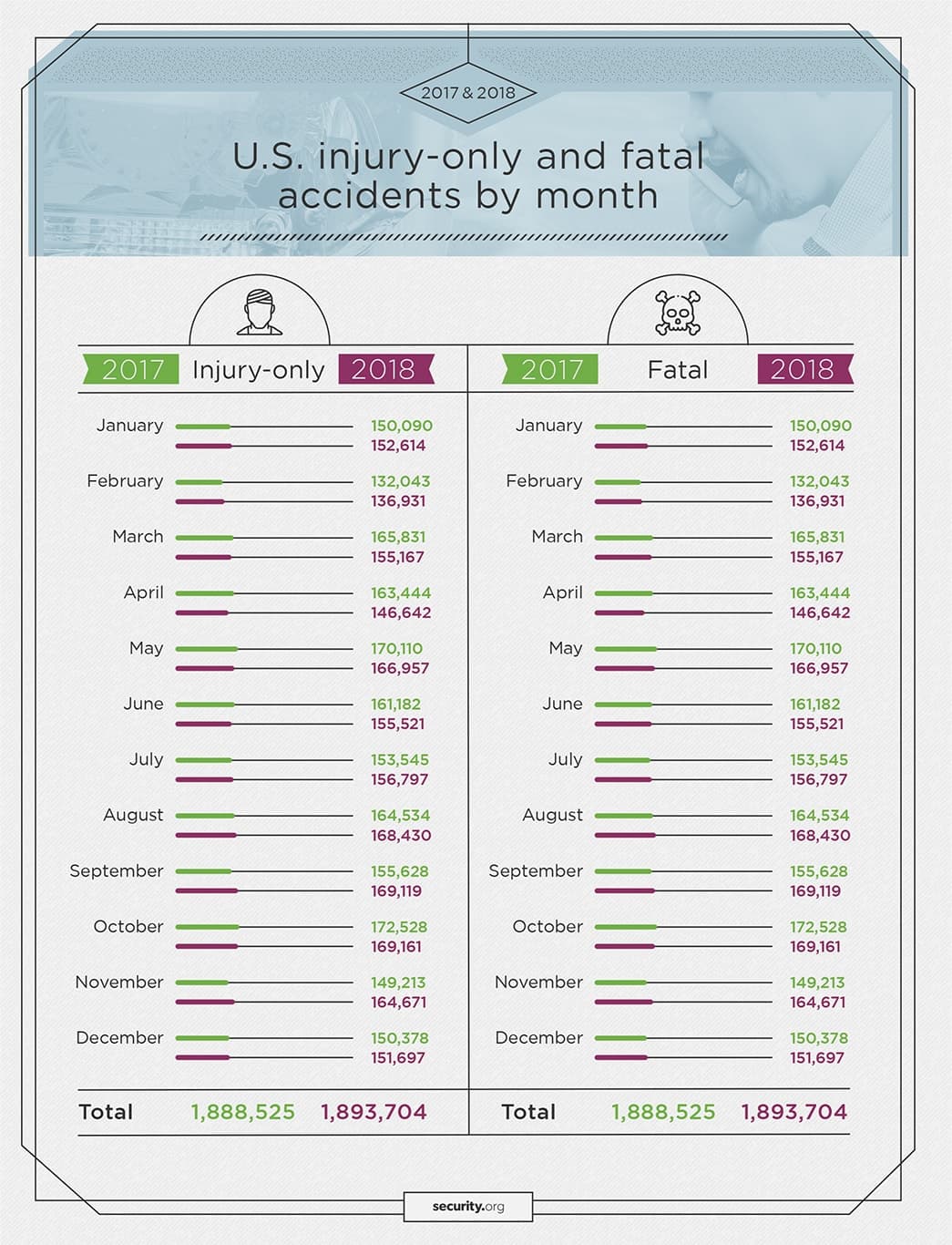 A 2018 study conducted by researchers at the University of Chicago's Booth School of Business attempted to quantify the impact of ride-sharing apps on fatal auto accidents in the United States. Researchers analyzed traffic deaths in major U.S. cities in the two years before and after major ride-sharing app rollouts between 2001 and 2016, and they found that ride-sharing apps were associated with a 3% increase in fatal car accidents in those cities.
More than 36,000 people died in traffic accidents in 2018 alone, and a 3% increase would equate to nearly 1,100 more lives lost.
Uber's 2019 report makes no mention of the overall number of accidents involving its app in either 2017 or 2018. As we know from national data, non-fatal accidents are far more common. In fact, among accidents reported in 2018, fatal crashes accounted for less than 1% of all U.S. traffic accidents.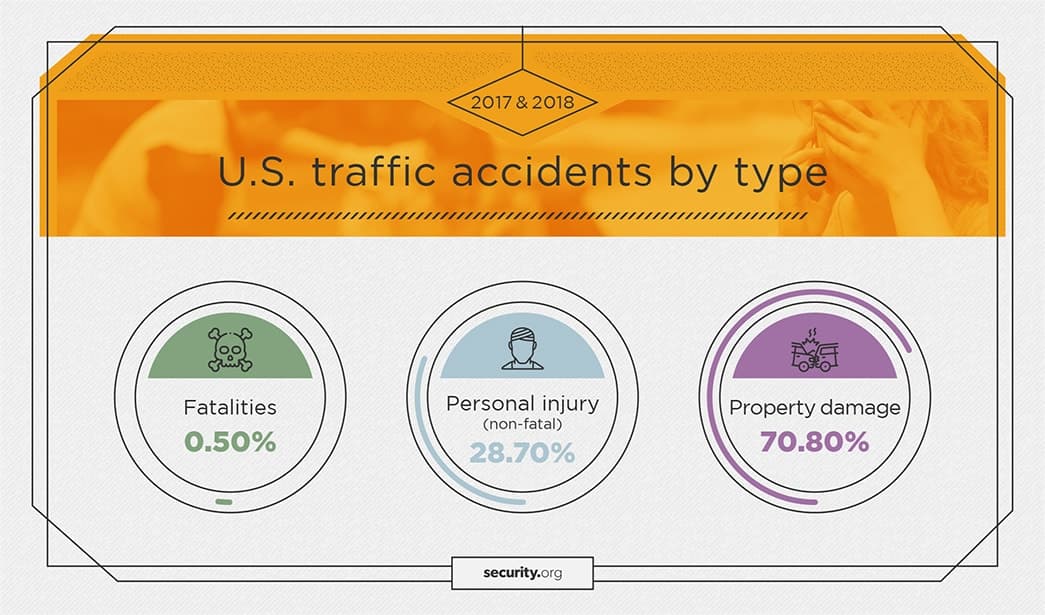 Uber reported that during its study period, there were 97 fatal crashes involving drivers or riders using the app and 107 total fatalities as a result.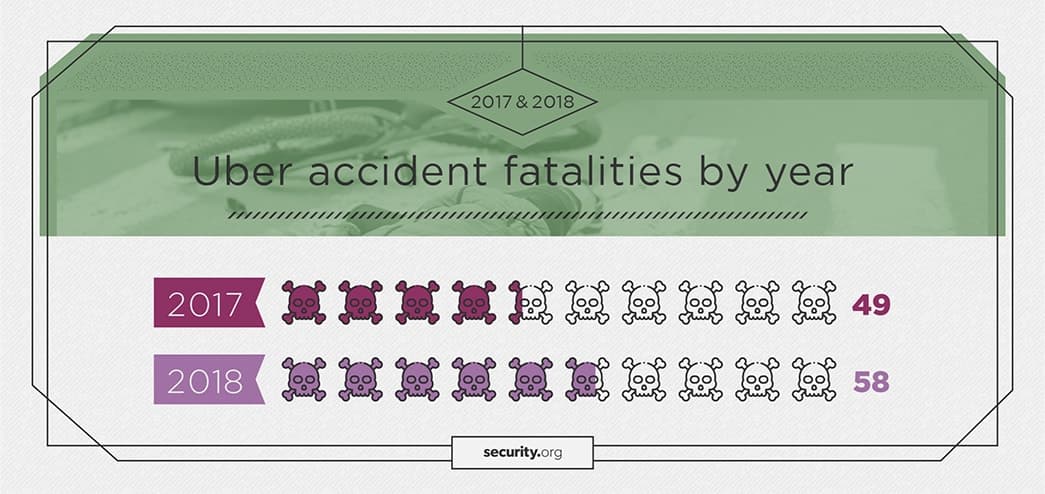 Using simple math we can see that the number of fatalities related to an Uber trip went up by more than 18% between 2017 and 2018, but the company uses an alternate method of calculation that takes into account the total number of miles driven and the percentage of trips that resulted in a fatality. While this has its merit, as most accident statistics are reported using some means of controlling for volume (such as disease rates that are reported according to a per capita metric), this method has at least one major flaw: Uber includes the miles driven while the driver was en route but without a passenger as well as miles driven with the passenger or passengers in the vehicle.
But the company does not clarify in its report several factors relating to miles driven, such as what the average is for miles driven en route to passenger or, crucially, how fast the company estimates its drivers go. Much has been made of the reportedly paltry sums Uber and other ride-sharing drivers earn, but a major portion of their income is based on tips, and depending on how long it takes them to reach their passenger, they could be risking losing out on precious dollars. This might entice them to drive faster than they would otherwise.
And there's an even larger flaw here — the company acknowledges that 22 fatalities occurred but are omitted from the report because the company was unable to locate complete data for them in federal reports.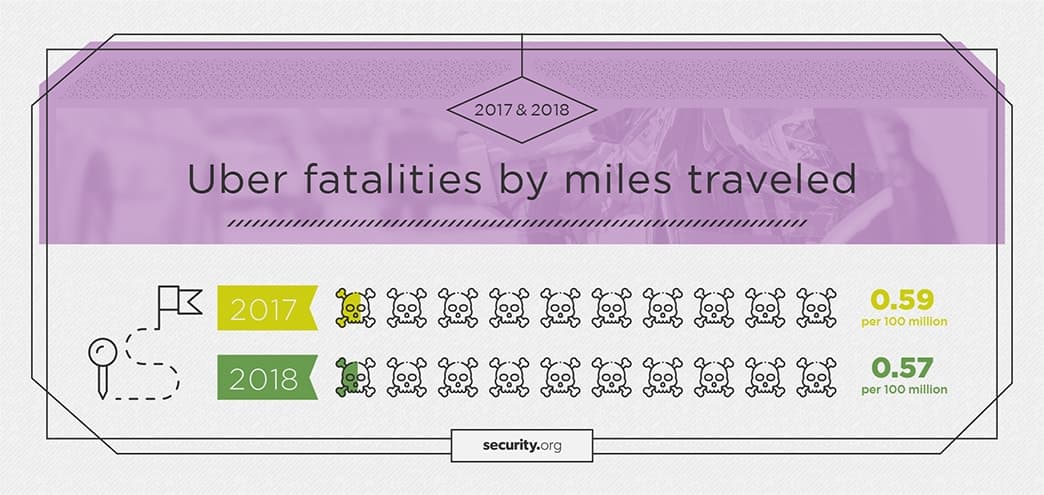 In its report, Uber says this means their fatality rate declined by 5%, but simple math shows the change is more like a 3.3% drop, though the company notes that rounding may prevent numbers from aligning.
The company also claims a 5% rate drop based on an increased number of fatalities balanced with an increased number of trips. But the percentage at which these fatalities occurred does not appear changed in the Uber data, a factor the company attributes to rounding. In both years, Uber claims that 0.000005% of trips resulted in any fatalities. However, it's fair to question why a company would publish an 84-page report ostensibly aimed at transparency that omits full, unrounded rates.
Uber and other ride-sharing apps are intended to make the lives of riders and drivers better and more convenient, but the biggest victims, according to Uber's own data, are bystanders. Nearly 1 in 3 Uber-related fatal accidents involved a pedestrian or cyclist, and uninvolved pedestrians accounted for more than 1 in 5 Uber-related fatalities between 2017 and 2018.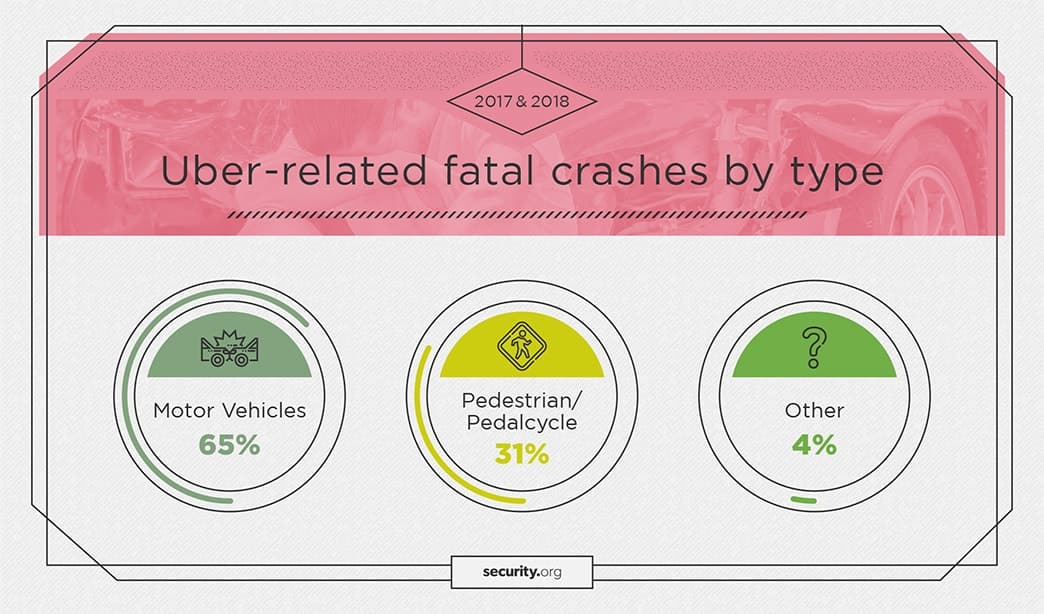 While active riders and drivers accounted for more than 1 in 3 deaths, the majority of people who were killed in accidents relating to the app were uninvolved with it.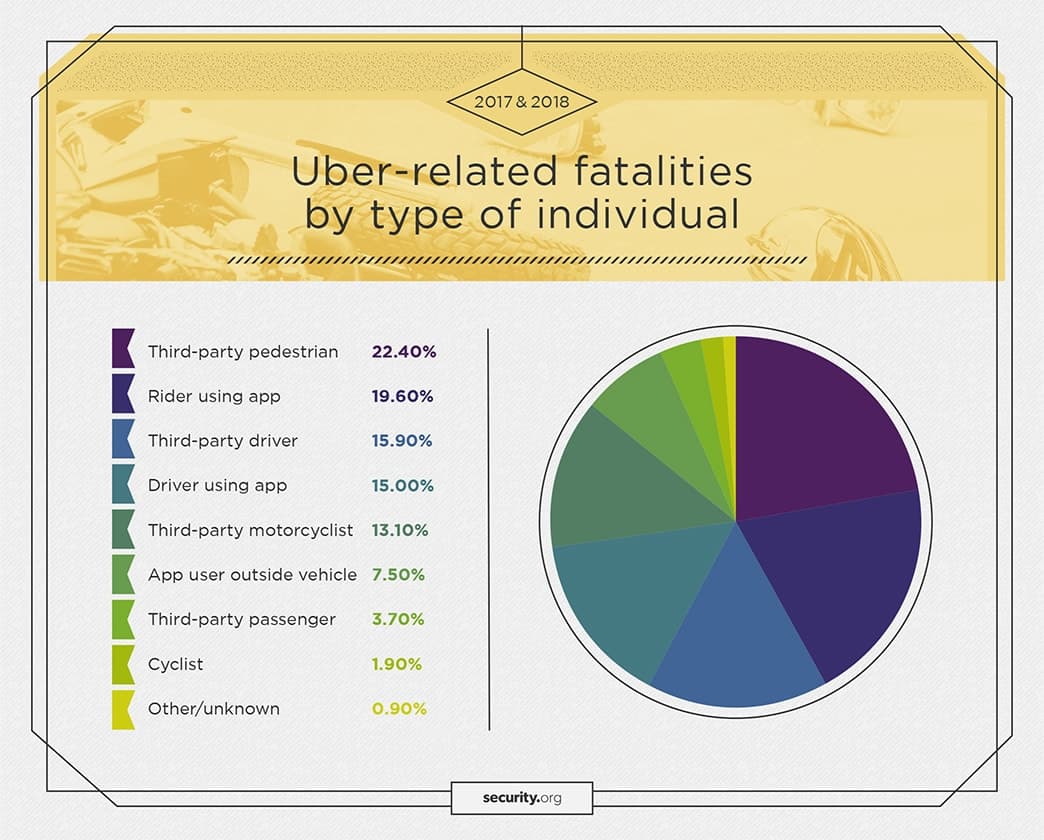 Physical Assault
While tragic in the case of fatalities or serious injuries, auto accidents are an unfortunate fact of life. Even the best driver can make the wrong split-second decision and end up in a collision. More avoidable, on the other hand, are attacks and physical assaults.
As with accident statistics, Uber did not publish any data on non-fatal physical assaults that took place in connection with its platform, but the company says that during the period it studied (2017-2018), 19 deadly physical assaults occurred in relation to Uber trips.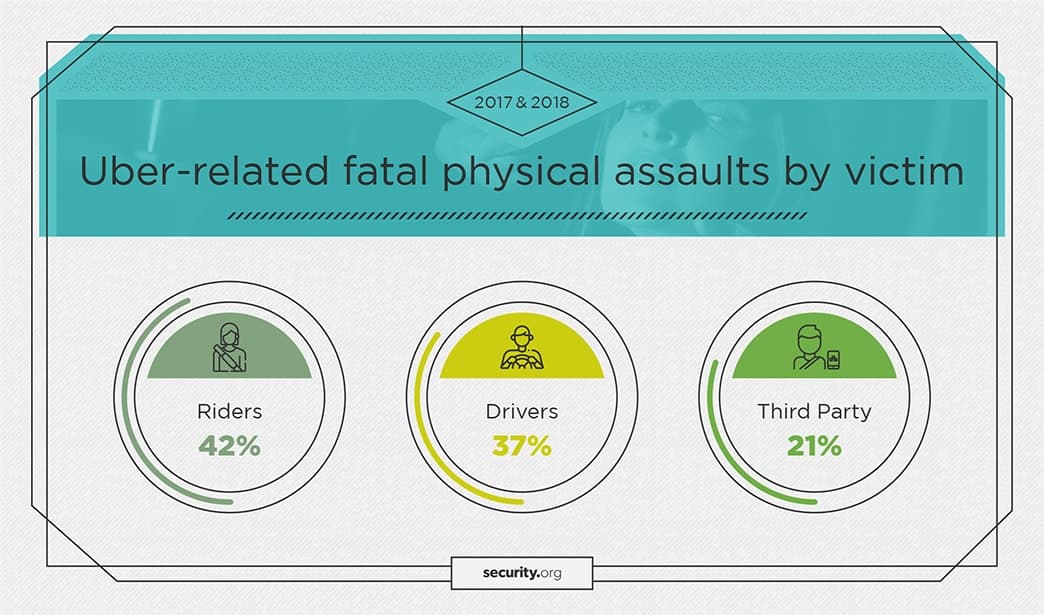 No data was provided by Uber about the age, sex, ethnicity or other personal information on the people who died in these assaults, and no information on the alleged assailants was published, though the company notes: "… [I]n many of the fatal incidents reported to Uber, it was a third party who was accused of fatally wounding a rider or driver using the Uber app."
Uber uses two factors to determine if a fatal assault qualifies for inclusion in the company's safety report:
1

"The incident involved at least one person on an Uber-facilitated trip, not necessarily with parties paired by the Uber app, or;

2

The incident occurred between parties that were paired via the Uber app, regardless if the incident occurred during a trip (up to 48 hours after the trip has concluded)."
Because the company published no information about the alleged assailants, it's unknown how many of the fatal assaults that took place in connection with Uber were murders and how many, if any, could be classified as manslaughter or justifiable homicide.
Sexual Assault
Uber reported that nearly 6,000 incidents of sexual assault or attempted sexual assault across five specific categories occurred in connection with its platform during 2017 and 2018. Here are the categories the company outlines:
Non-consensual kissing of non-sexual body part
Attempted non-consensual sexual penetration (includes clothing removal or attempt)
Non-consensual touching of sexual body part
Non-consensual kissing of sexual body part
Non-consensual sexual penetration
The company is clear in making a distinction between rape and "non-consensual sexual penetration" based on the notion that Uber's definition is more expansive than many criminal codes. But without knowing the specifics of every single incident included in the data, all of the acts the company slots in this category would by most modern definitions be consistent with rape.
In addition to these tortured definitions, the number of sexual assaults or attempts detailed in the report likely does not encompass all sexual assaults or attempts that actually occurred. That's because in making clear that their data covers the five categories listed above, the company appears to be saying other assaults of a sexual nature were reported but not included in their analysis because they fell outside those categories, and we've already established that non-fatal physical assaults were unreported.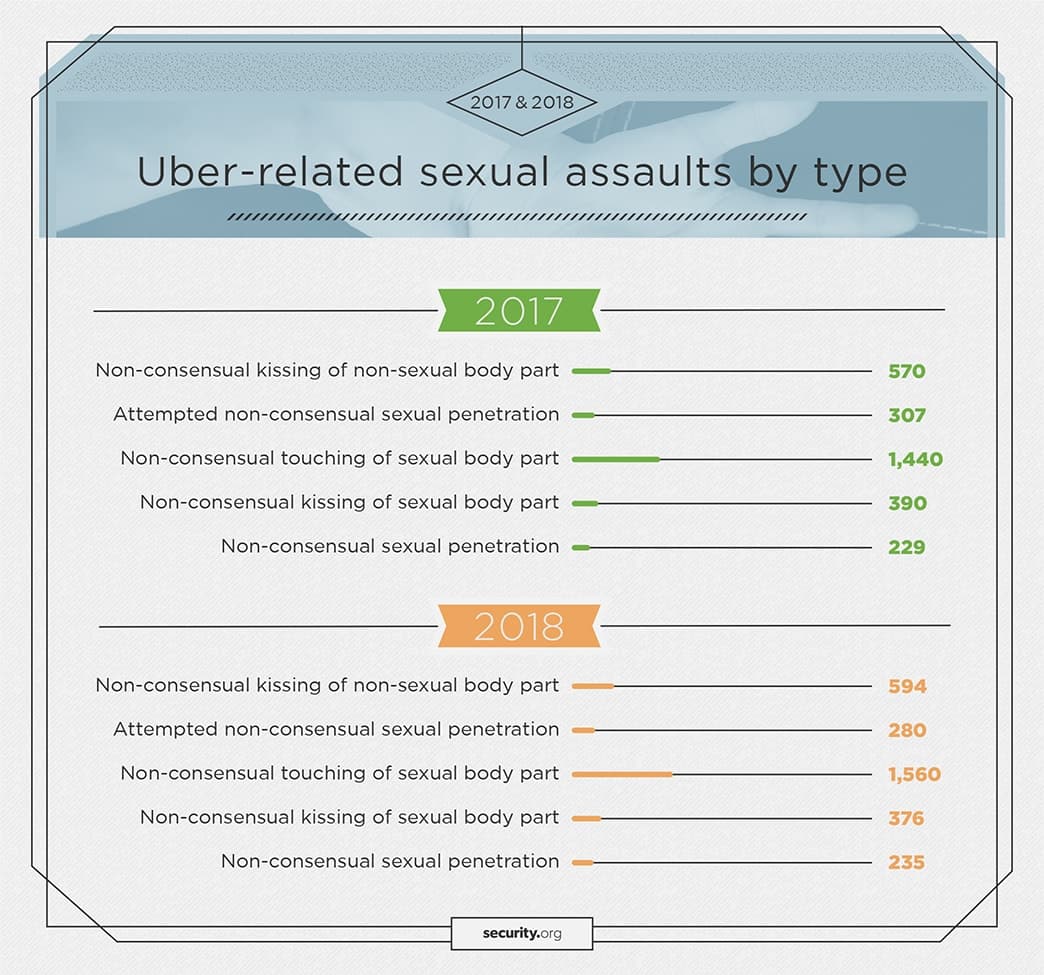 In many cases, the number of incident types increased between 2017 and 2018, but Uber claims, based on incidents by percentage of trips, that an average decline of 16% was noted across the five categories reported.
Data included in the report is not expansive enough to indicate how many of the 5,978 sexual assault victims were riders, how many were drivers and how many were uninvolved third parties.
The company cites media coverage as unfairly indicating that drivers commit the majority of sexual assaults connected to the platform, and the company attempts to provide some evidence to indicate that the balance between riders and drivers as victims of sexual assault is more balanced than news coverage might suggest.
However, the data the company provides does not give many details about victims, instead focusing on the reporting party. There's only one case where Uber gives us sufficient information to deduce the ratio of victims, and in this one case, the ratio is heavily skewed toward the rider-as-victim scenario, so while there's no doubt that drivers are also victims of sexual violence, Uber's data does not indicate the seriousness of the issue for drivers.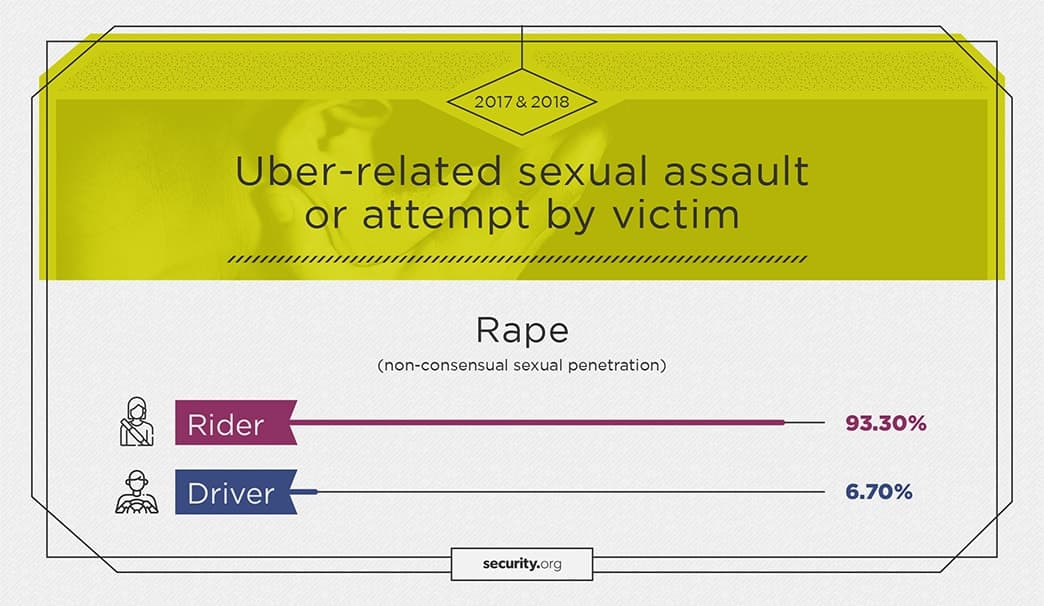 The company does provide a few more details about these incidents, including: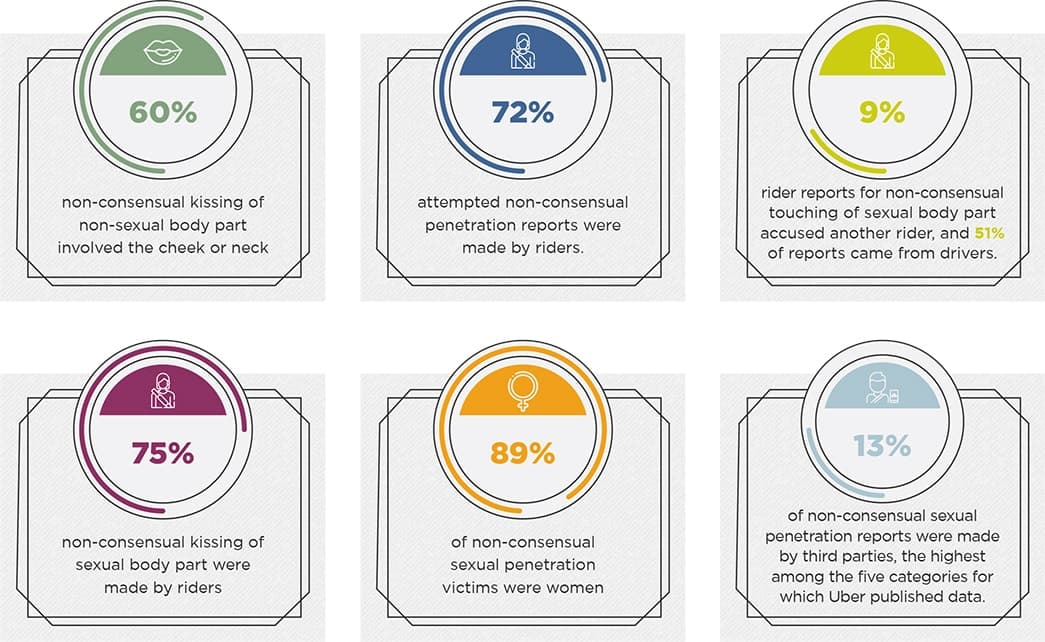 Uber indicates that in about 1 in 3 rape or non-consensual sexual penetration incidents, law enforcement was reported to be involved, though the company does not indicate the level of law enforcement involvement for any other incidents, and it does not detail any outcomes of possible criminal cases.
What About Lyft?
The bulk of the data we've discussed so far is from Uber's 2019 self-reported study, and that's for good reason — there's only one data set that Lyft has released that has anything to do with safety or transparency, and it is far from expansive.
Lyft's website includes a link to a report on information requests made by law enforcement agencies in 2018, though the company provides no details about any internal data it might have on reports its own users have made, nor does it give details about any specific allegations of crimes made in connection with the law enforcement requests it's received.
However, we can see some patterns in this report, which includes a state-by-state breakdown of law enforcement information requests.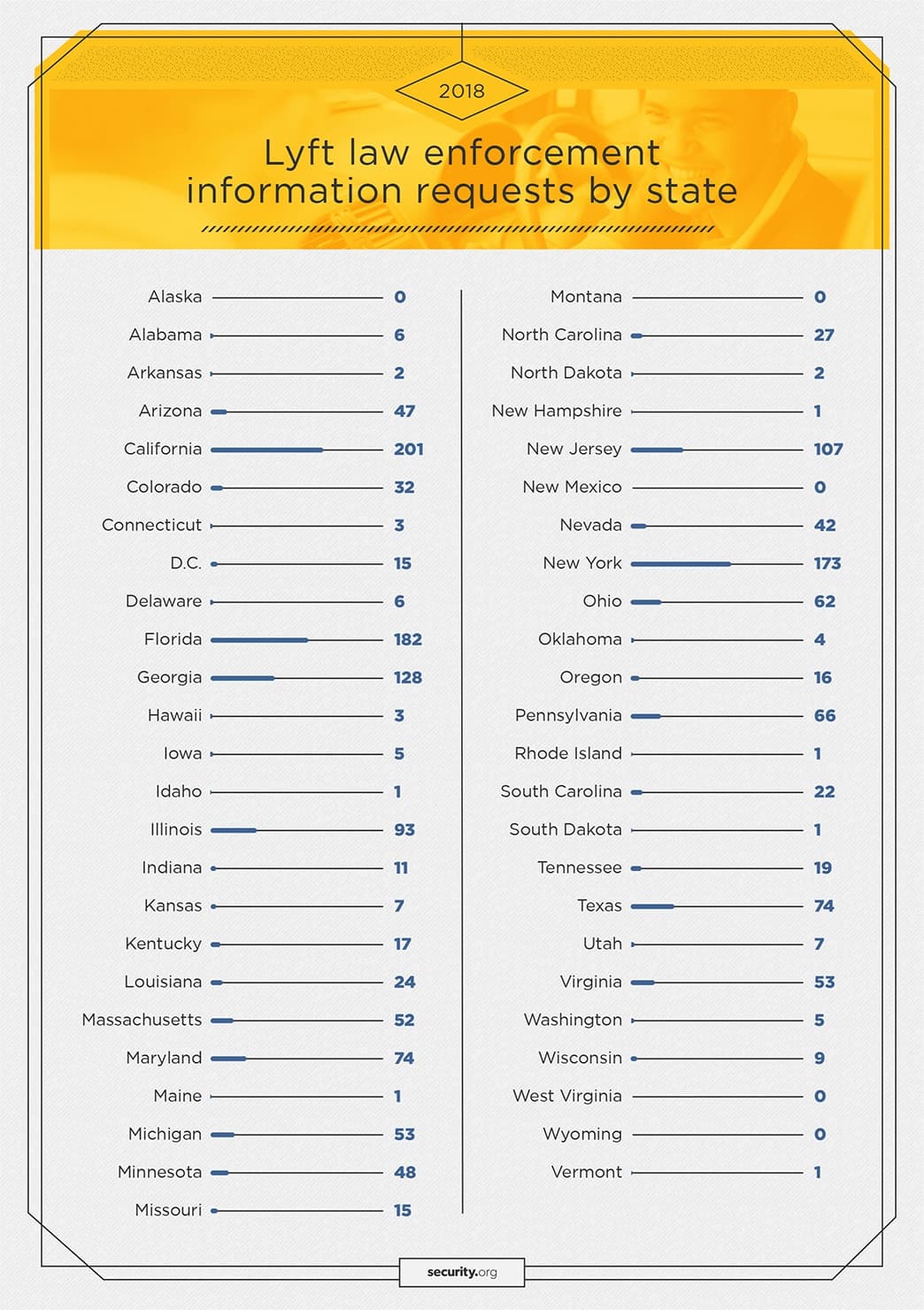 The majority of requests were from state officials (88.4%), while a much smaller proportion were from federal authorities (11.6%).
So … Are Ride-Sharing Apps Safe?
If you accept the results of the University of Chicago's Booth School of Business that the introduction of ride-sharing services in major American cities results in a 3% annual increase in the number of accident fatalities, then it's tough to argue that these apps make our roads safer.
But does that mean ride-sharing itself is unsafe? After all, according to Uber's data, only about 1.4% of the trips its drivers logged between 2017 and 2018 included any support requests or incident reports. Uber says that only 0.0003% of incident reports were for critical safety issues.
Perhaps the real problem is in what we don't know. On its face, Uber's report is incomplete, and there's little doubt that hundreds or even thousands of incidents, whether accidental or assault-related, were excluded. Even worse, both Uber and Lyft have for years lobbied California regulators to exclude them from a legal requirement that they file annual reports on accidents and safety data, according to news reports. Both companies have their headquarters in San Francisco.
Also, the fact that Lyft is quick to trumpet its cooperation with law enforcement in providing user data may not sit right with people who are concerned about their security of their personal information.
Ride-Sharing Safety Tips
Both Uber and Lyft have introduced features in their apps aimed at ensuring both rider and driver safety, and the companies tout their efforts at screening and training their fleet of drivers. Many of those features do represent major improvements, and here are our favorite safety tips for ride-sharing:
Tell Someone: Whether using the built-in features that both Lyft and Uber have to share the details of your trip with others or texting a friend that you are about to take a ride, let someone know where you are, where you're going and when you expect to be there. Both apps have features that allow the person you share your details with to follow you along your journey.
Confirm Before You Get In: Some of the most tragic and heartbreaking cases of people being assaulted or killed in connection with ride-sharing services are because of incidents that started when they got in the wrong car. Confirm the name of the driver before you get in as well as the license plate number, and instead of saying your name first, make the driver tell you who their passenger is. Uber recently introduced a new safety feature in which riders and drivers are issued a unique pin for every pickup.
Remember, You're in a Car, Not a Tank: The rules that apply to you inside your own car still apply in ride-sharing vehicles, so even if you're in the backseat, wear your seatbelt. Also, be sure to sit in the backseat; a large percentage of incidents have occurred when the rider is in the front seat, according to experts.
Be Aware: Both inside and outside the car, be aware of your surroundings. It's tempting to become engrossed in your phone or conversation with another rider or the driver, but it's important for your own safety, and sometimes for the overall price of your trip, that you ensure the driver is following the route. Avoid ordering or waiting for a ride outside in the dark, where you could become the victim of a pickpocket or attacker.
Don't Give Personal Information: Making conversation is great and will likely help your rating on a ride-sharing app, but don't overshare. Keep it casual and give no details out like your contact information.
Make a Call: Uber and Lyft both offer users in-app ability to call 911, and if you're beginning to feel unsafe with your driver or another passenger, ask the driver to pull over and let you out, assuming it's safe to do so. If they refuse to pull over or find a safe place to pull over, call 911.
Drivers Are People, Too: As Uber made clear in its report, riders and third parties are not the only people with something to lose in an accident or assault. For drivers, safety means things like focusing on the road and not the app, encouraging passengers to get in the backseat instead of the front, making sure passengers are wearing their seatbelts, being alert for pedestrians and cyclists and giving fair feedback on riders.