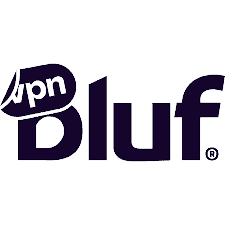 BlufVPN Review and Pricing Plans
This relatively new VPN has a low price, but what do you get for your money?
Military-grade encryption
Price under $10 per month
Access to Hulu, Disney Plus, and HBO Max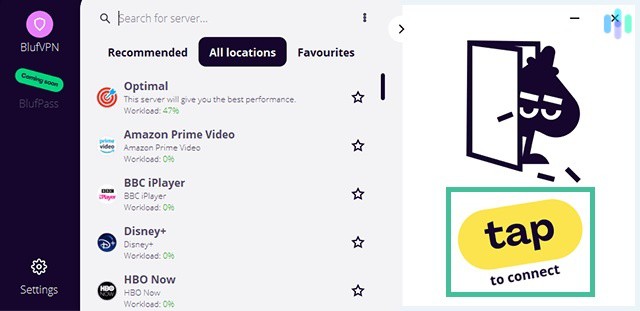 All of our content is written by humans, not robots.
Learn More
By

&

Last Updated
Oct 16, 2023
Founded in 2020, BlufVPN is still relatively new. Of course, we're always on the lookout for new VPNs. You never know when a company will rewrite the rules and offer some amazing new security technology or a shockingly low price. When we heard about BlufVPN, we knew we had to check it out.
We put the new VPN to the test, looking at what protection it offers, what features you can get, and that all-important question: What does it cost?
Is BlufVPN the next big thing in VPNs? We have all the important details to help answer that question below.
BlufVPN Pricing
Let's start with the bottom line: What will you pay for a BlufVPN subscription?
Almost all VPNs base their prices on subscription length. A single month will be one price, and it gives you the security of knowing you can get out of the contract whenever you want. The longer the commitment you're willing to make, the more money you can save. With BlufVPN, that means you can get as much as 80 percent off if you sign up for a full three years.
BlufVPN Price Guide
| Plan | Price per month | Annual price | Savings |
| --- | --- | --- | --- |
| 1 month | $9.99 | $119.88 | 0% |
| 1 year | $3.48 | $41.76 | 66% |
| 3 years | $2 | $24.00 | 80% |
Less than $10 per month is a good price for a single-month VPN subscription. Many entries on our list of the best VPNs cost $13 or more per month. NordVPN charges $14.29 for a month, but NordVPN is a top-notch service. BlufVPN's $2 per month for three years is as low as any of the VPNs we review.
We also like that BlufVPN doesn't have any hidden charges. Some companies let you sign up for a good rate with great savings, but they raise the price once your subscription term is up. Not BlufVPN. You can get any of these subscription prices now, and expect to pay the same rate when it's time to re-up.
You can check out BlufVPN with absolutely no risk, no matter which subscription plan you choose. The company offers a 30-day money-back guarantee, which is plenty of time to decide if the service will do what you want it to.

BlufVPN Features
Now you know what BlufVPN costs, but what do you get for that price? You should know up front that BlufVPN doesn't offer a lot of fancy extras. It does, however, provide the important features, safety, and security components you buy a VPN for in the first place.
Military-Grade Encryption
When it comes to VPNs, encryption is everything. By definition, a VPN is an encrypted tunnel that allows you to connect safely to the internet. The higher the encryption, the safer the VPN. BlufVPN uses AES-256 encryption. How safe is that? It's used by the U.S. military and intelligence agencies, so pretty safe.
Tested Protocols
Another key component of a VPN's security is its protocols. These are the instructions the program uses to make its connections. BlufVPN offers the gold standard: a protocol known as OpenVPN. OpenVPN is open source, and it's been around for over two decades. That means it's been thoroughly tested by the VPN community and proven effective. OpenVPN runs a little slower than some newer protocols because it has more code, but it offers guaranteed security when you're online.
FYI: When a VPN connects you to the internet, it must go through several steps to ensure your data is encrypted. A protocol lets the VPN know in what order to perform these steps.
Leak Free
No matter how good its encryption or protocols, a VPN isn't safe if it leaks. A WebRTC can expose your IP address to anyone who happens to be watching the system, and a DNS leak can reveal what websites you're visiting. We tested BlufVPN, and we're happy to report that it's 100 percent leak free.
600 Servers
BlufVPN maintains 600 servers in 50 countries. That's a healthy number, and it includes servers in the U.K., Australia, Japan, United Arab Emirates, South Africa, and Germany. You can be sure you'll find a nearby server wherever you happen to be, which will improve your connection stability and speed. Of course, there are VPNs with considerably more servers. PureVPN, for instance, has more than 10 times that amount, but BlufVPN has more than enough servers to support the number of users it handles.
Prime Location
As they say in real estate, location is everything. VPNs, however, don't work exactly like storefront property. A VPN's security rests to a certain degree on what country it chooses as its headquarters. BlufVPN is based in Estonia, which may not sound like the flashiest location, but that's a good thing. What it has going for it is that it operates outside the Five Eyes, Nine Eyes, and 14 Eyes surveillance alliances. Countries that belong to these groups have agreed to share intelligence with one another, including information about their own citizens' online activities. VPNs in these countries must turn over customer records if they receive a subpoena. Estonia isn't flashy, but by basing its operations there, BlufVPN ensures your data is safe from the prying eyes of any government.
Shared IP Addresses
When you connect to the internet through BlufVPN, you're assigned an IP address that you share with many other users. The benefit of that system is that no one can connect you to any specific address because hundreds — maybe even thousands — of people are all using it at the same time.
Kill Switch
A kill switch is an important piece of equipment that protects you if you lose your VPN connection. Basically it shuts down all your activities immediately so there's no chance anyone can see what you're up to. We like that BlufVPN includes one, but we weren't impressed by the inclusion; kill switches have become standard on most reputable VPNs.
That's what BlufVPN does to protect users, but what does the service offer in terms of bonus features — tools to improve convenience and entertainment options?
Five Devices
Who has just one device these days? You've got a cell phone, a laptop, a smart TV, and a tablet. BlufVPN lets you install its VPN on up to five devices with one subscription, and use all five at the same time. That's great for those times when you simultaneously need to get some work done, listen to your tunes, keep an eye on the soccer match, and be on call for your sister who's having her first baby.
Multiple Operating Systems and Platforms
Another benefit of BlufVPN is that it works with a variety of operating systems and platforms. The company provides apps for Windows, Macs, iPhones, and Android devices, plus support for Chrome, Firefox, and Edge.
Access to Streaming Services
VPNs are essential for online safety and security, but a lot of people get them to access more streaming content. Most streaming services offer different content in different geographic areas. Hulu in Atlanta, for example, is different from Hulu in L.A. Don't get us started on the many differences between Netflix U.K., Netflix Japan, and Netflix Germany. A good VPN can give you an IP address from any of those countries, so you can access any content from anywhere on the planet. Of course, not every VPN works with every service. So far, we've been able to use BlufVPN to access content from all the big providers, including Netflix, Hulu, HBO Max, and Disney Plus. If you're interested in streaming content with your VPN, see our guide to the best VPNs for streaming.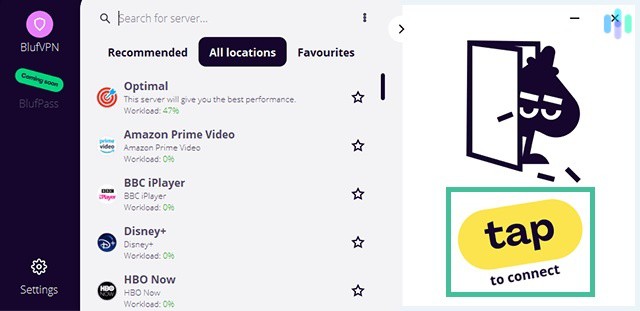 BlufVPN Limitations
A kill switch is nice, and we love the access BlufVPN provides to our favorite streaming services. There's a lot BlufVPN doesn't offer, though, especially compared to other VPNs.
No Multihop
Multihop technology is relatively new, so we're not surprised BlufVPN doesn't yet have it. We wish it did though. A regular VPN routes your internet connection through one encrypted tunnel. A VPN with multihop routes it through two or more, so you're even more protected.
No Camouflage Mode
Another recent technology BlufVPN doesn't yet have is camouflage mode. VPNs assign you a new IP address to conceal your identity and where you're from, but with BlufVPN anyone watching may be able to tell you're using a VPN. VPNs with camouflage mode also conceal that you're using a VPN, so no one thinks you're up to anything suspicious.
Pro Tip: Camouflage technology conceals that you're using a VPN, which is essential if you're logging on in countries where VPN use is illegal.
Sketchy Log Policy
BlufVPN claims it has a strict no-logs policy, but that's not entirely accurate. When we looked at the company's privacy policy, we discovered that it actually collects:
IP addresses
Browser types
Operating systems
Device names, codes, and manufacturers
Time zones
Connection types
Wi-Fi network names
Total amount of web traffic
Session dates
Number of devices using the service
That's not nothing. It's more than enough information for the government to track your movements on the web. BlufVPN says it retains the data only while you're signed on. As soon as you sign off, the service supposedly deletes it all. In addition, BlufVPN operates outside Five Eyes, Nine Eyes, and 14 Eyes jurisdiction, so theoretically it can't be forced to turn over data to the government. Estonia, though, is part of the European Union, which has strict digital laws.
What if something goes wrong and our info doesn't get deleted when you sign off? Or if a government agency decides to track you while you're logged on? Maybe most importantly, why can't BlufVPN be up front and admit it doesn't actually have a no-logs policy?
No Split Tunneling
Among BlufVPN's other limitations, it doesn't provide split-tunneling, which lets you access the regular internet at the same time you're using a VPN. You can conduct any business that needs to be secure through the VPN while you use the regular internet for things like listening to Spotify. You save bandwidth and wind up with faster connections.
No Dedicated IP Addresses
A dedicated IP address is a special address some VPN companies offer. Like shared and rotating addresses, it conceals your identity. Because it's assigned to you and you alone, however, it stays the same every time you log on to the VPN. That's helpful when it comes to signing in to bank accounts and other password-protected sites. It means you don't have to go through a new security check every time you log on. We were a little disappointed that BlufVPN doesn't offer them, even for an extra fee.
Wonky Torrenting
We're not embarrassed to admit it: We're entertainment junkies, so sometimes streaming services just aren't enough. Every now and then we're looking for an obscure 1970s tune we just can't find anywhere else. In those situations, we turn to (legal) torrenting. The good news is, BlufVPN has servers specially dedicated to torrenting. The bad news is they slowed down our connection. Worse, we sometimes lost our connection altogether. Frustrating.
Spotty Netflix Access
We had no problem connecting to Netflix through BlufVPN, but some other users report that they can't always get through to the streaming service. Services like Netflix constantly update their software to try to block VPN users from accessing geo-restricted content, and you never can tell when a VPN might lose the ability to connect to a particular service. We can't help thinking, though, that it may help if BlufVPN invested in camouflage technology.
Looking for a VPN that gets through to Netflix every time? Check out our list of the best VPNs for Netflix.
| Feature | Details |
| --- | --- |
| Servers | 600 |
| Server countries | 50 |
| IP addresses | Shared |
| Encryption | AES-256 |
| Protocol | OpenVPN, Wise TCP |
| Kill switch | Yes |
| Stealth | No |
| Torrenting | Yes |
| Netflix | Yes |
| Five Eyes, Nine Eyes, 14 Eyes | Nonmember |
| Number of devices | 5 |
| Number of simultaneous connections | 5 |
User Experience
You know how much BlufVPN costs. You know what you do and don't get for your money. Let's end this review by talking about the experience of using the service.
Installing BlufVPN
You can get BlufVPN for all four major platforms: Windows, Mac, iOS, and Android. We went with the Windows version. Downloading the app took less than a minute, and setting up the VPN took around five. It was just a matter of opening it, following a series of prompts, and making some decisions about protocols and servers.
We went to the BlufVPN website, which features a big, yellow banner, and clicked the "Get BlufVPN Now" button. Simple as that. You can also download it from Google Play and the App Store as well, and installation is just as straightforward and easy.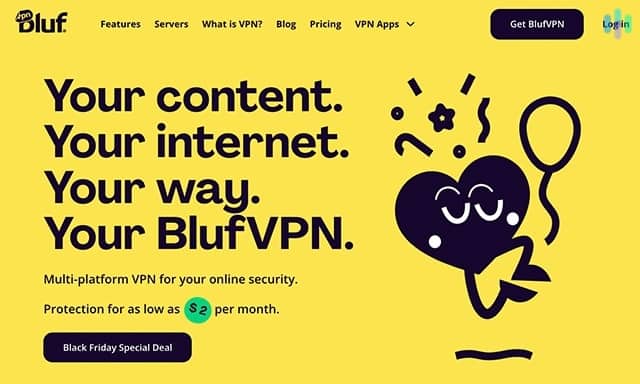 Using the App
We found the app easy to use. Buttons are big and well labeled, so it's virtually impossible to get lost. When you're connected, the right side of the page offers information on all your vital statistics, including:
What server you're using
How long you've been on
Download speeds
Upload speeds
IP address BlufVPN has assigned you
You could also tap the "Settings" button to update your account information and make adjustments to how your VPN operates.
Email and Chat Support
BlufVPN offers a couple support options. There's a contact form, or you can email the company directly. Responses usually happen within 24 hours. BlufVPN also has an online chat line, our preferred method of getting answers to our questions. Unfortunately chat is available only between 9 a.m. and 5 p.m., so if you run into a problem in the evening it'll have to wait until the morning. When we wrote in to ask for advice on which protocol to use, we got an accurate, courteous response in less than 10 minutes.
Recap
Here's the thing with new-ish VPNs: Often you can get things you may not be able to get with more established companies. With BlufVPN, the thing you get is a low price. That's true whether you go with a single month of the service or invest in a three-year subscription. For that low price, you'll get reasonable security and access to most of the best streaming services.
You shouldn't expect any extras with BlufVPN, though, and you should expect some occasional glitches. That's the thing about established companies: They've had time to work out the kinks, so you get a little more even though you may pay a little more.
The old saying is true: You get what you pay for. If you're going to save a few dollars with a company like BlufVPN, you have to expect that you won't get the absolute best in online protection. For the price, though, BlufVPN is a solid investment for anyone looking to improve their device security.
BlufVPN FAQs
We're not done just yet. We've put together a list of your most common questions about BlufVPN, plus our best answers.