F-Secure Freedome VPN Review and Pricing Guide 2023
F-Secure VPN promises secure connections with malware-free and tracker-free browsing
Five-day free trial, no signup required
Blocks potentially harmful sites
Kill switch and split tunneling are available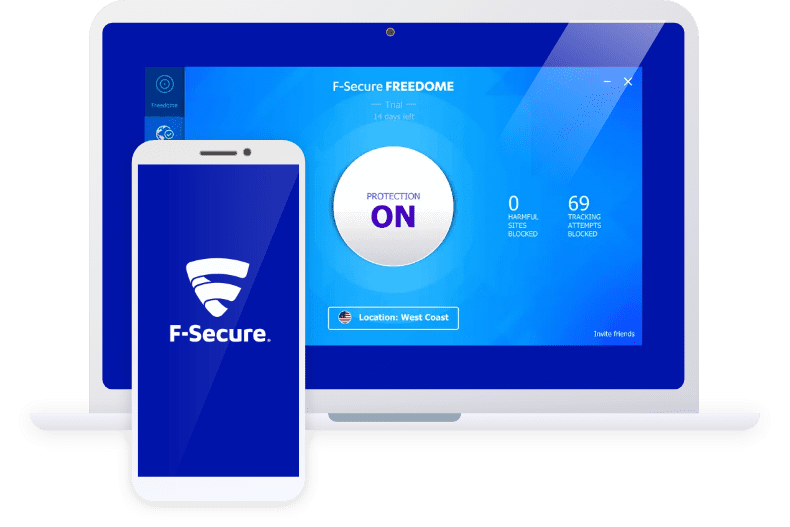 All of our content is written by humans, not robots.
Learn More
By

&

F-Secure has been in the cybersecurity industry long enough to know that hiding your IP address and internet traffic isn't enough to protect your data. It offers a full suite of digital safety products that includes antivirus software, password managers, and, of course, VPNs. We're putting the spotlight on F-Secure Freedome VPN. We'll talk about its features, cost, usability, and performance to determine whether it's the right VPN for you. Ready? Let's start.
F-Secure VPN Cost and Subscription Options
F-Secure VPN's signup process is akin to antivirus software: You need to buy a digital license to use it. Each license can protect either three, five, or seven devices, and will expire in 12 or 24 months. There are no monthly options. F-Secure's pricing is still easy to understand.
| F-Secure VPN licenses | 12 months | 24 months |
| --- | --- | --- |
| For 3 devices | $49.99 | $59.99 |
| For 5 devices | $54.99 | $84.99 |
| For 7 devices | $84.99 | $109.99 |
F-Secure's cost is in line with the pricing of NordVPN, one of the top VPNs available. NordVPN, which can protect six devices at a time, costs $59.88 per year. It's just a tad more expensive than F-Secure's 12-month license for five devices, but NordVPN has top-notch features and performance, as we highlighted in our NordVPN review. It remains to be seen if F-Secure can offer the same value, but we'll get to that in a minute. For now, let's talk about F-Secure's free trial.
F-Secure's Free Commitment-Free Trial
Paying for a one- or two-year license without knowing whether F-Secure is right for you is a bad financial move, which is why we recommend testing the VPN yourself first.
F-Secure offers a five-day free trial for Windows and Mac users. If you think the product is right for you, then you can just download the app and use it free for five days. You don't even need to sign up. You'll have access to a free trial of the full version, which includes F-Secure VPN's features and servers.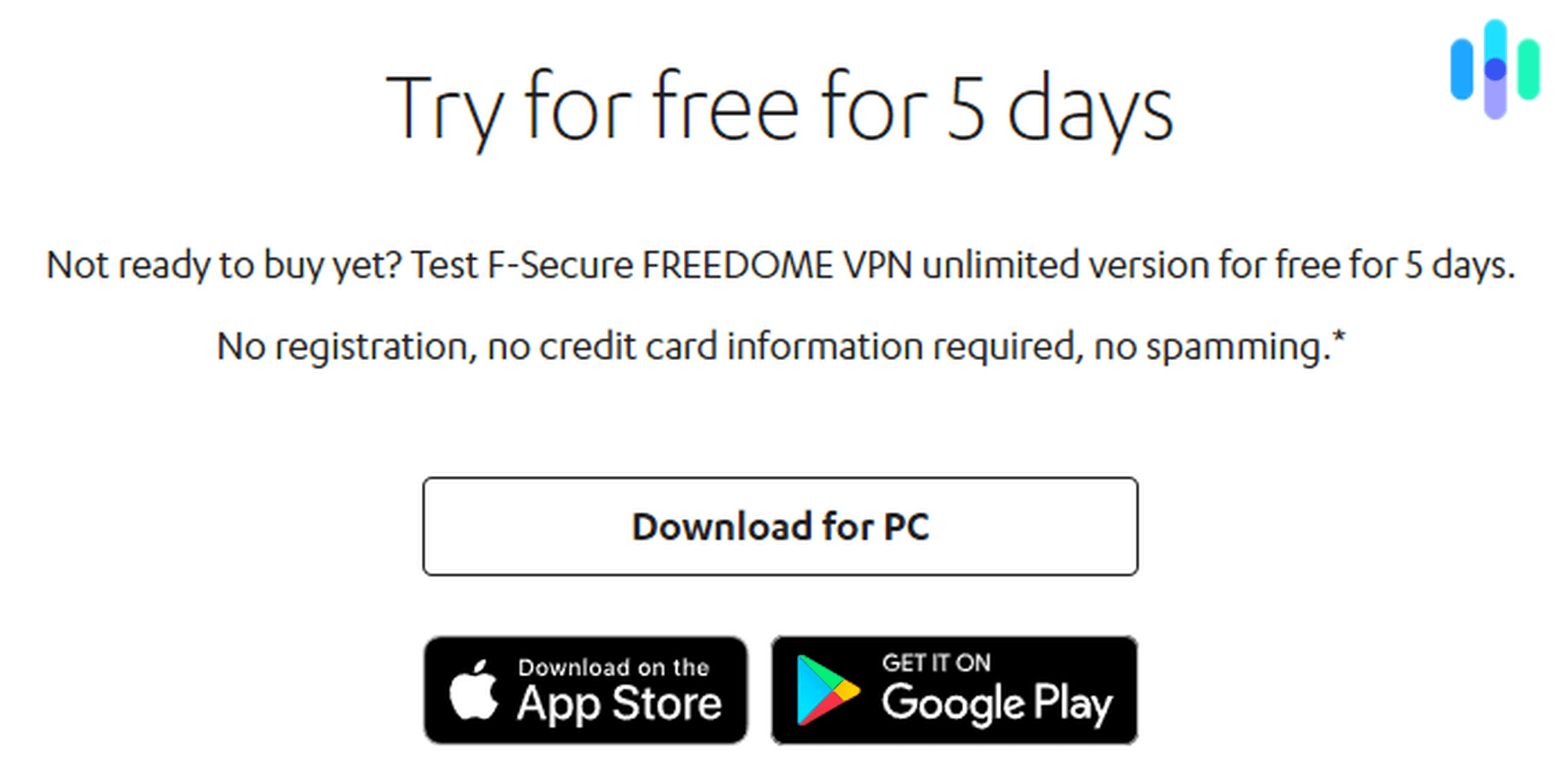 Five days, however, may not be enough to see how F-Secure fits into your daily life. Fortunately, F-Secure has a 30-day money-back guarantee, so you'll have 30 days to try out the VPN. If it doesn't work out for you, then just cancel before the 30 days is up and request a full refund.
FYI: If you buy a subscription through the iOS App Store or Google Play Store, then you'll have seven days to try F-Secure before it charges your payment method. Subscriptions purchased through those platforms are not eligible for the 30-day money-back guarantee.
F-Secure VPN Features
Now that F-Secure's pricing is out of the way, let's determine its value. We put F-Secure VPN through a series of tests over several days, assessing its features, performance, and software. First, let's talk about its features.
Kill Switch
A kill switch is a common VPN feature that blocks your device's internet traffic if the VPN disconnects unexpectedly. It prevents third parties, such as your internet provider and the websites you're viewing, from seeing your real IP address.
F-Secure has a VPN kill switch that does exactly that: It kills your Wi-Fi connection should the VPN go offline. In addition to sudden disconnections, however, the kill switch activates when another device in your network tries to connect to your device. This is to prevent hackers from accessing your data when you're connected to unsecure public Wi-Fi. You'll be able to set trusted networks, such as your home or office Wi-Fi, so you can continue to use network devices like wireless printers.

Split Tunneling
Split tunneling is another common VPN feature, but F-Secure's Windows, Mac, and iOS apps don't have it. Only the Android app has split tunneling, with which you can select apps to bypass the VPN. This is useful when, for instance, you're playing an online game that lags when you use a VPN. By adding the game to your whitelisted apps, you don't have to turn off the VPN every time you play.
Netflix Streaming
More than half of VPN users say they use VPNs to access better entertainment,1 which is another way of saying they use VPNs to watch Netflix and other streaming sites. VPNs can change your Netflix region, giving you access to countless Netflix libraries, but not all VPNs work with Netflix because of the streaming platform's constant crackdown on VPN use.2
F-Secure's website makes no mention of Netflix, but we tested whether the VPN works for streaming, and it does. While connected to an Australian server approximately 10,000 miles from where we live, we were able to stream several episodes of "Space Force" without buffering.
Pro Tip: Your physical distance from your VPN server plays a role in your connection speed. If you want to hide your internet traffic while watching shows that are available in your country, choose the server closest to you for the best speeds.
Tracker and Harmful Site Blocking
Beyond the normal features we see in VPNs, F-Secure has additional security features to protect its users from malware and trackers.
The first security feature is harmful site blocking, which blocks websites known to contain malware. To test this feature, we tried to access one of the sites listed in Norton's (archived) 2009 list of harmful websites3 while connected to F-Secure. The prompt from F-Secure you see below replaced the site's homepage.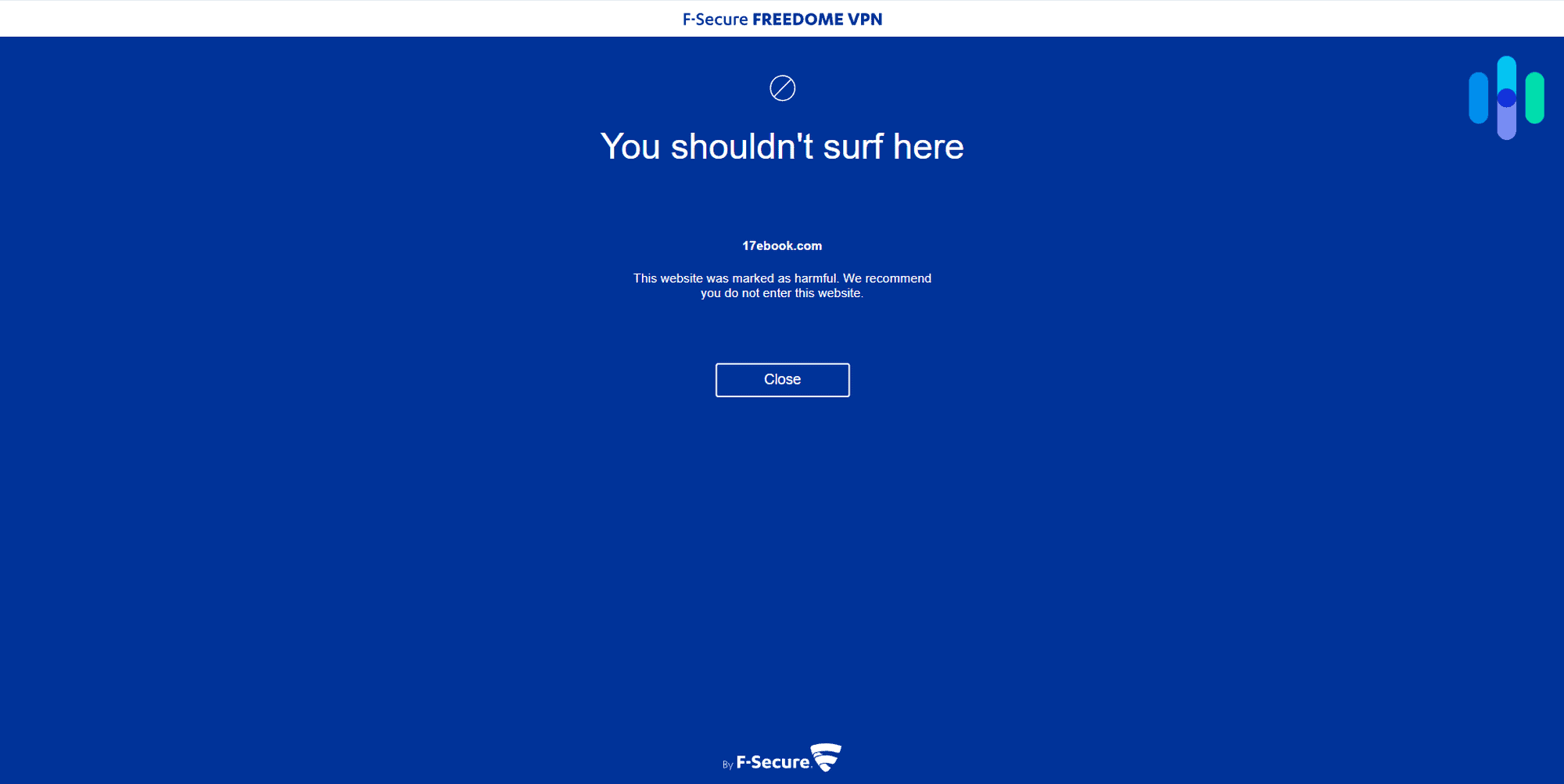 The second feature is tracking protection, which prevents HTTP websites (but not HTTPS sites such as Facebook) from injecting trackers into your devices. The app shows the total number of times it has prevented websites from collecting data from you. Two days into our testing process, F-Secure had already protected us three times.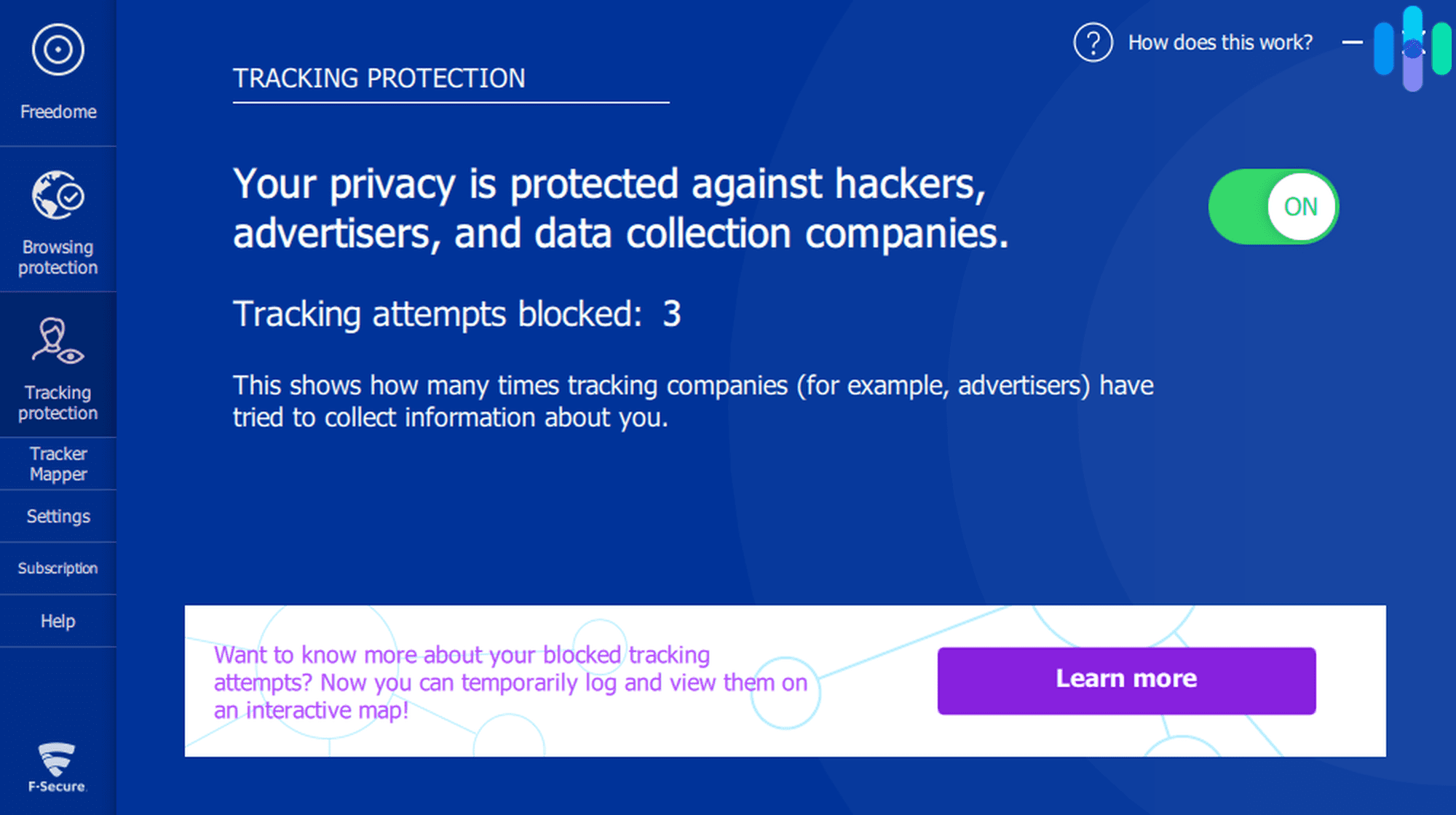 F-Secure VPN Protocols
We've pretty much covered F-Secure's app features, but there are background features we want to talk about as well. One of those is the VPN protocol.
The VPN protocol dictates how your traffic gets from your computer to F-Secure's VPN server and the website you're visiting. It directly affects your connection's security and speed. There are a lot of different protocols, but F-Secure uses only two: OpenVPN and IKEv2.
In our opinion, OpenVPN is the gold-standard in VPN protocols. It's open-source, which means VPN providers can freely modify it for their products. It also balances speed and security like no other VPN protocol.
IKEv2 isn't as airtight as OpenVPN, but it handles network changes well. It can reconnect automatically when you change Wi-Fi networks, which is perfect for when you have to connect to different public Wi-Fi networks. The downside is that, according to F-Secure, using IKEv2 may lead to DNS leaks. We'll learn more about that later.
F-Secure Privacy Policy
Another background feature that needs to be addressed is how F-Secure VPN handles its users' privacy. For this, we deferred to the company's privacy policy.
For the most part, F-Secure's practices are privacy-friendly — except for a few red flags. For one, it analyzes (but doesn't log) communication data that may include your IP address. It's a red flag because IP addresses are unique and can be tied back to users. Another thing we noticed is that F-Secure analyzes users' traffic for suspicious files and destinations, citing digital security as its reason. The harmful site-blocking feature, for instance, requires F-Secure to see which websites you're accessing. F-Secure's additional security features come with privacy trade-offs, after all.
FYI: F-Secure has an app feature called Tracker Mapper that logs which websites you've visited that tried to track you. Activating this feature will create a temporary, 24-hour log of your browsing activity. F-Secure will delete the log automatically after three days or when you start another log.
Testing F-Secure VPN's Performance: Speed and Security
F-Secure VPN is chock-full of security features, but testing a VPN is about finding out if it works. To do that, we did some performance tests. First we tested its speed and compared the results to our internet speed to see how much F-Secure VPN affected our network. Then we used online tools to detect DNS and WebRTC leaks to see whether F-Secure can block those potential vulnerabilities.
F-Secure Speed Test Results
Before we provide the results, let's cover the parameters of our speed test.
Device: We used the same Windows computer on all of our tests.
Tool: We used Speedtest by Ookla via the Chrome browser.
Tests: We tested F-Secure's speeds at three different times. Before each test, we measured and logged our internet speed using the same speed-test tool to establish a baseline.
Metrics: The tool we used measured the latency, upload speed, and download speed.
Server: To eliminate the distance factor, we connected to a server in Australia in all our tests.
Grading: The average speed difference between our network and F-Secure shouldn't go above 40 percent to be considered fast.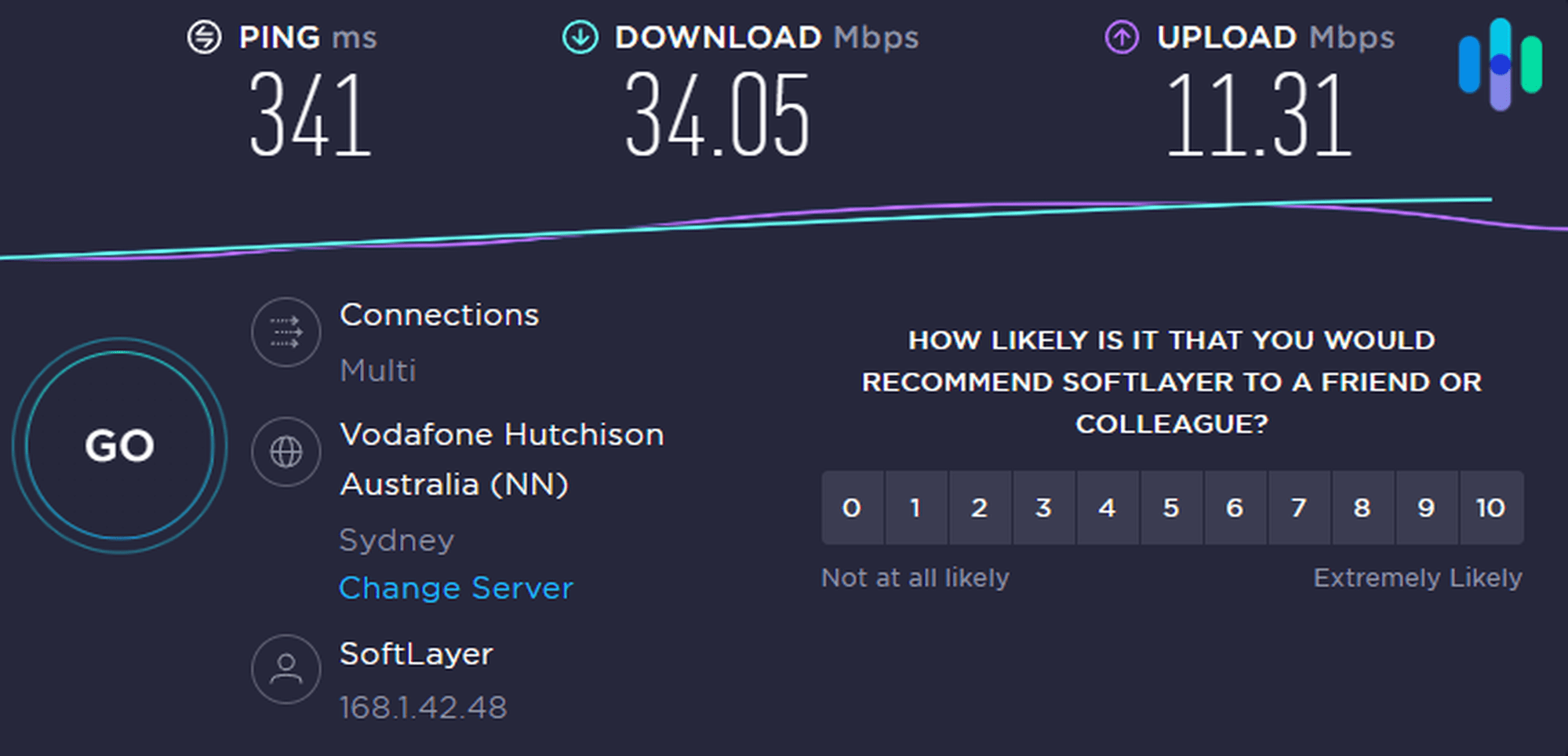 | Tests | Latency (ms) | Download speed (Mbps) | Upload speed (Mbps) |
| --- | --- | --- | --- |
| First network test | 3 | 50.78 | 37.48 |
| First F-Secure test | 346 | 21.52 | 29.3 |
| Difference | +343 ms | -57% | -22% |
| Second network test | 4 | 43.67 | 18.38 |
| Second F-Secure test | 341 | 34.05 | 11.31 |
| Difference | +337 ms | -22% | -38% |
| Third network test | 4 | 51.21 | 36.83 |
| Third F-Secure test | 343 | 31.82 | 29.25 |
| Difference | +339 ms | -38% | -21% |
Of the three speed tests we performed, F-Secure slowed down our internet speed by over 40 percent only once. That's pretty good. Its upload speed did well consistently, which leaves the latency as our only concern. Latency is a measure of delay, which affects almost everything we do online. A high latency can make websites load slower even if you have fast internet. Online gamers are particularly affected by high latencies, so we don't think F-Secure will work for them. Good gaming VPNs should have latencies of no more than 80 ms.
F-Secure VPN Security Tests
We tested F-Secure VPN for WebRTC and DNS leaks. What are those, you ask?
DNS leaks: When you connect to a VPN, all traffic should go through the VPN's secure tunnel. In some cases, however, DNS requests breach the tunnel, resulting in your ISP, visited websites, and third parties seeing your real IP address.
WebRTC leaks: Similar to DNS leaks, WebRTC leaks reveal your real IP address, but through a different vulnerability. Most browsers use WebRTC to speed up some features, such as video streaming. Malicious third parties, however, could attack WebRTC vulnerabilities to uncover your real IP address.
We tested F-Secure using online tools that detect those types of leaks. Both tools we used detected the IP address F-Secure gave us, meaning there were no leaks. Had they detected our real IP addresses, F-Secure wouldn't have passed our security tests.
Living With F-Secure VPN
We've talked about F-Secure VPN's features and performance. Now let's discuss the user experience it provides, from the signup process to the software to customer support.
Buying an F-Secure VPN License
We started with a free trial, so we already had the F-Secure Freedome VPN app on our computer before we bought a subscription. The steps to upgrading to a premium subscription are fairly simple.
Open the app.
Go to Subscriptions.
Click Buy. Your default browser will open to F-Secure's checkout page.
Select the number of devices and length of your subscription.
Enter your payment details.
Once payment is successful, wait for the confirmation email and activation code.
Enter the activation code in your Freedome VPN app.
Using F-Secure Day to Day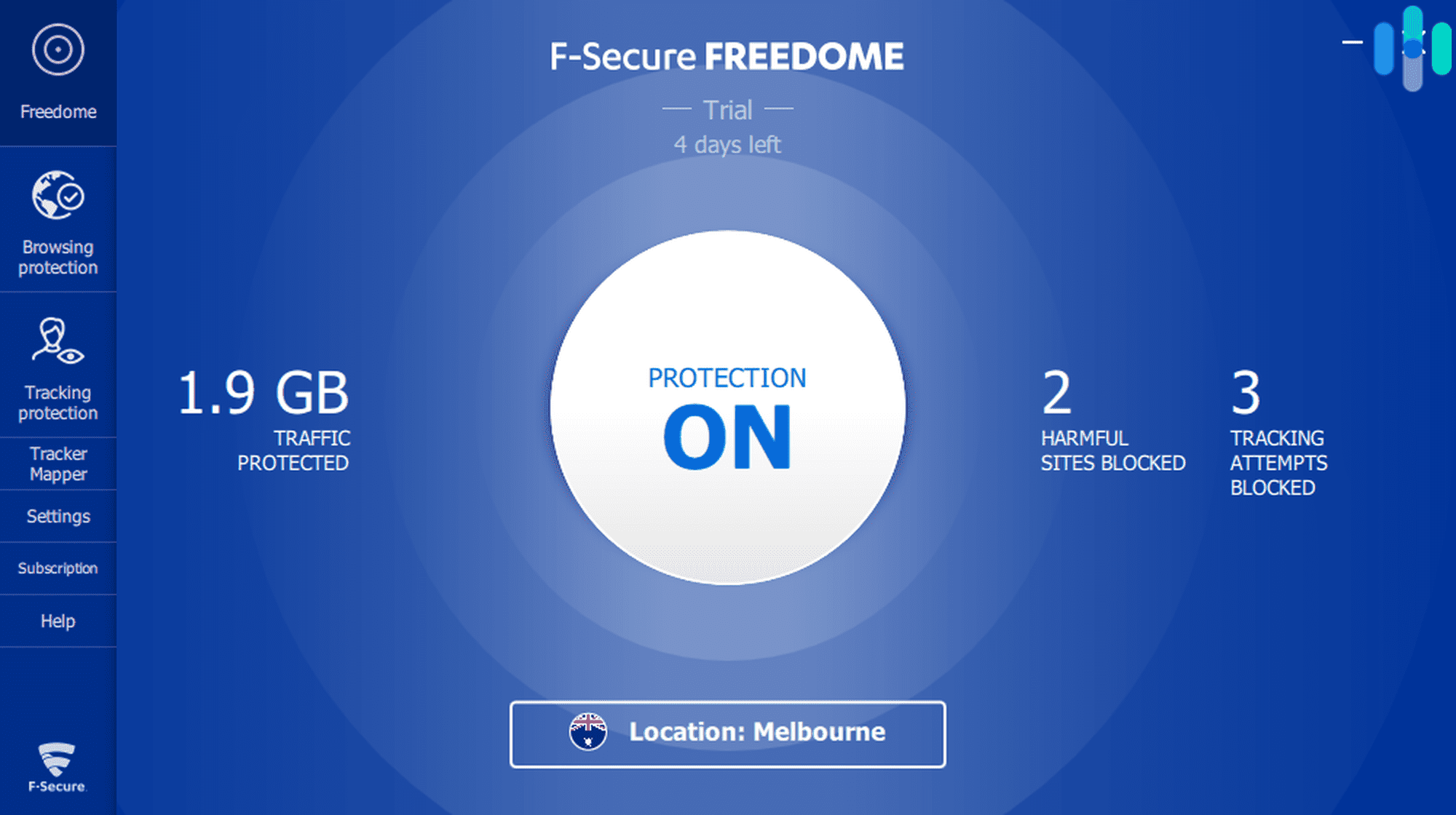 Throughout our tests, the F-Secure Freedome VPN app served as our control center. It's where we turned on the VPN, managed our settings, and monitored how we did against harmful sites and trackers.
The app seems thoughtfully designed. The homepage provides useful information about your VPN connection, such as the server location and amount of data you've used. Each feature page (Browsing protection, Tracking protection) also contains complete details on how the feature works.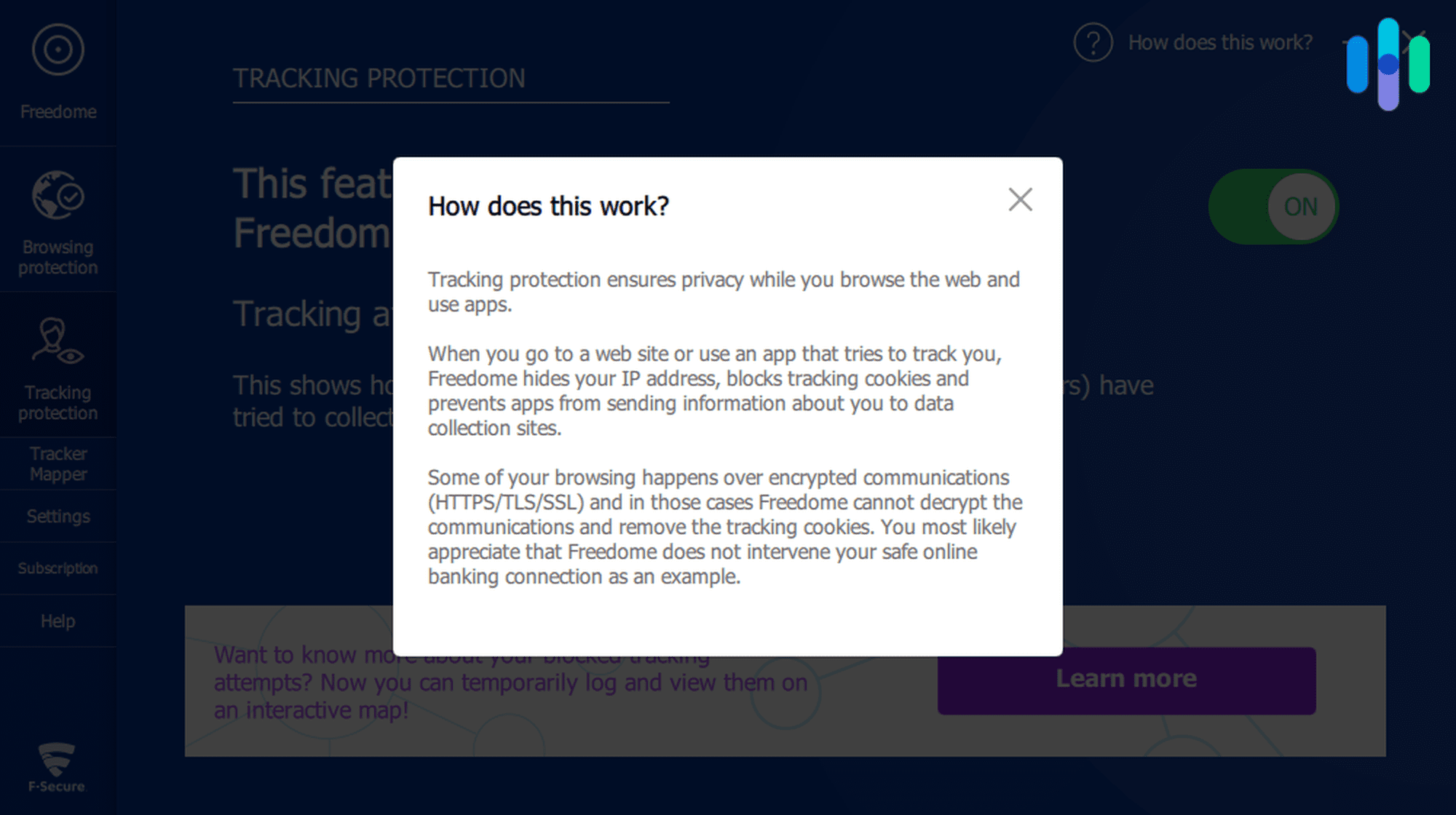 We didn't have any problems with the app. It's responsive, reliable, and simple — just what we want from a VPN app.
F-Secure VPN Customer Support
F-Secure's reliability extends to its customer support. It has live chat support on its website, in addition to phone support in several countries. In the U.S. and Canada, phone support is available Monday to Friday between 9 a.m. and 6 p.m.
We reached out to F-Secure's live chat support several times throughout our testing period, and they responded promptly every time — even late at night.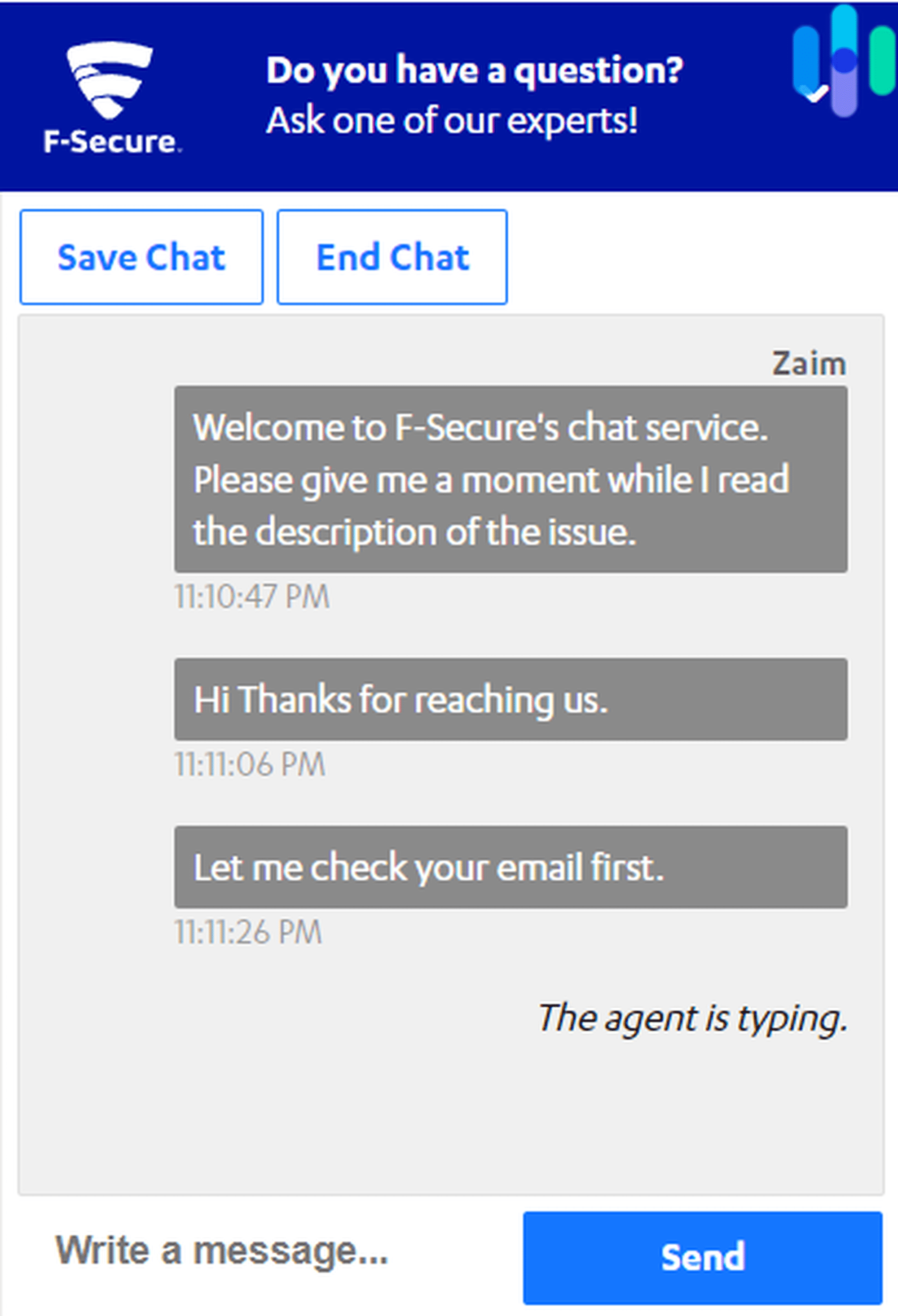 Final Thoughts on F-Secure VPN
After days of testing F-Secure, we're confident in saying it's a good VPN and you should consider it if you want strong security features. In the end, however, only you can tell if it's the right VPN for you. We've laid out all the facts here, and now we're leaving it to you to decide.
F-Secure is good because of its
Malware and tracker blocking. With its harmful-site and tracker protection, F-Secure goes beyond the normal duties of a VPN.
Fast speeds. F-Secure performed well in our speed tests and we were able to watch Netflix without buffering.
Free trial. It offers no monthly subscriptions, but F-Secure has a five-day free trial and 30-day money-back guarantee.
Customer support. It's easy to reach out to F-Secure's customer support through its website's live chat feature and localized phone support.
F-Secure is lacking in areas such as
Privacy. Using features such as harmful-site protection requires F-Secure to analyze the URLs you visit and your IP address.
Plan flexibility. The shortest subscription is 12 months, and there are no monthly plans.
Split tunneling. Only the Android app offers split tunneling.
Server locations. It has a good number of server locations across Europe and North America, but there are only two server locations in Asia (Japan and Singapore).
If you're looking for other VPN options, then don't forget to check out our list of the best VPNs. We highlight the pros and cons of our favorite VPNs, their features, and what they're best for.
FAQs
Do you have more questions about F-Secure? See if we've answered them here.