Hotspot Shield Vs. CyberGhost
Hotspot Shield or CyberGhost? What's the right VPN for You?


Servers in 91 countries
Headquartered in Romania, outside Five Eyes, Nine Eyes, and 14 Eyes jurisdictions
Affordable with a variety of subscription options

Offers the Hydra protocol for fast speeds.
Uses AES-256 encryption, the industry gold standard.
Comes with malware detection and 1TB of cloud storage.
By this point, we all know that a VPN, a virtual private network, is necessary any time you're using an electronic device away from home. We've told you many times how a VPN's encrypted tunnel protects your personally identifiable information (PII) from hackers and how anonymous IP addresses can keep the government from spying on your online activities.
Deciding you need to use a VPN is one thing, though. Deciding which VPN to install is another. Take the two VPNs: Hotspot Shield and CyberGhost. There's a lot that goes into what makes a VPN a great VPN, and if you haven't taken the time to do a lot of research, you probably can't say which of these services is better or which one is right for your particular situation. And who has the time for research these days?
Luckily, we've got you covered. We've done the research into both of these companies and tested both VPNs hands-on. If you're looking for a deep dive, you can check out our Hotspot Shield review and our CyberGhost review. Here, though, we compare their security, features, and prices head-to-head, and we can say with confidence that by the time you're done reading this, you'll know exactly which one you should invest in.
Pricing
Let's start by looking at prices. Most VPNs charge one rate for a single-month subscription but offer deep discounts if you're willing to sign up for a longer period of time, and these two are no exception.
Price Comparison
| Contract Length | Hotspot Shield | CyberGhost |
| --- | --- | --- |
| 1 month | $12.99 | $12.99 |
| 6 months | N/A | $6.99 per month |
| 1 year | $7.99 per month | N/A |
| 2 years | N/A | $2.19 per month |
The first thing you'll notice is that these two VPNs charge exactly the same for a single month of service: $12.99. When you start looking at multi-month discounts, you should also notice that CyberGhost offers much better deals than Hotspot Shield. CyberGhost charges just $6.99 per month for a six-month subscription, which is cheaper than Hotspot Shield's price for an entire year. And while it puzzles us that CyberGhost doesn't offer an annual subscription, you can get two years of the service, plus two extra months, for just $2.19 per month. And hey, if you just absolutely need exactly one year of CyberGhost, you can always sign up for two six-month contracts. You'll still save money over Hotspot Shield's price.
Bonus Deal: CyberGhost is now offering a full suite of security software including an antivirus and an app scanner. You can add these to your VPN for just $1 when you sign up for two years of service.
Similarities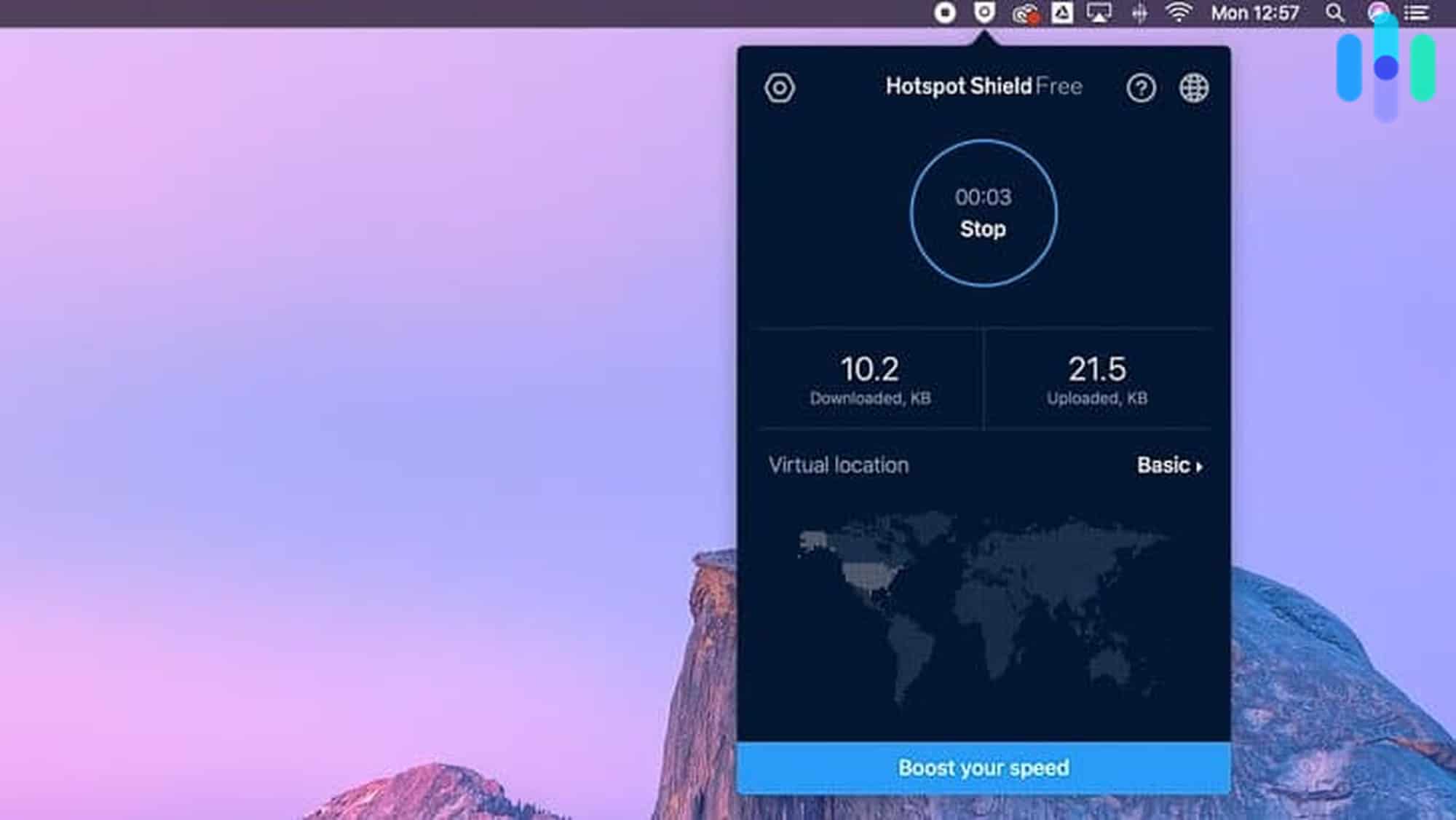 Both Hotspot Shield and CyberGhost have a good deal to recommend them. In fact, they are both on our list of the best VPNs on the market. As you might guess, they have a lot of similarities, particularly when it comes to strong security features.
Encryption: As a starting point, both of these VPNs employ AES-256 encryption, the same encryption used by the U.S. military and intelligence agencies.
Choice of protocols: Both VPNs also offer a choice of protocols. With CyberGhost, you can choose between OpenVPN and WireGuard. Hotspot Shield offers WireGuard as well, or you can use its proprietary protocol, known as Hydra. All of these various protocols have been shown to be safe and effective at preventing data leaks.
No-logs policy: CyberGhost promises it won't record any information related to your online activities. That includes browsing histories, IP addresses, and time stamps. Hotspot Shield makes similar promises. Further, both companies have undergone auditing from third-party firms to prove that they respect these policies.
Kill switch: A kill switch is a handy device that shuts down your internet activity any time you lose your VPN connection. We like them because if we suddenly find ourselves back on Wi-Fi, we don't have to worry that strangers can get a peek at our browsing history or IP address. Hotspot Shield and CyberGhost both come with a fully functioning kill switch.
Streaming: The whole point of having a VPN on your devices is to keep you safe when you're online. However, many VPNs come with an added advantage. Because they allow you to connect to servers in other countries, you can often access streaming libraries in those other countries. And guess what? Netflix offers different content in Australia, Japan, and the U.K. than it does in the U.S. You need a VPN that gets you access to the streaming services, though. Both of these companies let you connect to Netflix and many other streamers, including YouTube Premium, Disney+, and Max.
Support for multiple platforms: Finally, both of these VPNs offer support for a variety of different operating systems and platforms. That includes the big four: Android, MacOS, iOS, and Windows. It also includes operating systems from Linux and browsers like Chrome and Safari. Heck, they even work with smart TVs and routers.
Differences
So much for similarities. When we looked closely at these two VPNs, we discovered that this matchup really is a tale of two companies. Both are solid in their own ways, but they're definitely different in terms of what features they offer.
Just to make things perfectly clear, let's take a look at what each company does well.
HotSpot Shield
Hotspot has three important strengths that CyberGhost just can't match.
Obfuscated servers: First, Hotspot Shield offers obfuscated servers. That's a fancy phrase that means when you choose one of those servers, no one can tell you're using a VPN. That can be useful when you're in a country that bans VPN usage. In addition, though, obfuscated servers allow for more consistent access to streaming services. Many of these services, such as Netflix, don't like users logging on with a VPN, so they attempt to block IP addresses that are associated with VPNs. The result? Some VPNs, like CyberGhost, can occasionally lose access to these streamers. HotSpot Shield's obfuscated servers ensure you always get a stable connection.
Free version: Not only does Hotspot Shield offer a free version of its VPN service, but we think it's the best free VPN out there. Of course, you won't get all the bells and whistles you get if you sign up for a premium Hotspot account. But you will get speeds up to a gig and a generous data limit of 500 MB per day. In addition, you can install the free version on up to five devices. CyberGhost does not offer a free version.
10 devices: Hotspot Shield also lets you use up to 10 devices at once. That means everyone in your family can be protected when they're online, even if they're all online at the same time. CyberGhost allows seven at once, and that's not bad. Ten beats seven, though.
OpenVPN: OK, this one's a little picky. Remember we said that both VPNs offer a choice of protocols? Both offer WireGuard, which is fast becoming the industry standard. In addition, CyberGhost offers its own protocol, Hydra. Hotspot Shield's other choice, though, is OpenVPN. Now, OpenVPN isn't quite as fast as WireGuard and Hydra, but it has one thing those other two protocols don't have: almost 25 years of testing. No other protocol has been on the market for so long, and because it's open source, it's been thoroughly poked and prodded for all of those 25 years. Bottom line: While all three protocols are safe, we always go with OpenVPN.
FYI: A VPN conceals your IP address and assigns you a new one, but some sites may still detect that you're using a VPN. Obfuscated servers trick sites into believing your address is genuine.
CyberGhost
Of course, CyberGhost has its own strong points. What does it offer that Hotspot Shield doesn't?
Headquarters in Romania: CyberGhost is based in Romania. As it happens, Romania is outside the Five Eyes, Nine Eyes, and 14 Eyes surveillance organizations. These are countries that have agreed to share intelligence information with one another, including information about their own citizens. Basically, any member country can show up at a company with a subpoena and force that company to turn over customer data. It turns out Hotspot Shield is in the U.S. — California, to be exact — and the U.S. is basically the ringleader of these surveillance organizations. Now, to be fair, Hotspot Shield's privacy policy, which we described earlier, means that even if a government agency comes calling, the company doesn't really have anything of value to turn over. Still, we prefer our VPNs to have their headquarters in places like Romania.
Servers: The more servers a VPN maintains, the easier it is to find one with light traffic. That helps with VPN speeds. And we certainly want the fastest speeds we can get. CyberGhost operates an impressive 9,600 servers located in 91 countries. Hotspot Shield's numbers aren't too shabby: 3,200 servers in 80 countries. There's no getting around it, though: Less is less.
Security suite: In addition to its VPN, CyberGhost offers a full suite of security software, including antivirus and an app scanner. Bundle this suite with the VPN, and you'll pay just $1 more a month when you sign up for two years. That's a total of just $3.19 per month for everything, and that's still well below what you'd pay for most VPNs.
The Bottom Line
We'll be completely honest here: We can't specifically recommend one of these VPNs over the other. Both provide excellent security. Both offer some useful features. Hotspot Shield, for example, offers superior streaming connections, so you might be tempted to go with it. On the other hand, CyberGhost has more servers, and its security suite will tempt a lot of users.
Just because we can't say one is definitively better than the other doesn't mean they'd both work equally well for you, though. The most important element in deciding which VPN to purchase is always what you need. What's your specific situation? What kinds of devices do you use? When and where do you tend to go online?
So, we can't tell you which one is right for you. You'll have to decide which features are most important to you.
Get Hotspot Shield if
You use your VPN for a lot of streaming.
You sometimes need more than seven simultaneous connections.
You want the added security of the OpenVPN protocol.
Get CyberGhost if
You're looking for a VPN that's part of a larger suite of security software.
You want the most servers in the most locations.
You prefer a VPN that operates in a country outside of Five Eyes, Nine Eyes, and 14 Eyes.
FAQ
Still have questions after reading through this page? Don't worry, we've got even more answers.