Surfshark vs. IPVanish
You don't want to be caught online without a VPN, but which is better: Surfshark or IPVanish?

Best Technology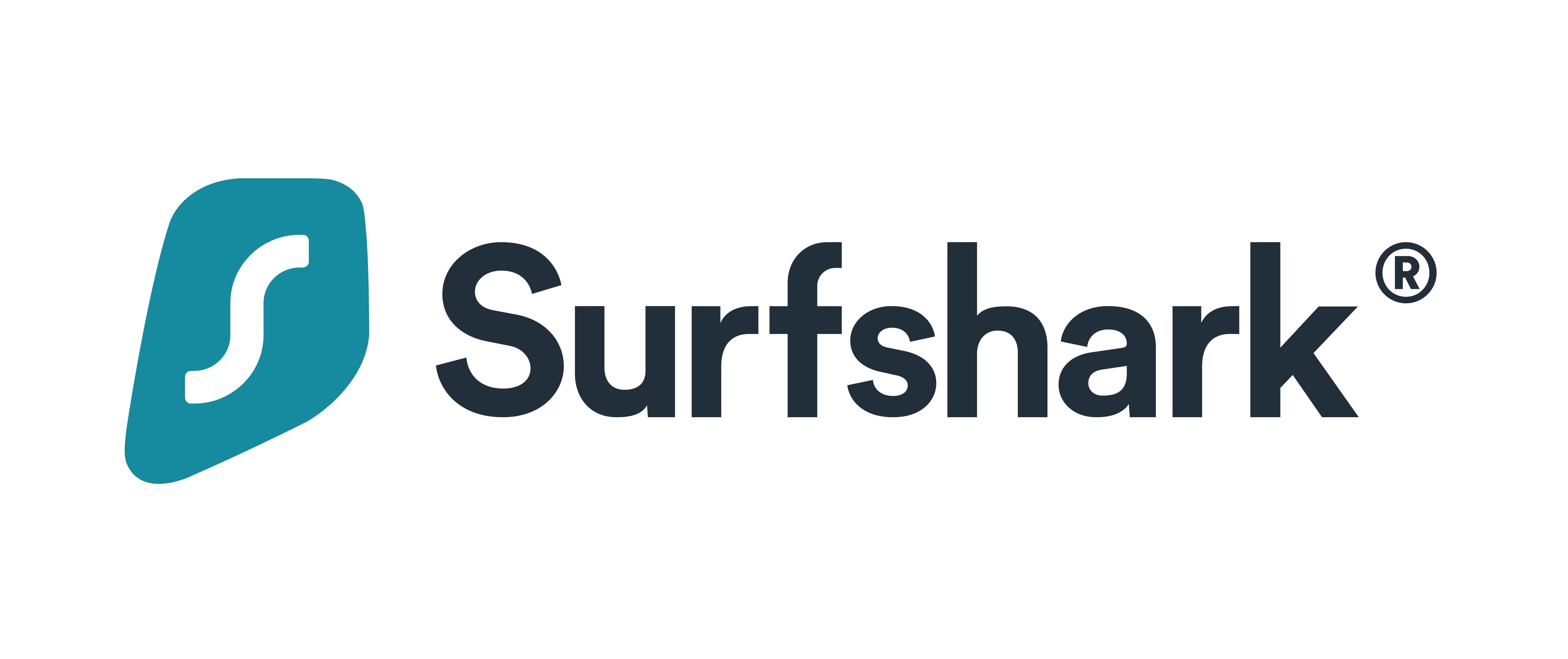 No-logs VPN company based in the Virgin Islands
Allows unlimited connections, double VPN, and split tunneling
Choice of OpenVPN, WireGuard, and IKEv2
Best for Netflix

Access to ESPN, HBO, MLB TV, NBC Sports, and other streaming services
Dynamic IP addresses
Unlimited server switches and devices per subscription
Seems like every day some new tech company is telling you they have a gadget or device you absolutely must have or you run the risk of being struck down by all sorts of catastrophes. Here's the thing though: a VPN truly is must-have technology. It not only protects you from anyone who may be trying to steal your personal data, but it also ensures no one — not even the government — can track your online movements.
We get it though. If you have to invest in new technology, you want to make sure you get the right one. So we've put together a few head-to-head matchups to help you decide which VPN is right for you. We've pitted Surfshark against IPVanish this time. Which comes out on top? You'll have to read on to find out. We promise you'll have no trouble choosing the VPN that's best for you by the time you're finished.
Similarities
If you check out our list of the best VPNs, you'll find we rate both Surfshark and IPVanish highly. The two have a lot in common, including some great features that helped put them on our list in the first place.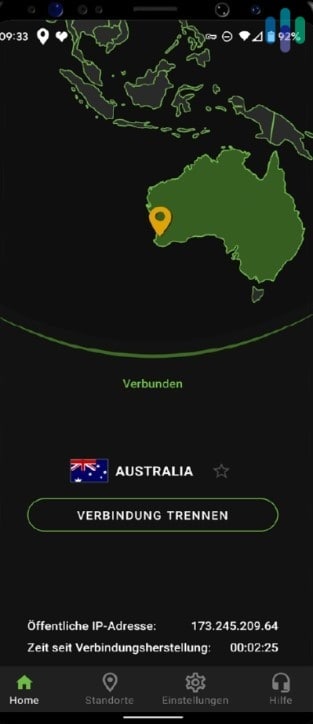 Strong Encryption
A VPN is literally an encrypted tunnel through which you connect to the internet, so the key to a great VPN is the quality of its encryption. Both Surfshark and IPVanish use the same encryption: AES-256, which is a symmetric block cipher. Sounds impressive, doesn't it? You don't really need to know what it means. What you do need to know is that AES-256 is so secure it is used by the U.S. government to protect classified data. You can't get much more secure than that.
A Choice of Protocols
A VPN's encryption is deployed using a protocol, a set of instructions that describes how the app connects to the server, how the server verifies its identity, how data gets sent back and forth, and every other action the VPN performs. Software engineers design protocols for different purposes. Some, like the IKEv2 protocol, are secure but slow down device function. Others, like PPTP, are faster but less secure. The best VPNs offer OpenVPN, the gold standard in security. We also like VPNs that offer other choices as well. Then we can choose the best protocol for every situation.
Surfshark offers three protocols:
IPVanish offers four:
OpenVPN
WireGuard
IKEv2
IPSec
FYI: OpenVPN is the gold standard for protocols. It's open source, so it has been rigorously checked by the online community. It has been around for 30 years, which is long enough to prove it's secure.
Support for an Unlimited Number of Devices
The internet seems to grow more dangerous every day. As a result, you need a VPN on all your devices. That can get pricey if you have a big family with lots of phones, tablets, laptops, and smart TVs. Luckily both Surfshark and IPVanish allow you to install their apps on an unlimited number of devices. Even better, you can use all those devices at the same time without giving up protection on any of them.
Strict Privacy Policy
All the encryption in the world won't do you much good if your VPN itself is spying on you or, worse, offering your data to the highest bidder. Both Surfshark and IPVanish have strict privacy policies that set limits on what information they collect and to whom they're willing to give it.
Both companies collect some user data. If they didn't, they couldn't operate effectively as VPNs. Both collect payment information and email addresses, for instance, but neither holds on to any data related to your online activities. That means no IP addresses, no activity logs, and no timestamps.
Finally, neither company sells nor trades any user information with third-party vendors. You can rest assured that what you're doing online will stay private no matter what.
Kill Switches
A kill switch is a handy little device that shuts down your internet activity any time you lose your VPN connection. That way, no one can see what you're up to online — even accidentally. Not every VPN has one, but Surfshark and IPVanish both do. It's just an extra layer of protection to keep you safe from anyone who may be trying to spy on you.
Split Tunneling
Another useful feature both of these VPNs offer is split tunneling. With split tunneling, you can connect to the regular internet at the same time you're using your VPN. What's so useful about that? Not everything you do online needs to be encrypted. You probably don't need to worry, for instance, about who may be checking out your Spotify playlists. When you're hanging out at the corner coffee shop trying to get some work done, you can run Spotify through the coffee house Wi-Fi and still use your VPN to transfer any sensitive work files. In the end, you save valuable bandwidth and wind up with faster connections.
No Leaks
A leaky VPN can expose valuable information about you to anyone who may be watching. There are two kinds of leaks. A WebRTC leak means your IP address is readily visible. A DNS leak can reveal what websites you're visiting. We've tested both Surfshark and IPVanish for both kinds of leaks and can verify that both VPNs are 100 percent leak-free.
Independent Audits
Both Surfshark and IPVanish have invited independent auditors to evaluate their VPNs and whether they do what they claim. IPVanish employs Leviathan. Surfshark employs Cure53. Both have been verified secure and proven to keep no data on customers' online activities.
Differences
You may be asking yourself how to distinguish between these two VPNs when they have so many features in common. It turns out there are some key differences between them that should be useful in making your final decision.
Surfshark Has Better Streaming
Both Surfshark and IPVanish allow you to unblock streaming services in countries around the world, so you can watch shows and movies that are available only in the U.K., Japan, and other countries. Both give you access to content from Hulu, HBO Max, Prime, and Disney Plus. Both also give you access to Netflix, but IPVanish's Netflix coverage is limited. In addition to the U.S., we were able to stream content from only Japan, India, and the U.K., so we missed out on content from lots of countries, including Germany, France, and Mexico. No such problems with Surfshark, which is on our list of the best VPNs for Netflix. Advantage Surfshark.
Pro Tip: Looking for more streaming content? Netflix offers different programming in different countries. Conceal your IP address behind an address from one of those countries and you'll have instant access to all that bonus content.
Surfshark Has Camouflage Mode
VPNs conceal your actual IP address behind an anonymous address, which allows you to surf the web without worrying about who may be tracking your movements. Some apps and websites, however, have begun to employ new technology designed to sniff out whether you're using a VPN. Those apps and sites can't tell who you are, but they can still block you as long as you're using a VPN.
Camouflage mode is a new technology offered by some VPNs that not only conceals your IP address, but also conceals the very fact that you're using a VPN. In other words, you can't be blocked.
Surfshark has camouflage; IPVanish doesn't. Surfshark wins this round too.
Surfshark One
Surfshark has begun expanding, offering additional products aimed at providing even more online protection. You can get all these in a single bundle the company calls the Surfshark One suite. In addition to the VPN, you get:
Antivirus: Surfshark's new antivirus is lightweight and easy to use but still offers solid protection from all forms of malware, including viruses, trojans, adware, and ransomware.
Breach alert: Surfshark's alert system scans the web looking for your personal information, such as email addresses, credit card numbers, and personal IDs. It keeps track of any databases that have been breached and lets you know immediately if your data may be in jeopardy.
Search engine: Surfshark's search engine provides ad-free search results and doesn't keep a record of your past searches.
Surfshark One costs a little more than just purchasing the VPN — about $1.50 more — no matter what length of subscription you choose. It's also not quite as robust as some of the best antivirus packages out there. If you're looking for a little added protection to boost what your VPN already does for you, however, the One suite gives you additional security features at one low price and without having to pay multiple companies.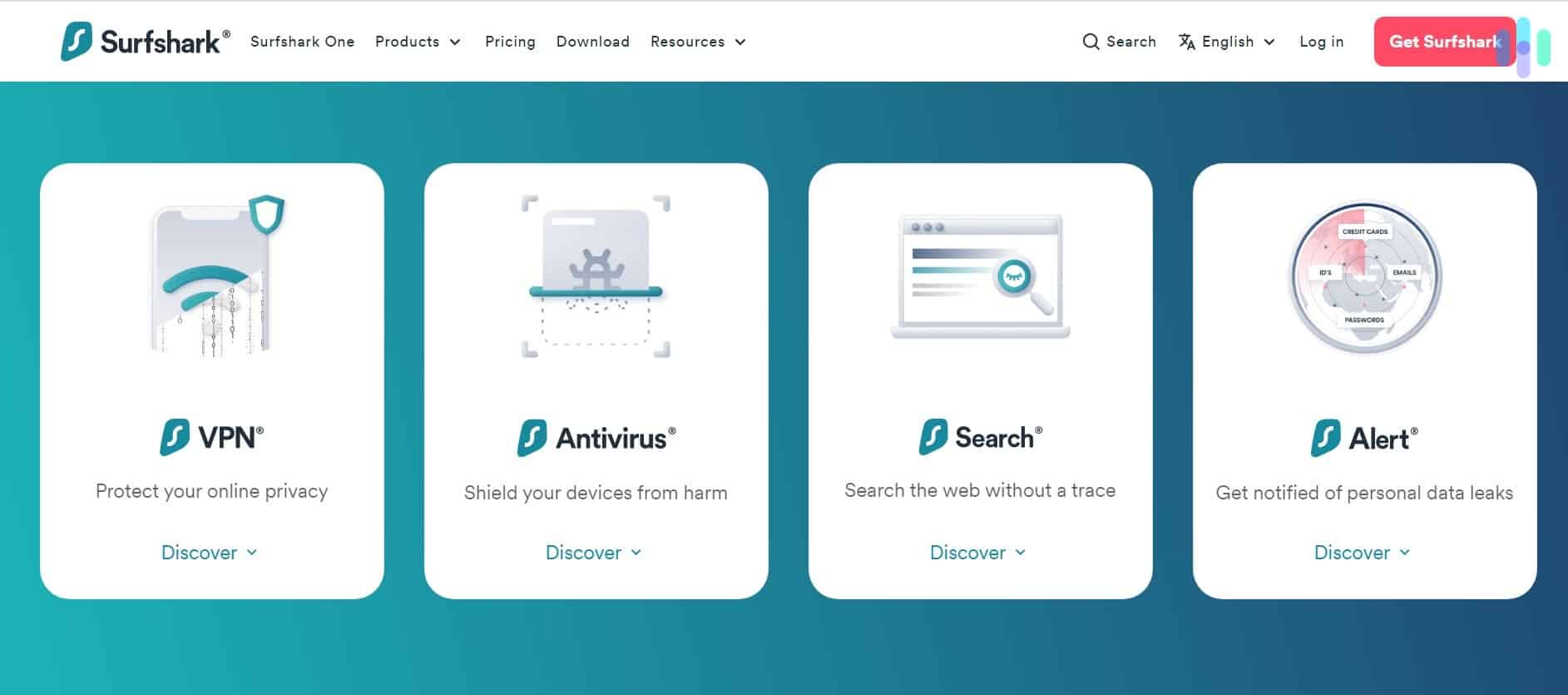 Surfshark Offers More Servers in More Places
One of the marks of a top-tier VPN is that it offers lots of servers in lots of places. The more servers a VPN offers, the more likely it is that you'll find one with relatively little traffic. Less traffic means a faster connection, so you want to choose a nearby server for the same reason: speed.
IPVanish certainly has a respectable number of servers — over 2,000 in 75 countries — but Surfshark has more. It has more than 3,200 servers, and just celebrated adding its 100th country with service. Surfshark doesn't outdo IPVanish by much in this category, but more servers is more servers.

Pricing
If money were no object, you could probably stop here and make your decision. Price matters, though, whether you're looking for a VPN that will fit your budget or you're trying to make sure you get the most value for your dollar.
For the most part, there's not a lot of difference between these two VPNs when it comes to price. If you're looking to purchase single-month subscriptions, you'll save almost a dollar a month if you go with IPVanish. When it comes to annual subscriptions, however, the two charge exactly the same amount: $3.99 per month.
Price Comparison
| Subscription options | Surfshark | IPVanish |
| --- | --- | --- |
| One month | $12.95 | $11.99 |
| Three months | n/a | $10 per month |
| One year | $3.99 per month | $3.99 per month |
| Two years | $2.05 per month (over 26 months) | n/a |
It's worth noting that the two companies offer slightly different plans. IPVanish, for example, offers a three-month subscription, which is a bit unusual for a VPN. It doesn't, however, offer anything longer than a year. In contrast, you can get a 26-month subscription from Surfshark for just $53.28, which works out to $2.05 per month.

Recap
Taking everything into account, where do we stand when it comes to Surfshark vs. IPVanish? The bottom line is that, although the two VPNs have a great deal in common, we think Surfshark is the better deal. IPVanish is certainly a solid choice for a VPN, but Surfshark has everything IPVanish does, as well as several features IPVanish doesn't. That includes camouflage mode; better access to streaming services; more servers in more places; and available antivirus, breach alert, and search engine.
IPVanish can be cheaper than Surfshark, but only if you invest in a month-by-month subscription. Otherwise the two have almost identical prices, and Surfshark offers a two-year deal for just $2.05 per month that IPVanish can't match.
So, which VPN is right for you?
FAQs
Still have questions about Surfshark and IPVanish? We've answered a few of the ones people ask us the most.