Touch VPN Review 2023
Is Touch VPN user-friendly? Find out as we break down everything you should know about it.
All of our content is written by humans, not robots.
Learn More
By

Aliza Vigderman
, Senior Editor, Industry Analyst
Last Updated
on
Nov 21, 2023
What We Like
Free VPN: You can use Touch VPN completely free on Windows, Android, macOS, and iOS.
Fast connections: Both the free and premium versions offer blazing fast speeds.
Great Android VPN: Touch VPN's Android app comes with necessary VPN features such as split tunneling and a kill switch.
What We Don't Like
Expensive premium plans: Touch VPN costs $12.99 per month or $77.99 per year ($6.99 monthly), which is pricey considering its bare-bones features.
Limited features on Windows, iOS, and Mac: It's a great Android VPN, but its apps for Windows, iOS, and Mac are unimpressive.
Data logging: On Windows and Android, Touch VPN logs aggregate data about your VPN usage, including data on the websites you visit and apps you use.
Bottom Line
Touch VPN is impressive for a free VPN — especially on Android — but not for a premium VPN. It's expensive, it logs more data than necessary, and it offers a limited set of features.
VPNs aren't complicated, but some VPNs seem that way because of their apps. Some VPN apps have a steep learning curve, are not optimized for certain devices, or are simply not user-friendly.
Touch VPN entered the market in 2014, and it has worked to create VPN apps that are user-friendly and easy to use. It has native apps for almost every platform: Windows, macOS, iOS, and Android. It also offers well-designed extensions for Chrome, Microsoft Edge, and Firefox. Touch VPN created a solid app ecosystem, but at what cost?
Join us as we review Touch VPN's apps, features, and pricing to see if it's the most user-friendly VPN on the market.
What Is Touch VPN?
Touch VPN is part of the Pango Group's portfolio of digital-security products.1 It was founded in 2014, and purchased by AnchorFree a year later. The company was then rebranded as Pango when it was acquired by Aura in 2019.
There are two interesting things about that. First, two of the best VPNs we've tested belong to the Pango Group: UltraVPN and Hotspot Shield. You can read our UltraVPN review and Hotspot Shield review to learn why we like them. Second, Aura, the company that owns Pango, currently offers the best identity theft protection service on the market.
Those things indicate that Touch VPN is in good company in both privacy and digital security, but it doesn't automatically make Touch VPN a good VPN. We'll have to look at its features.
A Few Higher-Touch VPNs to Consider
Touch VPN is certainly easy to use, and the free version is a great find, but as far as premium VPNs go, it's a little pricey and lacking what we'd consider key features. Compare it to the three top-shelf services below to see what we mean: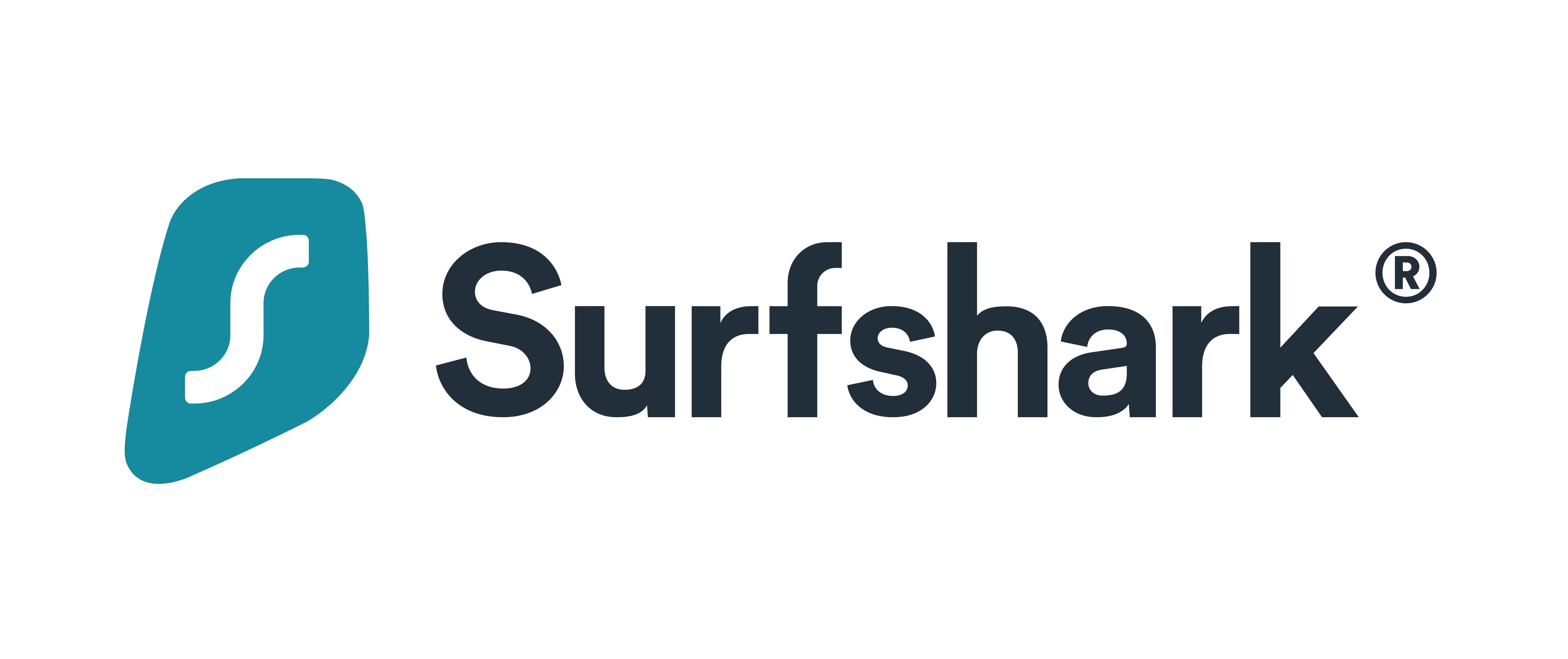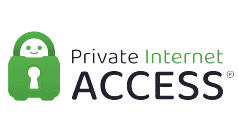 Touch VPN Features
Touch VPN is like any normal VPN. It encrypts your traffic to hide your online activities and it makes you anonymous by hiding your IP address. It offers necessary features as well, but there's a catch: Not all features are available with all Touch VPN apps.
Let's see Touch VPN's features one by one.
Data Logging
As soon as we launched the Touch VPN app for the first time, the VPN's privacy policy appeared. That's commendable. On the downside, though, we found the privacy policy a little concerning. The policy for the Windows app, for example, gave us this nugget of information:

It says it collects aggregated data about the websites and apps users visit and use. It also says the data is anonymous and it doesn't lead back to any specific user, but it's still more than what we would like our VPN to collect.
We're not happy about the amount of information Touch VPN collects from its apps, but it's not a deal breaker as long as the company keeps its promise that the data is anonymous.
Kill Switch
The kill switch is a must-have feature for any VPN, but, unfortunately, only the Android app offers it. The Touch VPN Windows, macOS, and iOS apps don't have a kill switch.
Essentially, a kill switch stops your device's internet traffic when the VPN disconnects abruptly. It prevents traffic from your current connections from passing through unencrypted networks, keeping your online activities private.
FYI: Touch VPN's Android kill switch requires you to be connected constantly to the VPN. Once you disconnect, your Android won't be able to connect to the internet.
Split Tunneling
Split tunneling is another staple VPN feature, but it's more for convenience than security.
Split tunneling lets you exclude certain apps or websites from your VPN connection so the excluded apps can run outside the encrypted tunnel even if your device is connected to Touch VPN. It's useful for apps that use location data, such as weather and navigation apps, as well as for apps that don't allow VPNs, such as some mobile banking apps.
Only the Android app offers split tunneling, but you can also access the feature using Touch VPN's browser extensions. With the browser extensions, though, split tunneling affects websites and URLs only and not desktop apps.
Auto-Protect Apps
The Android app has a nifty feature called Auto-Protect Apps. Basically, you'll select apps you always want to use with a VPN. Whenever you open any of those apps, Touch VPN will route its traffic through secure networks automatically, even if you're not connected to the VPN beforehand.
The Auto-Protect Apps feature ensures that your connection is always private and encrypted when using your selected apps, which comes in handy for apps that contain sensitive information, your personally identifiable information, or account passwords.
VPN Protocols
This next part can get a bit technical, but it's a crucial VPN feature.
VPNs route your internet traffic through a secure, encrypted tunnel, but the VPN protocol is what decides through which ports your traffic will be routed. Think of it as GPS navigation instructions for your online data.
Some VPN protocols are fast, but at the expense of security. Others are secure, but also slow. You want your VPN protocol to be balanced — exactly like the three VPN protocols available from Touch VPN.
OpenVPN: OpenVPN is one of the most balanced and well-established VPN protocols. It offers impressive security and bandwidth capabilities. It's also one of the most commonly used protocols by top VPNs.
WireGuard: WireGuard is newer, but it's quickly gaining traction because it's fast and lightweight. It also consumes less overhead data than other protocols, including OpenVPN.
Hydra: Hydra is a proprietary protocol developed for Hotspot Shield, one of Touch VPN's sister companies. Its security is watertight and it offers impressive speed, as we've shown in our VPN speed tests.
Touch VPN Pricing
Now here's the fun part: All the features we've discussed are free. That's right: Touch VPN is a free service, although it also offers paid subscriptions if you want a better experience.
If you choose to use Touch VPN for free, you won't need to create an account. Just download its apps and connect to Touch VPN right away. That also means you can use Touch VPN on any number of devices and browsers, unlike most free VPNs that limit you to only one device.
There are still limitations, though, which vary depending on which platform you're using. The free Windows app has a 500 MB daily limit, for example, while the Android and iOS apps have ads.
FYI: The free Windows app is ad-free, but it lets you use only 500 MB of data per day. The iOS and Android apps have ads that play before letting you connect, but there's no data limit.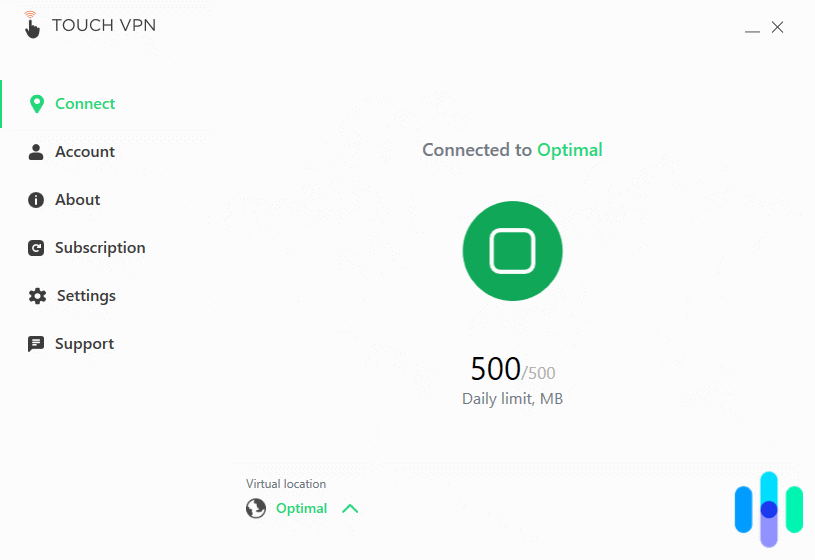 Here's a table that shows what you'll get from each app for free.
| Free features | Windows | macOS | Android | iOS |
| --- | --- | --- | --- | --- |
| Data limit | 500 MB per day | Unlimited | Unlimited | Unlimited |
| Ads | No | Yes | Yes | Yes |
| Kill switch | No | No | Yes | No |
| Split tunneling | No | No | Yes | No |
| Available server locations | 1 (optimal server location) | 1 (optimal server location) | 27 | 28 |
| Speed | Normal | Normal | Normal | Normal |
| Choose VPN protocol | No | No | Yes | No |
The variance in features is a little confusing. Even after testing the apps for several days, we still have questions.
Touch VPN has two apps for Windows, for example. One is available from the website and the other is available in the Microsoft Store. Both seem to work fine, but the one from the Microsoft Store doesn't appear to have a data limit and it offers over 20 server locations.
That, in our opinion, is one of the blunders of Touch VPN. It managed to create native apps designed and optimized for each operating system, but it failed to streamline its apps. As a result, if you're using different devices, expect a completely different experience from each app.
Touch VPN Premium
If you want a better experience, you can upgrade to a premium subscription with monthly or yearly payments. The premium subscriptions give you access to almost 6,000 servers in over 90 countries. They also remove all data limits and ads, and they boost the VPN speed by up to four times.
The subscriptions cost $12.99 monthly or $77.99 yearly, which is on the expensive side. Touch VPN's one-year plan, for example, costs almost twice as much as the one-year plan from Private Internet Access. Just add $1 to your $77.99 and you'll be able to purchase Private Internet Access for three years!
Pro Tip: If you buy a subscription via in-app purchases, you'll get a free trial of the premium version. On Android, the yearly plan comes with a seven-day trial. On iOS, the monthly plan has a seven-day trial and the yearly plan comes with a 30-day trial. You will be charged only after the trial period.
Premium vs. Free: Which Is Better?
Is it worth it to upgrade to a premium Touch VPN subscription? We're not so sure.
For one, it doesn't really unlock any new features. Even with a premium plan, the Windows and iOS apps still lack split tunneling and a kill switch. The premium plan only takes away the data and server menu limitations, as well as the ads.
The premium subscriptions also promise improved speeds, but we didn't see that in our testing. Below is our speed test result with the free version.

Here's our speed test two minutes later, after we signed up for a premium subscription.

We connected to servers in Australia both times, and, as you can see, there's no significant improvement in speed. On the bright side, we proved that Touch VPN is fast. We were using 350 Mbps internet at the time, and it managed to keep the speed loss to below 40 percent.
Is Touch VPN Worth It?
Overall, Touch VPN is OK. If you're looking for a fast VPN that's free and features easy-to-use apps, then it's a great choice. As a premium VPN, though, it falls short in offering necessary features such as a kill switch and split tunneling, and it's a touch expensive for a bare-bones VPN service.
We recommend trying the free version, but there are much better and more affordable VPNs than the premium version. Check out our Surfshark review and NordVPN review, for example.