Turbo VPN Review 2023
Turbo VPN may not have the best reputation, but recent improvements make it a more viable VPN option.
What We Like
VPN protocol options: You can choose your preferred VPN protocol, including OpenVPN, IPSec, V2ray, and SSR.
Kill switch and split tunneling: Recent updates added a kill switch and split tunneling to Turbo VPN.
Decent speeds: It's not blazing fast, but Turbo VPN delivers decent download and upload speeds.
What We Don't Like
Five-device limit: There's a five-device limit on simultaneous connections.
Limited OpenVPN implementation: If you choose OpenVPN as your default protocol, only seven server locations will be available.
Pricey: Considering its limited features, Turbo VPN is pricey.
Bottom Line
Turbo VPN has improved a lot compared to when we first tested it, but it still has a ways to go. It's a good VPN for unblocking websites and content, but it needs major improvements to be able to provide top-notch security and privacy.
We hold VPNs to a high standard, and some simply don't make the cut. Turbo VPN was one of those substandard options in years past. When we first tested it a couple of years ago, we noted its lack of security features such as a kill switch, its unimpressive speed, and its inadequate IP address protection that resulted in failed DNS leak tests.
Recently, however, Turbo VPN made improvements, and we're not one to deny a VPN a second chance. We got a fresh subscription and took Turbo VPN for another test run. Is it finally a good VPN? Read on to find out.
About Turbo VPN
Turbo VPN, based in Singapore, was established in 2018. Despite being relatively young, it claims it has over 21,000 servers in 45 countries and over 30 million users worldwide. NordVPN, one of the best VPNs we've tested, has only 5,000 servers, and ExpressVPN, one of the most popular VPNs, reached 4 million subscribers only recently.1 You can read our NordVPN review and ExpressVPN review for more information about these high-quality VPNs.
Turbo VPN makes other tall promises on its website, including a wide selection of VPN protocols, secure encryption, and fast speeds. The website also mentions that Turbo VPN is a no-logs VPN. We'll see if it delivers on those promises.
FYI: A no-logs VPN doesn't log any identifiable information on how its users use its services. A no-logs VPN, for instance, doesn't log its users IP addresses and the websites they visit. All of our top-pick VPNs are no-logs VPNs.
Getting Started
Turbo VPN offers several subscription options, but there are only two listed on its website: a limited free version and a premium subscription. We opted for the latter, and here's how much it cost.
| Turbo VPN subscriptions | Total cost of the subscription | Average cost per month |
| --- | --- | --- |
| 1 month | $11.99 | $11.99 |
| 6 months | $39.99 | $6.67 |
| 12 months | $59.99 | $5.00 |
| 24 months | $99.99 | $4.17 |
We signed up for a month, which gave us access to all the VPN's features on up to five devices. After we logged in, however, we found out that the premium plan we signed up for was actually a Gold plan, and there's a better Platinum plan that could give us access to Turbo VPN on up to 10 devices for $13.99 per month.
The free version is a good option if you want to test Turbo VPN before buying. It lets you use the VPN on one device and can connect only to a limited number of servers. Turbo VPN claims that, like the premium VPN, the free version doesn't log any identifiable data. It's also worth noting that the free version is supported by ads.
More Security.org Recommendations
Check out more of our favorite VPNs.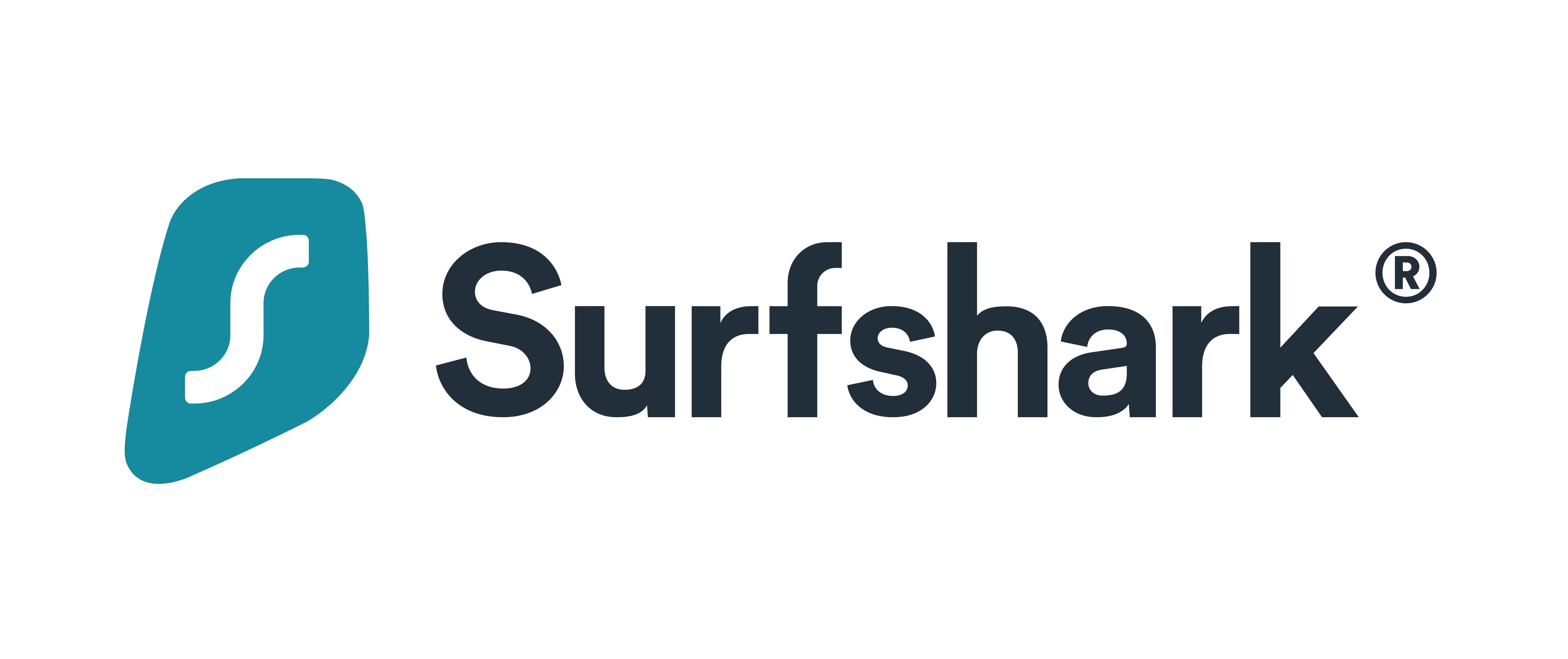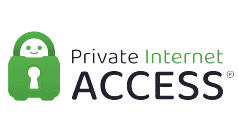 Turbo VPN Desktop App Features
We first installed Turbo VPN on a Windows PC, and we immediately noticed improvements over the previous version we tested a few years ago.
First, there is now a more complete Settings page, on which you can manage features such as the kill switch, split tunneling, and VPN protocol. Previously, Turbo VPN's settings were just a small drop-down menu where you could find account details and nothing more.
Second, Turbo VPN now offers VPN features such as a kill switch and split tunneling. It didn't have those before.
The kill switch feature disables your device's internet connection when you turn off the VPN or when the connection drops unexpectedly. VPNs use this feature to protect users from inadvertently leaking their browsing activity to their ISP when VPN connections become rocky.

Split tunneling lets you split your VPN traffic to allow certain apps and websites of your choosing to pass through normal networks without encryption. It's helpful if you use apps or websites that don't play well with VPNs.
Those are nice features to have, but they are nothing to write home about because most VPNs have them. They're the bare minimum features we require from good VPNs.
Connecting to Turbo VPN
We like to choose our own VPN protocol whenever possible, because the protocol is what decides how fast and secure a VPN is. Our top choices are OpenVPN, which is an open-source protocol long considered one of the most secure, and the newer WireGuard, which rivals OpenVPN in security and speed.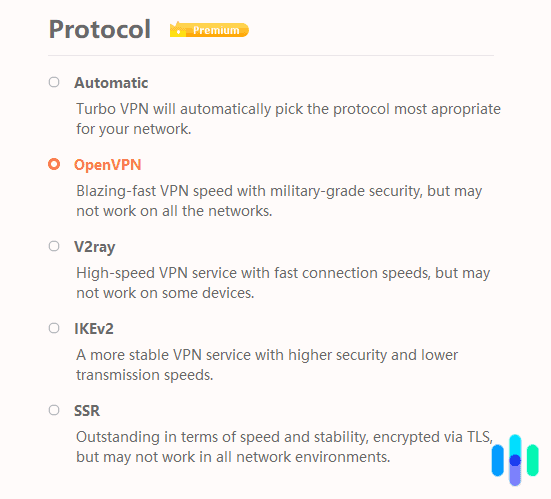 OpenVPN is one of the protocols available with Turbo VPN's Windows app, so we selected it and immediately went back to the homepage to try to connect. To our surprise, only seven locations were available: United States, United Kingdom, Singapore, the Netherlands, India, Germany, and Canada.
Those are the only locations with servers configured for OpenVPN. The rest use the less secure V2Ray, IKEv2, and SSR protocols. These protocols offer fast speeds and do encrypt traffic, but they're not as efficient as OpenVPN.
Turbo VPN offers over 40 server locations, but the actual number depends on which VPN protocol you choose. If you prefer OpenVPN, you're limited to only seven locations.
On the bright side, if you're looking for a VPN to unblock streaming websites — particularly Netflix — there are about a dozen optimized servers in countries including the U.S., Japan, the U.K., and South Korea. It's not a long list — at least not as long as the best VPNs for streaming services — but it's one of Turbo VPN's few good features.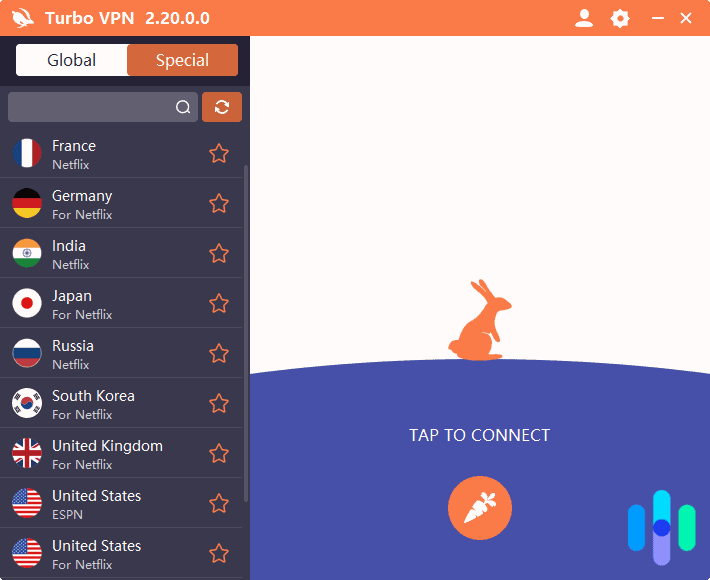 Private DNS: A Major Improvement
Given our past experience with Turbo VPN, we wanted to see if it made improvements to how it deals with DNS requests.
Turbo VPN previously didn't have a private DNS server, which means DNS requests went through public DNS servers of users' ISPs. Simply put: Even if your traffic is encrypted, your IP address is vulnerable if your DNS requests go through a public server. It's the digital equivalent of locking your front door but leaving the back door open.
Turbo VPN now has its own private DNS, which we confirmed by checking our PC's IP configuration. Under the DNS server, it says "Turbo VPN."  That's a good sign. We also performed a DNS leak test and WebRTC leak test, and Turbo VPN passed both.
The Turbo VPN Mobile App
After checking out the Windows app, we scooted over to our Android smartphone to test the mobile app.
For the most part, the Android app offers the same features as the Windows app, with only a few minor differences. Instead of four protocols, for example, the Android app supports only three: OpenVPN, SSR, and IKEv2.
The other differences were more positive. The split tunneling feature on Android is much easier to manage, since all the installed apps are listed in the settings. Simply toggle off the apps you want to bypass Turbo VPN.
There are also more specialized server options on mobile, optimized for a wide range of streaming services including NBC, BBC iPlayer, YouTube TV, Channel 4, Disney Plus, and more.
If we had one gripe about the mobile app, it would be the constant pop-ups. It kept asking us to rate the app, try the new in-app speed test tool, or upgrade to a Platinum subscription. Still, the Turbo VPN mobile app delivered a good experience overall.
Is Turbo VPN Fast?
It's hard not to expect fast speeds from a VPN named Turbo VPN, but it wasn't speedy at all in our initial testing a few years ago. Did it improve at all? Yes, but there's a catch.
Our normal internet speed is somewhere around 300 Mbps, as you can see below.

When we connected to Turbo VPN via OpenVPN, our download speed dropped to about 100 Mbps. That's a huge improvement over our previous testing, and it's a good speed overall for a VPN. For reference, though, the fastest VPNs we've tested were able to maintain almost lossless speeds.

Keep in mind, however, that Turbo VPN offers OpenVPN on only seven server locations. When we switched to the IKEv2/IPSec protocol, which offers more server options, we experienced much slower connections.

Even though 74 Mbps download speed and 28 Mbps upload speed are fast enough for most online activities, they reflect a 70 percent and 90 percent drop, respectively, compared to our network's normal speed.
The average internet speed in the U.S. is 193 Mbps for download and 23 Mbps for upload, according to Ookla2, so speed drops that huge will leave you with a 48 Mbps download speed and 2.3 Mbps upload speed.
Is Turbo VPN Finally a Good VPN?
Turbo VPN has come a long way, and we'd say it is now a good VPN — but it still has a long way to go. We like the improved speeds and the wide selection of VPN protocols and servers, but its limited use of OpenVPN? Not so much.
Rather than touting impressive numbers like having over 20,000 servers, Turbo VPN needs to focus on the quality of those servers. OpenVPN is one of the most reliable, efficient, and secure VPN protocols, so Turbo VPN needs to implement the protocol on more servers for it to be a great VPN.
Turbo VPN FAQs
Have some more questions? Let's answer them here!