2022
NFT Awareness and Adoption Report
Despite the volatile cryptocurrency market, NFT familiarity skyrocketed and ownership doubled between 2021 and 2022, rising from an estimated 4.6 million to 9.3 million people.
The concept of non-fungible tokens (NFT) has gained traction in recent years, particularly among cryptocurrency enthusiasts. NFTs are unique digital items such as art, collectibles, or game items, that can be created and traded on blockchain networks like Ethereum.
However, recent inflation and crashing cryptocurrency values have impacted the NFT market, as well as most consumers' attitude toward buying digital art. Though as many as 9.3 million Americans have bought or sold NFTs up until this point, many people view NFTs as a passing fad that only the wealthy can afford.
As a follow up to our inaugural NFT report, Security.org conducted a study of more than 1,000 American consumers to find out what they know about NFTs, and how they feel about trading these digital assets in the current economic climate.
Summary of Key Findings:
Familiarity with NFTs has soared since 2021. Last year, two in three Americans had never heard of NFTs, but this year, only 7 percent were unaware of NFTS.
Participation has doubled over the same time period, though only about 4 percent of U.S. adults have ever owned NFTs until this point.
While the vast majority of Americans are not ready to purchase NFTs, about 7 percent of non-owners said they'd be likely to purchase in the next 12 months. This equates to as many as 16.3 million potential customers.
Only around 15 percent of people believe that NFTs are worth investing in at this time.
Awareness of NFTs Has Exploded Since 2021
The number of people who have gained familiarity with non-fungible tokens has soared since our original study from 2021. In fact, the percentage of people who are at least somewhat familiar with NFTs has risen from 20 percent to 65 percent in that time. By a smaller margin, NFT participation has also increased since last year, rising from 2 to 4 percent.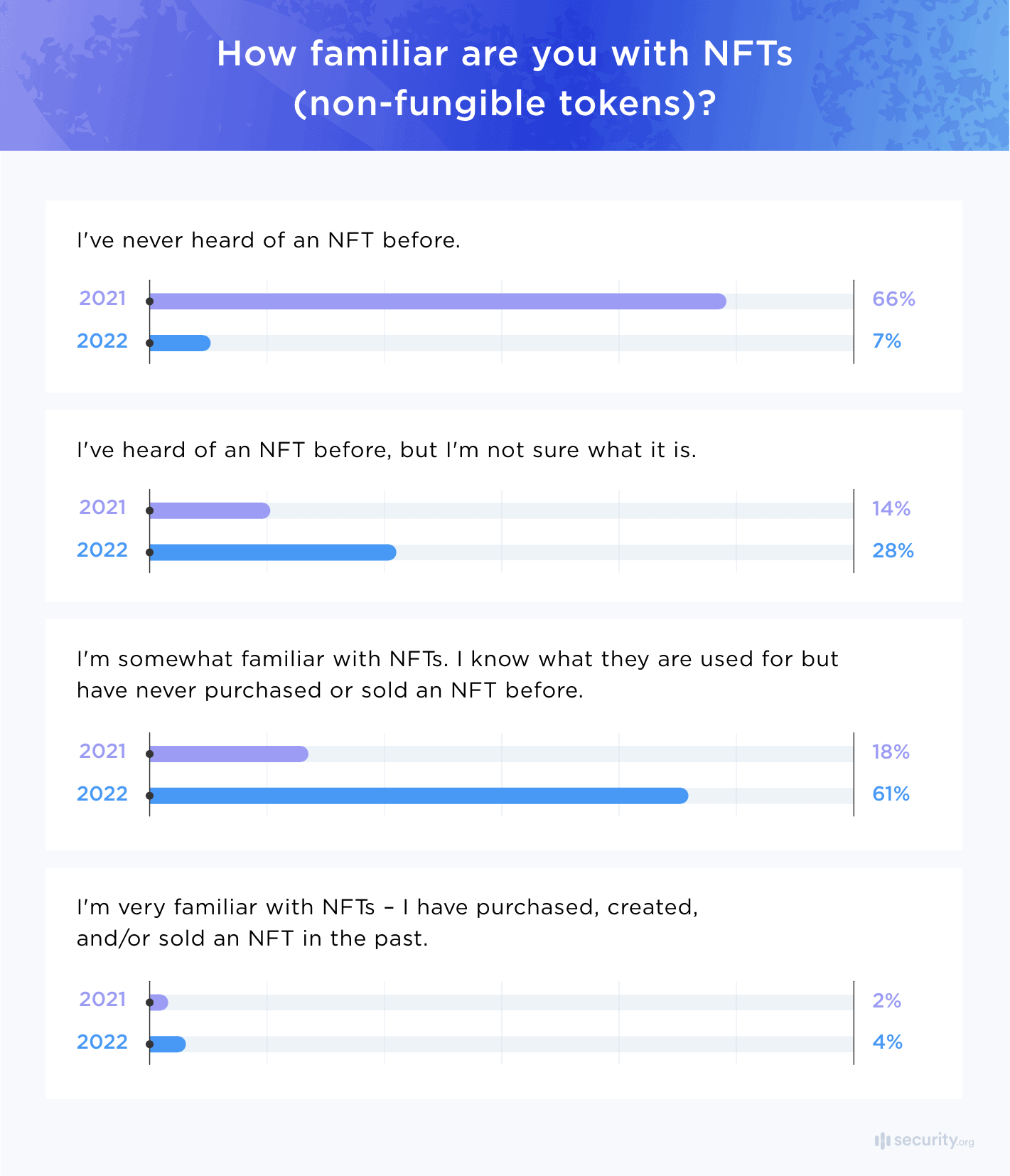 When those who claimed to be at least somewhat familiar were asked to put their knowledge to the test an astonishing 81 percent were able to define them correctly as "digital assets that represent real-world objects," compared to just 29 percent in 2021. Compared to older and younger age groups, 25-34 year olds were most likely to be at least somewhat familiar with NFTs.
As awareness has risen in recent years, so have sales. In 2021, NFT sales generated $25 billion, compared to just $94.9 million in 2019.1 The explosion of interest in NFTs is a testament to the unpredictability of adoption curves. Let's explore a few reasons why NFTs have grown so much over the past year.
Factors Driving Increased NFT Awareness
Rise in Crypto Popularity
Personal finance expert Humphrey Yang described the journey from Ethereum ownership to NFT ownership as an "easy slippery slope."2 As cryptocurrencies have risen in popularity, so have NFTs, which are built on the blockchain. For people who already own cryptocurrency, especially Ethereum, it's relatively easy to test out investments in alternative crypto ventures like non-fungible tokens.
Growing Number of NFT Creators and Artists
For artists, NFTs have several unique benefits compared to more traditional art forms. Since they're built on the blockchain, traders can authenticate and trace the ownership of their digital assets, and artists can directly monetize and authenticate their pieces without galleries or museums. Many graphic artists have started creating NFTs because of the potential earnings: in December 2021, NFT artist Pak broke a record as "The Merge" collection sold for nearly $92 million.3
Celebrity Buzz
NFTs have also attracted a lot of attention from celebrities and other notable figures. Their conversations and social media posts have helped promote the concept of NFTs more than any other source. The Bored Ape Yacht Club NFT counts Paris Hilton, Stephen Curry, and Jimmy Fallon among its high-profile owners. Furthermore, there are only 10,000 Bored Apes available for purchase,4 so many people compete to get them. These two factors make them valuable as a collectible and status symbol.
NFT Ownership Has Doubled Over Past Year
In 2022, four percent of Americans (approximately 9.3 million people) said they had ever owned NFTs. While this figure may seem low, it represents a 100 percent increase from 2021. Ownership has grown for many of the same reasons that awareness has grown: increased cryptocurrency awareness and participation, celebrity buzz, and the increased number of NFT creators.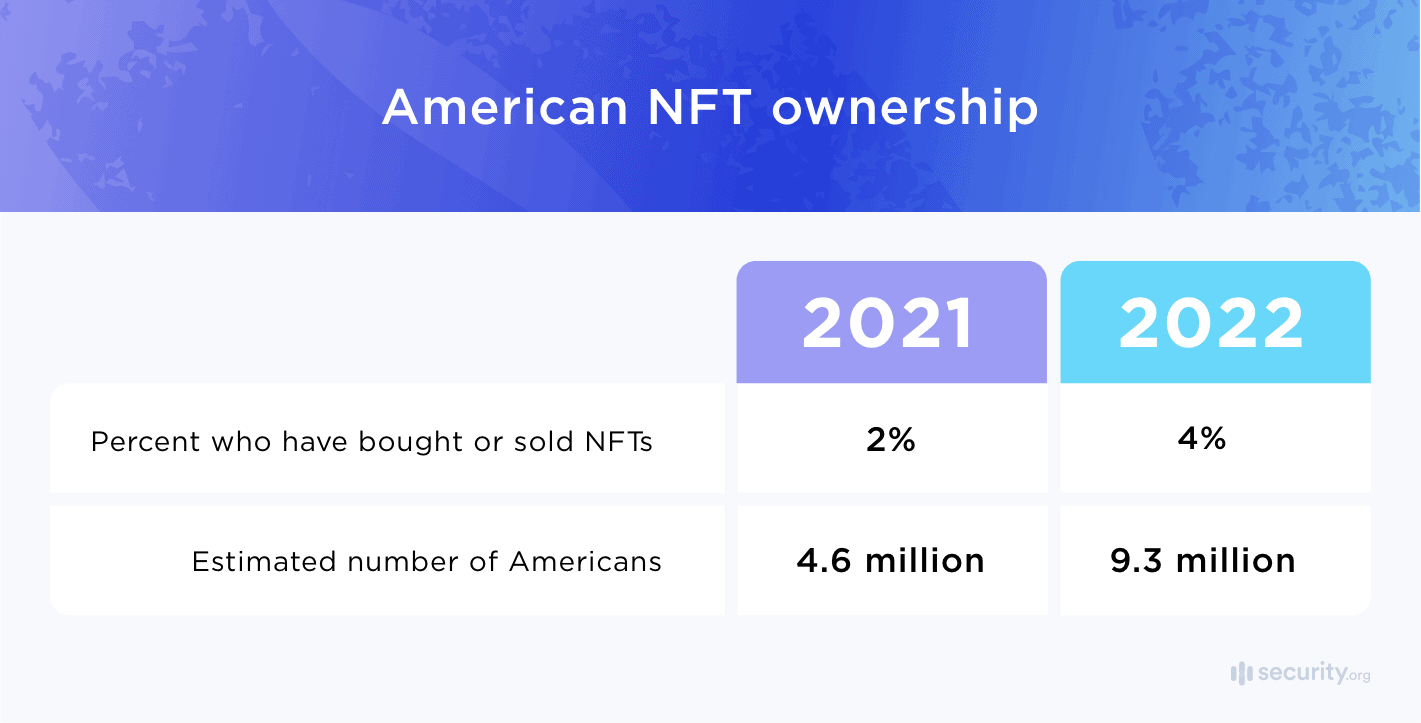 While art-related NFTs were most popular among the owners in our study, there are a wide variety of NFTs to choose from. They can represent anything, whether it is a piece of music or a piece of virtual fashion, or clips of memorable sports moments. This is one of the reasons why they are such a unique form of blockchain technology.
NFTs can also take on a variety of uses. Owners can collect them, exchange them, store them, trade them, play with them, use them as a digital identity, as a form of payment, or even as an investment vehicle. The blockchain is really great at storing and securing information and data. With the blockchain, people can easily make transactions between digital entities.
Factors preventing greater market growth
The number one problem with NFTs right now is that they cost a lot of money to create. Most NFTs are created on the Ethereum blockchain, which is expensive to use because users pay Ethereum miners a "gas fee" to make their transactions.5 Additionally, the Ethereum blockchain requires a large amount of computing power compared to many other coins, which could be unsustainable in the long run.
In order to address these two issues, many projects have begun working on moving to more modern blockchains that use a Proof-of-Stake system—like Telos. PoS systems allow for free and fast transactions at lower energy usage.6
The recent volatility of the cryptocurrency market may also make many people hesitant to invest their hard-earned cash into these digital assets, especially at a time of rising inflation.
About half of non-owners of respondents said they weren't interested in owning NFTs, but many others were open to the idea of purchasing them in the future. Art and music NFTs were most popular among those who were interested in future investments.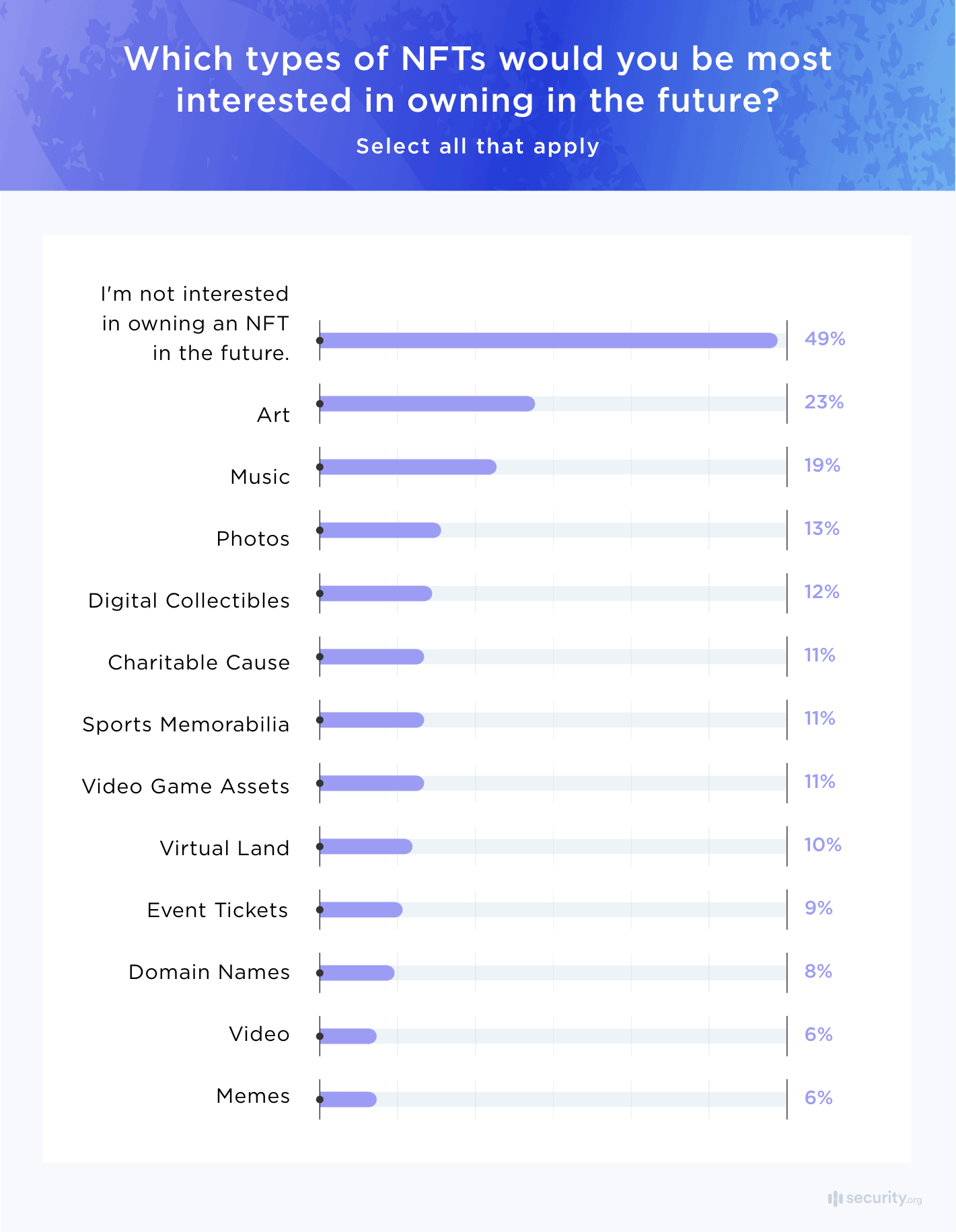 How People Perceive NFTs
Though awareness and ownership has skyrocketed in recent months, our research revealed that many people believe that NFTs are a fading fad. About one in three people strongly believed that NFTs were a waste of money, but they can be purchased in safe, responsible ways.
Those who are curious in making an NFT purchase should approach it as they would any other type of investment: they should choose an NFT that they'd like to own regardless of change in value and pay an amount that they're willing to lose.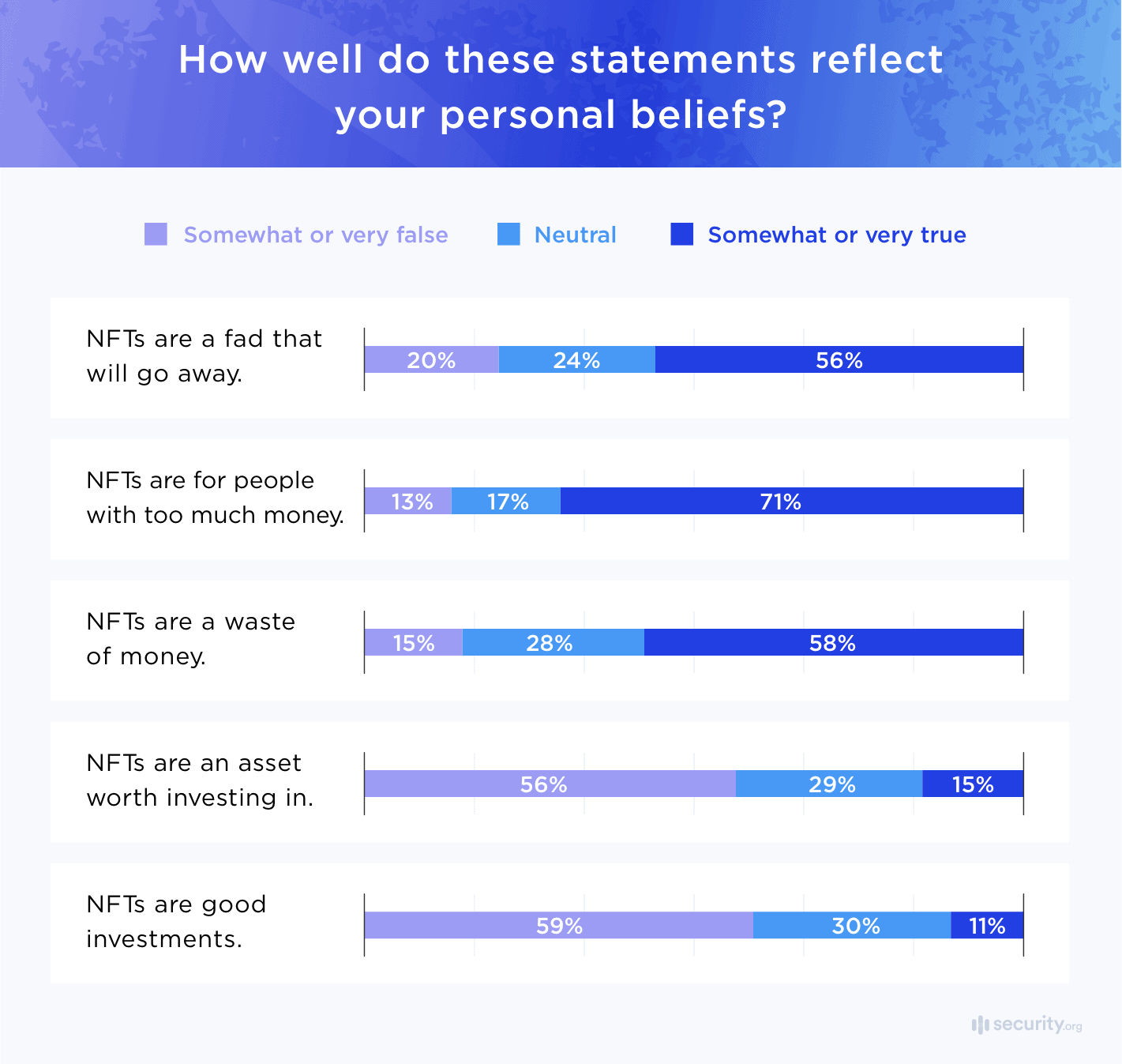 It is crucial for potential buyers to establish the appropriate level of risk they are willing to take when investing in NFTs and consider how much exposure they have to the crypto market before deciding how to approach it. They should also closely monitor cryptocurrency values, and factor them into their decisions to buy NFTs. Experts recommend making an NFT purchase decision out of appreciation for what the token represents or depicts, and not because of hype.
NFT Market Growth Projections
Although the NFT space is not devoid of challenges, it is likely to become a more popular aspect of the digital economy. As earlier NFT adopters show success with their digital purchases, late adopters may feel more comfortable jumping in. Aside from its growing popularity, NFTs play an integral part in the rise of the metaverse. NFTs serve an important role in the metaverse ecosystem, allowing people to own virtual goods and services in the form of real-world items, including cars, boats, real estate, or furniture and paintings.
Though four out of five non-owners said they were unlikely to purchase NFTs over the next year, seven percent of non-owners were likely to get into the market this year.
Those ages 25 to 34 were slightly more likely to purchase in the next 12 months than those in older or younger age groups. Our research also found that men were slightly more interested than women in making a purchase in the next year. This could be due to the idea that men have a higher risk tolerance than women,7 who are more inclined to invest in safer, traditional assets.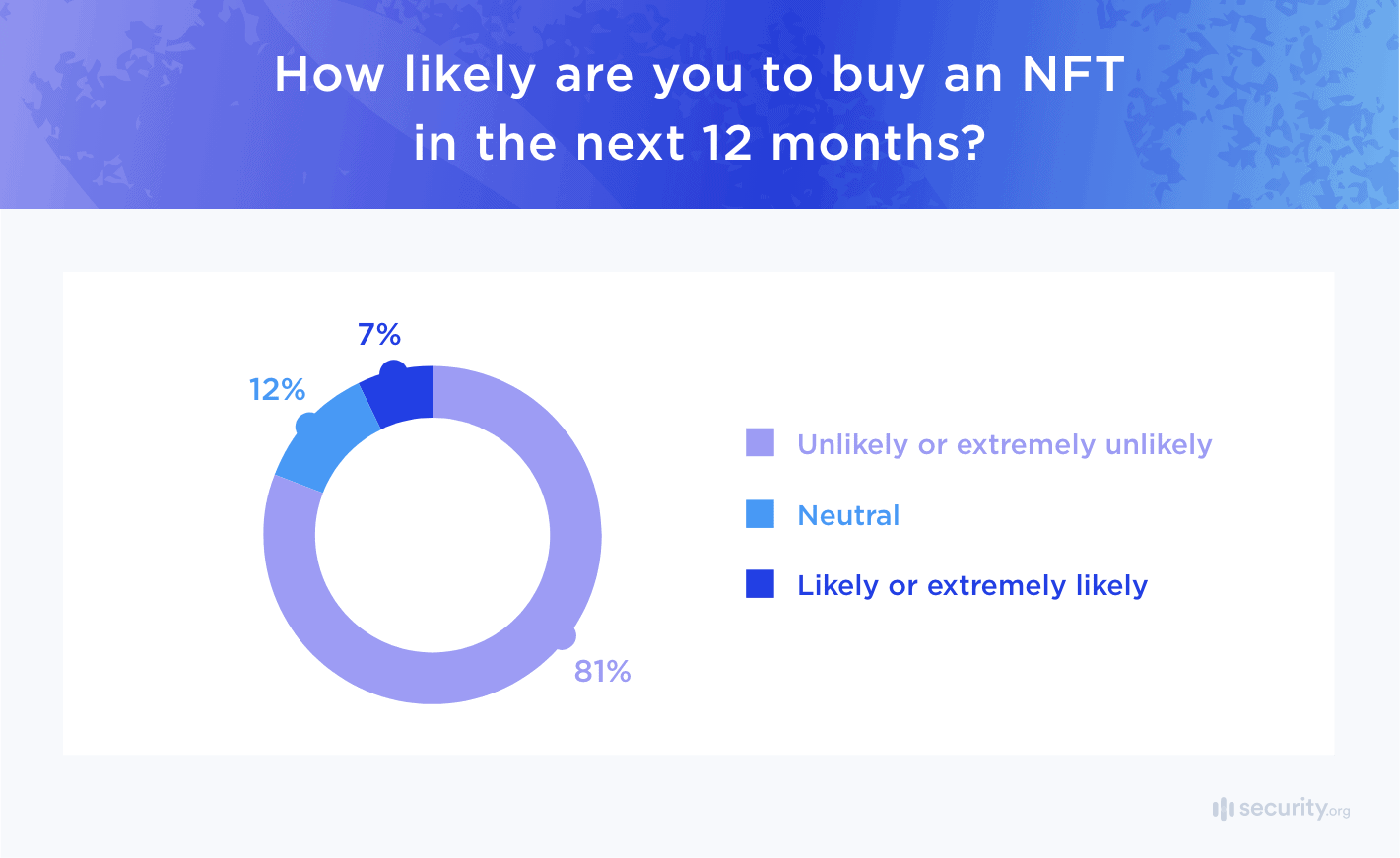 We also found that people who are invested in cryptocurrencies are more likely to own NFTs or plan to own NFTs than those who do not own or do not want to own them. Once someone holds cryptos, it would be easier to purchase NFTs because they already have the currency required to accomplish a transaction and are more familiar with the blockchain.
There are many reasons why people shy away from purchasing non-fungible tokens. Some people currently see NFTs as a waste of money, especially in the current economy. Also, since blockchain technology is still relatively new, a lot of people do not have enough knowledge about it and do not trust it yet. In other cases, people are clueless about how to make a purchase.
Conclusion
Although there's still a high percentage of people who need more education about NFTs, ownership and participation has doubled over the last year. However, recent crypto volatility could have a negative impact on market growth.
There is a lot of uncertainty surrounding the future of NFTs. Nonetheless, several things can be predicted. For one, the expansion of the NFT market could continue if more people learn about what it is and its benefits. Also, the way NFTs are used will only keep on growing as developers continue coming up with new and creative ways to utilize them. In short, despite possible challenges, the market for NFTs could rebound in the future if cryptocurrency values stabilize.
Our Data
In May 2022, Security.org conducted an internet-based survey of 600 U.S. adults ages 18+. Participants were 50% women and 50% men and were representative of the U.S. population in terms of their ages. Four percent of participants had ever bought, sold, or created NFTs at the time of our survey.
References