Norton Antivirus Cost and Plan Pricing
Antivirus software is available on its own or bundled with credit monitoring, parental controls, VPNs, etc.
Prices start at $1.66 per month, billed yearly
Plans available for iOS, macOS, Windows and Android devices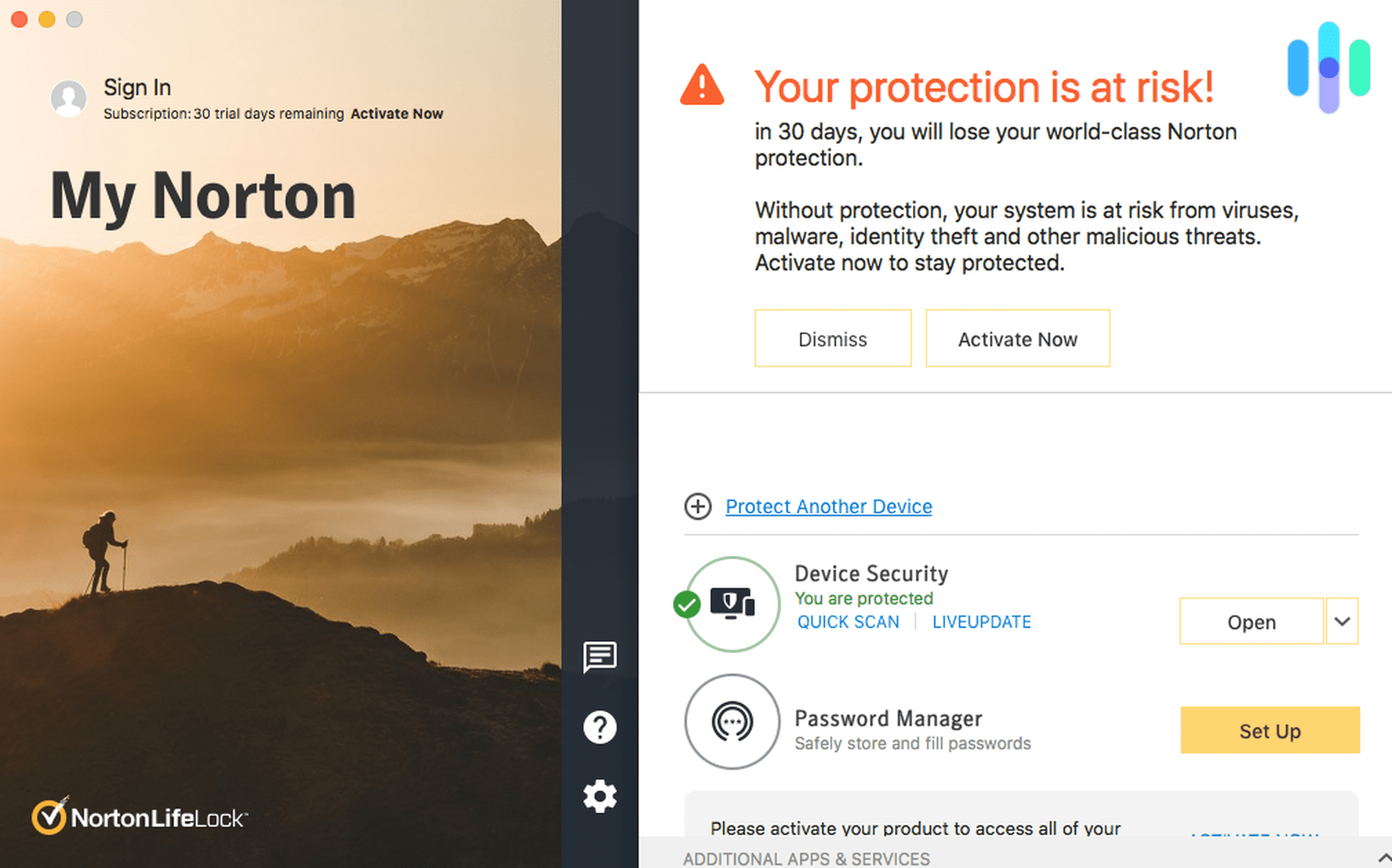 All of our content is written by humans, not robots.
Learn More
By

&

Last Updated
Sep 25, 2023
Much like the stagehands in a musical, antivirus software works in the background to keep everything running smoothly. That's the beauty of having good antivirus software. You're not paying to watch the software work. You're paying for protection and peace of mind, and when virus and malware strike, you know you can count on your antivirus to defend your device.
With that in mind, the antivirus programs that offer that kind or protection often charge a fee for their services, so how much should you expect to pay for antivirus software? In our experience, prices vary, so we must take a closer look at each brand.
Here on this page, we'll give you a tour of Norton's products and features, as well as guide you in picking the right Norton plan for your budget. We know it can be overwhelming to choose the right antivirus software, and we want you to get the best bang for your buck, so let's get started.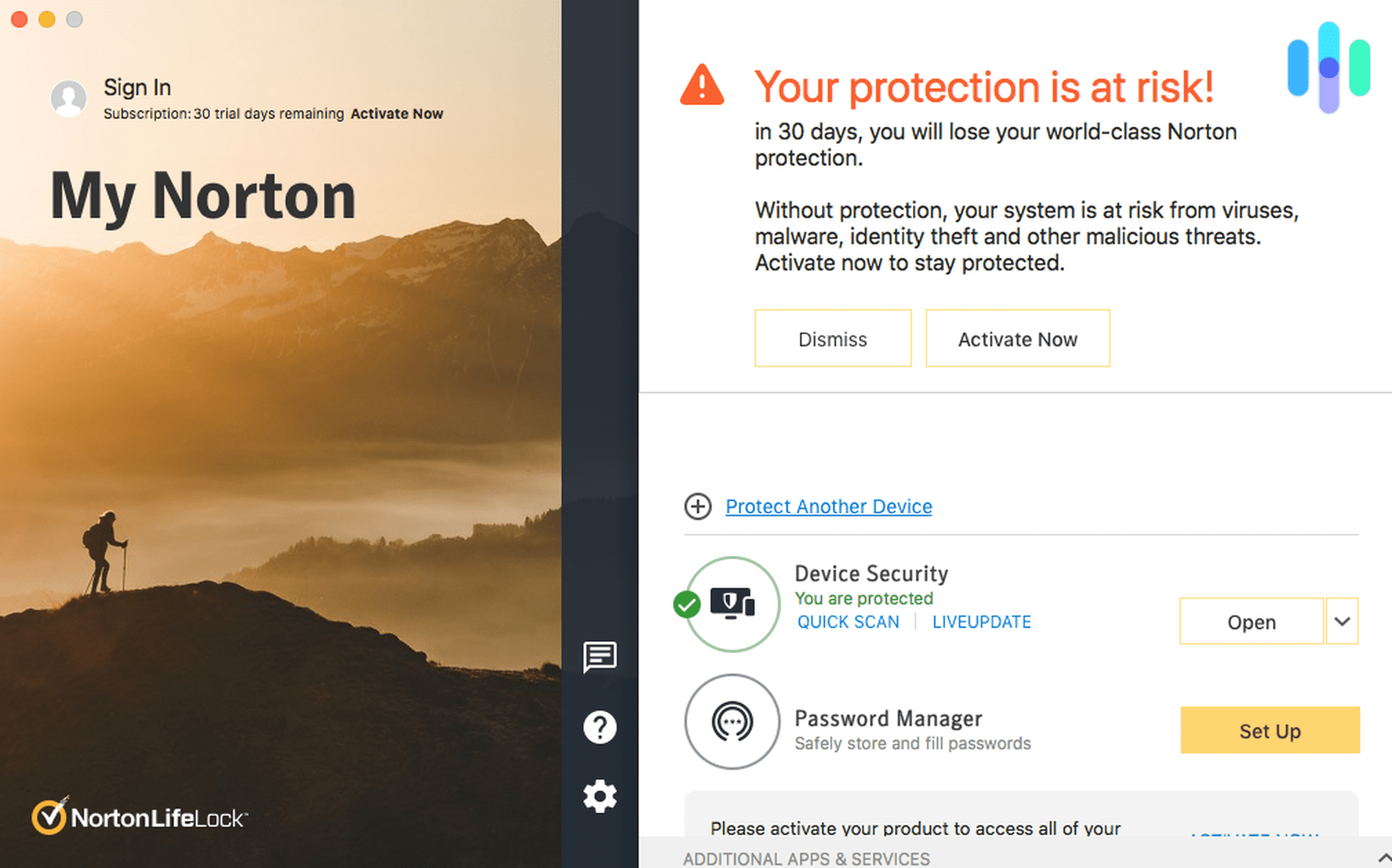 Subscriptions and Costs
The first thing to note is that Norton isn't just an antivirus brand anymore. It offers a wide range of cybersecurity products, from a virtual private network to password manager, and even services like performance optimization and online premium support.
Because Norton has so much to offer, its pricing can be a bit all over the place. There's an endless combination of individual products, bundles, and deals, and frankly, it can be overwhelming. So let's take a look at Norton's pricing one product at a time.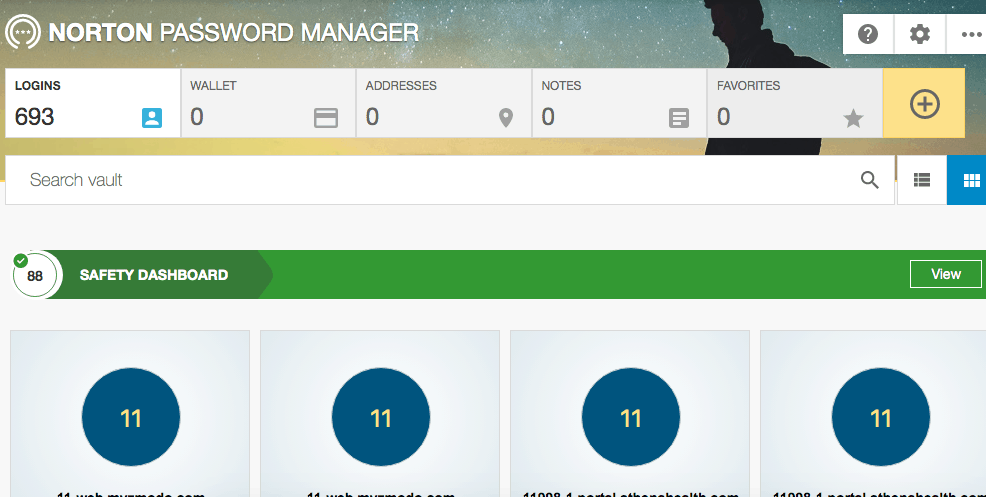 Antivirus, LifeLock and Norton 360 Bundles
To narrow down your options, let's start with the three main packages from Norton.
The first group consists of barebones antivirus subscriptions that offer some extra protections like a password manager. Called AntiVirus Plus, packages under this group are the most affordable, so we recommend them if you want to test out Norton's antivirus software.
Next, we have the feature-rich Norton 360 packages that, as the name implies, offers 360-degree protection against different types of online threats. Norton 360 typically includes a VPN, a password manager, and cloud backup for important files to protect them from ransomware.
Lastly, we have the Norton 360 with LifeLock bundles. These bundles offer the same digital protections as Norton 360, but adding LifeLock makes them capable of protecting your identity as well.
LifeLock will alert you of potential identity theft, as well as suspicious changes to your credit. In addition, you'll receive identity theft insurance coverage of up to $1 million, plus a separate reimbursement of stolen funds up to $1 million if you become a victim of fraud. You can read more about identity theft protection in our identity theft guide, or you can read our review of LifeLock to gain more insight into what it does.
Now, let's look at how those three types of Norton products compare.
| Features and pricing | AntiVirus Plus | Antivirus Plus (multi-device) | 360 Deluxe | 360 with LifeLock Select | 360 with LifeLock Advantage | 360 with LifeLock Ultimate Plus |
| --- | --- | --- | --- | --- | --- | --- |
| Number of devices | 1 | 5 | 5 | 5 | 10 | Unlimited |
| Protection against spyware, viruses, malware, and ransomware | Yes | Yes | Yes | Yes | Yes | Yes |
| Online threat protection | Yes | Yes | Yes | Yes | Yes | Yes |
| Cloud backup | Yes | Yes | Yes | Yes | Yes | Yes |
| Smart firewall | Yes | Yes | Yes | Yes | Yes | Yes |
| Password manager | Yes | Yes | Yes | Yes | Yes | Yes |
| 100% Virus Protection Promise | Yes | Yes | Yes | Yes | Yes | Yes |
| PC SafeCam | No | No | Yes | Yes | Yes | Yes |
| Identity Alert System | No | No | No | Yes | Yes | Yes |
| U.S-Based Identity Restoration Specialists | No | No | No | Yes | Yes | Yes |
| Credit Monitoring | No | No | No | Yes | Yes | Yes |
| Parental Control | No | No | Yes | Yes | Yes | Yes |
| School Time | No | No | Yes | Yes | Yes | Yes |
| Privacy Monitor | No | No | Yes | Yes | Yes | Yes |
| Secure VPN | No | No | Yes | Yes | Yes | Yes |
| Dark Web Monitoring | No | No | Yes | Yes | Yes | Yes |
| Stolen Wallet Protection | No | No | No | Yes | Yes | Yes |
| Million Dollar Protection Package | No | No | No | Yes | Yes | Yes |
| Social Security Number and Credit Alerts | No | No | No | Yes | Yes | Yes |
| ID Verification Monitoring | No | No | No | Yes | Yes | Yes |
| Data Breach Notifications | No | No | No | No | Yes | Yes |
| Social Media Monitoring | No | No | No | No | No | Yes |
| Identity Lock | No | No | No | No | Yes | Yes |
| Bank and credit card activity alerts | No | No | No | No | Yes | Yes |
| Fictitious identity monitoring | No | No | No | No | Yes | Yes |
| Court records scanning | No | No | No | No | No | Yes |
| 401(k) investment activity alerts | No | No | No | No | No | Yes |
| Home title monitoring | No | No | No | No | No | Yes |
| Price for First Year | $19.99 | $39.99 | $49.99 | $99.48 | $191.88 | $299.88 |
Aside from features, you'll want to consider the number of devices each product protects. If you're a multi-device user, you'll probably save more by going with a product that costs more but protects more devices than an affordable one that protects just one device.
Also, keep in mind that while it's completely fine to purchase each product individually — for example, just the antivirus or just the VPN — there are lots more opportunities to save with bundles.
For example, the Norton 360 with LifeLock Advantage bundle costs $19.99 on a monthly basis. That's two products rolled into one. If you buy the LifeLock Advantage subscription alone, that will cost you $17.99. That means with a bundle, you're only paying $2 per month for the Norton 360 subscription, which usually costs over $4 per month.
Bundling can help you save if you want to purchase multiple services and products from Norton, but what if you only need one? In the sections that follow, we highlight Norton's pricing for individual products.
Norton Secure VPN
Norton Secure VPN is a virtual private network. It hides your IP address and encrypts your online data to protect your privacy. You can learn more about it in our Norton Secure VPN review.
The Norton VPN is available through several subscriptions. You can buy a monthly subscription or pay yearly for some savings. You can also have a subscription for one, five, or 10 devices total.
You'll notice below that the minimum cost of the VPN for one device is $4.99 per month or $29.99 per year. That's only $20 less than the 360 Deluxe one-year plan, which includes Norton Secure VPN for not just one but five devices. Again, bundling helps you save.
| Maximum Number of Devices | Length of Subscription | Total Amount Billed |
| --- | --- | --- |
| 1 | 1 Year | $29.99 |
| 1 | 1 Month | $4.99 |
| 5 | 1 Year | $39.99 |
| 5 | 1 Month | $7.99 |
| 10 | 1 Year | $59.99 |
| 10 | 1 Month | $9.99 |
Check out what we thought of their VPN in our Norton Secure VPN review.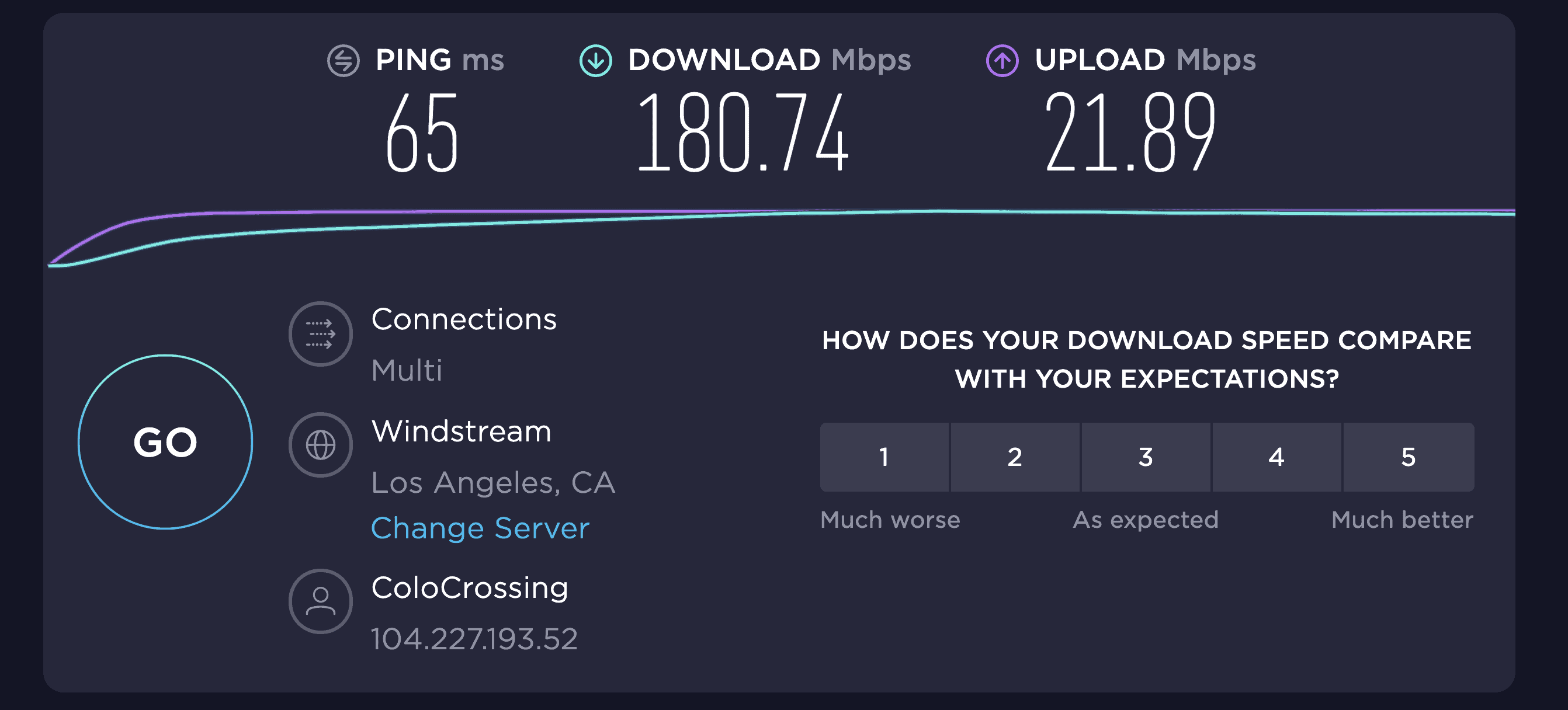 Norton Computer Tune-Up
This device optimizer, which aims to get rid of clutter and make computers run faster, costs $49.99 per service on one computer. However, there are ways to do this sort of cleanup for free, so we think that your $50 could be better spent elsewhere.
Norton Family
From pornography and violence to child identity theft, there are a number of risks you take when you let your kids use the Internet. That being said, in our research on parental attitudes towards child identity theft, we found that about a third of parents aren't very concerned or not concerned at all with child identity theft.
In a nutshell, Norton Family lets you block apps and sites you don't want your kids to see, implement safe search terms, schedule screen time, and get reports about what your kid is doing online sent straight to your inbox. It's a piece of parental control software that can help parents monitor their children's internet usage and keep them safe online. It can also help kids develop healthy online habits.
FYI: Unsure how much screen time is safe for your child? OSF Healthcare pediatrician Dr. Ameera Nauman thinks that children ages five to 17 should have no more than two hours of screen time a day. That goes down to one hour for two to five-year-olds and no hours for kids under age two.2
Norton Ultimate Help Desk
Suffice it to say that some people are more tech-savvy than others. Without stereotyping people by their ages, research has shown that millennials are the leading adopters of tech, with Baby Boomers and Gen Xers following behind.3 But no matter what age you are, running into frustrating tech issues is…well, frustrating. Fortunately, Norton offers a virtual help desk that lets you contact IT whenever you want, 24/7, for $19.99 a month. This applies to three devices, be it a smartphone, tablet, or computer. With this plan, you can call Norton's virtual help desk unlimited times.
Norton Utilities Premium
Norton Utilities Premium is another optimizer for PCs available for $39.99 a year. You can use it on up to 10 PCs but again, we don't think this service is necessary as you can clean up your PC yourself for free.
Norton Small Business
| Number of Devices | 5 | 10 | 20 |
| --- | --- | --- | --- |
| Yearly Cost | $99.99 | $149.99 | $249.99 |
Finally, there's an option for small businesses with five, 10 or 20 devices. This software works on Windows, Android, macOS and iOS, but Norton's website isn't very clear on what it actually does. To find out, we recommend live chatting with a member of their support staff to get all of your questions answered.
Favorite Features
Looking at numbers only, Norton's pricing is commensurate with other top antivirus companies, and overall, we're fans of the software. Here's why.
Behavior scanning: Norton scans for suspicious behavior of files and programs, not just suspicious files or file signatures. Behavior scanning also helps Norton catch new malware that may not be in its malware database yet.
Detected 100 percent of malware for Androids: That's right, 100 percent! While Norton didn't detect all viruses on our computer when we tested its limits, when it came to malware detection on Android, they more than impressed us.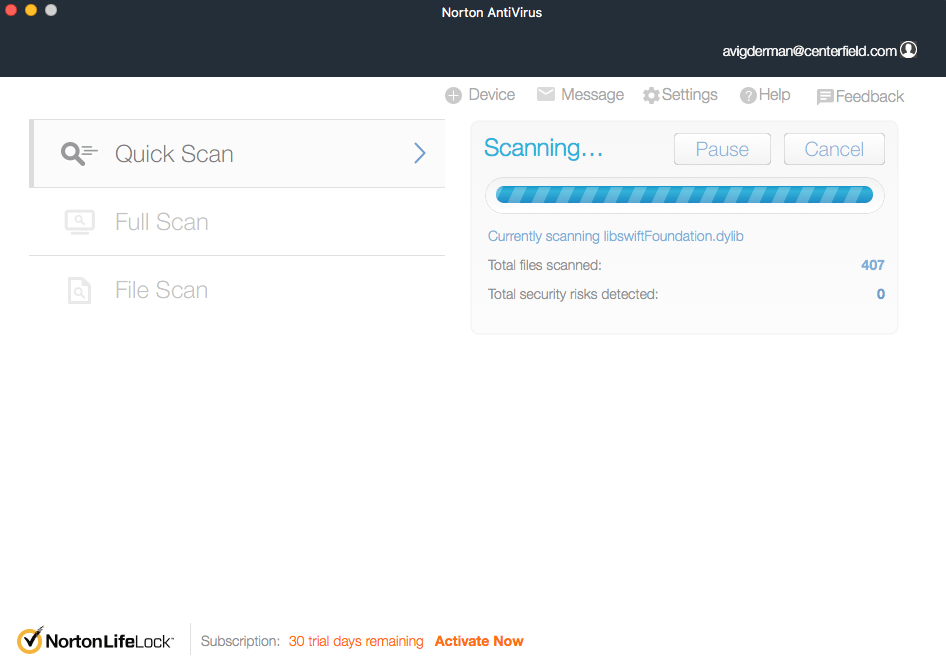 Affordable: If you break it down to monthly payments, you can buy Norton for as little as $1.67 a month, certainly a low price for digital protection.
Week-long free trial: Although we wish they had completely free versions of their antivirus software, a week seems like more than enough time to try out their services and decide if we want to continue.
Highly-rated iOS and Android apps: Both the Norton Mobile Security- Antivirus and Anti-Malware Android app and the Norton Mobile Security iOS app have 4.7 ratings on the Google Play and Apple stores, respectively.
For Free?
With any of Norton's antivirus software plans, which include all of its Norton 360 offerings, users get seven days to try them out without paying. However, this doesn't apply to any of their other standalone products like the VPN or the parental controls, only to the packages.
Note: Unlike some of its competitors, Norton doesn't have any ongoing, free antivirus packages available. Rather, all of their free trials end after a week.
Can I Get A Refund?
Some more good news: Norton has a 60-day money-back guarantee, which means that if you don't like their products, you can cancel within 60 days of purchase and get your money back. However, that only applies to annual subscriptions; monthly subscriptions only have a 14-day window, but most of Norton's plans are annual, anyway.
Savings for Students
| | AntiVirus Plus | 360 Standard | 360 Deluxe | 360 with LifeLock Select |
| --- | --- | --- | --- | --- |
| Monthly Price | $5.99 | $7.99 | $7.99 | $8.99 |
| Yearly Price | $19.99 | $39.99 | $49.99 | $99.99 |
One of the perks of being part of a student network like Student Beans is unlocking some great discounts; and that's a blessing, because after tuition, room, board, and textbooks, your bank account is probably dwindling. While their annual pricing isn't any different from their regular pricing, they do have discounted prices if you sign up for a month, which is probably more ideal for commitment-phobic students. However, note that only the Deluxe and LifeLock Select plans cover five devices; with Antivirus Plus or 360 Standard, only one device is covered.
Norton Black Friday and Cyber Monday Deals
| Black Friday and Cyber Monday year | Norton antivirus deals |
| --- | --- |
| 2021 | Reduced introductory prices |
| 2020 | None |
| 2019 | None |
| 2018 | Up to $70 off |
| 2017 | None |
| 2016 | None |
| 2015 | 50% off |
| 2014 | 50% off |
| 2013 | None |
| 2012 | Exact discount unknown |
We cover Norton's deals more extensively elsewhere, but to summarize, we've seen discounts from them in the past, not only on Black Friday but also on Cyber Monday. In 2018, for example, they offered up to $70 off.4 Here are some other deals we've seen in the past:
2015: Over half off on Norton Security
2014: 50 percent off
2012: Unclear, although we know they had a Black Friday sale of some sort as it was announced on Facebook.
As far as current deals go, Norton is offering savings of up to 36-percent off antivirus products. Norton 360 Deluxe, for example, can be purchased for as low as $34.99 for the first year (instead of $49.99).
If you ask us, though, the best deals are on bundles. Simply choosing a bundle saves you a large amount compared to buying individual Norton products. Plus, you can take advantage of lower introductory prices if you sign up for a year or two. Just remember that once the initial subscription expires, you'll have to pay the regular rates.
In Conclusion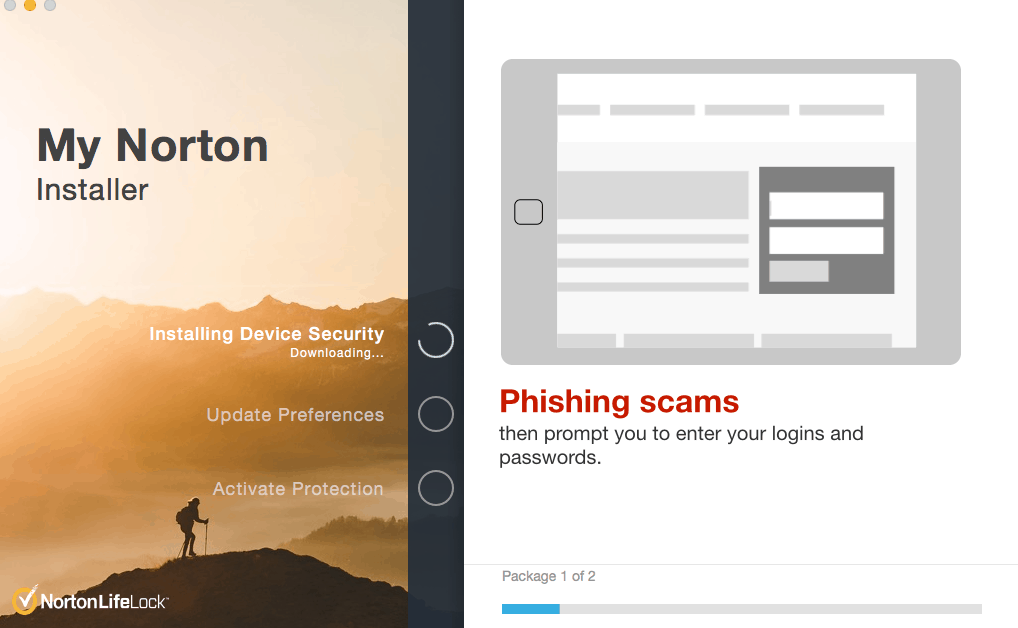 That about does it for Norton's antivirus pricing, along with pricing of their other software. If you want to learn more, we highly recommend reading our Norton antivirus review, in which we actually test out the software, compiling it with a bunch of research to see if it's trustworthy.
Commonly Asked Questions
Pricing aside, we wanted to answer your general questions about Norton antivirus, and even how it compares with top competitors.