NordVPN Review
One of the most popular VPNs might also be the most secure.
What We Like
Minimal data logging: NordVPN only keeps track of the basics like email, payment information, and customer service interactions.
Located in Panama: This means that NordVPN falls outside of the surveillance alliances Five Eyes, Nine Eyes, and 14 Eyes. As a result, the government can never force NordVPN to surrender our data.
Shared IP addresses: To keep our online traffic private, NordVPN assigns a certain number of IP addresses to each server location. Other NordVPN users connecting to the same server as ours shared these IP addresses, allowing for more anonymity.
What We Don't Like
Customer service: Even though we were happy about NordVPN's options of a live chat, email support, and an FAQ database, we wished the company had phone support.
Torrenting: Although NordVPN allows torrenting on its servers, not all servers work with torrent clients. Finding a server for torrenting requires trial-and-error.
Bottom Line
One of the better-known VPNs, NordVPN's Panama headquarters makes it a top choice for the privacy-concerned, as Panama isn't a member of any international surveillance alliances. On top of that, NordVPN has some of the best security and privacy features, including Double VPN and Onion Over VPN.
Recent Update: 1 week ago
NordVPN and its parent company Nord Security launched Sonar, an experimental project being developed by NordLabs. Sonar is an AI-powered browser extension that aims to detect and protect users from phishing attacks originating from emails.
There's no such thing as a perfect VPN. We've tested VPNs that are fast but not secure, private but not user-friendly, and affordable (free even) but dangerous to your digital wellbeing.
NordVPN is a popular VPN option because of its excellent security features that include Double VPN and Onion over VPN. You may already know this, but those features are hard to come by. So what's the catch with NordVPN? Is there any?
That's among the many things we'll explore in this NordVPN review as we give you a 360-degree look at this VPN, our hands-on experience testing it, and its overall performance. Just because it's a highly-rated VPN doesn't mean it's going to work for everyone, so let's find out if this VPN is right for you.
NordVPN Quick Highlights
| | |
| --- | --- |
| Netflix access | Yes |
| Encryption method | AES-256 |
| IP addresses | Static, shared or dedicated |
| Average decrease in speed | 33% |
| Monthly price range | $3.29 – $11.99 |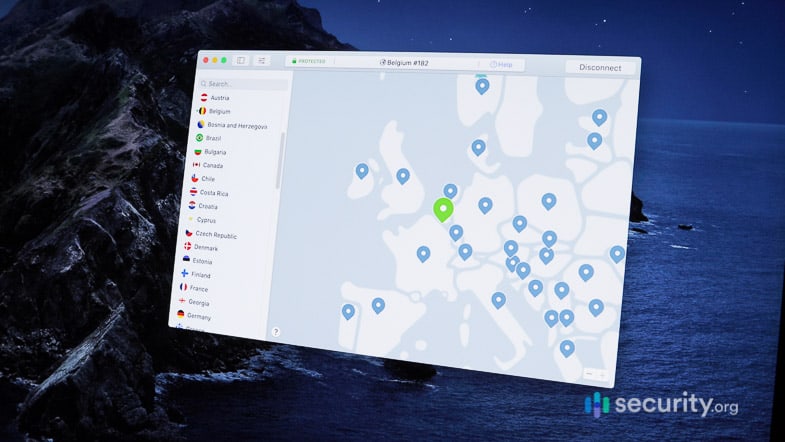 Editor's Rating
A two-year plan costs just $3.49 per month.
Each plan comes with a 30-day money-back guarantee.
Students can receive a 15-percent discount for a two-year plan.
NordVPN's Features
Comparing VPNs is pretty much like comparing cars. Any car can take you from point A to point B, but what we seek are the experience-enhancing features – engine torque, acceleration, cargo space, etc. Similarly, any VPN can protect your privacy by hiding your IP address and encrypting your online traffic. However, it's how those functions are done that separates the best VPNs from the mediocre ones.
In this section, we'll take you through NordVPN's features and what it has under its hood. One thing we'd like to highlight, though, is how innovative NordVPN has been throughout the years. We remember testing NordVPN over a year ago, and even though it was already good then, it wasn't as good as now. They've added new features, improved its speed, and developed a new VPN protocol. The bottom line is, NordVPN continues to evolve.
Servers Around the Globe
Last we checked, NordVPN had 5,500 servers around the globe in 59 countries. Now, it has almost 5,800 (and counting), and they've added a new location bringing its network reach to 60 countries.
Just to set things straight, you can use NordVPN pretty much in any country, except probably the countries where VPNs are illegal. Those 60 countries mentioned above are simply where NordVPN's servers are. For those who are new to VPNs, if you connect to a server, your IP address location will change to that of the server. So if you connect to a server in Australia, it would be like you're surfing the internet from Australia, or if you're traveling abroad, you can get a U.S. IP address by connecting to a server in the U.S.
Another reason why the server location is important is that it affects your internet speed. Essentially, the closer you are to a server, the faster your internet speed will likely be. If you're jet setting across Europe, for example, it helps if you use a VPN with servers in Europe. With NordVPN's 60 locations, it is one of the best VPNs for travel.
Pro Tip: Whether you're traveling for business or for leisure, a VPN is one of the three must-have digital security products. That's because connecting to public Wi-Fi is inevitable when traveling, so you need a VPN to protect your data privacy.
Now let's see how NordVPN's server network compares to other top options.
| VPN | Number of servers |
| --- | --- |
| NordVPN | 5,800 |
| Surfshark | 3,200 |
| Private Internet Access | 3,200 |
| ExpressVPN | 3,000 |
| Proton VPN | 1,300 |
Headquartered in Panama
Though NordVPN operates worldwide, its headquarters are in Panama. That's a big plus for us because Panama falls outside of Five Eyes, Nine Eyes, and 14 Eyes jurisdiction.1
For all the VPN newbies out there, those are surveillance alliances among countries. Depending on a VPN company headquarters location, government entities could force a company to give up data it gathered about its customers. For instance, governments can ask VPN companies to provide IP address logs for use in criminal investigations. While we don't condone cybercriminals, it's a huge red flag in our book if the government can willy-nilly access user logs of VPNs. And that's why we love NordVPN. It's outside the jurisdictions of government bodies that can do that.
Kill Switch
NordVPN knows that although its products are pretty good, they are not perfect. That's why it built a kill switch into its apps. The kill switch is a necessary feature for stealthy VPNs. Apps with a kill switch offer better protection because they are able to stop your device's internet connection in case the VPN gets disconnected.
Here's why that's important. If you're browsing with a VPN, all your traffic is secure and private. The moment the connection drops, however, the cloak hiding your traffic is gone. Not only does that make your browsing activity visible to your ISP going forward, it could also reveal your previous activities that were hidden by your VPN.
With a kill switch, the moment the VPN is connected, all traffic from your device screeches to a halt. You actually get disconnected from the internet to prevent you and your device from sending anything over the web without protection.
The kill switch feature came in handy when we were doing investigative research on online privacy. We used NordVPN because we didn't really want Big Brother to know we were poking around, but unfortunately, NordVPN timed out. Lucky for us, the kill switch activated. Otherwise, we would have continued browsing and our ISP would have seen what we were doing. And who knows what could have happened if it did?
Data Usage
If you're worried that NordVPN might hold your internet browsing back, let us assure you based on our experience that it won't. It has fast speeds and unlimited VPN data.
NordVPN lets you do what you normally do on the internet, but with more privacy. You can browse, download, and stream all you want. As a nice little side-effect, you can even change your Netflix region to access shows not available on Netflix U.S. by connecting to a server in a different country. We've tried that and it works.
Heads Up: Netflix and other streaming platforms are always trying to combat the use of VPNs to unblock geo-restrictions. If they detect that you're using a VPN, they can block the VPN IP address you're using. If that ever happens, simply disconnect and try a different server.
Minimal Logging
Using a VPN means entrusting your data to the VPN provider. The VPN encrypts your internet traffic to hide it from your ISP and others who might be trying to track your online activities, but at the same time, the VPN can decrypt the very data it encrypted. If they choose to, VPNs can easily log your online data and possibly profit from it.
That's why we always check how much data a VPN logs, and when it comes to NordVPN, we were pleased with what we found. In fact, we deemed NordVPN as the best no-log VPN service out there. First and foremost, whatever you do while connected to the VPN is not recorded. NordVPN doesn't know which websites you visited, what you've downloaded, and what you streamed. It also doesn't know your original IP address.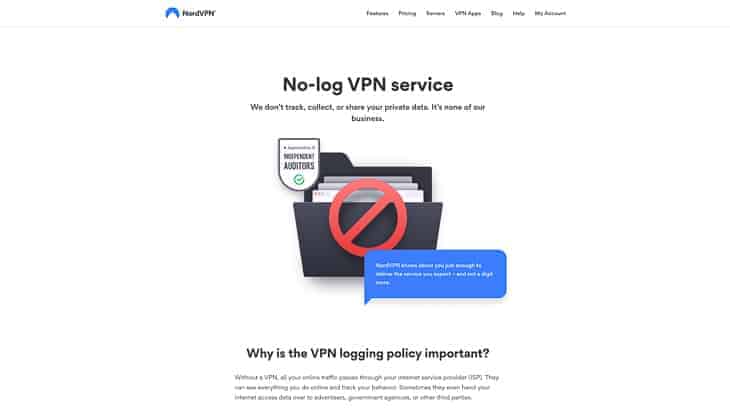 However, NordVPN logged some data, but these types of data weren't related to our online activities. For example, it logged contact and personal information necessary to maintain our accounts, such as email addresses. It also remembered our default payment information.
As for the VPN usage itself, NordVPN logged things like timestamps of our last session, information we provided customer support whenever we contacted them, and some information about the NordVPN app we were using (version, device ID, etc.). We were fine with NordVPN collecting those types of data as they help improve the company's VPN service and because the data can't be tied back to us specifically.
Moreover, PricewaterhouseCoopers Switzerland has audited NordVPN's logging policy twice, once in 2018 and again in July 2020. Most recently, in June 2021, VerSprite, a third-party consulting firm, completed an independent audit of NordVPN's application security and found no critical vulnerabilities.2 Bottom line? All audits found the VPN to be completely secure when it comes to customer data.
Our NordVPN privacy report has more details on how the company handles user data.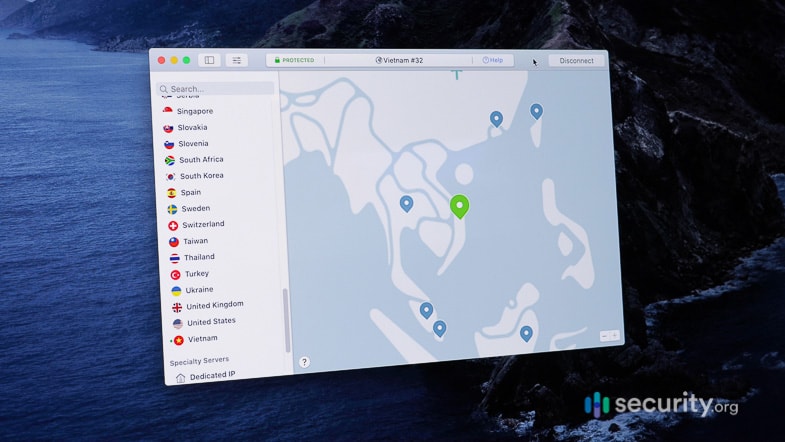 Strong Encryption
The main point of using a VPN is to hide your online activities from the prying eyes of ISPs, government agencies, and hackers. To do that, VPNs like NordVPN encrypt all your online traffic to scramble the data and keep it private.
NordVPN uses the highest encryption standard available to VPNs today: 256-bit AES encryption. Just to show you how secure it is, 256-bit AES is otherwise known as "military-grade encryption" because it's what the U.S. government uses to encrypt top-secret communications.
We also saw the same encryption standard when we reviewed Surfshark, another high-rated VPN, which means it's what the leading VPNs use. Though we felt secure using both Surfshark and NordVPN, we did notice that SurfShark offered fewer servers than NordVPN, making connection times a bit slower depending on our location. Read our comparison of Surfshark and NordVPN if you wish to learn more.
Internet Protocols
In addition to strong encryption, NordVPN uses some of the best VPN protocols for speedy and secure delivery of online traffic. These protocols are OpenVPN and WireGuard.
OpenVPN has long been the gold-standard of VPN protocols. It's fast and incredibly secure, as it seamlessly supports 256-bit AES encryption. It's also versatile, allowing different kinds of data packets to pass through. It's the VPN protocol we recommend to most desktop users.
Alternatively, users can opt to use WireGuard in the form of NordLynx. WireGuard is newer compared to OpenVPN, but it's quickly gaining attention because of its speed. Unlike OpenVPN, WireGuard is great for mobile users because the protocol itself is lightweight, meaning, it won't eat up much processing power and battery juice.
Aside from those protocols, NordVPN offers IKEv2/IPSec, an older and less secure protocol, but useful in niched applications, such as high-speed downloads or online gaming that requires stability.
Split Tunneling
By default, NordVPN encrypted all of our web traffic automatically and routed it through a secure VPN server. This is known as a full-tunnel mode. But did you know that NordVPN also offers split tunneling?
Split tunneling allows for some traffic to pass through the VPN tunnel and others to pass through normal, unencrypted networks. How exactly is that beneficial?
Picture this: You're using a VPN to access Netflix U.K. on your commute to work. However, since you're using full-tunnel mode, all your apps are connected to a U.K. server, even your weather app, and that means you're seeing the weather in the U.K. and not in your local city. With split-tunneling, you can force your weather app to use the normal network so it fetches your city's weather information.
Double VPN
NordVPN also employed a double VPN, meaning that our data went through multiple servers to gain multiple layers of encryption. This concept, known as VPN server chaining or multi-hop, enhanced our security so that absolutely no one knew what we were up to.
Even if, let's say, a hacker managed to get through one layer of encryption, a second encryption layer would stand as extra protection. Most VPNs only use one server, so we felt good knowing that our data had twice the encryption protecting it before it reached its final destination.
Dedicated IP Address
While NordVPN uses shared dynamic IP addresses by default – meaning, multiple users can share the same IP address and address changes every time you connect – dedicated IP addresses are also available for an extra fee. With a dedicated IP address, NordVPN will assign you a server IP address that only you can use.
There are several advantages to having a dedicated IP address, one of which is that you're less likely to have to fill up CAPTCHAs. Websites can see when multiple users are connecting to them using the same IP address, and that's a red flag to them. That's why you may notice an increased occurrence of CAPTCHAs when using a VPN with shared IP addresses. With NordVPN's dedicated IP addresses, no one else will be using the same IP address as you, so online services are less likely to flag down connection requests from you.
NordVPN has dedicated IP addresses in the United States, Italy, United Kingdom, Netherlands, France, Germany, Canada, and Japan. We'll discuss the cost below, under the 'Subscription Options' section.
Speed Tests
VPNs will sometimes slow down our internet speed, as the traffic has to go through an encryption server on top of a public network's server. Regardless, we still wanted to see fast internet speeds while we were connected, so we made sure to test NordVPN ourselves. We used a MacBook Pro and an Acer Aspire 5 running Windows 10.
Lots of factors determine speed, like distance to the server, the device's make and model, and the operating system, so keep in mind that there are a lot of things at play aside from the VPN itself.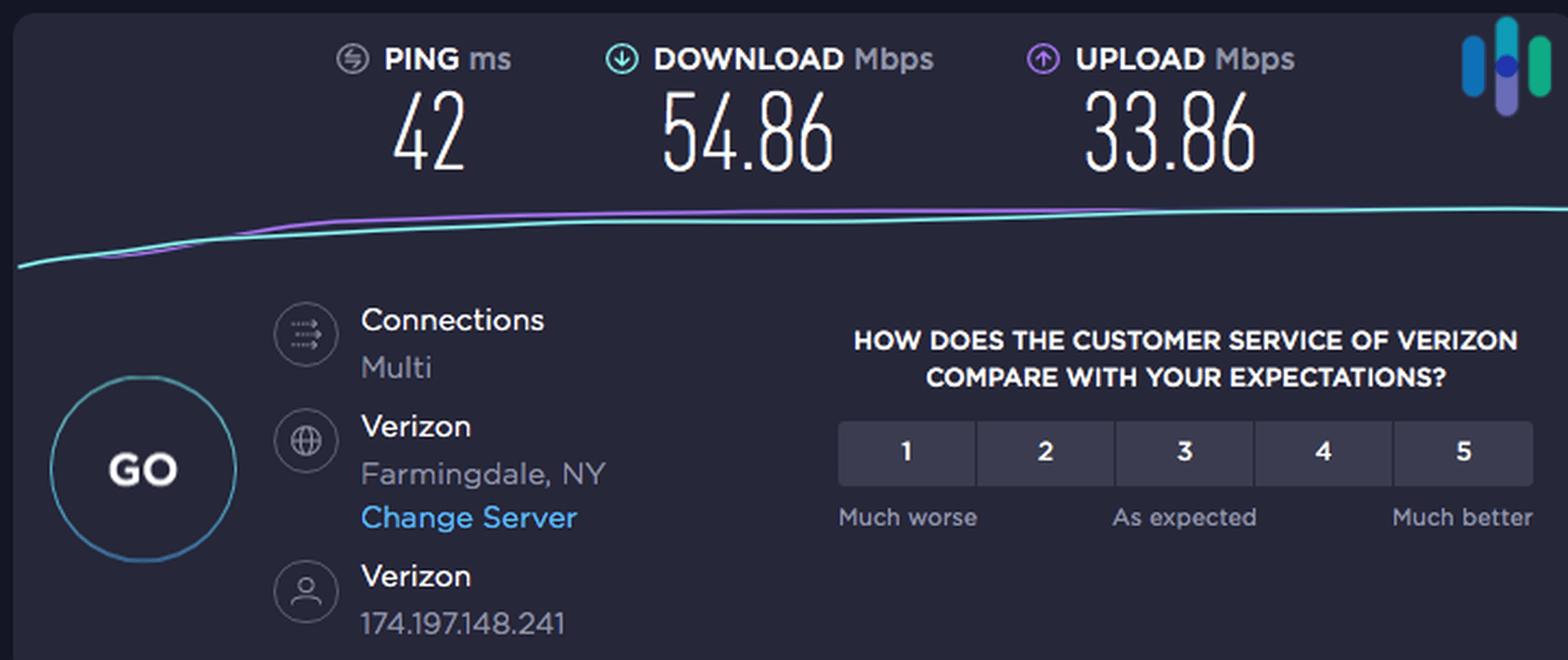 In our results below, NordVPN worked much faster on our Acer Aspire 5 than on our MacBook Pro.
On our MacBook Pro, our download speed was about 25 percent slower while using NordVPN, while speed only decreased by eight percent on our Acer Aspire.
Our upload speeds were slower on our Mac than on our Windows, but download speeds on the Mac still excelled. For instance, when we needed to download a few files to share with our team, our Mac handled the task in just a couple of minutes.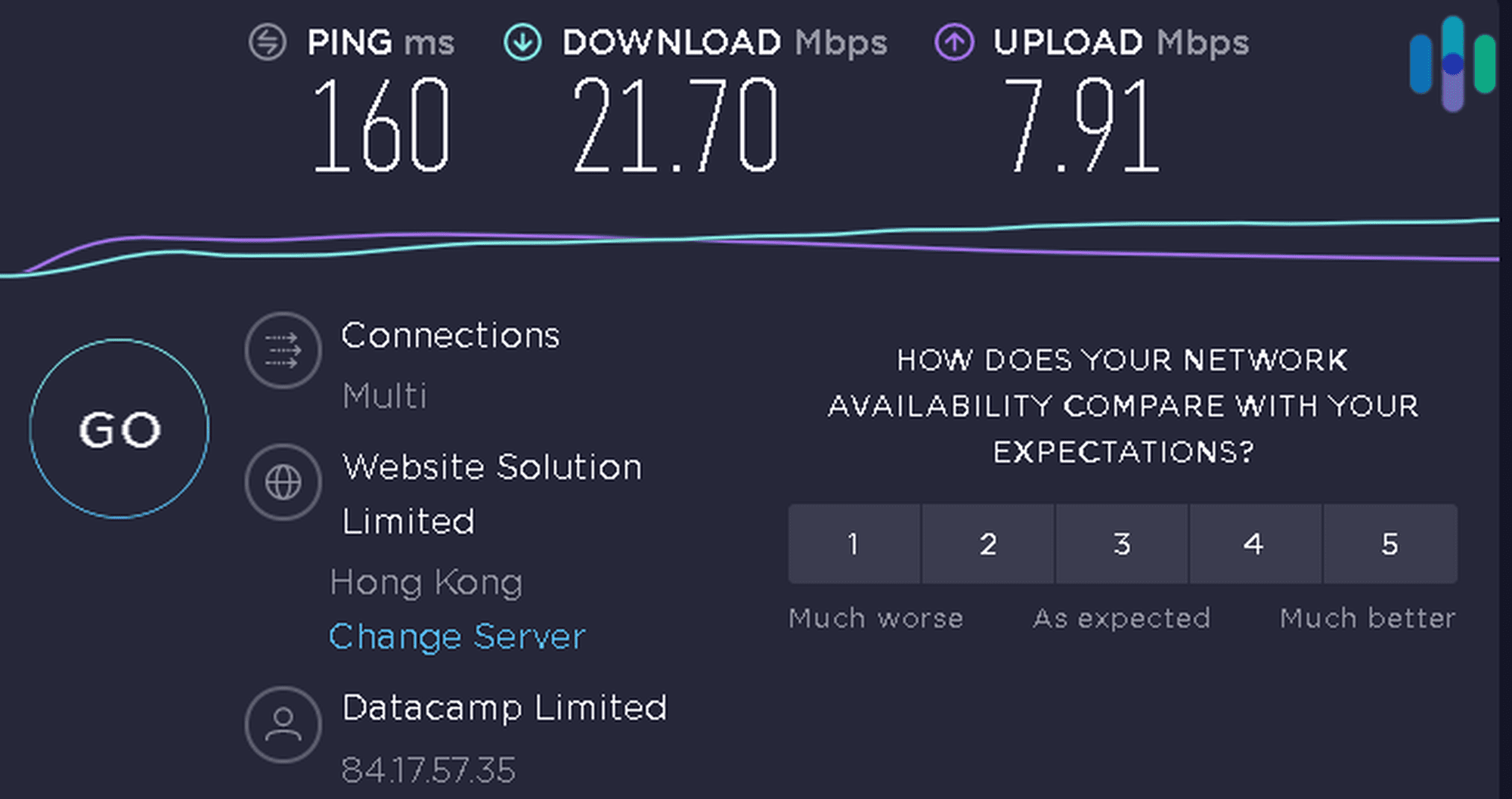 | Testing computer | MacBook Pro | Acer Aspire 5 |
| --- | --- | --- |
| Ping without VPN (in ms) | 42 | 5 |
| Ping with VPN (in ms) | 46 | 160 |
| Ping difference | 10% | 3100% |
| MacBook download speed without VPN (in Mbps) | 54.86 | 23.49 |
| Download speed with VPN (in Mbps) | 41.37 | 21.7 |
| Download speed difference | -24% | -8% |
| Upload speed without VPN (in mbps) | 33.86 | 24 |
| Upload speed with VPN (in mbps) | 27.21 | 7.91 |
| Upload speed difference | -20% | -67% |
Although NordVPN worked better on our Windows, it still held its own when we used our Mac, making it a versatile option no matter the device.
We should also note that NordVPN uses the NordLynx protocol, an adaptation of the Wireguard VPN protocol. Wireguard averaged 59 percent faster than OpenVPN in download speed tests.4 The NordLynx switchover hadn't happened yet at the time of our NordVPN tests, but it's safe to say that NordVPN's download speeds have improved in recent years thanks to the NordLynx protocol.
DNS Leak Tests
DNS stands for Domain Name System, which is like yellow pages to the worldwide web. It's a directory that converts domain names to IP addresses and vice versa, so that when you type in a domain name (e.g. Google), your traffic knows to go to the right IP address. We put all the VPNs we review through a test to make sure that they are hiding our DNS when we connect to them. Fortunately, the company passed our evaluation, meaning that there were no DNS leaks when we connected to NordVPN.

WebRTC Leak Tests

We liked WebRTC because it allowed all the things we had going, like Netflix, video chats, and files we had to download, to use less bandwidth. However, WebRTC comes at a cost: the devices know each other's private IP addresses, a big no-no for us. We conducted a WebRTC test to make sure that our IP addresses didn't leak when we were using NordVPN. Luckily, NordVPN passed with flying colors on both Windows and Mac, showing different IP addresses than the real ones on our computers.

Subscription Options
We know that the bottom line matters when choosing a VPN, so we gathered all the relevant information for you to compare VPNs. For NordVPN, we found the pricing structure to be a little bit confusing. But that's why we're here, right? Let's unpack NordVPN's pricing.
NordVPN offers three levels of service. There's the Standard plan, the Plus plan, and the Complete plan. What you have to know beforehand is that NordVPN is a part of Nord Security, and aside from NordVPN, Nord Security operates NordPass (password manager) and NordLocker (secure cloud).
Now, back to the plans. The Standard plan is a standard VPN plan, so everything that NordVPN offers is in this plan. Stepping up to the Plus plan, you'll get both NordVPN and NordPass features. And lastly, with the Complete plan, you'll get NordVPN, NordPass, and Nord Locker features.
We'll discuss the specifics below, but let's get the price out of the way first. Each plan is available in monthly, annual, and two-year subscriptions, with the monthly option having the highest rates and the two-year option offering the lowest prices.
| Subscriptions | Standard | Plus | Complete |
| --- | --- | --- | --- |
| Monthly subscription | $11.99 | $12.99 | $14.29 |
| One year subscription/Avg. monthly rate | $67.35/$5.61 per month | $82.35/$6.86 per month | $101.85/$8.44 per month |
| Two year subscription/Avg. monthly rate | $80.73/$3.36 per month | $107.73/$4.49 per month | $142.83/$5.95 per month |
As for the features, the Plus and Complete plans include access to NordPass' multi-platform password manager plus a data breach scanner that scans recent breaches for emails and passwords of NordVPN users. With the Complete plan, additional access to one TB of encrypted cloud storage is included, courtesy of NordLocker.
Backup Plan: While NordVPN doesn't offer a free trial period, it does offer a 30-day money-back guarantee. If we had any issues with the service, NordVPN would have given us our money back, as long as we were within that window, no questions asked.
After choosing a plan, you can also add a dedicated IP address at checkout. Pricing for dedicated IPs is similar to the VPN pricing in that you can choose the length of the subscription, and the longer you subscribe for, the better the price.
| NordVPN Dedicated IP | 2 years | 1 year | 1 month |
| --- | --- | --- | --- |
| Average cost per month | $4.19 | $5.89 | $8.99 |
| Total cost at checkout | $100.56 | $70.68 | $8.99 |
Before you buy, make sure to check out NordVPN's deals to see how you can unlock savings.
24/7 Customer Support
NordVPN offered several options for its customer service, like 24/7 live chat, email support, and an in-depth database of submitted user questions to leaf through. When we wanted to dig into the details on what data the VPN logged, for example, we navigated to NordVPN's support page. While NordVPN doesn't provide a phone number in case we wanted to talk to a human, we still had access to plenty of resources on NordVPN's support page.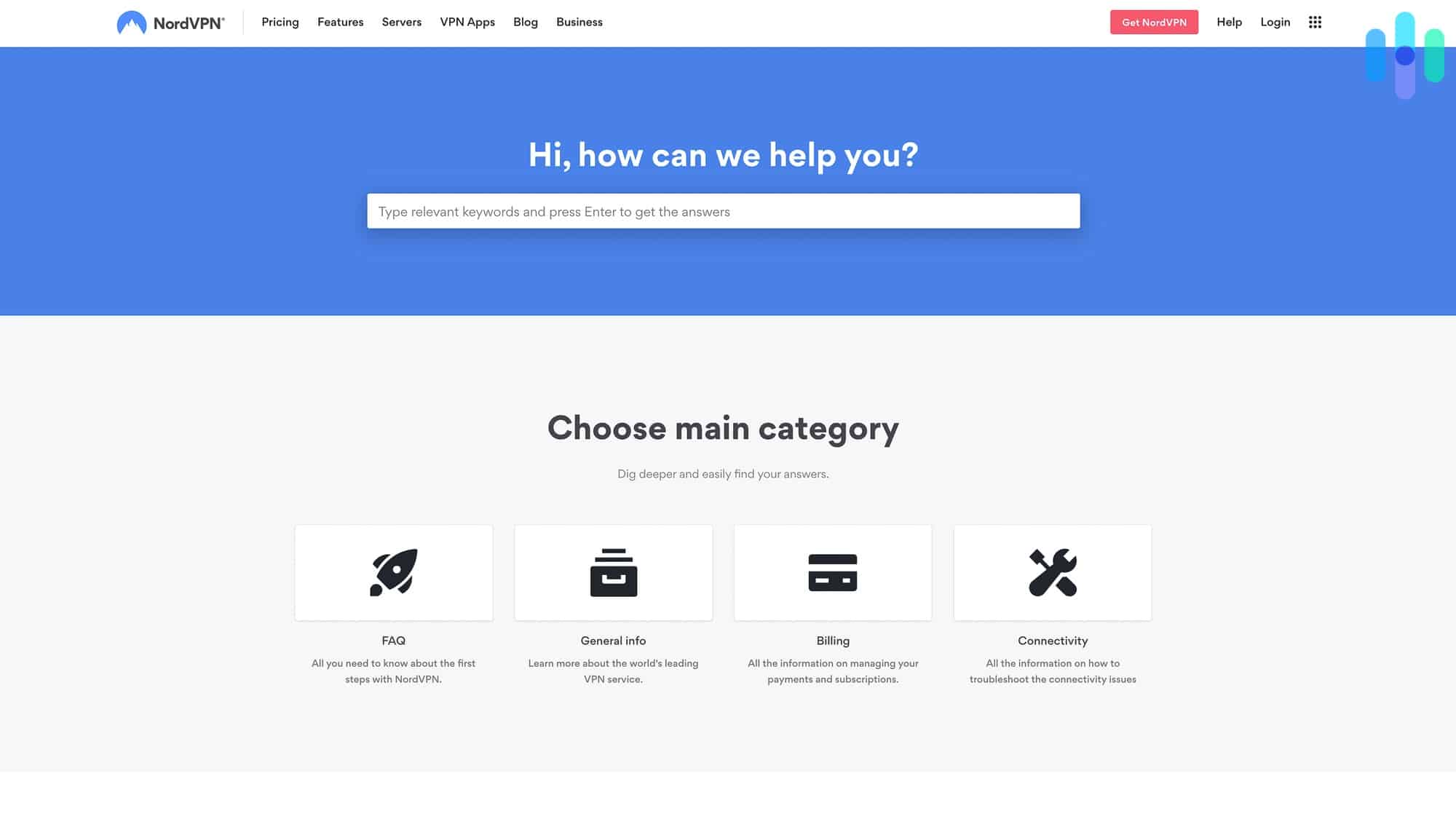 Video Review
In our video review, we take you through what it's really like using NordVPN. You'll get a better sense of exactly how this service works to help choose a VPN for you. And we'll take you along on our process of testing NordVPN for speed and leaks.
Regularly on our "Best VPN" lists, NordVPN wins in terms of security and speed. Learn more here.
Find out how NordVPN compares to other VPNs
Wondering if NordVPN is right for you? We squared it up with the best systems available to help you make a smart decision.
In Summary
Overall, we give NordVPN a 9.7 out of 10 rating based on the numerous factors we measured like features, reliability, performance, and cost-value correlation. It's currently our highest-rated VPN.
Is NordVPN the only good option? No. Some other VPNs come close to NordVPN. For example, here's our ranked listing of NordVPN competitors:
Surfshark: 9.5/10 (2nd place)
Private Internet Access: 9.4/10 (3rd place)
UltraVPN: 9.2/10 (4th place)
However, if what you're looking for is a versatile option with a global reach and first-class software, NordVPN definitely deserves to be one of your top considerations.
We loved that NordVPN's headquarters is in Panama because that meant we didn't have to stress about the possibility of the government seeing our data. We were also more than happy to see its set of features, which includes rare ones like DoubleVPN, Dedicated IP, and a proprietary VPN protocol in NordLynx. Lastly, NordVPN passed all of our speed and security tests with top marks, making us confident that it could protect our privacy while we used the internet however we pleased.
NordVPN FAQs
Since NordVPN is one of the most popular VPNs, here are the most common questions we get about it.