The Best Home Security Cameras of 2023
We researched and tested dozens of home security cameras to find the top cameras available today.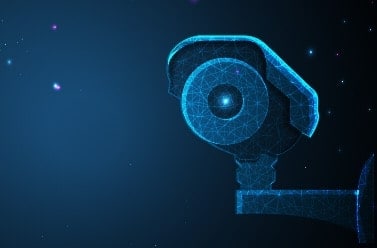 5,000+ research hours
100+ cameras tested
250+ simulated break-ins
50+ devices reviewed
12 cameras recommended
What is a Home Security Camera?
Home security cameras are surveillance devices, often part of a larger security system, that let you see what's happening on and around your property. They may be placed indoors or outdoors, and you can monitor footage whether you are at home or away. Some allow you to record continuously; others are triggered by motion or infrared detection. Almost all provide real-time monitoring options, but many also feature video recording for later playback.
Security cameras are vital to home security, but nowadays, they are used for more than just surveillance. For example, some security cameras provide features that can discourage crime, such as having built-in motion-activated lights. Others can provide extra smarts to your smart home with features like facial recognition that can let you know who's at your door.
After rigorous testing and research, we put together a list of the best security cameras you can buy right now. Keep reading and check out the video below, or if you want to put these cameras head-to-head, read our security camera comparison.
The Best Home Security Cameras of 2023
Breaking Down The Best Home Security Cameras
1. SimpliCam - Top Security Camera Overall

An easy-to-use home security camera that works seamlessly with SimpliSafe security systems

Product Specs

| | |
| --- | --- |
| Resolution | Up to 1080p |
| Field of View | Up to 120° |
| Power | Wired |
| Connectivity | Wi-Fi |
| Video Storage | Cloud |
| Smart Platform Compatibility | Alexa and Google Home |

Why is the SimpliCam the Best Overall?

Nobody makes home security as easy and hassle-free as SimpliSafe does. In our SimpliSafe security system review, we talked about how it took us less than 30 minutes to install the system, and that system included the SimpliCam.

The SimpliCam is an indoor camera that just plugs into a wall outlet and connects to Wi-Fi. It doesn't offer much in terms of features, but it's a reliable camera that just works. It can detect and alert you of movement, stream and record high-quality videos, and it offers two-way audio communication. In our experience, that's all an average person needs to keep an eye on their home while at work or running errands.

Although it works as a standalone security camera, the SimpliCam works best as a part of a SimpliSafe system. Together with SimpliSafe security sensors, the camera can monitor your home and give you visual access in cases of emergency. Moreover, SimpliSafe usually bundles the camera ($99 value) with its security system for free.

What We Like

DIY installation
Privacy shutter
User-friendly mobile app
Two-way audio

What We Don't Like

Need to pay $9.99 or $27.99 a month to receive cloud storage, notifications and remote control of camera
No person detection
720p HD resolution on older models
No smart platform integrations

SimpliSafe's SimpliCam

One minor drawback of the SimpliCam is that it doesn't record locally. You'll need a cloud subscription. That's another reason to use the camera with the SimpliSafe security system. Cloud storage costs $4.99 per month for one camera or $9.99 per month for up to five cameras. It isn't the most affordable cloud plan out there, with options like Ring offering cloud storage for unlimited cameras for as little as $10 per month. With a SimpliSafe security system, however, you can buy a $29.99 per month professional monitoring subscription, which includes cloud storage for up to 10 cameras.

Additionally, with this SimpliSafe subscription, you'll get video verification. In case of a break-in, SimpliSafe will use your camera's video ability to verify the incident and send the police faster to your home.

| SimpliSafe cloud recording options | Monthly cost |
| --- | --- |
| 1 camera | $4.99 |
| Up to 5 cameras | $9.99 |
| Up to 10 cameras (with pro monitoring for SimpliSafe) | $29.99 |

It's worth noting that SimpliSafe recently came out with a new indoor camera that is far more advanced than the SimpliCam. It's called the Smart Alarm, and it costs $139.99. This camera can be paired with the Fast Protect monitoring plan to gain access to 24/7 live agent monitoring.

The camera uses AI to detect person-triggered motion events, and when it does, it reports to the live monitoring center. The camera can stream to the monitoring center during emergencies and even create a two-way audio link between an agent and the camera's speaker to potentially ward off intruders.

That's taking a more proactive stance in protecting your home, and the Smart Alarm might very well be a good upgrade to the SimpliCam. However, there may be some potential privacy implications, especially because it's an indoor camera. We value privacy, so for now, SimpliCam is still our top choice.

2. Lorex - Easiest to Use Security Camera

High-end Wi-Fi and IP cameras with 4K color and night vision

Product Specs

| | |
| --- | --- |
| Resolution | Up to 4K HD |
| Field of View | Up to 180° |
| Power | Wired, battery, PoE |
| Connectivity | Wi-Fi, ethernet |
| Video Storage | Cloud, Local |
| Smart Platform Compatibility | Alexa and Google Home |

Are Lorex Cameras Easy to Use?

Lorex is known for the quality of its security cameras. Many Lorex camera models are vandal-proof; for example, the ones we tested had heavy-duty metal casings and protected power cords.

Don't be intimidated by their solid construction, though. Lorex cameras are some of the easiest to use security cameras. Although you'll need to spend quite some time setting them up – it took us almost half a day to completely set up, install, and configure our six-camera Lorex system – you'll find that once they're set up, there's not much else to do to keep them running. They are set-and-forget types devices.

One thing we really liked was that it stored footage in a local recording box called a DVR. The DVR has plenty of storage space, usually 1 TB or more, and it's expandable with additional hard drives. Lorex can store footage for days on end without cutting. Ours kept recordings of the past two weeks.

Although Lorex cameras seem dated in design, some of them actually have really advanced features. We've seen dozens and even tested a couple with up to 4K resolution. What really surprised us, though, were the Lorex cameras with artificial intelligence, something we only ever see in more modern brands like Google Nest and Arlo. Certain AI-powered Lorex cameras we tested were capable of distinguishing people from other moving objects, also known as person detection.

FYI: Is artificial intelligence a friend or foe? In the context of security cameras, AI is a friend that improves detection and provides tons of security value. However, that's not the case with all types of AI.

What We Like

Clear HD video quality up to 4k
Long-range night vision feature
Professional-grade design and build
Feature-rich cameras with smart tech

What We Don't Like

Expensive high-end camera system
Easy to be overwhelmed by options
Cameras must plug-in to power outlets
Customer service is not the best

Mounted Lorex Camera

One bestselling home-use Lorex camera is the 1080p HD Outdoor Wireless Security Camera. It's an affordable but dependable camera, retailing for as low as $149. We think this camera really represents Lorex well.

The hardware is impressive. It has a 115-foot night vision range, meaning, it can see as far as 115 feet out in near-total darkness. It can record audio and video, it has a 1080p HD resolution, and the construction itself was solid and rugged. It wasn't perfect – we would have liked to see a wider field of vision than its 118-degree lens and it doesn't work in temperatures below zero. However, it's a perfectly reliable and budget-friendly option, which is true for most Lorex cameras.

Speaking of which, Lorex offers a wide variety of options. That's one of the best things about this brand. In most cases, you're free to mix and match different camera models depending on your needs. If you need more indoor cameras, for example, Lorex offers packages with up to eight indoor cameras. That makes personalizing your security camera system a lot easier with Lorex.

3. Ring - Top for DIY Installation

Video doorbells and weatherproof cameras powered by batteries, mains electricity, or the Sun

Product Specs

| | |
| --- | --- |
| Resolution | Up to 1080p |
| Field of View | Up to 155° |
| Power | Wired, battery, PoE, solar |
| Connectivity | Wi-Fi, ethernet |
| Video Storage | Cloud |
| Smart Platform Compatibility | Alexa and Google Home |

Why Ring Has the Best Security Camera Selection Overall

Ring jumpstarted the video doorbell market in the early 2010s, and after being bought by Amazon, it continued to produce innovative security cameras. Today, it has a completely separate line of home security cameras, divided into these models:

Ring Indoor Cam
Ring Stick Up Cam
Ring Spotlight Cam
Ring Floodlight Cam

Ring cameras leverage advanced technology, but they aren't complicated to use. For example, the newest Ring Spotlight Cam models use radar to more accurately detect and report movement, but when we tested it, it worked just like regular motion detection we've seen countless times from other cameras. And that's the thing about Ring: It provides better-than-most features without complicating the user-experience.

Other Ring camera models include motion detection, two-way voice, and Amazon Alexa and Echo integration like the doorbell cameras. Smart integrations let us control our home alarm system with voice commands and send our security video to various in-home displays of our choice. Ring cloud video storage costs $3.99 per month for one camera or $10 per month for an unlimited number of cameras installed in one address.

What We Like

Wide-selection of indoor/outdoor cameras
Easy DIY installation takes only minutes
Crisp and clear HD video image quality
Integrates with third-party smart platforms

What We Don't Like

Some Ring cams are too large
High-end Ring cameras are expensive
Ring Pro cam requires hardwiring
Can be prone to trigger false alarms

Ring Spotlight Camera

Ring has an expansive product catalog, but let's take a look at one example: For most climates, the Ring Spotlight Cam is one of the best weatherproof cameras for scaring off prowlers as it can withstand temperatures five degrees below zero. This $200 camera comes equipped with bright spotlights that you can program to turn on when it detects motion. It also has a 110-decibel siren, plenty loud even for an outdoor camera.

An even more advanced version of the Spotlight Cam was released recently at the 2022 Amazon hardware event, which also features 3D Motion Detection. This additional feature uses radar technology to track the movement of prowlers within your property, and in addition to the camera's live feed, 3D Motion Detection enables a Bird's Eye View of your lawn. That, in addition to the spotlight feature that comes with every Spotlight Cam makes the Spotlight Cam Pro a solid option to stand guard outside your home.

Not all Ring cameras are super-advanced, though. There are also ones that are more low-tech but very reliable and affordable. One example is the Ring Indoor Cam, Ring's most affordable security camera to date. The Ring Indoor Cam is comparable to our top-pick, the SimpliCam. It plugs into an outlet, streams and records videos, and detects motion. And at just over $50, it's an affordable option for those who prefer Ring's catalog of Wi-Fi cameras.

| Ring security cameras | Price range |
| --- | --- |
| Ring Indoor Cam | $49.99 – $59.99 |
| Ring Stick Up Cam | $99.99 – $199.99 |
| Ring Spotlight Cam | $169.99 – $249.99 |
| Ring Floodlight Cam | $199.99 – $269.99 |

What's New: Another new creation by Ring is the $250 Car Cam, a dual-camera hardware designed to protect your car whether it's running or parked in your garage. It detects motion, is LTE-ready, and has a built-in Alexa so you can start a recording with your voice while driving.

4. ADT - Most Complete Security System with Cameras

Product Specs

| | |
| --- | --- |
| Resolution | Up to 1080p |
| Field of View | Up to 128° |
| Power | Wired, battery |
| Connectivity | Wi-Fi, ethernet |
| Video Storage | Cloud |
| Smart Platform Compatibility | Alexa and Google Home |

Why ADT Cameras are Best if You're Looking for a Complete Home Security System

ADT offers a trifecta of security cameras: An indoor camera, an outdoor camera, and a doorbell camera. Together, these three cameras can watch over your home with their 1080p HD resolution, two-way talk feature, and smart capabilities that help them distinguish between important and unimportant events.

So far, those are pedestrian security camera traits. The very best aspect of ADT cameras, though, is that they come with the ADT home security system. These are not standalone cameras, so you can buy them only if you also buy a security system.

That makes sense, though. ADT is a leader in home security monitoring. Its cameras may not be top-of-the-line in features and tech, but paired with ADT's reliable monitoring service, high-quality home security equipment, and 145-year long history and experience, these cameras become much more useful than similarly-featured security cameras.

Of course, if you really want smarter cameras, ADT gives you options. As far back as 2021, ADT and Google Nest have maintained a solid partnership that saw Google Nest's smart cameras added to the ADT roster. Google Nest Cams are some of the smartest security cameras around. We won't go into too much detail as you'll soon meet them down this list, but one special feature of the Nest Cams is facial recognition.

What We Like

A video analytics system that can differentiate different events
1080p HD video resolution on indoor and outdoor cameras
Two-way audio on every camera
All cameras come as part of a complete ADT home security system

What We Don't Like

Relatively high prices
Video doorbell only has 720p video
Requires professional installation
Minimum subscription is three years

ADT Home Security Outdoor Camera

For a home security system, ADT is teeming with security camera options. We like the ruggedness of the ADT-branded cameras, especially the outdoor camera (pictured above) with an IP 65 rating. It's water- and dust-proof, and it's built to work in cold and warm climates.

That said, if you're looking for smarter security cameras, we recommend Google Nest Cams for your ADT system. Google Nest is another top-rated security camera brand, and if you buy Google Nest cameras from ADT, you'll get professional installation, including integrating the cameras to your ADT system.

Whichever you choose, though, ADT's greatest selling point is that it's not just a security camera system, but a complete home security system. Security cameras prove great for visual monitoring, but ADT sensors can help detect other dangers that security cameras may not be able to.

On top of that, ADT has a solid professional monitoring service, which includes video verification through ADT-connected cameras. Video verification occurs during emergencies. Rather than simply alerting the police that there might be a break-in in progress, ADT monitoring centers can briefly access security camera feeds to confirm the alert. That way, they can assist the dispatchers in identifying the intruder and also speed up police response.

5. Wyze Cam - Most Affordable Security Cameras

Budget-priced indoor security cameras with free cloud storage for motion-triggered video

Product Specs

| | |
| --- | --- |
| Resolution | Up to 1080p |
| Field of View | Up to 110° |
| Power | Wired |
| Connectivity | Wi-Fi |
| Storage | Cloud, local |
| Smart Platform Compatability | Alexa and Google Home |

How Affordable Were the Wyze Cameras?

With prices that start at just $29.99, Wyze makes some of the most affordable indoor security cameras with mobile app integration. Cloud storage is free for motion-triggered events, which makes Wyze a very affordable home security solution overall. Wyze makes its cameras for DIY monitoring.

Special features include geofencing (motion detection zones), Alexa compatibility, and the ability to detect specific frequencies. For instance, the camera sends mobile alerts in response to a smoke alarm.

What We Like

Lowest priced cameras (starting at $29.99)
Free 14-day cloud video storage
Works with Alexa for voice control
Innovative features like motion tagging

What We Don't Like

No outdoor camera options available
No pro monitoring, only self-monitoring
Has long power cord/must be plugged in
Does not offer geofencing technology

Wyze Cam Pan and Box

Despite being a budget security camera brand, Wyze has been making a lot of high-tech cameras. They now have indoor and outdoor cameras, cameras that can pan and tilt mechanically, and even cameras equipped with a spotlight or floodlight for scaring intruders. And the best part? They are all more affordable than what we normally see in the industry.

One example is the Wyze Cam Floodlight, which as the name implies, comes with built-in floodlights. It's nothing to sneeze at; the floodlights are 2,600 lumens bright but dimmable, it comes with a 105 dB siren, it has a 270-degree motion detection range, and it has all the smart features of the Wyze Cam v3 like person and pet detection. In terms of price, though, it costs half of most floodlight cameras. The Ring Floodlight Cam costs $200 and up, while the Wyze Cam Floodlight costs only $93.99.

6. Arlo - Top Video Resolution

Cutting-edge indoor and outdoor cameras with up to 4K resolution

Product Specs

| | |
| --- | --- |
| Resolution | Up to 4K HD |
| Field of View | Up to 180° |
| Power | Wired, battery, solar, PoE |
| Connectivity | Wi-Fi, ethernet |
| Video Storage | Cloud |
| Smart Platform Compatibility | Alexa and Google Home |

How Arlo Has the Best Security Video And Storage

The standard for high-definition security video is 1080p resolution. Arlo pushed the envelope with 4K ultra-high-definition on the weatherproof Ultra security camera, which costs $299. During our evaluations, the Arlo doorbell cameras, indoor cameras, and outdoor cameras automatically lowered their resolution if they detected low bandwidth.

Arlo loaded each camera with special features such as two-way voice, a siren with remote control, and compatibility with Amazon Alexa and Google Assistant.

Multiple setup options made Arlo cameras famous, too; cameras plugged in or operated wire-free, and magnetic mounts made setup hassle-free. The video was saved locally on a USB or to the cloud, free for seven days. Arlo cameras work best when grouped together to create an integrated network of security cameras.

What We Like

High-quality home security cameras
Offers a wide-range of camera options
No long-term contracts required
100% wireless, can be installed anywhere

What We Don't Like

Steep upfront equipment cost
Does not offer entryway sensors
Limited home automation options
Not sufficient for complete home security

The Arlo Pro 2

While the Arlo Ultra offers the most impressive video resolution in Arlo's lineup, there are slightly more affordable options that still provide crystal clear video quality. One of our favorites is the Arlo Pro 4, which is an indoor and outdoor camera that runs wire-free on batteries. It's a slight improvement over the Arlo Pro 3 we reviewed.

The Arlo Pro 4 features a 2K HD resolution; slightly lower than the Ultra, but still above industry average. While it costs less than half the latest Arlo Ultra, it provides similar features such as an integrated spotlight and color night vision. It's also quite rugged for a security camera as sleek-looking; it's resistant to rain and sun (it has UV protection, too), and it can operate in temperatures as low as minus four degrees Fahrenheit.

Heads up: The latest from Arlo is the Arlo Pro 5S, a 2K spotlight camera with an extra-wide 160-degree viewing angle, dual-band Wi-Fi, and extended battery life. This latest camera works exceptionally well with the Arlo Home Security System.

7. Nest - Most Compatible with Google Home Cameras

Smart doorbells & indoor/outdoor security cams with facial recognition and continuous recording

Product Specs

| | |
| --- | --- |
| Resolution | Up to 1080p with HDR |
| Field of View | Up to 130° |
| Power | Wired, battery |
| Connectivity | Wi-Fi |
| Video Storage | Cloud |
| Smart Platform Compatibility | Alexa and Google Home |

Why Nest Is Best for Google Home Security Cams

While our Ring paired naturally with Amazon Alexa, Nest was best with Google Assistant and other Google Home products. Nest cams work intuitively with Google Home speakers. For example, we could say, "Hey Google, play the backyard camera on the kitchen Chromecast," and it would perform the task.

The Nest Cam options include the plugged-in indoor model, the battery-powered weatherproof model, and the floodlight-equipped model. There are also wired and wireless video doorbell options. All these cameras share the same core features, including motion detection, person detection, and activity zones. Each can also be added to a Nest Aware subscription, which enables cloud recording plus up to 10 days of continuous recording at the highest tier. But even without Nest Aware, we still enjoyed mobile notifications from the cameras and three hours of event history with snapshots. That being said, we chose to keep our Nest Aware subscription because of facial recognition.

What We Like

Smart features like facial recognition
Access and stream live-video 24/7
Crisp 1080p HD video quality
Compatible with Z-Wave technology

What We Don't Like

Expensive if purchasing multiple cams
No local video storage options
Camera must connect to internet
Customer service could be improved

Nest Cam IQ Indoor

The smartest feature of all Nest Cam models is facial recognition, or as Nest calls it, Familiar Face Alerts. It's one of those features you can only get with a Nest Aware subscription, but if you shell out the monthly fee, Familiar Face Alerts can improve your home security tremendously.

The Nest Cam starts by cataloging all the faces it sees, and then, it relies on you to put a name to those faces using the accompanying app. Nest's AI is powered by Google, so you know that recognizing faces is no hard task for the camera.

Now, once it has a database of Familiar Faces (don't worry, your camera's Familiar Faces stays on your account and won't be used in facial recognition of other Nest users), you'll be able to really configure your notifications. For instance, you can tell Nest to notify you if this particular person is seen, let's say your kid, so you know they got home safe from school. It's that kind of personalization that makes Nest an incredible partner in home security.

New Feature: You can now view live footage from the latest Nest Cams on Alexa-enabled smart displays and smart TVs. In addition, Alexa can now announce motion detection and doorbell ring alerts, as well as deliver two-way audio.

8. Blink Camera - Top Compact Cameras

Video doorbells and indoor/outdoor cameras with easy installation and long-lasting batteries

Product Specs

| | |
| --- | --- |
| Resolution | Up to 1080p |
| Field of View | Up to 110° |
| Power | Battery |
| Connectivity | Wi-Fi |
| Video Storage | Cloud |
| Smart Platform Compatability | Alexa |

Why Blink Is Easiest to Use

Blink sells easy-to-use wireless cameras for indoor and outdoor use. These are low-priced at $35 and up, yet excellent quality. Special features on Blink cameras include one-way or two-way audio, a motion sensor, customizable motion zones, a temperature sensor, and the option to use Amazon Alexa for arming and disarming by voice.

What We Like

No-contract, self-monitoring option
User-friendly DIY installation
Low-maintenance, long battery life
Integrates with Alexa and IFTTT

What We Don't Like

Does not offer innovative features
Multiple devices become expensive
Limited video storage options
Only one person can stream at a time

Blink XT2

The Blink Indoor and Blink Outdoor, which are both battery-powered cameras, feature a PIR motion sensor. Although it doesn't sound as impressive as person detection or facial recognition, the PIR sensor is the perfect sensor for these cameras.

PIR motion sensors read heat signatures and are only triggered when the moving object produces body heat. That's another way of saying that it's only triggered by living things. It reduces false alarms, not to mention, saves a ton of battery power compared to motion detection facilitated by the camera's computer vision itself.

Blink provides affordable cloud storage with pricing similar to that of Ring ($3 per month for one camera and $10 for all cameras). You can also access local recording without monthly fees with a Sync Module 2 hub and a USB flash drive.

FYI: Amazon, the company that owns Blink and Ring, announced that it's shutting down support for its Amazon Cloud Cam cameras by December 2022. Cloud Cam owners, however, will receive a free Blink Mini Indoor as replacement, plus a one-year free subscription to Blink's cloud plan.

9. Swann SWDVK-445802V - For Local Video Storage

Smart doorbells and indoor/outdoor cameras with long-range and local storage

Product Specs

| | |
| --- | --- |
| Resolution | Up to 4K |
| Field of View | Up to 180° |
| Power | Wired, Battery, or PoE |
| Connectivity | Wi-Fi, ethernet |
| Video Storage | Cloud, local |
| Smart Platform Compatability | Alexa and Google Home |

Why Swann Was Best for Local Video Storage

Swann sells high-quality indoor/outdoor cameras and video doorbells for do-it-yourself monitoring only. Swann cameras feature impressive color night vision, heat sensing, two-way talk, floodlights, competitive pricing, long-range even at night, and compatibility with Alexa and Google Assistant.

Local storage and cloud storage is available for Swann security cams. With free local memory, owners can save each clip for seven days. Camera ownership also includes two days of free cloud storage per clip.

What We Like

Full lineup of versatile cameras
Wireless, wired, and wire-free connections
Free local video storage (microSD card)
Robust, weatherproof cameras

What We Don't Like

Relatively expensive equipment
Cloud storage requires subscription
No professional monitoring available
Cancelling paid plans can be tricky

Swann Camera and Storage Hard Drive

The Floodlight Security Camera, costing $179, shows off lots of Swann technology. The 1080p camera has a 125-degree lens, color night vision, a heat sensor, two-way talk, a siren, and a motion-triggered floodlight with dimmer. It clearly records nighttime action up to 100 feet away, and with its max floodlight brightness of 2500 lumens, criminals will have trouble finding cover!

10. eufy 2K Camera - For Apple HomeKit Integration

A budget camera that doesn't sacrifice quality with all of our necessary features for home security cameras.

Product Specs

| | |
| --- | --- |
| Resolution | Up to 2K |
| Field of View | Up to 125° |
| Power | Wired |
| Connectivity | Wi-Fi |
| Video Storage | Cloud, local |
| Smart Platform Compatability | Alexa and Google Home |

Why the eufy 2K is Best for Apple HomeKit

Although we use Siri for everything on our iPhones, a security camera rarely works with Apple's voice assistant…that is, until the eufy 2K indoor camera. It works with Siri, so we were able to view the live feed on our phones by asking our trusted voice assistant, in addition to Alexa and Google Assistant. Siri also provides end-to-end encryption for footage along with a whopping ten days of extra cloud storage through HomeKit Secure Video. As iPhone or iPad users, we loved using Siri with the eufy 2K camera.

What We Like

Affordable $40 price tag
2K video with 125-degree field of view
Two-way audio
Integrations with Apple HomeKit, Google Assistant and Alexa

What We Don't Like

Not compatible with 5G networks
No wireless option
Cloud storage makes for a lower video resolution
2K HD streaming uses a lot of data

eufy 2K Camera on Desk

The eufy 2K is a very affordable indoor camera, at only $40. Typically, we shell out over $100 for similar devices. We set it up in our living room, and because we had pet detection turned off, we didn't get notified every time our kitten played with its ball of yarn. Instead, we only got notifications about people. All our footage was recorded directly to our 128 GB micro-SD card in 2K resolution.

With the Eufy Security app, we easily checked in at home from anywhere with Internet access, arming and disarming our camera remotely (or creating an automated schedule). We could count on getting notifications when any people came near our home, which thankfully didn't include any intruders.

11. Zmodo - Greatest Security Camera Selection

A wide range of affordable smart doorbells, indoor cameras, and outdoor cameras

Product Specs

| | |
| --- | --- |
| Resolution | Up to 1080p |
| Field of View | Up to 360° |
| Power | Wired, battery, PoE |
| Connectivity | Wi-Fi, ethernet |
| Video Storage | Cloud |
| Smart Platform Compatability | Alexa and Google Home |

Why Zmodo Had the Best Security Camera Selection

Zmodo sells a wide selection of smart doorbell cameras, indoor-only cameras, and weatherproof surveillance cameras for DIY monitoring. We chose these cameras to serve as crime deterrents, but we had friends who used the Zmodo video cams for keeping an eye on their dependents. Some Zmodo cameras are hardwired, and others are wire-free.

A four-pack of Zmodo Mini Cams costs just $99.99. These indoor cameras have night vision, two-way audio, Alexa compatibility, and optional continuous recording in 720p HD. With free service, we were able to review alert clips from the previous 36 hours. Longer-term cloud storage required a $9.99 per month payment.

Another cheap but effective option is the $39.99 Zmodo 1080p Indoor/Outdoor Security Camera. Along with HD color vision in daylight, it creates crisp low-light recordings with up to 65-feet depth of field. The option to set motion detection zones helps limit false alerts.

What We Like

Surprisingly affordable equipment
Full lineup of camera options
Simple DIY setup and easy to use
720p video quality with two-way audio

What We Don't Like

Cheap design, flimsy construction
Power cord is much too short
Does not offer third-party integrations
Camera options are too similar

Zmodo Greet Pro

Zmodo security equipment carries an impressive three-year warranty and a 60-day money-back guarantee.

12. Ecobee SmartCamera - For Camera with Person Detection

A simple security camera perfect for families.

Product Specs

| | |
| --- | --- |
| Resolution | Up to 1080p |
| Field of View | Up to 180° |
| Power | Wired |
| Connectivity | Wi-Fi, ethernet |
| Storage | Local |
| Smart Platform Compatability | Alexa and Apple HomeKit |

Why the ecobee SmartCamera is the Best for Person Detection

A lot of cameras have person detection, which differentiates between different types of movement from people, animals, cars, and inanimate objects. However, the ecobee SmartCamera takes things a step further. Not only does it detect people, but with a panning function, it'll actually follow them around, keeping them in the center of the frame. This feature, Smart Focus, isn't something we've seen from any other security camera, so with its 180-degree field of view, you're sure not to miss anything that goes on at your home.

What We Like

Person detection
180 degree field of view and panning
Integrations with Alexa and Siri
Infrared night vision

What We Don't Like

Doesn't work with Google Assistant
No free cloud storage
No local storage
Paid subscription required for geofencing, remote disarming, voice command arming and disarming, etc.

Ecobee SmartCamera
Pricing Rundown
| Camera | Price |
| --- | --- |
| Nest Cam Floodlight | $279.99 |
| Arlo Pro 4 | $199.99 |
| Nest Cam Indoor | $129.99 |
| Swann 4K Camera | $170 |
| Ring Stick Up Cam Battery | $100 |
| Ecobee SmartCamera | $99.99 |
| Ring Indoor Cam | $60 |
| Tend Indoor 2 | $60 |
| Wyze Cam | $29 |
When it came to pricing, the average cost of a security camera was $168. We also had cameras that reached as low as $30 and as high as $200 or more. For example, Nest had one of the highest prices we'd seen for a home security camera. Netatmo and Arlo Pro 4 were also priced relatively high. Still, we figured this was mostly due to Netatmo's exceptional artificial intelligence capabilities and Arlo Pro 4's excellence crushed in every category. Even though those cameras seemed a bit pricey, we agreed their value made up for it. To put two cameras head to head, read our comparison of the Nest Cam Indoor vs. the Arlo Pro 2.
Methodology
Through rigorous research and testing, we identified the best security cameras out there. We used a few ways to make sure the security cameras we chose were up to par. First, we judged each product based on our Necessary Features Test, which evaluated cameras based on their video, audio, night vision, storage, artificial intelligence, smart platform integrations, convenience, and overall value.  We didn't expect cameras to earn full marks in every category for us to consider them worth buying. Our test simply laid out the ideal characteristics we looked for in security cameras.
Video
One of our Necessary Features was video with a clear and detailed picture. We knew it would come in handy if we needed evidence for the police or wanted to save some footage of a special event, like a birthday party. If we wanted more clear video, we had to invest in a 2K or 4K, a significantly more expensive technology. We also needed to keep in mind that most smartphones couldn't stream in 4K, so 4K cameras likely weren't worth it, especially since the Arlo 4K was discontinued so soon after its release (but later put back on shelves).
Display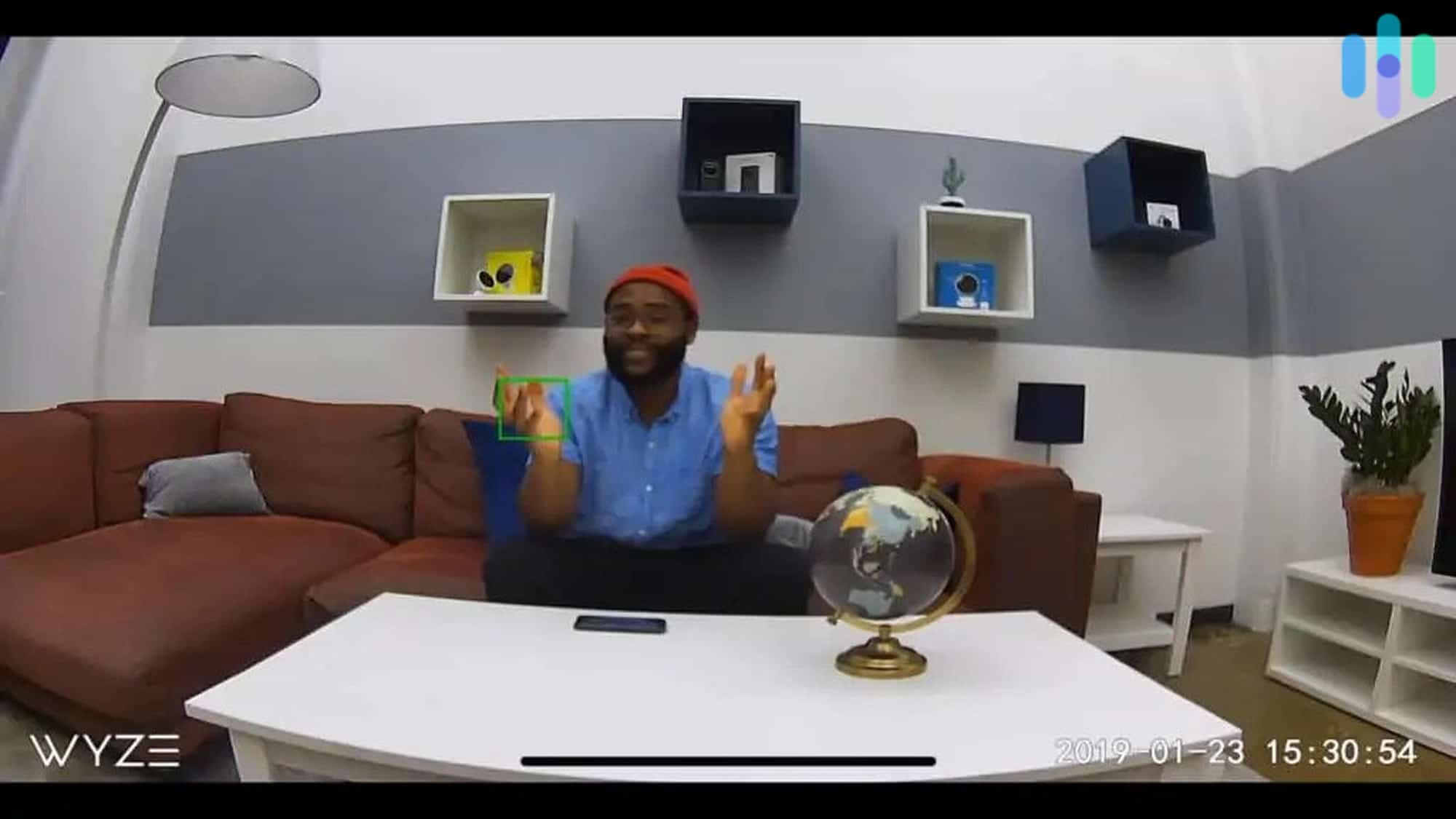 Next, we wanted to find a camera that zoomed-in optically. We discovered many camera companies claimed their cameras zoomed in, but the truth was they only did so digitally. We could only zoom in on our phone, not in real life. Zoom was essential to us because it allowed our camera to capture details it otherwise couldn't. We preferred cameras that could zoom in optically at least three times. We saw the best optical zoom capability from the Nest Cam IQ Indoor, which could zoom in a whopping 12 times.
Field of Zoom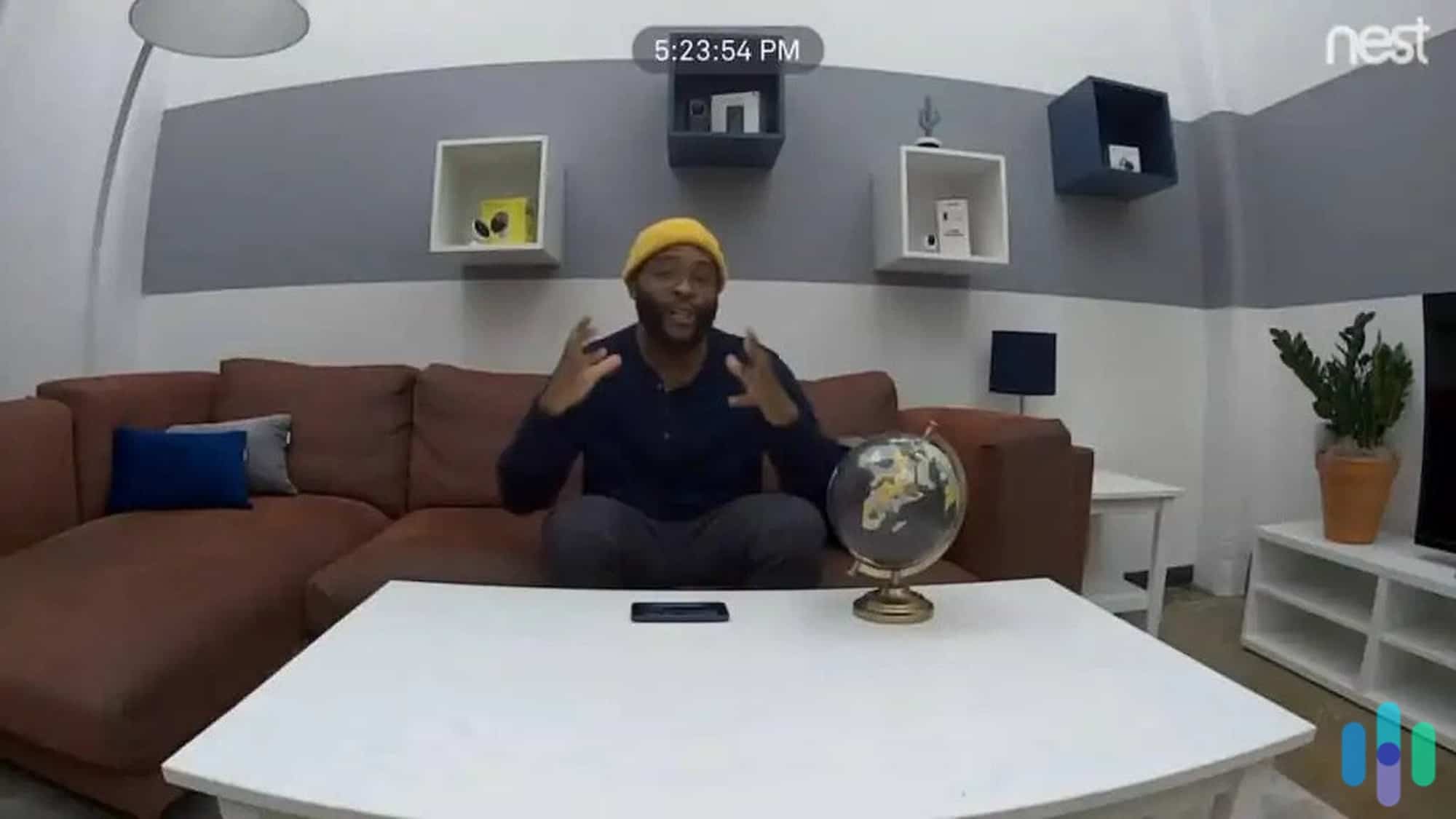 Next, we wanted to be sure we got a camera that could zoom in optically— optically being the keyword. Zoom is important because it allows the camera to capture details that it otherwise couldn't. We prefer cameras that can zoom in optically at least three times. The most we've seen is from the Nest Cam IQ Indoor, which can zoom in a whopping 12 times.
Again, many cameras that come with security systems, like Frontpoint's indoor camera, cannot zoom, which is disappointing.
Field of View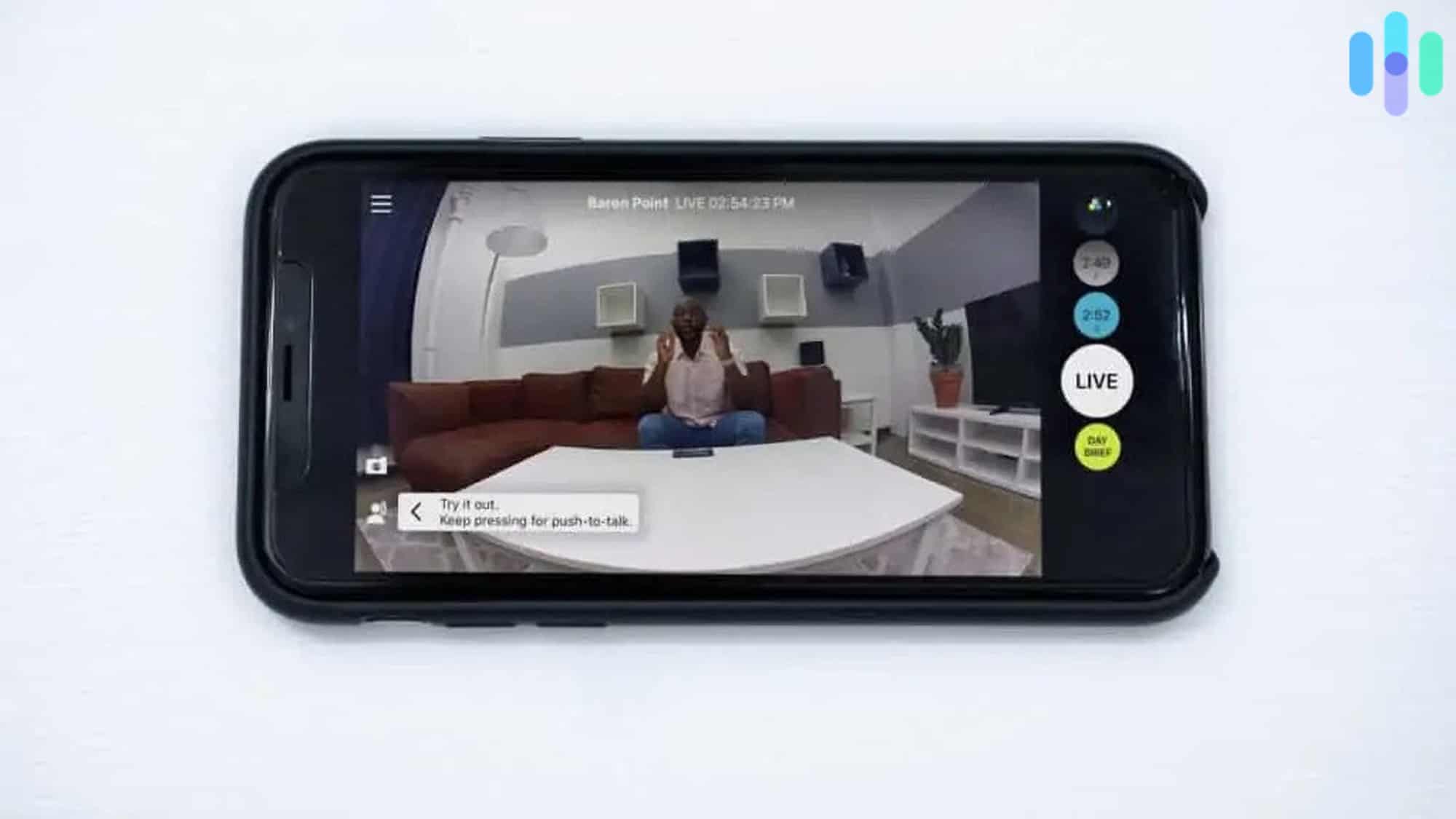 Additionally, we determined the field of view should be no less than 120 degrees. The widest field of view is180 degrees. A great example of a camera with a 180-degree field of view is Logitech Circle 2. We did not even consider cameras with a field of view under 110 degrees because the more narrow the field of view, the more cameras we would have needed to buy to reach every corner of our home.
Audio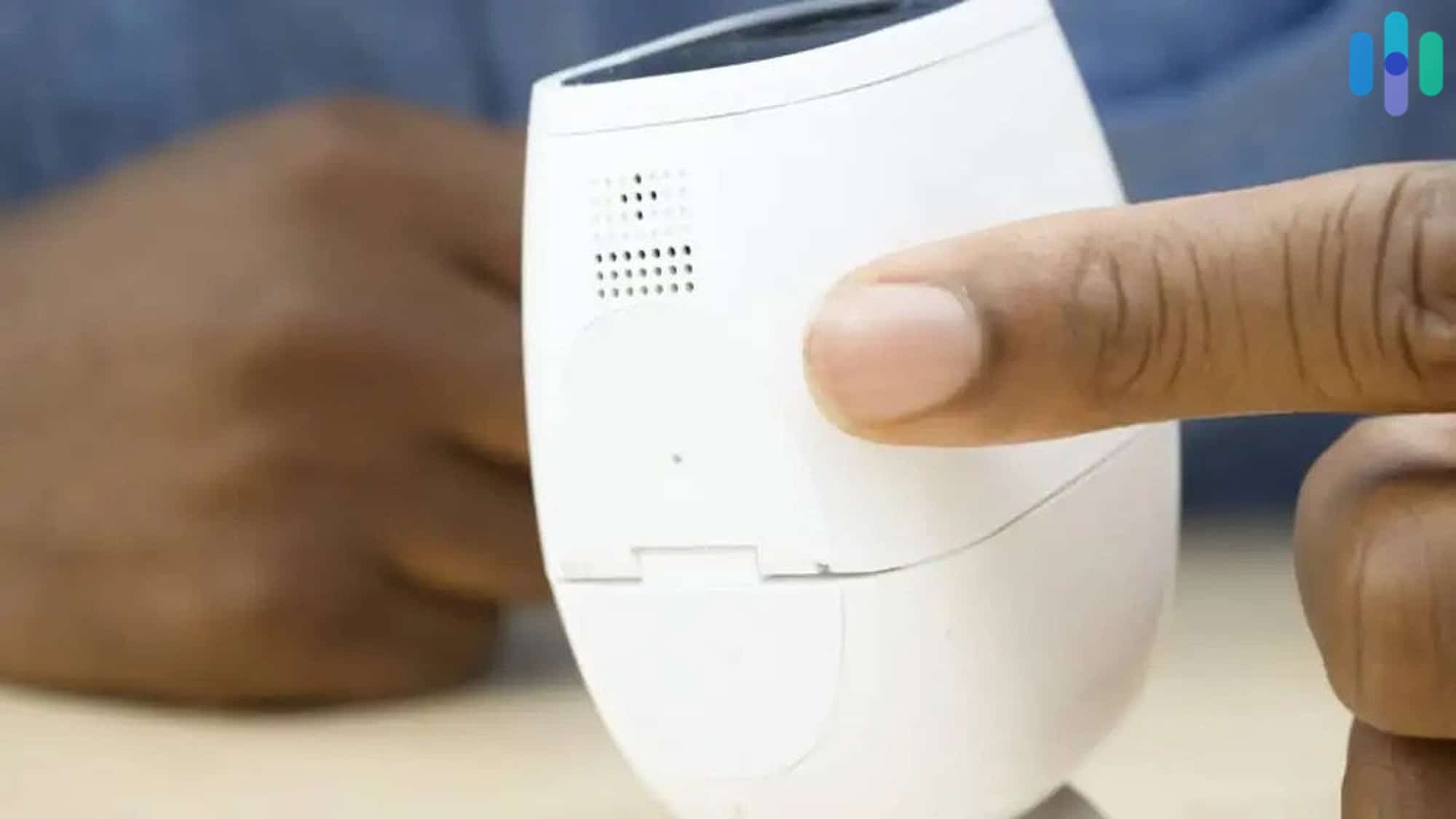 We wanted a camera that had both a microphone and a speaker. This was potentially very useful for a few reasons. First, it could help us communicate with people in our home, whether we were watching TV in the next room or on vacation in the Bahamas. Additionally, two-way audio has been known to help stop intruders in their tracks.
Night Vision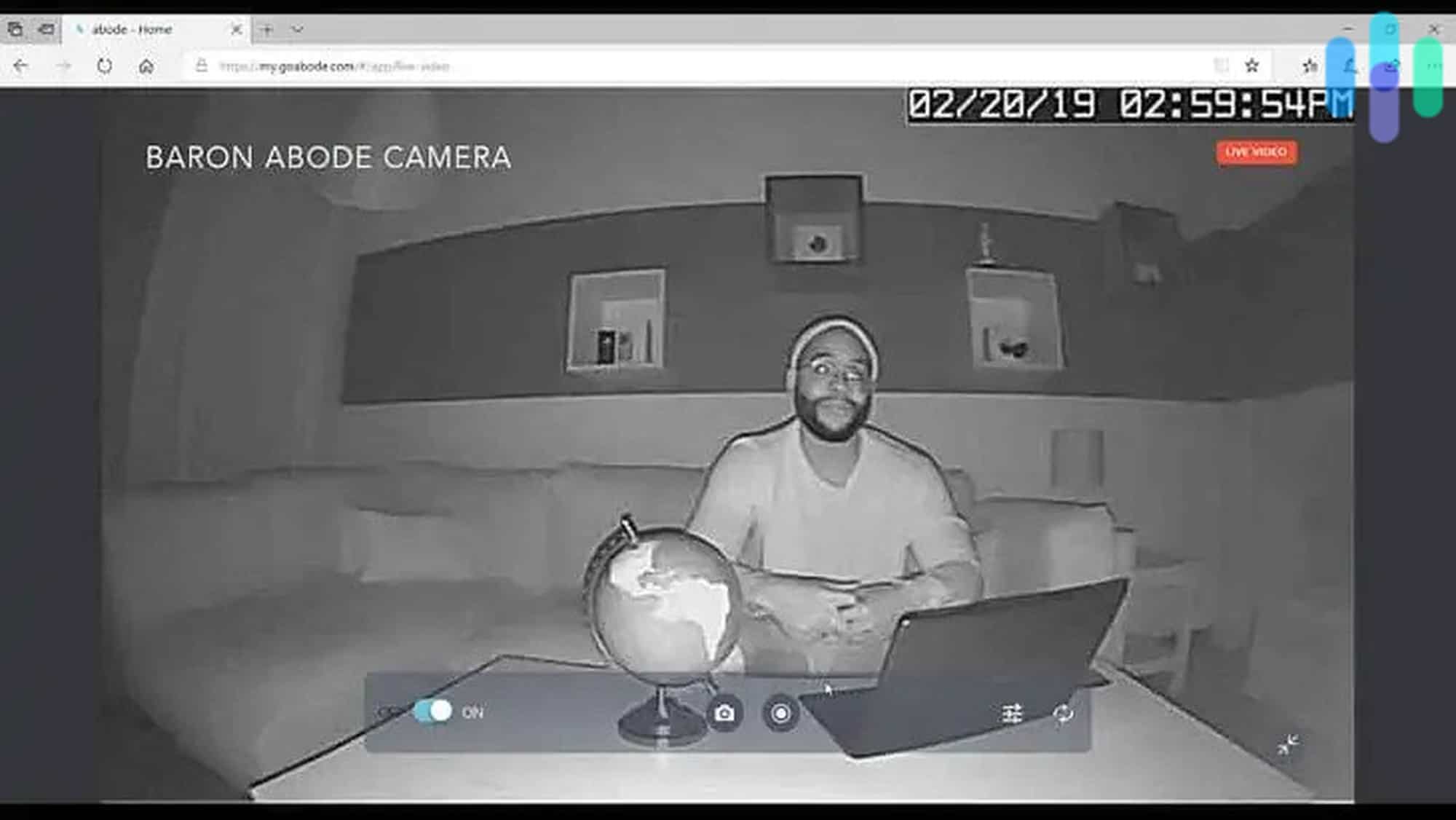 Since infrared night vision from LED sensors is invisible to the naked eye, it allowed us to record anyone in our cameras' view at night without them realizing they were being filmed. In contrast, the bright white light with color night vision made it obvious when we were recording. Most cameras had infrared night vision, but we took points off for color night vision. Although it sounded better in theory, we wanted our security cameras and what they recorded kept secret.
Storage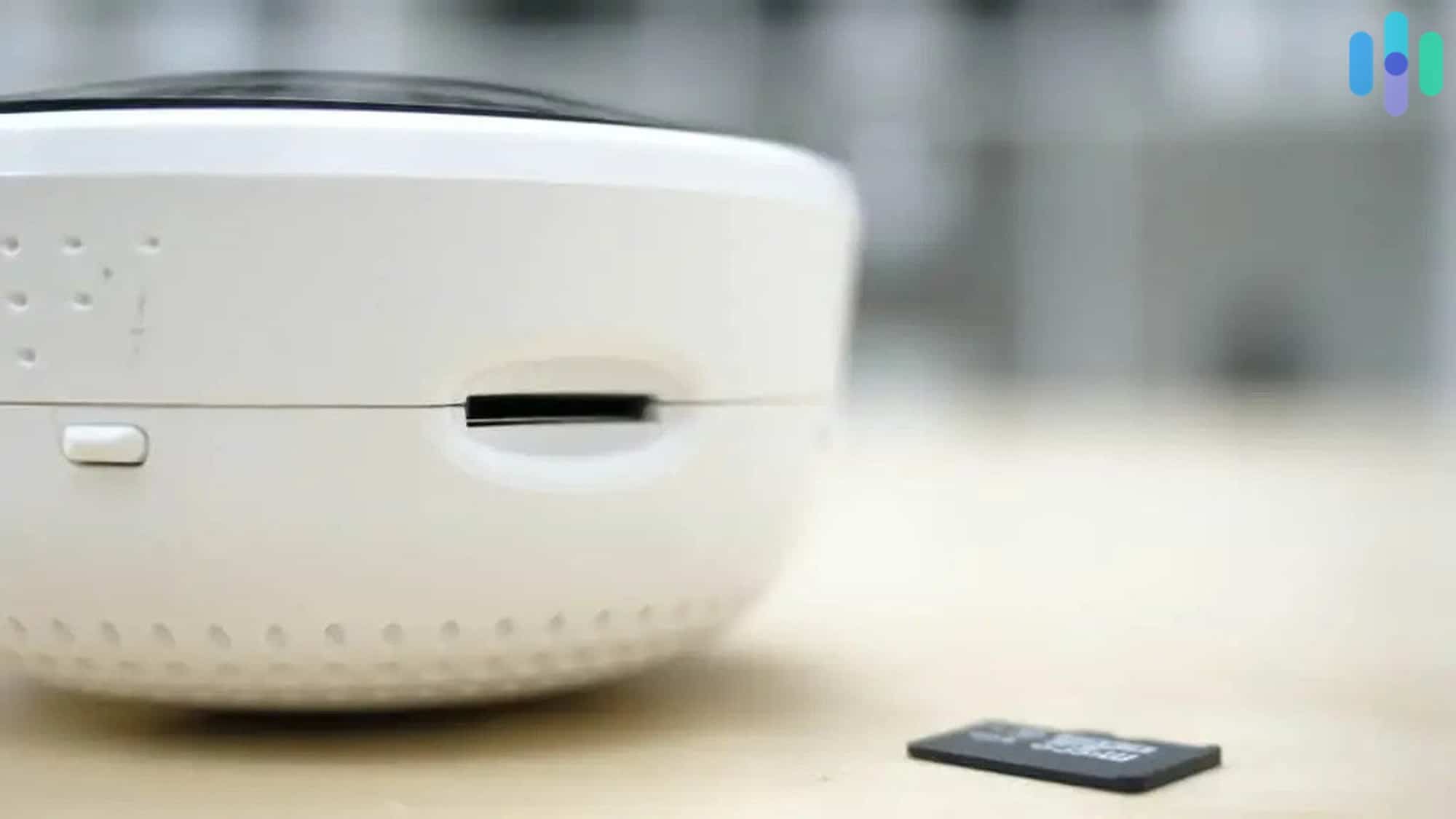 It was important to us that the cameras we selected had both cloud and local storage. Storage was important for a couple of reasons. First, we figured we might be interested in the video our cameras recorded, like a party or event. Second, the photos and videos that the camera captured would have been helpful evidence if we had an intrusion.
A micro-SD card, like the Honeywell Lyric C2, allowed us to get local storage or download the files. While some companies made us pay for storage, some gave it to us for free. Some companies provided free 32 or 64-gig micro-SD cards, which was awesome. If we had to pick between cloud or local storage, we'd choose local, as we could download the footage then backed it up to a cloud service like Dropbox.
Artificial Intelligence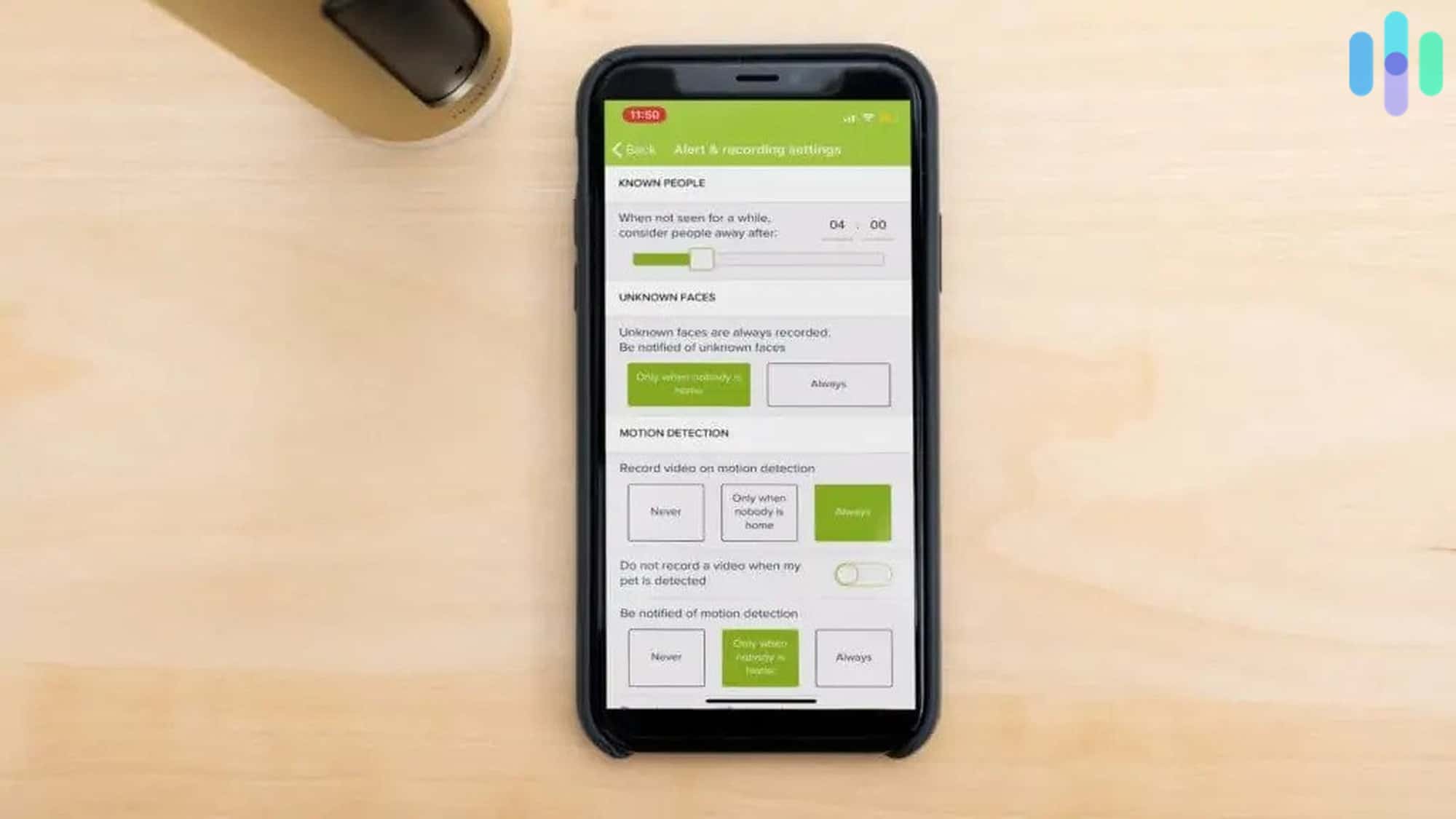 During our evaluations, A.I. was a large part of home security. A.I. most often referred to person detection, meaning the camera differentiated between people and other moving objects like cars, pets, or shadows. This led to more specific and necessary notifications. Of course, we didn't want a home security camera, so it could notify us whenever our pet bird flapped its wings! We even tested out the best pet cameras.
Aside from person detection, more advanced cameras like the Netatmo Welcome Indoor Camera employed facial recognition. With this technology, we were notified when specific people were in our home or an unfamiliar face was detected. Other detections included pet detection, baby crying detection, smoke, and C.O alarm detection, and package detection. Of course, we only considered person detection to be a Necessary Feature, but those are some nice extras.
Smart Platform Integration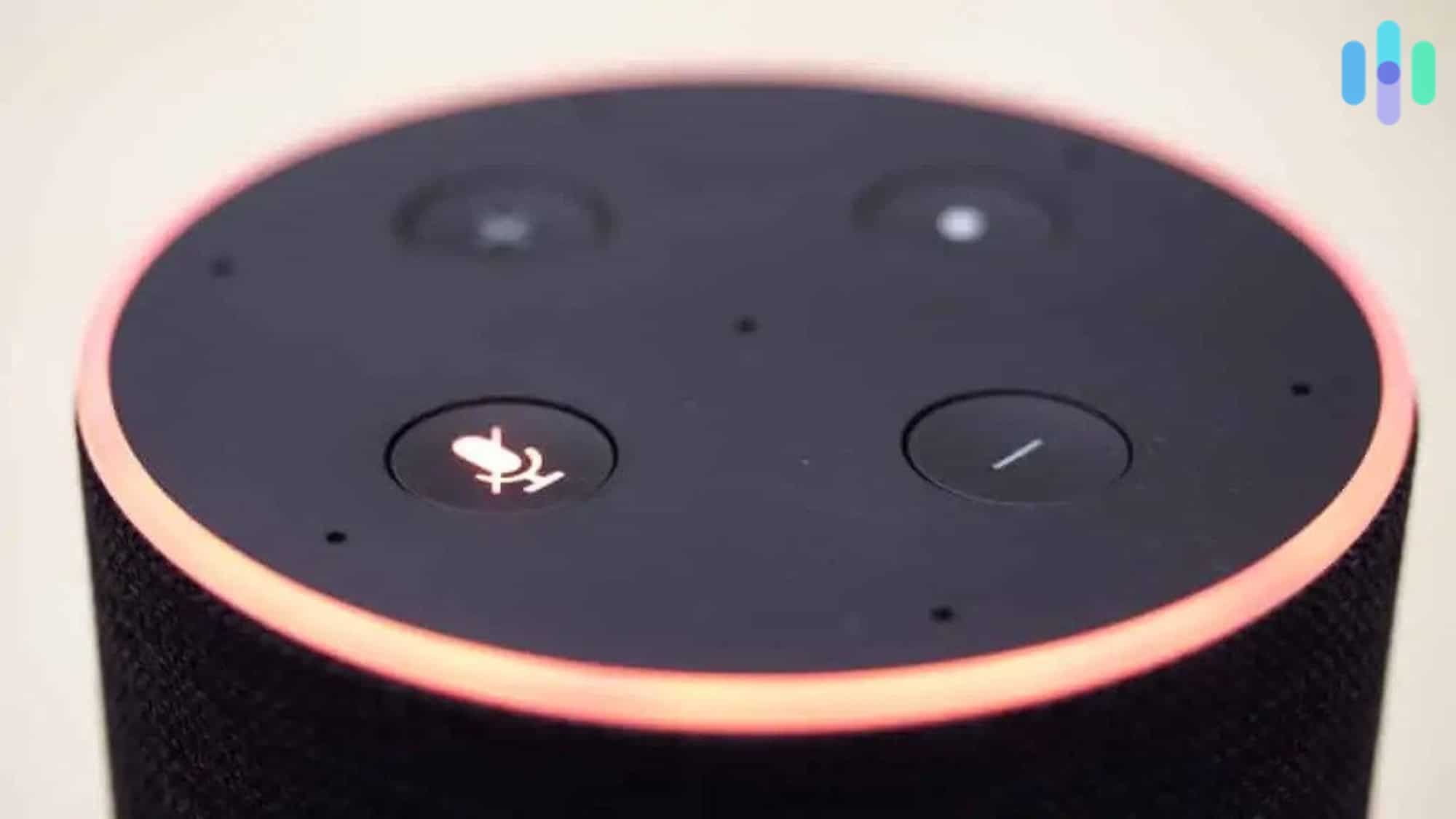 Smart home quickly became a norm for us, so we also considered having integrations with Amazon Alexa or Google Assistant a Necessary Feature. If we were already in a Google or Amazon ecosystem, we'd want to make sure our camera could easily integrate within our smart home.
One of the primary things we enjoyed about cameras with smart integrations was commanding them with our voices. We could also link our camera up with other smart home devices to create home automation. For example, we could set our smart light bulbs to go off whenever our camera was armed and turn on when our camera was disarmed. Extra points went to integrations with multiple smart ecosystems.
Convenience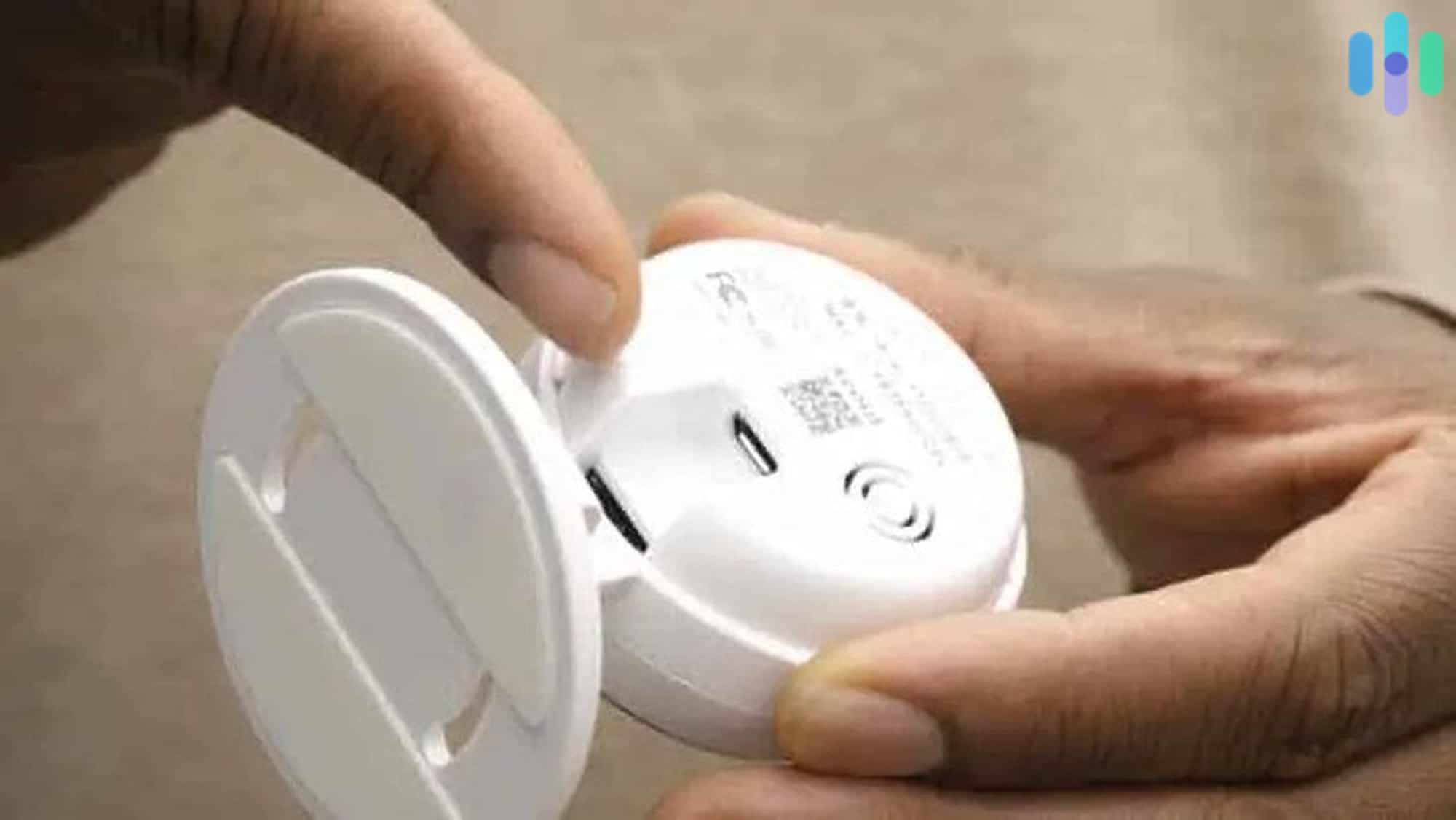 We looked for cameras with an installation that integrated with an app for step-by-step instructions or had an easy setup. Some cameras came with hubs, which we didn't prefer, as they took up more space. While wireless cameras may have meant easier setup and less clutter, we had to change their batteries periodically. That was why wired systems were more convenient, including power over Ethernet cameras.
Value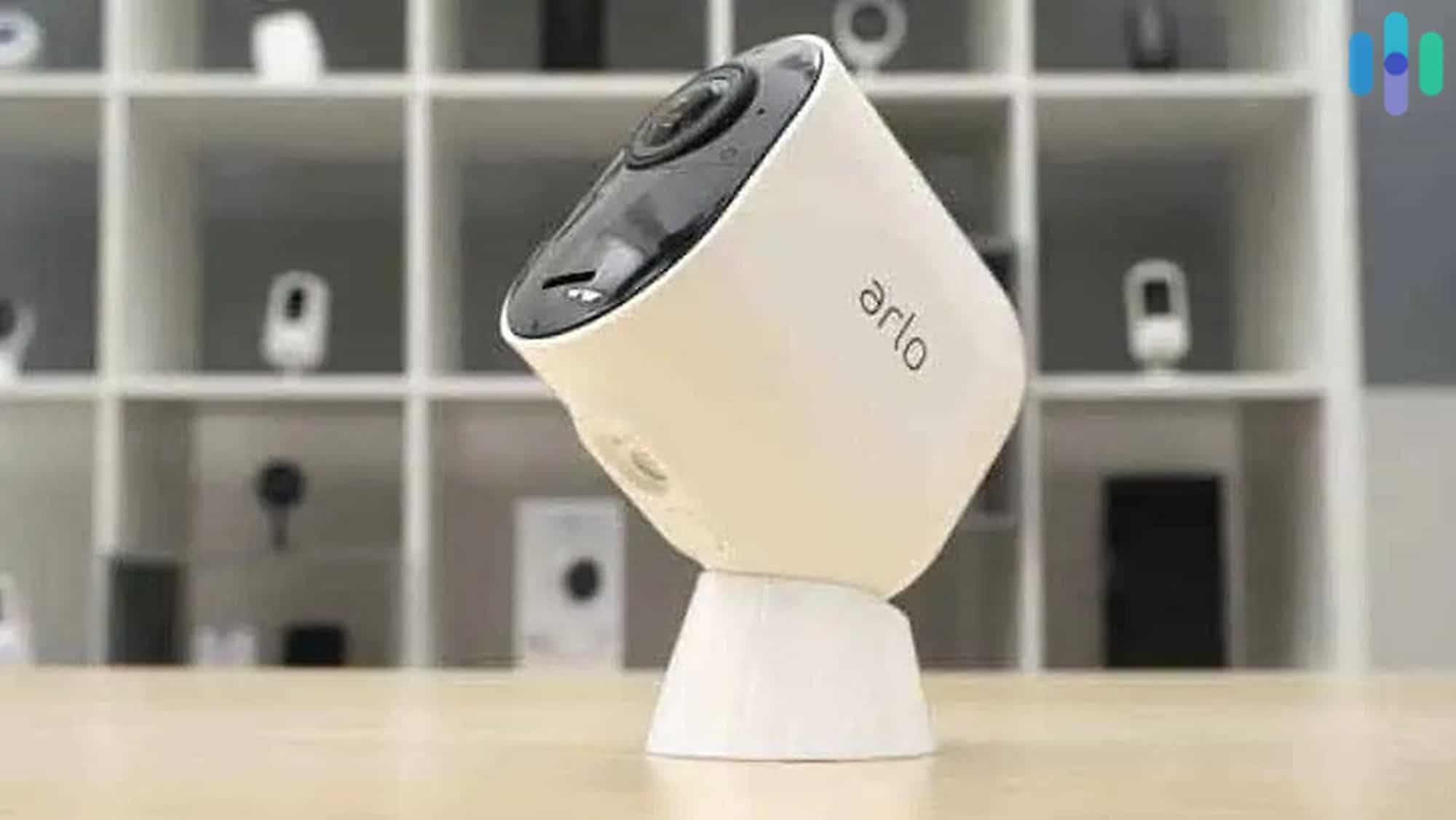 When it came to home security, we didn't want to skimp on quality. We also didn't want to break the bank. Security cameras came in a huge range of prices. The least expensive camera we reviewed was the Wyze Cam, which was priced at only $20. The average range was usually somewhere between $100 to $200 while the most expensive camera we reviewed was the Arlo Ultra 4K for $400 (we compared the Arlo Ultra to the eufyCam E here). In our opinion, there was no reason to spend $300 on a security camera when high-quality cameras existed for much less. Here are some more security camera prices so you know what to expect.
To learn more, read our Canary cameras review, our page on Canary camera pricing, our page on eufy camera pricing, and our page on Reolink camera pricing. You can save on security cameras by waiting for Prime Day. In the past, we've seen Arlo Prime Day deals, Blink Prime Day deals, and Ring camera Prime Day deals, to name a few.
Not sure which camera is right for you? Read the following comparisons:
Recap
There's just no excuse these days not to have the right cameras monitoring your home. Whether you're looking for affordability, cutting edge technology, or some combination of the two, you'll find exactly what you're looking for somewhere on this list.
FAQs About Home Security Cameras