Cove Review: Smart Home Security
A new and disruptive security company on the market, Cove has quickly become a top smart security brand.
What We Like
Affordable professional monitoring and cellular connection: Even with the recent hike in monthly fees, Cove's monitoring is on the lower end price-wise at $17.99 a month.
Alexa and Google Assistant integrations: Cove fits in with smart homes in the Amazon or Google ecosystems.
No contracts: No need to make any long-term commitments when you sign up with Cove!
What We Don't Like
No self-monitoring option: Instead, users will have to pay a monthly fee for professional monitoring.
Remote control from the mobile app costs $27.99 a month: Only the Cove Plus plan lets users control their systems using the app.
Bottom Line
Professional monitoring for only $14.99 a month? Count us in. Cove, an innovative new security provider, had a lot that interested us, specifically its contract-free monitoring and integrations with Google Assistant and Alexa.
Cove may be new to the home security market, but it's becoming one of the most popular security providers in the DIY home security systems industry. Cove started in the spring of 2018, and it's slowly but surely becoming a major contender for DIY home security. The company prides itself on its lack of long-term contracts and high-pressure salespeople.
Picking out our security system was as easy as taking an online quiz, but how was the system itself? In this review, our experts tested out the Cove security system to see whether it was worth the money or not. Let's get started!
Cove Monitoring Costs
| Cove Basic monthly cost | Cove Plus monthly cost |
| --- | --- |
| $17.99 | $27.99 |
Editor's Rating
Alexa and Google Assistant integrations available
Professional monitoring and cellular backup included with every system
Monthly costs range from $17.99 to $27.99
Cove Security System Devices
Our Cove security system included a Touch Screen Panel, a door sensor, a motion sensor, a key remote, and the Cove Indoor camera. Cove also offers window sensors plus environmental monitors like smoke, CO, and flood sensors as well as medical alert buttons, which we did not test out.
Touch Screen Panel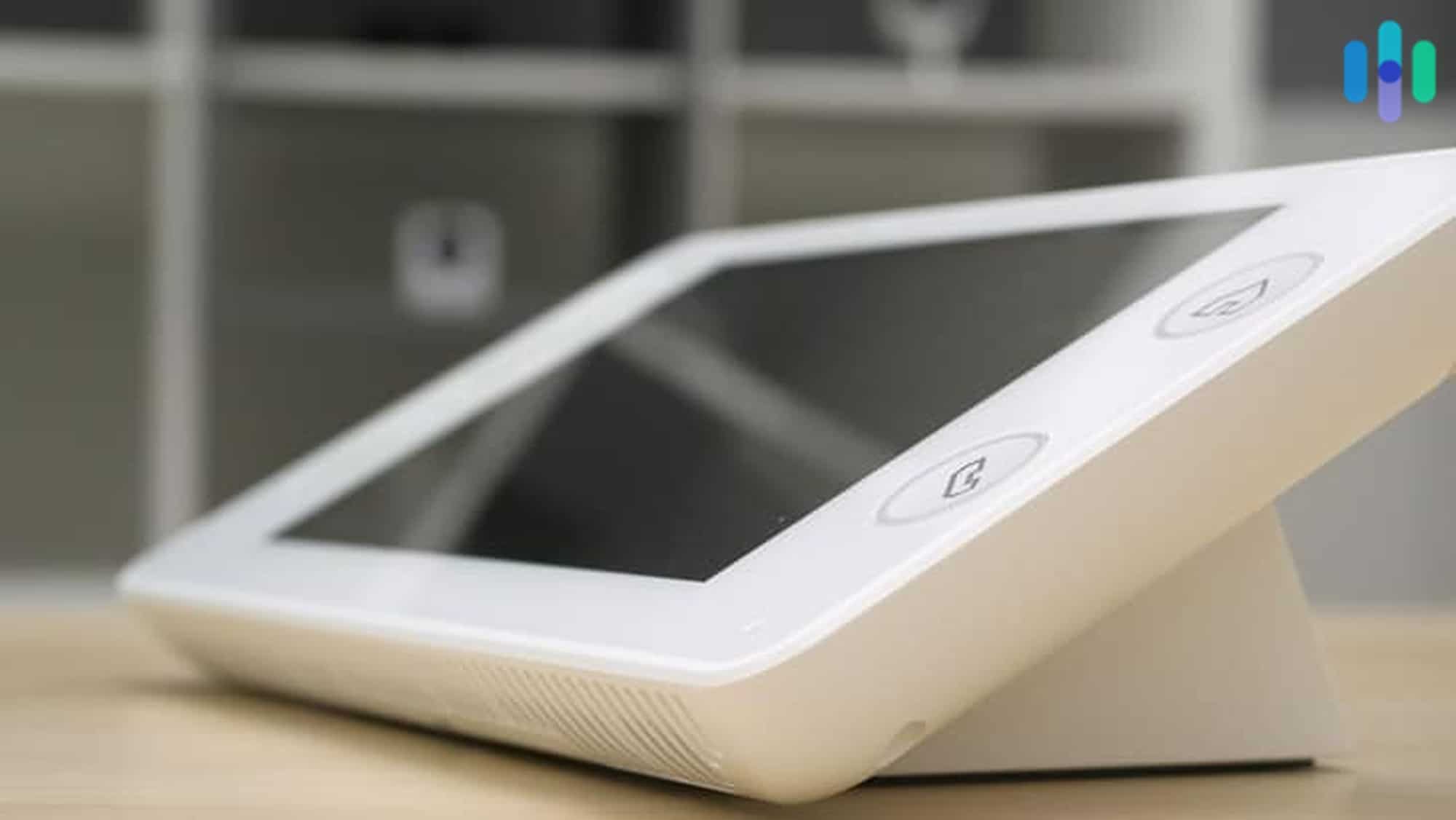 We thought of the Touch Screen Panel as our mobile command center. Unlike more traditional security companies, we didn't need to mount the Cove's Touch Screen Panel to a wall. Instead, we used it as a standalone device, more like a tablet than like a regular keypad. This is where we armed and disarmed the system, adding up to 20 user codes for our friends and family.
Keep in mind that the Touch Screen Panel came with cellular backup, meaning that it stayed connected to Cove's monitoring team even during power and internet outages. Plus, the 24-hour battery backup made sure the system stayed on through blackouts.
Another great backup feature was the Smash and Crash protection. If someone tries to tamper with the panel, it'll alert your phone immediately and contact the monitoring center. The siren will sound, as well. All in all, the alarm panel did a wonderful job.
Door Sensor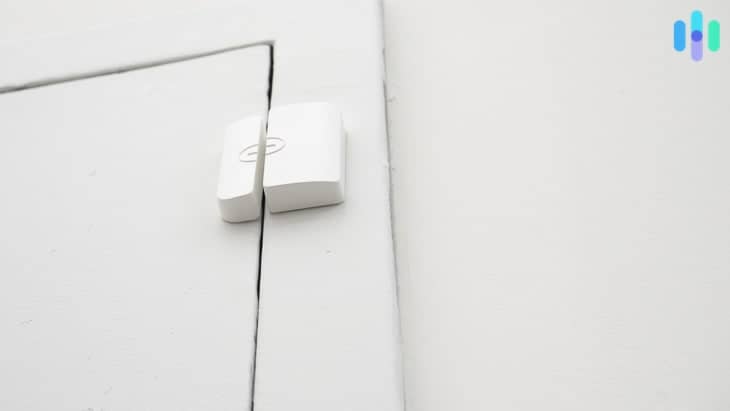 The door sensor, as you may have suspected, is a two-part sensor that can tell when a door opens. One really cool thing about Cove is that the entire security system comes pre-programmed with the Touch Screen Panel, which made installation a lot easier (but we'll get to that in a bit).
Like all of Cove's sensors, the door sensor is wireless with long, five-year battery life, so once we stuck it on our door and named it in our app, we paid no attention to it; until we received a notification about activity, of course!
Motion Sensor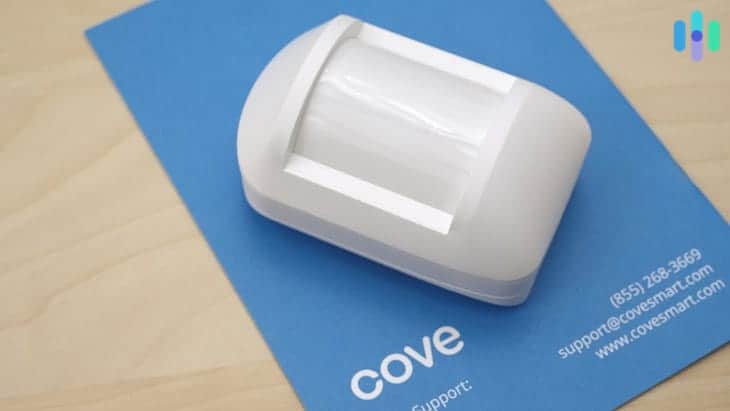 We installed Cove's motion sensor in our downstairs hallway, as it is a high-traffic and central location. Again, the motion sensor was wireless with a battery life of five years, another "set it and forget it" type of device. And although we don't have any pets of our own, pet parents will be happy to hear that the sensor won't detect furry friends under 45 pounds, which should dramatically reduce the number of false notifications you receive.
With all of the sensors, Cove let us arm certain ones and not others, like if we were watching a movie upstairs but wanted the downstairs sensors on. This made us feel safe whether we were home or not.
Key Remote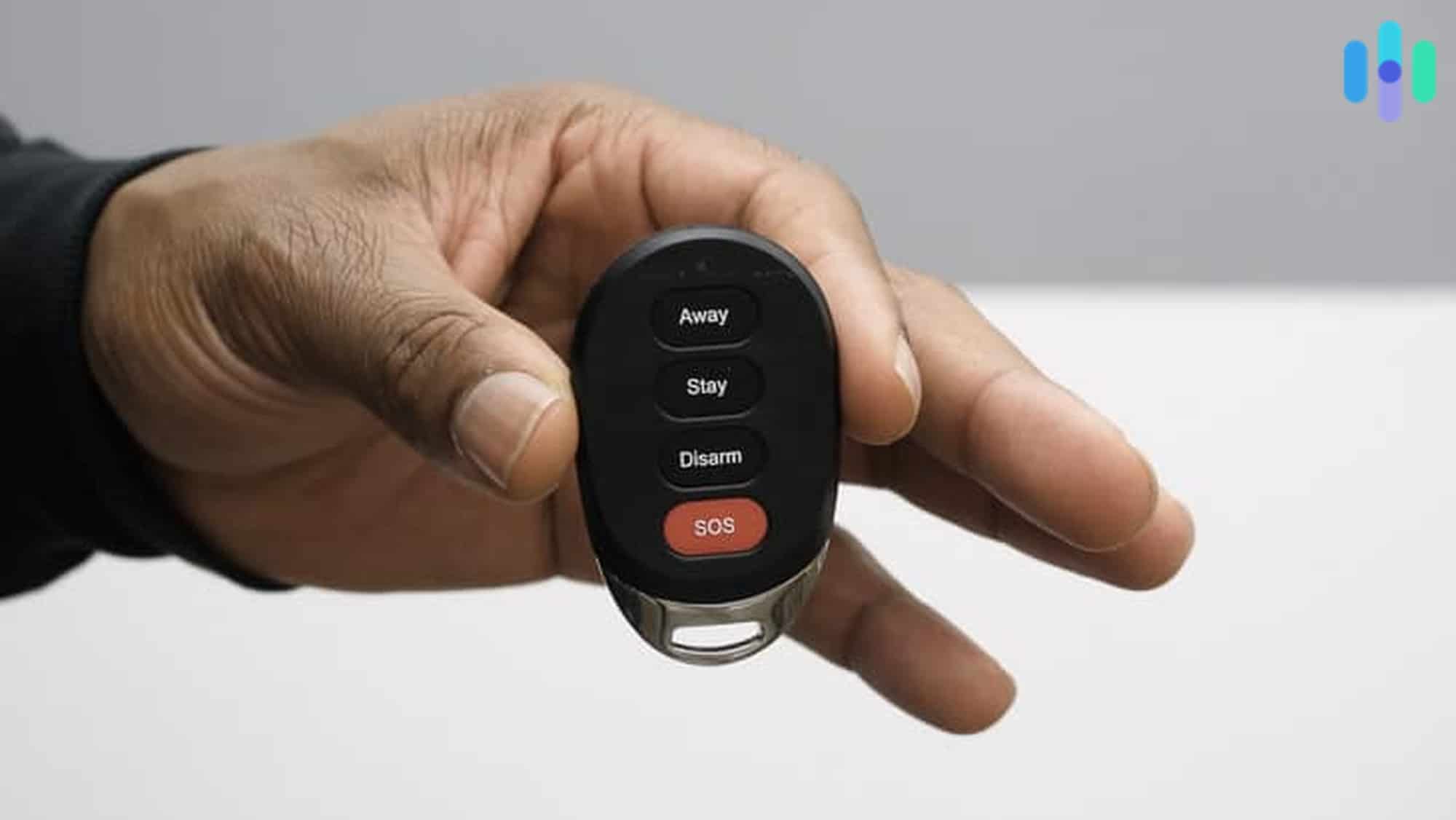 Not near your phone or the Touch Screen Panel? We used the key remote to arm and disarm our system from up to 100 yards away from home. Although we didn't have to click on it, the key remote also has a panic button to connect directly with the police in an emergency. And the best part that we should also mention? That five-year battery life carries on to the key remote as it does the sensors.
Cove Indoor Camera
Video-wise, the Cove Indoor Camera is definitely clear enough for our viewing, with a 1080p HD display and the ability to zoom in four times. This was really great for capturing details like what a would-be intruder's face looked like, although the field of view was a bit narrow for our liking at 112 degrees.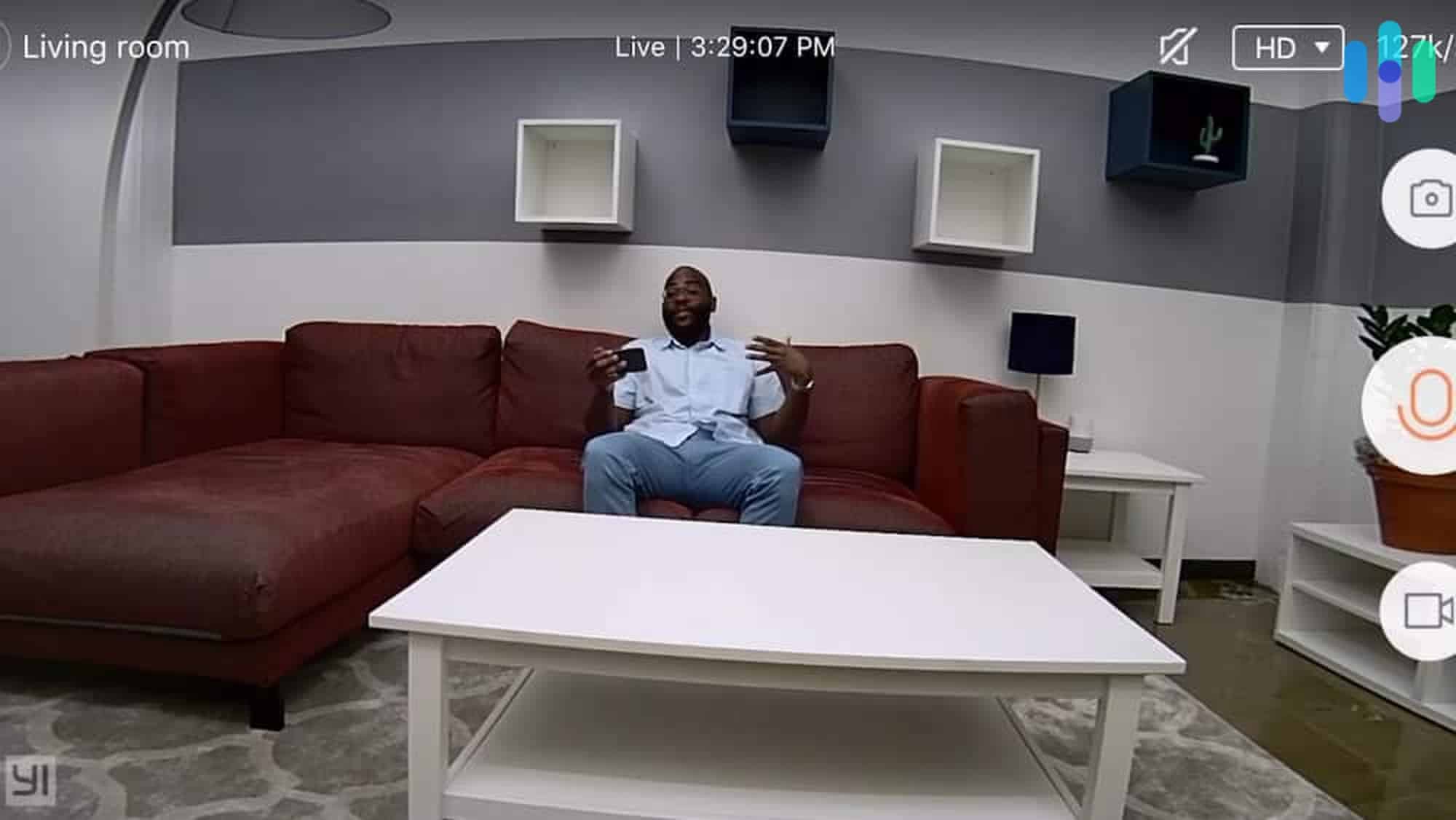 We also saw clearly at night due to the camera's eight infrared LED sensors. Plus, we could use the Cove Touch Screen Panel to speak through the camera's two-way audio, a great way to communicate between floors of a home without resorting to yelling. Storing our footage was easy. We got 30 days of cloud storage or $2.99 per month per camera.
Cameras like the Wyze Cam give you local storage and 14 days of cloud storage on the house, so Cove was a bit on the pricey side, but nothing outrageous. But hey, Wyze's pricing is one of the lowest in the market, and the fact that Cove isn't far behind in terms of affordability shows that Cove is still a security system with great value.
One disadvantage was the Cove Indoor camera's artificial intelligence or lack thereof. Unlike the Nest Cam Battery we tested, which has person detection and facial recognition, the Cove Indoor can't tell the difference between people and other moving objects like pets, cars, and what have you. For us, this meant getting notifications about irrelevant things, like when a motorized toy car whizzed by.
However, for parents, the camera does have cry detection, meaning it could work as a baby monitor, potentially. Finally, you should know that the Cove Indoor camera is plug-in, not wireless.
Cove Outdoor Camera
The Cove outdoor camera incorporated a variety of features that we found helpful. Like the indoor camera, the outdoor camera connects to the panel via a Wi-Fi connection, not through radio or cellular. Therefore, it was essential for us to make sure we had our camera connected to the right Wi-Fi network. Connecting the camera to our Wi-Fi network was easy; we just scanned the QR code on the camera, and it was all set. We screwed the camera in place and then logged into our app to view the live camera feed.
The picture on the camera was crystal-clear even in total darkness, but the two-way voice communication feature was particularly impressive. We could hear everything going on around our camera through the app. And when we spoke to the camera from our phones, the audio was just as clear. When something triggered the PIR motion detector, the camera recorded automatically for five to ten seconds, giving us a video of the event.
The outdoor camera does not yet integrate with Google Assistant or Alexa, but that's coming soon, and for the price point, the camera didn't disappoint.
Smart Home Integration with Cove
This being a smart security system, it's good to see that we could command Cove using either Alexa or Google Assistant under the Cove Plus plan. If you're already in the Alexa or Google Assistant ecosystems, the integrations make Cove all the more worth it, in our opinion. We have both voice assistants, and here's what we could do with them.
Alexa
We asked Alexa to arm our security system and check its status. Note that the best Alexa security systems also let you disarm the system with your voice, something we couldn't do with Cove. We also encountered some viewing limitations. For example, we had fun playing our live footage on our Echo Show devices, except during the times that our Echo Shows had trouble connecting with the camera.
Google Assistant
Google Assistant has a lot more capabilities when it comes to Cove. In fact, Cove integrated so well with Google, that it made our list of the best Google home security systems. Not only could we arm the system in away mode or ask for the alarm's status, but we could also ask for an event history and control connected devices. Again, we enjoyed playing our live stream on our Nest Hubs, because we've always seen ourselves on the silver screen.
What's Installing Cove Like?
Cove now has a professional installation option for $79, but we installed it ourselves for free. Here's how that went.
Before we even clicked "purchase" on our Cove security system, we gave Cove our address and what components we bought so that they could pre-program our system before delivery. Once we received everything in the mail, we plugged in the Touch Screen Panel and went through a few straightforward setup screens before creating our passcode. We also connected to our home's Wi-Fi, as Cove's cameras aren't 100 percent cellular. If you're looking for a completely cellular camera, you might consider purchasing the Reolink GO solar-powered security camera.
In our opinion, the sensors were as easy to install as a sticker, with 3M adhesives on the back of each. We tested each component of Cove to make sure it was working properly both on our own and on the phone with the Cove support member, a nice touch. After we set up everything, the testing period actually lasted a full day, as we wanted the most testing possible.
All in all, it was easy to install Cove, and we feel very confident that we did it correctly, although it certainly doesn't take a security expert to do. Typically, you can expect to get Cove set up in half an hour or less if you are short on time and don't want to test as much as we did.
The Cove Security App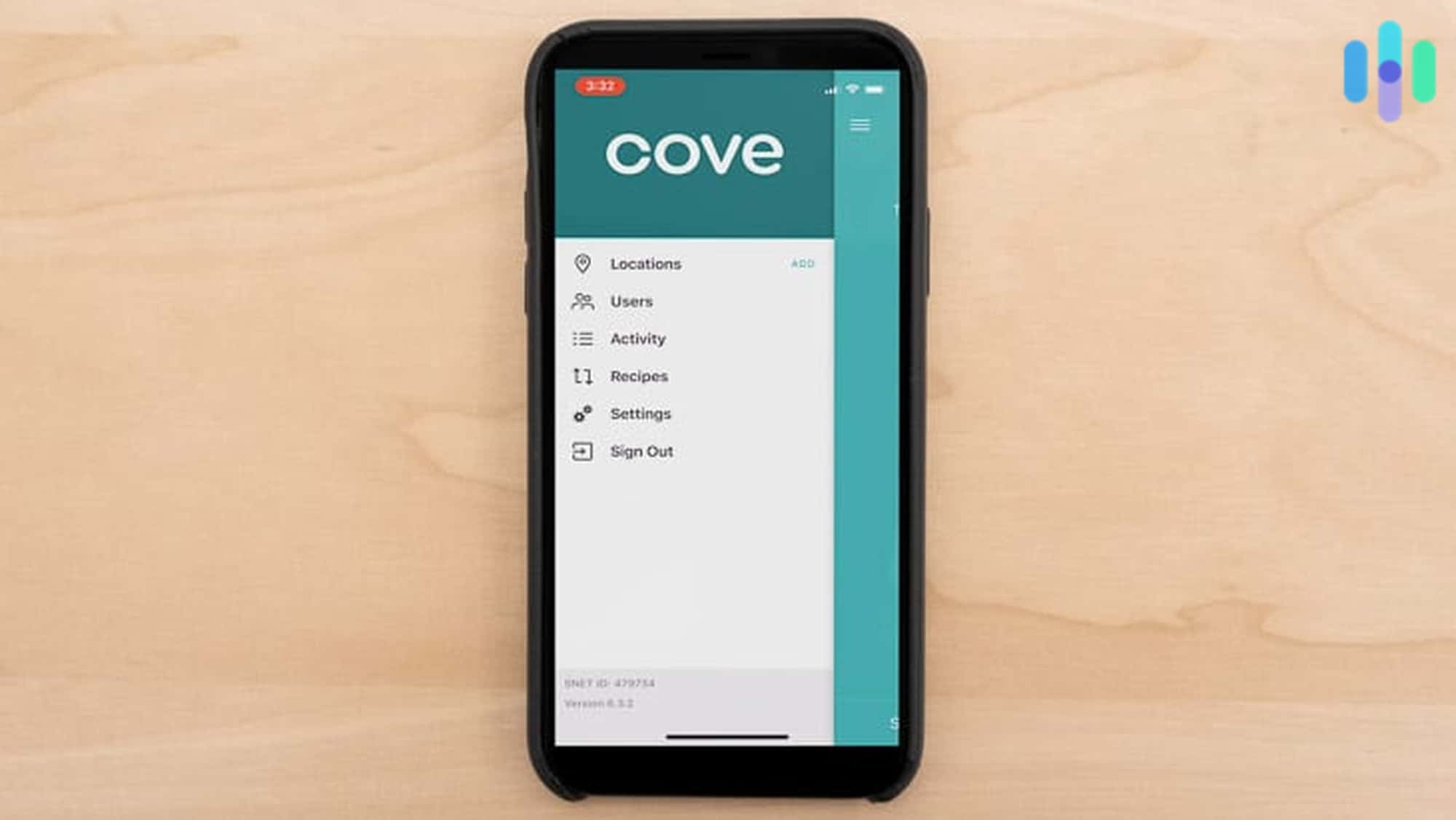 Think of the Cove Security app as your home away from home. It's here that we armed and disarmed the security system, received notifications, live-streamed footage, viewed cloud storage, spoke through two-way audio and controlled connected devices whenever we were out of the house.
And let's be honest, sometimes, when we were in the house but not near the Touch Screen Panel, having an app that can control our security system was a blessing. We found the app pretty easy to use and free of bugs, most of the time. We did experience a couple of glitches, like the app showing different information than the control panel, but Cove fixed these issues with app updates immediately.
Our Video Review of Cove
If you want to see our Cove security system in action, check out our video review.
Cove Monitoring Plan Options
With Cove, you have two monitoring options3, both of which come with 24/7 professional monitoring and cellular backup. You can either get Cove Basic or Cove Plus, the latter of which has remote control, smart home integrations, plus a lifetime monitoring rate lock and warranty.
| | |
| --- | --- |
| Cove Basic monthly cost | $17.99 |
| Cove Plus monthly cost | $27.99 |
| 24/7 professional monitoring | Basic and Plus |
| Text messaging, phone call, and panel alerts | Basic and Plus |
| Cellular monitoring | Basic and Plus |
| Hourly automated system check | Basic and Plus |
| Lifetime warranty | Plus only |
| Smartphone control | Plus only |
| Amazon Alexa and Google Assistant integration | Plus only |
| Rate lock-in | Plus only |
| $5/month equipment credit | Plus only |
Now, as far as response times go, Cove is one of the fastest companies around. Its dispatch process, in which it uses RapidSOS, saves three to four minutes from the average dispatch process. For reference, the average dispatch process takes a whopping six to 13 minutes.4
Still, Cove's professional monitoring rates aren't the lowest in the market. Ring Alarm's pricing for professional monitoring, for instance, is just $20 a month, which also includes smartphone control, voice assistant integrations, and cloud storage for cameras. As you'll notice in the chart above, Cove only includes those features in the Cove Plus membership, a $27.99 a month subscription.
Still, if you can live without those extra features, Cove Basic at $17.99 is one of the lower prices we've seen for monitoring. $27.99 is a bit more on the average side, but overall, these prices are super affordable. Plus, plans are monthly so we didn't have to make any long-term commitments, a huge benefit of Cove. To learn more about Cove's pricing, check out our Cove pricing page.
FYI: To get the lowest monthly fees, pay more of your Cove equipment up-front.
Cove's Customer Service and Support
We all need help sometimes, and if it's with your Cove security system, you can check out the company's online support center or speak to someone via live chat, phone, email, an online form, or even snail mail if you prefer.
Personally, we had a great experience with Cove's customer support team. We had a few questions about the professional monitoring options, so being the anti-social millennials that we are, we used the live chat feature and received prompt, informative answers that spoke to our question directly. We truly felt like the representative was trying to help us, unlike many other companies which sacrifice customer support for an aggressive sales team. Kudos to Cove for training its customer support team to support customers, not to sell.
Summary of Cove
We'd definitely recommend Cove as a security system, mainly for its low monitoring costs, lack of contracts, and user-friendly app. Although it's a relatively new company, Cove made it easy for us to see what was going on at home no matter where we were. Cove impressed us with its current offerings, and we look forward to seeing what it does in the future.
Cove FAQs
Does Cove security work with Alexa?

Cove security does work with Alexa. You can have Alexa arm your system or tell you the status of your alarms. However, Alexa is only available if you select the Cove Plus plan, and the same goes for the Google Assistant integration.

Does Cove have outdoor cameras?

Cove doesn't have any outdoor cameras. Their only camera is from YI and it's only intended for indoor use.

Does Cove security need Wi-Fi?

Cove security systems don't need WiFi. They all come with cellular backup through the Cove Touch Alarm Panel. All Cove customers must pay monthly for both cellular backup and 24/7 professional monitoring, among other features.