Best Wireless Home Security Systems
Wireless design makes for easier installation; here are our experts' favorite options.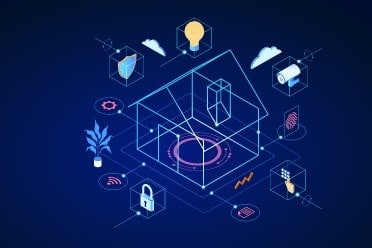 10,000+ research hours
60+ systems tested
150+ simulated break-ins
40 systems reviewed
6 systems recommended
What is a Wireless Home Security System?
A wireless home security system is a collection of digital monitoring components used to protect your property, and the whole system runs on a Wi-Fi connection. Components of a wireless system include a central hub, entry sensors, motion detectors, and security cameras, all of which communicate with one another via the Wi-Fi network. In most cases, using a Wi-Fi network also allows you to access your system remotely using a mobile app.
Is Wireless the Future of Home Security?
Wireless technology has enhanced the accessibility of security systems. It paves way to hassle-free and cost-saving DIY installation, mainly because wireless systems eliminate the complexities of hardwiring equipment. Moreover, the absence of physical wires means that there will be no wires to cut, making wireless systems more tamper-proof.
Wireless security systems also make room for advanced features, such as seamless smart home automation and smartphone control. Because of that, they're widely considered the future of home security. If you want to future-proof your home, a wireless security system will be instrumental. But which one? We'll list the top options we've tested, but before that, let's dive a bit deeper into what exactly a wireless security system is.
What A 'Wireless' Security System Means
Being wireless can mean two things for home security systems.
The first thing has to do with the equipment. If you've ever lived in an older home, you probably had a security system with sensors that are hardwired to a control box in the basement. Wireless security systems don't have those, as the sensors pair wirelessly with a base station or control panel.
Second, a wireless system uses wireless signals to communicate. Security systems alert you to possible intrusions, but to do that, they need to be able to send alarm signals. Older systems use telephone wires, which are susceptible to cutting. Wireless systems use either cellular signals, Wi-Fi, or both, thus, they transmit signals faster and more reliably.
While most people prefer wireless systems, there are cons to consider, too. One is the cost, as wireless features can drive up the price of security systems. Another is the possibility of signal interference, especially if you live in a larger space. Without the use of signal repeaters, for instance, wireless sensors may be prone to disruptions. And lastly, the price of professional monitoring. Landline systems are cheaper to monitor, whereas cellular systems cost about $10 per month more to monitor.
All things considered, wireless security systems will work in most settings. However, not all of them are created equally, so we tested a few dozen over several months to give you this list of the best wireless security systems.
FYI: When buying a security system, consider factors beyond technology alone. Among other things, check cost, policies, customer service, and company reputation. Not all wireless systems are equal, and some security systems should be avoided, despite their wireless claims.
System details
| Types of wireless systems | Does it require a landline or internet? |
| --- | --- |
| Cellular | No |
| Internet | Just internet |
| Dual | Just internet or cellular |
Below we review the best wireless home security systems with do-it-yourself or professional setup. The providers are ADT, Cove, Vivint, Frontpoint, SimpliSafe, and abode.
The Best Wireless Home Security Systems of 2023
List of the Best Wireless Home Security Systems
Let's back up a second and talk about wireless security systems in general. What are they, how do they work, and what should you look for when buying one? We'll go back to the basics.
What Are Wireless Security Systems?
Wireless security systems are, well, security systems that don't have any wires. Rather, their components are mostly battery-powered as opposed to being hardwired into a home. Components like indoor and outdoor security cameras, video doorbells, various sensors, keypads, touchscreen panels, keyring remotes, and more can be wireless, which makes for easier installation.
How Do Wireless Security Systems Work?
Wireless security systems typically work by using a wireless protocol in order to connect to a mobile application as well as a monitoring center, in some cases when professional monitoring is available. The protocols include Wi-Fi, landline backup, cellular backup, Z-Wave, ZigBee and others. Through the mobile application, the user can control the system's wireless components, arming and disarming sensors, checking the status of devices as well as their battery level, and other capabilities. If the user has professional monitoring, the wireless protocol will also connect the components to the company's monitoring centers so that their staff can get alerted if any of the sensors go off. Then, remotely, they can check in the situation and call emergency personnel if needed.
Do I Need A Wireless Security System?
Whether you live in a house or an apartment, whether you live in the Big Apple or in a small town, if you have a home you'd like to protect, then a security system is a necessity. Of course, wireless home security isn't strictly a necessity, but it certainly makes things easier when it comes to installation. Let's break down its pros and cons here.
Pros of Wireless Home Security
Easier installation
No wires that can be cut
Not dependent on home's power, if they use a cellular protocol other than Wi-Fi
Cons of Wireless Home Security
WiFi-dependent systems can be spotty
Batteries need to be changed or recharged
Some have connectivity issues with the apps
Security System vs. Cameras vs. Video Doorbells
There's also the question of whether you should buy an entire security system, which typically includes motion and entry sensors, or if you should simply stick with cameras and video doorbells, and truly, the answer comes down to your personal preferences. While we recommend buying them all, if you don't want to see what's happening at home in real-time, then cameras and video doorbells are unnecessary. However, without them, if you do have an intrusion, you'll lack video evidence, making it that much harder to catch the criminal or even identify him or her. But if budget is an issue, you can certainly stick to wireless sensors; they're certainly better than nothing!
The Different Types of Wireless Security Systems
From studio apartments to eight-bedroom mansions, wireless security systems are going to look pretty different for everyone, with no one-size-fits-all approach. That being said, most companies offer systems that are both customizable and expandable, so you don't need to buy any components that you don't truly need.
Minimal
If you live in a relatively small apartment or house like us, you could get away with simply arming your ground floor doors and windows with contact sensors and calling it a day. With a wireless system, these sensors will most likely have 3M adhesives on their backs, making installation as easy as putting a magnet on your fridge.
Tip: If your budget is super-tight, simply arm your ground-floor doors and windows with wireless sensors and call it a day.
Mid-Range
If you live in a home with three to four bedrooms, you'll probably want wireless home security that's more involved with a keypad, panic buttons and keyring remotes for all of your family members, multiple indoor and outdoor cameras, and the like (we'll go over what all of this equipment entails a little further down).
Expansive
Those that live in houses with more than four bedrooms will probably spend up to thousands of dollars on wireless home security, covering each ground floor door and window with sensors along with any second-floor rooms with balconies or decks. You'll also want to get keyring remotes and panic buttons for the whole family along with indoor and outdoor cameras and video doorbells.
How We Test Wireless Security Systems
We tested the six security systems on this list for six months each before making our decisions, drawing from testing of nearly 40 different systems. We installed all of these home security systems in our actual homes and offices, judging them on a variety of criteria as we explain in our home security guide. We notice how well they work, how well they connect with their applications and monitoring centers, and how easy the apps were to use, along with judging the system for its capabilities, costs and more. Based on these tests, we compare different home security systems to see which wireless ones performed best for low costs.
How To Buy Wireless Security Systems
But enough about us; let's talk about how the average person, you, can go about buying a wireless home security system. There are a lot of factors to consider, and we've detailed them all below.
Home Automation
We're not just talking about wireless home security systems; we're talking about smart wireless home security systems, meaning that they connect to a mobile app and that we can control and monitor them remotely. And with this Internet connection comes the possibility of home automation, meaning that we set devices to trigger actions in one another as well as control our system's components with our voices. Let us explain what we mean, for those not well-versed in the smart home universe we reside in.
Voice assistant integration: In order for us to control our wireless home security system, we need them to be integrated with voice assistants like Alexa, Google Assistant or Siri, most commonly. To explain further, we don't command the components directly, but tell our voice assistant to command them to do certain tasks, like arming our sensors, seeing if our front door is locked, or putting our outdoor camera footage on our Chromecast. For those that are already in the Google, Amazon or Apple ecosystems, you'll want a wireless home security system that works with the voice assistant you already use, for ease of use. But if you're still deciding, note that, as of 2019, Google Assistant beat Alexa and Siri in terms of both answering questions correctly and understanding the queries to begin with,

1

so that's something to consider.
Other IoT devices: Aside from working with voice assistants, some wireless home security systems work with Internet of Things, or IoT products, from other brands. For example, SimpliSafe works with Nest thermostats and August smart locks, as you can read about on our SimpliSafe pricing page. In our home, we had the August smart locks lock every time we armed our SimpliSafe security system so we didn't have to worry about manually locking them ourselves. Because there's no worse feeling than leaving your home, only to remember that your doors are wide open!
Learn More: We reviewed the Nest Learning Thermostat on our Youtube channel.2 Watch to learn about how it works and how it can work with wireless home security systems.
Wireless Protocol
If your wireless home security system is Dorothy and an Internet connection is the Emerald City, then the wireless protocol is the yellow brick road, how you'll actually complete that journey. Most commonly, wireless home security systems connect to their mobile applications via Wi-Fi. The big disadvantage of WiFi-only systems is that if your Wi-Fi is unstable or if your power goes out, you may not be able to control or monitor your system, which could be a huge issue.
Some other options that aren't affected by power outages are cellular or landline backup, the latter of which, as you may have guessed, requires landlines. Although these forms of backup may require additional fees, their biggest advantage is that they can't be cut, unlike an Internet router. Power blackout or not, these forms of backup will keep your wireless home security systems connected to both your app and the monitoring center.
Finally, some less common wireless protocols are Z-Wave and ZigBee. To summarize our comparison, ZigBee tends to be faster and less expensive, but it has a lower range of only 35 feet compared to 100 feet with Z-Wave. And so, we recommend ZigBee for people with smaller homes and less of a budget for home security and Z-Wave for those with larger homes and more of a budget. Like cellular or landline backup, Z-Wave and ZigBee will keep going, even when the neighborhood's power is down.
Storage
If your wireless security system includes wireless cameras, then you'll need somewhere to store their footage for safekeeping. Basically, storage for security cameras comes in two forms; either local storage, which is usually a slot for a micro-SD card or a connected hard drive, or cloud storage, a cloud server that often requires a monthly or yearly fee. Ideally, our wireless cameras have both cloud and local storage (redundancy is key when it comes to storage), but some people may be fine with having one or the other. But if it's cloud storage, make sure you factor in the costs, if any, to your bottom line.
Mobile Application
Since every wireless security system has its corresponding mobile app, make sure it has decent ratings on either the Google Play or Apple store, depending on whether you have an Android or an iPhone. The app should have a fast connectivity time with the components, meaning you should be notified as soon as any of the cameras or sensors are triggered, and it also shouldn't have any bugs. Make sure to check the app store's reviews right before buying, as software updates can greatly affect their functionality. The Nest app, for example, used to have low ratings for iOS, but improvements have been made to the software and the reviews went from low to high.
Equipment
The next thing you'll want to consider is exactly what equipment you'll need. There are a lot of different components to consider, but we'll let you know what's most important and what can be considered "extra".
Indoor/ outdoor cameras: If you want to actually see what's happening in and outside of your home, or capture evidence of a crime taking place, then security cameras are a necessity. To learn more, read our security camera guide, which will go over everything from video resolution to night vision. We recommend placing security cameras on the ground floor of your home in main areas like a central hallway or living room, as well as outside any ground level doors.
Video doorbells: Video doorbells are essentially cameras that are meant to go next to your doorbell. The benefit of wireless video doorbells in particular is that they don't require existing doorbell setups. Depending on the camera's artificial intelligence capabilities, you'll either get alerted when the camera detects movement, when the camera detects a person, or when your doorbell is rung. Most video doorbells have two-way audio and either color or infrared night vision so you can speak to and see your guest, day or night.
Motion sensors: Motion sensors are really the nuts and bolts of any security system. If you're going to get one component, motion sensors should be placed in the main areas of your ground floor to detect motion when they're armed.
Glass break sensors: Glass break sensors, as the name implies, can detect the sounds of glass breaking, as intruders will often break through windows as opposed to opening them up and risking waking the window sensors. However, if you have a motion sensor within the window's range, then glass break sensors are unnecessary. Only use them on ground floor windows where the motion sensor is out of range.
Window/door sensors: Otherwise known as contact or entry sensors, you should place door/ window sensors on each of your doors and windows on the ground floor of your home. Each sensor is two parts, one that goes on the door or window frame, and one that goes on the door or window itself. When the two parts are separated, you'll be notified, given of course that the system is armed.
Garage door sensors: Garage door sensors are essentially entry sensors designed for your garage door, another important area to secure if you keep valuables there or if there's a connected entryway to your home.
Keypad: More traditional security systems still have keypads where you enter passcodes to arm and disarm your system. A wireless keypad can either be stuck on the wall near the door you most commonly enter and exit your home from, or it can be placed on any flat surface nearby.
Panic button: Panic buttons are definitely one of the more auxiliary components of wireless home security. Essentially, they're wireless buttons that connect users to either the professional monitoring center or, more directly, the police, local hospital or fire department. Especially if you have a large family, we recommend getting panic buttons for each of your family members, stored in their nightstands or somewhere near their beds that's easily accessible.
Key fob: Otherwise known as keyring remotes, key fobs work with some wireless security systems so that you can arm and disarm them even away from the keypad. Some key fobs, like the Nest Tags of the Nest Secure security system, now sadly off the market, allow users to simply tap the base station, or Nest Guard in this case, to arm and disarm the system. You can also use the key fobs to disarm the system while a short distance from your home so it's ready when you walk in the door. If you get a key fob, be sure to store it safely, as a stolen key fob could mean a disarmed security system when no one is home.
Smart lock: Another auxiliary product that we highly recommend are smart locks, locks that can be locked and unlocked remotely. The best smart locks can hook up with your wireless home security system so that your doors can lock when your system is armed, ensuring that your home is truly secure when you leave the house.
Touchscreen panel: Most systems come with some form of touchscreen panel where you can control your wireless home security as well as any connected devices; sometimes, arming and disarming can also happen on this panel, which can be put on a wall or on any flat surface. The touch screen panel may have cellular backup built-in, or it could be in a separate device, which transitions nicely into our next point…
Cellular communicator: A cellular communicator may be a device all on its own that keeps your wireless home security system connected to the app as well as the monitoring center. For wireless systems, there's no better protocol than cellular communication, as it stays on in a power outage and can't be cut, unlike Wi-Fi.
Yard sign: In the home security industry, there's some debate about the effectiveness of yard signs. While some people argue that they deter would-be burglars by letting them know of a security system in place, others believe that it gives the burglar useful intel that they can use to their advantage. Even burglars themselves fell on both sides of the argument

3

when asked if security signs deterred them in a study. Our solution? Get a security sign from a different security company in order to both deter and throw off burglars at the same time. Genius, right?
Window stickers: We recommend the exact same thing when it comes to window stickers: order them from a different security company and stick them on your windows.
Siren: Many security system touch screen panels or base stations have sirens built-in, but if yours doesn't, we recommend getting an auxiliary siren. You want it to be loud enough so that even if you're not home or don't have time to answer a notification, your neighbors could hear if an alarm goes off. Sound is measured in decibels,

4

so pay attention to the siren's technical specifications where it says DB. We recommend sirens of at least 85 decibels.
Micro-SD card: The only way for wireless cameras to store their footage locally without any wires whatsoever is through a micro-SD card. Many of these cameras come with their own micro-SD cards, although you may have to purchase one separately, typically with up to 64 GB of storage.
Environmental monitoring: While it's not technically part of your home's security, environmental monitoring is an extremely important way to keep your home safe from fires, floods, frozen pipes, and more. These days, many security companies also manufacture environment monitoring products that can be managed within the same app, so if you don't already own these products, it's easiest to get the sensors that correspond with your wireless home security system.

Smoke/ CO alarm: Did you know that about half of all fires start from cooking, while the other half start from a combination of heating, electrical systems, and more?

5

Another deadly killer is carbon monoxide, a tasteless, colorless, and odorless gas that can be lethal if ingested in large quantities. If your home doesn't already have smoke and CO detectors, we recommend buying a smart one so that you can be alerted of dangerous levels of smoke or CO even when you're not home. Many of the wireless devices have long battery lives and can even alert you when their batteries are getting low, leaving your home protected 24/7.
Smoke/ CO alarm listener: Already have smoke and CO detectors that aren't smart (no offense)? Smoke and CO alarm listeners can detect the sounds of your existing smoke and CO alarms going off and alert you via your mobile app, essentially turning your "dumb" devices into smart ones. This is a more affordable option than buying smart smoke and CO alarms to begin with, although not every company sells them.
Flood sensor: The only way to prevent floods is to catch leaks as soon as they happen, so put some flood sensors, sometimes called water leak detectors, near your dishwasher, washing machine, and any other areas where floods can occur.
Freeze sensor: Frozen pipes can burst, leading to floods (see above). But if you regular your pipes' temperatures, you can prevent them from freezing and the flooding that comes with that.
Temperature sensor: While temperature sensors may be built into smoke alarms, they can be sold as separate devices that alert you of rapidly rising temperatures in your home, which could indicate fires.
Installation
Now that you've figured out the physical components you want in your wireless home security system, it's time to decide how you want to install them: DIY or professional.
DIY: Most smart security systems have DIY installation, meaning you do it yourself. With wireless systems, in particular, DIY installation is much easier, as it doesn't require hardwiring. DIY installation is also free, another advantage, and usually involves a step-by-step guided setup process in the app, making the system easy for laypeople to install.
Professional: Some more traditional security companies like ADT and Vivint require or offer professional installation, which typically costs a fee of around $100. If time and convenience are more valuable to you than the cost of installation, then professional installation could be worth your while.
Monitoring
Another thing to consider is monitoring. Are you going to monitor your system yourself, leave it to the professionals or a combo of the two? While all smart security companies offer some form of self-monitoring through the mobile app, some also require professional monitoring, which for others, it's an option. Let's talk more about each.
Self-monitoring: Self-monitoring means that whenever one of your wireless sensors goes off, you'll get alerted via the mobile app. You'll also be able to live-stream footage from your wireless cameras, speak through two-way audio, and control the system remotely, adjusting motion sensitivity, creating automated actions, and more. Self-monitoring is usually free but not always; SimpliSafe, for example, charges $24.99 a month for these actions, while with Ring Alarm, they're free.
Professional monitoring: Professional monitoring means that the company has teams in monitoring centers across the country that will be notified when your alarms go off. If you don't respond to the notification or if they're unable to reach you, they can check into your home via your security cameras and verify if an emergency is happening or not. If it is, they can contact the correct emergency personnel for you, be it the police, an ambulance or the fire department. Professional monitoring is a good option for someone who travels a lot or simply can't respond to each notification, although it typically requires monthly or yearly fees. How much are the fees, exactly? We thought you'd never ask.
Costs
At this point, you probably have a pretty big laundry list of everything you'd like in a wireless security system, but what's the bottom line?
Upfront costs: Upfront costs typically include the cost of the equipment, although, with some companies, you can pay that over time. Some companies require activation fees, although these have become increasingly rare. The price of your equipment can differ greatly based on what you get, ranging from just $30 for some sensors all the way to thousands of dollars for an extensive system. The good news is that with such a wide range, you can basically decide on a budget and stick to it, so long as it's reasonable for the size of your home.
Storage costs: With security cameras often comes cloud storage, and while some companies offer this for free, others charge monthly or yearly fees, typically for 30 or 60 days of cloud storage. While this fee is sometimes bundled in with professional monitoring, it can be separate. Nest, for example, charges $6 a month for 30 days of storage or $12 a month for 60 days, while Ring gives its users 60 days of storage for only $3 a month. While there is a range, we recommend only paying less than $10 a month for storage at the highest.
Professional monitoring costs: On its own or bundled with storage, professional monitoring costs can range from $10 to $60 a month, depending on the company.
Other costs: From professional installation to remote control, companies have differing miscellaneous costs, either upfront, monthly, yearly or longer. Be sure to consider both your upfront costs and any recurring costs to see the true bottom line of your wireless security system.
Contracts
While some security systems don't require any recurring costs whatsoever, many do, and with those recurring costs come contracts, either month-to-month, yearly, or more, typically. Be sure to find out the true length of your contract and if you can get out of it without losing more money. Some security companies have come under fire for not disclosing the true length of their contracts, so that's something you'll want to nail down before purchasing.
Company Background
While you probably don't have a journalism background, it is important to do a little background research on the company itself. Have they been hacked in the past? Sued? Criticized for predatory sales practices? Since we're talking about your home's security, the company needs to be trustworthy, so make sure it's reputable through some web surfing.
Are Wireless Security Systems Hackable?
We've all seen the same things on the news, hackings of various Internet of Things devices, from security cameras to smart locks to smart lighting and everything in between. The truth is that, with weak passwords and no advanced authentication, any online account can be hacked. That's why it's important to create a long, complicated and unique password for your home security account, as well as turn on two or multi-factor authentication, if available. It's also important to follow the best digital security practices in general; otherwise, you're at risk of your accounts being compromised. To learn more about how you can protect your security account, read our authentication guide.
FAQs
That is absolutely everything we know about wireless home security, but for the cheap seats in the back, we'll go over some of the questions we get asked most frequently.