Aura Identity Theft Protection Review
What We Like
Identity, credit, and device protection all in one
Customizable personal identification information tracking
Full 24/7 customer support via phone and live chat
What We Don't Like
No cheaper option for those who are looking for basic identity protection
Difficult to navigate Android app
Located in the U.S., so Five Eyes member
Recent Update: 2 weeks ago
On February 27, Aura released its inaugural Digital Crime Index report, which examines the digital security risks of Americans. Among its many findings, the report shows that women, parents, veterans and active-duty military, people of color, and Gen-Zs are the most affected by digital crime. Not only are they the most susceptible, but they also stand to lose the most financially if they become victims of digital crime.
Signing up with an identity theft protection service is like buckling your seatbelt. You hope to avoid catastrophe, but if it happens, you'd thank yourself for taking proper precautions.
That said, protecting your identity means more than just taking precautions. You need to take an active approach so you don't fall victim to identity theft, and to help you do that, Aura offers identity protection subscriptions. Are they effective?
In this review, we're breaking down Aura, one of the most popular identity protection services and is considered by many as one of the top options. Aura made it its mission to keep customers from identity theft. Let's see if it's capable of doing so with the protections it has in place.
Editor's Rating
Criminal and court records monitoring
Monthly credit scores
$1 million identity theft insurance reimbursement maximum
Aura Identity Theft Protection Features
Identity theft cases have shot up over the past five years. In 2017, the FTC received over 370,000 reports of identity theft. Last year, that figure more than tripled, as the FTC received over 1.4 million reports from supposed victims of identity theft.1
Aura founder and CEO Hari Ravichandran experienced identity theft himself. After someone stole his credit information in 2014, Ravichandran founded Aura in order to provide a comprehensive, affordable, and easy-to-use digital security product.2
In its quest to offer a comprehensive digital security package, Aura protects customers in three key areas: identity theft, credit and fraud, and device and network security. But what does Aura actually do for us? Let's break it down.
Identity Theft Protection
Aura identity theft protection keeps our sensitive information secure. It sounds simple, but it actually entails protecting and monitoring multiple areas. And if all else fails and we still fall victim to identity theft, the service also includes insurance coverage for stolen funds and legal expenses amounting to up to $1 million.
Personal information and ID monitoring: We don't want our personally identifiable information, such as ID numbers, floating around the internet. Aura notified us if this registered information fell into the wrong hands.
Social Security and ID authentication monitoring: Aura monitored the internet to see if anyone used our Social Security numbers or conducted a transaction with our identities (e.g., opening a new bank account).
Online account monitoring: Aura seemed to be the first to know of any breaches to our online accounts or passwords. (Psst — here are some tips for creating a strong password.)
$1 million insurance coverage: In 2020, people reported losing a total of $3.3 billion to fraud, with a median loss of $311. Aura also includes as a benefit identity theft insurance which covers up to $1 million for eligible losses from identity theft, the industry-standard maximum. Aura's policy goes beyond legal fees to cover wage losses, CPA costs, child care, and more.
Home title and address monitoring: Aura ensured no one stole our identities by forwarding our mail. We're not homeowners, but if someone tries to transfer your home title into their name, you're covered.
Criminal and court records monitoring: Individuals charged with crimes can use our names to impersonate us. Yikes! The good news is that Aura would notify us if our information turned up in criminal or court records.
Credit and Fraud Protection
The next part of the service is credit and fraud protection, which helps us sleep easy knowing our finances are secure. Like identity protection, credit and fraud protection covers a wide area, from our credit accounts with the three major bureaus to bank and investment accounts.
Credit monitoring: Aura alerted us to new inquiries on our credit file (like new credit cards or bank loans) across the three major bureaus — Experian, Equifax, and TransUnion. Aura claims to send fraud alerts up to four times faster than its competition.
Monthly credit score: We received our credit score every month and could view its trends over time. That's pretty standard. (If credit is your priority, check out our best credit protection services review. It's possible to receive updates weekly, or even daily.)
Credit lock: With Aura, we locked and unlocked our Experian credit file when we needed, which helped protect us from identity theft and credit fraud.
Financial fraud monitoring: We linked our financial accounts (including credit cards, bank accounts, and investment accounts) and set alerts for unusual spending activity.
Bank account monitoring: Sometimes more is merrier, but not when it comes to names on our bank accounts. Aura alerted us if someone attempted to add more account holders or remove our names from existing bank accounts.
Annual credit report: We were able to view our credit reports from all major credit bureaus.
Device and Network Protection
Most of the identity and credit protection features involve monitoring, which is reactive. With device and network protection, Aura becomes proactive.
Aura subscriptions include digital protection tools that you can use to lock down your digital data and prevent identity theft through malware, hacking, and trackers. Here's what you'll get.
Antivirus: Did you know that there are over 677 million known malware programs, and over 350,000 are discovered each day?

3

Scary stuff. Thankfully, Aura's antivirus protection scanned, detected, and isolated threats for removal.
VPN: Aura's VPN protected our internet connection with military-grade encryption to hide our activity from cybercriminals. And if you're thinking, "What does an identity protection brand know about VPNs?", well, Aura actually owns a number of VPN services, like the Hotspot Shield VPN we tested.
Safe Browsing: Visiting malicious websites is another leading cause of online identity theft, and with the Safe Browsing extension, Aura prevents you from entering questionable sites that could endanger your identity.
Password manager: Our online accounts contain sensitive information, from personal information to payment information. Aura locks those up by generating strong passwords and securely storing passwords using encryption.
Anti-Track and Ad Blocker: To strengthen your online privacy, Aura offers extensions that block trackers and intrusive ads so you can browse privately and without being tracked.
Email Alias: Data breaches have been a problem for the past few years, and to keep your email address from being included in databases of scammers, Aura can generate an email alias for you so you can hide your real email address and protect it from data breaches.
Parental Controls
Lastly, and exclusively for family plan subscribers, Aura offers parental control features that can help parents protect their children from identity theft and other online dangers. Parental control features are courtesy of Circle, a parental control app now under the Aura umbrella.
These are the features included in Aura's parental controls.
Device management: Parents can check and monitor their children's devices remotely. This includes tracking their location.
Content filtering and blocking: Parents can also set up content filters to prevent their kids from accessing age inappropriate things on the internet.
Screen time limits: Through the Circle app, parents can limit how much time their kids spend in front of their phones. Once the limit is reached, the app will lock the kids' smartphones.
Internet usage tracking: Parents will also be able to monitor their kids' online activities by gaining access to browsing histories.
With the help of these features, parents can better protect their children from identity theft, not to mention instill healthy online habits that they can take with them as they grow up.
These parental control features are particularly useful for family plan users, because even though children are covered by Aura's identity protection, they don't enjoy as many features as adults. Giving them extra protection through parental controls can go a long way in keeping them safe from identity theft. 
Where Does Aura Look For Leaks?
When Aura says it's "monitoring" the web for unusual activity related to identity, where is it actually looking?
In general, it's looking at those places where early signs of identity theft might pop up. These are, for example, dark web forums where cybercriminals sell breached information, public records, and credit bureaus. 
Here's more information:
New account records, like a new credit card or utility account. Identity thieves often use stolen personal information to open new accounts for financial gain.
The internet is a vast space, and Aura monitors the dark web for any signs of compromised identities. For instance, Aura will notify you if someone else is using your online account, whether it's your email, social network, or online shopping account.
Sites on the dark web. If your information is part of a data breach, it may appear on the dark web. That doesn't sound good! Fortunately, Aura monitored dark web sites, forums, and chatrooms for our info.
Public records, such as criminal and court records, home title deeds, and licensing records.
Data broker lists. Data brokers have profiles of millions of people that they sell to advertisers, telemarketers, people search sites, and more. You can blame them for those annoying robocalls and spam! Aura promises that it will soon monitor these lists as well.
Aura's features offer in-depth identity theft protection. The device and network protection offerings are a particularly nice bonus.
But what's it actually like to use the product? We tested it out to see.
The Aura Experience
Aura offers a clean desktop dashboard where we managed our alerts, credit score updates, transactions, identity monitoring watchlist, antivirus protection, and VPN.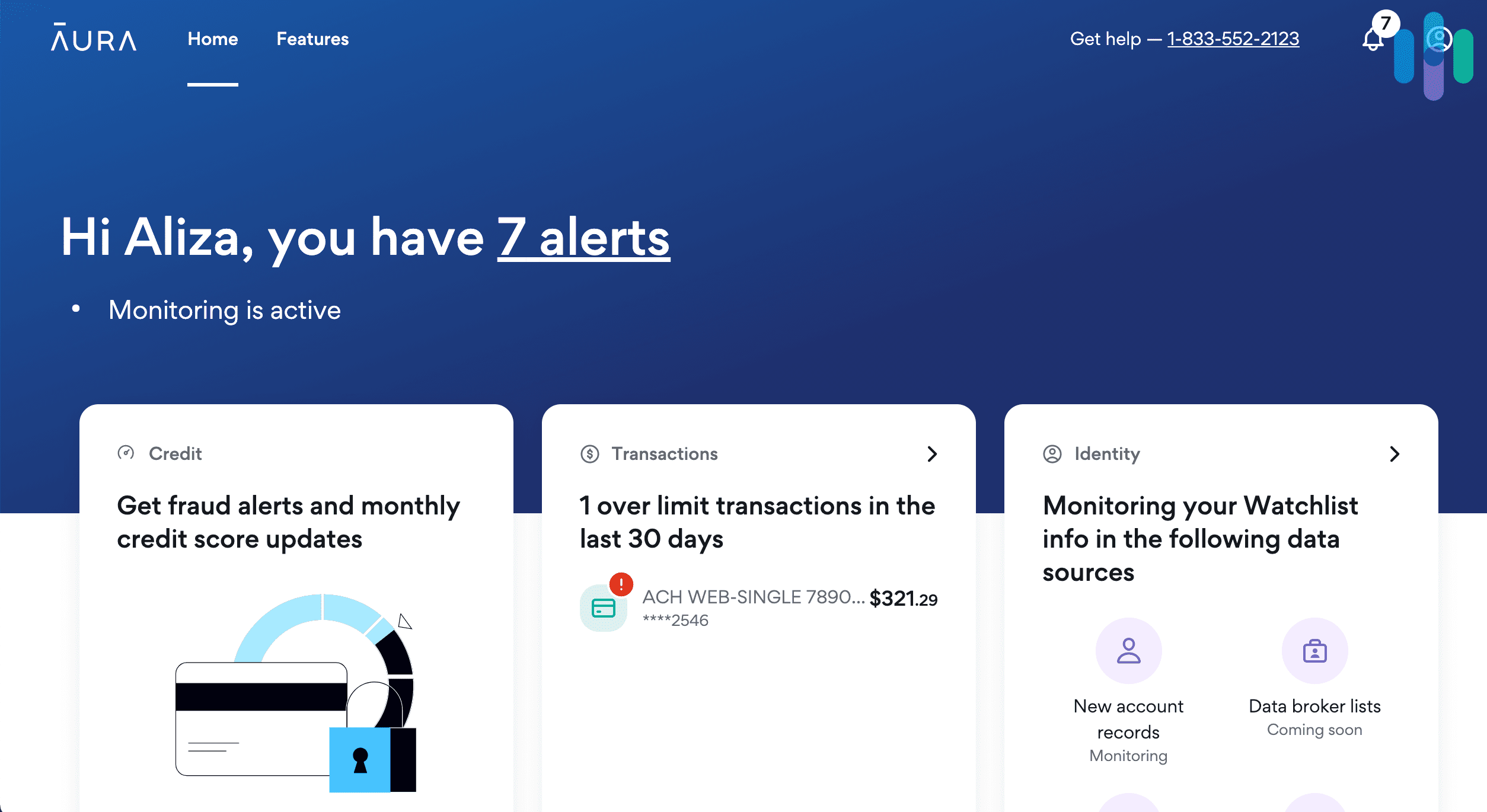 We customized our watchlist to track a bunch of different personal information:
Credit and debit cards
Birthdate
Driver's license number
Email addresses
Financial account numbers
Health insurance IDs
Address
Passport numbers
Phone numbers
Social Security number
State ID number
Loyalty cards
Note that for the digital protection features, you'll use a separate app that offers both antivirus software and a VPN. The VPN features are available for Windows, macOS, iOS, and Android users, while the antivirus is available for Windows, macOS, and Android. The antivirus is not available on iOS, but given that iPhones and iPads don't need antivirus as much as other systems, Aura's lack of antivirus software for iOS is just fine.
That said, if you're looking for standalone antivirus software, check out our best antivirus for Mac, best antivirus for Windows, and best antivirus for Android.
Using the Aura App
Since our main focus is the Aura identity protection service, we went ahead and downloaded the main Aura app.
Downloading and logging in to the app was straightforward, with no cumbersome tutorials or instructions. Once we logged on, we set up Touch ID, a form of multi-factor authentication on iOS, for quick and secure access. In our settings, we customized how much time can elapse before we need to reauthenticate.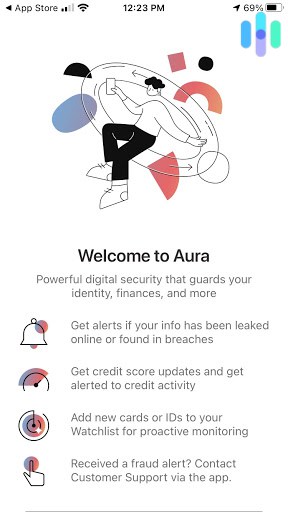 It was super easy to connect our financial accounts. To start, we selected our bank and entered our credentials directly in the app. Aura uses Plaid to connect our accounts. Other major financial apps, like Venmo and Robinhood, also use Plaid, so we know it's secure.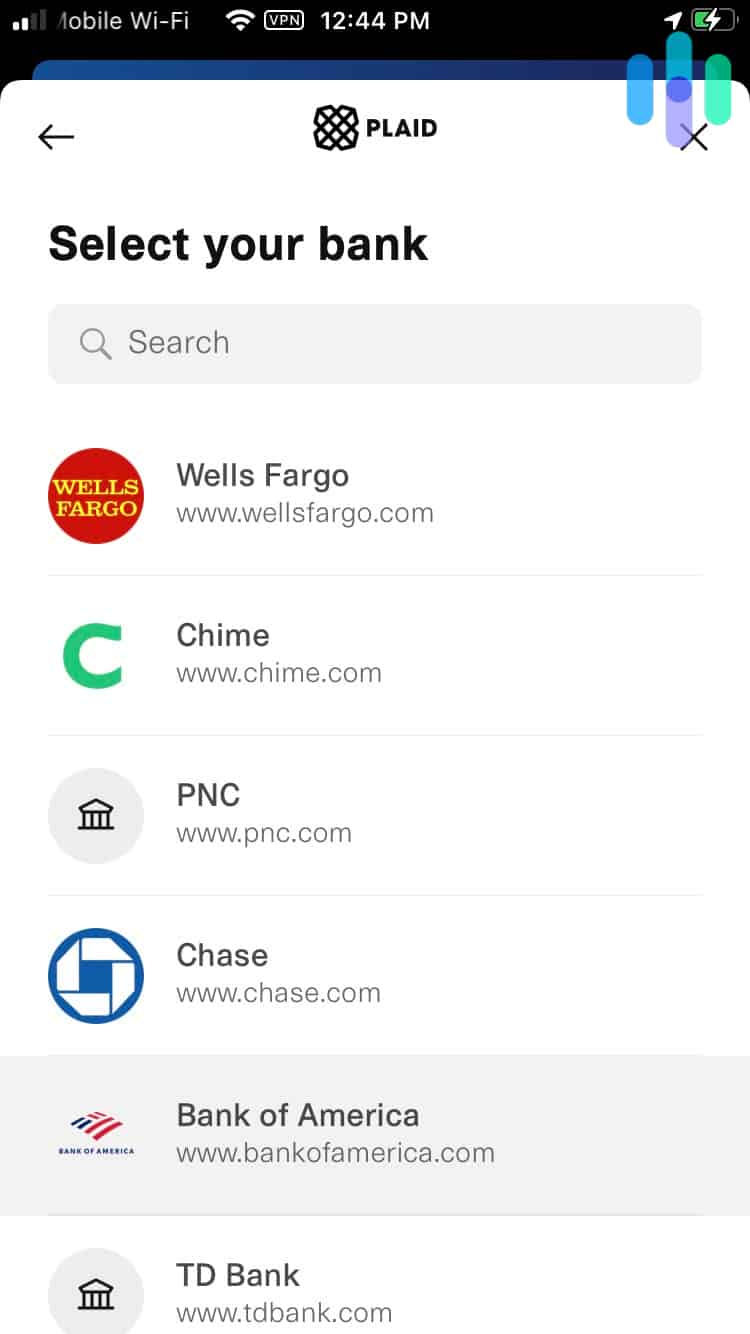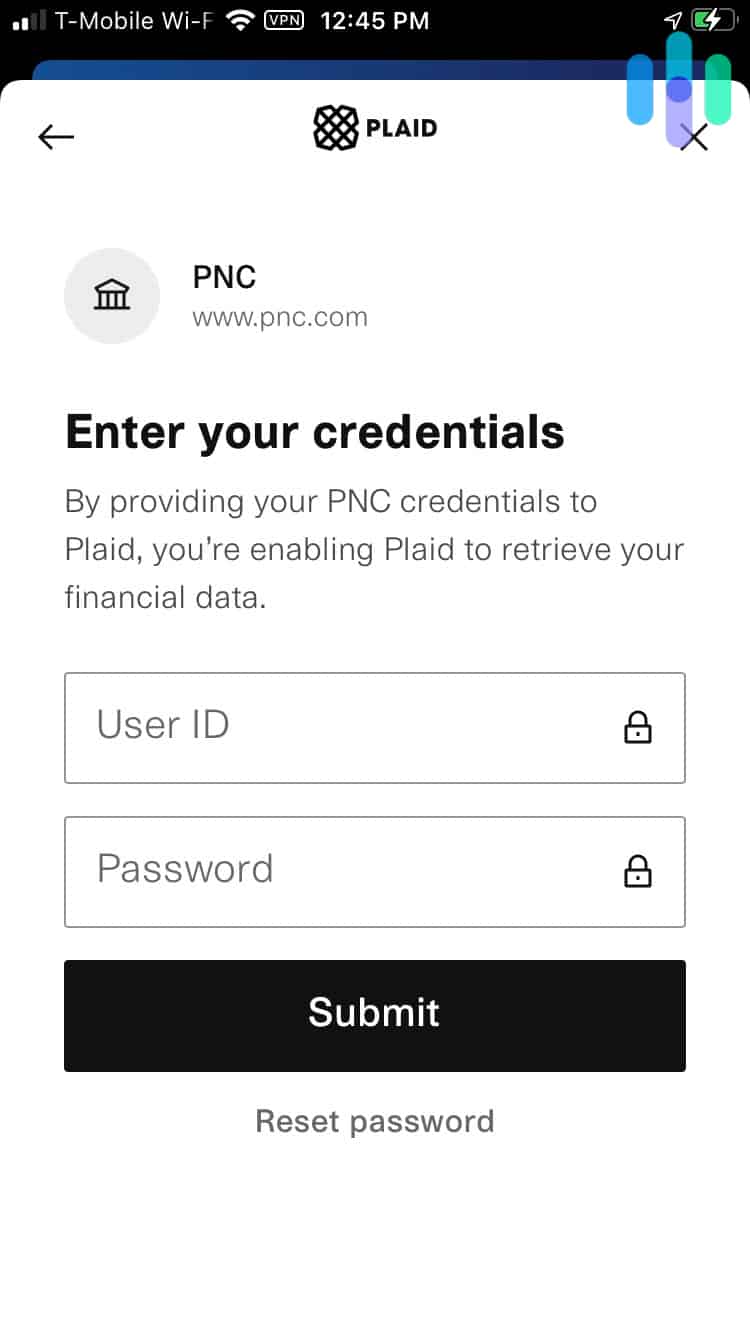 From there, we set alert thresholds for our different account types (bank accounts, credit cards, loans, investments, and others) so that Aura would alert us to certain activity outside the norm. Aura's transaction-monitoring feature let us know of any large purchases, withdrawals, or balance transfers.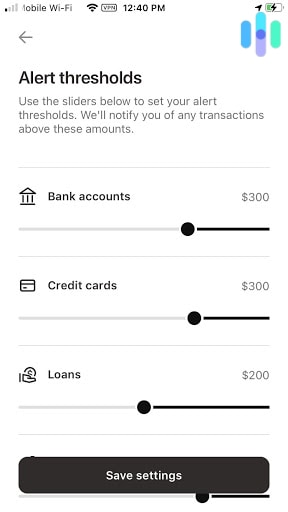 TIP: Customize your alert thresholds for different accounts so that Aura notifies you only when necessary.
Next, it was time to secure our Wi-Fi network. This took just a few seconds! With a single tap, we secured our connection (and turned off the feature when we wanted).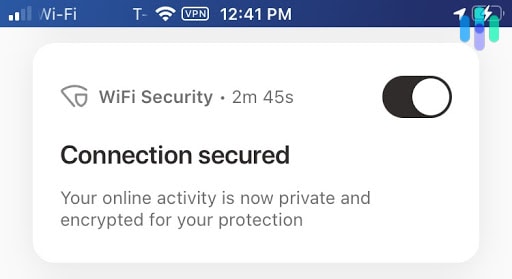 Aura's Wi-Fi Security uses a virtual private network (VPN), allowing us to browse privately without worrying about hackers. This was useful when we connected to public networks, like a coffee shop's Wi-Fi.
Note for Chromebook users: Aura's apps are yet to become available to Chromebook users. You can still use Aura and monitor your dashboard via the web login, but you won't have access to the antivirus and VPN. If you're interested in securing your Chromebook, check out the best VPNs for Chrome.
Overall, the Aura app was well designed and simple to use on our iPhones. Other Apple customers likely agree, as the app has a four-star rating. And while we didn't test the Android version of the app, its three-star rating shows that it's not terrible.
Aura Privacy
Like any identity theft protection service, Aura collects some data about us — our account information, billing and payment info, identity verification information, and communications with the company.
It also collects information about how we use its services. While Aura won't collect our precise GPS location without telling us, it may get an approximate location in order to provide certain services, like connecting us to the closest VPN server.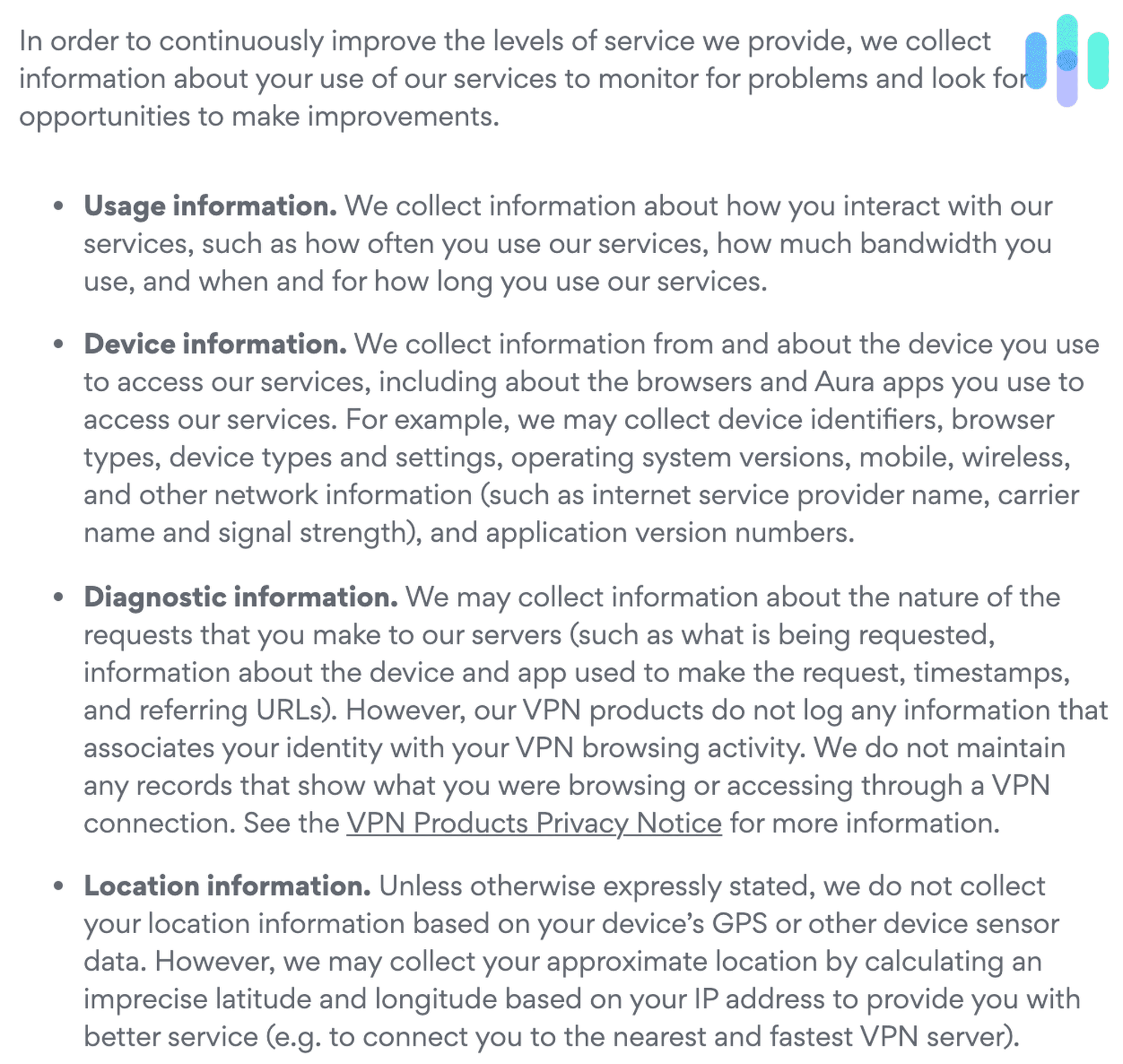 With that much information about us, we were glad that Aura used 256-bit AES to secure our data from breaches and hackers. That's the highest encryption standard available today, and it's used by major banks and the military, so we're confident in Aura's data security.
Unfortunately, since Aura also offers a VPN as a part of its service, there's some concern about the company being located in the United States. The US is part of the Five Eyes alliance, which is an alliance of nations with policies that allow government agencies to legally obtain customer data from companies within their jurisdictions. 
Of course, the government will not just ask for data willy-nilly. It has to be court-approved and only under extremely unlikely circumstances, like when there's the threat of terrorism or to assist in a criminal investigation. 
Another thing that should put your mind at ease is that even though Aura may be subpoenaed to provide information, its VPN itself doesn't collect any data that can be tied back to you and your browsing activity. It doesn't log your IP address, for example, nor does it record the websites that you visit. In VPN terms, this is called a "no-logs" policy, and it ensures the privacy of customers especially when a VPN company is located within the United States and other Five Eyes, Nine Eyes, and 14 Eyes countries.
Aura Customer Support and Insurance
Aura offers all customers 24/7 support by phone and email. The company encouraged us to call its support team with any questions, or if it detected identity theft or fraud. Aura's agents have an average of over seven years of experience, so we felt like we were in good hands.
With the Ultimate plan, we also received one-on-one support with white-glove remediation. In the event of identity theft, an Aura case manager will work with us to craft a recovery plan and help us navigate credit bureaus and federal institutions.
Finally, Aura's identity theft insurance offers up to $1 million in coverage** of not only legal fees but also a number of other eligible losses. These include lost wages, private investigator fees, accountant fees, and even child care you need while dealing with identity theft.
Aura Subscription Options
Aura subscriptions are available in three tiers: Individual, Couple, and Family. As their name implies, the tier best suited for you depends on whether you're a single individual, a part of a couple, or a part of a family.
In terms of features, there's not much variation between the Individual and Couple plans. Basically, just take whatever the Individual plan offers and double it. As for the family plan, one subscription covers up to five adult individuals, so it's just like getting five Individual plans. In addition, though, the family plan includes child SSN monitoring for an unlimited number of children as well as parental control features.
Here's a closer look at each subscription plan.
| Features and pricing | Individual | Couple | Family |
| --- | --- | --- | --- |
| Monthly pricing | $15 | $29 | $50 |
| Yearly pricing | $144 (averages $12 per month) | $264 (averages $22 per month) | $444 (averages $37 per month) |
| Online account monitoring | Yes | Yes | Yes |
| Personal info and SSN monitoring | Yes | Yes | Yes |
| Removal of info from data brokers | Yes | Yes | Yes |
| Identity verification monitoring | Yes | Yes | Yes |
| Home title monitoring | Yes | Yes | Yes |
| Criminal and court record monitoring | Yes | Yes | Yes |
| Lost wallet remediation | Yes | Yes | Yes |
| Credit monitoring | Yes | Yes | Yes |
| Credit lock | Yes | Yes | Yes |
| Bank account monitoring | Yes | Yes | Yes |
| Financial transaction monitoring | Yes | Yes | Yes |
| Investment monitoring | Yes | Yes | Yes |
| Monthly credit score updates | Yes | Yes | Yes |
| Annual credit reports | Yes | Yes | Yes |
| Parental controls | No | No | Yes |
| Child SSN monitoring | No | No | Yes |
| Identity theft insurance | Up to $1,000,000 | Up to $1,000,000 per adult member | Up to $1,000,000 per adult member |
| Fraud resolution | Yes | Yes | Yes |
| Antivirus | Up to 10 devices | Up to 10 devices per adult member | Up to 10 devices per adult member |
| VPN | Up to 10 devices | Up to 10 devices per adult member | Up to 10 devices per adult member |
| Safe Browsing | Up to 10 devices | Up to 10 devices per adult member | Up to 10 devices per adult member |
Price-wise, Aura's family plan costs are above the industry average. If you're looking for more affordable plans that cover the whole family, you should look into Identity Guard family coverage. However, what we like about Aura's family plans is that they cover up to 5 adult individuals and an unlimited number of minors. Typically, family plans only cover two adults and a number of minor children, which makes sense for younger families but not for families with adult children; Aura accommodates both family demographics.
GOOD TO KNOW: Aura refunds annual membership plans within 60 days of purchase, so you can test the waters before diving in. You can cancel over the phone by calling 1-855-712-0021 or through your account dashboard.
Bottom Line
If you're interested in Aura, here are the key points to consider.
Consider Aura if you …
Are looking for an all-in-one identity theft protection that monitors a number of data sources and transactions.
Want identity theft insurance that covers you for up to $1 million** for eligible losses.
Value antivirus and a VPN, at home and on the go.
Would like to add up to five adult members to your plan.
Are looking for a password manager, VPN, antivirus, and parental control features
Reconsider Aura if you …
Are looking for basic identity protection that is affordable. Aura plans start at $12 per month for individuals, which is on the higher end compared to basic protections from other companies that cost less than $8 per month.
Already have antivirus software or a VPN of your own, as you can likely save money by choosing a service that excludes those features.
With Aura, we feel like all of our bases are covered. Still in the market for a service to protect your identity in real time? Look no further than our list of the best identity theft protection providers.