TotalAV Antivirus Review 2023: Total Protection Against Malware
A closer look at TotalAV's features shows the real extent of the device protection it provides.
What We Like
A free-to-use version is available
Real-time threat protection
Comes with password manager, VPN, and performance booster
What We Don't Like
Prices increase after the first year
No firewall
Service tries to upsell customers even after purchasing
Bottom Line
TotalAV's solid offering of digital security products and features is appealing. Coupled with its affordable first-year prices and responsive apps, we see a lot of value in TotalAV.
Bolstering your digital security means having multiple digital safety tools protect you from all kinds of cyberthreats. A lot of antivirus companies offer that, but not all of them are able to deliver.
We recently finished testing TotalAV, and as digital security aficionados ourselves, we compiled all our findings in this review to answer an important question: Does TotalAV have the digital protections you need? In this review, we'll cover TotalAV's features, software, performance, customer support, and pricing — so without further ado, let's begin.
A Quick Summary of TotalAV's Features
| | |
| --- | --- |
| Real-time protection | Paid plans only |
| Quick and full malware scans | Free and paid plans |
| Web protection | Paid plans only |
| Ad blocker | Free and paid plans |
Editor's Rating
A free-to-use version is available
Good customer support
Multi-use digital security product
Getting Started With TotalAV: Free vs. Paid Plans
Like we always do before testing antivirus software, we researched TotalAV's products and offerings. One of the first things that caught our eye was TotalAV's promise of a free-to-download, free-to-use antivirus software. We're not ones to turn down free protection, so we downloaded the software and tried it out.
Impressively, the app listed a comprehensive set of features, ranging from real-time malware protection to miscellaneous device protections such as password management and performance booster. The software even performed a Smart Scan as soon as we launched it the first time, which checked for:
Malware
Potentially unwanted programs (PUPs)
Junk and duplicate files
Unnecessary start-up programs
Tracking cookies
Browser history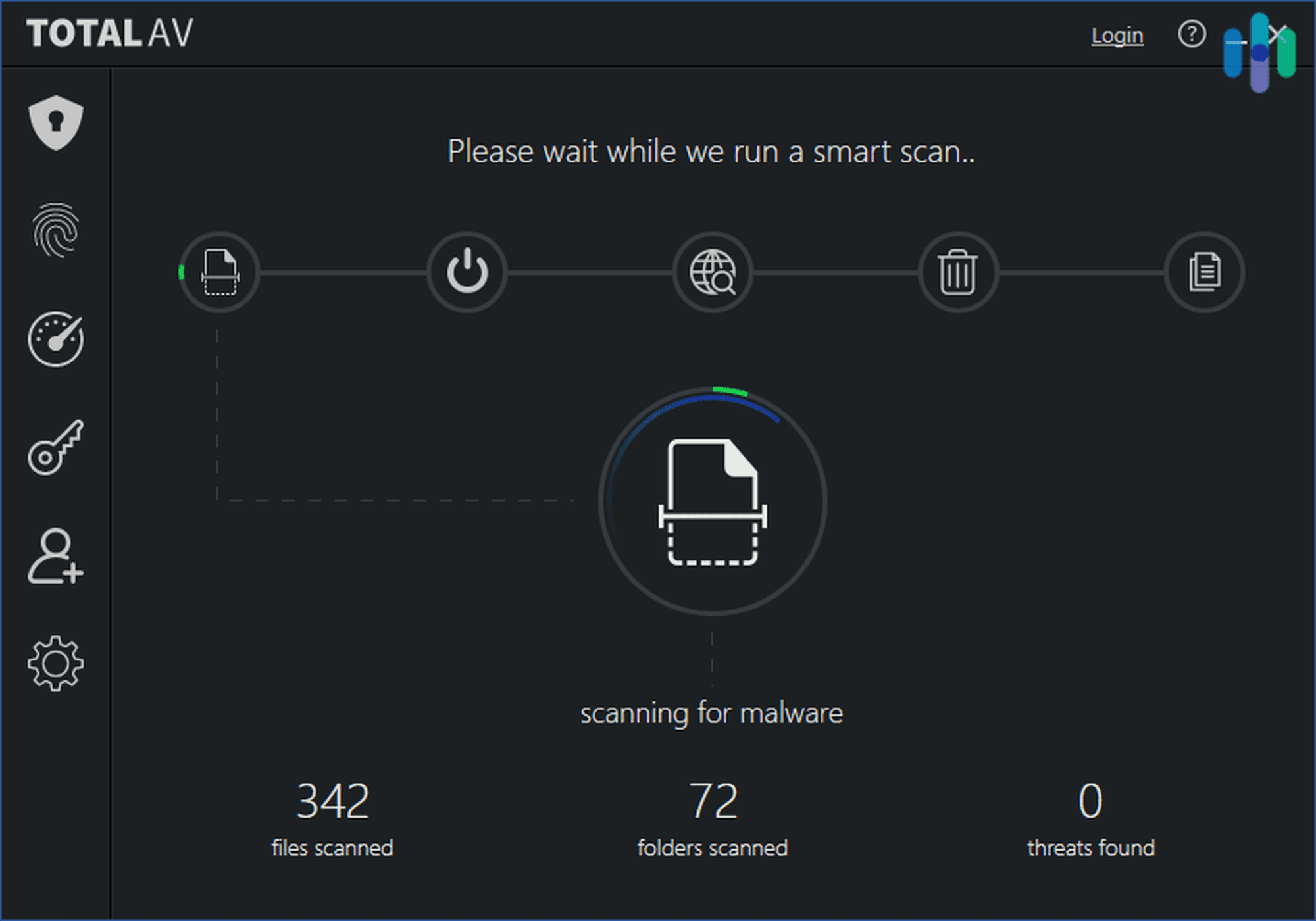 Soon after, though, we found out that not all the listed features are included in the free version. When we tried to clear our device's tracking cookies, for example, TotalAV notified us that we only had 48 hours to try the feature for free. After that, we'd need to upgrade to a paid subscription to continue using it.
Further exploring the app confirmed our suspicion that the free version is pretty barebones. It lets you scan for malware manually, but that's all that it can do. If you want to use the other features, you'll need to upgrade to a paid subscription, so that's what we did. We bit the bullet and went with the most comprehensive plan: Total Security.
TotalAV Feature Breakdown
Total Security is the highest level of protection TotalAV offers. It includes TotalAV's entire digital security suite and can protect up to six devices total per account, including mobile devices.
Since we were able to test all of TotalAV's features with our subscription, let's talk about them one by one.
Real-Time Protection
The core, and perhaps most crucial feature of TotalAV, is real-time protection. As the name suggests, it protects you from malware of all kinds, including trojans, scareware, adware, and ransomware, in real time.
Resource Guide: What is a Trojan? What is spyware? What is adware? What is a computer worm? These are all types of malware. Check out the articles linked in this section to learn more about each type of malware and how to protect your devices from them.
To offer that kind of protection, TotalAV scans files being transferred to and from your computer, the folders you open, and processes your machine executes. You don't need to run a scan manually; TotalAV does the scans automatically and in the background. And when it does find something suspicious, a notice like the one below pops up.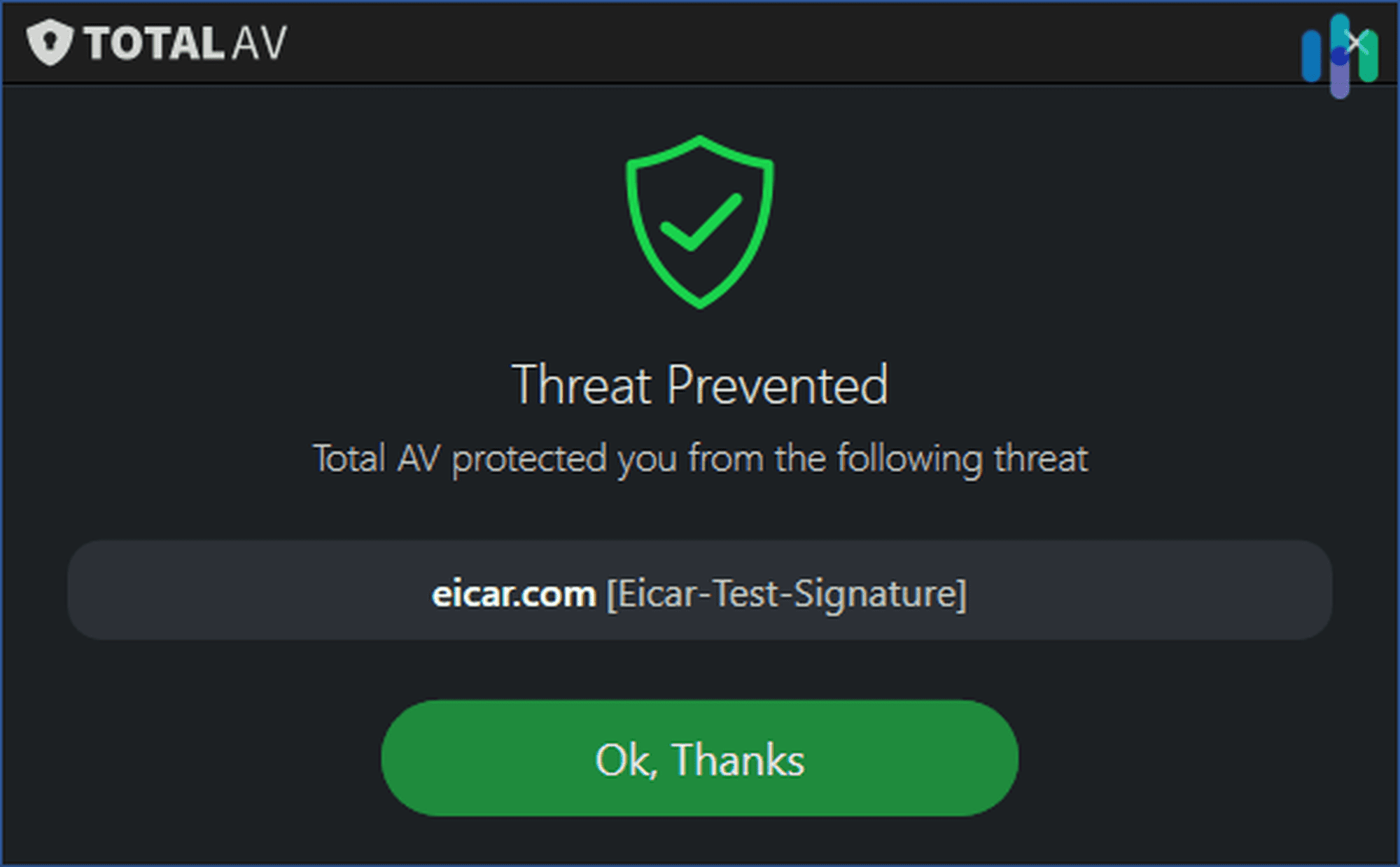 You can modify how the real-time protection behaves in the settings. For example, you can tell TotalAV what to do when it detects malware. It can either quarantine the infected file so you can manually check and remove it at a later time or delete the infected file right away.
Smart Scan
Scanning for malware is one crucial part of how antivirus software works. TotalAV's Smart Scan, though, is a little more advanced than the normal scans most antivirus software perform. Besides detecting malware, TotalAV scanned key areas for us to check out if we wanted to improve our machine's performance. For instance, it showed us which programs had permission to run automatically at start-up, so we could see if there was anything we could remove to improve start-up times.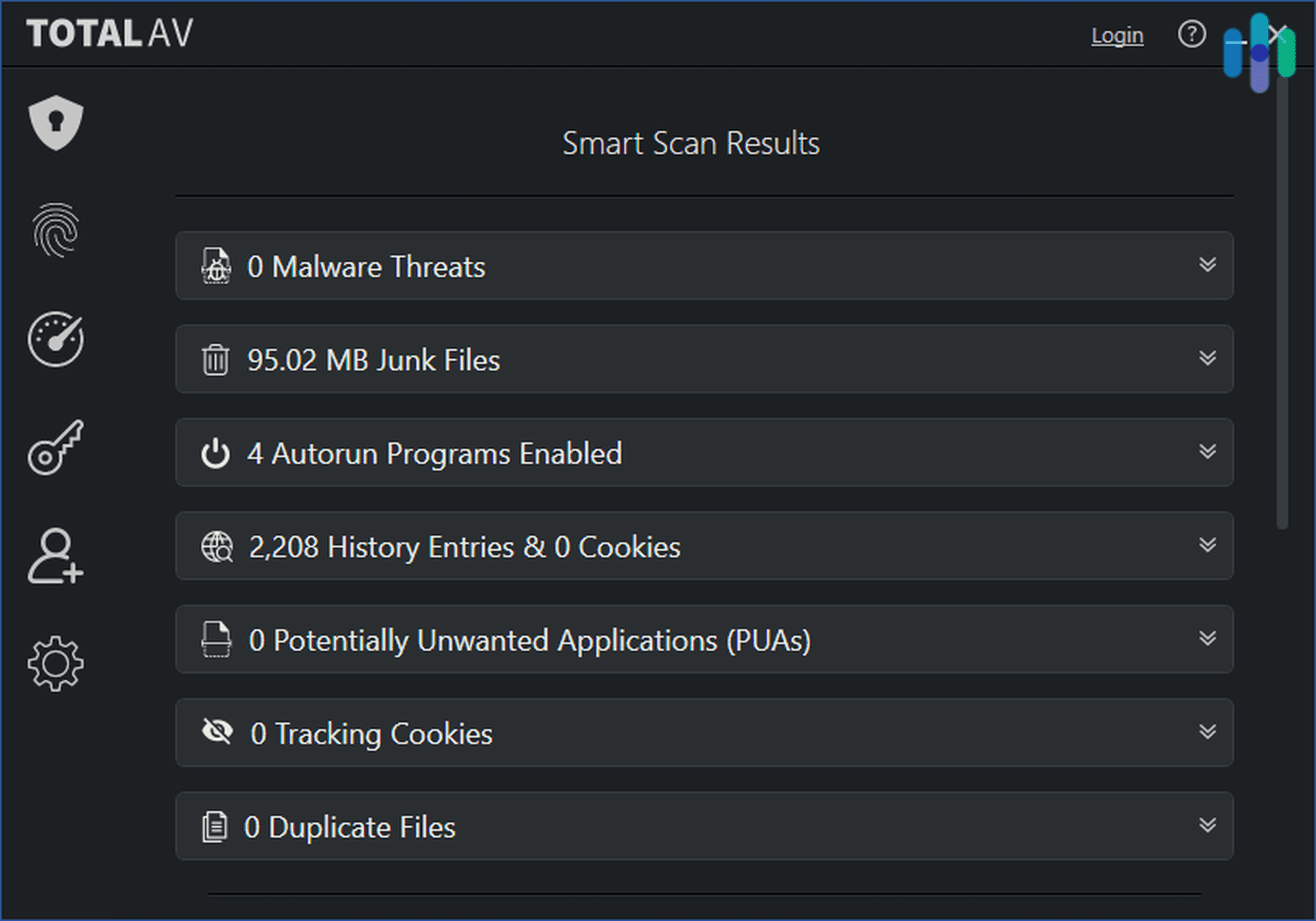 Smart Scan also let us create automated scan schedules, with the shortest duration between scans set to weekly and the longest set to monthly. We recommend scheduling a full system scan at least once a week.
Quarantine
We mentioned quarantining malicious files, but how exactly does it work? When a file becomes infected by malware, TotalAV quarantines it so that the malware doesn't spread to other areas. That involves removing the file from its original location and placing it in a secret folder that you or other programs can't access. Additionally, it makes changes to the infected file so that it can't execute. By doing so, TotalAV prevents the malware from running or spreading.
You can only access the quarantined files via the app itself. And even then, the only things you can do are restore the files or delete them permanently. Choosing the former sends the file back to its original location, so you should only restore files that you're sure are not infected. On the other hand, the latter option wipes the file permanently from your system. It's the only way you can totally remove malware from your computer.
Expert's Tip: If you're not sure whether to restore or remove a file, you can leave it in quarantine. Quarantined files can do no harm to your computer.
WebShield
Unfortunately, your local files and folders aren't the only places where malware can hide. Some types of malware live on rogue websites. When you visit those websites, they can steal personal information from you through things like your browser auto-fill feature. Getting your personal information stolen can result in identity theft, so it's important to stay vigilant when it comes to the websites you visit.
TotalAV has a feature called WebShield that can help you steer clear of such malicious sites. By default, it doesn't necessarily block suspicious websites, but it lets you know when a website you're visiting has a low trust rating. However, in the settings, you can configure it to block low-trust websites automatically.
Virtual Private Network
Besides malware protection, our Total Security subscription gave us privacy protection via a virtual private network or VPN. A VPN, as we discuss in our VPN guide, is a software tool that creates a virtual encrypted tunnel between your computer and the internet. This encrypted tunnel encapsulates all your internet traffic so that no one — not even your internet service provider — can see what you do online. It also lets you hide your IP address. As you probably know, unpleasant things can happen when someone gets hold of your IP address, so a VPN is a necessary digital security tool.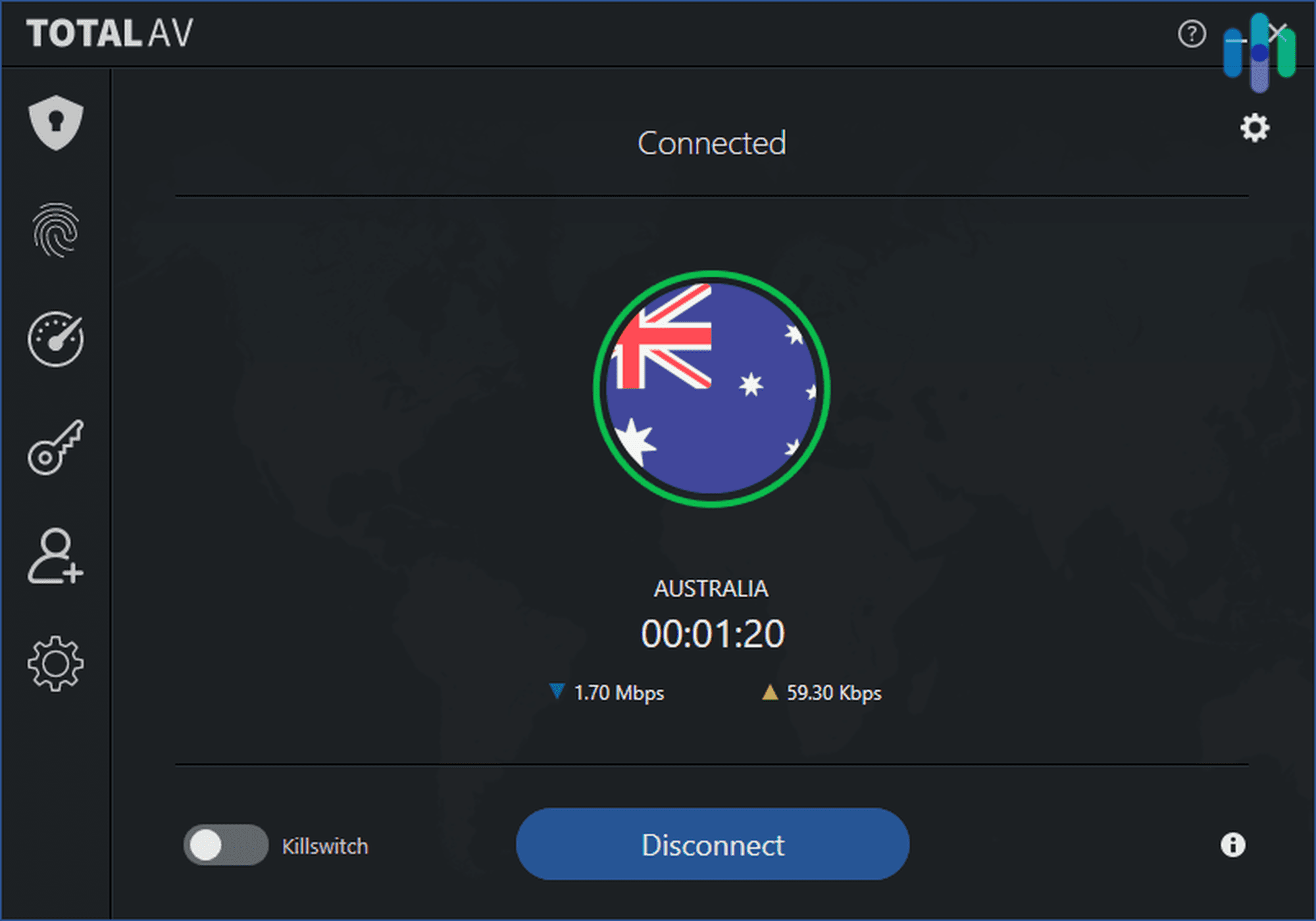 TotalAV's VPN, however, isn't as full-featured as the ones that are on our list of the best VPNs; however, it's a good complementary feature to the antivirus. It has three main features. First, it can connect you to servers in 39 different countries, mostly in Europe. Second, it has a kill switch. If the VPN disconnects suddenly, the kill switch triggers, halting your device's internet traffic. Doing so prevents your browsing data from spilling out of the VPN tunnel. Lastly, it has two VPN protocols: IKEv2 and OpenVPN. Essentially, IKEv2 and OpenVPN are popular protocols used by many of our top VPNs.
Password Vault
Another way that TotalAV protects your privacy is the Password Vault. It's an encrypted digital vault where you can securely store your passwords.
To use the Password Vault, you first have to create a master key password. This should be easy to remember but hard to guess since you'll need to enter it every time you need access to your stored passwords.
After setting a master password, TotalAV asked us if we wanted to import the 300-plus login credentials we have stored on Chrome. You can also input login credentials manually. Lastly, we installed the TotalAV Password Vault Assistant extension on Chrome so we could use TotalAV as a source for auto-fill.
The main difference between the Password Vault and Chrome's auto-fill function is that the Password Vault is encrypted, making it harder for anyone to access our accounts.
On-the-Go Total Security
We loved having the TotalAV app on our Windows desktop, but malware protection shouldn't just be on computers. Studies show that there are over 400,000 new Android malware per month,1 and they're becoming more and more destructive. One recent strain of malware, for example, was found to have been used to factory reset its victims' phones.2
Fortunately, TotalAV's malware protection extends to mobile devices, including both Android and iOS. (Yes, iOS devices don't need as much virus protection as Androids do, but it doesn't hurt to install antivirus apps just in case.) The mobile app versions of TotalAV feature the same virus protections as the desktop versions.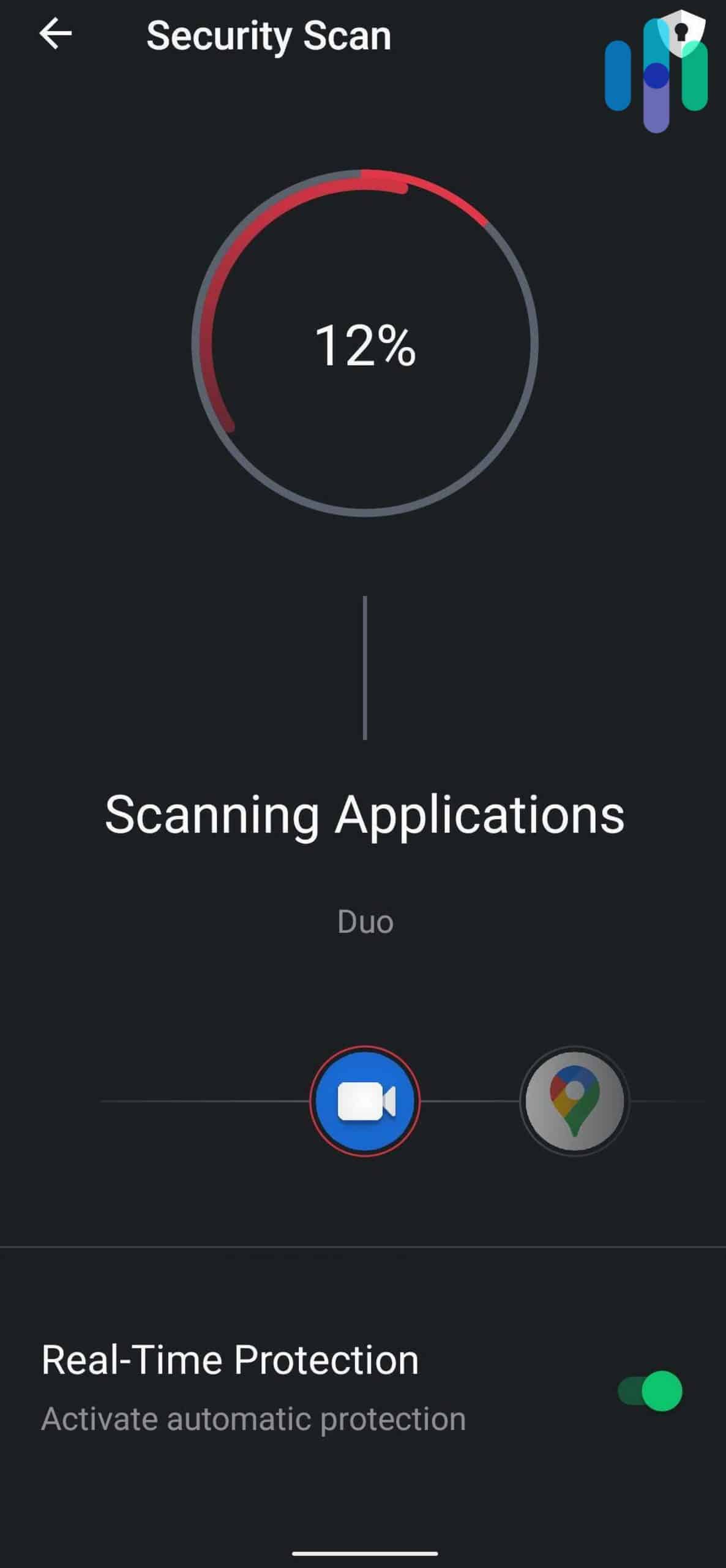 Like the desktop version, the TotalAV mobile apps feature real-time protection, manual and scheduled scans, virtual private network, and WebShield. We couldn't access our stored passwords via the mobile app, though, but that's the only feature missing from it.
Instead of the Password Vault, the TotalAV Android app has an app lock feature that lets you set a pattern or PIN code to lock your private apps. Not only does this feature protect your private apps from snoopers, but in case your phone gets lost or stolen, others won't be able to easily access your files. We recommend locking apps such as:
Notes
Photos
Email
File Explorer
Mobile banking/financial apps
Apps that may contain personal or payment information
Performance
Features aside, we'd be remiss if we didn't test TotalAV's ability to detect malware. Can it effectively and reliably detect all kinds of malware? And how deep does it look for threats? We answered those with our virus detection test.
EICAR Virus Detection Test
To test TotalAV's performance, we used an anti-malware test file from the European Institute for Computer Antivirus Research or EICAR.3 The test file itself is harmless, but it contains a string of code that mimics the characteristics of a computer virus when executed. Most antivirus software can detect the file, but only good ones can detect it when hidden inside archives.
For the first test, we downloaded the malware test file itself. It's not hidden, and TotalAV detected it right away, as expected. That's one point out of three.
The second test took the challenge up a notch. The malware test file was hidden inside a .zip archive, so antiviruses have to be more thorough to be able to detect the file. Unfortunately, TotalAV's real-time protection didn't kick in, and we were able to download the archive. It also didn't stop us from extracting the file's content. But when we manually scanned the .zip file, TotalAV flagged it down. Because of that, we're only giving it half a point on this one.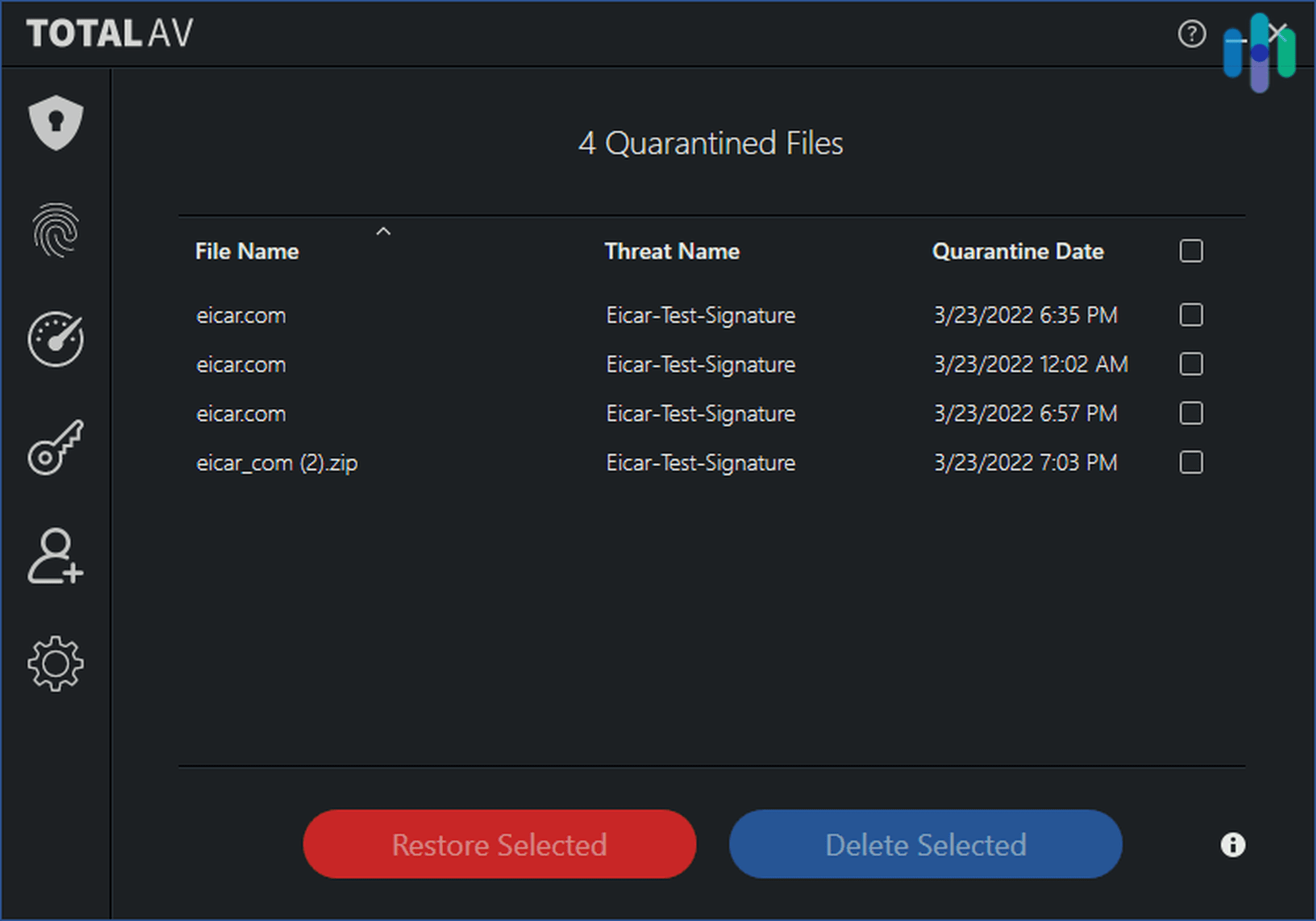 The final test hid the malware test file even deeper. It's also a .zip archive, but inside it is another .zip folder that contains the test file. Just like in the second test, TotalAV didn't stop us from downloading or extracting the archived folders. It only noticed the malware test file when we scanned the archive, so that's another half a point.
All in all, TotalAV scored two points out of three, which is not bad, but not great. TotalAV's real-time protection didn't flag down the archived folders that contained the malware test file, so if an infected file were to hide inside a .zip folder, it might be able to sneak in. That just shows the importance of having full system scans scheduled at least once a week.
AV-Test Score
When it comes to TotalAV's ability to detect all types of malware, though, we deferred to independent tests performed by AV-Test. AV-Test is an independent cybersecurity institute that grades antivirus software based on their ability to detect different types of malware. Here's a summary of the results:
Windows: TotalAV's Windows antivirus detected 99.9 percent of the 18,870 malware samples, and 98.5 percent of the 330 zero-day malware attacks.
Android: TotalAV's Android antivirus detected all of the 2,964 prevalent malware discovered within four weeks before the test. It also detected 99.9 percent of the 2,896 newest Android malware.
Mac: On Mac, TotalAV detected 99.2 percent of the 794 most prevalent malware discovered within four weeks before the test.
These results show that TotalAV is pretty good at detecting different types of malware. It particularly excels at detecting Windows and Android malware, so if you use those systems, we can recommend TotalAV.
Customer Service
Next, let's talk about TotalAV's customer service. When buying antivirus software, it's important to note how a company treats its customers, especially when they need help with the software. Antivirus software can be quite complicated, so it's necessary that we're able to ask for help whenever we need.
TotalAV's customer support is available 24 hours a day, seven days a week via phone or email. If your concern is urgent, we recommend calling the support line. The email support, although available 24/7, can take 48 to 72 hours to respond. Another option is to read through the support articles, knowledge base, and FAQs on TotalAV's website. They are informative and highly detailed, and cover a wide variety of topics, from setting up and troubleshooting to accounts and billing.
Pricing
Finally, let's discuss TotalAVs cost. As already mentioned, we went with the Total Security plan, which is the most expensive subscription. The initial cost was $59 for a whole year of protection. However, the subscription renews automatically every year (unless cancelled) at $149.
FYI: Bait-and-switch? Not really. Most antivirus companies have introductory pricing in order to give users a chance to try their products at lower prices. Besides, you can cancel your subscription at any time to prevent getting charged the regular rates.
TotalAV's Subscriptions
| Pricing and features | Free | Antivirus Pro | Internet Security | Total Security |
| --- | --- | --- | --- | --- |
| First-year price | $0 | $29 | $39 | $59 |
| Yearly renewal price | $0 | $99 | $119 | $149 |
| Real-time protection | No | Yes | Yes | Yes |
| Smart Scan | Yes | Yes | Yes | Yes |
| System tune-up | No | Yes | Yes | Yes |
| Browser manager and cleaner | No | Yes | Yes | Yes |
| VPN | No | No | Yes | Yes |
| Ad blocker | No | No | No | Yes |
| Password Vault | No | No | No | Yes |
| Number of devices covered | 1 | 3 | 5 | 6 |
Recap
Throughout our tests, TotalAV proved that it's a capable antivirus software. Especially if you go with the highest subscription plan, TotalAV can protect multiple facets of your digital life. But as we always say, there's not a single antivirus for everyone, so it all depends on what you're looking for in antivirus software.
If you think TotalAV is right for you, great! It's a good-value antivirus and it has our seal of approval. But if you're looking for something more, be sure to check out our antivirus guide, where we discussed in detail what buyers should be looking for when shopping for antivirus software.
TotalAV FAQs
Before we end this review, let's take a look at some of the frequently asked questions about TotalAV.