What Is A Home Security System and How Does It Work?
All of our content is written by humans, not robots.
Learn More
Our bread and butter is home security systems from companies like ADT, SimpliSafe, Vivint, and more. But what is a home security system in the first place, and how does it work? This section will answer all that and more. Let's get started!
Security System Finder
Answer a few simple questions to find the security system that's best for you.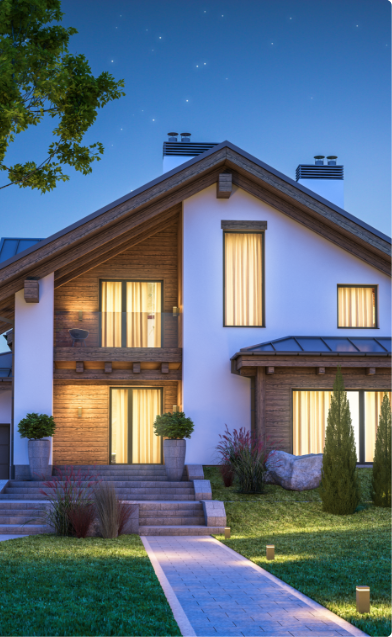 What Is A Home Security System?
A home security system is a group of physical electronic components that all work together to protect a home. If you want to see real systems, read our SimpliSafe review, ADT review, or Vivint review. Often, a home security system will consist of the following objects:
Security camera: Smart security cameras hook up to Wi-Fi, enabling us to livestream footage of our system remotely and receive notifications when our cameras detect movement, people, or packages. Many cameras include infrared or color night vision, cloud or local storage, and two-way audio, which allows us to speak to whoever is on camera. Some cameras also have smart platform integrations such as Amazon Alexa or Google Assistant.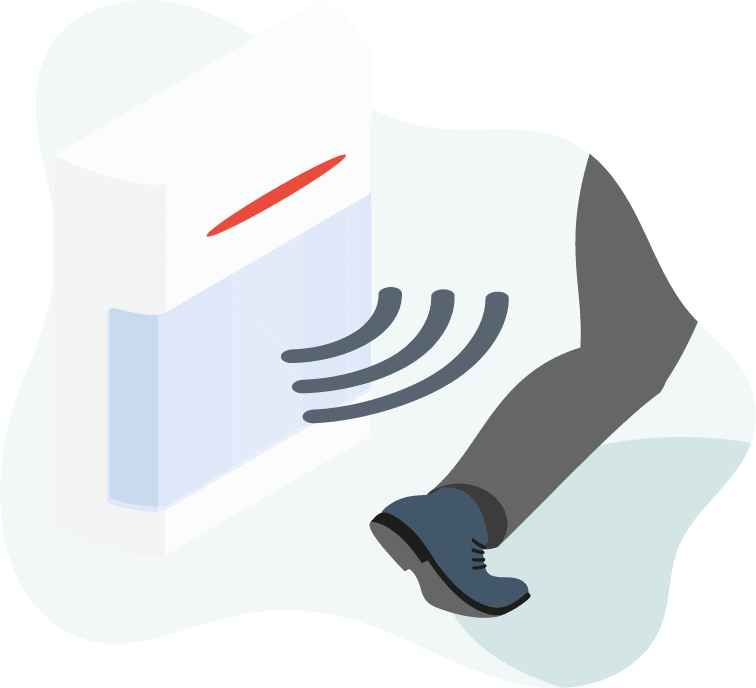 Motion sensor: Motion sensors should be placed in a main entryway or hallway on the ground floor of a home so that they can detect motion and alert us when our system is armed. Some motion sensors are sensitive to pets, so they don't go off every time our dog walks by.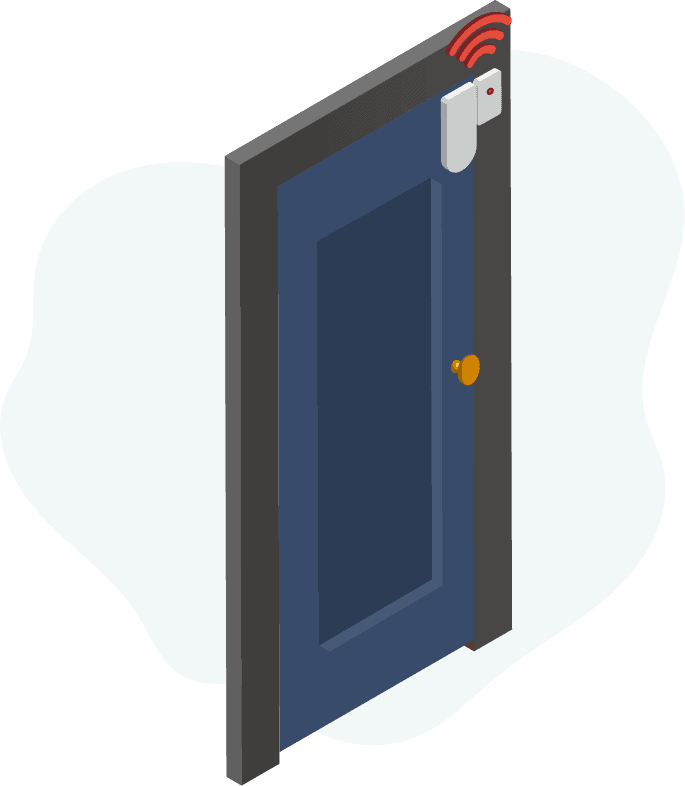 Entry sensor: Also known as contact sensors, entry sensors have two parts: one that goes on the window or door and another that goes on the frame. These sensors use magnets to determine when one of these entrances is opened or closed. If the sensor thinks an entry point is opened, it alerts us. We suggest placing entry sensors on windows or doors on the ground floor. The majority are battery-operated, and many even have adhesive backings for easy installation.
Glass break sensor: Sometimes, instead of opening windows the old-fashioned way, intruders will simply break them open to avoid setting off the entry sensors. However, a glass break sensor also detects the sound of glass breaking and alerts us via mobile notification.
Siren: Sirens exist in home security systems both on their own and as part of other devices, such as the base station (which we'll get to below). Sires often go off at the same time as other alarms and are intended to scare intruders away or alert our neighbors.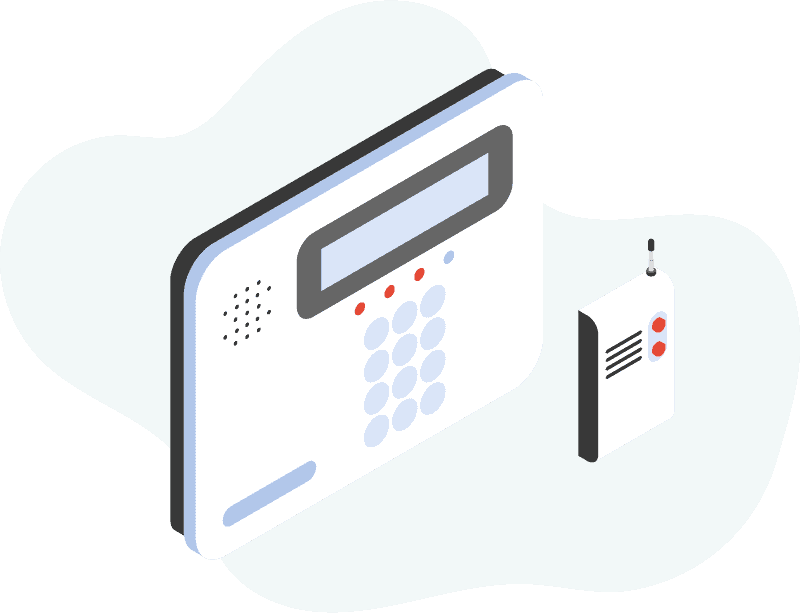 Keypad: To arm or disarm, security systems commonly require a code, which we enter on a keypad that's mounted to the wall or placed on a flat surface.
Key fob: We have keys to our cars, so why not have them for our security system as well? Key fobs allow us to disarm or arm our security system without having to use a keypad. They're perfect for when we're upstairs and just don't feel like leaving our bed!
Panic button: If something goes wrong, a panic button is an easy and fast way to alert emergency services, be it the police, hospital, or even the fire department. Like key fobs, panic buttons aren't installed anywhere in particular, but we always have one around in case of an emergency. We recommend that everyone keep at least one at their bedside table.
Base station: Base stations sync all of the connected devices with our mobile application so we can receive those notifications we mentioned earlier. Think of it like Grand Central Station, the channel through which trains (i.e., IoT security devices) pass through.
Yard sign and/ or window stickers: Many security systems also give out yard signs or window stickers that allow us to advertise that we have a security system. Often, burglars will turn around if they see a security system, so these signs are good to have.
Smoke and CO detectors: We recommend that every home have a smoke and carbon monoxide detector. With this simple tool, we are alerted if the air in our home becomes unsafe to breathe.
Security system components vary wildly from system to system, consisting of just sensors for some companies and all of these components and more for others.
Our Top Choices for Home Security Systems
While all security systems aim to protect your home, not all of them are created equally. ADT, SimpliSafe, and Vivint lead the pack for having the most well-rounded equipment, best monitoring services, most competitive pricing, and strongest set of security features. Check out their packages to find out how much protection from these companies cost:
Types of Home Security Systems
There are a few major types of home security systems:
DIY: With DIY home security systems, the user puts it together themselves and most likely monitors the system themselves through its respective mobile app. However, some DIY systems can have professional monitoring, so the categories aren't necessarily mutually exclusive.
Professional: A professional home security system can mean one of two things. One, it can mean professional installation, meaning that a technician installs the equipment. Or two, it can mean a system with professional monitoring, meaning that a team of people responds to alerts from call centers. Again, some professionally monitored systems can also be self-monitored or installed DIY, so these categories aren't binary.
Wired: A wired security system is one that is hardwired into a home's existing electrical system.
Wireless: A wireless security system, on the other hand, doesn't have any wires and instead depends on a combination of batteries, Wi-Fi and/or cellular backup to connect to the app and monitoring center, if applicable. Wireless security systems are easier to install than wired systems, but you'll need to either change or recharge the battery.
Smart: Smart security systems are connected to the internet, allowing the user to view live footage from a mobile app, receive notifications when alarms go off and control the system remotely.
Local only: Local alarm systems, in contrast to smart systems, aren't connected to the internet, so there's no remote control, monitoring or notifications. Rather, if an alarm goes off, you will only know if you are close enough to hear it. However, local alarm systems can still be professionally monitored via cellular or landline backup.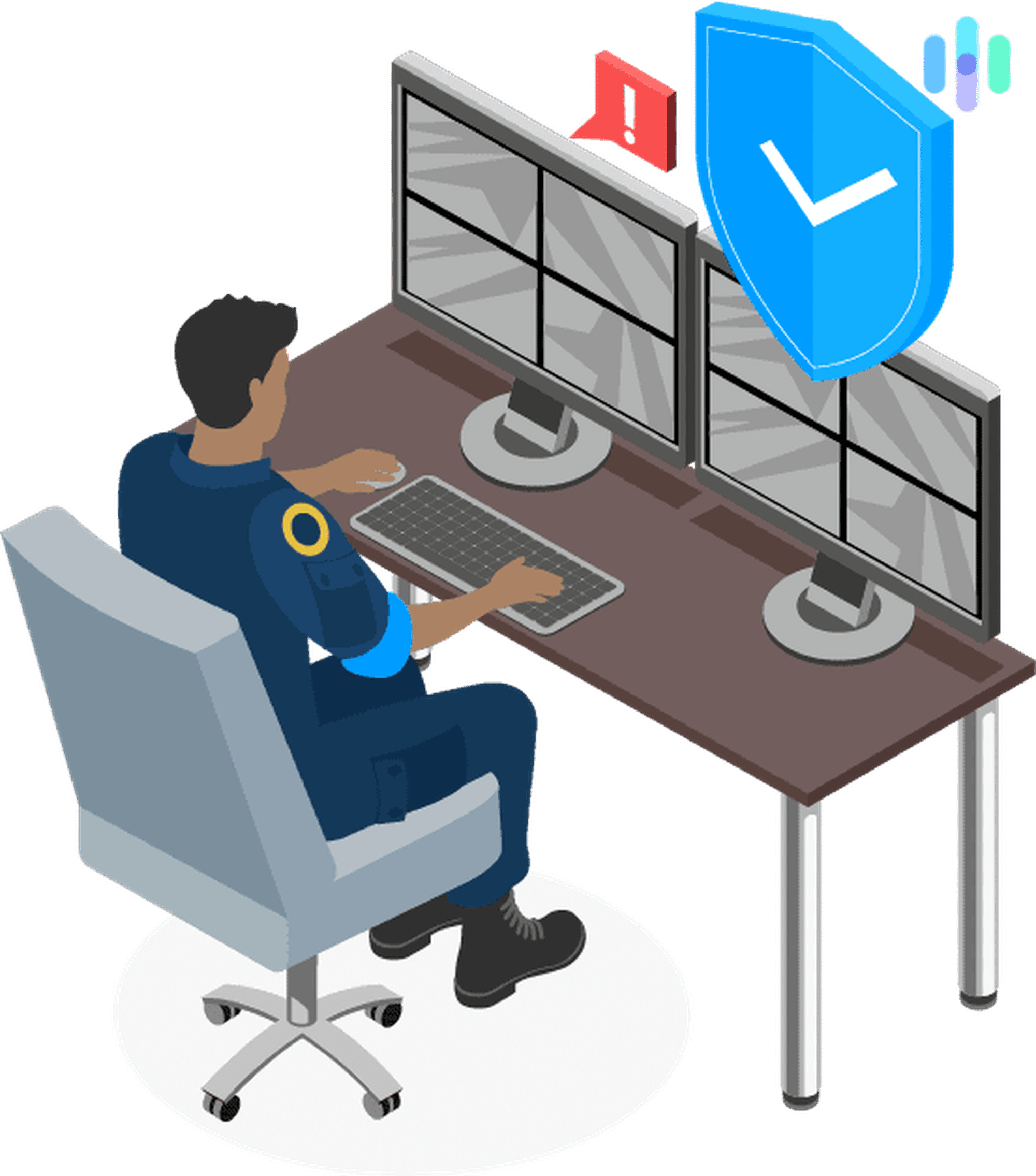 Professional Monitoring
Many physical systems also come with other services such as 24/7 professional monitoring or cellular, landline, or battery backup, which keep the system on during a power outage.
Alarm systems are rarely connected directly to emergency services dispatch centers. Instead, an alert first goes to the alarm company's monitoring center, which determines whether emergency services need to be called. Typically, when the monitoring center receives an alert, they place a phone call to the number(s) on file. If that call is answered, the center employee asks for a "safe word" or password to confirm that the person is not under duress. If the call is unanswered or the safe word is not given, the monitoring center will contact the appropriate emergency services dispatch center for fire/police/medical assistance.
Smart home security systems, in particular, connect all components to a mobile application, allowing the user remote control. As smart home ecosystems become more common, they have begun to integrate with voice assistants like Amazon Alexa or Google Assistant, allowing users to command their system using their voice alone. Since we set these systems up to only work for our voices only, burglars can't disarm our system.
To see some examples, check out our list of the best home security systems of 2023.
How Do Security Systems Work?
For the majority of home security systems, all of the components connect to a base station. From there, they connect to a mobile application, allowing us to monitor and control everything remotely. The majority of systems use Bluetooth or Wi-Fi or cellular to connect to our phones. Other systems choose to have a landline or battery backup in case of power outages.
When we're out, we arm our security system. When we return home, we disarm it by inputting our password on a keypad, using a voice command, pressing a key fob, or using our app. When our system is disarmed, none of the sensors go off, and our camera stops automatically recording. In contrast, our smoke and carbon monoxide sensors remain on whether or not our security system is armed. Of course, if our system is armed, the sensors turn on, and our cameras start recording.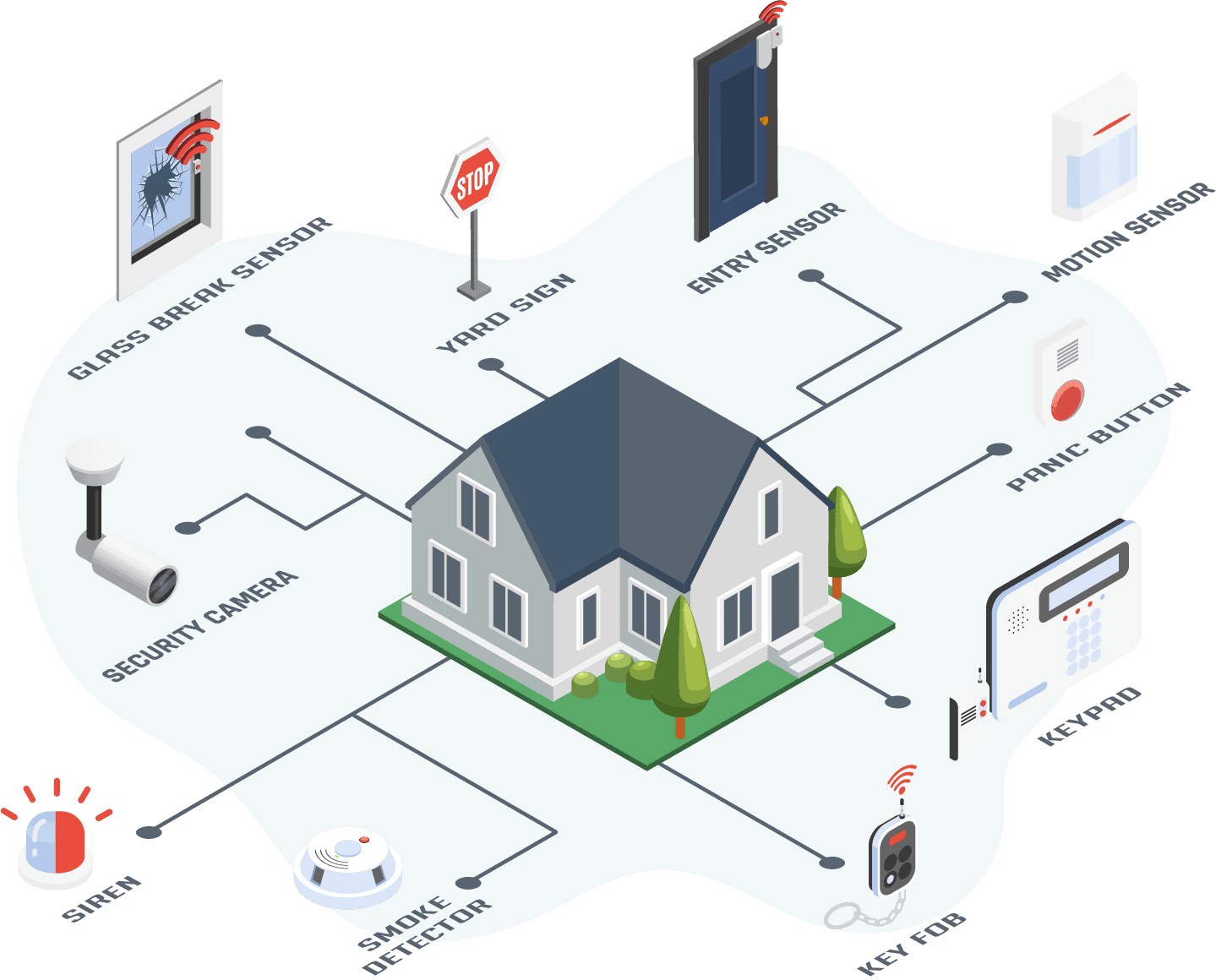 We use a mobile application to livestream footage from our security camera, receive notifications from our sensors, speak through two-way audio, and other capabilities. As opposed to a local alarm system, smart home security lets us see what's going on at home, wherever we are. Local alarms just set off a siren at our house, which isn't very useful.
How Does Alarm Monitoring Work?
So what happens if someone sets off our armed alarm system? Immediately, our sensors communicate with our base station, which sends a message to our mobile application. Depending on the system, the app, and our phone's settings, we receive an email notification, a text notification, or a notification within the app. From there, we either livestream footage of what's happening or use our camera's two-way audio to speak to whoever is in front of the camera. If we notice that an intrusion is taking place, we call the police.
Of course, we're busy people and can't always attend to our security notifications, which is why many companies offer 24/7 professional monitoring with their systems. If one of our alarms goes off, but we cannot deal with it, a professional monitoring team at the monitoring center is notified. After verifying the emergency, they call emergency services for us.
We recommend getting 24/7 professional monitoring, as we understand that no one can be around to deal with their home's security every hour of every day. However, if we want to avoid monthly or yearly fees, self-monitoring is also a viable option. Many systems nowadays offer DIY installation as well. Systems that are both self-monitoring and DIY installation bring our costs down significantly. Sometimes all we have to pay for with these types of systems is the equipment.
We highly recommend getting a siren that'll go off with the alarms, either embedded on the base station or a separate device, for anyone who chooses to self-monitor. The siren should have at least 85 decibels, making it about as loud as a diesel truck. Remember, the louder it is, the more likely the neighbors are to hear it as well, which is ideal in an emergency.
Home Security System Pros and Cons
Now that we're clear on what a home security system is and how it works let's take a look at the basic pros and cons of purchasing a home security system.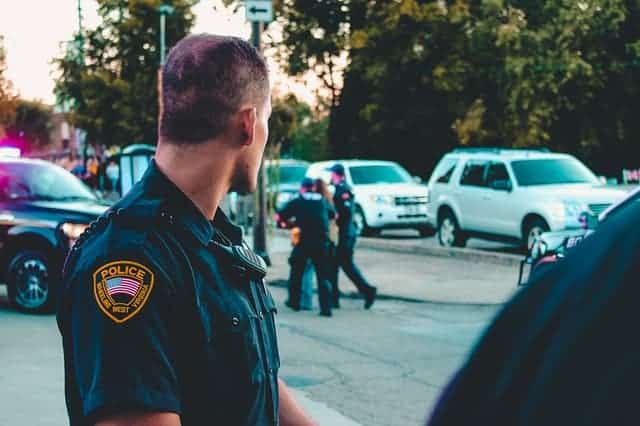 Of course, the main purpose of a home security system is to let you know if anyone's in your home who shouldn't be, but let me break that down even further.
Pros of a Home Security System
Fast police contact: With professional monitoring, we can be sure that the police or other emergency responders are notified when we aren't at home.
Existence of a system on its own can deter burglars: Even just having a sign and window stickers stating that we have a security system can convenience thieves to turn around!
Easy safety alerts: If we often have issues like accidentally leaving the front door open or forgetting whether or not we closed that back window or not, a home security system can help. Entry sensors can remotely show us whether or not our home is secure via smartphone applications. Notifications also inform us if a person or movement is detected, allowing us to check-in and make sure everything's okay at home while we are away.
Possible discount on homeowners insurance: Many home insurance companies offer discounts if we buy a security system, putting more money into our pockets.
Livestreaming: Livestreaming isn't just for crimes! It's also a great way to check in on what's going on at home, whether our pets are being mischievous or our teenage niece is having a "small get together" while we're out of town. With livestreaming, we can always be home no matter where we are!
Cons of a Home Security System
Cost of equipment: Home security systems are expensive, costing an average of around $400. Of course, there's a huge variance here, as the most minimal systems only include sensors, while some systems include 15 or more components.
Monthly fees: If we add 24/7 professional monitoring or cellular backup to our system, we usually have to pay monthly fees. These can range from less than $10 to over $60.
False alarms: Occasionally, we receive some false alarms that have gone so far as triggering police involvement. These are embarrassing and a waste of everyone's time.
May forget to turn on: This is more of a personal problem, but some people say they have trouble remembering to arm their security systems when they leave the house, making the entire system a moot point. We don't have this issue, but we can understand how this could make having a system feel pointless.
It's all here! We've covered all the basics of what a home security system is, how it works, and the pros and cons of having one.
FAQs about Home Security Systems
How does a home security system work?

For the majority of home security systems, all of the components connect to a base station. From there, they connect to a mobile application via Wi-Fi or Bluetooth, allowing us to monitor and control everything remotely. Systems, which include sensors and often cameras or sirens, are armed by inputting a code on the keypad, using a voice command, pressing a key fob, or doing it through an app. When armed, most security systems will have their cameras automatically record if they detect motion or people. Sensors, which alert us when doors or windows are opened, will turn on. We disarm our system the same way it is armed. When we disarm our system, none of the sensors will trigger alarms, and cameras will stop recording automatically when they detect motion, people, or something else, depending on its artificial intelligence capabilities. Smoke and carbon monoxide sensors tell us if our air is safe to breathe, so they always remain on, regardless of whether our security system is armed. As opposed to a local alarm system, which only sets off a siren when sensors are triggered, smart home security lets you see what's going on at home, wherever you are.

What is the best type of home security system?

The best type of home security system depends on the needs of the customer. Top brands include SimpliSafe, Ring Alarm, ADT, Frontpoint, etc.

Why do we need a home security system?

Residential burglar alarm systems decrease crime. Even having a burglar alarm at one house makes the surrounding area less enticing for burglars, according to research from Rutgers University. Plus, security systems deter these thieves without displacing the crime to other neighborhoods. In other words, burglars tend to give up when they see security systems.