Video Doorbell Cameras Guide
Our experts tested out the best video doorbells on the market so you don't have to.
All of our content is written by humans, not robots.
Learn More
Knock knock. Who's there? With video doorbells, you'll never have to ask this question again. Rather, you'll be able to answer your door from anywhere in the world through its mobile application, seeing and speaking to your visitor as if you're there in person. While video doorbells, otherwise known as doorbell cameras, are a relatively new product compared to traditional security cameras, they're becoming increasingly popular, but how do you know which one is right for you? At Security.org, we test out doorbell cameras to make sure they're high-quality, and we're sharing our knowledge with you here.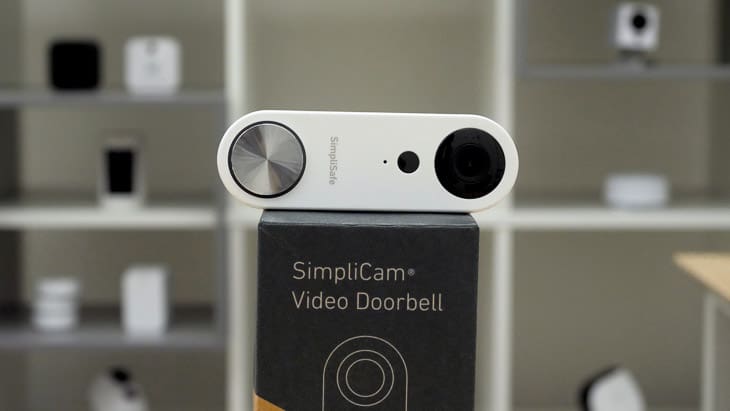 What are Video Doorbells?
Video doorbells are doorbells that have a built-in camera to help protect your home from package theft and burglary. They are either battery-powered (wireless) or hardwired into an existing doorbell. You can receive activity alerts, talk with visitors using two-way talk, and live stream video from your smartphone.
How Do Video Doorbells Work?
Video doorbells work the same way as security cameras, capturing video, either during the day or at night via infrared LED sensors or a spotlight, and audio through a speaker and microphone. The footage is stored either locally in a built-in micro-SD card, or remotely through a cloud server. When a visitor approaches the doorbell, the device will recognize the motion and will alert the user's mobile application, typically through a Wi-Fi connection. However, some video doorbells allow for cellular or landline backup, meaning that they communicate with the cellular towers or phone wires that stay on during power outages. Some cameras use artificial intelligence to differentiate between people and other moving objects; otherwise, the camera will alert the user of motion of any kind, which can lead to many unnecessary notifications.
Benefits of Video Doorbells
Sure, you can't be home all day to ward off burglars; you have jobs to do, errands to run, children to chauffeur around. However, video doorbells come in handy because they make it seem like you're home when you're not, being able to greet guests at your door from anywhere with the Internet. That's a great thing, because most burglaries happen between 10 AM and 3 PM when a house is unlikely to be occupied.1 Imagine you're a burglar who sees a house with an empty driveway and no lights on during the day. You knock on the door just to be sure. While no one comes to the door, someone says "Hello, who is this? I'm upstairs". Are you really going to choose that home to rob? Highly unlikely.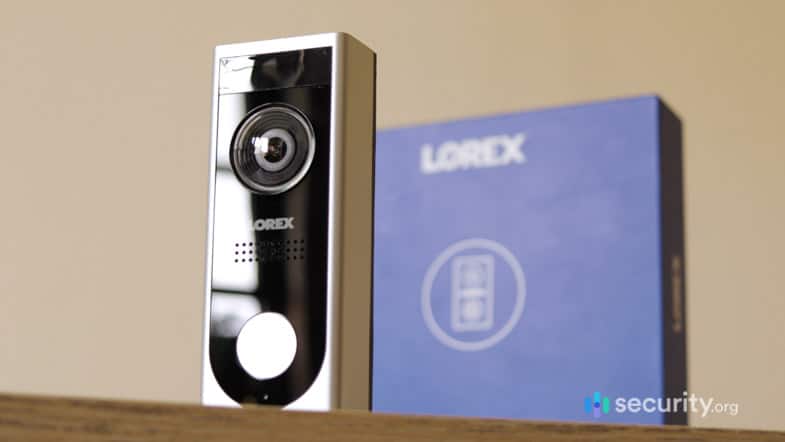 Video doorbells, like the Lorex Video Doorbell pictured above, also made our lives more convenient. We didn't have to rush downstairs whenever we heard our chime go off, only to find out it was a door to door salesman. Rather, we simply checked in on our app or our smart displays, if they were nearby, to see who was at the door. If it was family or friends, we'd greet them and let them in via our smart locks, another super convenient Internet of Things product. This made things super easy when we were far away from the front door or simply comfy in bed. Why get up when you don't have to?
Video doorbells can also prevent package theft, a rampant (and annoying) problem for homeowners and renters alike. A whopping 40 percent of Americans say they have had packages stolen, according to Security.org's porch piracy survey, but with video doorbells, we got alerted as soon as our packages were delivered, telling the delivery man exactly where to hide them. If any thieves came by, we immediately got notified and called them out through the doorbell camera speakers. But more on package theft later.
Be it safety or convenience, doorbell cameras are one of our favorite types of smart home technology. Want one for yourself? Read our buying guide below.
Doorbell Camera Buying Guide
Ever since Ring-founder Jamie Siminoff introduced the original Ring Video Doorbell, then called the DoorBot, on Shark Tank in 2013,2 many other companies have followed suit with their own takes on the doorbell camera. In fact, the sheer amount of options has become nothing if not overwhelming…if you don't have security experts to help you out, of course.
| Doorbell Camera | Learn More | Wireless or Hardwired | Video Quality | Night Vision | Two-Way Audio | Smart Platform Integrations | AI |
| --- | --- | --- | --- | --- | --- | --- | --- |
| ADT Blue Doorbell Camera | View Packages | Hardwired | 1080p HD | Infrared | Yes | Alexa, IFTTT, Google Assistant, Apple HomeKit | Person detection, facial recognition |
| Arlo Video Doorbell | View Packages | Hardwired | 1536p HD | Infrared | Yes | Alexa | Person detection |
| August Doorbell Cam Pro | No Longer Available | Hardwired | 960p HD | Color | Yes | Alexa, Google Assistant, Nest, IFTTT | n/a |
| August View | No Longer Available | Wireless | 1440p HD | Infrared | Yes | Alexa, Google Assistant | n/a |
| eufy Security Video Doorbell | View Packages | Hardwired | 1920p HD | Infrared | Yes | Alexa, Google Assistant | Person detection |
| eufy Video Doorbell 2K | View Packages | Either | 2650p HD | Infrared | Yes | Alexa, Google Assistant | Person detection |
| Kangaroo Doorbell Camera | View Packages | Battery | 480p | Infrared | No | Alexa, Google Assistant | n/a |
| Lorex Video Doorbell | View Packages | Hardwired | 1080p HD | Infrared | Yes | n/a | n/a |
| Nest Doorbell | View Packages | Hardwired | 1600p HD | Infrared | Yes | Alexa, Google Assistant | Person detection, facial recognition |
| Ring Peephole Cam/ Ring Doorview Cam | View Packages | Wireless | 1080p HD | Infrared | Yes | Alexa, Google Assistant | n/a |
| Ring Video Doorbell | View Packages | Either | 720p HD | Infrared | Yes | Alexa, Google Assistant | n/a |
| Ring Video Doorbell 2 | View Packages | Either | 1080p HD | Infrared | Yes | Alexa, Google Assistant | n/a |
| Ring Video Doorbell 3 | View Packages | Either | 1080p HD | Infrared | Yes | Alexa, Google Assistant | n/a |
| Ring Video Doorbell 3 Plus | View Packages | Either | 1080p HD | Infrared | Yes | Alexa, Google Assistant | n/a |
| Ring Video Doorbell Elite | View Packages | Hardwired | 1080p HD | Infrared | Yes | Alexa, Google Assistant | Person detection |
| Ring Video Doorbell Pro | View Packages | Hardwired | 1080p HD | Infrared | Yes | Alexa, Google Assistant | Person detection |
| Scout Video Doorbell | View Packages | Hardwired | 1080p HD | Infrared | Yes | Alexa, Google Assistant | Person detection |
| SimpliSafe Video Doorbell Pro | View Packages | Hardwired | 1080p HD | Infrared | Yes | n/a | Person detection |
| SkyBell HD | View Packages | Hardwired | 1080p HD | Color | Yes | n/a | n/a |
| SkyBell Slim Line Doorbell Camera | View Packages | Wireless | 720p HD | Color | Yes | n/a | n/a |
| Vivint Doorbell Camera | View Packages | Either | 720p HD | Infrared | Yes | Alexa, Google Assistant | Person detection |
| Zmodo Greet Pro | No Longer Available | Hardwired | 1080p HD | Infrared | Yes | Alexa, Google Assistant | n/a |
Power
Doorbell cameras have different setup requirements, depending on how they connect to power. Wireless video doorbells don't have any requirements, but with hardwired video doorbells, you may need an existing doorbell or chime setup. Both have their pros and cons, of course:
Wireless: With wireless video doorbells, setup was often as easy as peel and stick. However, we did have to worry about battery life and buying new batteries periodically, if they weren't chargeable. But one advantage over wired devices is that if the power went out, our wireless video doorbell stayed on.
Wired: Wired video doorbells often connect with a home's existing doorbell and chime setup, meaning you'll have to remove your existing doorbell. This may be a bit more complicated if you're renting, although it is possible to do it without sacrificing your security deposit (more on that below). Now, one disadvantage of wired video doorbells is that if your power goes off, so will your video doorbell, which is why we recommend getting one with cellular backup, meaning it uses data from cellular towers as opposed to Wi-Fi. This is typically only available with video doorbells that work with a larger security system like Nest or ADT Self Setup; to learn more about your options.
Homeowners vs. Renters
There are also other things to take into consideration based on whether you own your home or are just renting.
Homeowners: Homeowners probably won't have any qualms about replacing their existing doorbell setup with a video doorbell, as they don't have to worry about getting their security deposit back. As perpetual renters, we are very jealous.
Renters: Renters like us probably may not want to mess with their existing doorbell setup, if they have one. The easiest option is to choose a wireless video doorbell. For apartments with peepholes, the only video doorbell we've tested out that's compatible is the Ring Peephole Cam, otherwise known as the Ring Doorview Cam. Learn more about it in our Ring Peephole Cam review.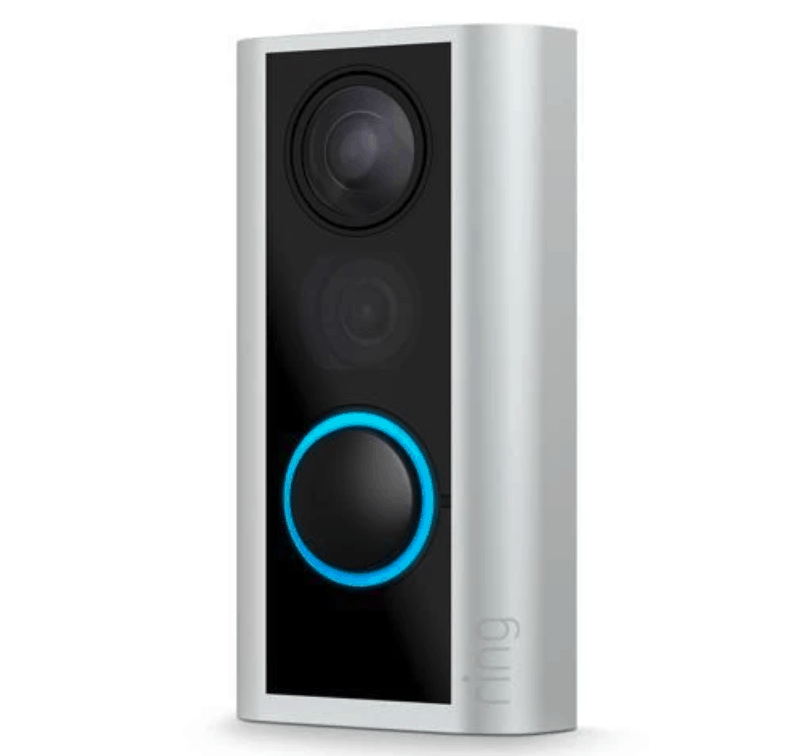 Video
Quality video is a necessary feature of any doorbell camera, but it's not a one-stop-shop. Rather, there are a few factors that can affect a camera's video quality, such as:
Resolution: Most devices on the market have 1080p HD, which produces a clear and non-pixelated image. Lesser video doorbells only have 720p HD, while some have an even higher resolution like 2560p HD. We recommend getting 1080p HD or higher.
Field of view: A video doorbell needs to show you all of your property, so make sure its field of view is wide enough; we aim for 120 degrees or wider.
Field of zoom: To see the most detail, look for a video doorbell that can zoom in physically, often called "optical zoom" or digitally on the app itself. That'll definitely come in handy when you need to see the license plate of the car that ran over your mailbox!
HDR: Finally, HDR, or high dynamic range, takes away the glare and shadows often present in outdoor footage. Most video doorbells don't have HDR at this point, but some of the higher-end models do.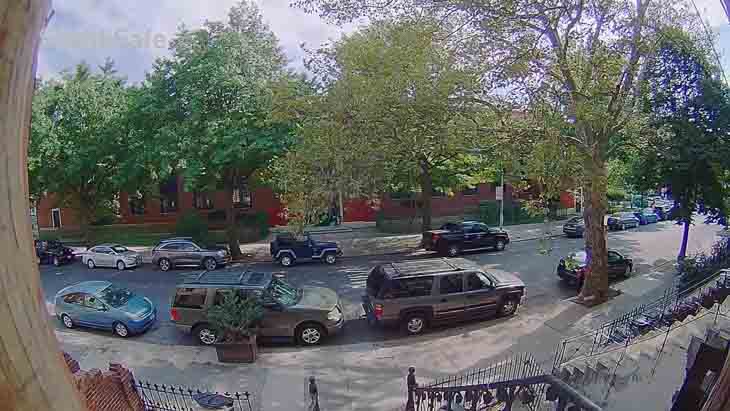 Audio
Nearly every video doorbell we've tested has speakers and microphones built-in so that we can talk to our guests, rather than just seeing them. For us, this came in handy for Chinese food delivery men, Girl Scouts, and whoever else showed up at our door.
Night Vision
Even though most home burglaries happen in the middle of the day, some happen at night, which is why we look for cameras with night vision. Generally, we prefer infrared night vision from LED sensors, as it makes the video doorbell less conspicuous. However, the footage is black and white, although pretty clear. As an alternative, some video doorbells have spotlights, allowing for color night vision. This is really a personal preference, so decide whether you want infrared night vision, color night vision, or both before you buy.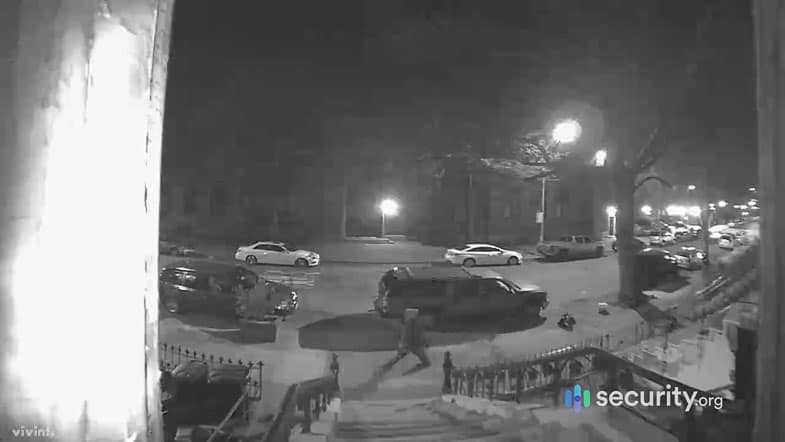 Storage
Storing your footage is important, because in a criminal investigation, god forbid, video evidence can come in handy. For this reason, we recommend video doorbells with both cloud and local storage. Local storage usually comes in the form of a micro-SD card built into the device itself, while cloud storage may be paid or free. If one way fails, you'll have the other as a backup.
Smart Platform Integrations
Alexa, show me my front door on my Echo Show! Hey Google, cast my side door camera to the living room Chromecast. These are just some of the hands-free commands we used with our video doorbells through Amazon and Google's voice assistants Alexa and Google Assistant, respectively. In 2018, 16 percent of Americans used voice assistants to control smart video doorbells,3 but we expect that number to get much higher as IoT devices become more commonplace.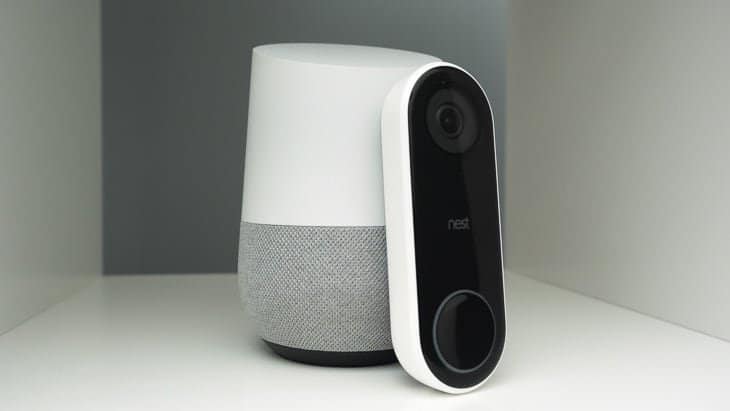 Artificial Intelligence
Live in a rural area where there's not much activity outside of your front door? You may be fine getting a video doorbell with motion detection but no artificial intelligence, meaning you'll be notified of any and all movement. However, for suburban or urban people like us, look for a video doorbell with person detection so that you'll only get alerted when your camera detects people. This will seriously cut down the number of annoying notifications you get throughout the day, because most of us get enough of them already.
Connectivity
Most video doorbells connect to your mobile app via Wi-Fi, typically on a 2.4 GHz network. However, with the advancement of 5G, some companies are upgrading for faster speeds and less lag; the Ring Video Doorbell 3 Plus, the 3, the Elite, and the Pro all work with either 2.4 or 5 GHz networks. For more information, check out our Ring video doorbells review.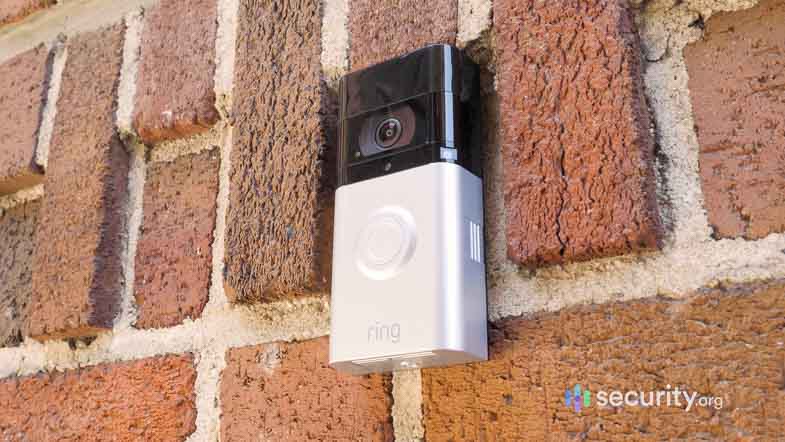 Most of the video doorbells that we've tested out require Wi-Fi to connect with the mobile application and livestream footage, receive notifications and control the device remotely. However, if those things aren't important to you, look for a camera with local storage so it can record right onto its micro-SD card. Read our Skybell HD review to learn more about a great option with local storage.
Durability
It goes without saying that the majority of video doorbells will be installed outside, meaning they need to be able to work in the hottest days of summer and the most frigid days of winter, plus everything in between. For durability, we look at two factors: the video doorbell's IP rating and its temperature range.
An IP, or Ingress Protection rating4 is a two-digit number from 00 to 68 that tells us how the device will withstand various solids and liquids. For example, a device with an IP rating of 23 will be protected from fingers and objects larger than 12.5 mm as well as spraying water up to 60 feet above head, while a device with an IP rating of 68 is totally dust-tight and can even be completely submerged in water continuously. Look for devices that have ratings of 65 and up, meaning they can handle any objects in addition to low-pressure water jets.
Of course, we also want to make sure the device won't melt in the summer and freeze in the winter, so make sure it's temperature range fits into the climate in your area. Don't trust a company just because they call the doorbell camera "weatherproof"; unfortunately, that can be a bit of a misnomer.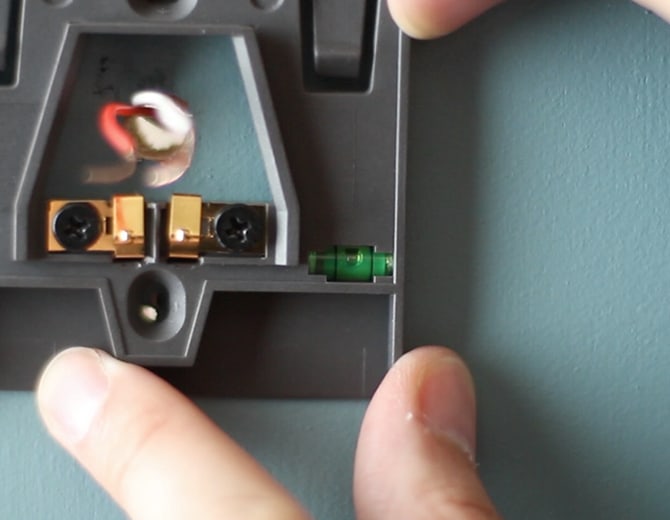 Installation
Most video doorbells are DIY, which stands for Do It Yourself. Some companies, however, offer or even require professional installation, which will certainly make your life easier (although it may include a hefty fee). The difficulty of DIY installation really depends on whether the doorbell camera is hardwired or not. If it's hardwired, you'll need to remove your existing doorbell setup and connect its electrical wires to the new device, potentially doing the same with your chime. Battery-powered video doorbells are much easier to install, as you'll either have to stick or mount the device on a wall rather than dealing with any internal electrical work.
App
Since you'll control your video doorbell through the app, make sure it's user-friendly by checking either our individual video doorbell reviews or the app's rating, be it for the iOS or Android version. A good place to start is our review of the best video doorbells, which all have apps that are about as bug-free as they come.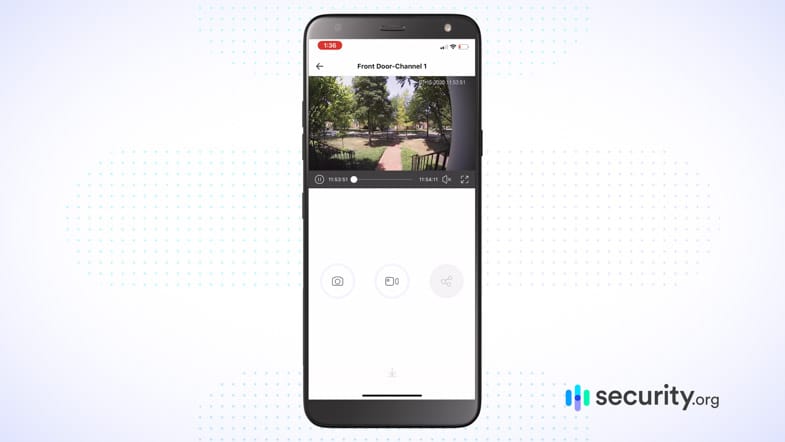 Warranty
If your video doorbell is defective, will you be able to return or replace it without losing money? Check out the company's warranty, which can vary from one to three years in most cases.
FYI: Ring is one of the few companies to offer its customers protection from theft; if your video doorbell is stolen, they'll replace it for free.
Video Doorbell Costs
The average video doorbell that we've tested costs around $172, but the equipment cost isn't the only thing we paid. Read on to learn about monthly or yearly costs from storage or professional monitoring.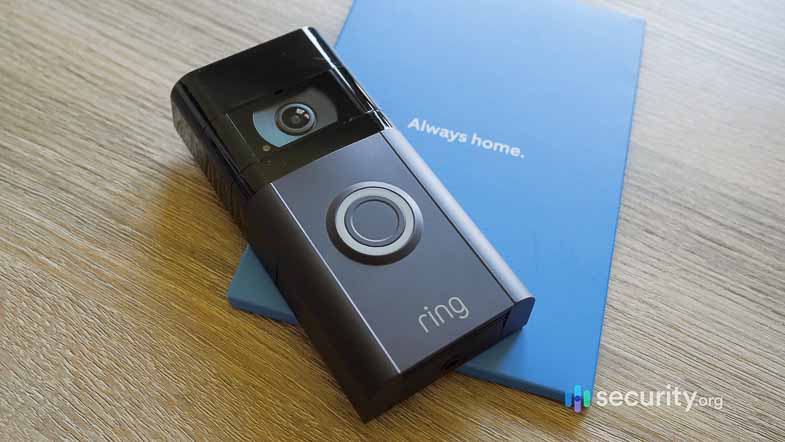 Equipment: As we said, the average cost of a video doorbell was around $172, with some models going all the way up to $349.99 with the Ring Video Doorbell Elite, all the way down to $99.99 with their original model. Higher costs most likely correlate with better video quality and artificial intelligence capabilities, so decide which features are important to you before deciding on a budget. Remember, you get what you pay for!
Storage: Storing the doorbell's camera footage may happen on a local micro-SD card or on a cloud server, which can be free or paid. Typically, this doesn't cost more than a few dollars a month at minimum, but of course, we prefer it when it's free.
Monitoring: Two heads are better than one, and five heads are better than two. That's the basic concept behind 24/7 professional monitoring, which hooks your video doorbell up with a monitoring center in addition to your app so they get alerted of any motion or people detected as well. If you can't answer for whatever reason, they will check in to verify that help is needed, even contacting the police for you if necessary. Many video doorbells that work with larger security systems have 24/7 professional monitoring as an option, but usually, you can self-monitor for free, if you prefer.
Package Theft: Can Video Doorbells Help?
In New York City where we're based, Amazon alone delivers over 1.5 million packages per day.5 That's 1.5 million opportunities for package theft daily. How common is package theft, and can video doorbells prevent it from happening in the first place? Our security expertise includes porch piracy, so we're here to answer all of your package theft-related questions.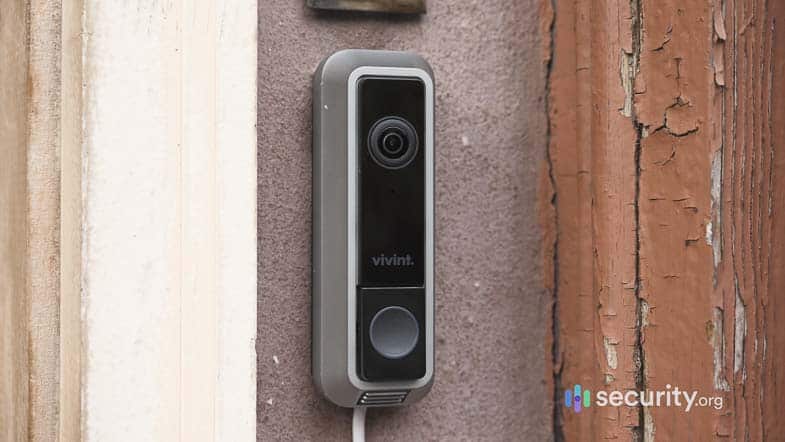 Where Is Package Theft Most Likely To Occur?
According to the FBI's 2017 data on larceny-theft,6 which includes package theft, 89 percent of larceny thefts occurred in major metropolitan areas like L.A or New York; 7.5 percent occurred in smaller cities, while only three percent occurred in non-metropolitan areas. The states where larceny-theft happened the most were D.C, New Mexico, Alaska, Louisiana and South Carolina. Overall, 16.8 percent of all larceny-theft crimes happened in the Northeast, 13.3 percent in the Midwest, 9.5 percent in the West and 8.6 in the South. So if you're in the Northeast, or in D.C specifically, watch out!
Package Theft Statistics
Like we mentioned previously, Security.org did a package theft survey to find out consumers are doing to protect themselves and their families from package theft. And what we found was pretty shocking:
38 percent of respondents said they'd been the victims of package theft; that's nearly four in 10!
Over 80 percent of people said they were concerned about package theft.
Nearly a third of people said they had or planned to install a doorbell camera to prevent package theft.
When our researchers issued another survey during the COVID-19 pandemic, they found that package theft was more common than ever. Conducted May 17th through the 23rd, 2020, 20% of the survey's respondents said they'd had packages stolen in the last 90 days. But more interestingly, 65 percent of homeowners with doorbell cameras or security systems filed a police report of their package theft, compared to only 27 percent without. No matter the event, online delivery isn't going anywhere, so to keep the items you've purchased, it might be time to take matters into your own hands.
How To Prevent Package Theft
Although package theft is on the rise, there are a few different ways to prevent it, and many of them are foolproof:
Video doorbell: Video doorbells can alert you exactly when a package is delivered, allowing you to tell the delivery person where to put it (ideally hidden from the street).
Smart lock: In addition to video doorbells, smart locks can be a huge help, as you can actually let the delivery man into your home to drop off the package safely. Don't worry; you'll be able to lock the door remotely as soon as he leaves.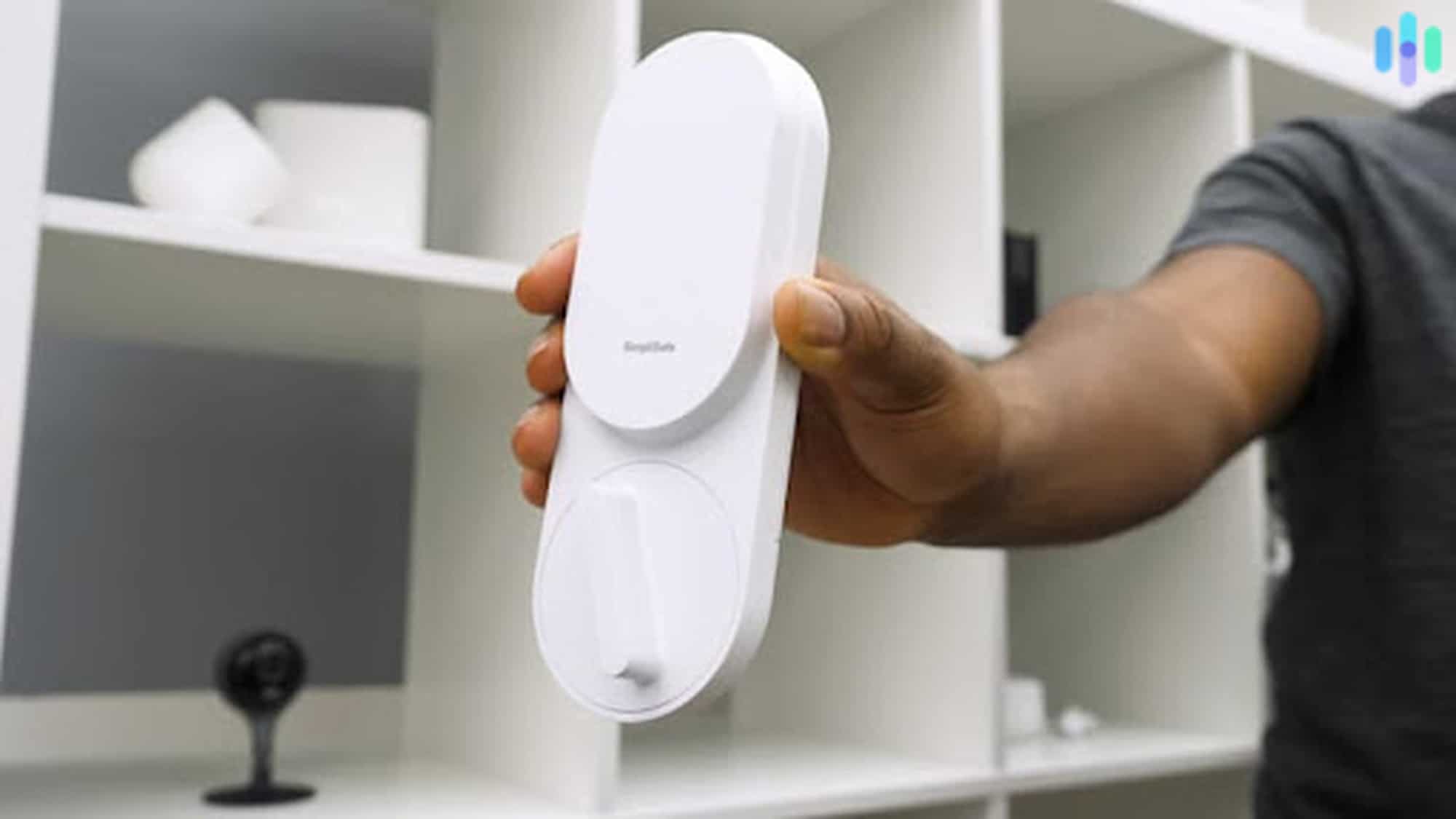 Use a lockbox: Lockboxes are basically small safes that go around a doorknob and have a keypad; people can enter a passcode to open the lockbox, which usually contains a key to the house. You can send these instructions to the delivery service, who will be able to safely put your packages inside.
Require a signature: For larger items like furniture or sensitive items like a birth certificate, we recommend requiring a signature for drop-off; that way, you'll only get the package when you're home to receive it.
Amazon Key: Amazon Key

7

basically combines Ring Video Doorbells with Schlage smart locks to allow you to let in deliverymen to your home, gate, garage or even car.
Tip: Amazon Key is only available to Prime members in select areas, so check their website to see if your zip code is eligible.
Get packages delivered to P.O box or office: For smaller packages that you don't mind moving, have them delivered to a P.O box or your office; that way, they're much less likely to get stolen, especially with the P.O box.
What To Do After A Package Is Stolen
According to sources from Amazon, FedEx, UPS, U.S.P.S, and more, retailers technically aren't responsible for stolen packages;8 neither is the delivery service. Instead, inform your local police department; you can contact the seller, but they may not be able to reimburse you. Basically, all you can do is cut your losses and follow the above tips to prevent package theft in the first place. Sorry, Charlie!
Recap
The advantages to having a video doorbell is clear; we stopped package theft, prevented robberies and most importantly, gave all of our guest warm welcomes whether we were home or not. Read below if you're left with additional questions, and remember to always stay safe.