DIY vs Professionally Installed Home Security Systems
While DIY intallation is free, professional installation may be preferable to some users.
All of our content is written by humans, not robots.
Learn More
Did you know that in 2018, people in the United States spent over 114 billion dollars on home security installation1? When it comes to home security systems, there are two ways of installing them: one, you could do it yourself (DIY), or two, you could have it installed professionally, either by the company itself or by a third party. While DIY installation saves you from having to pay an installation fee, it will be more time-consuming and may result in some frustration, if it's not easy to install. And while some companies offer free, professional installation, most likely you'll have to pay a fee, which some people may prefer.
Security System Finder
By answering a handful of easy questions, you can discover the security system that's perfectly tailored to your needs!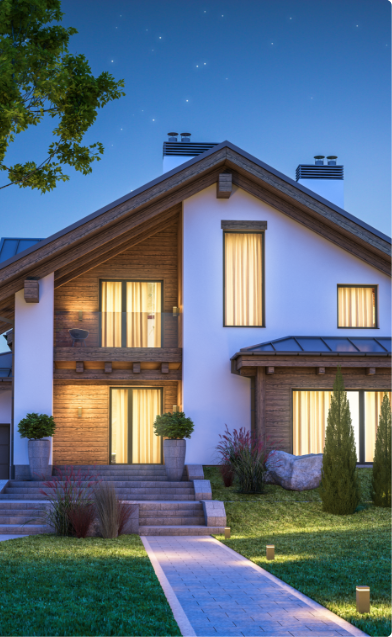 What Is DIY Installation Like?
The level of difficulty of installing your security system depends on the system itself. Of course, wireless systems are much easier to install, as you won't have to worry about distance to outlets or hardwiring any devices to your home's electricity. However, keep in mind that means that you will have to replace the devices' batteries at some point, unlike with wired security.
Typically, most security cameras can be mounted without drilling anything, a plus for those who aren't the most handy. They also usually involve a guided setup process through the app itself that tells you what to do step-by-step. The hardest devices to install are smart locks and wired doorbell cameras, as they must be hardwired into your home. Peel-and-stick sensors are among the easiest safety devices to install in your home.
Some companies offer support over the phone for DIY installation, which could be a good option for someone that wants to save money but isn't particularly tech-savvy. Most of the companies we've reviewed offer support manuals and videos on their website, so there's a bunch of ways that they can help you with your setup process.
Tip: If you're looking to save money, look for a system that you can set up yourself.
What Is Professional Installation Like?
Professional installation means that you won't have to lift a finger to get your security system up and running. Rather, a professional from the company or an authorized third party will come to your house and set it up for you. This typically costs money, although some companies include it for free. Not only will the professional install the system for you, but they'll also test it out to make sure it works properly before leaving you.
Which Security Companies Have DIY vs. Professional Installation?
As you can see from the above chart, most smart security companies now have DIY installation, meaning you'll install their systems yourself without paying any additional money. However, a few give you both options, and some companies require professional installation, which could be free or paid.
| Company Name | DIY Installation Option | Professional Installation Option | Initial Professional Installation Cost (If Applicable) | Professional Installation Moving Cost (If Applicable) |
| --- | --- | --- | --- | --- |
| abode | Yes | Yes | Starts at $99 | Starts at $99 |
| ADT/ Protection 1 | No | Yes | $99 to $199 depending on equipment | $99 to $199 depending on equipment |
| ADT Samsung SmartThings | Yes | No | N/A | N/A |
| Alarm Grid | Yes | No | N/A | N/A |
| ADT Self Setup | Yes | No | N/A | N/A |
| Brinks | Yes | No | N/A | N/A |
| Cove | Yes | No | N/A | N/A |
| Deep Sentinel | Yes | No | N/A | N/A |
| Fortress | Yes | No | N/A | N/A |
| Frontpoint | Yes | No | N/A | N/A |
| iSmartSafe | Yes | No | N/A | N/A |
| Kangaroo | Yes | No | N/A | N/A |
| Link Interactive | Yes | No | N/A | N/A |
| Lorex | Yes | No | N/A | N/A |
| Minut | Yes | No | N/A | N/A |
| Nest Secure (has since been discontinued by Nest) | Yes | No | N/A | N/A |
| Night Owl | Yes | No | N/A | N/A |
| Notion | Yes | No | N/A | N/A |
| Ring Alarm | Yes | No | N/A | N/A |
| Scout | Yes | No | N/A | N/A |
| SimpliSafe | Yes | Yes | $79 | $79 |
| Swann | Yes | No | N/A | N/A |
| Vivint | No | Yes | $0 | $129 |
| Wyze | Yes | No | N/A | N/A |
FYI: Make sure to check out the company's moving policy before you buy; sometimes, you'll have to pay an installation fee again to move your system.
Third Party Options
Another option is to have your security system installed by a third party. Now, this third party might be authorized by the company, or, you could choose to hire a third party for a security system that is DIY installation only. There are a number of mobile applications and websites you can use to find installers in your area, such as:
TaskRabbit: Available in more than 60 cities across the United States, plus some places in the United Kingdom and Canada, TaskRabbit

2

provides users with background checked handymen in their area. It's super flexible; you can search by services, availability and rates, so it's easy to find someone who fits your needs.
Thumbtack: Thumbtack works pretty differently from the other apps and websites on this list. Instead of simply seeing a list of prices set by the contractor for different tasks, the contractors have to bid for the job. However, Thumbtack doesn't do background checks, so it's not the safest option around.
HomeAdvisor: HomeAdvisor, one of the better known home service platforms, does financial and criminal background checks on all of its contractors and you can schedule everything online without having to actually communicate directly with the contractor. However, once you sign up with HomeAdvisor, you can expect a barrage of emails and calls, and some have claimed that the reviews

3

on HomeAdvisor aren't super objective.
Angie's List: You might remember Angie's List as a subscription-only home services platform, but since 2016, they're free to use. Homeowners love that Angie's List provides background checks and that the company's long history means more accurate reviews. However, a lot of Angie's List customers say they receive a lot of calls from providers once they post a gig, which can be annoying.
Yelp: Completely free, Yelp has a "Request A Quote" feature where you can post the task you need done and have service providers reach back out to you directly with rates. Plus, Yelp has been in business for a while so their reviews and pictures are plentiful, and all communication is done directly through your Yelp account. However, the company doesn't provide background checks, and if something is off with your contractor, you'll have no recourse or customer support.
Another way to find a third party installer is simply through a Google search. Google has their own reviews and pictures as well, and with Google Maps, you can see exactly where different contractors are located. While there won't be any background checks, you can just go on the contractor's website, if available, to judge their work and overall professionalism.
Video Breakdown
You want to install a security system, but you're not sure if you should hire a professional if not. This video should help you make your decision.
Recap
While DIY installation is a good option for someone on a budget, professional installation is a better option for someone looking for convenience and ease. If you have any questions or want to learn about the installation process of a specific brand of security system, check out our security system reviews. Our experts personally install and test out each system, detailing their experience. You can also leave a comment below and we'll have one reach back out soon.
Frequently Asked Questions
Deciding whether you want a DIY security system or a professionally installed security system isn't easy, so if you still have questions, we've got answers.