Identity Guard Review: Best Identity Protection?
Sophisticated identity theft protection featuring IBM® Watson™ artificial intelligence
What We Like
Affordability: Individual plans for personal use range from $7.50 to $25 per month, billed yearly, which is at the low end of the market. Additionally, family plans cover up to five adults and unlimited children.
$1 million reimbursements: We felt good knowing that we were insured for up to $1 million if anyone should manage to hijack our identities.
AI identity monitoring: Identity Guard uses IBM's Watson artificial intelligence, a computer so smart it has beaten the world's best chess champions, to keep an eye out for identity theft.
What We Don't Like
Cheapest plan doesn't include credit monitoring: If you're looking for comprehensive identity theft protection, the cheapest plan isn't a good choice due to its lack of credit monitoring. Credit monitoring is available starting with the $16.67 per month Total plan.
Unimpressive app: While it's easy to use, Identity Guard's app isn't as comprehensive as we had hoped.
Limited proactive protection:: Although all plans include a Safe Browsing feature and password manager, Identity Guard has yet to offer a VPN, which is becoming an increasingly common feature included with identity theft protection services.
Bottom Line
Credit monitoring, financial monitoring, dark web scanning, and criminal monitoring are just some of the features that Identity Guard covers. Starting at just $7.50 per month, you really can't find a more affordable service than Identity Guard, especially one that uses artificial intelligence to improve its monitoring.
If something important to you is at risk of being stolen, you'll do everything in your power to protect it. Unfortunately, in today's digital landscape, it's getting harder and harder to protect one aspect of our being that is prone to theft: our very own identities.
Identity theft is a global problem, and with all the information we put out on the internet — from our personal information to payment information — it's no longer enough to be vigilant. We need a powerful ally to watch our back. Could Identity Guard be that ally?
Identity Guard leverages world-class artificial intelligence to cast a wide net and monitor billions of data points simultaneously in order to detect identity theft faster than other services. This AI goes deep into the internet, the dark web, and even publicly available records and credit files to check for possible data breaches.
That sounds like a good solution to the growing identity theft problem, but is it really? Does an AI really offer better protection? We set out to answer those by testing Identity Guard ourselves, and we'll detail our findings here. But before we start, here's a brief overview of the service.
Individual plans for personal use range from $7.50 to $25 per month, charged to you yearly.
Identity theft insurance** with a maximum reimbursement of $1 million
Monitored three credit bureaus (with Total plan or Ultra plan)
Family plans for five adults and any number of children
Editor's Rating
Identity theft protection powered by IBM® Watson™ AI
Impressive $1 million in identity theft insurance
Multiple service levels, from basic to advanced
Video Review
Gabe Turner, our Chief Editor, tested out Identity Guard on our Youtube channel. Watch below to see the app in action.
Features
Let's get one thing straight: There's no service that can guarantee protection against identity theft. Mischievous actors on the internet use a variety of tactics to steal identities, from slimy and diabolical social engineering scams to downright hacking. Not to mention, there are plenty of other ways criminals steal identities outside the internet. Even with the highest-rated identity protection services, your identity can still be stolen.
That doesn't mean they are useless. What many services do instead is catch early signs of identity theft so you can counteract and take measures to prevent financial, legal, or reputational damages.
Here's how Identity Guard did that for us when we tested it.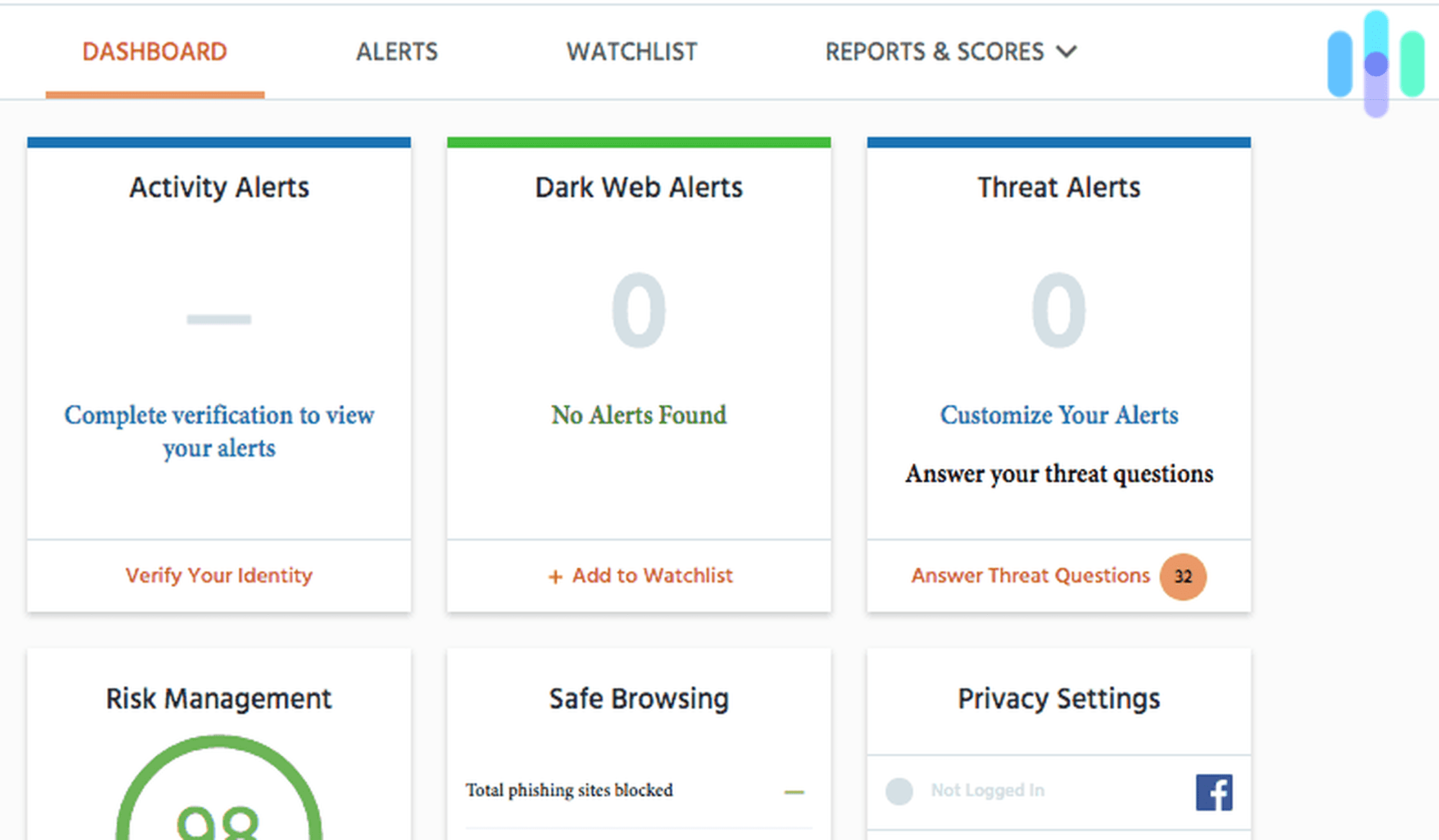 Credit Monitoring
Credit monitoring is one of Identity Guard's core functions. This involves keeping an eye on credit-related areas, like when someone initiates a credit inquiry or opens a new credit line using your personal information. For example, when we took out a loan, Identity Guard informed us and asked if we were the ones who did it. If it wasn't us, we would have been able to take action immediately to prevent damage to our credit.
Identity Guard's credit monitoring also included free access to credit score updates and credit reports from the three major credit reporting bureaus. Once we received those reports, we did our part and analyzed them for signs of identity theft, but we're just glad Identity Guard made it so much easier for us to obtain those reports.
Take note: Credit monitoring isn't available with the cheapest plan. You'll need either the Total or Ultra plan to get that feature. Once you have credit monitoring, however, you'll also receive monthly credit scores for free and alerts about credit changes from Experian, Equifax, and TransUnion.
Financial Monitoring
Aside from credit changes, scores and reports, Identity Guard monitored our finances. Identity Guard kept a close watch on all our assets, from our 401(k) and investment accounts to high-risk transactions, debit and credit cards. The company notified us after new banking accounts opened in our names. And if our address, Social Security number, or personally identifiable information popped up on financial forms, Identity Guard would have certainly alerted us.
Like credit monitoring features, financial monitoring isn't a part of the cheapest plan. For this feature, you'll need the Ultra plan, although with the Total plan, you'll still receive alerts in case of a bank account takeover or when someone opens a checking or savings account with your information. Monitoring investment accounts, 401(k), and credit card transactions, on the other hand, require the Ultra plan.
Identity Protection
Finally, Identity Guard offers features that work together to protect your personal information. Every plan includes identity monitoring, which entails monitoring of the most common areas where identity theft can be spotted, such as the dark web and government records. Identity Guard also takes a proactive approach to identity protection by offering apps that guard against phishing attacks. Here's a breakdown of Identity Guard's identity protection features.
Dark web scan: The dark web, an area of the internet in which all users remain anonymous, is a hotbed of cybercrime. As part of our membership, Identity Guard sent us alerts if it found our credentials on the dark web. The one time this occurred, Identity Guard explained the situation plainly and prompted us to change our passwords.
Criminal and sex offense monitoring: If the system found our names on a sex offender registry or police report, it would have notified us right away, but thankfully, this didn't happen to us.
USPS address change monitoring: We appreciated that Identity Guard protected us from mail fraud by ensuring the accuracy of our mailing address. In fact, its team would have notified us if someone attempted to change our address.
Home title monitoring: If someone opened a home title in our names, or tried to transfer a home title from our names to theirs if we ever had one, Identity Guard would let us know immediately.
Risk management report: Identity Guard produced a report that showed us how at risk we were for identity fraud.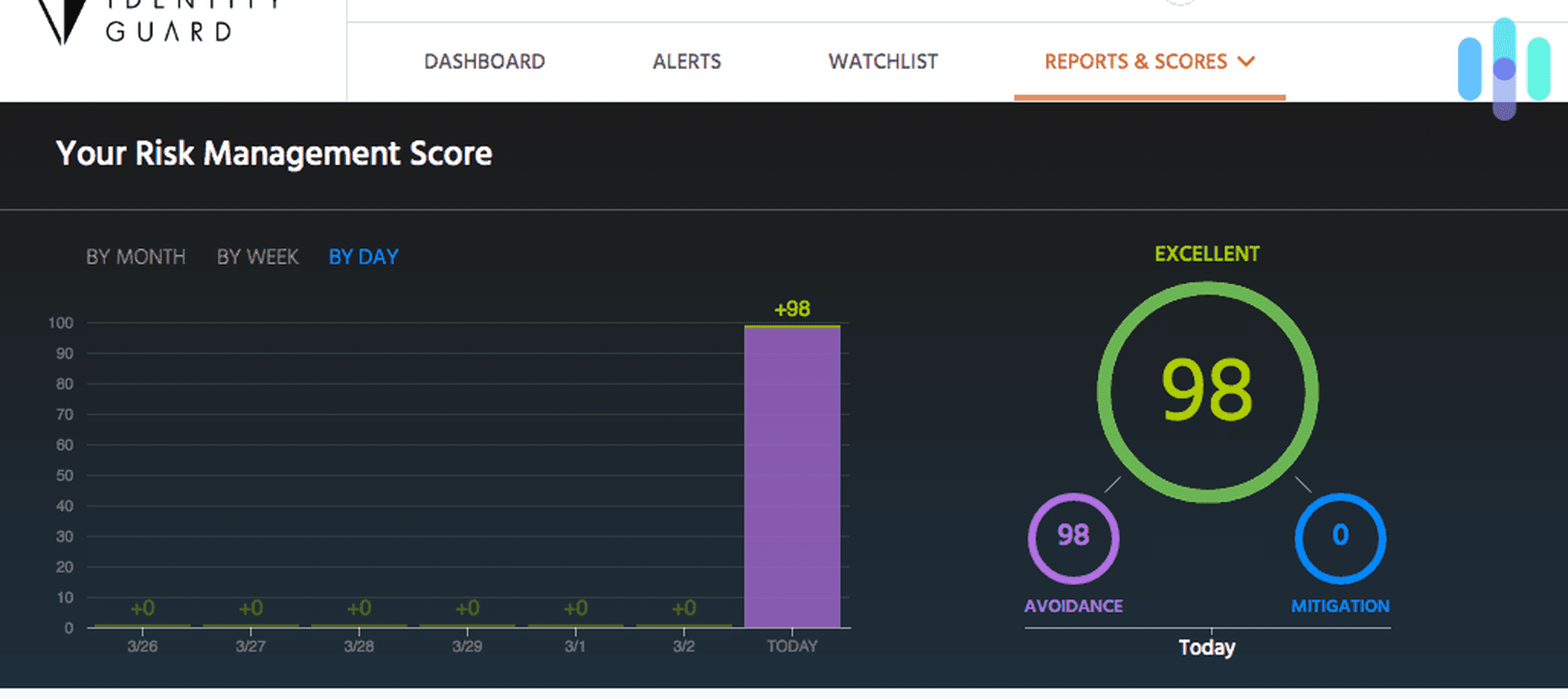 Safe browsing tools: Identity Guard even had a browser extension that helped protect our privacy online, fighting against phishing attacks, blocking ads, flash, trackers, and mining.
Anti-phishing mobile app: Aside from the Identity Guard Classic app, the company offered us the Anti Phishing by Identity Guard mobile app, which detected and blocked phishing websites on Chrome, Dolphin, and Samsung Internet.
Social insight report: Using artificial intelligence from IBM® Watson™, the social insight report analyzed our Facebook account to assess our "online image" and even suggested improvements.
We received communication from Identity Guard via SMS, app alerts, and email regularly. These communications included alerts for potential ID theft, but there were also useful reminders on how we can better shield our data every once in a while.
Moreover, Identity Guard knows that users can still very much fall victim to identity theft even with its protection. That's why it offers identity theft insurance coverage that would reimburse up to $1 million in stolen funds and other related expenditures in case of identity theft.
Identity Guard Identity Theft Protection Features
| | |
| --- | --- |
| Monthly cost for annual plan | $7.50 – $23.99 |
| Credit score monitoring | Yes |
| Sex offender registry monitoring | Yes |
| Risk management report | Yes |
| Identity theft insurance reimbursement maximum | Up to $1 million |
| Live chat customer support | No |
| Customer information shared with third parties? | Yes |
Privacy and Security
Protecting your identity with an identity protection service can prove to be a double-edged sword. The service will protect you from identity theft, but to do that, it needs access to your personal information. And if you choose a service that is not committed enough to keeping your information safe and private, the service could end up being the one to compromise your data instead.
Is Identity Guard trustworthy? We broke down its privacy policy and found that it's as trustworthy as can be for an identity protection service. For starters, it encrypts all customer data using military-grade encryption. Although it's not clear what type of encryption it uses, military-grade often refers to 256-bit AES, a type of encryption we trust.
Additionally, Identity Guard makes it clear that it doesn't share the details you fill in when setting up your protection with third-parties unless absolutely necessary. For example, if your child is part of your family plan, Identity Guard may share their Social Security number to a partner service provider, which will be responsible for monitoring your child's SSN.
Identity Guard, however, does share some types of information with its corporate partners and service providers, but these types of information come from when you visit its website or sign up for a plan. That includes your email address, device information, and IP location — things that other websites you visit already likely collect and share.
Pro Tip: Want to keep your browsing data, device information, and IP location private? Use a VPN or virtual private network. A VPN will encrypt your traffic and hide your IP address for your privacy, so you can browse the internet more anonymously.
User Experience
We also found Identity Guard to be easy to set up and use. On a more positive note, we found it easy to set up and use Identity Guard. After we filled in our information and paid, we viewed our alerts in the Identity Guard Dashboard and verified our identity in two ways: we answered a few multiple-choice questions and a couple of threat questions.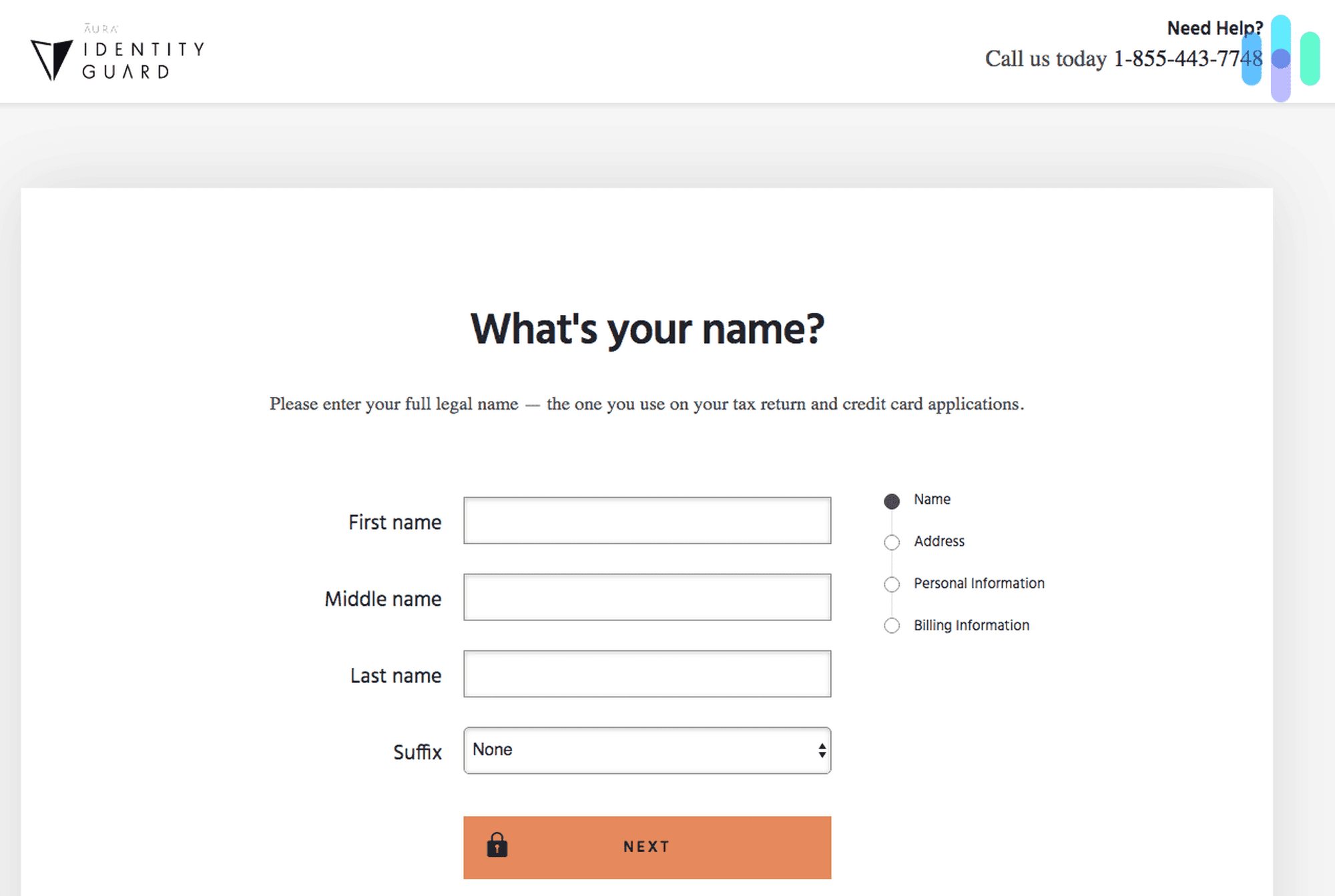 The more information we gave Identity Guard, the more data they could spit back at us, especially for the AI-powered features like the social insight and risk management reports.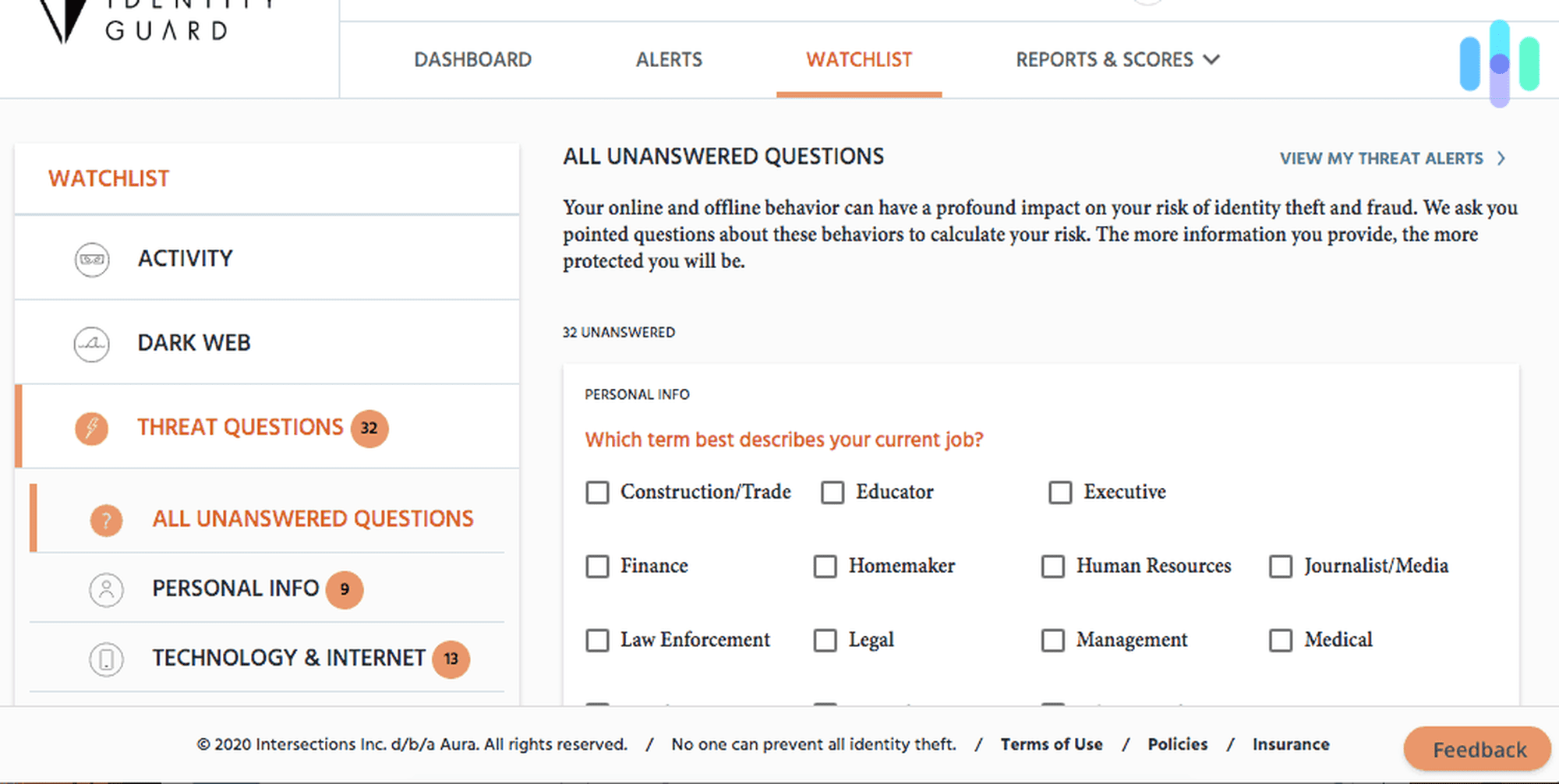 Once we'd input all our information, we navigated between the Dashboard, the alerts, and Watchlist, plus, our credit reports and scores*.
How Much Does Identity Guard Cost?
Identity Guard's prices are some of the lowest and most flexible we've ever seen. Monthly, an individual plan with basic protection costs $8.99, but the individual plans can actually range up to $29.99 as they get more comprehensive. That said, you can sign up for a whole year and save as much as $5 per month. The annual individual plans cost $7.50 to $25 per month, paid once every year.
Besides individual plans, Identity Guard offers family plans, which covers up to five adult individuals and an unlimited number of children. Prices for family plans range from $14.99 to $39.99 if paid monthly, but again, discounts are available for annual plans. Family plans can cost as low as $12.50 to $33.33 per month if paid yearly.
FYI: Identity Guard's identity protection for minor members of family plans isn't as comprehensive as its protection for adults. That's why we strongly recommend teaching them five basic but crucial digital safety habits for teens. Identity protection starts at home, and with our help, the younger generation will learn how to best protect themselves from online dangers and identity theft.
Here's a breakdown of Identity Guard's regular prices and features for the three plans available: Value, Total, and Ultra.
| Features and pricing | Value | Total | Ultra |
| --- | --- | --- | --- |
| 401k and Investment Account Monitoring | No | No | Yes |
| Annual Credit Report from 3 Bureaus | No | No | Yes |
| Bank Account Monitoring | No | Yes | Yes |
| Credit and Debit Card Monitoring | No | No | Yes |
| Credit Monitoring from 3 Bureaus | No | Yes | Yes |
| Criminal and Sex Offense Monitoring | No | No | Yes |
| Customer Support Based in U.S | Yes | Yes | Yes |
| Dark Web Monitoring | Yes | Yes | Yes |
| Data Breach Notifications | Yes | Yes | Yes |
| High Risk Transaction Monitoring | Yes | Yes | Yes |
| Home Title Monitoring | No | No | Yes |
| Identity Theft Insurance with $1 Million Maximum Reimbursement | Yes | Yes | Yes |
| Monthly Credit Score from 3 Bureaus | No | Yes | Yes |
| Risk Management Report | Yes | Yes | Yes |
| Safe Browsing Tool | Yes | Yes | Yes |
| Social Media Insights Report | No | No | Yes |
| USPS Address Change Monitoring | No | No | Yes |
| White Glove Resolution Concierge | No | No | Yes |
| Monthly plan for individuals | $8.99/month | $19.99/month | $29.99/month |
| Annual plan for individuals | $90.00/year | $200.00/year | $300.00/year |
| Yearly savings with the annual plan | $17.88 | $39.84 | $59.88 |
| Monthly plan for families | $14.99/month | $29.99/month | $39.99/month |
| Annual plan for families | $150.00/year | $300.00/year | $400.00/year |
| | | | |
| Yearly savings with the annual plan | $29.88 | $59.88 | $79.92 |
Identity Guard starts at just $8.99 a month for one person or $14.99 a month for the whole family. Find a plan that works for you.
Identity Guard offers plans for business and personal use, and within those two categories, individuals and groups. Regardless of which subscription plan we selected, we chose between annual or monthly contracts. We had no trouble finding an Identity Guard plan that worked for us. Identity Guard has a plan for spouses as well, a rarity in the identity monitoring industry.
Identity Guard has three personal plan options for identity theft protection services: Value, Total, and Ultra.
The Ultra plan provided the most coverage whether through the individual plan or the Identity Guard family plan, although it was a reasonable price at either $29.99 per month or $300 per year for an individual. We signed up for a year because we knew we wanted to test out the service, and it includes a 17 percent discount. All plans include a $1 million reimbursement maximum for identity theft, but only the Total and Ultra plans monitor credit scores and reports from all three credit-reporting bureaus.
Unfortunately, Identity Guard doesn't offer a free trial. However, they do provide a 30-day money-back guarantee, which can work as a trial. Try the software out, and if you aren't satisfied within those 30 days get your money back. It's a sort of free trial for Identity Guard, only, it's not free because you have to pay first.
We appreciated Identity Guard's 30-day guarantee as a substitute for a free trial. If you'd rather go the try-before-you-buy route, our IdentityIQ review and our LifeLock review are good places to start.
Customer Support
Identity Guard's customer support was fine, but it didn't impress us. Although there is a section on frequently asked questions, as well as useful articles, on Identity Guard's website, we didn't find much online customer support. We had to call its phone line, which is only available on certain schedules. On weekdays, the phone line is open from 8 a.m. until 11 p.m., and on Saturdays, it's open from 9 a.m. to 6 p.m., EST. The line is closed on Sundays.
On top of that, there's no live chat support option. The majority of identity theft services we tested have this option, so it's a bit disappointing to find out that if we needed help, we would have to talk on the phone. That being said, Identity Guard's phone support did prove useful those times that we called.
The Identity Guard Classic App
We used the Identity Guard Classic app to receive user alerts, access our credit information, and check out the latest news on identity theft incidents.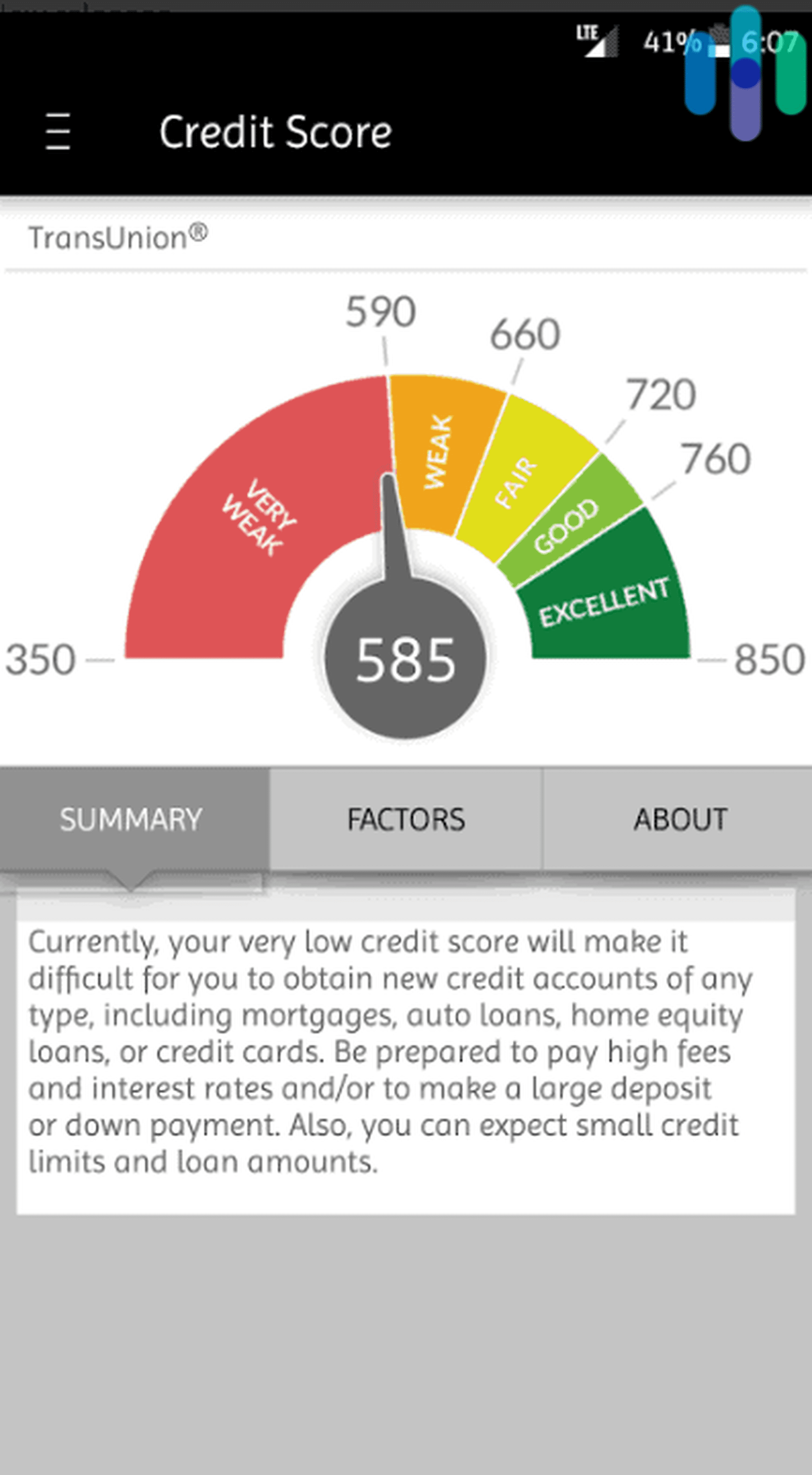 Unfortunately, the app had a low rating from iOS users, only a 2.2 out of five stars.
One user wrote in a recent one-star review,
"App is overly simplistic with little to no details. I have three credit tracking services and Identity Guard missed everything that affected my credit score. I opened new accounts, no alerts."
Android users felt a little differently, giving the app a 2.7 rating on the Google Play store.
Identity Guard IBM® Watson™ users should do their own research about the iOS and Android apps that work with that version. We only tested out the Classic version.
For what it's worth, the Identity Guard Classic app is still more intuitive than the app experience we noted in our IdentityForce review.
While still an excellent choice for identity theft protection, IdentityForce's app didn't impress us, either. If you'd prefer desktop access over mobile, check out ID Watchdog. In our review of ID Watchdog, we noted the absence of a companion app for mobile access, but the company's impressive identity restoration assistance pretty much made up for it, if we had ever been the victim of identity theft.
Recap
Overall, Identity Guard is a strong identity protection service. It covers a wide area to monitor for signs of identity theft, it uses artificial intelligence to increase the efficiency of its service, and it values people's privacy.
It's not the cheapest service around, especially if you want the whole nine yards, but you get the right value for your money.
Overall, we appreciated Identity Guard's comprehensive features and low prices on the lower-tiered plans. However, we still felt anyone concerned about privacy might want to find an identity monitoring service that does not share information with third parties.
** Identity Theft Insurance underwritten by insurance company subsidiaries or affiliates of American International Group' Inc. The description herein is a summary and intended for informational purposes only and does not include all terms' conditions and exclusions of the policies described. Please refer to the actual policies for terms' conditions' and exclusions of coverage. Coverage may not be available in all jurisdictions.
* The score you receive with Identity Guard is provided for educational purposes to help you understand your credit. It is calculated using the information contained in your TransUnion credit file. Lenders use many different credit scoring systems, and the score you receive with Identity Guard is not the same score used by lenders to evaluate your credit.
Get identity theft protection for the whole family. Sign up today.