ADT Security System Review
This company has stood the test of time and now offers smart home automation
What We Like
Trusted company: With over 140 years in business, we felt comfortable with choosing ADT right off the bat.
Smart home integration: ADT works with a variety of third-party smart home products, including Google Assistant and Alexa. These integrations make it possible for users to control their home security system with their voice, or create smart home commands that can make life easier and more convenient.
User-friendly app: The ADT Control app was easy to use on both iPhones and Androids alike.
What We Don't Like
Professional installation only for classic ADT systems: With the exception of the new ADT Self Setup security system brand, all ADT systems require professional installation. While that means less work for users, it also means an installation fee applies.
Monitoring contract: A binding, monitoring contract is required to set up ADT monitoring. The contract term is usually three years, although it can last as long as five years if you have your equipment financed with a 60-month installment term.
Monthly fees aren't lowest-price available: The monthly fees scale with your security system, so if you have a large home or if you get a smart home and video monitoring equipment, expect to pay a higher monthly fee.
Bottom Line
If you're looking for a security system that's trustworthy, ADT is your best bet. With over 140 years in business, ADT offers professional monitoring that'll give you and your family peace of mind plus protection.
Recent Update: 2 weeks ago
Jumpstart your home security with ADT's latest deal. With this offer, new customers buying a Video package with a monitoring contract receive discounts and free video doorbell installation, a value of over $300.
Over the years, ADT has established a rock-solid reputation in the home security space. It's arguably the most recognizable home security brand, and that's not just a product of successful marketing. Throughout the years, ADT has lead the market in home security innovations, and it has been at the center of many technological breakthroughs.1
Of course, ADT's reputation is built on more than just those merits. Looking at ADT's home security solutions, it's easy to see that it has great things to offer — high-tech and advanced security equipment, a monitoring service powered by nine redundantly set up monitoring centers, and customer-friendly policies, just to name a few.
On paper, ADT looks like the perfect home security system, but having tested dozens of home security systems, we know there's no such thing. Every security system has upsides and downsides, so our goal in this review is to appraise ADT and give you the bottom line as to whether it's a good security system for your home. We'll highlight its strengths, weaknesses, and everything in between, so keep reading to find out more about ADT.
In this review, our security experts tested ADT's security system. Let's see how it stacks up!
Key Features
| | |
| --- | --- |
| Control panel | ADT Security touchscreen panel |
| Wireless controllers | Key fob and panic button |
| Indoor camera | ADT Indoor Camera |
| Outdoor camera | ADT Outdoor Camera |
| Video doorbell | ADT Video Doorbell Camera |
Editor's Rating
Professional installation on all systems
24/7 monitoring centers nationwide
145+ years of home security innovation
Our Hot Take on ADT Home Security
Our team developed a scoring system to rate security systems fairly, and after living with ADT for several weeks, we gave it a 9.8 out of 10 rating. We concluded that right now, ADT sits atop of the home security market as the best whole home security system for most people.
Notably, we found that ADT offers the best equipment options and a reliable monitoring service. ADT also stands behind its industry-leading six-month money back guarantee, which is one reason we found this brand trustworthy.
How ADT Performed
Having been around for over 140 years, ADT has had plenty of time to refine its security system. The user-experience is spot-on, and our tests made it clear that ADT puts a premium on user-friendliness.
Here's an example: With ADT, you get multiple convenient ways to control your home security system. There's the easy-to-use touchscreen control panel, an intuitive smartphone app with everything you'll need to manage your home, and even a smartwatch app for quick and easy controls.
Our favorite way to control ADT, though, is through our voice. Having partnered with Alexa and Google Assistant, ADT now supports voice control through Alexa-enabled devices and Google Nest smart speakers and displays. The seamless voice control made us feel as though we were living in the future.
Another aspect we liked about ADT products was their durability. Most pieces of equipment were made of hardened plastic that remained durable throughout the months we had them installed.
Lastly, we liked how inclusive ADT's technology is. Anyone from your tech savvy son to your elderly grandparent should be able to operate an ADT home security system with ease. If you keep reading below, we'll relay our first-hand experience with each device we tested and you'll see how easy they made home security.
Video Review of ADT
Do you prefer seeing and listening to reading? Watch our video review of ADT, which will show you the system and cameras in action.

Our video reviews let you see the footage from ADT's cameras, day and night. Ready to build your dream security system? Get started here.
Components of the ADT Security System
In this section, we'll explain our experience using each component and how it enhanced our home's security.
Digital Panel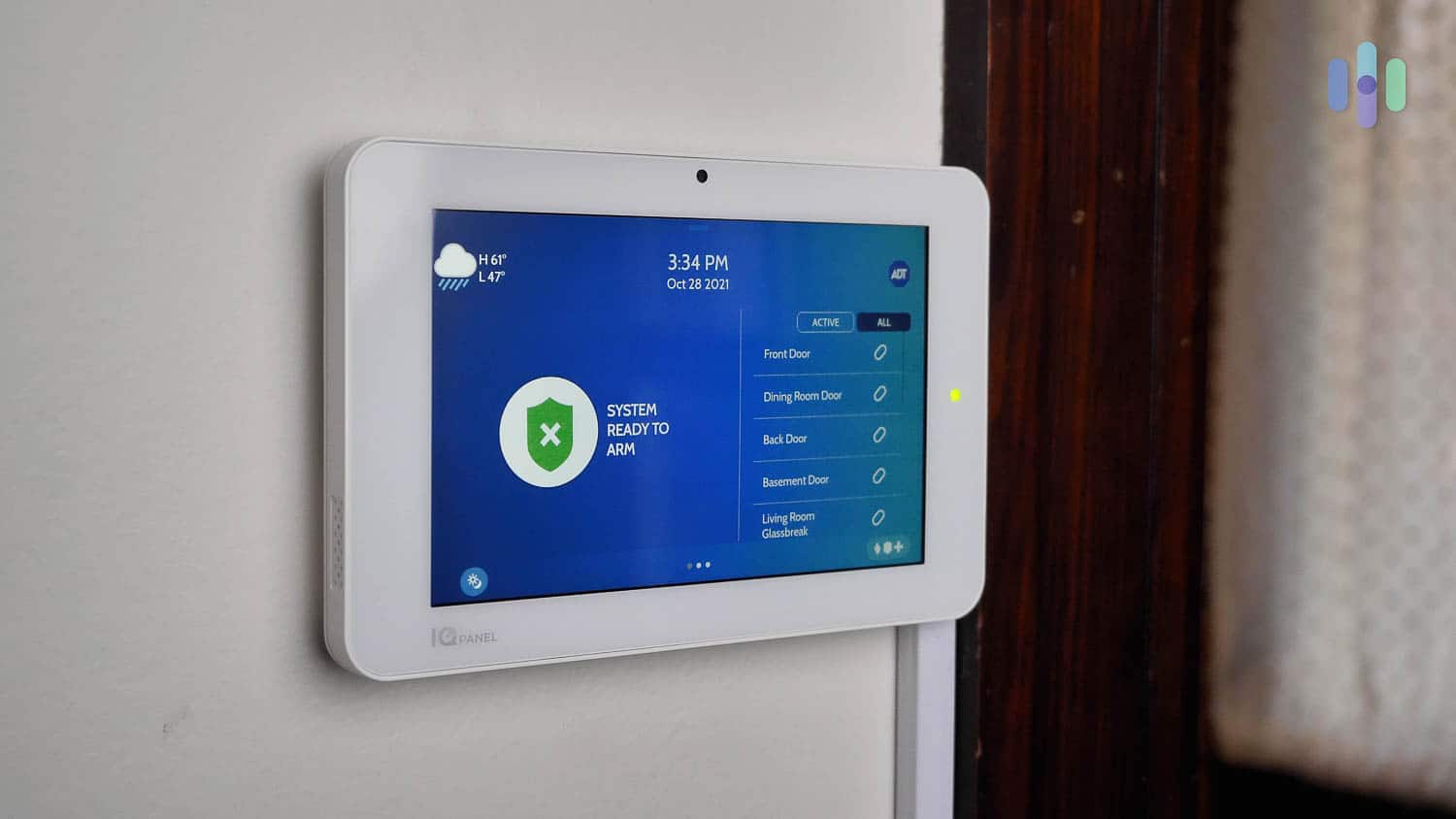 The digital panel was our control center. Essentially, it let us control ADT's arming modes — we could either disarm, arm away, or arm stay. When armed in away mode, every component was at the ready to report discrepancies. In stay mode, only the sensors we selected were armed. For instance, the sensors on the front door and first-floor windows remained active when we're home and sleeping, but the motion sensors were not to prevent alerts when we go for a midnight snack.
The panel was also responsible for creating automations using the smart home devices we integrated. Although we could control every device individually through the panel, we were also able to create schedules and scenes that performed actions even without our input. In fact, we get home from work with a thermostat set to our ideal temperature and a well-lit living room thanks to ADT.
Contact Sensors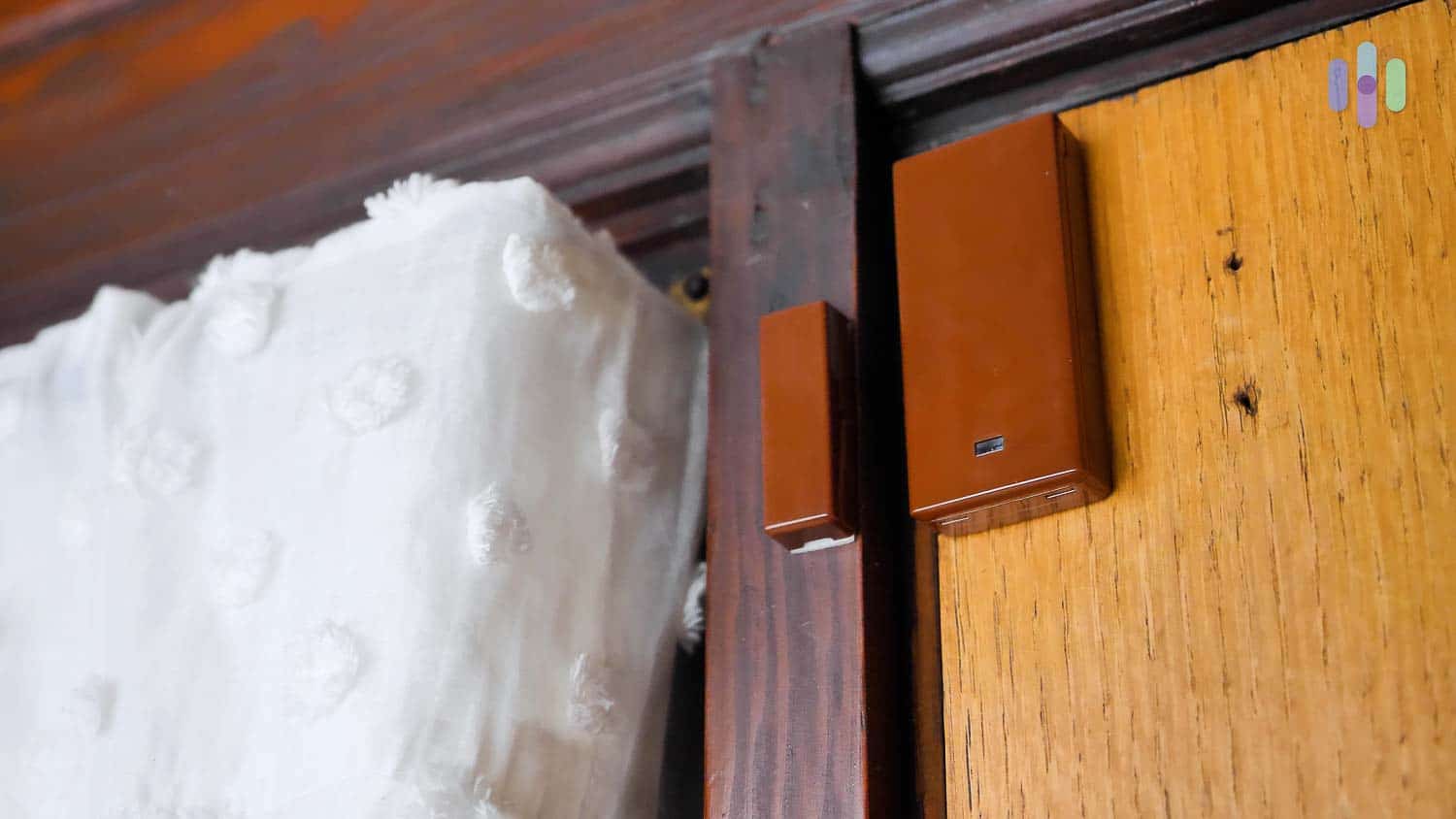 We placed the contact sensors on doors, windows and their respective frames so that we were notified whenever they were opened or closed. Because they are wireless, the sensors were easy to install and test out. Plus, we appreciated the fact that ADT had a bunch of contact sensor options in terms of installation and size. You shouldn't have any issue finding a contact sensor that works for your home with ADT. Our favorite is the recessed door sensor, which bores right into your door frame, making it practically invisible.
Expert Advice: Put contact sensors on any windows on the ground level of your home.
Keychain Remote
Aside from advanced control options (app, touchscreen panel, voice, etc.), ADT supports more traditional ways to control the system. One example we tested was the keychain remote, which we recommend for households with members not comfortable using smartphones or a touchscreen panel. The keychain also proved to be a much simpler way to arm and disarm ADT.
There's nothing fancy about the keychain remote — it looks like a remote car key with a button for arming and another one for disarming ADT. It came in handy, however, whenever we had to disarm the system while carrying bags of groceries or whenever our hands were full on the way out. We loved that it was light and that it attached right to our keychain.
The keychain remote is also good for emergencies. It has a panic button that, when pressed within the touchscreen panel's range, calls ADT's monitoring center for help. We haven't had the chance to use the feature in a real emergency, but we thought it would be useful for household members with medical conditions as well.
Motion Detector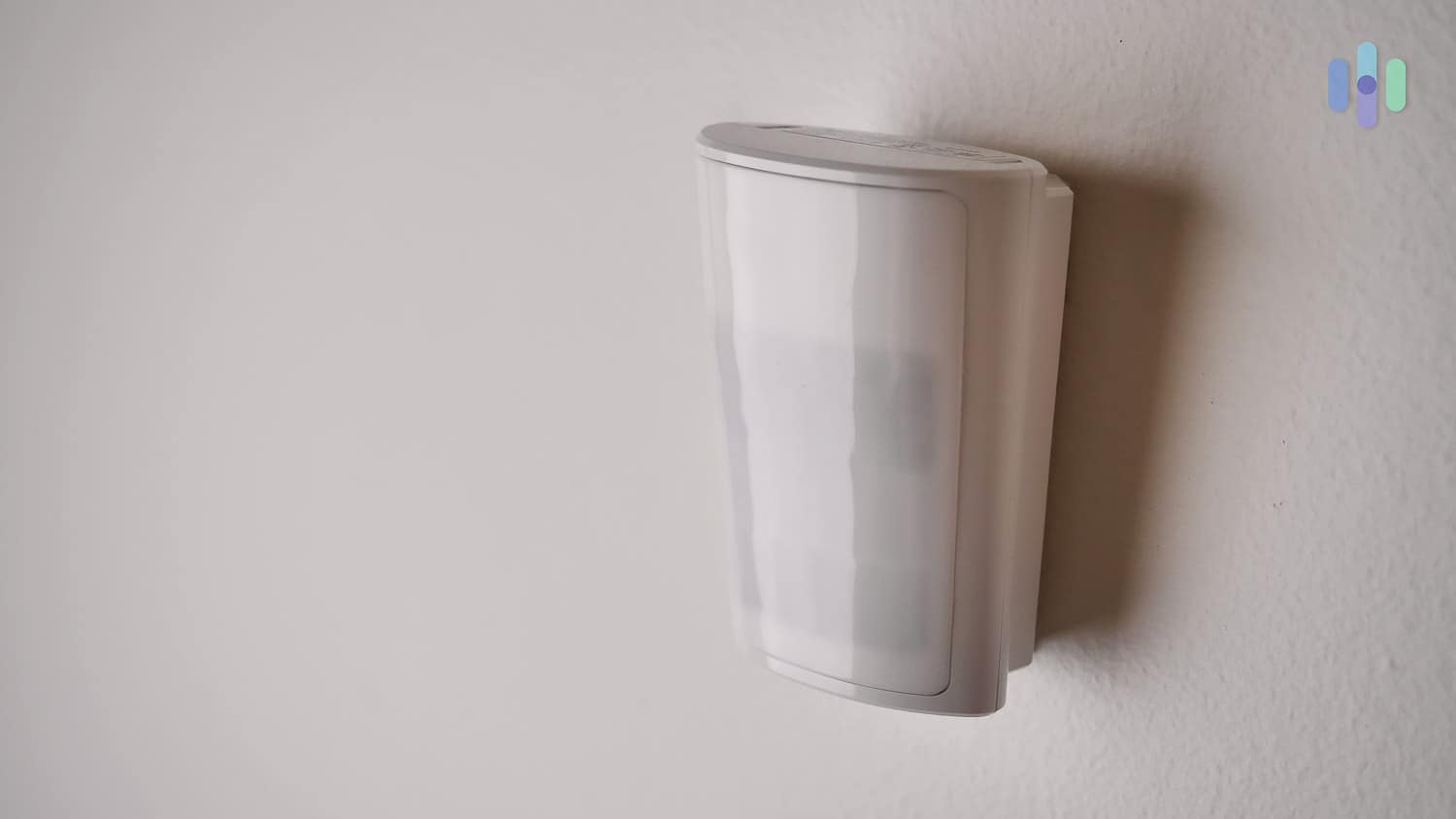 Motion detectors are staples of home security systems. The one from ADT didn't stand out in any particular way, but it was a solid piece of equipment. It had a range of 35 by 40 feet, which was more than enough for our house.
We did notice that the box says that it's pet-friendly, which means it won't pick up motion from pets to avoid false alarms. We confirmed this with the technician, who told us that we could adjust the sensor's sensitivity based on the pet's weight. There's a toggle at the back of the sensor for that.
Glass Break Sensors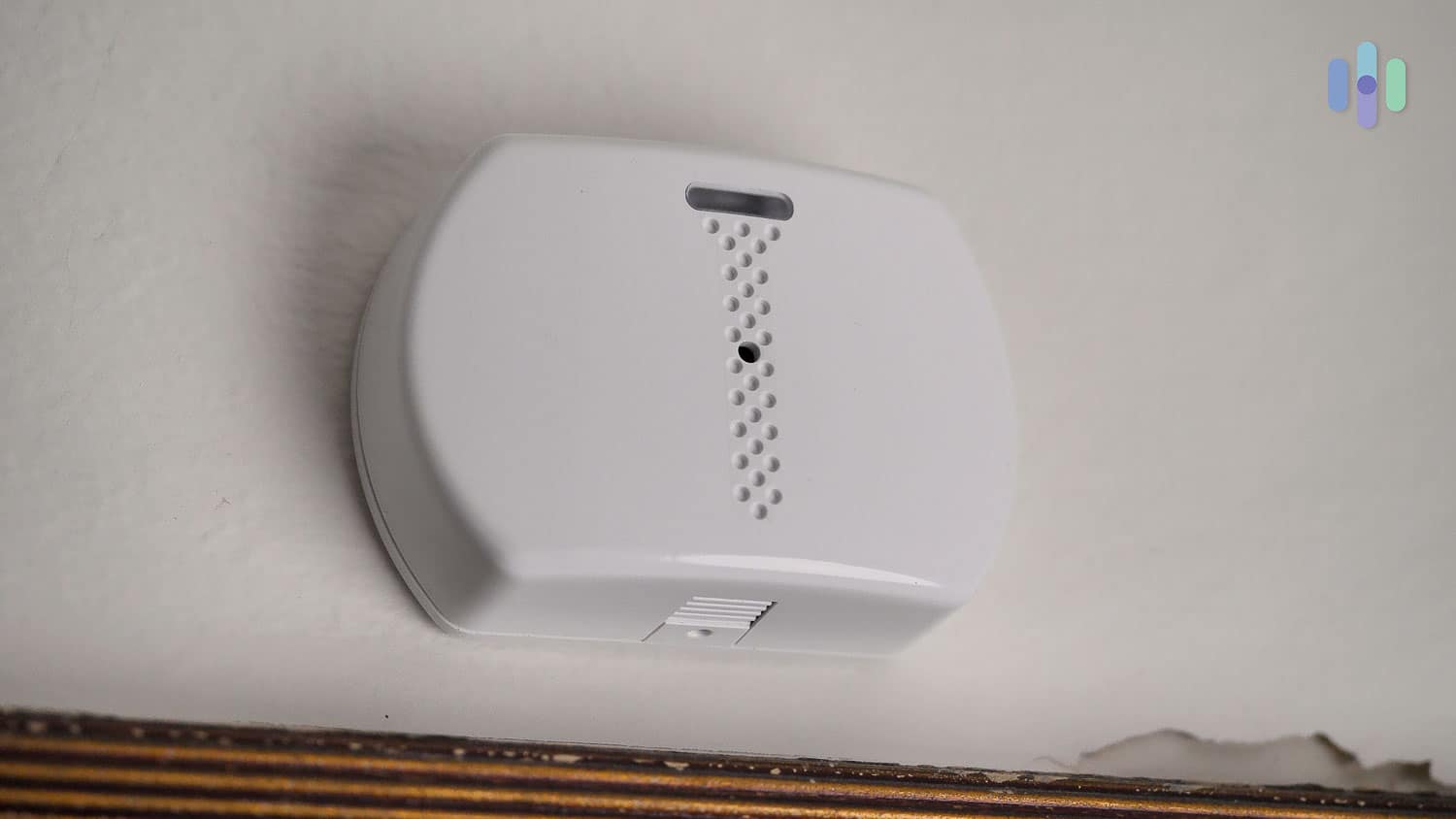 Although it may seem redundant with the motion and entry sensors, some intruders will break in by smashing glass, and for those instances, there's a glass break sensor, which has a 25-foot range. We adjusted the sensors' sensitivity, as we tend to be a bit clumsy with glasses, to the lowest sensitivity out of four options. Like the motion detector, the glass break sensors are wireless with a five-year battery life and tamper protection, which was confirmed in our testing.
Emergency Button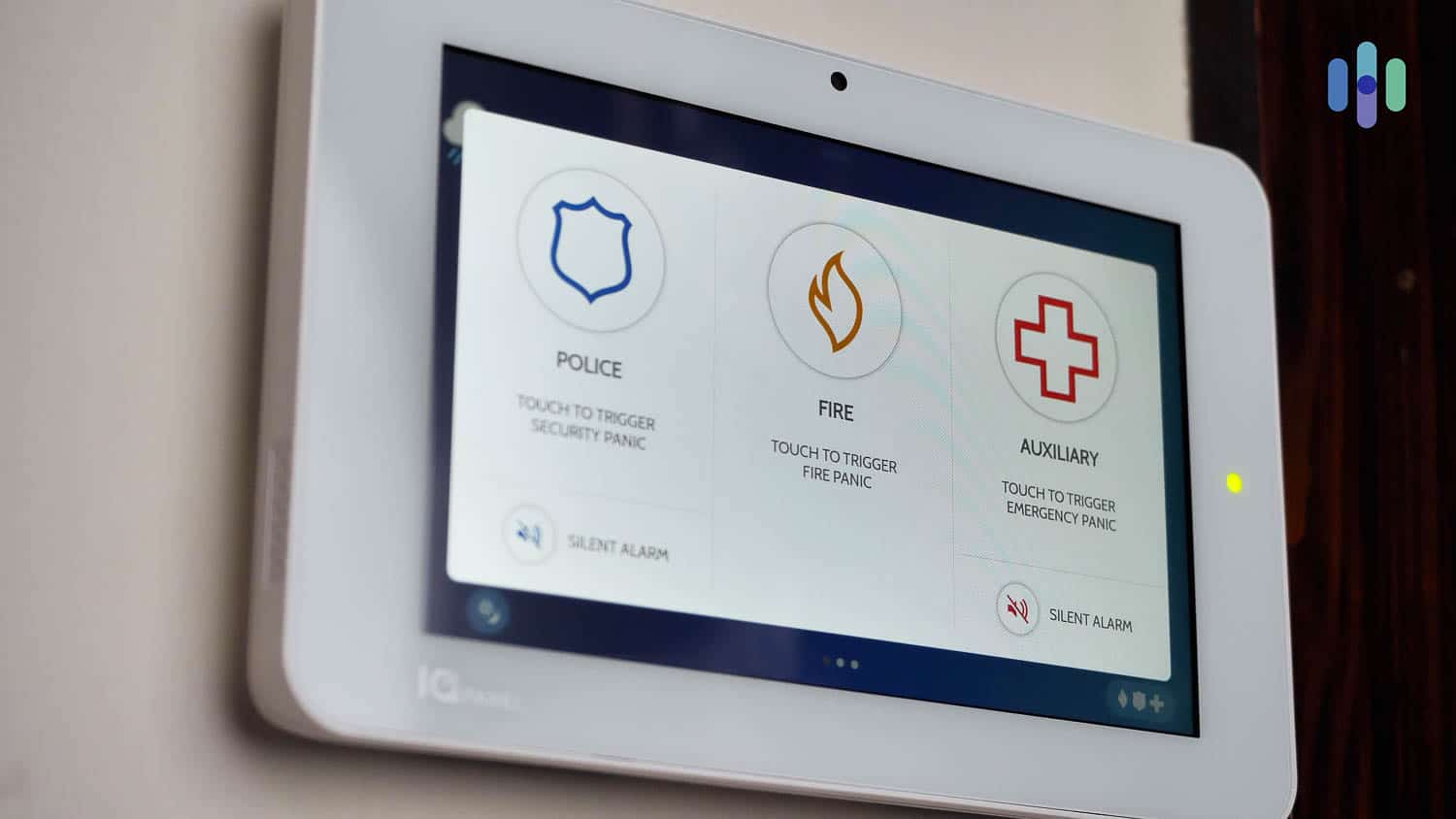 The emergency button, otherwise known as a panic button, gave us quick and easy access to emergency services. Thankfully, we didn't have to use it, but if you or someone you live with is prone to medical emergencies, this button can come really handy.
Through the control panel, you can set up which emergency services the two buttons will connect you to. You can contact the police, fire department, and medical responders. Since no one living in our house has a serious medical condition, we opted to set the buttons to call the police and fire department.
One nifty feature of the panic button is the recessed button itself. Thanks to this, it's not prone to accidental "butt dials" and false alarms.
ADT Video Doorbell Camera
We're on the lazy side, which is why we love video doorbells in general. They let you use an app to see and speak to whoever's at your front door, but of course, they're not all created equal in terms of quality. Video-wise, we were disappointed at the doorbell's camera quality, which was 720p HD, not as clear as our preferred 1080p HD like that of the Ring Video Doorbells. However, as far as the field of view went, it was 180 degrees, giving us the widest possible picture of our front yard. We were also impressed with the camera's infrared night vision and two-way audio, which actually reduced the amount of background noise we heard compared to similar models.
Now, keep in mind that we did have to hardwire the doorbell camera into our home (well, the professional installer did, anyway). Don't buy the video doorbell unless you have an existing 8-24 VAC system like us! If you don't have an existing doorbell setup, check out the Skybell Slim Line Doorbell Camera, which is battery-powered. In terms of durability, the ADT Video Doorbell Camera impressed, working in temperatures from four to 122 degrees Fahrenheit. It didn't exactly make our list of the best video doorbells. If you're looking for one of those, you might want to check out the Ring Video Doorbell Pro 2 or the Nest Doorbell, but aside from the sub-par video, we were pretty satisfied with ADT's doorbell camera.
One thing to note is that ADT systems work with third-party doorbells too, including the Nest Doorbell. In fact, with ADT's current online deal, you can receive a free Nest Doorbell simply by buying a Video package. The Nest Doorbell is a top-quality video doorbell, and pairing it with ADT will likely take your home security to the next level.
ADT Outdoor Security Camera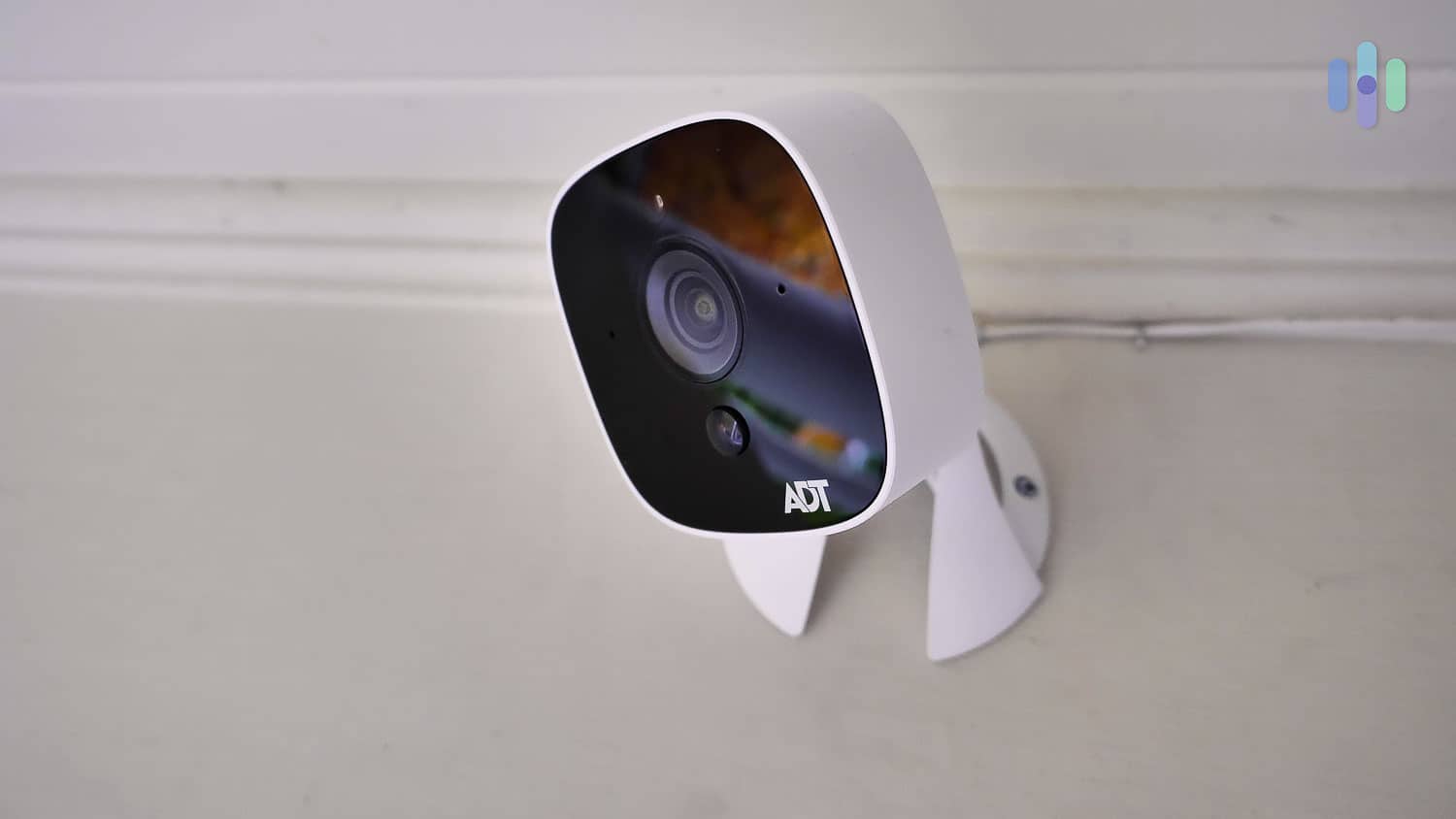 Of course, having a camera at our front door wasn't enough. For us, we also wanted to get an outdoor camera for our backyard. Unfortunately, the outdoor camera had the same video quality as the doorbell camera: 720p HD, which gave us footage that wasn't as crystal-clear as we would've liked. Double unfortunately, the camera gives a really narrow picture with a field of view of only 95 degrees, which was only enough to cover half of our backyard. Still, we will salute the outdoor camera for its weather resistance; not only could it withstand any solid we threw at it, but it even worked after we sprayed it with powerful water jets! As long as you don't immerse it in water, the outdoor camera will continue functioning normally, with infrared night vision for those dark nights. Still, given the low video quality, we wouldn't recommend the outdoor camera we tested, but the good news is that ADT has released a new version of the outdoor camera, now with a 1080p HD resolution.
ADT Indoor Security Camera
Finally, there's the indoor camera which yes, has 720p HD video, infrared night vision, and a decently wide field of view of around 130 degrees. One feature we really liked about the indoor camera, despite its disappointing video quality, was the fact that whenever the camera detected motion, we received a video clip of the livestream. However, when we tried to speak through the app, we found that the indoor camera actually lacks two-way audio, a huge drawback. Again, the camera we tested was an older model. ADT's new indoor camera solved both issues we had with the older camera, namely, the sub-par resolution (it now has a 1080p HD resolution) and lack of two-way audio (which it now has).
Third-Party Security Camera Options
In 2021, ADT entered a partnership with Google Nest and started offering Google Nest Cams as part of the ADT security system. If the ADT outdoor and indoor cameras sounded unimpressive to you, you can actually integrate the Google Nest Cam (battery) and the Nest Cam (wired) instead.
The Google Nest security cameras are on our list of the best security cameras because of their impressive video quality (1080p HD with HDR) and their artificial intelligence — but don't fret, it's not the type of AI that could potentially destroy us. The AI on the Google Nest Cams make it  possible for them to detect people and recognize faces, which are certainly useful in home security.
ADT offers the Google Nest Cam (battery) and Nest Cam (wired), both of which offer similar features but with different setups. The former is an indoor/outdoor camera powered by batteries, while the other is a plug-in type indoor camera. Additionally, ADT offers the Google Nest Doorbell.
Smoke Detector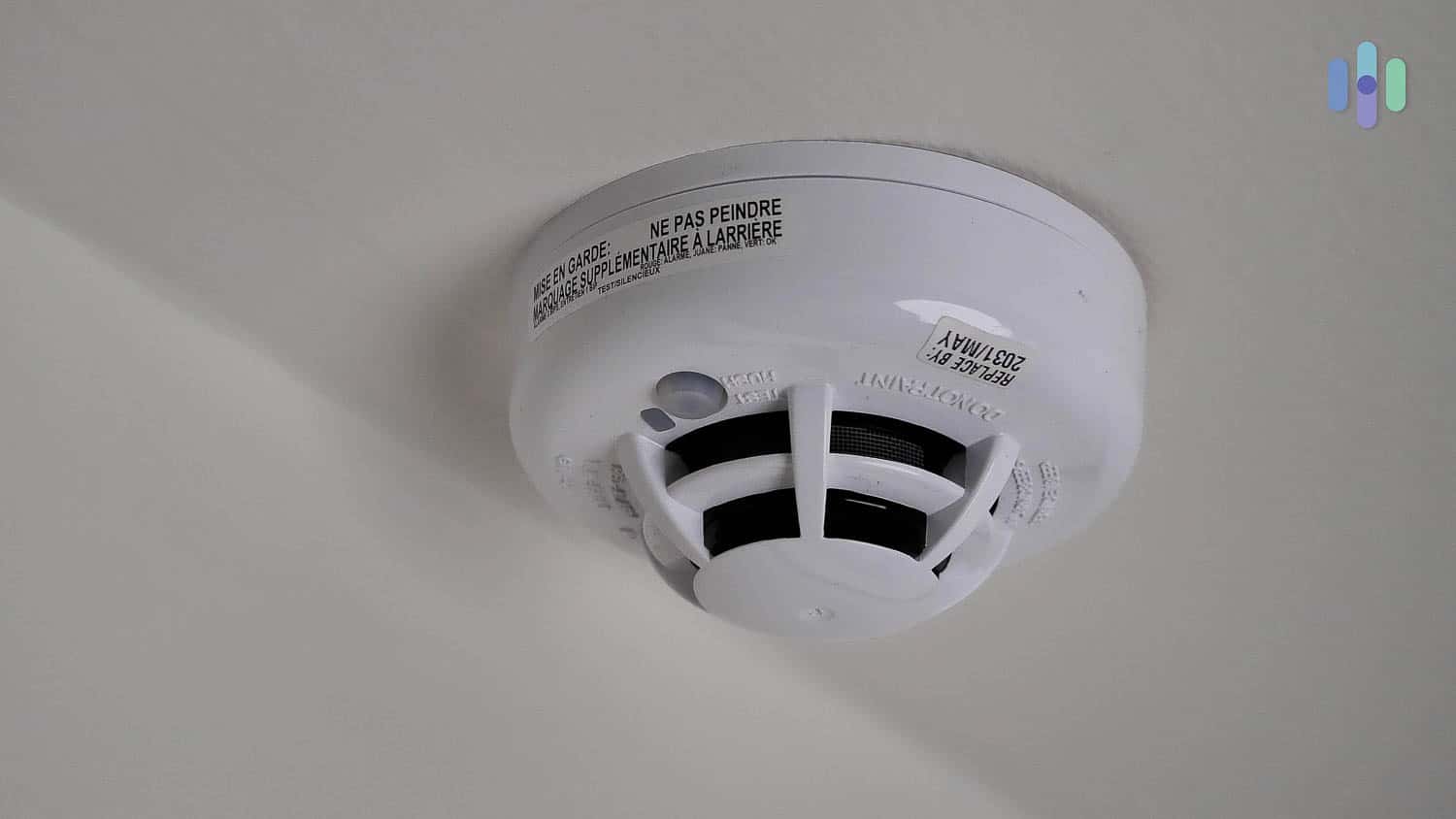 If a smoke detector goes off and no one is around to hear it, does it even matter? Well, if it's a WiFi-connected smoke detector from ADT, then the answer is a resounding yes. To test this out, we burnt toast and can confirm that we, along with ADT's monitoring team, received an alert. Plus, the detector itself shone LED lights and even sounded a siren, in case the message wasn't clear enough!
Carbon Monoxide Detector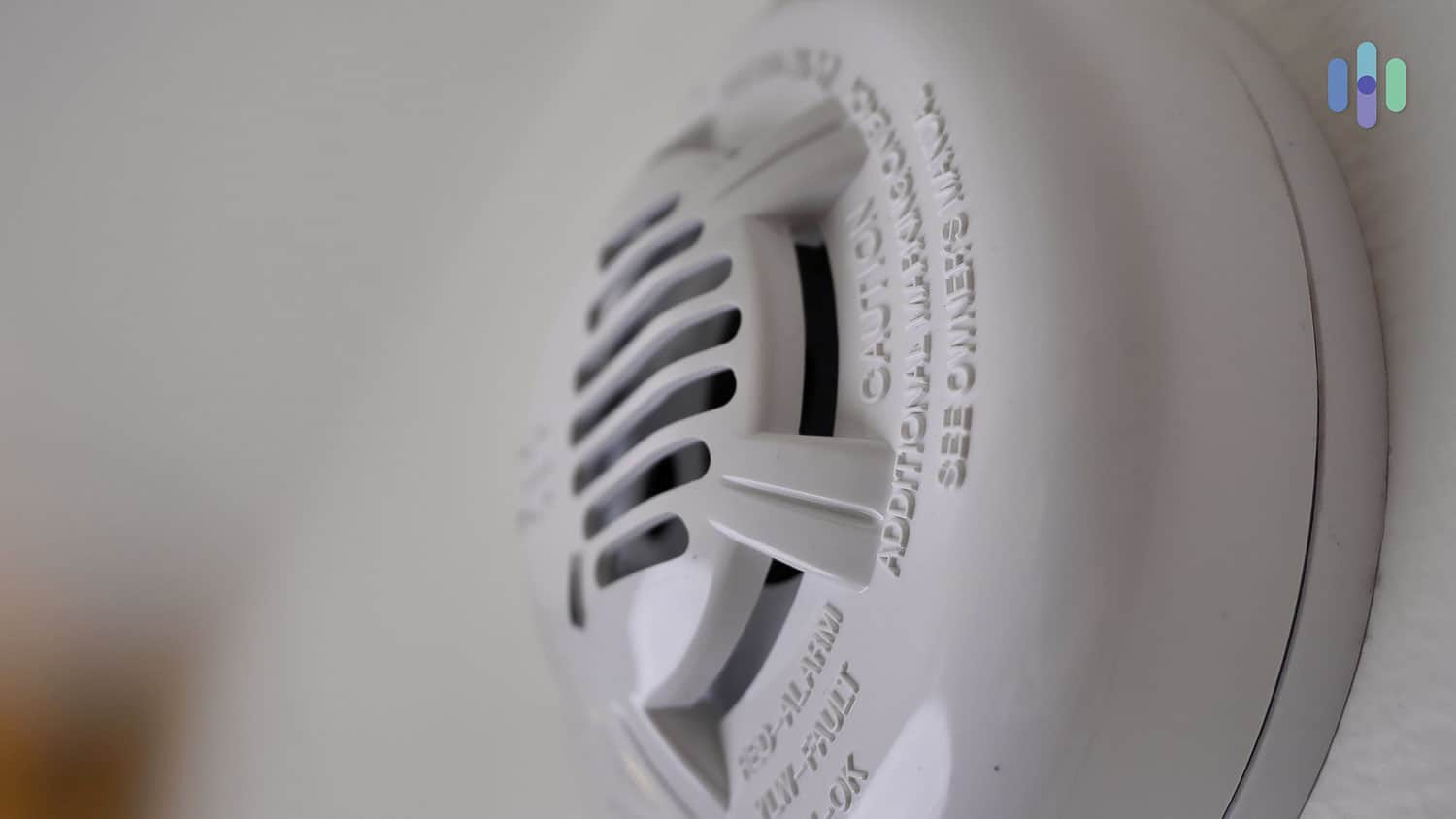 While we couldn't exactly test the carbon monoxide detector by producing a dangerous amount of CO, we can tell you that ADT's version is tamper-protected, has an LED light and alarm, plus a hush button, which seems like it would definitely come in handy.
Flood Sensor
Finally, there was the flood sensor, which can detect water leaks before they turned into full-blown floods.
ADT also offers other smart home products like smart light bulbs, thermostat, plugs, and garage door controls, but since they're only tangentially security-related, we didn't test them out for this review.
Home Automation with ADT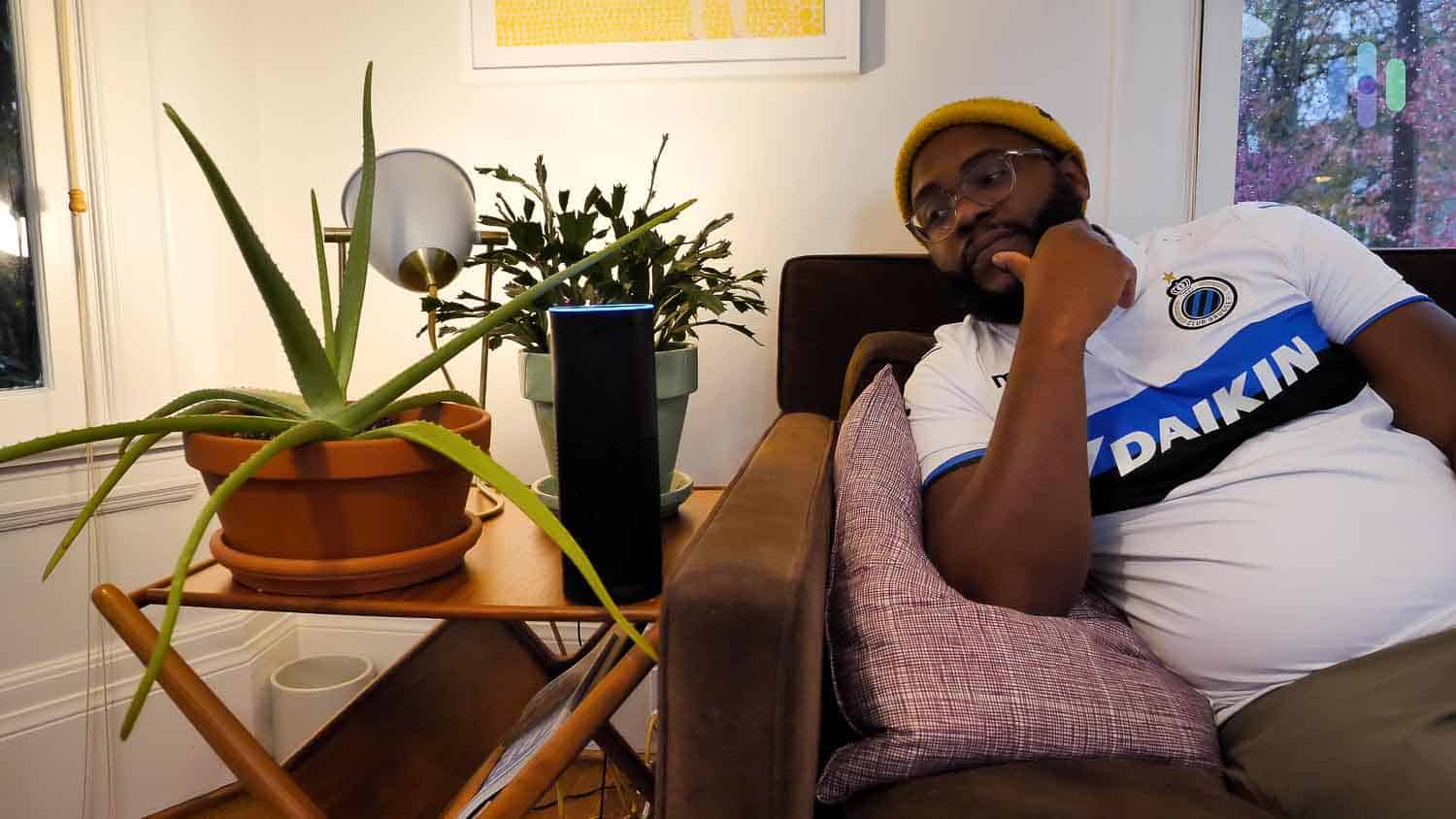 Our ADT system worked with the Amazon smart home ecosystem, meaning we could tell Alexa2 to control it, including arming and disarming the systems and controlling smart lights, locks and thermostats. The same applied to the Google Nest smart home ecosystem and Google Assistant. Using our Nest Hub Max, we were able to control our ADT system with our voices. Unfortunately, if you're using Apple's HomeKit ecosystem for your smart home, it doesn't work at all with ADT.
FYI: ADT works with Alexa and Google Assistant, but not with HomeKit, and by extension, Siri.
Now, aside from voice assistants, we were also able to set up our system with Internet of Things, or IoT devices from Kwikset, Liftmaster, and Sonos.3 At our house, we had the smart locks open our doors when the smoke and CO alarms went off so we could quickly get out if necessary. This all occurred automatically, which was not only convenient but super safe.
Recently, ADT also started working closely with Google Nest, a smart home powerhouse that makes the Nest Cam Battery we reviewed as well as smart thermostats, smart doorbells, and smart smoke alarms. This partnership allowed us to integrate top-quality security and smart home products into our ADT system seamlessly.
All in all, we were satisfied with how ADT fit into our existing smart home, but it might not be the best choice for those already in the Apple HomeKit ecosystem. As far as Apple goes, the only security system we've reviewed that works with Siri is abode. Learn more in our abode review.
ADT Self Setup: A New Breed of ADT Security Systems
Besides the ADT system that we tested, ADT has launched a new security system under the ADT Self Setup brand, which is essentially a DIY equivalent of the professionally installed ADT security system.
The ADT Self Setup system offers the same types of components as the one we tested, from security sensors like motion and entry sensors to life safety sensors like smoke alarms and flood sensors.
The ADT Self Setup system supports security cameras and home automation as well, but instead of ADT products, it uses Google Nest products. Specifically, ADT offers the Nest Cam (battery), Nest Cam (wired), Nest Cam with floodlight, and the Google Nest Doorbell (battery). You can also get Google Nest smart speakers and displays.
Although the ADT Self Setup system is self-installed, it's professionally monitored by ADT, which brings us to the next part of our review: ADT's monitoring plans.
ADT's Monitoring Plans
One thing you have to remember before buying an ADT system is that professional monitoring is and will likely always be a part of the deal. There are no options to self-monitor ADT security systems.
Professional monitoring means monthly fees, and ADT's pricing ranges from $40 to $60 per month, although the exact number will differ based on your equipment and services.
This is among the more expensive monthly costs, so ADT isn't a great choice for those looking to save money. However, for those of you who definitely want 24/7 professional monitoring and cellular backup, it could make sense; just know that you're not exactly getting the lowest price possible, as some companies charge as little as $17.99 a month for the same exact thing (looking at you, SimpliSafe! Read more in our SimpliSafe review).
On the bright side, ADT charges less for monitoring ADT Self Setup security systems. Basic monitoring starts at $24.99 per month, but if you have Nest Cams in your system, an additional $10 per month fee will apply. The $10 fee enables video verification and gives you access to Nest Aware, Nest's subscription service that unlocks cloud backup and smart features like Familiar Face Alerts. Learn more from our page all about Nest's subscription and equipment pricing.
ADT's monthly costs aren't set in stone; rather, they're dependent on the equipment & monitoring plan. Ready to get set up? Learn more.
Our Installation Process with ADT
Since ADT is professionally installed (except for the ADT Self Setup system we discussed earlier), we didn't have to lift a finger to get our security system up and running. Even better, now that ADT has partnered with Dish Network, we were able to get security and entertainment installed all at once.4 Of course, we did have to pay a negotiable installation fee just as we did for the rest of our equipment and services from ADT. That's a bit annoying.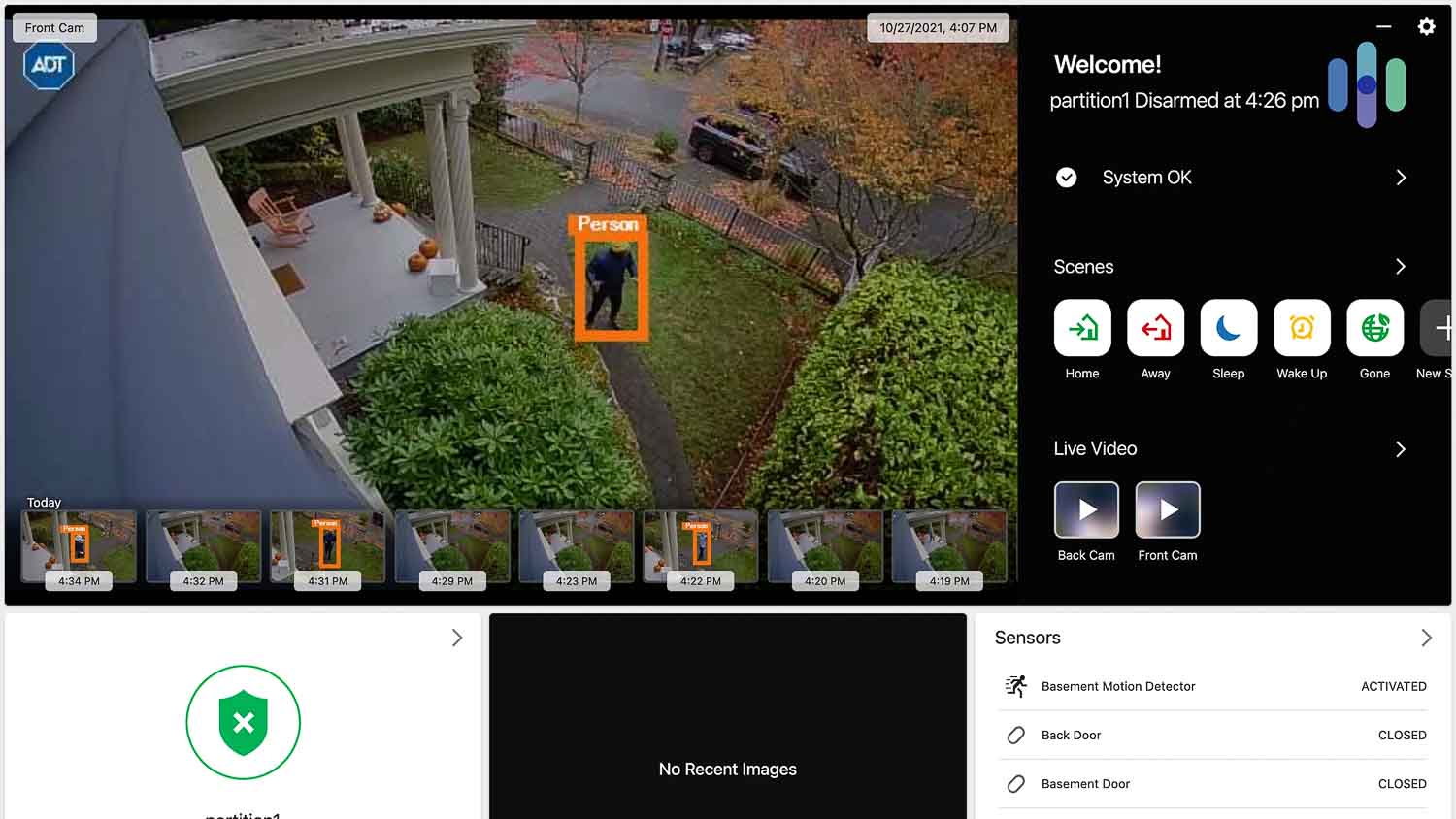 We discovered that, in the past, ADT's Black Friday and Cyber Monday deals have included free video doorbell installation, but that didn't help us at all when it came to a full-system installation. In the end, ADT is only a good choice for those that definitely want professional over DIY installation.
The ADT Control App (Formerly ADT Pulse)
ADT did require us to get professional monitoring, but we still had control over our system similar to self-monitored systems. A smartphone app served as our main point of access to the system. Now, you might notice that there are two ADT apps: ADT Pulse and ADT Control. When we first tested ADT, they had us use the ADT Pulse app. Later, they released the ADT Control app. Those who started using ADT before the ADT Control app was released are supposed to use ADT Pulse. Meanwhile, new customers get access to the ADT Control app. However, the two apps have the same main functionalities, and besides a few aesthetic improvements, we didn't notice any significant difference between the apps. Using both apps, we were able to arm our security system, create schedules and automation, control connected devices, receive notifications, and access live footage of our cameras. The only requirement was that we connect our smartphone to the internet.
We found the apps for iOS5 and Android6 really easy to use, and other ADT customers agreed with us, rating it with a 4.8 and 4.6, respectively. The ADT Pulse app was actually one of the least-buggy security apps we've reviewed, so this is a great feature of choosing ADT. As for the new app, its 4.8 star rating on the iOS and Android app stores indicates that it works just as well.
The ADT+ App
There's a new ADT app in town, and it's called the ADT+ App, which was first announced at the Consumer Electronics Show (CES) 2023.
This app allows users to set up, control, and monitor compatible smart home devices both from ADT and Google Nest. It's also a key ingredient to the new ADT Self Setup system, which unlike traditional ADT systems, will let users install and set up their own home security equipment.
That's just the beginning. ADT plans to integrate controls for third-party smart home products that use Matter, a royalty-free smart home standard. This will allow users to control compatible smart lights, smart thermostats, smart locks, and other smart home products using just the ADT+ app.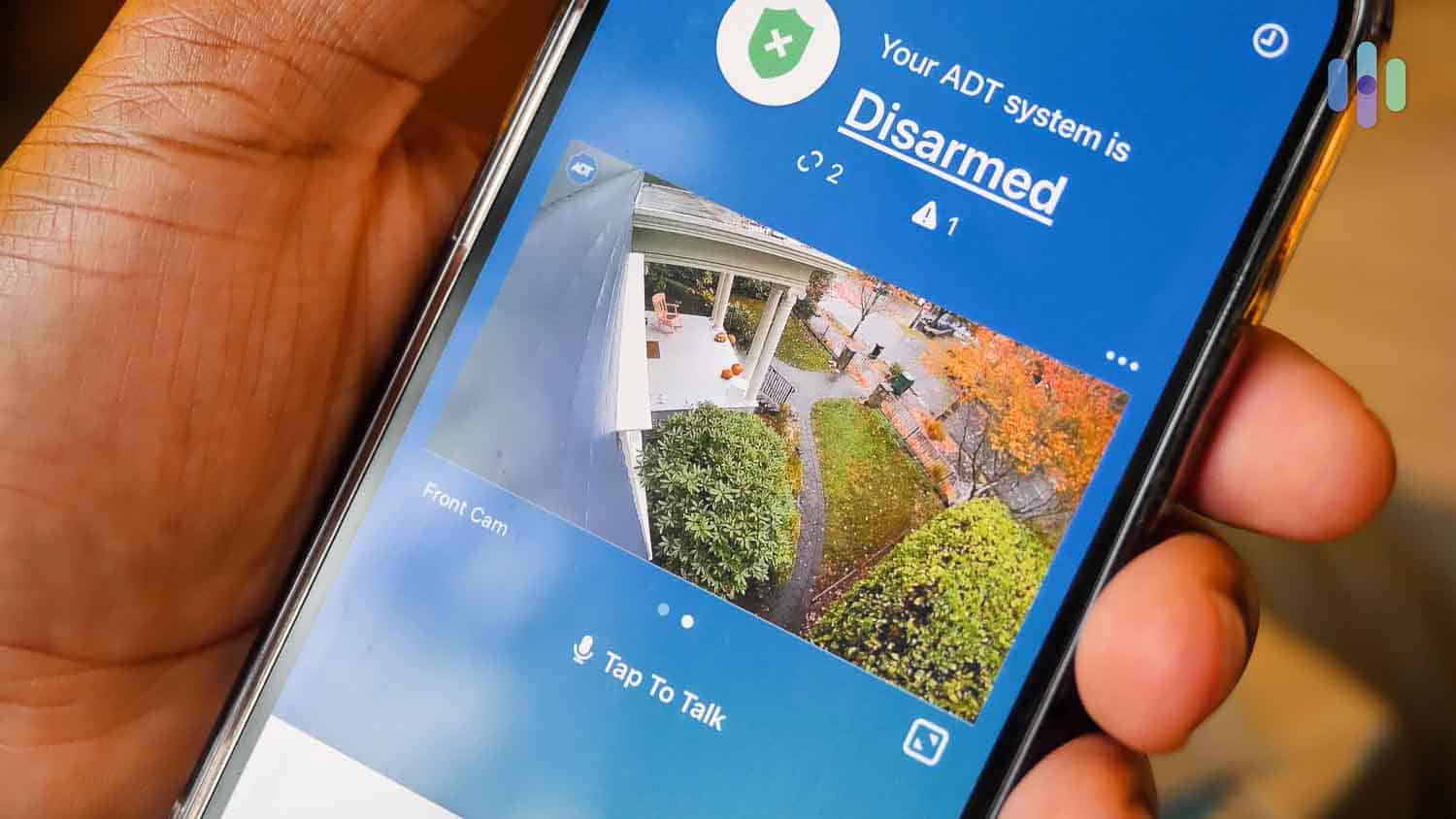 ADT's Customer Support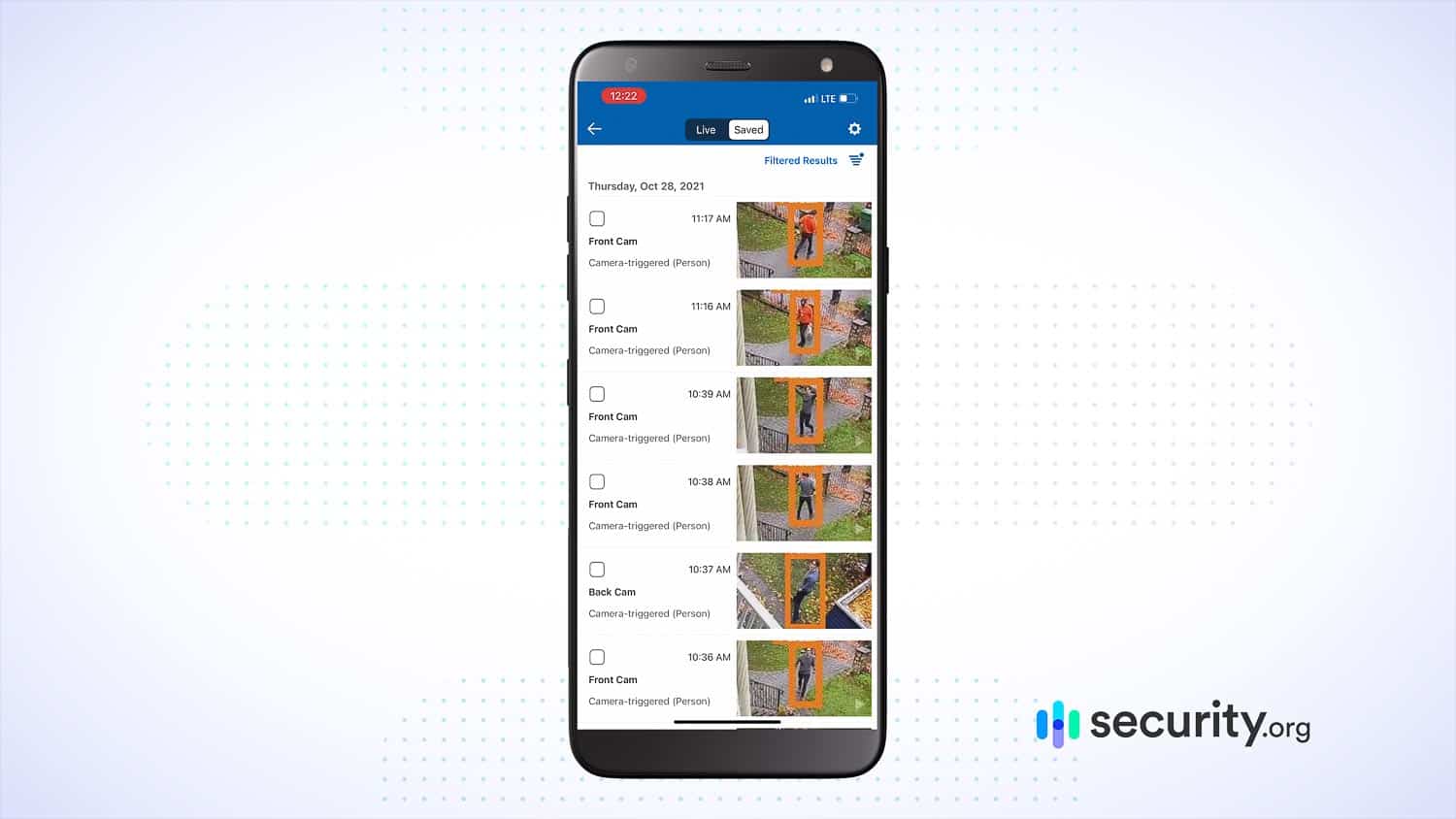 ADT offers 24/7 phone support, email support, and live chat, in addition to their online help center7. But in our experience, we found that the quality of the support we received was hit-or-miss. Don't get us wrong; ADT is far from the worst security system in the market. We received great service from ADT a lot of times, but also less-than-ideal service some of the time. So that's something to keep in mind.
Speaking over the phone was really time-consuming and we found that most representatives didn't know how many infrared sensors their indoor camera has, a seemingly simple question. Additionally, it was frustrating to not be told directly how much their products and services cost. However, we found the live chat feature to be superior over the phone line in terms of how quickly we got our answers.
Tip: If you need help with ADT, use live chat before you call them over the phone.
Recap of the ADT Security System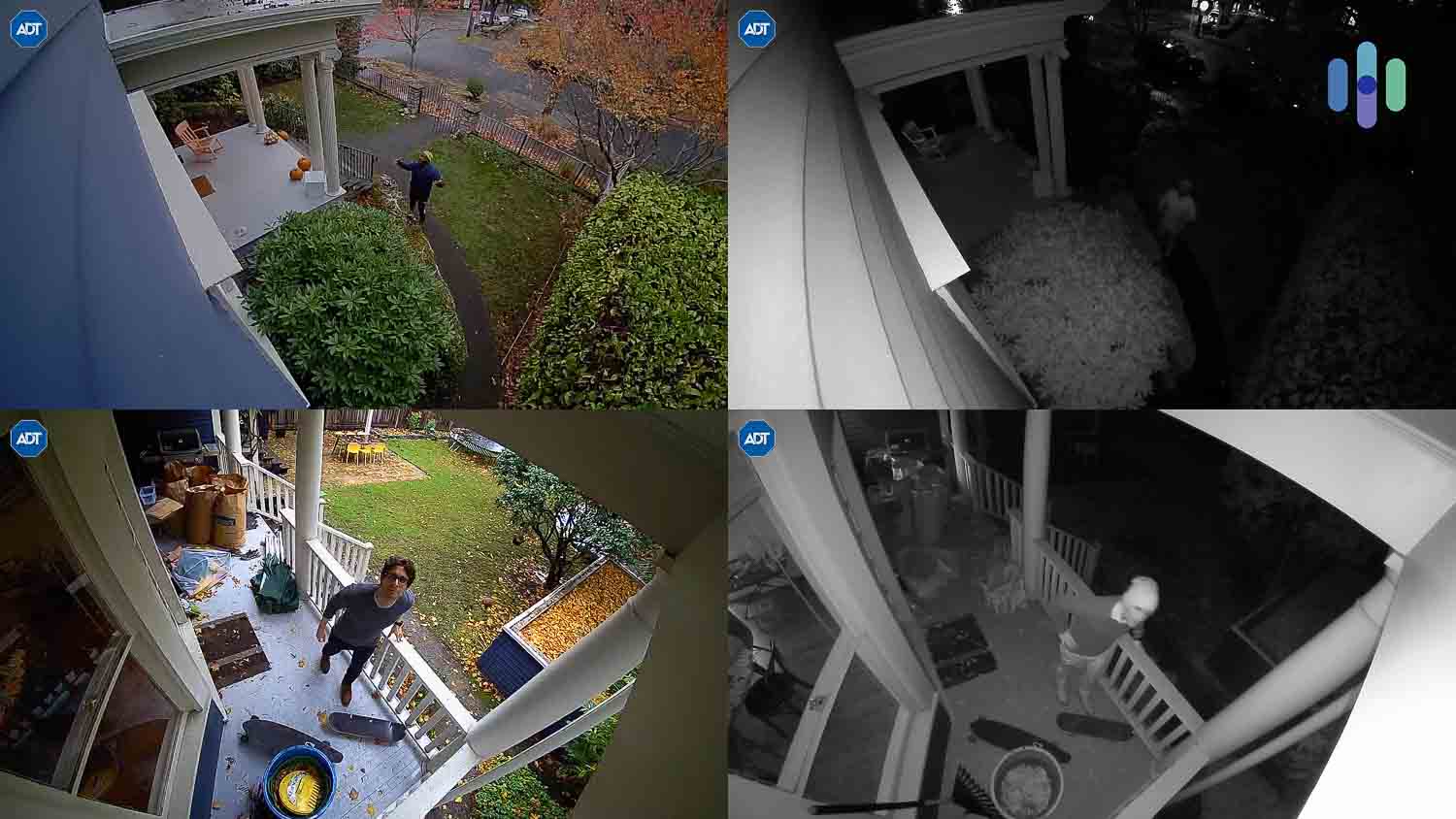 ADT has a huge reputation to uphold, and as far as the actual system goes, we were pretty impressed, save for the indoor and outdoor cameras. But like we've said, ADT has already improved its camera lineup since we last tested it, which goes to show that ADT is evolving for the better. They even earned a spot on our best home security system list. When it came to easy functionality and a user-friendly app, the company impressed, but it's not the most flexible around and therefore only good for some people and not others.
See how ADT compares to other major security system companies: