SimpliSafe Home Security System Review
SimpliSafe was a simple and affordable DIY home security solution
What We Like
SimpliSafe integrates with both Alexa and Google Assistant, making voice control possible.
Installation was DIY or professional.
The free SimpliSafe app makes managing your home security more accessible and convenient.
What We Don't Like
Integrating SimpliSafe with other smart home brands requires a subscription.
Professional monitoring costs have gone up twice in a three-year period.
Limited selection of security cameras.
Bottom Line
SimpliSafe gave us a lot of options, from professional or DIY installation to self-monitoring or professional monitoring. Plus, we didn't have to sign up for a long time period, as all its contracts are month-to-month.
Recent Update: 1 month ago
SimpliSafe security systems with 13 or more pieces of equipment are currently up to $400 off. The cheapest package, with four pieces of security components, starts at $250.
In all our years of testing security systems, we can count on one hand the systems that offer as much versatility as SimpliSafe. It offers security systems for different size homes, prices that anyone can afford, monitoring services that are completely optional, and equipment that practically anyone can set up on their own.
We're not saying that it's a perfect home security system – nothing is – but due to its versatility, it's a top-shelf home security option for many. Is it for you? That's what we'll help you decide in this review, where we'll discuss both the strengths and flaws of SimpliSafe. One thing we can tell you upfront, though, is if you're looking for a security system you can self-monitor (but still offers professional monitoring options), you'll want to take a look at what SimpliSafe offers.
Ready? Let's go.
SimpliSafe App Features
| | |
| --- | --- |
| Remotely arm/disarm system | All plans |
| Arming modes | Off, Home, and Away with 24/7 professional monitoring plans |
| Push alerts | All plans |
| Live streaming | All plans |
| Unlimited cloud storage | Self-monitoring plans and Fast Protect Plan |
| Secret alerts | Fast Protect Plan only |
| Smart voice assistants | Alexa and Google Assistant with self-monitoring plans and Fast Protect Plan |
| Smart platform integrations | Nest thermostats and August smart locks with self-monitoring plans and Fast Protect Plan |
Editor's Rating
Monthly subscription plans
Fast and easy DIY installation
Reliable professional monitoring
Professional monitoring costs $19.99 or $29.99 per month
Camera recording on five cameras costs as little as $9.99 per month
Packages range from $250 to $700
SimpliSafe Video Review
We also produced a video review of SimpliSafe if you're more of a visual learner. This video highlights the various SimpliSafe components we tested and how they worked and looked in our home. The video review will also show you a glimpse of SimpliSafe's famed easy installation process.
Note that SimpliSafe has since updated its monitoring pricing since we made the video review, the second time they have done so within a couple of years. However, they also added a bunch of new and exciting features, especially for their newly released Smart Alarm indoor camera. We're going to discuss those new additions throughout this post, so hang around until the end to find out if SimpliSafe is still worth it despite the new pricing.
What You Get/ Unboxing
SimpliSafe has gone through three generations of products so far, with the latest one being the Gen 3 SimpliSafe system we tested. Each version is an improvement over the last. For example, the Gen 3 system improved the wireless range of the second generation base station, as well as updated the design and aesthetics of the sensors.
Perhaps the best thing about the Gen 3 is its modularity. It has been five years since it was released, but rather than replacing the system entirely, SimpliSafe has opted to upgrade it by launching new components. They started with an indoor camera, then an outdoor camera, and then a video doorbell. Most recently, SimpliSafe launched an upgraded and smarter indoor camera called the Smart Alarm.
SimpliSafe also offers a lot of flexibility when it comes to choosing equipment. The base package includes the base station and keypad – the only two things you'll need to set up a SimpliSafe system. From there, you can take your pick from a wide range of devices, including more security sensors, sensors that can detect home hazards like fire and flooding, and of course, security cameras.
If you prefer the easy way, though, you can pick one from the seven pre-customized packages that range from the $250 four-piece kit to the $510 14-piece kit. There are also mid-size kits that include security cameras that cost up to $700. And of course, once you've found a kit that you like, you can still add more sensors and devices before checking out.
Once your security system is all built out, you can choose between two payment options. You can either pay the full price upfront or apply for financing through Affirm. You can pay over the course of three, six, or twelve months, depending on your spending capacity. With a 12-month payment plan, you can pay as low as $12.50 per month for a basic security system.
SimpliSafe Equipment Overview
These are the pre-customized options available from SimpliSafe, in order from most to least expensive. Keep in mind that the prices listed are MSRP, and SimpliSafe often has sales that can save you hundreds of dollars, especially if you buy one of the more expensive packages.
| Package | The Beacon | The Lighthouse | The Haven | The Knox | The Hearth | The Essentials | The Foundation |
| --- | --- | --- | --- | --- | --- | --- | --- |
| Price | $699.90 | $464.93 | $509.86 | $469.87 | $394.91 | $274.95 | $244.96 |
| Base station | 1 | 1 | 1 | 1 | 1 | 1 | 1 |
| Keypad | 1 | 1 | 1 | 1 | 1 | 1 | 1 |
| Key fob | 0 | 0 | 1 | 1 | 1 | 0 | 0 |
| Entry sensors | 4 | 3 | 4 | 6 | 3 | 3 | 1 |
| Motion sensors | 2 | 1 | 2 | 2 | 0 | 1 | 1 |
| Auxiliary siren | 0 | 0 | 1 | 1 | 1 | 0 | 0 |
| Panic button | 0 | 0 | 1 | 0 | 0 | 0 | 0 |
| Freeze sensor | 0 | 0 | 1 | 0 | 0 | 0 | 0 |
| Smoke detector | 0 | 0 | 1 | 1 | 1 | 0 | 0 |
| Water sensor | 0 | 0 | 1 | 0 | 0 | 0 | 0 |
| SimpliSafe Outdoor Camera | 2 | 1 | 0 | 0 | 0 | 0 | 0 |
Since we wanted the full SimpliSafe experience, we decided to customize our own system. We started with a base station and two keypads, and then added eight entry sensors, two motion sensors, and a glass break sensor. We also got ourselves a panic button, several control key fobs, and an auxiliary siren. Lastly, we purchased SimpliSafe cameras, namely the SimpliCam indoor camera, the SimpliSafe Outdoor Camera Pro, and the SimpliSafe Video Doorbell.
There is one key component we haven't gotten the chance to test yet, which is the Smart Alarm indoor camera. It's the latest addition to SimpliSafe. It features AI technology to offer person detection, and when paired with the Fast Protect plan (more on this below), it can transmit video directly to SimpliSafe's monitoring center for immediate two-way audio response.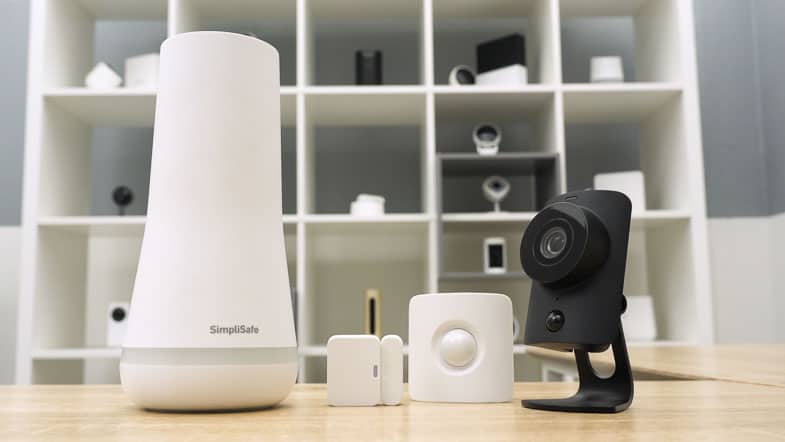 Overall, what we got from SimpliSafe was quite a comprehensive security system, but don't worry: We'll take a closer look at each individual component and discuss what they do and what special features they have, if any.
Base station
At the center of every SimpliSafe system is the base station, which serves as the brains of the system.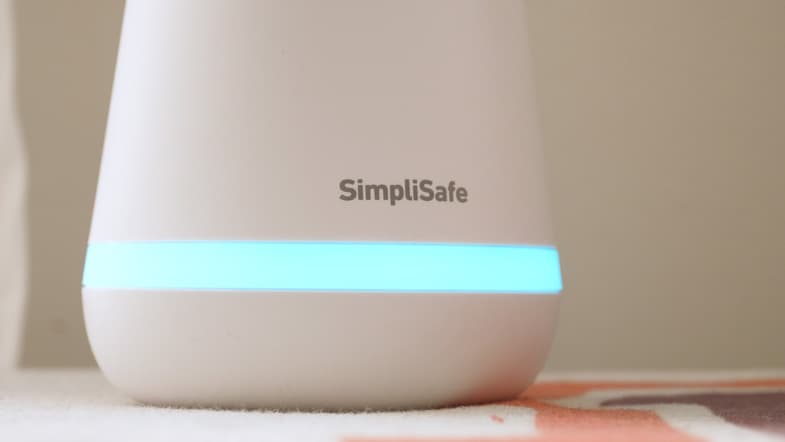 In a nutshell, it connected all of the components to the SimpliSafe app so we were notified of any activity. In addition, it connected to the professional monitoring center and played a 95-decibel siren if any alarms went off, which meant it was almost equal to a loud, high-pitched blender in terms of volume.
If you live in a multi-storey house, however, note that the siren is hardly audible on different floors. We recommend buying auxiliary sirens like we did, and placing them on different floors and even outside. Fortunately, the auxiliary sirens can reach up to 105 dB, so they are a bit louder than the siren on the base station.
Design-wise, the base station is one of the prettier alarm hubs we've laid our eyes on. It's about eight inches tall with a four-inch rounded base. The tower-like design is a space-saver, especially compared to the Frontpoint Hub (you can see it in our Frontpoint review) that looks more like a router. Plus, it gives a blue underglow at night, which can be a soothing reminder to users that SimpliSafe is protecting their homes. We even use it as a night light, since we placed our base station in the living room.
Keypad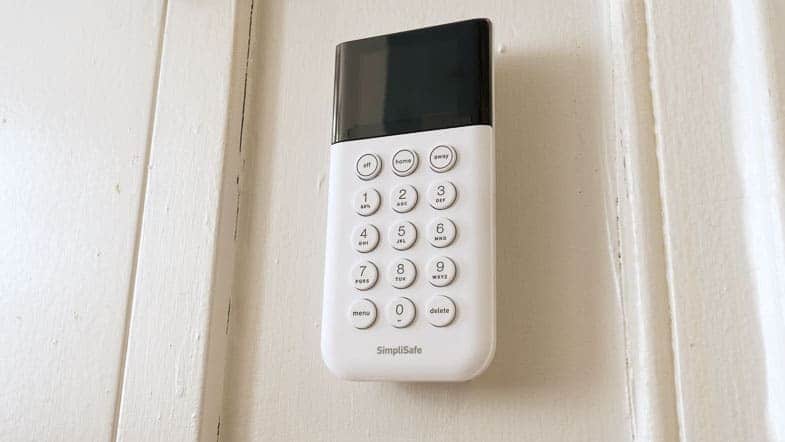 Our main point of control was the keypad, a wall-mounted device that looked like a large remote control. It may seem a bit clunky, but the keypad actually has a touch-sensitive screen, making controlling it a little easier.
From the keypad, we were able to arm and disarm the system, manage user PIN codes, and control every aspect of the system. It's incredibly functional, but the interface wasn't as user-friendly as the tablet-like control panel we saw in our ADT security system review. That one offered a lot more functionality, like controlling lights and smart locks, but had a refreshingly easy-to-use interface. Now, SimpliSafe's keypad is not hard to use, per se, but between that and ADT's control panel, we'd choose the latter.
On the bright side, the keypad is rugged. It's tamper-proof. If someone tries to smash it, it will actually sound SimpliSafe's siren for you. That's good protection against crash-and-smash burglars who break in and then smash the security system before it sounds an alarm. With the SimpliSafe keypad, you're covered no matter what.
Entry sensors
Entry sensors are staples of home security systems. They tell you when a door or window has been opened, letting you know that a potential break-in may be in progress.
There's really nothing that's noteworthy about SimpliSafe's entry sensors, except that they are small and inconspicuous. Their mostly inconspicuous design won't detract from your door and window aesthetics.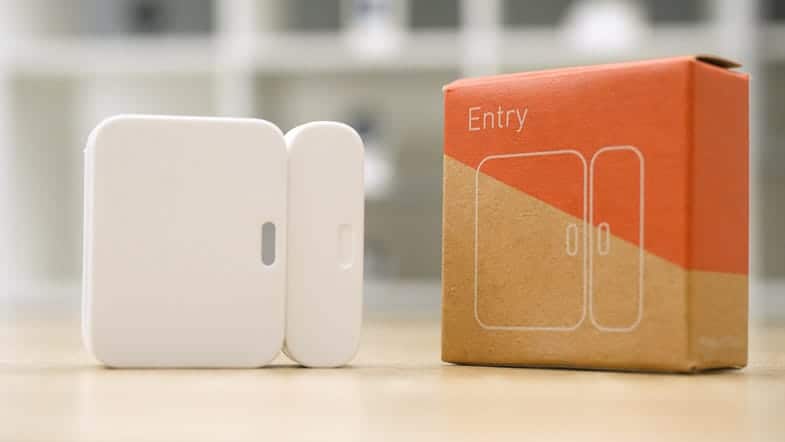 After a bit of touring our apartment for vulnerable entry points, we determined that the ground level of our home was the best place for our entry sensors, as that was where intruders were more likely to enter. Of course, we tried out the entry sensors too and discovered that they notified us when they moved about two inches apart from one another. Could an intruder slither into a two-inch crack to enter our apartment? We don't think so, so our verdict: The door sensor works.
Motion Sensors
Our SimpliSafe motion sensors did exactly what they were intended to. They detected motion.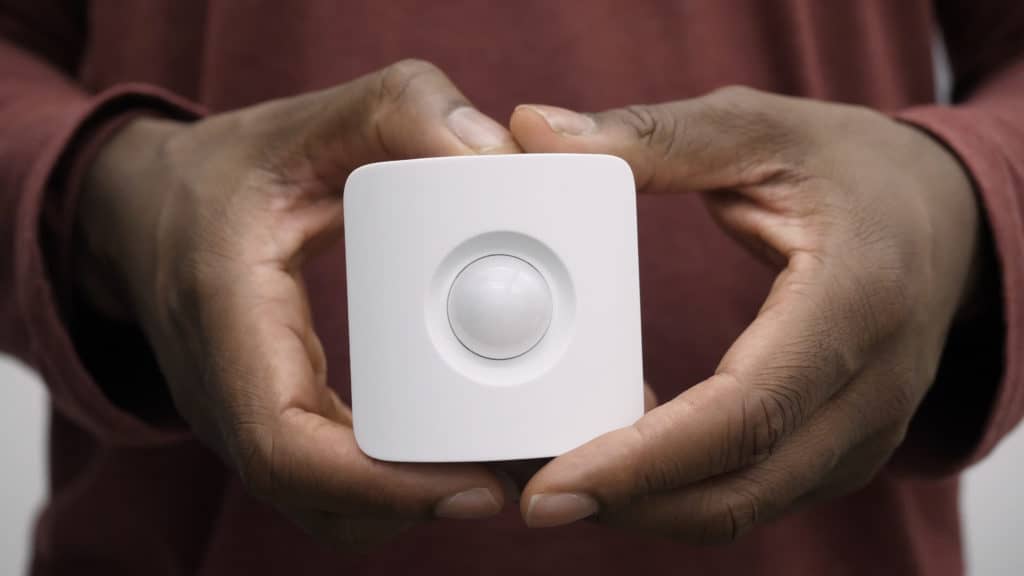 Starting on a positive note, the motion sensor left our pets well enough alone. It didn't notify us even when our cats moved, sprinted, and hopped around our living room furniture. That's great if you're a pet-owner like us, as pet-triggered false alarms can be pretty frustrating.
On the other hand, though, we found the motion sensor's 90-degree field of view a bit limited. You have to be very specific in where you place the sensor to get the most value out of it. In our experience, the best placement for the sensor is in the far-side corner of a room so it can quickly catch when someone walks in and to eliminate large blind spots.
FYI: We placed motion sensors in corners to get maximum range.
On the bright side, the motion sensor has a 30-foot range, meaning it can monitor long hallways and large rooms. We placed one of the sensors at the far-end of the second-floor hallway leading to our bedrooms, and as soon as anyone reached the top of the stairs, we got notified.
Glass Break Sensors
Largely self-explanatory, the glass break sensors would have been very useful if an intruder decided to break a window instead of open it.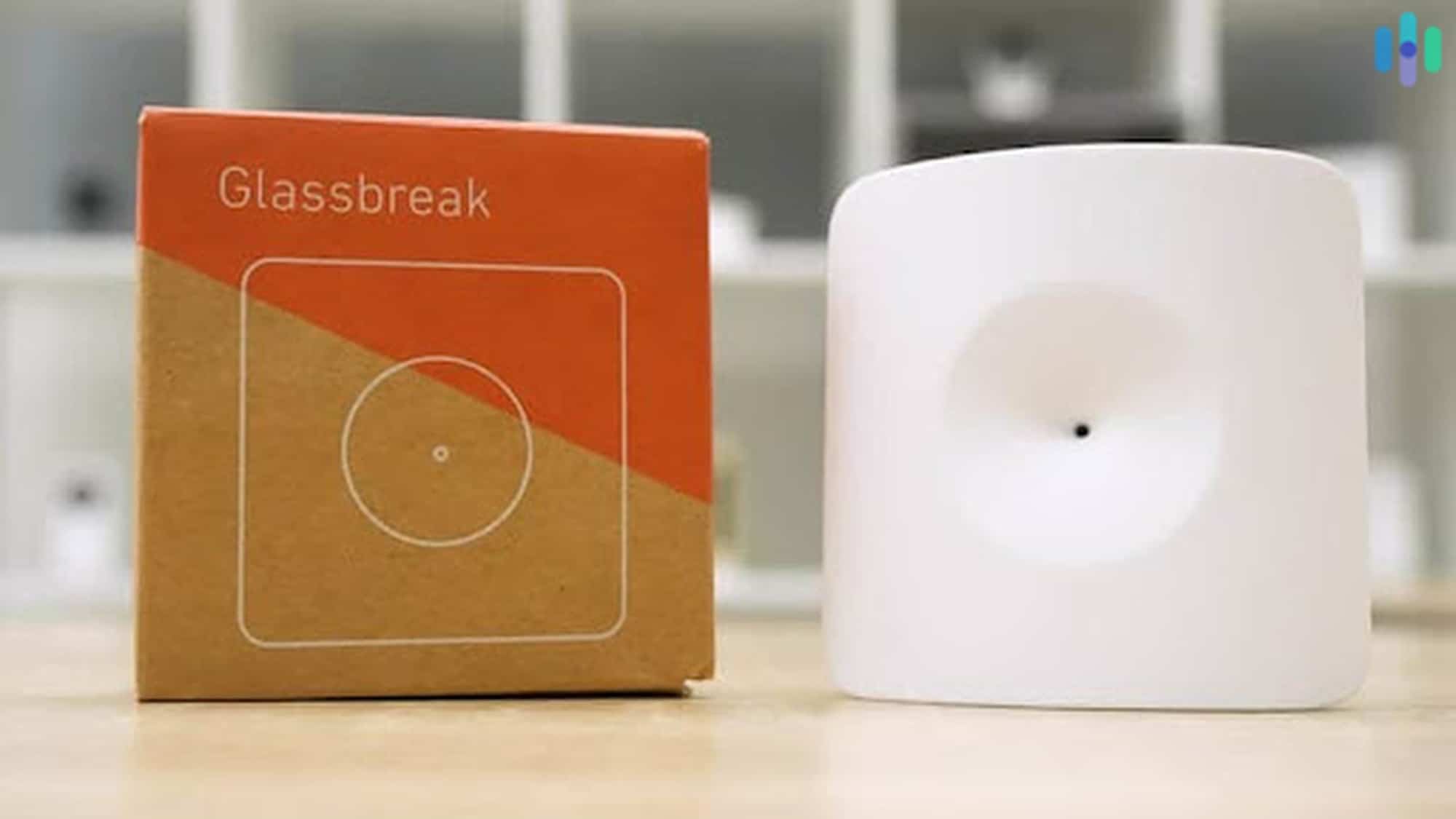 They worked on sliding glass doors, as well, but don't worry, these large-ish sensors don't need to be placed on the glass door itself. Just place it near glass doors and windows, and it will pick up the sound of breaking glass. We didn't actually break any glass windows to test the sensor out, but we did play a sound of glass breaking and found that the glass break sensor responded as we expected.
We recommend getting glass break sensors if you have rooms with multiple glass windows. That way, the glass sensor can monitor an entire room without much help from other sensors. It also makes sense to get the glass break sensor if you have large glass doors, because again, some burglars might find it easier to break a glass door to gain entry than tamper with a door lock.
Indoor Camera
SimpliSafe offers two indoor camera options, the simpler SimpliCam and the newer and more advanced Smart Alarm. We tested the former, as you can see from our SimpliCam review, and we were greatly impressed by this nifty plug-in device. We didn't need to do much to set it up, and we liked its privacy features like the stainless steel privacy shutter that physically covered the camera's lens whenever we wanted some privacy. It's an indoor camera, after all, so we can't risk any form of spying.
The newer Smart Alarm camera, however, seems to go the other way in terms of privacy. You'll see why in a moment, but first, let's talk about its features.
The Smart Alarm camera is pretty impressive (especially for a wired cam), with its 1560p HD resolution and a built-in siren. We're not so thrilled about the camera's design though. We find it bulky and boxy, not really something we want in an indoor camera. However, it does offer unique features that may make you want to add it to your SimpliSafe system.
The Smart Alarm camera has a smart motion sensor that can distinguish human-triggered motion events, and when it does detect a person in the vicinity, it will alert SimpliSafe's monitoring center, provided that you're on the Fast Protect plan. From there, a live agent will access your live feed temporarily, and if there is an intruder, they'll use two-way talk to tell the intruder to scram.
Of course, an indoor camera that can be accessed remotely by live agents is a cause for privacy concerns. For your protection, the camera has a privacy shutter much like the SimpliCam. Additionally, you can edit the settings to customize when you want it to send alert signals and live feeds to the monitoring center.
For now, we still prefer the SimpliCam over the Smart Alarm. Indoor cameras monitored by live agents is still untested territory to us; we've tested monitored outdoor cameras, like the Deep Sentinel system, but not indoor cameras yet. And frankly, we're not sure if we should.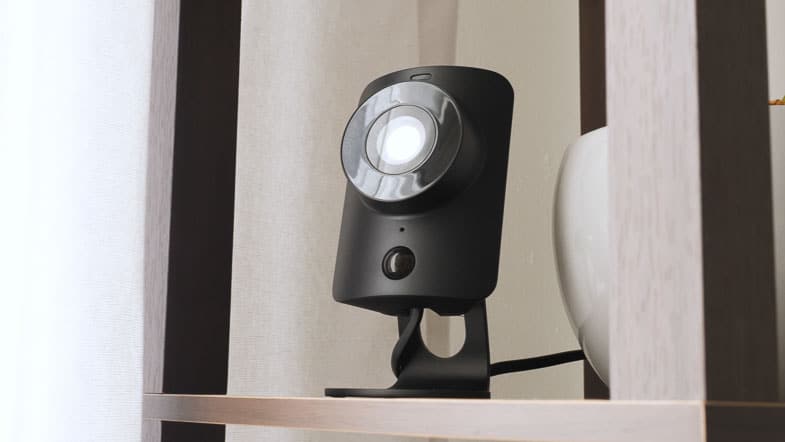 PRO TIP: We made sure to test out each of the systems' components after we installed them to ensure that they connected with the app properly.
SimpliSafe Outdoor Camera
SimpliSafe didn't always have an outdoor camera, but thankfully, they have one now. It's a 1080p outdoor camera that boasts a 140-degree field of view, color night vision, and a motion-activated spotlight integrated right into the camera's face. And, it echoes the simplicity and DIY-friendly approach of SimpliSafe.
Unlike a Ring or Nest cam, however, the SimpliSafe outdoor camera doesn't work as a standalone camera. The camera will only record video and connect the camera to your home Wi-Fi if you pair it with a SimpliSafe system. Also, the outdoor camera has no local storage, but you can store video in the cloud from up to five cameras for $9.99 a month, which is about average as far as camera subscriptions go.
The SimpliSafe outdoor camera is wire-free, so you can install it without worrying about proximity to power outlets (though you do have to consider proximity to the SimpliSafe base station). The camera costs $169.99.
One word of warning is that the camera is rated IP65 for dust and water droplet protection, but it's not designed for temperatures below -20 degrees Fahrenheit. Those in super-cold climates might want to take note. Overall, this is a good camera, but since it's so new, it's too soon to tell whether it'll make our list of the best outdoor security cameras.
Video: At 1080p HD, the video quality on the SimpliSafe outdoor camera was better than the SimpliCam, and it had the added bonus of 8x digital zoom. 1080p is the current industry standard, and for outdoor video recording, it helps with capturing finer details like an intruder's face or a critter in your garden. The outdoor camera had a wider field of view than the SimpliCam, which we also appreciated.Not up to par with cameras that already employed a 4K display like the Arlo Ultra, which has twice as many pixels as 1080p HD, SimpliSafe's video quality was much better than many cameras that still only produced 720p. We were able to watch Gabe throughout the day without any problem, so although it wasn't the best video on the market, it certainly got the job done.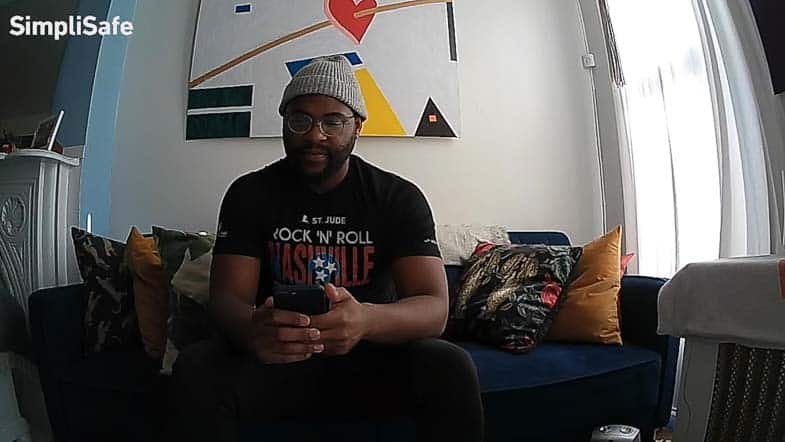 Audio:  We loved using the camera's speaker and microphone to talk to people remotely. We just pulled out our SimpliSafe app and spoke to them directly.
Night vision: Overall, we'd say that we were impressed by the SimpliCam's infrared night vision. We got a pretty clear picture of Gabe with absolutely no light entering our windowless room. We knew some cameras like Ring Spotlight Cam Battery offered both color night vision through a bright white light combined with infrared night vision. We preferred the SimpliSafe's infrared night vision on its own because it was more inconspicuous. Gabe may have known about the camera as he tested it with us, but an intruder would not.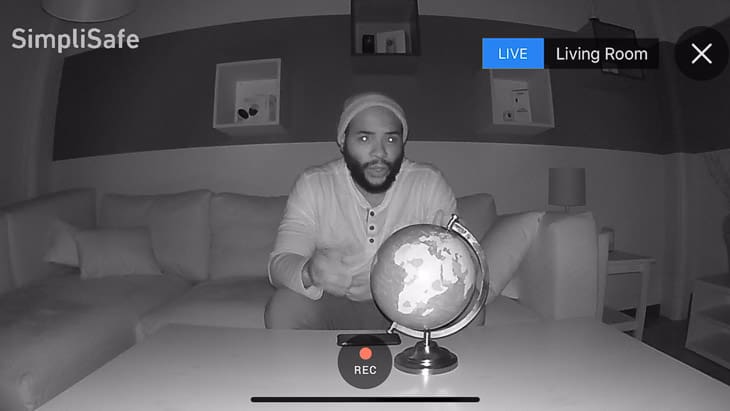 Storage: We prefer to back our footage up in two ways: locally, on a micro-SD card or hard drive, and through cloud storage, as a secondary backup. While the SimpliCam and the SimpliSafe outdoor camera lacked local storage of any kind, cloud storage was available either on its own or lumped with professional monitoring.
Artificial intelligence: Many cameras in the industry are packed with A.I.-enabled features like person detection and facial recognition. Unfortunately, the SimpliCam lacked facial recognition. However, it included special heat sensors that knew the difference between humans and animals, otherwise known as person detection. That cut down on the number of false alarms we received each day.
Panic Button
SimpliSafe's panic button enabled us to contact emergency services with just the click of a button. If we couldn't reach our alarm or call 911, we weren't left to deal with a tricky or dangerous situation on our own. Instead, we could simply reach for our panic button.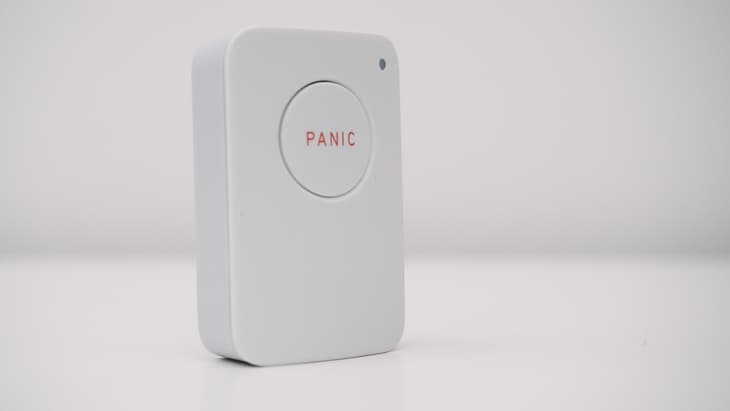 Once we pressed the button, the system alerted SimpliSafe's monitoring center, and the center turned our alarm on. In the end, the panic button had the potential to get us help just as quickly, if not sooner, than calling 911.
Key fobs
Another backup option was the key fobs, which combined the panic button and the keypad. The panic button and keypad allowed us to arm and disarm our system, minus the passcode, of course. We found that the fob came in handy particularly when we were on a different floor of our home from the keypad.
The key fobs are slim and easy to carry around. We attached one to our car keys, and we found it great for arming and disarming the system as we enter or leave the house. It may also work as a necklace pendant, especially if you're living with an aging loved one who might someday need convenient access to emergency help. It works anywhere within 30 feet of the base station.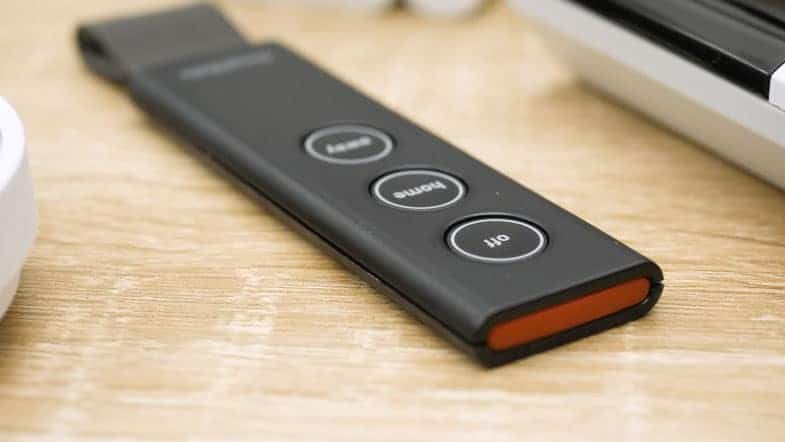 Siren
The SimpliSafe siren made it a great security system for larger homes.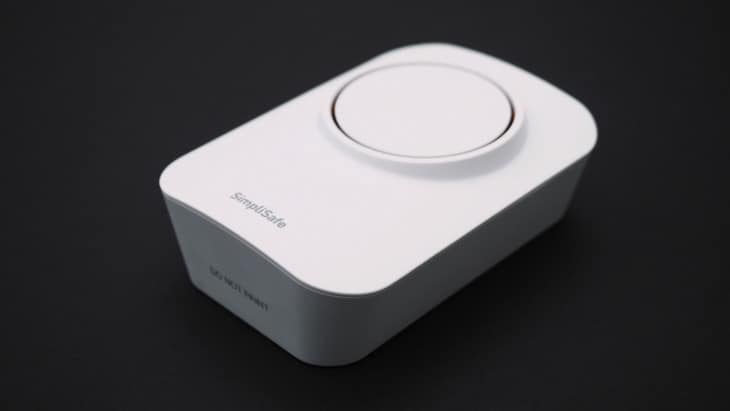 The auxiliary siren was a good way to make sure we heard our alarm if it went off. In terms of decibels, it sat at 105, meaning it was as loud as a table saw. Its water resistance meant we could use it outside. When it went off, the entire neighborhood could hear!
We used the siren upstairs and found that it was a great way to stay connected to the base station and main parts of the larger security system while we were a floor away.
SimpliSafe Video Doorbell Pro
A front door find, the SimpliSafe Video Doorbell Pro sent us notifications about visitors, let us view them over live stream, and allowed us to speak to them through two-way audio.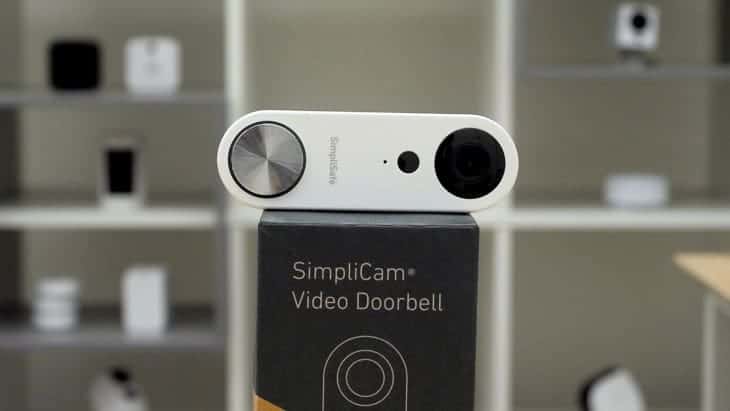 To use SimpliSafe's Video Doorbell camera, we needed to have an existing doorbell setup, so it was fortunate that we did. After hardwiring it into our home, we took a closer look at its performance.
Video:  We were very impressed with the Doorbell Pro's video. Not only did it have a 1080p HD display with a 162-degree field of view, but it also had HDR, which helped limit distortion from outdoor light. You can see below that even though it was bright outside when we took the photo, even the shadowy areas remained clear.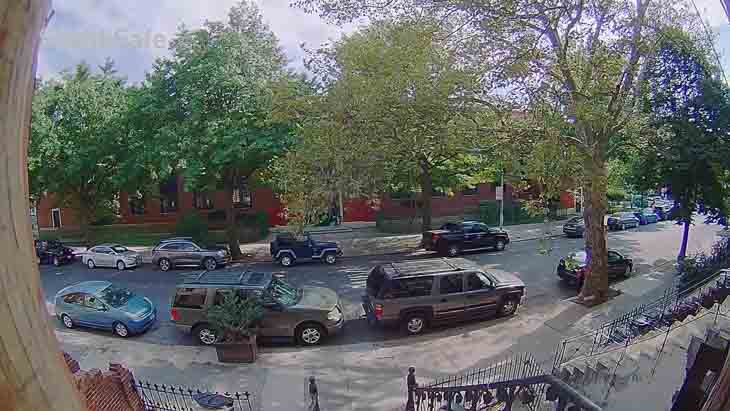 Audio: A standard feature of all video doorbells, the SimpliSafe Video Doorbell Pro had two-way audio, so we got to have conversations with our guests remotely. This really came in handy in preventing package theft when we needed to give instructions to delivery people.
Night vision: We appreciated the SimpliSafe Video Doorbell Pro's infrared night vision, which allowed us to see clearly at night. It used infrared night vision, and although it turned the videos into black-and-white, it resulted in clearer imagery that allowed us to see fine details like the plate numbers of cars passing by.
Storage: Storage options with the SimpliSafe Video Doorbell Pro were essentially the same as they were for SimpliCam, $9.99 a month for unlimited recording on five cameras, or $27.99 a month for unlimited recording on 10 cameras as part of a professional monitoring plan.
Artificial intelligence: Like the SimpliCam, the SimpliSafe Video Doorbell Pro had person detection, which was really helpful for a camera facing the street. We weren't notified about every car that passed, just human visitors. We had fewer false notifications with the Video Doorbell Pro than with the SimpliCam, too, which made staying on top of our visitors much easier.
All in all, we were very pleased with the SimpliSafe Video Doorbell Pro, and it was very reasonably priced at $169.
Simplisafe also offered environmental monitoring, such as smoke detectors and CO detectors, freeze and water sensors, and a smart lock. We controlled all of these items remotely through the SimpliSafe app. When we used the Standard Plan or Interactive Plan, our system notified us of any activity.
How Well It Worked
SimpliSafe was one of the easiest systems for us to get up and running for daily use, even as we added various new components like the SimpliSafe Video Doorbell Pro. Nearly everything was wireless and connected with the base station, which conveyed information by speaking out loud, sending notifications to our app, and even changing the color of the LED strip at its base.
Once we'd installed the system, the firmware updates were automatic, so it didn't require any maintenance post-installation. We were so impressed with SimpliSafe, we added it to our best home security system roundup.
One thing that really impressed us was the overall user experience. We recommend SimpliSafe if you want a straightforward system with an almost non-existent learning curve. It's also perfect if you're living with seniors who may not be comfortable with touchscreen control panels or overly advanced home security technology.
Just take the arming and disarming process, for instance. You can arm the system with just a couple of button presses on the keypad, and then disarm it by entering a passcode through the physical number pad. So really, one just has to remember the passcode to use SimpliSafe. Using the smartphone app is completely optional.
And then, there are the remote control devices like the panic button and key fob. With one press of a button, you can call for help, arm the sensors, or turn off the system. Overall, the name SimpliSafe aptly describes the security system.
Smart Home Features
Although it's simple, SimpliSafe was no old-school alarm system. It was smart and connected to both the internet and voice assistants, such as Alexa and Google Assistant.
We enjoyed using the voice assistants to control SimpliSafe. We were impressed that we could use just a brief statement to Alexa and set our system in the home or away mode. Likewise, we used our voices to check the system's status and to arm and disarm it.
Finally, we hooked up SimpliSafe with our Nest thermostats and August smart locks and created automated triggers. For example, our thermostat knew to drop the temperature as soon as our system was armed.
Monthly Costs
When we purchased our SimpliSafe system, we wanted to see what it was like to use it without paying any additional monthly fees. We found that it was pretty robust. Comparing SimpliSafe with Ring Alarm, for instance, we found the two were quite similar. Like Ring Alarm's free plan, we were able to control our system remotely and receive notifications. We also got full smart platform integration plus a seven day history timeline, compared to Ring's 60 days of cloud storage.
With SimpliSafe, we splurged for the Fast Protect Plan, which was the "whole enchilada": 24/7 professional monitoring, Smart Alarm camera live guard, video verification, cellular backup, remote control, notifications, smart platform integrations, and more.
Pro Tip: Social media posting mistake #1: Uploading vacation pics before you're back home. With SimpliSafe professional monitoring, though, you can rest easy knowing trained operators are watching over your home while you're out there sipping cocktails by the beach.
| Features | Free plan | Self-monitoring with five camera recording | Standard Monitoring plan | Interactive Monitoring Plan |
| --- | --- | --- | --- | --- |
| Live-streaming | Yes | Yes | Yes | Yes |
| 24/7 professional monitoring | No | No | Yes | Yes |
| Fast Protect™ Technology | No | No | No | Yes |
| Cellular connection | No | No | Yes | Yes |
| Environmental monitoring | No | No | Yes | Yes |
| Remote control | Yes | Yes | Yes | Yes |
| Notifications | Yes | Yes | Yes | Yes |
| Secret alarms | No | No | No | Yes |
| Video verified alarms | No | No | No | Yes |
| Unlimited cloud storage | No | 5 cameras | No | 10 cameras |
| Smart home integrations | No | Yes | No | Yes |
| Monthly price | $0.00 | $9.99 | $19.99 | $29.99 |
We thought the Fast Protect Plan was well worth its $27.99 per month price. Plus, we could pay for a single month, so we didn't have to make any long-term commitment, which was great for renters like us (or commitment-phobes).
Find more pricing details on the SimpliSafe price overview page.
Did You Know? SimpliSafe offers a wide range of plans: recording plans with no monitoring, monitoring plans with no recording, the Interactive Plan that features both, and a free plan that has neither.
Fast Protect™ Technology
In line with SimpliSafe's monitoring plans, here's one feature that SimpliSafe is focusing on developing right now and is a feature exclusively available to Fast Protect plan users.
Fast Protect™ aims to speed up and streamline SimpliSafe's process of responding to alarms, while also keeping false alarms to a minimum. To do that, it incorporates several features, including video verification, alert texts, and critical alarms.
Video verification: If you have security cameras, SimpliSafe's monitoring agent will access its livestream briefly after an alarm is received to verify the incident. This process also helps speed up police response, as verified alarms are prioritized over tripped systems that could turn out to be false alarms.
Live Guard: As discussed above, SimpliSafe can monitor live feeds from the Smart Alarm indoor cameras when it detects human-triggered motion events.
Alert texts: In addition to calling the homeowner, SimpliSafe will notify them through an instant text. The homeowner can then respond to the text to confirm or cancel the alarm. This feature is dual-purpose. In case of real security incidents, alert texts give users a more efficient way to confirm alarms than through a phone call. In case of false alarms, it lets users quickly cancel the alarm without having to talk to a monitoring agent.
Critical alarms: This feature is optional, but when turned on, this lets the SimpliSafe app bypass silent and Do Not Disturb modes so critical alerts can still go through. This ensures that the homeowner never misses an alarm.
Again, Fast Protect™ is an exclusive feature of the Fast Protect plan, so a $29.99 monthly payment is necessary to enjoy its benefits.
Installation
During check out, SimpliSafe gave us some options when it came to actually installing our system. While we opted for DIY installation, there was an option to get our system professionally installed for $125 from an authorized third party. However, we found that the DIY process was pretty easy, making SimpliSafe one of the best DIY home security systems.
First, we plugged in the base station. From there, we created a Master PIN in the SimpliSafe app. The app actually guided us through the entire process, from sticking our keypad on the wall to installing, testing and naming our devices. We didn't need to be a tech expert to install SimpliSafe, and the process took less than an hour, if even.
The SimpliSafe App
The SimpliSafe app, which worked with every plan including the free plan, was where we armed and disarmed the system, live-streamed footage, and got alerts. The self-monitored camera plan and the Interactive plan also let us view our recordings and set up smart platform integrations.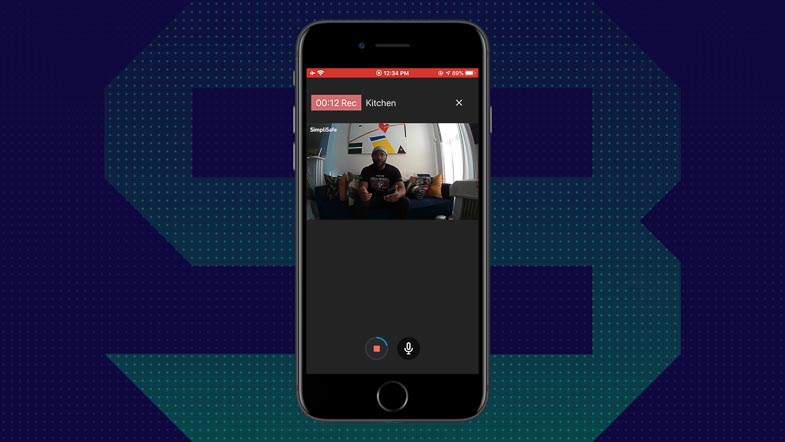 The app had awesome ratings, a 4.8 for iOS1 and a 4.5 for Android2, and we definitely agreed with the ratings. It was easy to stay on top of our home using SimpliSafe's app.
Customer Service
SimpliSafe had a few options for reaching customer support, including a phone line, user forum, and email address. A few user manuals were available online, as well. Support was available via phone and email every day from 9 AM until midnight, EST.
We reached out to customer support via both phone and email. For the most part, we felt SimpiSafe's email customer support was timely in response. Once, they responded within the same day. Another time, it took a day to respond, and once it took five days, so the average stood at two days, which was not bad.
However, for the fastest support, we had to call SimpliSafe directly. That considered, the email responses we received were very friendly and thorough, so, overall, we had a good experience with SimpliSafe's customer support team.
Can Other Systems Compare to SimpliSafe?
Overall, we see a simple, user-friendly, and reliable security system in SimpliSafe; but to paint an even clearer picture for you, let's compare how SimpliSafe protects your home versus how other security systems do it.
ADT is currently the highest-rated home security system on our website, and rightly so, because it offers a wide range of high-quality equipment, professional service in terms of installation, and state-of-the-art monitoring service. Compared to SimpliSafe, ADT's advantage is that it offers more – more equipment options, more monitoring options, and more features.
SimpliSafe, however, is a more straightforward option than ADT. You can buy your system online, install it yourself, and choose whether to self-monitor or get professional monitoring. Although it lacks the capabilities to match ADT's smart home prowess, SimpliSafe is a solid and reliable home security option.
Another advantage of SimpliSafe is the price. Both the equipment and the monitoring service are affordable, a stark difference compared to a system like Vivint, another top option. You can get started with about $200 worth of SimpliSafe equipment (as opposed to $800 with Vivint), and a monitoring plan for as low as $19.99 per month. Vivint charges about $39 monthly.
All things considered, we rank SimpliSafe in the top 3.
ADT: Affordable equipment and monitoring, strong smart home capabilities, and top-quality services and products
SimpliSafe: More practical and affordable home security, with reliable and straightforward features and services
Vivint: Top-quality smart home security system, but can pricey for average homeowners
Find out if SimpliSafe can protect your home like other home security systems
It's good to have options. See how SimpliSafe compares to these top home security system picks.
Recap
Of course, as with any security system, SimpliSafe isn't for everyone.
SimpliSafe was an affordable security system that worked well, but not all of its parts were created equal. We were a bit disappointed with the lack of facial recognition in the SimpliCam. As we mention in our guide to the best security cameras with artificial intelligence, that's becoming a common feature among security cameras.
While other companies had more advanced cameras, SimpliSafe did a good job in terms of its other components, flexible monitoring options, and easy DIY installation. Overall, SimpliSafe certainly proved trustworthy and made staying on top of our home's security a breeze.
SimpliSafe had a number of packages and customizations available, as well as deals. Right now, in fact, there's a discount deal on SimpliSafe's website. Explore this and other SimpliSafe Prime Day deals, SimpliSafe Black Friday deals, or just general SimpliSafe discounts. Or, learn more in our SimpliSafe FAQs.