The Ultimate Guide to Home Security Cameras
If you're starting off with home security, a good place to begin is with a security camera.
All of our content is written by humans, not robots.
Learn More
CCTV. NVR. DVR. WIFI. With so many acronyms and a bevy of different devices, the world of home security cameras can be a lot, especially if you're not familiar with home security in general. Well, we're here to help. Over the years, we've tested out and reviewed dozens of security cameras, from wired to wireless, from indoor to outdoor and everything in between. Here, we're going over the different types of cameras, whether you need one or not, how to install them, and more. If it's security camera-related, we've got you covered.
What Are Home Security Cameras?
Home security cameras are devices that monitor and protect your home. You can purchase indoor and outdoor security cameras. And they often include HD resolution and other features like two-way talk, night vision, and smartphone controls.
Do I Need A Home Security Camera?
The first question you may ask yourself is simple: is a security camera necessary in the first place? And the answer depends on the level of security you want to add to your home or business. While sensors can detect motion, letting you know if doors or windows have been opened or closed, without cameras, you can't actually see what's going on at home.
Expert Tip: Our Security Score checker is a good place to start when determining whether you need security cameras or not. This tool will provide you with a security score based on a number of factors, and once your score is up, it will give you tips on how to improve it. From there, you can decide if security cameras are necessary for you.
Cameras can also get you help faster; in terms of audio verification versus video verification, the police department in Fremont, California found that audio verification alone had a 95 percent chance of being a false alarm; Salt Lake City found false alarm rates of 82 percent, while the police in Burien, Washington found rates of 92 percent.1 In sum? Audio isn't enough on its own; for the police to really see what's going on, a camera is necessary. In contrast, cities that use video-verified responses found that the number of alarm calls they got decreased by about 90 percent overall, improving their response times so people could get help faster.
Camera footage can also be useful in a criminal investigation if you do end up being burgled. Michael Worgul, a criminal defense attorney based in Pittsburgh, Pennsylvania, said that "Surveillance camera footage is often used as evidence in criminal cases…It is easy to see how surveillance camera footage could be relevant if it depicts a person committing a crime".2 For these reasons, we recommend installing security cameras in addition to sensors at your home or business. Read more about whether or not security cameras deter crime.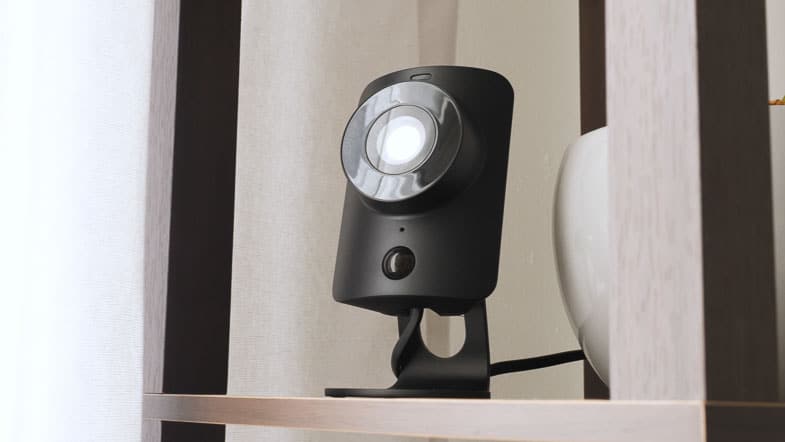 How Many Security Cameras Do I Need?
The amount of security cameras you need depends on the size of your home as well as the amount of security you want in general. At a minimum, we recommend putting a camera in the main entrance of your home on the ground floor. Ideally, you also use outdoor security cameras on all ground floor entrances; however, this won't apply to someone living in an apartment. For more security, you can put more security cameras on the ground level, and in any room that you use frequently or must pass through to enter or exit your home. For additional security, you can put security cameras in main hallways on second or third floors. However, we don't recommend placing cameras in bedrooms or bathrooms because of privacy issues. In fact, putting up cameras in those places is illegal in some states. Learn more about the legality of security cameras.
Security Camera Buying Guide
Since there are many factors to consider when choosing a security camera, we created a guide to walk you through the entire process, beginning with choosing the type of camera, or cameras, that you need. Of course, you can also compare security cameras here, but we've provided the details of how you compare cameras below.
Different Types of Home Security Cameras
There are a few different ways to approach the different types of security cameras, either by location, where you put them in your home or business, by power, how they receive power, by connectivity, whether they require Wi-Fi or cellular signals, by the way they record footage, whether locally or on a cloud, or by their design.
By Location
Most people will start their search for a security camera based on the installation location. Where do you need security cameras? If you live in a house with front and back yards, you can benefit from installing one of the best outdoor cameras. Video doorbells, otherwise known as doorbell cameras, may also come in handy in monitoring your front door. The point here is that you can mix and match different security camera types to achieve optimal home security. Our list of the best doorbell cams might help you pick a suitable doorbell camera.
Indoor Cameras: Indoor cameras, which typically cost around $100, should be placed on the ground level of your home at the very least. Avoid private areas like bathrooms or bedrooms, but cover any area that's easily accessible, like a front hallway, or any area that's central to your home, like a living room. Indoor cameras are more likely to be plug-in than outdoor cameras, which may not be near an outlet. Most indoor cameras require Wi-Fi or an internet connection, except a few that connect and record directly to a DVR or NVR. And even most NVR- and DVR-connected cameras these days connect to the internet to provide you with remote alerts.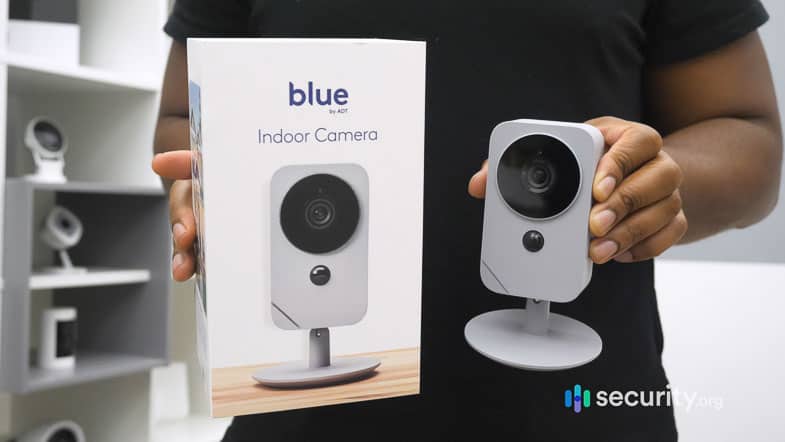 Outdoor Cameras: Outdoor cameras, on the other hand, tend to cost around $200. The reason? They come with weather-resistant cases so that they can withstand large temperature ranges as well as various solids and liquids, be it rain, snow, hail or dust. How you determine how durable a camera is will depend on the IP rating, which we detail below in our buying guide. Unlike indoor cameras, outdoor cameras are more likely to be wireless — meaning that they're powered by batteries and connect to Wi-Fi — due to fewer outdoor outlets; check out our list of the best outdoor wireless cameras to explore your options. But one thing that is important to note is that wireless cameras may still require the internet. Very rarely, though, we see outdoor cameras with a 4G SIM card that replaces Wi-Fi. These 4G cameras, like the Arlo Go, cost about $400.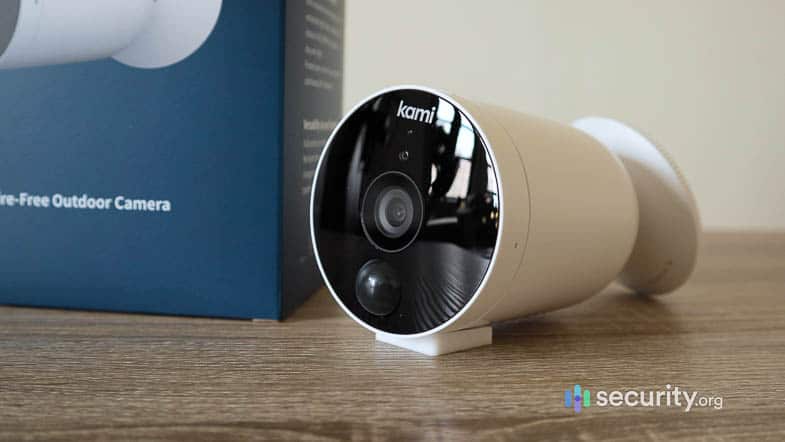 Video Doorbells: Video doorbells are another type of outdoor cameras used specifically on front doors. Otherwise known as doorbell cameras, they may include a chime or replace an existing doorbell setup so people can see and speak to their guests remotely through a mobile application or smart home device. For example, when someone rings our doorbells, we get alerted not only on our phones but also on our Echo Show, where we see our guest in full color. Don't own a smart display? Read our Echo Show review, an Alexa-compatible smart display, or our Nest Hub review, a Google Assistant-compatible smart display. Here at Security.org, we give equal opportunity to voice assistants!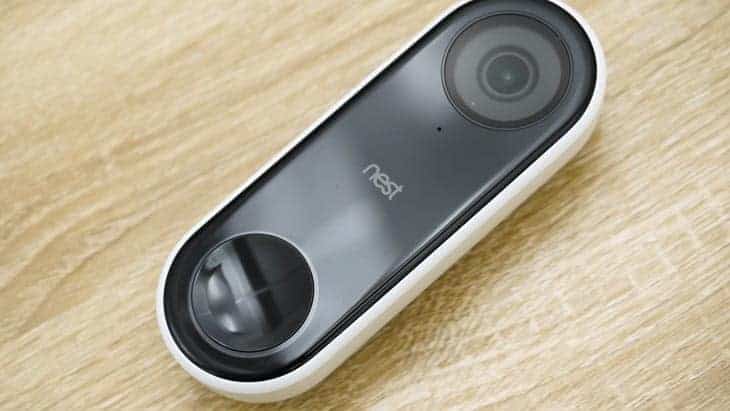 By Power
How will your camera get power, through a battery or from a wall outlet? This is an essential question to ask yourself before purchasing a camera, and it may come down to your personal preference, with pros and cons for each type.
Wired Cameras: Wired cameras, typically indoor, have the advantage of never requiring us to replace their batteries; rather, they're either plugged in or hardwired into our home. However, the disadvantages are there as well; one, we don't love adding more wires to our already connected smart home, and two, if our power or Wi-Fi goes out, which occurs more often than we'd like, the camera may not be able to connect to our app.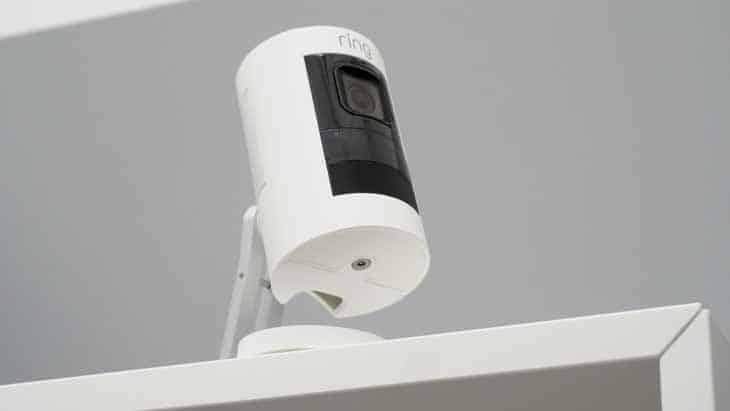 Wireless Cameras: Wireless cameras are much easier to install than wired cameras, but of course, we had to take battery life into consideration; a year is a reasonable time period for a camera to last, in our opinion. While some batteries are rechargeable, some we have to replace completely every so often. Some outdoor cameras, like the Ring Spotlight Cam Solar, come with solar panels, meaning that they charge continuously from the sun, never requiring a battery change. To learn more, check out our page on the costs of Ring cameras.
By Connectivity
Believe it or not, not everyone uses the Internet. In fact, in 2019, 10 percent of Americans don't use the Internet, according to the Pew Research Center.3 But whether or not you have Wi-Fi in your home, you can find a security camera that'll work.
WiFi-Connected Cameras (Digital or IP Camera): These days, most security cameras are WiFi-connected, meaning that they have a corresponding app that allows us to livestream footage, receive motion or person-activated notifications, and control our camera remotely. This took our home monitoring from local only to remote; we could literally see what was going on at home from anywhere in the world, so long as it had Wi-Fi. For the most comprehensive monitoring, we recommend getting a smart security camera, meaning it's connected to the Internet.
Cameras That Don't Require WiFi (Analog): If you don't have Wi-Fi, there are still cameras that'll work for you. Most record directly onto either a micro-SD card or hard drive, so while we couldn't livestream footage, we could see what went on in retrospect by downloading the local storage onto a device like our computer. A company known for their security cameras that don't need WiFi is Reolink; read our Reolink GO camera review for more information.
By Recording
How and where do you want your cameras to record footage? DVRs and NVRs are local recording options, which means they come with a physical hard drive that stores videos. The main difference between DVRs and NVRs is purely technical. Cameras that record to a DVR send raw footage to the DVR, which is responsible for digitizing the video. These cameras are often older models. Cameras that record to an NVR digitizes the footage before sending it to the NVR, resulting in faster processing and less data traffic.
Another type of storage is cloud storage. Unlike DVRs and NVRs, cameras that record to the cloud don't require a physical hard drive, at least not in your home. They send videos to a cloud server via the internet, which means you can access recordings anytime as long as you have an internet connection. The downside of this setup is that it relies heavily on the internet, so Wi-Fi outages can cause your cameras to delay recording.
Digital Video Recorders (DVR): DVR cameras are typically analog cameras, meaning they're not Wi-Fi-connected; they're usually part of wired security systems. Typically, the camera connects to a hard drive via a coaxial cable.
Network Video Recorders (NVR): The majority of NVR cameras are Wi-Fi-connected, otherwise known as IP or Internet Protocol cameras. These cameras can either be wired or wireless. If they are wired, they likely use Ethernet cables rather than coaxial cables.
Cloud Recording: Cloud recording refers to off-site footage recording through a cloud server operated by the camera manufacturer or a third-party. Some older IP cameras can use your own cloud storage (e.g. Google Drive, OneDrive, etc.), but most cameras nowadays use their own subscription-based cloud storage. That is, you pay the company monthly or yearly to store videos in the cloud. The advantage of cloud storage is that you can view your footage anywhere with an internet connection, and if your camera gets destroyed, you'll still have access to its recordings.
By Shape
Finally, you may want to pick a camera based on its shape, with different shapes working best in different spaces.
Bullet: Bullet cameras, usually wireless, are good for securing on rooms' corners for the most coverage.
Dome: A bit harder to install than bullet cameras, dome cameras have the advantage of being hard to steal, as they're placed on ceilings. They also provide a wider field of view than a regular camera due to their spherical design.
Pan, tilt or zoom: Sometimes, we don't want to be limited to a camera's field of view, which is where panning, tilting and zooming comes in. This gives us more freedom to see exactly what we want to see, and the best cameras can pan all the way around for total coverage. Read our Wyze Cam Pan review to see this in action.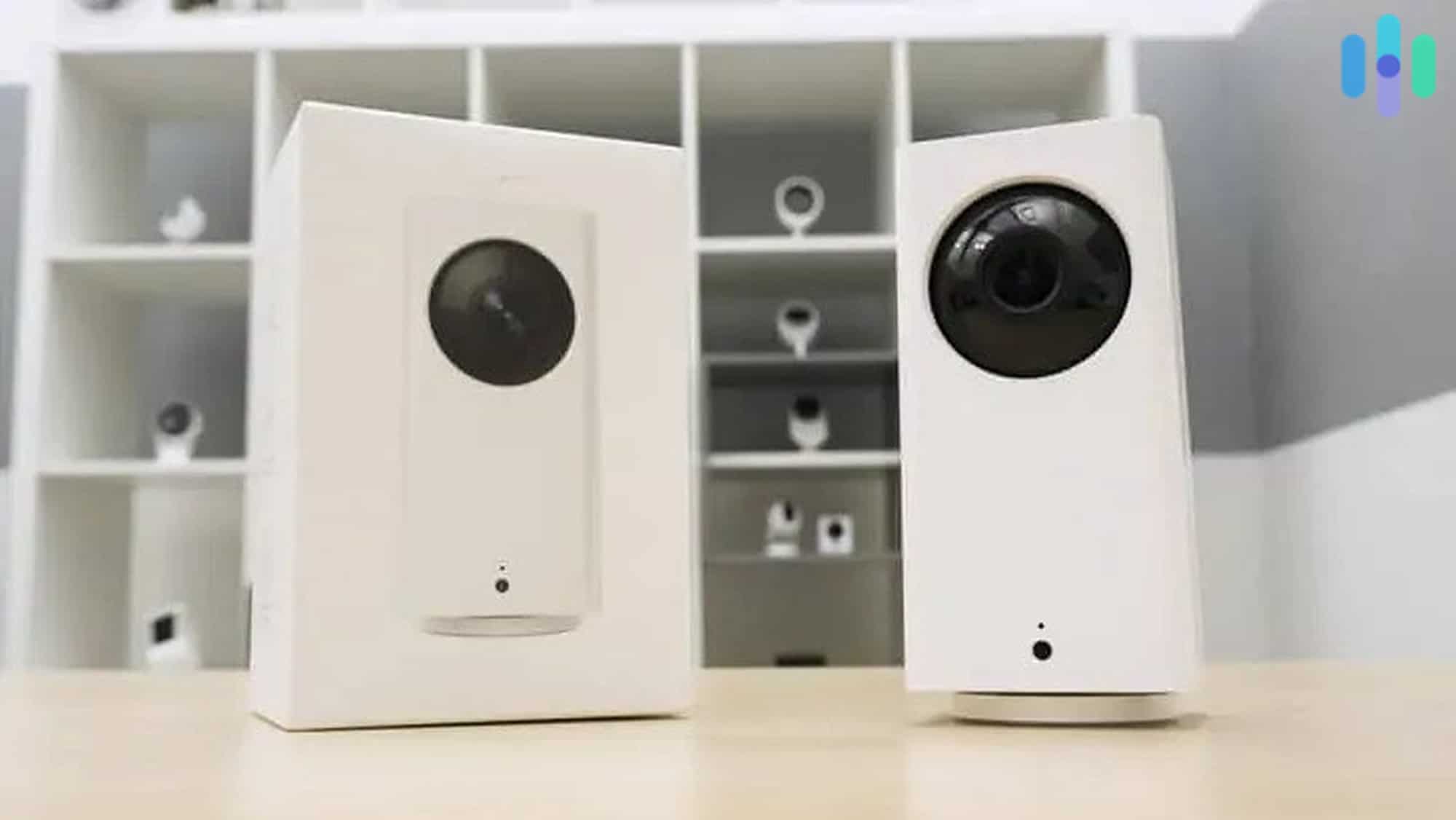 Box: A box camera is exactly what it sounds like, a camera shaped like a box. These aren't super common when it comes to smart home security and were more popular during the late 1800s and early 1900s.
Hidden: Also relatively self-explanatory, hidden cameras are designed to look like other objects, be it a pen, teddy bear, or simply a camera small enough to remain unnoticed. We don't recommend getting hidden cameras, as visible cameras can be a deterrent to would-be burglars.
Turret or eyeball camera: Looking pretty similar to a dome camera, a turret camera has the best of both worlds, as we could position the camera in any angle we wanted in a theft-resistant setup.
Security Camera Features To Look For
Once you've decided what type of camera you want, it's time to delve into the camera's features, asking yourself the following questions:
Connectivity: Does the camera require Wi-Fi? If so, does it work on a 2.4 GHz or 5 GHz network? Most cameras, even today, only support 2.4 GHz networks. If your router runs on the 5 GHz frequency, you'll need a camera that connects to the same frequency. Otherwise, you'll experience lots of connectivity problems. Rather than looking for a camera that supports your router's frequency, though, we recommend upgrading to a dual-band router. A dual-band router supports both frequencies, giving you more freedom to choose your security cameras.
Power: Is the camera plugged in or wireless? If it's wireless, what is the battery life? Is the battery rechargeable or replaceable? Is there a solar panel available for an outdoor camera?

If it's plugged in, how long is the power cord? For outdoor cameras, is the plug weatherproof or does it need an indoor outlet? These are just some of the questions you'll want to ask yourself. They may seem trivial, but your power option of choice greatly affects the ease of installation.
Tip: With power comes responsibility for installation. Make sure your camera either has a cord long enough to reach an outlet, if it's plug-in, or is close enough to connect to your home's Wi-Fi network.
Durability: If you're using your camera outdoors, it's important to take into account its temperature range as well as IP rating. If you live in a climate like New York that sees temperatures between 0 and 100 degrees Fahrenheit, more or less, make sure your camera fits into that range. Next, a camera's IP rating

4

tells you how resistant it is to solids and liquids in a two-digit number; the first digit refers to solids, the second to liquids. For example, an outdoor camera with an IP rating of 65, common for outdoor cameras, would be completely dust-tight and able to withstand low-pressure water jets, which is sufficient for more rain and snowstorms.
| IP Ratings | Solids (First Digit) | Liquids (Second Digit) |
| --- | --- | --- |
| 0 | Not Protected | Not Protected |
| 1 | A large bodily surface like the back of a hand | Dripping water falling from above |
| 2 | Fingers or similar objects | Dripping water falling from a 15-degree tilt |
| 3 | Tools, thick wires, and more. | Spraying water |
| 4 | Most wires, screws, and more. | Splashing water |
| 5 | Dust-protected | Water jets 6.3mm and below |
| 6 | Dust-tight | Powerful water jets 12.5mm and below |
| 7 | N/A | Immersion up to 1m |
| 8 | N/A | Immersion over 1m |
Buyer Beware: Most security companies claim their outdoor cameras are either weatherproof, weather-resistant or waterproof, but these terms don't really mean much; to truly know how a camera will fare in different weather conditions, check its IP rating and operating temperature, especially if you live where the temperature drops to below zero during winter.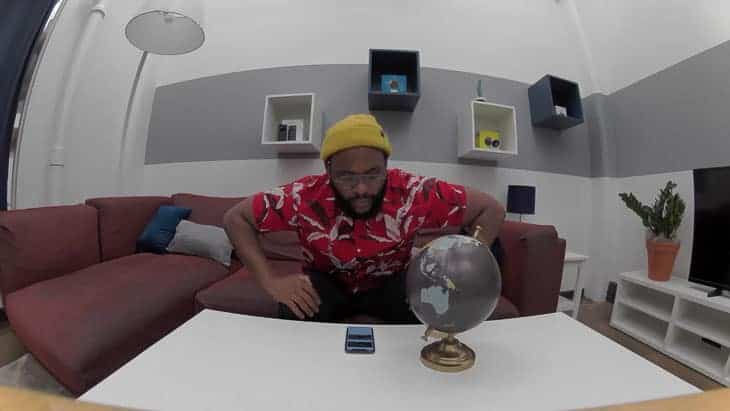 Video quality: These days, most smart security cameras have 1080p HD resolution, as opposed to the 720p HD resolution of yesteryear. More advanced cameras have 2K or even 4K resolution, which has twice the number of pixels as 1080p HD. See what 4K really looks like in our Arlo Ultra 4K review.
HDR: Shooting outdoors is hard, what with glare and shadows getting in the way of an otherwise clear picture. HDR, which stands for high dynamic range, takes away most of the glare and shadows from outdoor footage, making it look closer to real-life than ever before.
Zoom: As the saying goes, it's all in the details. Some cameras can zoom in optically, meaning the camera lens itself actually moves in closer to an object, or digitally, meaning we could zoom in by pinching the livestream on our app. Optical zoom is preferable, as the footage will be higher-resolution, but this typically isn't a dealbreaker, for us at least.
Field of view: Field of view means how wide the camera's footage is; usually, we like this number to be at least 120 degrees, with 180 degrees being the mathematical limit. Again, for more range, look for a camera that pans all the way around.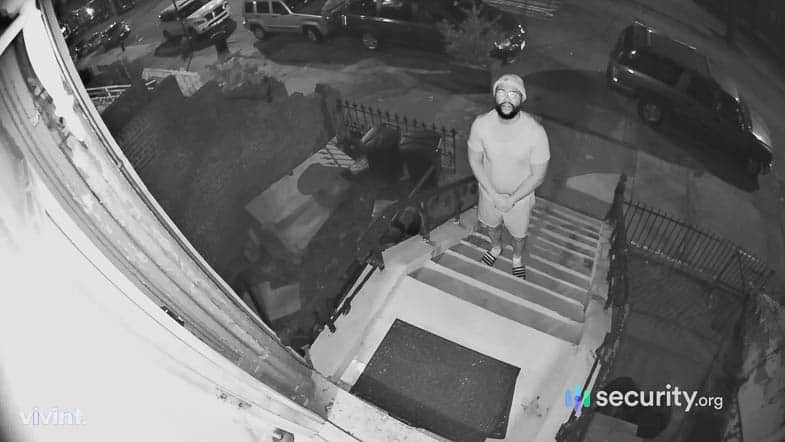 Night vision: Obviously, it's important that a camera can show you what's going on at night as well as during the day. Night vision comes in two forms: either infrared via LED sensors, which produces black and white footage, or color from a bright white spotlight, as seen in our Ring Spotlight Cam Battery review. If night vision is particularly important to you, might we suggest reading about the best infrared cameras?
Keep In Mind: While color night vision is nice to have, bright spotlights make cameras super conspicuous, which you may or may not want; conspicuous cameras can deter thieves, but they are also more likely to be stolen.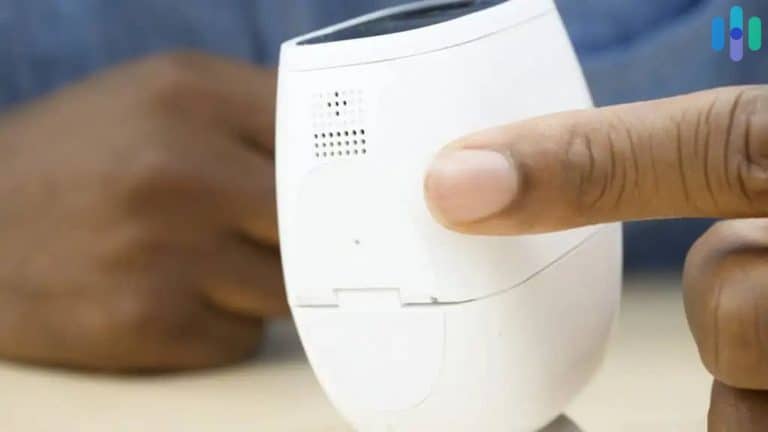 Audio: Cameras should have speakers and a microphone built-in so that you can actually speak to whoever the camera is on through its mobile app, a process called two-way audio. These days, most smart security cameras have two-way audio, but analog cameras most likely have microphones only.
Storage and recording: Storage can be broken down into two categories: local and cloud. Local storage is typically in the form of either a micro-SD card, built into the camera, or an external hard drive, like with the majority of Swann's security systems (learn more about that in our Swann camera review). With local storage, the footage is recorded directly onto the card or hard drive, whereas with cloud storage, the footage is automatically uploaded onto a cloud server, which may or may not require a paid subscription (but more on prices later). We prefer cameras with both cloud and local storage; that way, if one method fails, you'll have the other as a backup.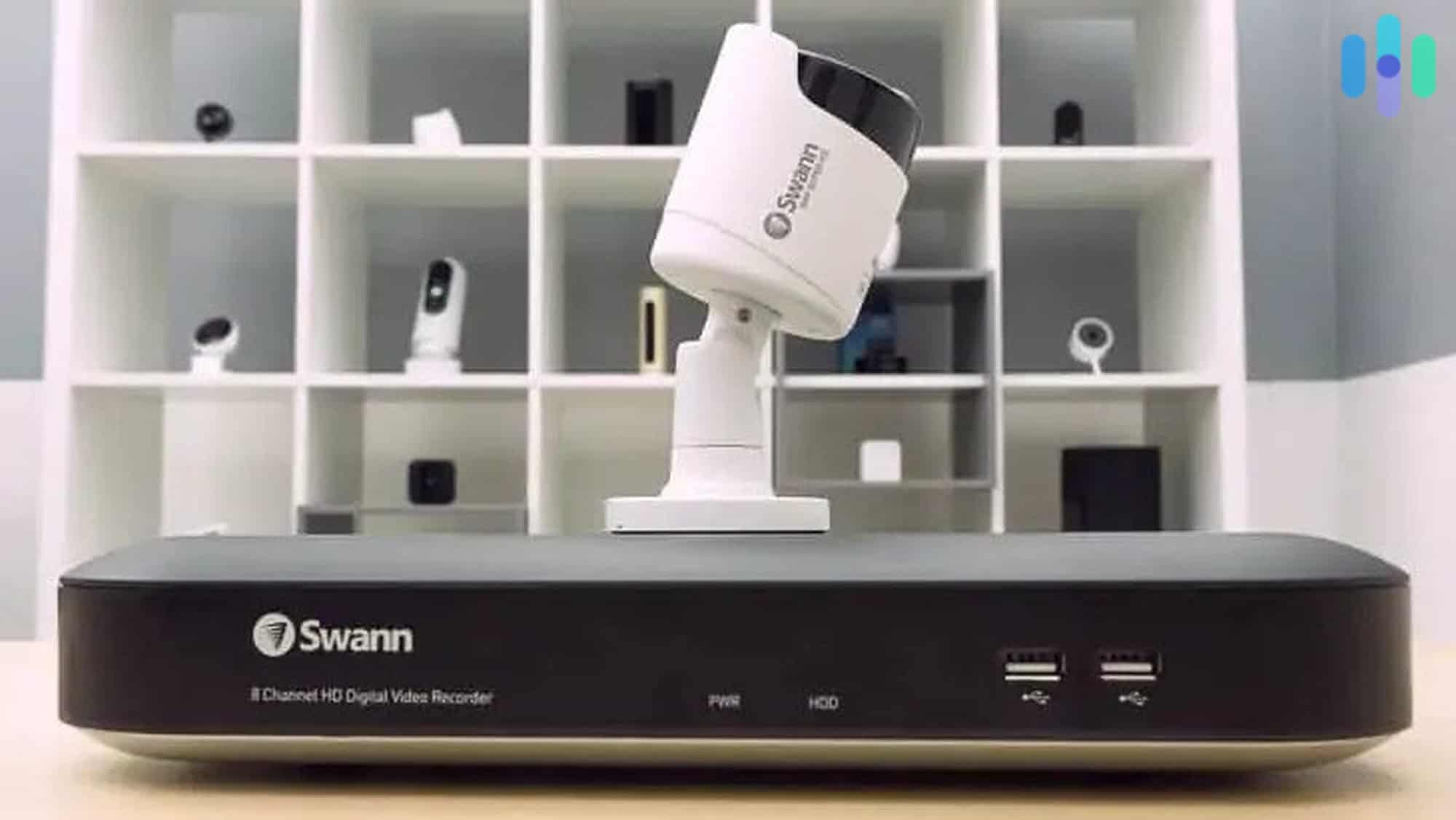 Smart home integrations: Voice assistants like Alexa and Google Assistant are becoming more and more popular each year. In 2019, an estimated 111 million people in the U.S used voice assistants, a jump of nearly 10 percent from the previous year,

5

and it has only grown since then.

Voice assistants like Alexa and Google Assistant are becoming more and more popular each year. In 2019, an estimated 111 million people in the U.S used voice assistants, a jump of nearly 10 percent from the previous year,

6

and it has only grown since then

. That's why we like cameras that are integrated with the smart home platforms that house these voice assistants. That way, we can have Alexa or Google Assistant control our camera for us, merely requiring a voice command. From arming our cameras to having them play on our Chromecast, voice commands are an easy and fun way to keep on top of our home's security.

That's why we like cameras that are integrated with the smart home platforms that house these voice assistants. That way, we can have Alexa or Google Assistant control our camera for us, merely requiring a voice command. From arming our cameras to having them play on our Chromecast, voice commands are an easy and fun way to keep on top of our home's security.
Artificial intelligence: Most smart security cameras can recognize motion, alerting users when they detect it. However, this can lead to a lot of false and unnecessary notifications from things like animals, cars, and other inanimate moving objects. To combat this, look for cameras with person detection, meaning they can tell the difference between people and everything else; there are also cameras with pet detection if you want to be notified of your pet's movements. Moving even further, cameras with facial recognition can, over time, recognize the faces of your friends and family, which you can name in the app to receive super-specific notifications. We recommend getting a camera with person detection particularly if you have pets; check out our picks for the best pet cameras.
Shared access: Got friends? Most apps let you add other users so that they too can arm and disarm your cameras, convenient for visitors in particular. Make sure the camera's app allows you to add as many users as your heart desires.
Geofencing: Geofencing means that our security cameras were hooked up with the GPS in our phones so that they would automatically arm when we left home and disarm when we returned. It's not a super common feature, truth be told; if you're interested, check out our Arlo cameras review, which covers a few options with geofencing.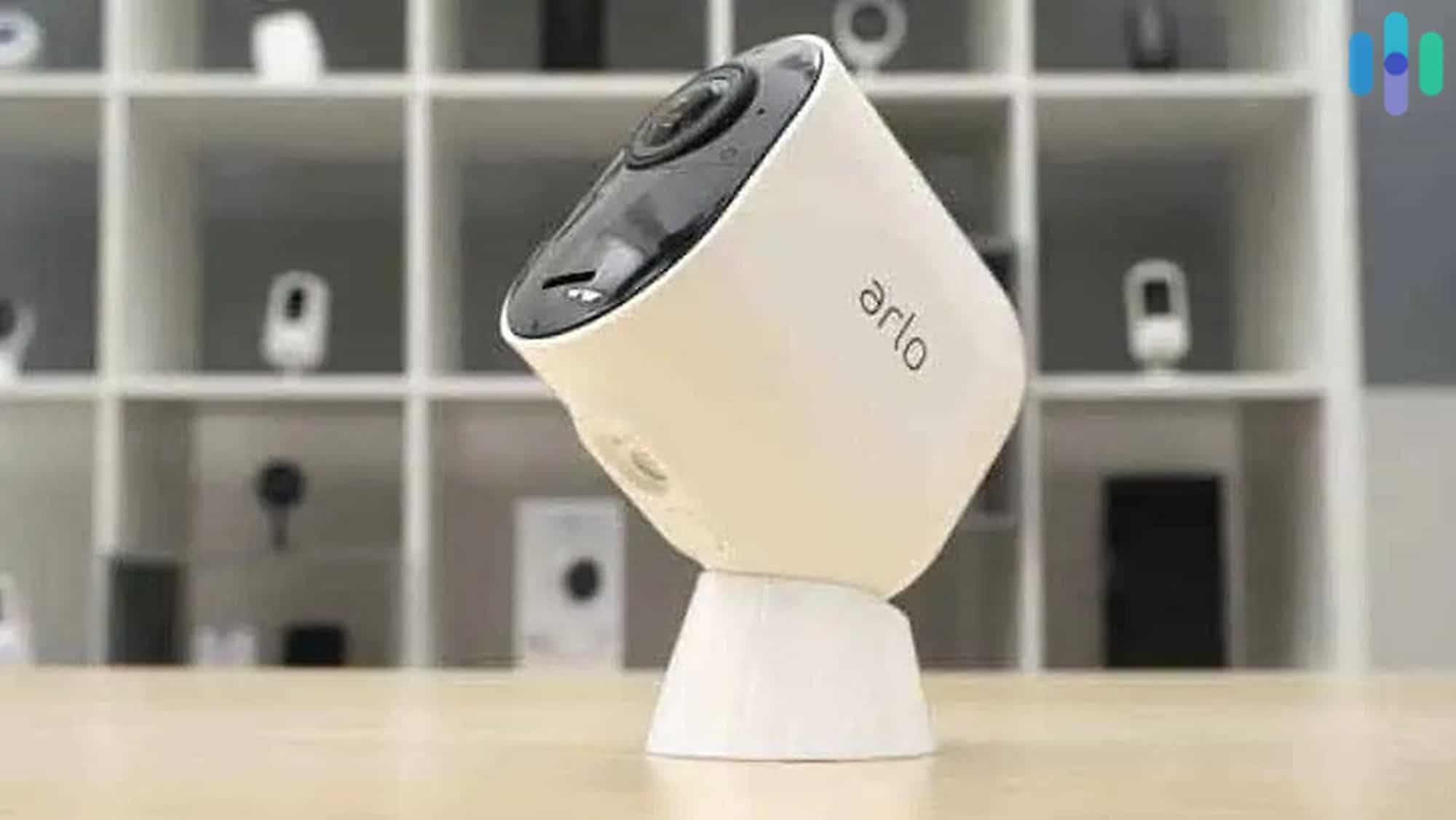 Activity zones: Activity zones made our notifications even more specific, ignoring areas we told the camera to ignore and only focusing where we wanted to monitor. For example, our outdoor cameras saw not only our property, but also the sidewalk and street beyond. Again, we live in Brooklyn, where foot and car traffic is rampant, so it was nice to be able to only get alerted about things that happened in our area. Let's be honest: phones are distracting enough, so it was nice to be able to optimize and therefore decrease the number of our notifications even more.
Notifications: If a security camera detects a person and it doesn't notify you about it, did it really happen? Pretty much all of the security cameras we tested out notified us of either movement or a person when they were armed, depending on their AI capabilities. Notifications are usually part of the package, although they cost us $24.99 a month with the SimpliCam, as seen in our SimpliCam review.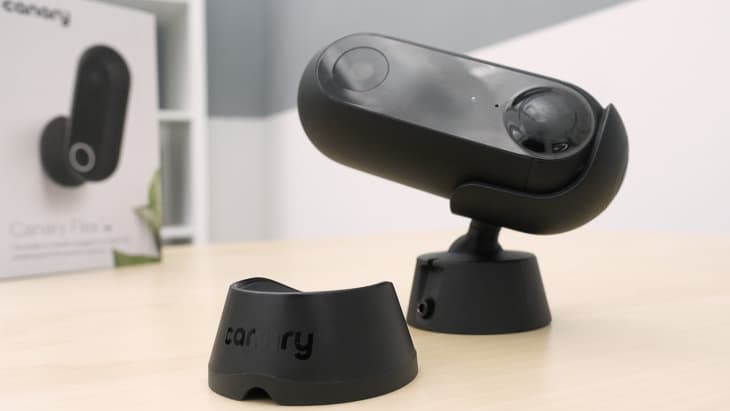 Installation: We installed most of our standalone cameras ourselves, which was usually a pretty easy process; just plug the camera in or mount it on the wall, download the app, add it to your Wi-Fi, name it and voila— our smart home security camera was in place. We recommend placing your security cameras on the first floors of homes. Additionally, some cameras that are part of larger security systems, like the Vivint Outdoor Camera Pro, require professional installation. Hear more about our professional installation experience in our Vivint Outdoor Pro review.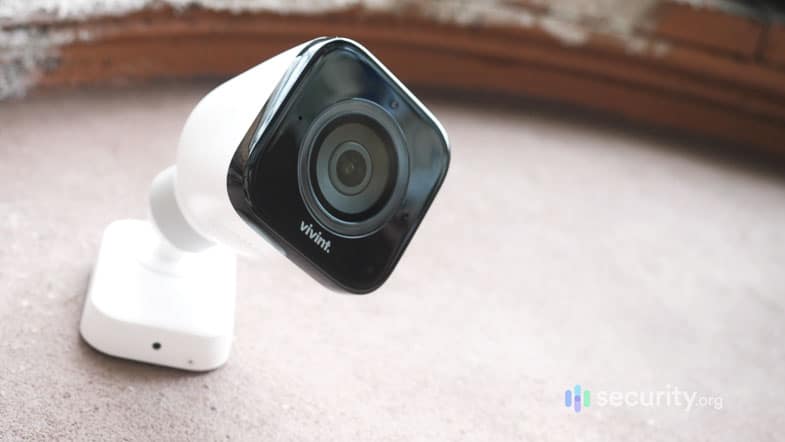 App: If we're talking about smart security cameras, having a user-friendly app is important for live streaming footage, controlling your camera remotely and getting timely notifications. Make sure your app has good ratings on either the iOS or Android store, depending on the make of your mobile device. Or, check out our security camera video reviews,

6

which show us using the apps for iOS.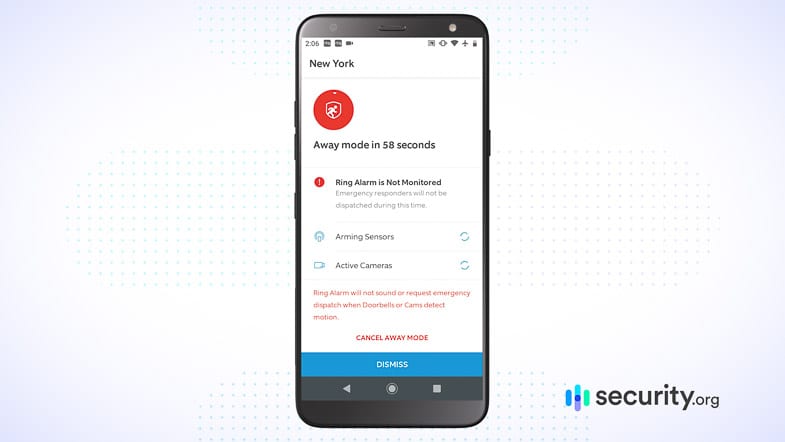 Privacy: It's no secret that Internet of Things, or IoT devices, aren't always up to snuff when it comes to security breaches. Large tech companies like Ring and Nest have both had their fair share of privacy issues, from people spying on other people through their Ring cameras as well as hidden microphones in the Nest Secure security system, which Nest has since discontinued. That being said, privacy can look a few different ways:

Two-factor authentication: Two-factor authentication can certainly help prevent unauthorized access to accounts, requiring us to enter a passcode to enter our camera accounts in addition to our regular username and password. Extra points if the app is compatible with fingerprint or face ID, which falls into the category of multi-factor authentication.
Encryption: The camera should encrypt your footage using AES-256 bit, the industry standard for encryption used by the U.S military.
History of breaches: To be on the safe side, you might want to do a quick Google search and see if the company has undergone any security breaches in the past. Unfortunately, this is all too common, and a risk of any Internet-connected device, from smart security cameras to smart lights and locks.
Home Security Camera Costs
Aside from the actual camera itself, there are a couple of other potential costs that come with security cameras, namely, monitoring and storage costs.
Equipment
As you can see below, there's a huge price range when it comes to smart security cameras, but the average camera costs around $150— $100 for an indoor camera and $200 for an outdoor camera. However, there are huge outliers like the $20 Wyze Cam or the $399 Vivint Outdoor Camera Pro, which is why it's important to focus on the camera's features to make sure you pay for what you get.
Monitoring
Finally, there's monitoring. Most cameras let us monitor them for free through the mobile application, but some offered or even required 24/7 professional monitoring, especially if it was part of a larger security system. Take abode's monitoring costs, for example. While we self-monitored through the app, we wanted the extra protection of having a team of people behind us 24/7 if we were busy or unable to call for help. That cost us $20 a month or $100 a year and included 30 days of cloud storage, which is often combined with monitoring subscriptions. Again, the monthly and yearly costs differ greatly, but there's no reason to pay more than $40 a month for professional monitoring, especially given how these costs are getting lower and lower.
Take note that in most cases, the alarm company won't be able to check in and see your livestreams, which is good news for your privacy. You wouldn't want a random stranger sitting in a monitoring center to see you in a towel, right? However, some companies, such as SimpliSafe, offer video verification. What this means is that during emergencies, the monitoring center gets temporary access to your livestream to see what's going on. This supposedly speeds up police response. That's something to keep in mind.
| Company | Minimum Monthly Cost of 24/7 Professional Monitoring | Minimum Yearly Cost of 24/7 Professional Monitoring |
| --- | --- | --- |
| abode | $20 | $100 |
| Arlo | n/a | n/a |
| Blink | n/a | n/a |
| Canary | n/a | n/a |
| Deep Sentinel | $29 | $348 |
| eufy | n/a | n/a |
| Honeywell | n/a | n/a |
| Logitech | n/a | n/a |
| Reolink | n/a | n/a |
| Ring | $10 | $100 |
| Swann | n/a | n/a |
| Vivint | $29.99 | $359.88 |
| Wyze | $10 | $120 |
How Do We Test Security Cameras?
We test each and every security camera on our website for about a year before writing and filming our review, paying attention to things like day and night vision, two-way audio, storage, smart platform integrations, and artificial intelligence. We make sure that each camera does what it says in the tech specs, from its video resolution to the quality of its speakers and microphones. We also use the app to ensure that there's no delay or lag and that everything is easy to install and use. Of course, we see if the AI really works or not by walking by and throwing inanimate objects in front of the camera, then seeing how our notifications react. And finally, with outdoor cameras, we make them brave the elements to see how they function.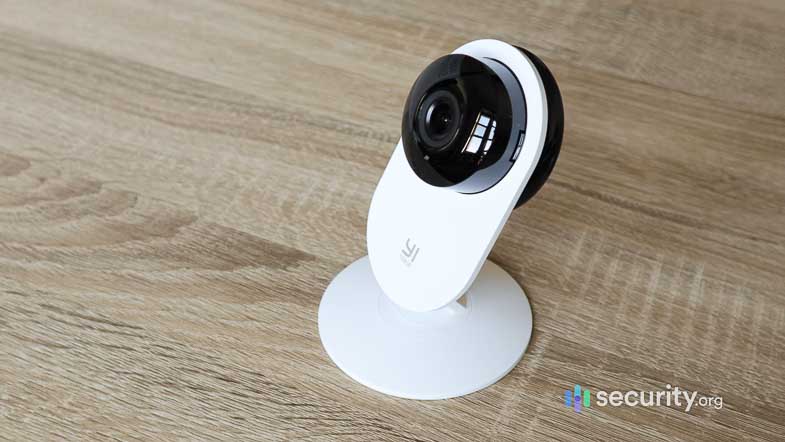 Installing Home Security Cameras
Installing security cameras can look like a lot of things. If it's a wireless camera, installation probably either means simply plopping the camera on a flat surface or screwing it into a wall or ceiling. For outdoor cameras, make sure that your camera is installed within the zone of your Wi-Fi so it retains a connection with your app. Wired cameras are a bit more difficult to install than wireless cameras, depending on the design. Some cameras only need to be plugged into a power outlet, while hardwired cameras are connecting with your home's electrical system. Many video doorbells will be hardwired into an existing doorbell and chime setup, which is obviously harder than setting up a battery-powered video doorbell.
For most security cameras, you'll install them yourself, a process called DIY installation. However, some security companies offer professional installation, either in-house or by a third party installer. Note that that usually applies to cameras that are part of larger security cameras from companies like ADT and Vivint. Smaller companies like abode also offer professional installation through HelloTech. To learn more about these costs, check out our ADT pricing page, our Vivint pricing page and our abode pricing page.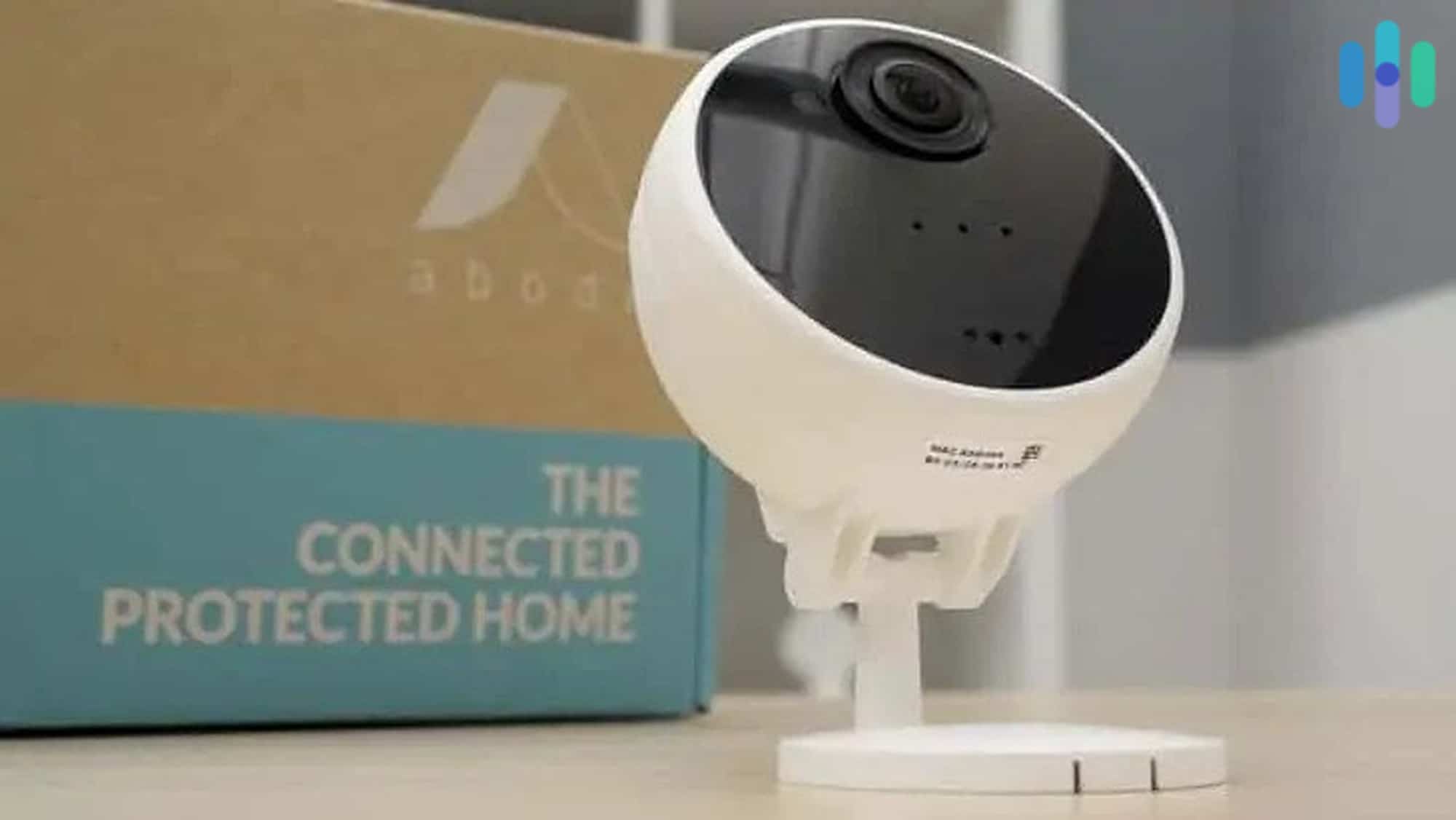 For the most part, though, you'll be able to install your camera yourself typically through a guided app setup. Typically, that looks like:
Downloading the camera's respective app
Creating an account and logging in
Clicking a plus sign to add the device
Naming the device based on its location, i.e living room
Adding the camera to your home's Wi-Fi network
Testing out the camera's motion or person detection
Linking the camera with voice assistants and other compatible devices in your home
Mounting or placing the camera where you want it and testing out the Wi-Fi connection.
Trust us, you don't have to be a security expert to install most DIY home security cameras; rather, they're designed to be easy to install for anyone, so long as you're comfortable with using apps.
How To Tell If A Security Camera Is Recording
There are a few different ways to see how a security camera is recording, depending on the model, make and type of the camera:
The camera's LED light will turn on.
The camera will be moving if it's a pan and tilt camera like the Wyze Cam Pan.
The App will most likely tell you if camera is recording in live stream.
Recap
Hopefully, that cleared up any questions you had about the process of buying and testing out a security camera. If you're ready to start the search, check out our list of the best cameras of 2023 or any of our other best camera reviews. Still got questions? Keep on scrolling…
Home Security Camera FAQs