How Much Does NordVPN Cost?
Let's discuss NordVPN's pricing and how to get the lowest prices available
A two-year plan costs just $3.49 per month.
Each plan comes with a 30-day money-back guarantee.
Students can receive a 15-percent discount for a two-year plan.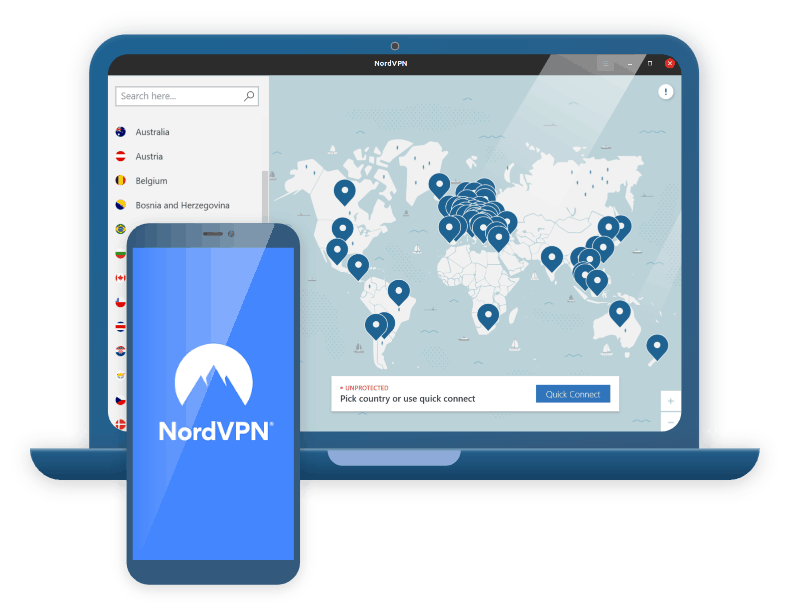 All of our content is written by humans, not robots.
Learn More
By

&

Last Updated
Sep 18, 2023
Recent Update: 1 week ago
In a recent survey, NordVPN gave Americans and the U.S. a National Privacy Test score of 63, the second highest in the world. The National Privacy Test is an open-access survey that tests the knowledge of internet users in several privacy topics to measure how aware a country is about privacy issues in the online world.
Despite the rising awareness about online privacy, the internet remains to be a place with little to no privacy. Did you know that your internet provider can see what you do online and, should they choose to, sell your information to the highest bidder? And advertisers and marketers can track your online purchases and searches, and it's all but confirmed that the government is tracking our every move on the web.
Those are just some of the reasons why we all need a VPN, a piece of software that can hide our online activities through the use of encryption. But here's something we find ironic: Not all VPNs are trustworthy. In fact, there are some who claim to protect your privacy, but are actually the ones selling your data. It's not enough to just use a VPN. We need a VPN we can trust.
That said, some of the most trustworthy VPNs also tend to be expensive options, just like NordVPN. This VPN distinguishes itself by offering solid security standards and advanced features that are hard to find in other VPNs. We tested it ourselves and can confirm that it works better than most other VPNs. But what about its cost? Is it still a good buy despite its slightly steeper prices? Let's find out, as we look at NordVPN from a different angle — this time with a focus on price and value.
Subscription information
| | |
| --- | --- |
| 1-month subscription cost | $12.99 |
| 1-year subscription cost | $59.88 |
| 2-year subscription cost | $95.76 |
| Money-back guarantee length | 30 days |
| Payment options | Major credit cards, Google Pay, Amazon Pay, UnionPay, ACH Transfer, and cryptocurrencies |
How Much Does NordVPN Cost?
NordVPN is just one of the several cybersecurity products from the company Nord Security. And since the company's goal is to make the internet a safer place, it offers bundles built around NordVPN that include other Nord products as well.
The price range for those bundles is $3.99 to $14.99 per month, depending on which products are included and the length of your subscription. Your options are Standard, Plus, and Complete.
Standard is the VPN-only subscription. It comes with NordVPN and nothing else, and that's why it's the cheapest of the three options.
The Plus plan includes access to Nord's password manager, NordPass, in addition to the VPN. If you don't have a password manager yet, bundling it with a VPN makes sense, particularly since the Plus plan from NordVPN only costs about a dollar more than the Standard plan. Password managers typically cost about $3 to $5 per month, so you'll enjoy significant savings if you go with this plan.
Lastly, the Complete plan is a combination of NordVPN, NordPass, and NordLocker, a secure cloud backup that encrypts every file stored in it. The Complete plan includes 1 TB of encrypted cloud storage. 
Here are their prices:
| NordVPN Pricing | Standard | Plus | Complete |
| --- | --- | --- | --- |
| 1 month | $12.99 | $13.99 | $14.99 |
| 1 year | $59.88 | $71.88 | $83.88 |
| 2 years | $95.76 | $119.76 | $143.76 |
With NordVPN, it pays to sign up for a longer period. The two-year Standard plan breaks down to roughly $4 per month, $9 cheaper than the monthly rate of the same plan. You'd save over $200 over the course of two years, but of course, you'll have to shell out a larger amount upfront. You'd have to pay $95.76 upfront to enjoy NordVPN for two years.
As for the other subscription options, we think they're worth it if you need a password manager and secure cloud storage, but don't feel obliged to buy if you don't need them or if you're already using a different solution. If you do need those features, Nord's pricing for the bundle is more than fair – just $1 per month for each feature on top of the VPN subscription's price. That's what we'd call a "pretty sweet deal."
That said, choosing a VPN isn't only about finding the cheapest option or the one that offers the biggest savings. It's about finding a secure, private, and reliable VPN. If you haven't already, give our NordVPN review a read and you'll find out why it's one of our top VPNs.
Deals and Discounts
Aside from discounting its long-term subscriptions, NordVPN offers deals occasionally to sweeten the pot. And if you time your purchase right, you may be able to get NordVPN for a lot lower than the advertised rates. Pay our NordVPN deals page a visit to see how to find the best deals, but in general, try to coincide your purchase with special holidays like the Fourth of July, Thanksgiving, Black Friday and Cyber Monday, and even NordVPN's anniversary in February.
If you're a student, there's also a permanent discount for you. You can't use it in conjunction with other deals, but 15-percent off is a pretty good offer, especially for one of the best VPNs for school. To enjoy the discount, you'd have to sign up for a two-year plan through Student Beans and Youth Discount (or Descuento Estudiante if you live in the E.U. or South America).
Even without discounts, though, NordVPN is still one of the best-value VPNs. Price-wise, NordVPN's pricing is in line with VPN prices from the competition. In fact, it may even be considered an affordable option. ExpressVPN subscriptions, for instance, start at $8.32 per month, almost double the cost of NordVPN's two-year plan. And while NordVPN is slightly pricier than, let's say, IPVanish's $3.99 yearly plan, the extra cost is worth it given that NordVPN includes the features below.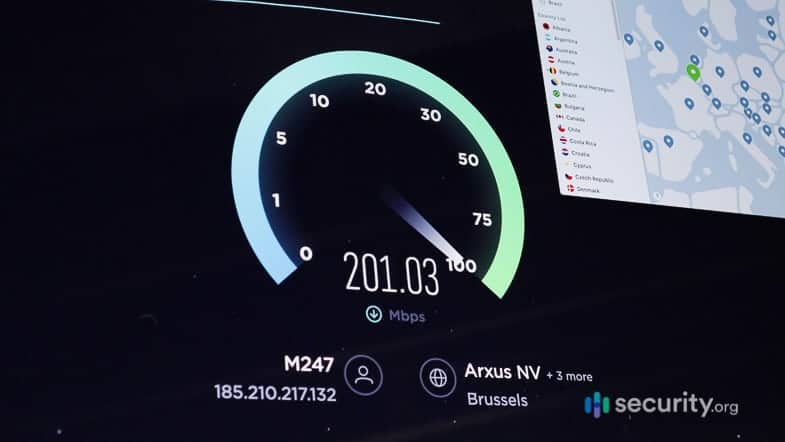 Speedy internet with no throttling or bandwidth limits
256-bit AES encryption
No logging of IP addresses, servers, websites, or files you visit
Ability to stream
Protection of mobile devices
Malware, malicious sites, ads, and trackers blocking
5,200 plus servers in 60 countries
Coverage of six devices at once
Apps that are compatible with Windows, macOS, Android, iOS, Android TV, Firefox, Chrome, and Linux browsers and devices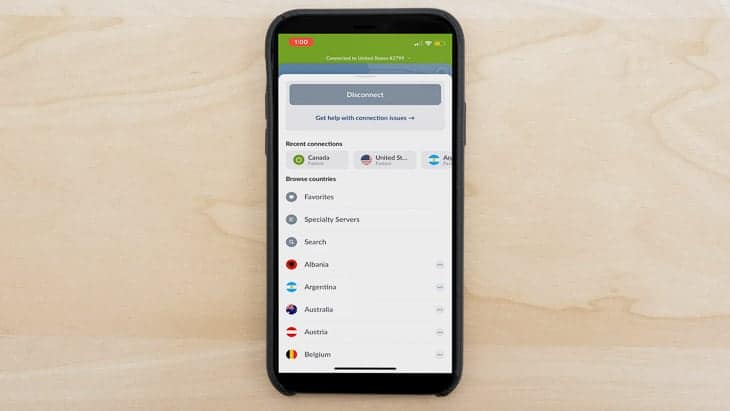 Automatic kill switch
Dedicated IP address
P2P sharing
Masking of our IP addresses
Double VPN that hides activity behind two encrypted servers
Onion Over VPN; this feature sends our web traffic through an encrypted tunnel, which gives us more security as we browse.
Enhanced security to block ads, suspicious sites, and malware
Browser extensions for Chrome and Firefox
Worldwide access
Split tunneling
24/7 customer support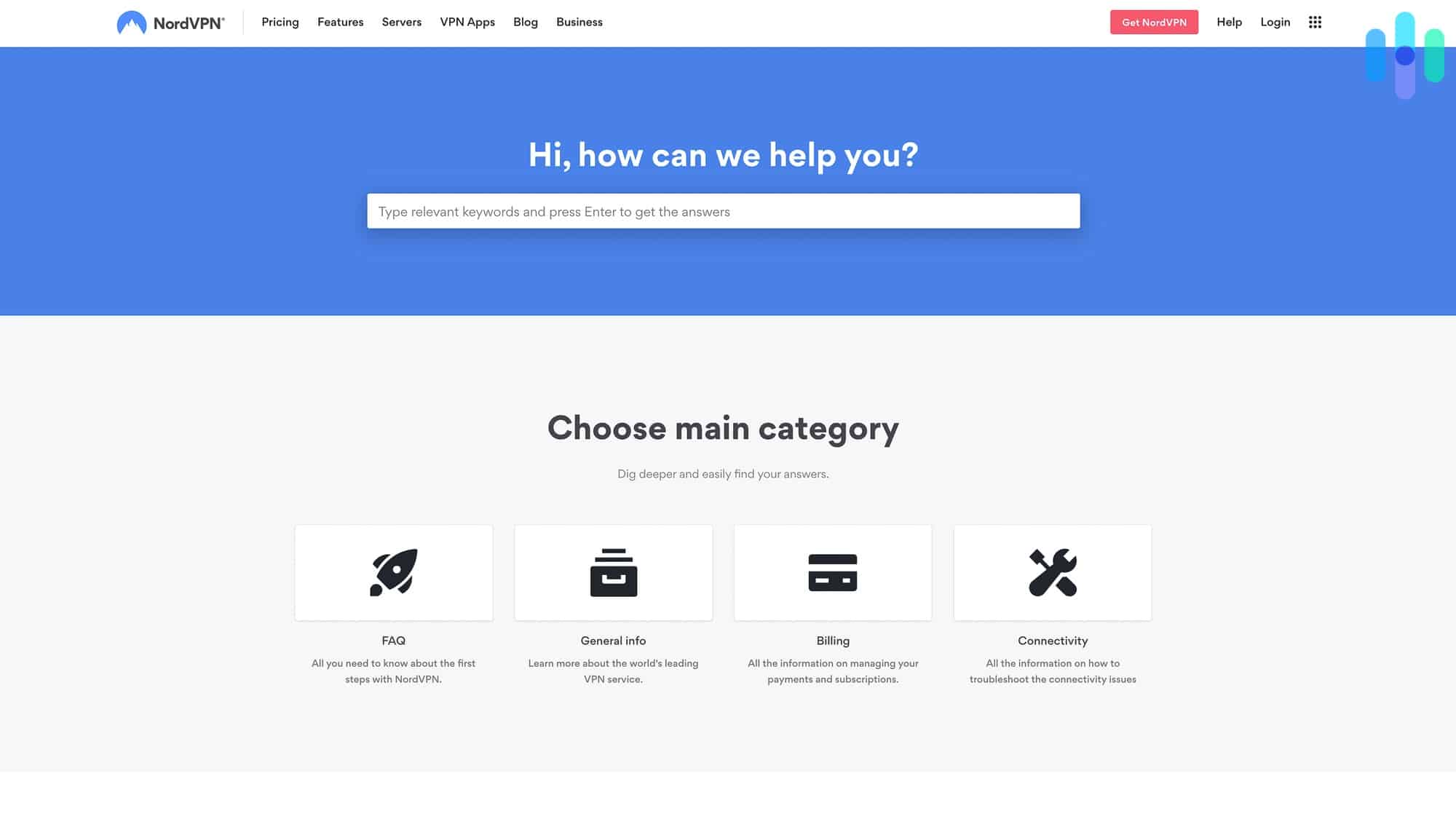 Favorite Features
That is a long list of features, but let's zoom in on the best NordVPN features we tested. Here's a highlight reel:
Global coverage: NordVPN's reach is far and wide. It has over 5,800 servers and counting, and it has both physical and virtual servers in about 60 countries and over 100 locations. While you likely will not use every single one of those servers and locations, it's nice to know that wherever you may end up using NordVPN, there's always a server near you ready to provide lightning fast speeds.
Connect up to six devices at the same time: Most Americans have more than one device, and thanks to NordVPN's support for up to six simultaneous connections, you can protect all your devices without buying a second subscription.
Pro Tip: Traveling? Whether for business or for leisure, a VPN is a must-have for online safety when traveling, and NordVPN's global coverage and six-device capacity makes it a good choice for frequent flyers.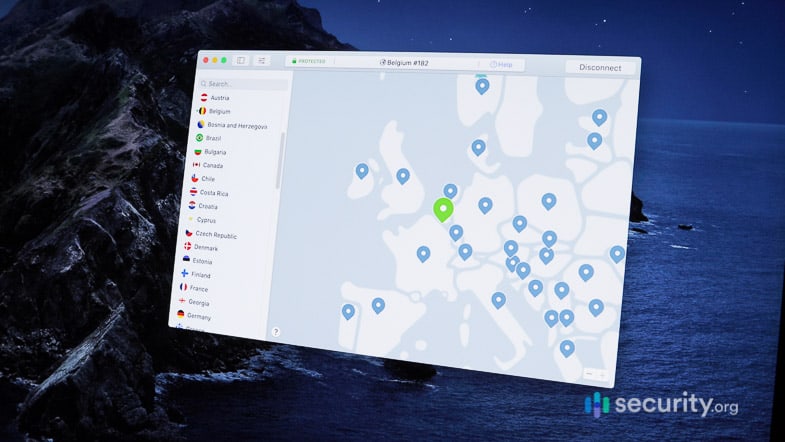 Strong encryption: NordVPN used AES-256 encryption, which is what the NSA recommends

1

and what the U.S. government uses to encrypt top-secret messages.
Minimal logging: NordVPN did not collect data like our IP addresses, the servers we used, the websites we visited, or the files we downloaded. And, because its headquarters is based in Panama, it's not part of any international surveillance alliances like Five Eyes, Nine Eyes, or Fourteen Eyes

2

. PricewaterhouseCoopers even audited NordVPN and confirmed that its policy description was fair and accurate.
Pro Tip: Pay attention to where a VPN company's headquarters is. NordVPN's headquarters is in Panama, so it isn't under the jurisdiction of any international surveillance alliances like Five Eyes. This means NordVPN doesn't need to share your information with the government.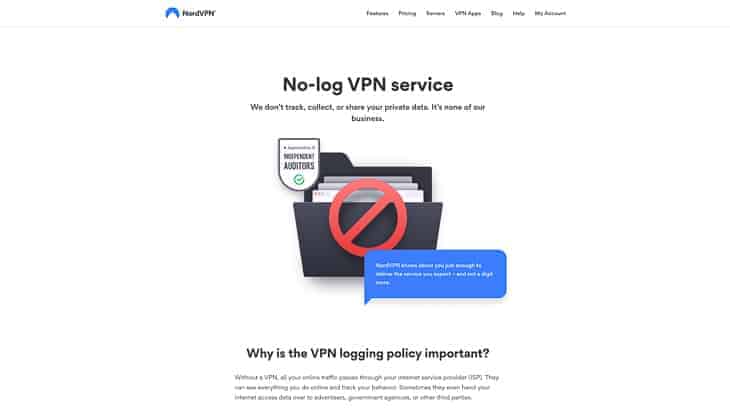 Ultra-fast streaming: There's no throttling or monthly caps on network bandwidth, so we could binge-watch our favorite shows with no restraint. Needless to say, we watched Netflix with our VPN a lot, especially since NordVPN let us change our Netflix region.
Automatic kill switch: If our VPN connection accidentally dropped due to something like an unstable Internet connection or a server failure, the kill switch activated and blocked our device from accessing an insecure Internet.
A dedicated IP: NordVPN gave us our own IP address. That meant we achieved secure and convenient online payments and avoided CAPTCHAs. Also, we avoided getting put on blacklists; that can happen sometimes when using shared IP addresses, which is usually the case with other VPNs.
P2P sharing is possible: We shared data amongst our team quickly and directly. NordVPN is one of our top-rated VPNs for torrenting, especially if privacy is a priority for you. However, sharing our data meant we saw each others' IP addresses, so that's something to keep in mind.
Double VPN: Two servers hid our activity. This concept, known as VPN server chaining or multi-hop, enhanced our security, protected and hid our IP addresses, and hid where we went on the internet from everyone, even our internet service provider. It's not a feature everybody will use, especially since it slows down your internet speed more significantly than a normal VPN connection, but it's useful to journalists, whistleblowers, and those living within the jurisdiction of restrictive governments.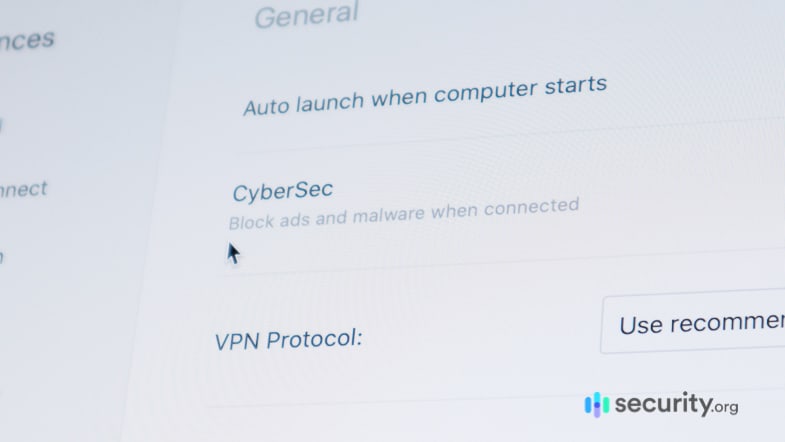 NordVPN Threat Protection: This advanced security measure blocked websites that had reputations for hosting malware or phishing, so we felt protected from online attacks.
Split tunneling: This newly-added feature meant some of our devices routed through the VPN tunnel, while other devices or apps connected to public networks at the same time. Split tunneling gave us more bandwidth, which we appreciated as it meant faster speeds.
24/7 customer support: We didn't run into any issues when we used NordVPN, but we could access its customer support line via its robust help center archive, email support, and live chat features.
Did You Know: A kill switch, multi-hop (or DoubleVPN), and obfuscation mode are the three best features of stealthy VPNs, and NordVPN offers all of them. That makes NordVPN a good VPN for torrenting, sending sensitive files, or posting anonymous content online.
Can I Try NordVPN for Free?
NordVPN offers a 30-day money-back guarantee. So, while it doesn't offer a traditional free trial period like many other free trial VPNs, we still got the chance to give NordVPN a try with no risk.
It's worth mentioning that NordVPN charged our cards right away, but the first 30 days were completely risk-free, so we could have canceled for any reason. NordVPN impressed us so much that we never considered canceling. However, if we had felt differently, all we would have done was contact customer support to get our cancellation started.
Watch Out: While NordVPN offers a 30-day money-back guarantee, it can't issue refunds if you purchased a plan or product on Apple's app store. However, you can get in touch with Apple's support directly if you want a refund.
Payment Options
NordVPN accepts a number of payment methods, including credit cards and cryptocurrencies.
| Payment methods | NordVPN |
| --- | --- |
| Visa | Yes |
| MasterCard | Yes |
| Maestro | Yes |
| American Express | Yes |
| Discover | Yes |
| JCB | No |
| Paypal | No |
| Google Pay | Yes |
| GrabPay | Yes |
| AmazonPay | Yes |
| UnionPay | Yes |
| Apple Pay | No |
| Bitcoin | Yes |
| Ethereum | Yes |
| Ripple | Yes |
| Dash | Yes |
| Litecoin | Yes |
| Zcash | Yes |
How Can I Cancel?
We loved NordVPN, and as our top-rated VPN, we made it our permanent VPN for all our personal privacy needs. That said, it may not be the best VPN for you. If you find that that's the case after purchasing a subscription, here's how to cancel your VPN subscription and potentially get your money back (if you cancel within 30 days of purchase).
Sign in to your account.
Find your Dashboard tab.
Click the Menu symbol.
Click Cancel Automatic Payments. This will allow you to cancel a recurring payment, but it will not issue any refunds.
If you'd like a refund, you'll need to contact customer support via email or live chat to cancel your account. Contact customer support through the email or chat buttons on NordVPN's website.

3

Check your inbox for a confirmation email.
Server Locations
NordVPN spread its 5,234 servers across 60 countries. This is important because it means we can access the internet from anywhere. The more servers, the better chances we have of never running into slow internet speeds, which is our personal nightmare. NordVPN has servers in:
Afghanistan
Albania
Argentina
Australia
Austria
Belgium
Bosnia and Herzegovina
Brazil
Bulgaria
Canada
Chile
Costa Rica
Croatia
Cyprus
Czech Republic
Denmark
Estonia
Finland
France
Georgia
Germany
Greece
Hong Kong
Hungary
Iceland
India
Indonesia
Ireland
Israel
Italy
Japan
Latvia
Luxembourg
Malaysia
Mexico
Moldova
Netherlands
New Zealand
North Macedonia
Norway
Poland
Portugal
Romania
Serbia
Singapore
Slovakia
Slovenia
South Africa
South Korea
Spain
Sweden
Switzerland
Taiwan
Thailand
Turkey
Ukraine
United Arab Emirates
United Kingdom
United States
Vietnam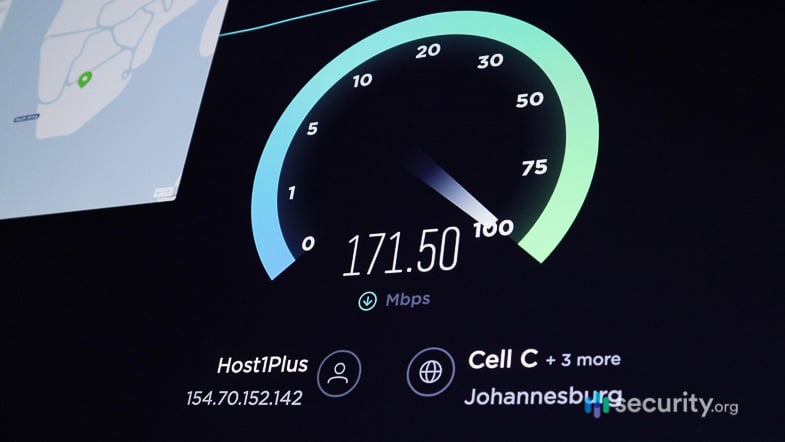 See how NordVPN stacks up against the competition
For a closer look at how NordVPN performs, we compared it with other popular VPNs.
In Summary
NordVPN is one of the most popular VPNs, and for good reasons. It offers a one-size-fits-all solution for anyone looking to cover their digital footprints. Also, it offers pricing to fit any budget.
With a variety of pricing options, NordVPN is one of the cheaper VPNs out there, especially if you are down for a longer-term commitment. We love that NordVPN is headquartered in Panama; it puts our minds at rest that it won't share our data with the federal government. See our full NordVPN review for a more in-depth look at its benefits.
Frequently Asked Questions
In case we didn't cover all the questions you had, here are the answers to a few additional considerations you might still be weighing.