LifeLock Identity Theft Protection Review
This feature-stacked contender offers device protection with Norton 360 antivirus
What We Like
Identity, Credit, and Investment Monitoring: LifeLock provides extensive monitoring for identity, credit, and financial accounts, including monitoring the dark web, all three credit bureaus, and even investments, such as our 401(k).
Valuable Insurance: LifeLock's top-tier protection plan promised to reimburse us for up to $1 million of stolen funds and personal expenses resulting from identity theft.
Norton Security + VPN: The Norton 360 and LifeLock pairing provided us proactive protection from all sorts of online threats, including malware that are out to steal our digital identities. On top of that, the virtual private network feature courtesy of Norton Secure VPN encrypted our connections and let us browse the internet more anonymously.
What We Don't Like
Expensive: Once LifeLock's one-year promotional period expires, prices go up significantly. For example, LifeLock's most elite individual plan has a one-year promotional price of $23.99 per month but renews at $34.99 per month. The top-level plan for families with kids is $40.99 per month for the first year. It renews for $68.33 per month, a monthly increase of over $25.
Lower Cost, Less Insurance: Only LifeLock's most expensive plans cover up to $1 million in losses and personal expenses related to identity theft. The least costly plans only reimburse up to $25,000 in stolen funds. On the bright side, all subscribers are covered for up to $1 million in fees for lawyers and experts.
Bottom Line
LifeLock is jam-packed with credit and identity monitoring services, from dark web monitoring to lost wallet protection. Plus, their prices are among the lowest on the market, starting at just $8.99 a month for the first year.
Recent Update: 1 week ago
On January 16, 2023, NortonLifeLock announced that thousands of customer accounts have been breached, likely through credential stuffing attacks. The company maintains that it is not a security breach of its system, but nonetheless, the culprits of these attacks can see customers' personal information stored in their accounts. We advise NortonLifeLock users to change passwords immediately and enable two-factor authentication to secure their accounts. Also look into Aura or Identity Guard, two great identity protection services that we'll discuss in this review.
We are always on the lookout for identity protection services that stand out. That's why we personally test each service we review. Today, we're highlighting one of those identity protection services with special features: NortonLifeLock.
Norton and LifeLock are two separate brands. Norton offers antivirus software, while LifeLock is an identity protection service. Together, they can protect you from identity fraud stemming from traditional identity theft as well as digital dangers like malware and phishing.
The addition of cybersecurity tools to LifeLock's toolbelt is just one of the good things brought by its newfound partnership with Norton. That being said, it's not all sunshine and rainbows for the company. In this review, we'll unpack NortonLifeLock for you. We'll help you identify its strengths and weaknesses, highlight how it can protect your identity, and guide you in deciding if it's the right service for you.
First, have a look at an overview of what LifeLock's identity protection service entails.
LifeLock Monitoring Services
| Identity Monitoring | Names, addresses, Social Security numbers |
| --- | --- |
| Credit Monitoring | Credit card monitoring, 3 annual credit reports |
| Financial Monitoring | Up to $1 million reimbursement for stolen funds |
Editor's Rating
Full-service identity theft and credit monitoring
Device protection with Norton 360 antivirus
Reputation for outstanding customer service
LifeLock Editor's Rating And Overview
With a 9.2 out of 10 score, LifeLock is one of the highest-rated identity protection services on our site. One of the main reasons is its use of digital security tools to enhance its service. That said, its expensive plans and lower insurance coverage for lower-tier plans has held it back. So if you want to compare it to other top-rated identity protection services, be sure to check out our Identity Guard vs LifeLock and IdentityForce vs LifeLock guides. And see those brands below: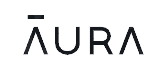 LifeLock Features
What exactly do you get from a LifeLock subscription? From monitoring to insurance, here's a detailed review of all the key features LifeLock offers.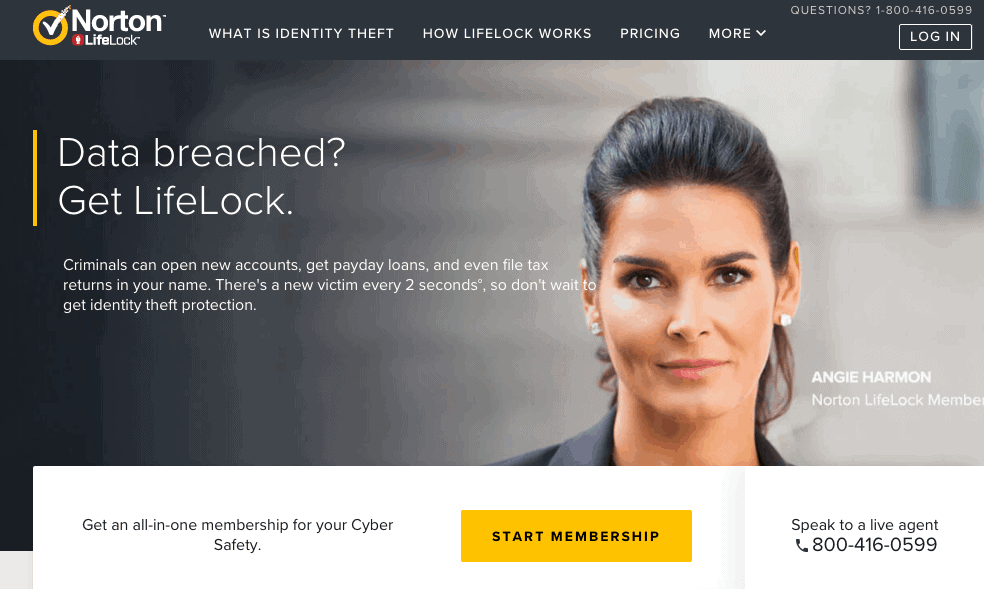 Monitoring and Alerts
Monitoring and alerts are part of any LifeLock subscription package, but the extent of monitoring depends on the level of your subscription. Lower-tier plans monitor fewer areas, whereas the highest-tier plan is super comprehensive. In any case, you'll get some level of identity monitoring, credit monitoring, and financial monitoring with any of the plans.
Identity Monitoring
LifeLock's identity monitoring keeps a close watch of key areas where signs of identity theft might pop up. That includes:
USPS address changes
Crimes registries
Court records
Sex offender registries
Dark web content
Data breach notifications
If any changes occur, or if your personal information appears in areas where it shouldn't, like in home address change requests, dark web forums, or data breach lists, LifeLock will let you know.

Beyond monitoring, LifeLock takes a proactive approach in protecting identities. One feature we love is the Privacy Monitor. LifeLock searches through common people-search sites (otherwise known as data broker sites) for your information, like your addresses or phone numbers. When it finds a site that has your information, it will let you know so you can request the site to take it down. You'll do the requesting, though. Privacy Monitor will only help you identify the websites you should contact, but at least it lets you know where to look to prevent potential personal information breaches.
Credit Monitoring
With our Ultimate Plus subscription, LifeLock provided us with comprehensive three-bureau credit monitoring complete with credit reports and score updates from all three bureaus. Credit reports arrived monthly, while the credit score on the app updated daily.
By identity theft protection standards, that's as comprehensive as you can get. That being said, not all plans include credit monitoring to that extent. Outside the Ultimate Plus plan, LifeLock monitors credit from only one bureau, and the lower-tier plans don't include free credit reports. Still, simply having credit monitoring boosts your chances of catching identity theft early exponentially, so LifeLock gets positive marks from us in this area.
We'd also like to note that LifeLock can help you protect your credit proactively by letting you lock your TransUnion credit file with a single click. Just go to your account dashboard and you'll see the option to freeze your credit from there. Of course, you'd also need to freeze or lock your Experian and Equifax accounts to truly protect your credit. LifeLock doesn't let you do that from your dashboard, but you can directly contact both Experian and Equifax to freeze your credit for free.
Financial Monitoring
Here's a two-part feature: First, LifeLock monitored financial accounts, such as credit, checking, and savings accounts. It alerted us when our money moved in those accounts, as well as if someone requested information changes that might indicate that an account takeover was taking place. It also monitored for new account openings under our names and gave us activity alerts on our 401(K) investment accounts.

The second part mostly involves reimbursement in the event that we experience losses due to identity theft. Our Ultimate Plus subscription covers up to $1 million in losses, which is standard across the identity monitoring industry. LifeLock additionally covers $1 million in personal expense compensation and another $1 million for legal expenses.
The $1 million legal fee coverage is included in every LifeLock plan, but the same can't be said about stolen fund reimbursement and personal expense reimbursement. The limit for those depends on your plan, starting at $25,000 for each with the lowest-tier plan. That increases to $100,000 with the mid-tier plans, and $1 million with the Ultimate Plus subscription.
If you want a service that provides the same coverage for every subscriber, check out Aura's plans, which all provide $1 million coverage for stolen funds and legal reimbursements.
User Experience

To set up LifeLock, we created a password and entered our basic information. Then, we entered our billing information and paid for the year. Once we made the purchase, the LifeLock dashboard appeared on our screen.
Online Dashboard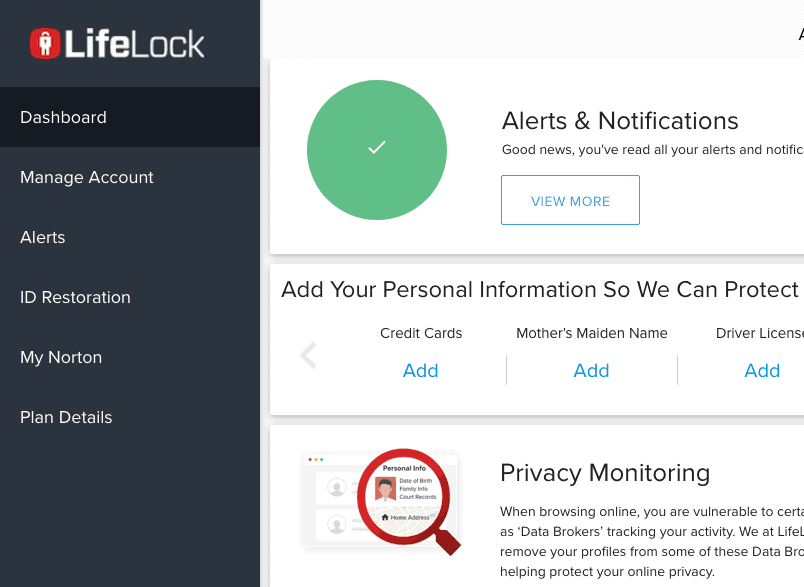 Once at the dashboard, we were asked if we wanted to add more personal information like our:
Insurance information
Bank account numbers
Driver's license number
Credit card numbers.
We recommend putting in as much personal information as possible, as this gives LifeLock a better chance at catching signs of identity theft. Remember: LifeLock — and other identity theft protection services, for that matter — can only protect the information it has on you. Later on, we'll discuss LifeLock's privacy policy so you know if and how much you can trust the company with your personal information.
LifeLock Privacy Monitoring Tool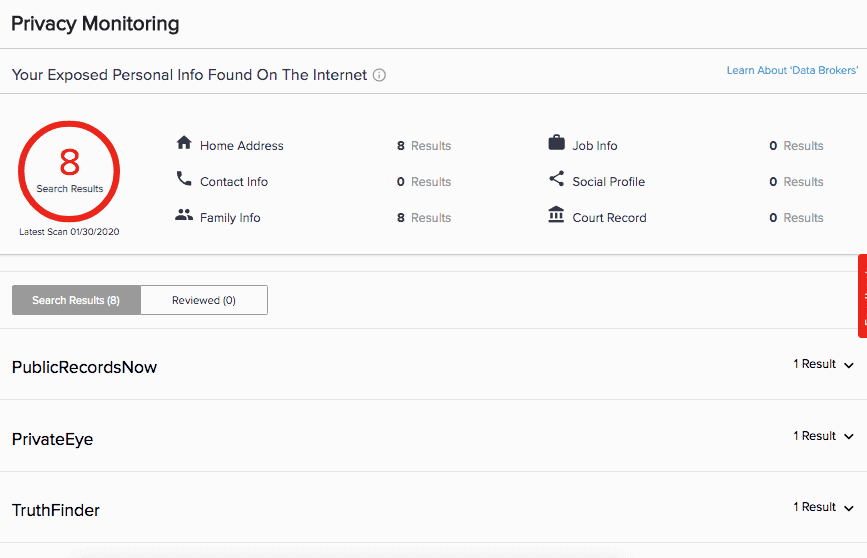 Next, we reviewed the Privacy MonitorIng section. Then, with a click of a button, LifeLock showed us eight places where our personal, identifiable information was listed and gave us a chance to opt-out.

Once we clicked the blue button, we were sent to a third-party website's opt-out page. So really, it was something we could have done for free, but LifeLock certainly made the process easier. All in all, we found LifeLock easy to use on our computer.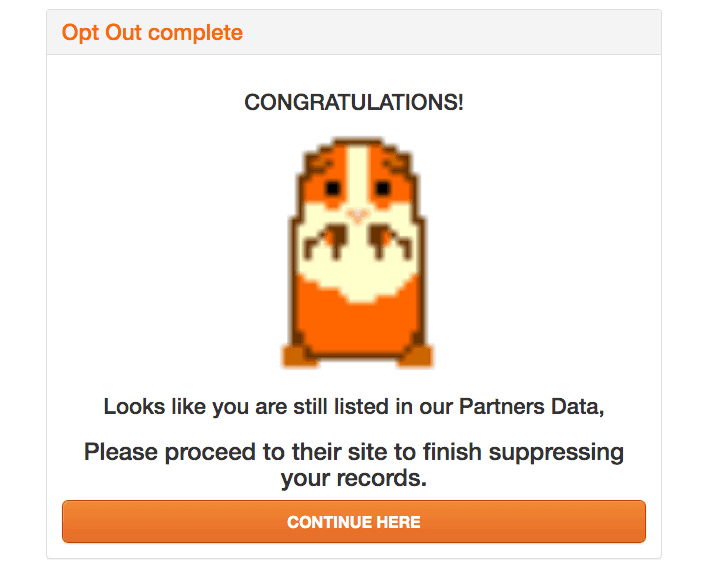 The LifeLock App
Things got a little confusing when it came to LifeLock's apps. LifeLock Norton360 users are supposed to use the LifeLock for Norton360 app. People like us, who selected LifeLock on its own, use an app called LifeLock ID Theft Protection. We weren't able to log onto either app initially.
It turned out, we later learned, that we had to click on "Norton Sign In" below, where we entered our username and password for LifeLock. This was all super confusing, but once we got into the app, it was easy to navigate.
The app was where we received notifications, accessed our credit scores and reports on the go, tracked our financial activities, and more.
LifeLock Subscription Options
LifeLock gave us many annual subscription options. We could either buy LifeLock on its own or pair it with Norton 360, which mainly offered additional device security benefits like VPNs and secure cloud storage.
Depending on our plan, we could have paid anywhere from $8.99 to $29.99 per month. We were disappointed, however, that all of the fees went up after the first year. With any plan, you'll get up to $1 million in coverage for lawyers and experts if your identity is stolen. However, only the most expensive plans cover up to $1 million for the reimbursement of lost funds.
No matter which plan we chose, we were alerted of any changes to our credit, dark web mentions, or if our data was involved in a breach.
Starting at just $8.99 for the first year, LifeLock gave us more than identity theft protection; it gave us peace of mind. Get started today.
Device Security Benefits
Every Norton 360 with LifeLock bundle offers the following features:
Antivirus protection
Secure cloud backup for Windows
Parental controls
Password manager
The number of devices you can protect with the antivirus, however, as well as the amount of secure cloud backup space you'll get, will depend on your subscription.
The entry-level Select bundle protects five devices and offers 100 GB cloud storage. The mid-tier Advantage bundle offers 250 GB of storage and protection for up to 10 devices. The highest tier, Ultimate Plus, offers 500 GB of storage and protection for an unlimited number of devices. You'll enjoy device protections that can enhance your identity protection if you sign up for any of the Norton 360 with LifeLock bundles.
Identity Theft Protection Benefits
LifeLock Standard
Norton 360 w/ LifeLock Select
LifeLock Advantage
Norton 360 w/ LifeLock Ultimate Plus
Reimbursement and Restoration Benefits
Maximum Stolen Funds Reimbursement
$25,000
$25,000
$100,000
$1,000,000
Maximum Personal Expense Compensation
$25,000
$25,000
$100,000
$1,000,000
Maximum Coverage for Lawyers & Experts
$1,000,000
$1,000,000
$1,000,000
$1,000,000
U.S. Based Restoration
Team
Specialists
Specialists
Specialists
Pricing
Monthly Price (First Year)
$8.99
$9.99
$17.99
$29.99
Yearly Price (First Year)
$83.88
$99.48
$155.88
$299.88
Monthly Price (After First Year)
$11.99
$14.99
$22.99
$34.99
Yearly Price (After First Year)
$124.99
$149.99
$239.99
$349.99
LifeLock Standard
Norton 360 w/ LifeLock Select
LifeLock Advantage
Norton 360 w/ LifeLock Ultimate Plus
Identity Theft Protection Benefits
SSN and Credit Alerts
Yes
Yes
Yes
Yes
Number of Monthly Credit Scores & Reports
0
1
1
3
Lost Wallet Protection
Yes
Yes
Yes
Yes
USPS Address Change
Yes
Yes
Yes
Yes
Dark Web Monitoring
Yes
Yes
Yes
Yes
LifeLock Privacy Monitor
Yes
Yes
Yes
Yes
Data Breach Notifications
No
Yes
Yes
Yes
24/7 Live Member Support
No
Yes
Yes
Yes Priority
ID Verification Monitoring
No
Yes
Yes
Yes
Alerts on Crimes Committed in Your Name
No
No
Yes
Yes
Fictitious Identity Monitoring
No
No
Yes
Yes
Sex Offender Registry Reports
No
No
No
Yes
File-Sharing Network Searches
No
No
No
Yes
Bank Account Takeover Alerts
No
No
No
Yes
401K & Investment Account Activity Alerts
No
No
No
Yes
Checking & Savings Account Application Alerts
No
No
No
Yes
Home Title Monitoring
No
No
No
Yes
LifeLock Customer Support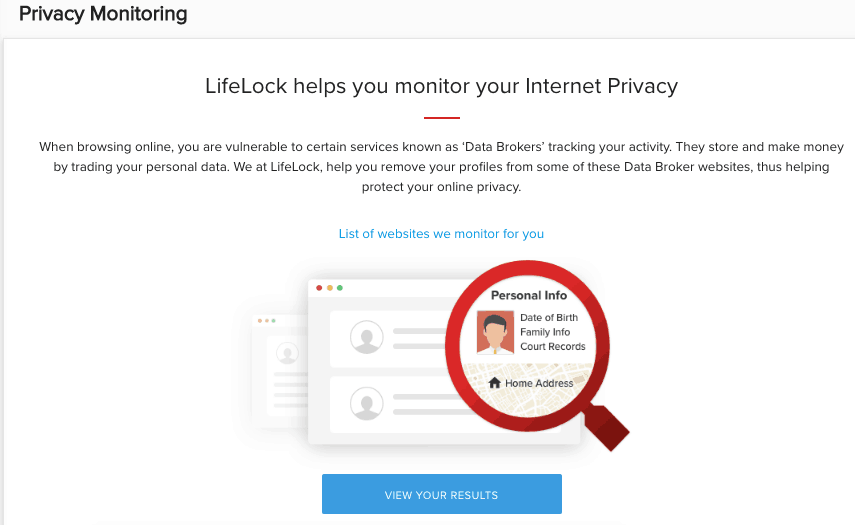 LifeLock was the only identity monitoring company we'd seen that offered 24/7 support over the phone and live chat. Overall, the support lines were easy to reach and the support staff was knowledgeable.
That being said, LifeLock wasn't safe from the pitfall of companies that offer multiple products: confusion. They can resolve simple issues and answer simple questions in a heartbeat, but when it comes to product-specific topics, it can be a bit hit-or-miss. We've noticed that most of the support agents we talked to were more familiar with Norton's antivirus products than LifeLock's ID protection services.
Nonetheless, we're giving LifeLock's customer support a positive rating, mainly due to the fact that it's available 24/7.
LifeLock Privacy
LifeLock offered the whole enchilada when it came to identity monitoring. However, our third-party website research about the company brought worrisome results.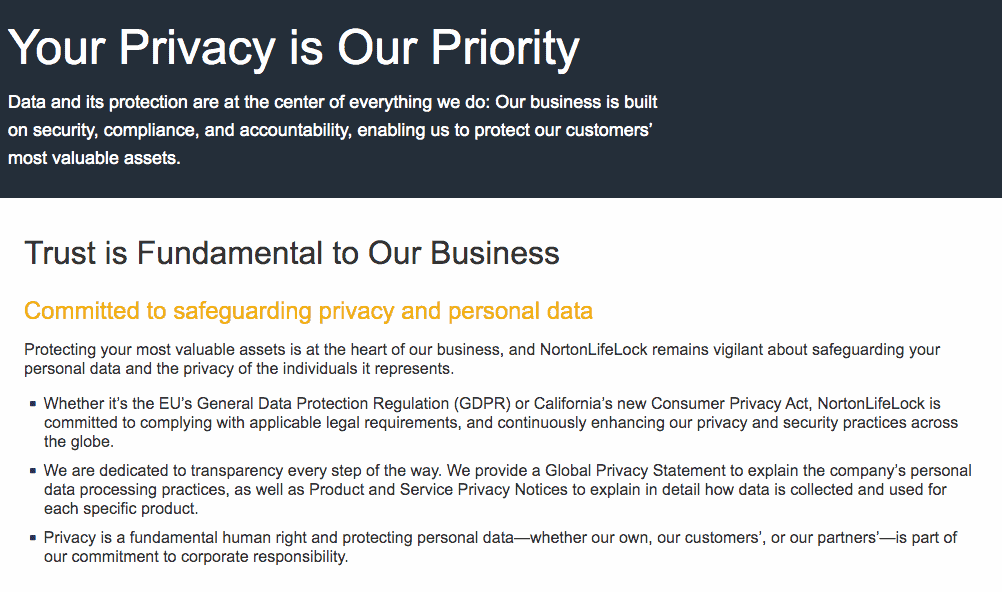 In 2010, LifeLock ran into some issues with the Federal Trade Commission (FTC) regarding their lack of customer data protection and had to pay $11 million. To make matters worse, in 2015, LifeLock had to pay $100 million to its customers for violating their 2010 order to stop false advertising and establish a "comprehensive security program" to protect customer data.
Obviously, LifeLock isn't the most trustworthy company in the world. Naturally, we wanted to find out what personal data LifeLock stored, so we looked at their privacy policy.
LifeLock stores:
Membership and subscription information like our names, email addresses, etc
Data from cookies, including administrative, provisioning, security, usage, and preference data
Third-party data, mainly for threat intelligence
Diagnostic information about their website and app
Believe it or not, this was one of the stricter policies we'd seen from an identity monitoring service. Since LifeLock is U.S-based, the U.S government, which is part of several international surveillance alliances, could legally force them to hand over customer data, so we liked that the company doesn't keep much around.
Plus, LifeLock offers two and multi-factor authentication for its accounts, meaning we had to either enter a passcode or biometric data like our fingerprints to sign in. While the company ostensibly protected customer data and kept a minimal amount, we still had privacy concerns due its previous brushes with the law.
Recap
Given LifeLock's past issues with false advertising and customer data, they aren't our first choice for identity monitoring software. On the other hand, we value its robust feature set and thought LifeLock could be good for anyone who has confidence that the company has changed since its last FTC settlement in 2015.
From its identity and credit monitoring to its device security features, LifeLock had us covered. Learn more.
All in all, LifeLock is an affordable and user-friendly option for protecting your identity, credit, and finances. To learn about other options, check out our review of the best identity theft protection services.