Surfshark Review: Is It Any Good?
Read on for our close-up look at Surfshark, one of the most versatile VPNs out there.
What We Like
Netflix and torrenting access: We loved cozying up on the couch to stream TV and movies as the weather cooled down, and Surfshark even let us watch Netflix in other countries. This instantly expanded our entertainment options.
Versatile and robust VPN connections: Surfshark offers a host of VPN protocols, from OpenVPN and WireGuard, to IKEv2 and IPSec.
Unlimited simultaneous connections: We didn't have to worry about the number of devices we connected to Surfshark at any given time.
What We Don't Like
Static IP address: We received the same IP address every time we connected to Surfshark. This makes it easier for hackers to track us online.
Based in the Netherlands: The Netherlands has privacy-friendly data retention laws, but it's under Nine Eyes jurisdiction, which means the government can compel Surfshark to share customer information when necessary.
Bottom Line
Surfshark's versatility allowed us to access the web while enjoying the peace of mind knowing that others can't track us. It's both secure and fast. With its many VPN protocol options, we know we can use Surfshark and still do everything we normally do online, and so can you.
Recent Update: 1 month ago
Surfshark introduced a new feature called Alternative ID to its Surfshark One subscription. Alternative ID sets up an alternative (decoy) email address, complete with basic personal information, that users can use to sign up for online services, email newsletters, etc.
The internet is akin to dark, murky waters. You never know what dangers are waiting just beneath the surface. That's why it's crucial to take precautions whenever you're surfing the web.
One must-have measure is a VPN, otherwise known as a virtual private network. A VPN protects you from online dangers looking to invade your privacy, from companies trying to collect online data to sell to third parties to government overreach.
In this review, we'll take a deep dive into a VPN service that is consistently in the headlines for its good-value VPN service: Surfshark. A Surfshark subscription starts at $2.39 per month, a very good price indeed, but how much protection can it really offer? Find out as we take you through our hands-on experience with this VPN.
Mac Testing
| | |
| --- | --- |
| Latency difference | 2% |
| Upload speed difference | 9% |
| Download speed difference | 31% |
| DNS leak test | Passed |
| WebRTC test | Passed |
Editor's Rating
No-logs VPN company based in the Virgin Islands
Allows unlimited connections, double VPN, and split tunneling
Choice of OpenVPN, IKEv2, L2P2, Shadowsocks & more
Video Review
Our video review will show you exactly how to use Surfshark to encrypt your web traffic, completely free for 30 days. Start your trial here.
Company Background
It's always a good idea to do a background check before dealing with any brand, but more so if you're dealing with a VPN company. In order to protect your online privacy, a VPN uses servers through which your online traffic will be routed. They keep outsiders from seeing your data, but since they own the servers, they will have access to it. Can you entrust your data to Surfshark?
The first thing you should know is that Surfshark is located in the Netherlands, and that puts them in a good position. The Netherlands is generally privacy-friendly. It doesn't require VPN companies to retain data – unlike countries like India and China – thus allowing Surfshark to uphold a "zero-log" policy.
Surfshark's logging policy is that no data whatsoever related to your VPN activity is to be recorded or logged. It won't keep your browsing activity and IP address, for instance.
That's important because the Netherlands is a member of the Nine Eyes international alliance, a band of countries that share intelligence information with each other. If, let's say, the U.S. government wants access to your data, the Netherlands government can force Surfshark to share information because the company is under their jurisdiction. Fortunately, because Surfshark doesn't keep logs, it has nothing to share.
Surfshark Features
Now that you know Surfshark as a company, it's time to get to know Surfshark as a VPN. We tested Surfshark on multiple devices, and we're ready to break down to you the features that it offers.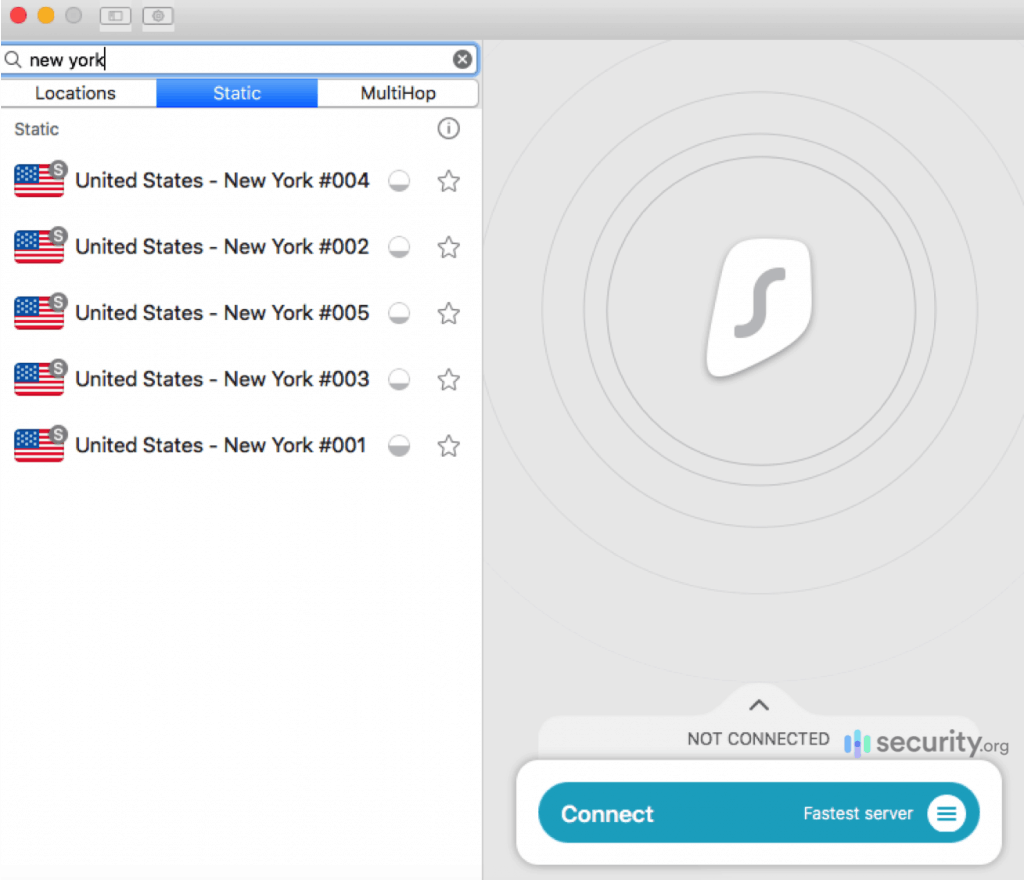 Of course, as a VPN, Surfshark's primary job was to hide our IP addresses and web activity, and we've proven that it does exactly that with our DNS and WebRTC leak tests below.
Aside from that, Surfshark had other features that made us giddy. Check them out below.
Torrenting and Streaming
We use VPNs primarily to protect our privacy, but there's no harm in using them for a little entertainment, right? Surfshark let us torrent from our favorite torrent sites and stream on Netflix, Hulu, Disney+, and a bunch more services.
Here's why that's important: Our government frowns upon the use of torrenting services because it's used for piracy, so when you're torrenting, using a VPN is necessary. It keeps your online activity hidden away from Big Brother's watchful eyes, so you can download torrent files to your heart's content.
On the other hand, streaming from a streaming platform with a VPN allows you to unlock regional libraries outside your own. For example, if you connect to a server in Australia, the streaming service will see your Australia-based IP address, so you'll gain access to, let's say, Netflix Australia.
Camouflage and No-Borders Mode
Back to the more serious stuff. Camouflage Mode and No-Borders Mode are both Surfshark settings that make it easier and safer to connect to a VPN when you're in a more restrictive country. There are countries that ban the use of VPNs, and while using Surfshark can land you in jail in those countries, it has features that can help you evade detection.
Camouflage Mode, otherwise known as obfuscation, makes your VPN traffic look like normal traffic so that governments don't detect that you're using a VPN. This is helpful in countries or territories where using a VPN is illegal or frowned upon by the government.
No-Borders Mode, on the other hand, automatically kicks in when Surfshark detects that you're in a restrictive country, and will limit your selection of servers to those designed to bypass censorship specifically.
Just remember that these features aren't fool-proof, so use it at your own risk. Better still, stay on the good side of the law and don't use a VPN when you're in a restrictive country unless absolutely necessary.
Pro Tip: Traveling for business? A VPN is one of the three must-have digital security products, but always check the country's laws regarding VPNs before using one.
Kill switch
No VPN is perfect, and dropping a connection unexpectedly every once in a while is normal. However, if that happens, it could expose your online traffic to your ISP. That's where the kill switch feature comes in. It automatically disrupts all your internet traffic to prevent it from ever leaking out in case of dropped VPN connections. All online connections will only resume once Surfshark is up and running again.
Split tunneling
Through a feature called Whitelister, you can configure certain apps or websites to bypass Surfshark's VPN tunnel. This is useful if you're using services that don't allow connections through a VPN, such as online banking. Instead of turning off Surfshark, which would compromise all the other tabs you have open on your browser, you can simply whitelist the online banking website to access it outside Surfshark's VPN tunnel.
For Surfshark's browser extensions, split tunneling is available through a setting called bypass list. There, you'll list all the websites and domains you want to bypass Surfshark's encryption, so that next time you open those sites, they'll automatically connect outside the encrypted tunnel.
Dedicated IP Address
Normally, when you connect to a VPN, it changes your IP address to that of the VPN server you're connected to. That's advantageous for your privacy, but there are times when you'll need a dedicated, unchanging IP address. For example, if you're trying to use a website or service that identifies users based on IP addresses, such as P2P file-sharing services.
Surfshark recently added servers with dedicated IP addresses that users can connect to whenever they need a fixed IP address. These servers are located in the U.S, the U.K., and the Netherlands, with more locations coming soon.
Take note that dedicated IP addresses are considered as add-ons, so you'll have to pay an additional monthly fee to maintain access to a fixed IP address. If you have a current SurfShark plan, you can buy a dedicated IP address for as low as $3.75 per month.
MultiHop and Dynamic MultiHop
Want some extra security and privacy? MultiHop, otherwise known as a double VPN, connects you to not just one but two VPN servers. That means twice the data encryption and double the privacy.
Surfshark's Dynamic MultiHop feature goes the extra length to provide a pleasant experience. Most VPNs that offer multi-hop have limited and pre-selected server pairings that determine the first and second servers for you. That seriously limits your options. With Surfshark, you're free to choose your server pairings from a list of servers that support Dynamic MultiHop. Not all its servers support Dynamic MultiHop, though, but it's still a whole lot better than having a fixed menu of pairings.
FYI: Surfshark is sunsetting its classic MultiHop feature in favor of Dynamic MultiHop. Newer versions of the app no longer have the old MultiHop feature.
Surfshark One
Lastly, Surfshark One is an all-in-one digital security subscription that includes access to the Surfshark VPN, antivirus software, secure search engine, identity monitoring service, and a feature called Alternative ID.
Surfshark One is designed to enhance your online privacy and identity protection using a combination of those features. The antivirus software protects you from malware that could be used to steal digital data. The identity monitoring service monitors the internet for breaches that contain your personal data. The secure search engine offers an alternative to popular search engines that can be risky to your privacy, such as Google.
We'd like to call out, however, the Alternative ID feature. It's a new feature that essentially creates an alternative online identity for you to use on sites and online services that require you to provide your personal information. It generates an alias complete with a name, date of birth, valid home address, and email address so you can sign up for online accounts without giving up your actual personal information.
Surfshark One comes in two levels. The standard Surfshark One plan costs $3.49 if you pay for a two-year subscription. This plan includes all the features mentioned above. The advanced plan called Surfshark One+ costs $6.49 per month, again, if you pay for two years. It adds in personal data removal from people search sites and data broker lists, enhancing your identity protection.
How Fast Is Surfshark?
It's no secret that using a VPN tends to slow down your internet speed, as your online traffic has to go through encryption and be routed through a VPN server. Fast VPNs, however, can keep the speed loss to a minimum.
To test Surfshark's speed, we connected both a Macbook Pro running macOS and an Acer laptop with Windows 10 to the VPN and performed a few speed tests. It performed better on the Macbook, but its performance on Windows wasn't half bad either.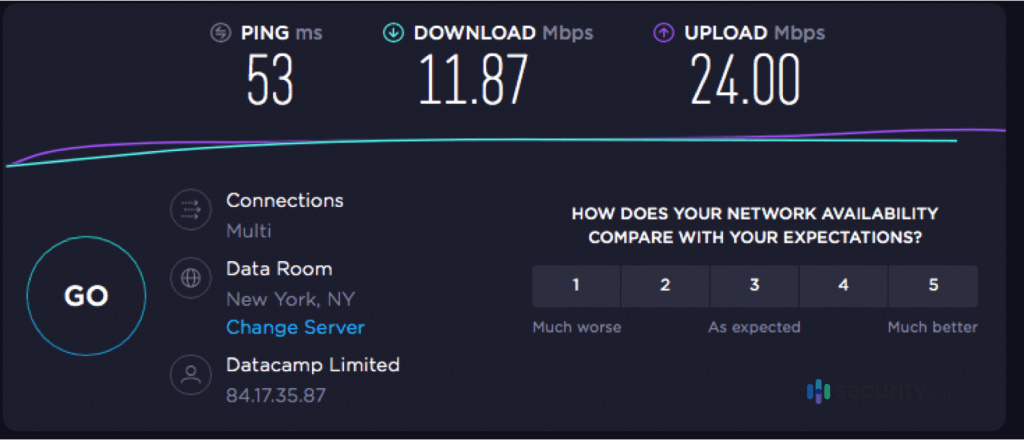 However, speed is determined by a large number of factors, including your distance to the server, device make and model, operating system, browser type, and more, so take our speed tests with a grain of salt.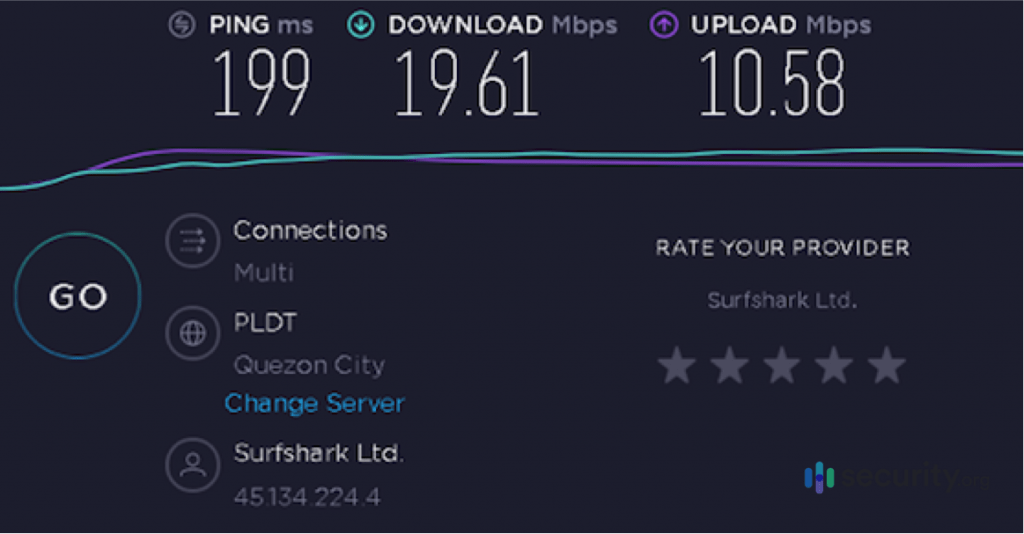 | Devices tested on | MacBook Pro 2011 | Acer Aspire 5 (Windows 10) |
| --- | --- | --- |
| Ping without VPN (in ms) | 54 | 7 |
| Ping with VPN (in ms) | 53 | 199 |
| Ping difference | 2% | 2742% |
| Macbook download speed without VPN (in mbps) | 16.21 | 23.69 |
| Download speed with VPN (in mbps) | 11.87 | 19.61 |
| Download speed difference | 31% | 17% |
| Upload speed without VPN (in mbps) | 22.01 | 24.09 |
| Upload speed with VPN (in mbps) | 24 | 10.58 |
| Upload speed difference | 9% | 56% |
Later, we tested Surfshark again against other VPNs, and we used a more comprehensive testing process this time around. While Surfshark didn't come out the fastest, its performance was solid, delivering high download speeds, passable upload speeds, and a consistent latency. You can read more about this test on our VPN speed test page.
How Secure Is Surfshark?
If your VPN isn't taking good care of your data, you may be experiencing a "the call is coming from inside the house" situation. But have no fear: we walked around this proverbial house checking under every bed frame, and here's what we came out with.
Encryption Methods
Using outdated encrypted methods is kind of like using an old lock on a safe; sure, it's better than nothing, but we want better protection for our valuables. So, after some digging, we found that Surfshark encrypted our information using AES 256-bit, which is what we expect from VPNs in 2023.
On top of that, Surfshark encrypted our traffic through multiple servers, hiding our web traffic even more. This isn't usually the case for even the best VPNs on the market, so we feel good about Surfshark protecting our web activity.
Logging Policy
But that wasn't enough for us. No, we wanted to actually read the fine print of Surfshark's privacy policy to see what data of ours they kept and vice versa. Our findings?
What Surfshark logs: Surfshark kept our account information like our email addresses, our passwords, although they were encrypted, billing information and order history, diagnostic reports, which we opted out of, as well as anonymized information from its website like what pages we visited and how long we stayed there. Also, it kept our IP addresses and unique device identifiers, but only from its website as opposed to the actual VPN app. Like most companies, Surfshark collected cookies, which we could opt out of, as well.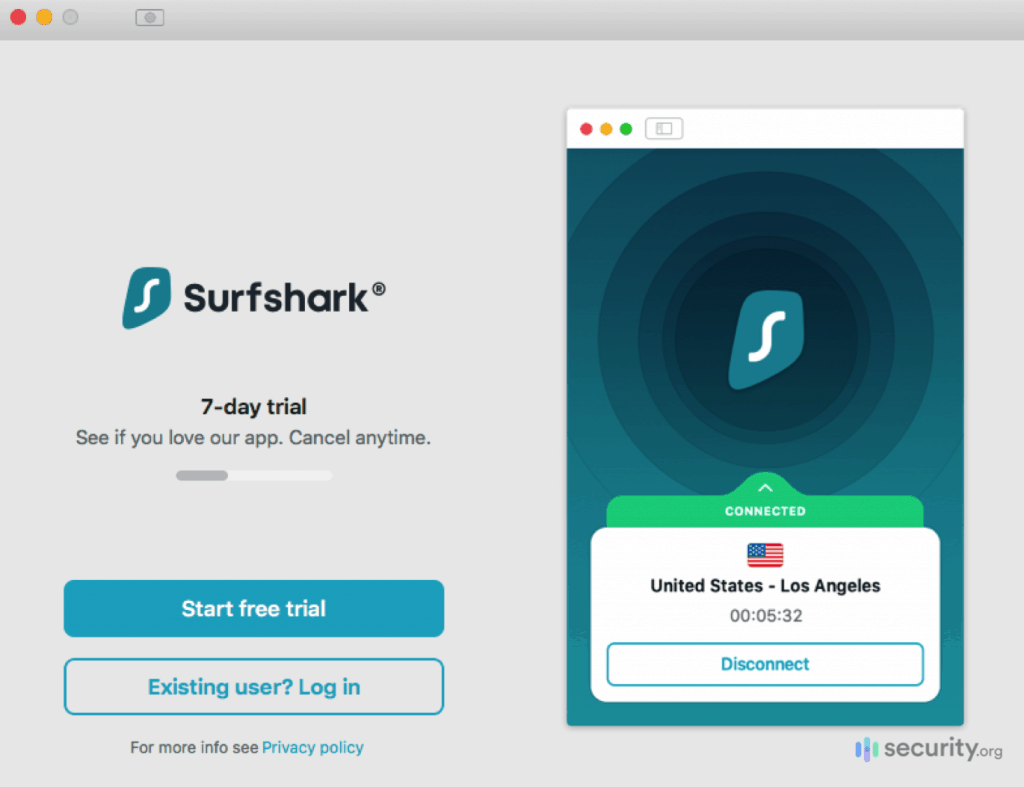 What Surfshark doesn't log: Surfshark didn't keep our IP addresses, session information, browsing history, the times we connected, the amount of bandwidth we used while connected to the VPN, our network traffic, etc.
Compared to other VPNs we've tested, Surfshark keeps the minimal amount of data necessary to run its service, making it a great choice for privacy. In fact, it's on our list of one of the best no-log VPN services out there.
| Data | Does Surfshark log it? |
| --- | --- |
| IP addresses | No |
| Browsing history | No |
| Session information | No |
| Used bandwidth | No |
| Time stamps | No |
| Network traffic | No |
| User's email address | Yes |
| User's password | Yes |
| Payment data | Yes, unless you use anonymous payment methods such as cryptocurrency |
DNS Leak Tests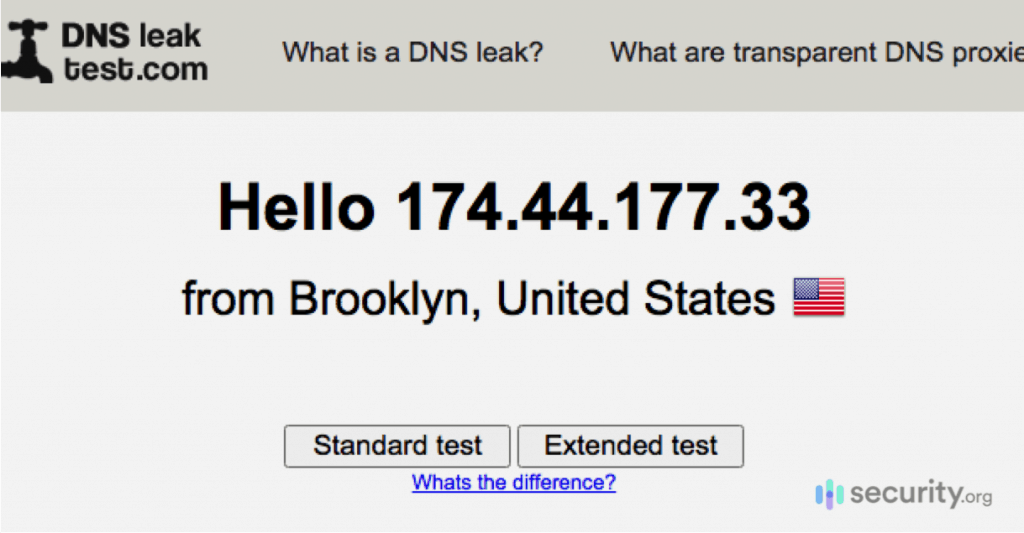 A DNS is a domain name server, meaning, the common name that comes with an IP address; think Security.Org (our domain name) as opposed to 13.35.89.25, one of our website's IP addresses.
Of course, if a VPN isn't hiding our DNS when connected, something is off, which is why we tested it out. Fortunately for us, the test showed a different IP address when connected versus not connected. That means Surfshark hid our web activity when we tested it out on both our Mac and Windows computers. Checkmate!

WebRTC Leak Tests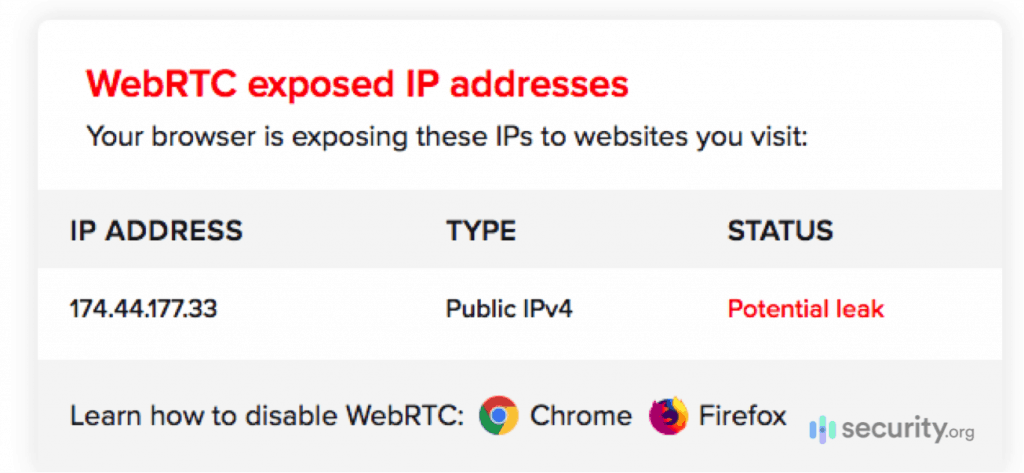 Finally, we also performed a WebRTC leak test using Surfshark. A little background info: whenever we video chat with friends, transfer files, or live stream Netflix, our computers use something called WebRTC, which is basically a collection of technologies that let web browsers communicate directly with each other as opposed to going through a middle-man server.
Sure, this creates faster speeds and rids us of excessive lag, but it also requires the two devices to know each other's private IP address; no thank you. The question remained: did Surfshark leak our private IP addresses?
The short answer is: no, it didn't. Even while we chatted on video, Surfshark hid our real IP addresses. So as far as privacy and security are concerned, Surfshark is at the top of its game.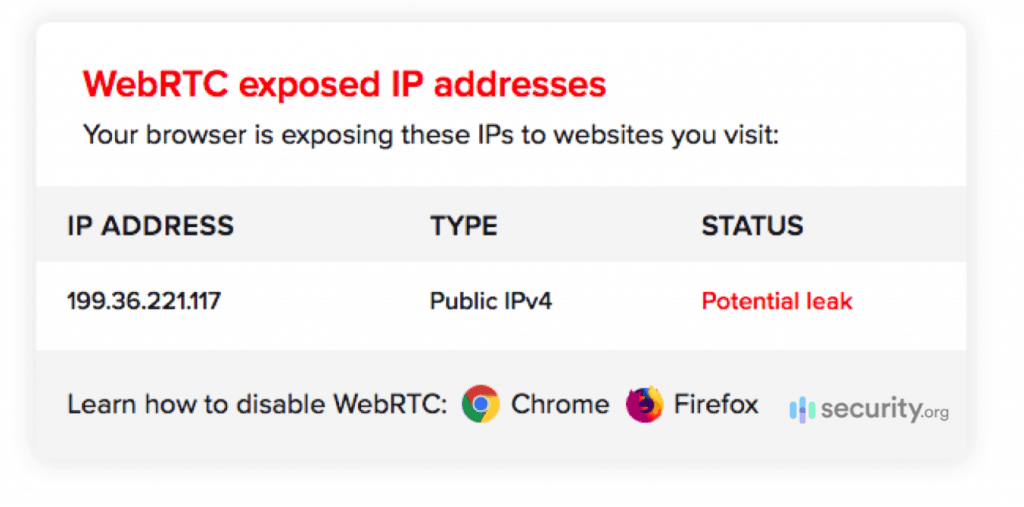 Tip: Firefox, Opera, Chrome, and Microsoft Edge all default to WebRTC, making them more vulnerable to WebRTC leaks. If you're streaming content, video chatting or transferring files on any of these browsers, make sure to connect to a VPN beforehand.
Surfshark Pricing Overview
After our seven-day free trial with Surfshark ended, we had several options when it came to paid subscriptions. In essence, all subscriptions gave us the same features, like being able to connect unlimited devices to Surfshark. The only thing that differs between the subscriptions is its term lengths, namely one month, one year, or two years.
| Term length | Monthly price | Monthly price with Surfshark One | Annual price | Total amount billed | Annual price after first billing period | Savings |
| --- | --- | --- | --- | --- | --- | --- |
| 1 month | $12.95 | $14.44 | $155.40 | $12.95 | $155.40 | n/a |
| 12 months | $3.99 | $5.48 | $47.88 | $47.88 | $59.76 | 69% |
| 2 years | $2.49 | $3.98 | $29.88 | $59.76 | $59.76 | 81% |
Surfshark's monthly rate is notably more expensive than NordVPN's pricing, but if you plan to sign a longer subscription, you'll eventually get more value from Surfshark.
For example, NordVPN's two-year plan costs about $3.99 a month, while Surfshark's costs $2.49. That means in two years, you'll save nearly $30 if you go with Surfshark rather than NordVPN. Of course, there are other factors like features and performance, but price-wise, Surfshark comes out on top. Compare Surfshark vs. NordVPN VPN connections further.
Surfshark recently updated its price structure to give room for its Surfshark One and Surfshark One+ offers. The pricing above represents Surfshark Starter, the VPN-only package. Surfshark One (starts at $3.35) includes the VPN and the other digital tools offered by Surfshark. Surfshark One+ (starts at $6.23), on the other hand, offers the same features as Surfshark One plus a service that removes your personal data from data brokers and people search sites.
FYI: Students registered with Student Beans can get 15 percent off a Surfshark subscription. We recommend signing up for two years to get the lowest rates.
With prices as low as $2.49 a month for its two-year package, Surfshark isn't only secure; it's also about as cheap as VPNs come. For more information, read our Surfshark subscription page, or read about Surfshark deals and Surfshark Black Friday deals. For Black Friday last year, Surfshark added three months to its 24-month subscriptions at no added cost, bringing down the monthly cost to $2.21 per month.
Find out if Surfshark can protect your home like other VPNs
We tested Surfshark and compared it side-by-side with other brands to give you the full picture.
Recap
Like any other VPN, Surfshark has its flaws, but they're very minimal and the benefits definitely outweigh the costs, financial and otherwise. With military-grade encryption, an impressive privacy policy, and extremely low prices, Surfshark is a good fit for most people who want to hide their web activity.
Using a VPN isn't the only way to protect yourself online. Check out our list of the best digital security practices for more tried and tested methods.
Surfshark FAQs
Surf's up! We're not done riding the wave of Surfshark, so sit back, relax and enjoy the answers to our most frequently asked questions.