SimpliSafe Pricing and Package Costs
SimpliSafe offers a wide range of equipment packages, with flexible self monitoring and professional monitoring options that don't require contracts.
Monthly subscription plans
Fast and easy DIY installation
Reliable professional monitoring
Professional monitoring costs $19.99 or $29.99 per month
Camera recording on five cameras costs as little as $9.99 per month
Packages range from $250 to $700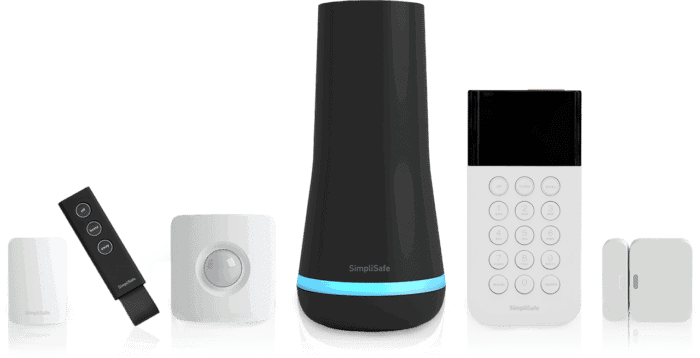 All of our content is written by humans, not robots.
Learn More
By

&

Last Updated
Oct 30, 2023
Recent Update: 1 month ago
One of the biggest security system deals of the year is on. Get 45-percent off of SimpliSafe packages and get two free pieces of equipment: an indoor camera and an auxiliary siren. Plus, enjoy 30 days of Fast Protect professional monitoring for free.
In this economy, every dollar saved can go a long way, but would you really want to go with a budget option for home security? No one wants to compromise security for savings, but we might have found a security system that lets you enjoy top-notch protection without any unnecessary costs: SimpliSafe.
Let's check out SimpliSafe. Despite being one of the most affordable security systems, SimpliSafe is in the same class as the best security systems in the market today. In fact, it ranks second-highest in our ratings, next only to the industry leader ADT. What makes SimpliSafe successful despite its affordability? To answer that, we'll take a close up look at SimpliSafe's pricing, features, and monitoring service in this SimpliSafe pricing guide.
Let's start with an overview of SimpliSafe's security system packages and pricing:
How Much Does SimpliSafe Cost?
SimpliSafe is affordable not because it cuts corners, but because it lets customers opt to pay for only what they need. Most security systems these days require an equipment fee, an on-going monitoring fee, and a one-time installation fee. With SimpliSafe, only one of those is required: Buying the equipment. That means, after setting up your system, you can use it without any on-going fees.
Of course, you will have to compromise if you want to pay just the equipment fee. First, by skipping the installation fee that starts at $125, you'll have to install SimpliSafe yourself. The good news is SimpliSafe designed their equipment for easy DIY setup, and in our experience, it takes less than 30 minutes to install a 10-piece SimpliSafe system.
Next, if you want to skip the monitoring fee, you can self-monitor SimpliSafe for free. That means you won't get access to professional monitoring. If you want all-around protection, though, we recommend paying for a monitoring plan.
The only thing SimpliSafe requires you to pay for if you want its home protection is the hardware. Let's dive a bit deeper.
Equipment Packages
First things first, SimpliSafe's equipment pricing changes all the time because of discounts. Of all the security systems we're keeping track of, SimpliSafe has special offers and deals most frequently. At a minimum, you can get a 20-percent discount almost all year round, but the discounts can go as high as 60-percent during special holidays. At one point this year, SimpliSafe offered its $250 kit for just $100.
On top of the discounts, SimpliSafe offers freebies, usually either one of its three security cameras: the Smart Alarm Wireless Indoor Camera (which replaced the SimpliCam), SimpliSafe Outdoor Camera Pro, or SimpliSafe Video Doorbell Pro.
The easiest way to get started with a SimpliSafe system is through a pre-customized package, but aside from that, you can also build your own SimpliSafe system. If you're looking for an apartment security system or a system for a small house, for instance, it may make sense to purchase just a base station, a few entry sensors, and a motion sensor. That way, you're buying just what you need — nothing more and nothing less.
We'd recommend checking out SimpliSafe deals before customizing though, especially SimpliSafe Black Friday deals and SimpliSafe Prime Day deals. Like we said, SimpliSafe loves throwing deals, and you might just be able to score better prices if you buy around shopping holidays. For now, check out SimpliSafe's packages and their regular pricing.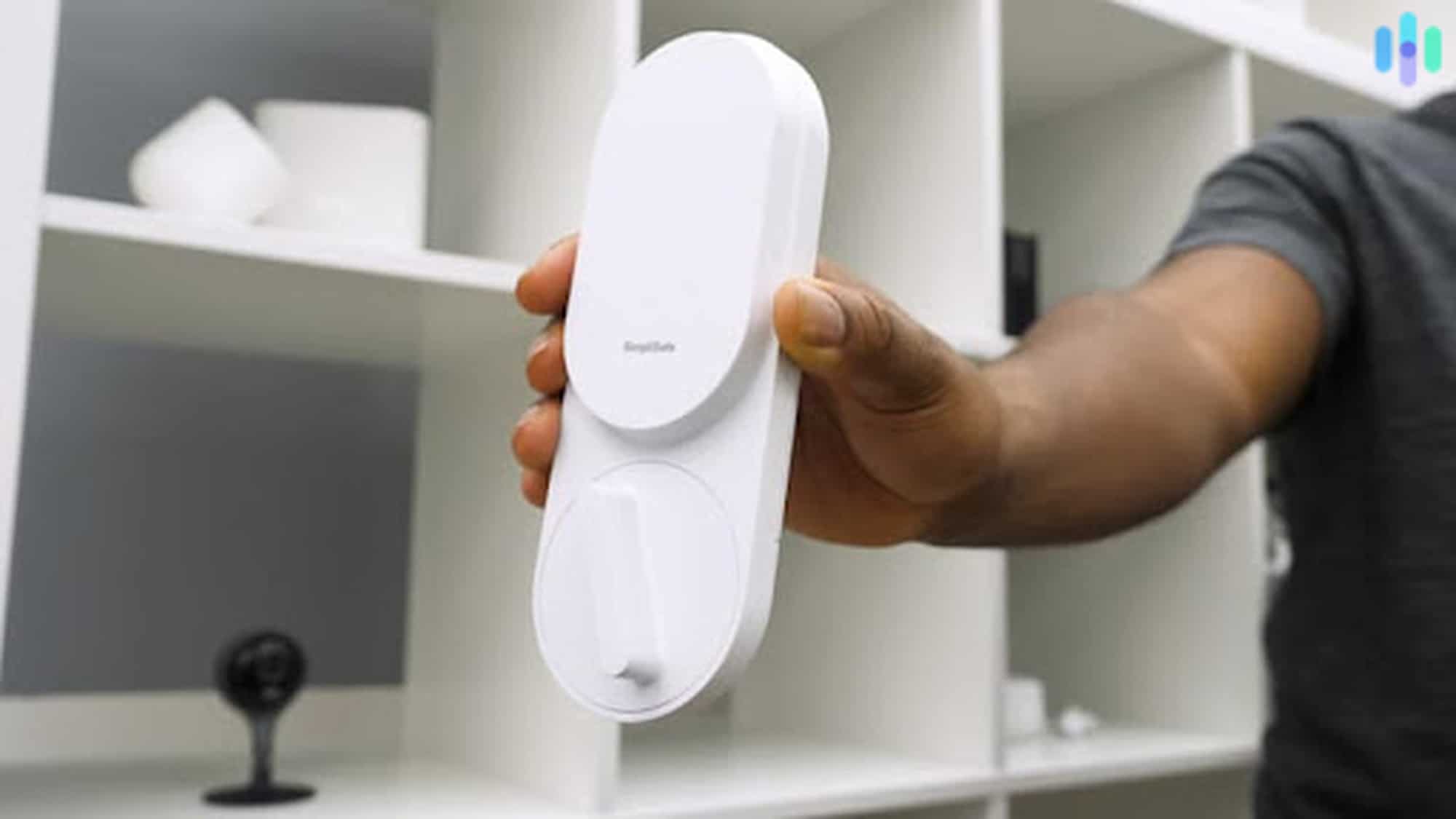 FYI: If you live in an especially cold climate, we recommend looking elsewhere for an outdoor camera, as SimpliSafe's outdoor camera is only rated for temperatures of above 20 degrees Fahrenheit.
The Beacon— $699.90
Components: Base station, keypad, four entry sensors, two motion sensors, two outdoor cameras
The Lighthouse— $464.93
Components: Base station, keypad, three entry sensors, motion sensor, outdoor camera
The Haven— $509.86
Components: Base station, keypad, key fob, four entry sensors, two motion sensors, auxiliary siren, panic button, freeze sensor, smoke detector, water sensor
The Knox— $469.87
Components: Base station, keypad, key fob, six entry sensors, two motion sensors, auxiliary siren, smoke detector
The Hearth— $394.91
Components: Base station, keypad, key fob, three entry sensors, motion sensor, auxiliary siren, smoke detector
The Essentials— $274.95
Components: Base station, keypad, three entry sensors, motion sensor
The Foundation— $244.96
Components: Base station, keypad, an entry sensor, motion sensor
Refurbished System— Starts at $206.20
Components: Base station, keypad, two entry sensors, two motion sensors
SimpliSafe Equipment List
Whether you plan to buy a package or customize your own, you'll have the option to buy additional components as you see fit for your home security. Below is the regular pricing of SimpliSafe's add-on equipment.
| Device | Cost |
| --- | --- |
| Base station | Included free in all packages |
| Entry sensor | $14.99 |
| Temperature sensor | $29.99 |
| Glass break sensor | $34.99 |
| Key fob | $24.99 |
| Keypad | $69.99 |
| Motion sensor | $29.99 |
| Panic button | $19.99 |
| Smart Alarm Wireless (new indoor camera) | $139.99 |
| SimpliCam (indoor camera) | $99.00 |
| Wireless outdoor security camera | $169.99 |
| Smart lock | $99 |
| SimpliSafe Video Doorbell Pro | $169 |
| Outdoor kit | $19.99 |
| Extra outdoor camera battery pack | $29.99 |
| Outdoor camera solar panel | $79.99 |
| Outdoor camera charging cable | $49.99 |
| Siren | $59.99 |
| Carbon monoxide sensor | $49.99 |
| Adhesive tape for 6 sensors | $3.99 |
| Adhesive tape for 4 entry magnets | $1.99 |
| 5 window decals | $4.99 |
| Yard sign | $3.99 |
| Smoke detector | $29.99 |
| Water sensor | $19.99 |
| Extra entry magnet | $4.99 |
| Panasonic CR123A battery | $4.99 |
| CR123A lithium battery | $4.99 |
| 4 AA batteries | $3.99 |
| CR2032 lithium battery | $3.99 |
To see exactly what we thought of SimpliSafe's components in practice, read our full SimpliSafe security system review or check out our SimpliSafe FAQs.
Pro Tip: If spending hundreds of dollars up-front on security equipment isn't feasible, SimpliSafe has partnered with Affirm to offer zero-percent APR financing on orders over $150. You can choose to pay in installments for three, six, or 12 months, starting at about $20 per month for the smallest package.
Monitoring Options and Pricing
Now we know what you're thinking. After paying nearly $300 for equipment, how much is SimpliSafe going to cost you per month?
Well, as explained earlier, you can skip the monitoring fee and use SimpliSafe as a self-monitored system. However, that means if there's a break-in, for example, you'll be the one calling the cops. Moreover, if you miss the alert from your security system, you risk not getting help on time.
If your security system includes security cameras as well, there are more trade-offs to consider. SimpliSafe cameras don't record locally. They don't have DVRs or microSD card slots. They only record to the cloud, which unfortunately requires a subscription. Without a subscription, they can still alert you of movement, let you use two-way talk, and give you access to a live stream, but you won't be able to playback clips and footage. That's why, if you want to make the most of your purchase, we recommend pairing SimpliSafe cameras with at least cloud recording.
For camera recording, you can pay $9.99 per month to store unlimited recordings from up to five cameras. For camera recording and professional monitoring, you can pay $29.99 per month for the Fast Protect plan that will give you unlimited cloud storage for up to 10 cameras, professional monitoring, cellular backup, video verification, and 24/7 Live Guard protection.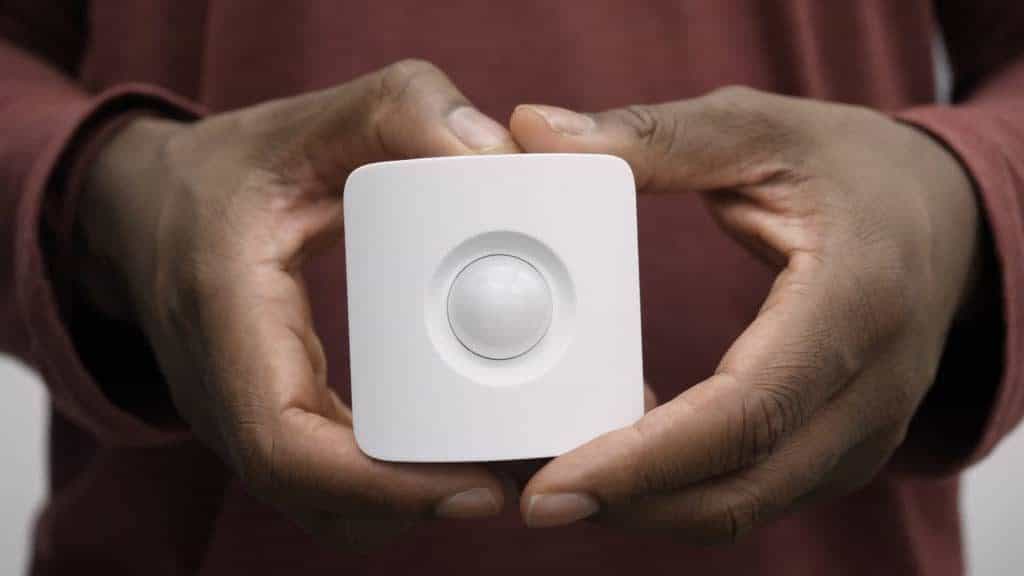 Unlike self-monitoring, where you are responsible for your home's security, 24/7 professional monitoring means that a team of people is available at all times to check in if any of your alarms go off and verify if an emergency is happening. If that's the case, they can contact the proper emergency services for you, be it the police, the fire department, or even your local hospital.
Another perk of the Interactive plan is cellular backup. SimpliSafe uses your home Wi-Fi network to communicate and generate alerts, but as we all know, internet networks are not always reliable. With cellular backup, though, SimpliSafe powers up its built-in cellular chip to be able to use cellular signals to send alerts, no different than sending text messages from the base station. This is a valuable backup measure that ensures your system is always connected and ready to transmit alerts.
SimpliSafe Monitoring Breakdown
| Features | Free plan | Camera recording only, five cameras | Standard Plan | Fast Protect Plan |
| --- | --- | --- | --- | --- |
| Livestreaming | Yes | Yes | Yes | Yes |
| 24/7 Professional monitoring | No | No | Yes | Yes |
| Cellular connection | No | No | Yes | Yes |
| Environmental monitoring | No | No | Yes | Yes |
| Remote control | Yes | Yes | Yes | Yes |
| Notifications | Yes | Yes | Yes | Yes |
| Secret alarms | No | Yes | No | Yes |
| Video verified alarms | No | No | No | Yes |
| Unlimited cloud storage | None | 5 cameras | None | 10 cameras |
| Smart home integrations | No | Yes | No | Yes |
| Monthly price | Free | $9.99 | $19.99 | $29.99 |
SimpliSafe offers two professionally monitored plans, namely, Standard and Fast Protect. Being the cheaper of the two, the Standard plan is a pretty barebones monitoring plan. It includes cellular backup (continuous monitoring in case your internet goes down) and professional monitoring itself, but nothing else. You won't be able to integrate smart home devices, create secret alarms, or get video-verified alarm responses. Those features are reserved for the slightly more expensive Fast Protect plan.
Is the Fast Protect plan worth it? Well, that depends on how important its extra features are for you, namely, secret alarms, video verification, 24/7 Live Guard, cloud storage, and home automation integrations.
Secret Alarms
Secret alarms notify only certain people when the system detects a problem; the base station's siren doesn't go off. This is useful in case of home invasions, when you don't want the intruders to know that you have an alarm system that can call the cops.
Video Verification
Next, video verified alarms provide you and the monitoring center with a video clip along with your notification. Because they've verified that there's a crime in progress, police response can be sped up. This feature is also called Fast Protect™, and where things are headed, it seems that SimpliSafe is adding extra perks to this feature. For example, users can now receive text alerts and verify or cancel alarms by replying to the text, making the process a lot more streamlined.
24/7 Live Guard
24/7 Live Guard has to be the most intriguing of the Fast Protect plan features. It works exclusively with the new indoor camera released by SimpliSafe, the Smart Alarm, and it gives SimpliSafe's monitoring center temporary access to live feeds and recorded videos when an alarm is triggered.
Of course, that may raise privacy concerns, especially since the Smart Alarm is an indoor camera. However, the live response only triggers after meeting a couple of criteria. First, there has to be motion. Second, the motion has to have been verified by the camera's on-board AI as a person-triggered event. If both criteria are met, live agents will be able to verify the motion event and use two-way talk to stop intruders in their tracks.
Cloud Storage
Cloud storage, as we discussed earlier, allows up to 10 cameras to record to the cloud. If you want cameras included in your security monitoring, this is a solid feature that you'll surely need.
Home Automation
Lastly, home automation integrations allow you to pair up SimpliSafe with smart home brands and ecosystems, such as Alexa, Google Assistant, and August Locks.
SimpliSafe doesn't require users to sign a long-term contract either, unlike the worst security systems that often force or trick customers into signing a contract. Of course, contracts aren't all that bad. Reputable companies like ADT and Vivint have contracts too, but if you want to avoid contracts altogether (and we can't blame you), SimpliSafe is a top choice.
Did You Know? With cellular backup, you don't have to worry if your Wi-Fi network goes down. Your base station will switch to a cellular connection and continue working.
Installation Pricing
SimpliSafe is a DIY security system, so there are no required installation fees. SimpliSafe will ship you a box containing your home security system and it will be up to you to set it up. But don't worry, it only takes about 30 minutes to set up everything.
That said, if you want a more professional touch, you can get your security system installed by a third-party SimpliSafe partner called OnTech. The service starts at $125.
How Does It Compare?
In terms of equipment and monitoring costs, SimpliSafe is at the lower end of the pricing spectrum with professional monitoring and cellular backup costing around $30 a month. We've seen some more traditional brands range from $40 to $60 a month. Many of them require long-term contracts as well, with some contracts as long as five years.
In terms of both cost and term length, SimpliSafe is affordable and flexible. While its monitoring costs aren't the absolute lowest on the market (we've also seen monitoring for as little as $10 a month), SimpliSafe is still very affordable. The brand also runs several specials and sales throughout the year, including the 20-percent discount on new systems that we mentioned above. But if you don't catch the deal, don't despair; SimpliSafe has deals all year round, sometimes going as high as 60-percent.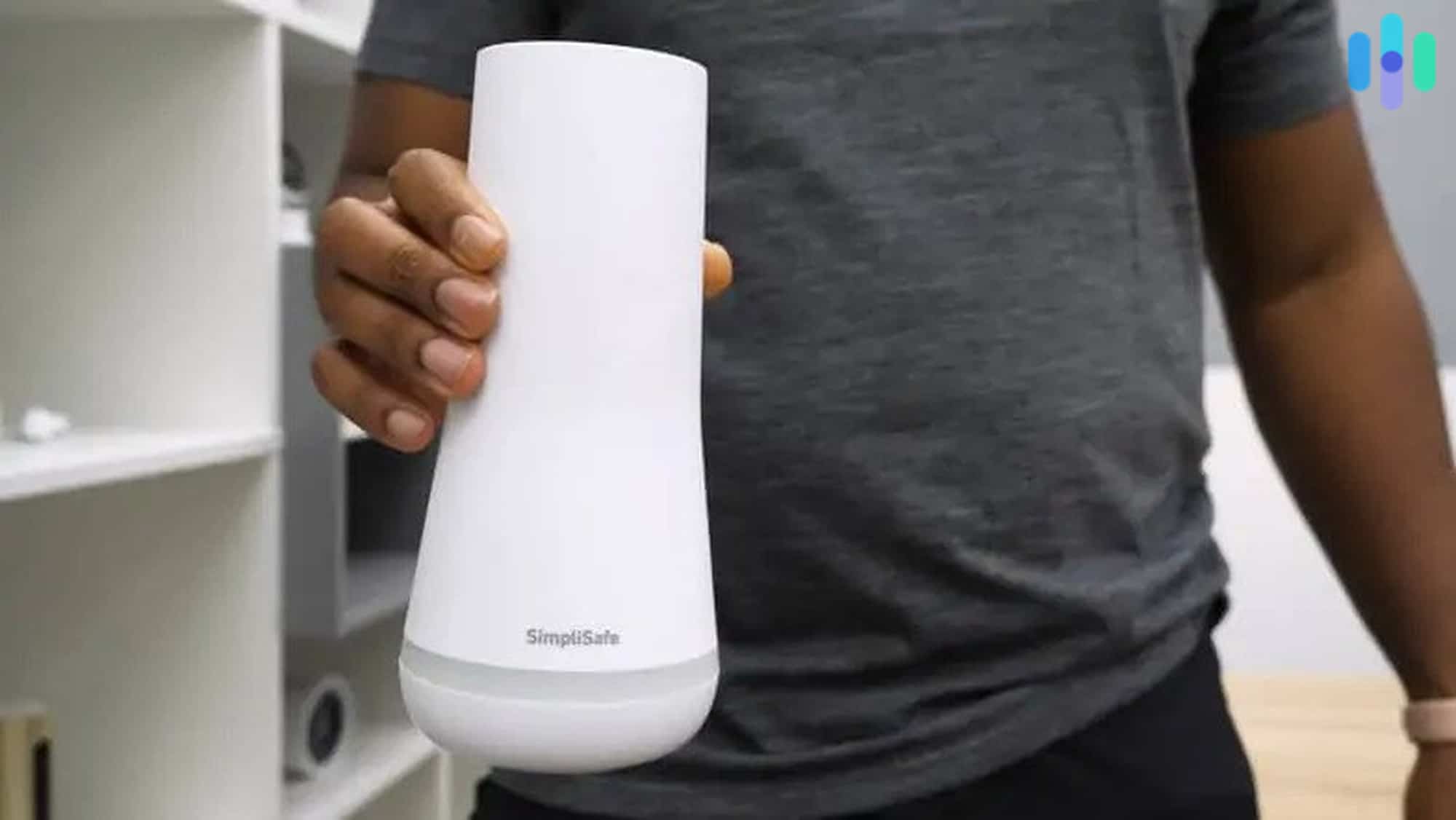 Our Favorite Features
DIY or professional installation through an authorized third-party: SimpliSafe is easy to install, even if you're not a security expert like us. Most of the system is wireless, so sensors are as easy as peel-and-stick. However, we like that professional installation is also an option, through a third-party installer, for just $125.
24/7 professional monitoring and cellular backup available: Around $30 a month gets you professional monitoring, cellular backup, unlimited cloud storage on 10 cameras, secret alarms, environmental monitoring, and more.
Integrations with Alexa and Google Assistant: Those in the Amazon and Google smart home ecosystems can command their SimpliSafe system using their voices alone. One note: Alexa has a lot more capabilities than Google Assistant.
Packages range from about $200to $400: You can also create a customized system as well, but we recommend buying a package to access savings. As far as pricing goes, SimpliSafe is one of the more affordable companies around in terms of both equipment and monitoring costs.
Works with Nest thermostats and August smart locks: Users can connect their SimpliSafe components with smart thermostats and locks from Nest and August, respectively, automating their smart homes.
Home Automation
SimpliSafe works with Alexa and Google Assistant, the two most popular voice assistants from Amazon and Google, respectively. Here's exactly what users can do with each.
Alexa
Using Alexa, users can arm their security system in either home or away mode, or check the status of their security system. Here are the commands for each:
Away Mode
Alexa, ask SimpliSafe to arm my system in away mode
Alexa, tell SimpliSafe I'm going out
Alexa, tell SimpliSafe I'm leaving
Alexa, tell SimpliSafe to turn on
Home Mode
Alexa, ask SimpliSafe to arm my system in home mode.
Alexa, tell SimpliSafe to lock up.
Alexa, tell SimpliSafe good night.
Alexa, tell SimpliSafe I'm going to bed.
Check Status
Alexa, ask SimpliSafe if my house is secure
Alexa, ask SimpliSafe if I am protected
Alexa, ask SimpliSafe for my current status
Alexa, ask SimpliSafe what's shakin'
These skills only work with the latest version of SimpliSafe and users must pay for the professional monitoring plan to use it.
Google Assistant
Those in the Google smart home ecosystem can have the Google Assistant arm their SimpliSafe security system in either home or away mode, the same as Alexa. You can say either "arm security" or "set security to arm". Again, this integration is only available with the 24/7 professional monitoring plan1.
Note: Although SimpliSafe works with Alexa and Google Assistant, the Alexa integration is much more robust in terms of capabilities.
Aside from voice assistants, SimpliSafe works with Nest thermostats and August smart locks2 as well, allowing you to automate actions. For example, you can turn your Nest thermostat down automatically or have your locks close automatically when you put the system into away mode.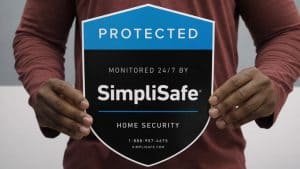 Can SimpliSafe stand toe-to-toe with other brands? Find out below.
We tested SimpliSafe and compared it side-by-side with other brands to give you the full picture.
Overall Value
SimpliSafe is one of the more affordable smart home security brands on the market today, but its prices for professional monitoring aren't the cheapest we've seen (that honor goes to ecobee Smart Security, which has a $10 per month professional monitoring plan).
In terms of both equipment and monitoring, SimpliSafe doesn't break the bank. You can do quite a lot for no money at all, in fact. As for those that want 24/7 professional monitoring, SimpliSafe is reasonably priced.
FAQ
With so many security system offerings, we understand if you have more questions about SimpliSafe's pricing. Here, we answer some of the frequently asked questions about SimpliSafe.