How Much Does Vivint Cost?
Vivint Packages, Pricing, and the Big Question— Is It Worth it?
Sleek and modern equipment design
Advanced but easy to use smart home features
Free, professional installation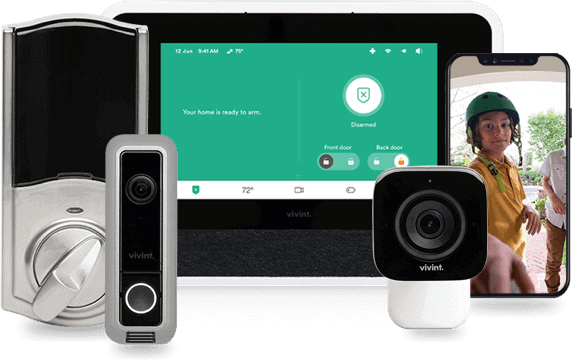 By

&

Last Updated on
Nov 28, 2022
There's a certain "premium" feel about Vivint home security. It's not your run-of-the-mill security system, that's for sure. Rather, it combines security features with some pretty impressive smart home automation capabilities.
That being said, another notable thing about Vivint is the relatively high price tag. Vivint equipment can be pricey, and the monthly fees can stack up as well. But again, this is top-notch home security we're talking about. So … Is Vivint worth the investment?
Well, if you're among the curious, we've got answers for you. We've researched and tested Vivint in our home, and today we're sharing whether or not Vivint is worth the price.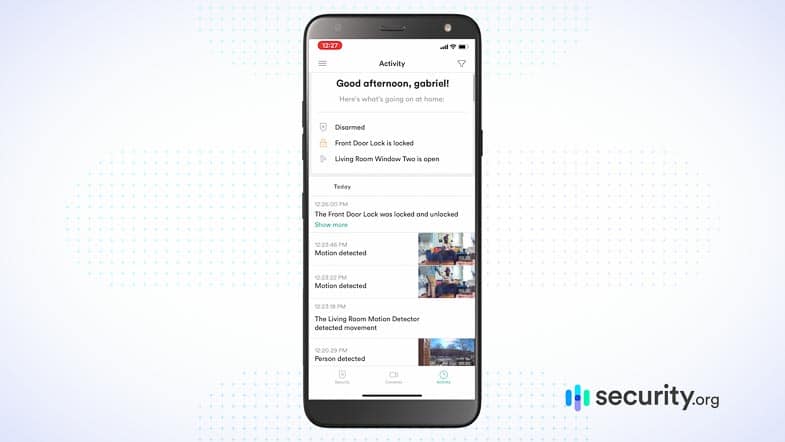 Vivint's Monitoring Services Pricing
Vivint's approach to home security is what makes it unique. It's not just a security system, but a smart security system. It incorporates traditional home security components with smart home devices and advanced security cameras. To take advantage of Vivint's smart home security features, though, you need both equipment and a monitoring plan.
The fees will depend on your equipment and the features you want to access. Adding security cameras, for example, will require you to upgrade to a monitoring plan with cloud storage and video monitoring.
Keep in mind that 24/7 professional monitoring and cellular backup is included in every plan, so no matter how big or small your system is, you'll still enjoy home security features. The variation in monitoring costs is caused by the more advanced features like home automation and video monitoring, which are certainly nice to have if you can afford the higher fees.
However, it's also smart to consider whether you need a security system as robust as Vivint's. Many companies offer less expensive equipment and professional monitoring at much lower prices so users can keep their monthly costs down. For example, if you go with a package from abode, a more minimalist security brand, you'll most likely pay less per month for both equipment and monitoring than you would with Vivint.
Breakdown of Monitoring Packages
| Plan Breakdown | Cost per month |
| --- | --- |
| Base price | $39.99 |
| Professional installation | Included |
| Cloud video storage | 2 weeks free; extra storage requires Vivint Smart Drive |
| Cellular network maintenance fee | $1.48 |
| Maximum No. of cameras allowed | 7 |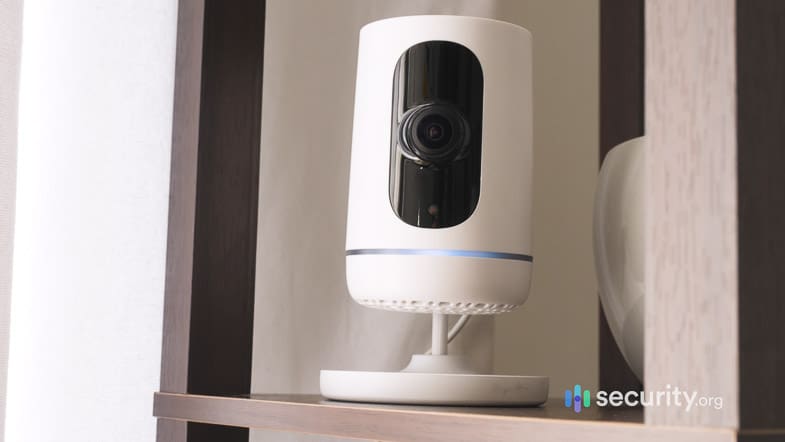 Do you like flexible contracts? We do too. With Vivint, if you pay for your equipment upfront, you'll get a flexible, month-to-month contract. What that means is that you can cancel your monitoring plan anytime without paying cancellation fees, which can be pretty expensive. However, Vivint equipment can be quite expensive, as we'll discuss further below.
Another option is to have your equipment financed. If you go with this option, the contract length will be equal to the time of the loan, which is 48 to 60 months in most cases. Some Vivint customers complain that they weren't aware of the contract length when they signed up for Vivint, as there's no way to get out of it once you signed up, so make sure to ask your salesperson exactly what your term length is. This is always a good practice, whether you're buying a security system or signing up for a new streaming service!
Tip: Pay upfront with Vivint so you can get monthly versus long-term contracts. 
What We Like About Vivint
Free, professional installation: Vivint professionals will install your security system for you, although you will need to pay $129 if you move and need it re-installed.
Smart home integrations: Vivint home automation allows the system to pair with Alexa, Google Assistant, Philips Hue smart lighting and Nest thermostats, allowing for some convenient automated actions.
Outdoor camera and video doorbell: The company's most recent products are among the top of their game in terms of video quality and artificial intelligence. Check out our review of the Vivint Doorbell Camera to learn more.
App: The Vivint Smart Home app makes it easy to monitor and control your home's security from anywhere in the world.
Vivint's Equipment Pricing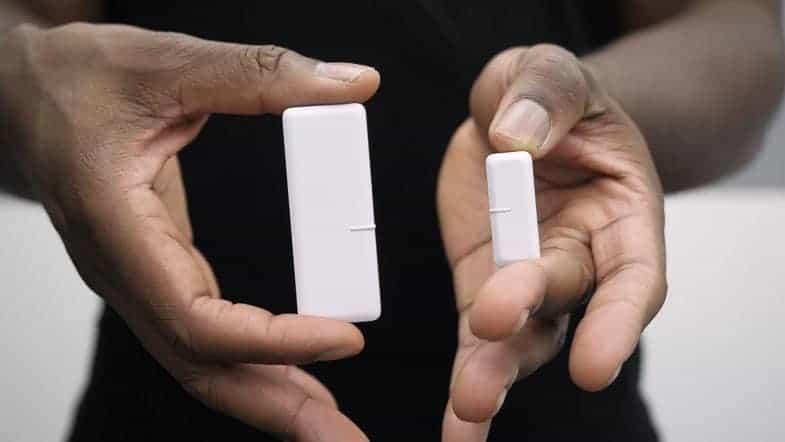 Quality smart home security means investing in trusted devices that our experts have tried and tested. With Vivint, you can choose exactly what equipment you want, which will determine your monthly fee. If that fee is outside of your budget, don't worry; you can find plenty of ways to save on Vivint throughout the year. Before you buy, be sure to check out our guide to Vivint's year-round deals and our guide to Vivint Black Friday and Cyber Monday deals.
Discounts aside, Vivint does have financing plans so you can pay over time. We recommend choosing a package, as that'll save you money compared to buying each piece of equipment individually, but for your convenience, we'll share the pricing for both.
Vivint Package Pricing
When it comes to equipment, one of the frequently asked questions about Vivint is, "How much is this all going to cost me?". Well, the answer depends on what pieces of equipment you're looking to get, but also on how you're going to pay.
If you pay everything upfront, you will be looking at an investment of at least $600. That's already higher than most alarm companies, as there are brands like SimpliSafe that offer packages as low as $250. What's more, with Vivint, your initial investment could easily rise to over $1,000 as you add more components. The Vivint Outdoor Camera Pro alone costs $400 each.
Your other option is to finance your equipment, which again, will lock you into a contract. You'll pay the same equipment fee but spread out over four or five years. Considering Vivint's high equipment cost and the fact that the system only works when you have a professional monitoring subscription, financing makes more practical sense. Here's how it works:
By financing with Vivint, users will pay one flat monthly fee for equipment and monitoring over the term of the finance period. Then, after the financing period ends, the equipment will be completely yours and the monthly costs should drop significantly. If you're looking for a lower monthly fee on the entire system, we suggest looking at Cove's DIY security kits, or even a super-low-cost package from Ring Alarm.
| Component | Retail price | Cost per month with 60-month financing plan |
| --- | --- | --- |
| Smart Drive | $250 | $4.17 |
| Car Guard | $200 | $3.33 |
| Smoke Detector | $100 | $1.67 |
| CO Detector | $100 | $1.67 |
| Smoke alarm and Carbon Monoxide Monitor | $100 | $1.67 |
| Smart Lock | $180 | $3 |
| Garage Door Controller | $100 | $1.67 |
| Vivint Smart Thermostat | $170 | $2.83 |
| Lamp Module | $50 | $0.83 |
| Vivint Doorbell Camera Pro | $250 | $4.17 |
| Outdoor Camera Pro | $400 | $6.67 |
| Vivint Ping Indoor Camera | $200 | $3.33 |
| Vivint Indoor Camera Pro | $200 | $3.33 |
| Spotlight Pro | $250 | $6.67 |
| Water Sensor | $50 | $0.83 |
| Flood/ Freeze/ Heat Sensor | $50 | $0.83 |
| Smart Sensor | $50 | $0.83 |
| Panic Pendant | $50 | $0.83 |
| Key Fob | $50 | $0.83 |
| Tilt Sensor | $50 | $0.83 |
| Vivint Smart Hub Panel | $400 | $6.67 |
Sure, Vivint isn't the cheapest option around, but home security is an area you don't want to skimp on. Make sure to check out our review of Vivint before making any hasty decisions either way!
Vivint Pricing vs. The Competition
As a security company, Vivint most closely resembles ADT and other more traditional alarm companies. That is reflected in Vivint's pricing. If you compare it to a DIY security system like Cove and SimpliSafe, Vivint really is a premium brand. If you put it next to ADT, though, you'll realize that Vivint isn't actually that much more expensive. Just like ADT, Vivint's monthly rates are less than $60 per month. Plus, you'll have the option to pay for your equipment over the years through financing. Most DIY systems don't have that option.
That being said, one of Vivint's downsides is that it doesn't allow self-monitoring, which is typical with traditional alarm companies. You can only use the features of a Vivint system with a professional monitoring plan. Once you cancel your plan, you'll stop getting access to alerts, smartphone controls, and live video streaming. However, if you consider what you're getting with a monitoring plan, and consider the quality of Vivint's equipment, you're definitely getting your money's worth with Vivint.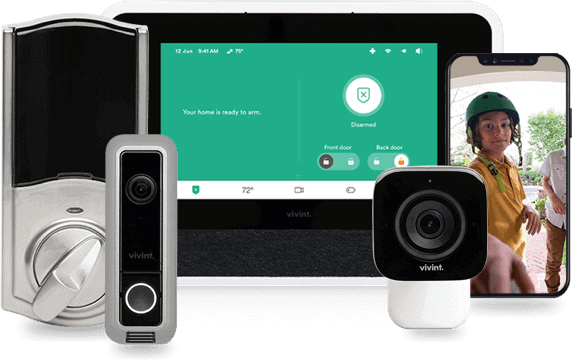 In terms of equipment, Vivint's prices are also up there, although some components' pricing is negotiable. Take the Vivint Outdoor Camera Pro, for instance. It costs $399.99, and although it's at the top of the line in terms of quality, most outdoor cameras cost around $200. Similarly, the Vivint Doorbell Pro costs $299.99, a bit more expensive than the industry average of around $188. So if you're considering Vivint, expect to pay hundreds for equipment and at least $39.99 more per month. It's certainly not for everybody, but if you can afford Vivint's premium pricing, you'll enjoy premium features and equipment as well.
How Does Vivint Fit Into Your Smart Home?
Aside from working with Philips Hue smart lighting and Nest thermostats, Vivint primarily works with Alexa and Google Assistant, the two most popular voice assistants. Let's talk about the commands you can use with each.
Alexa
Vivint, one of the best security systems for Alexa, has more than one Alexa skill. We recommend the Vivint.SmartHome – Complete Alexa skill, as it lets us control most of our connected Vivint devices using our voices alone, making for a much more convenient home. Here are some sample commands:
Alexa, turn on my lights.
Alexa, arm my security system "away".
Alexa, set the heat to 70 degrees.
Alexa, increase bedroom temperature.
Alexa, close my garages.
Alexa, lock my front door.
Alexa, show me the doorbell camera.
This is a super-comprehensive list of capabilities, so if you're in the Amazon ecosystem, you'll surely enjoy integrating Vivint into the mix.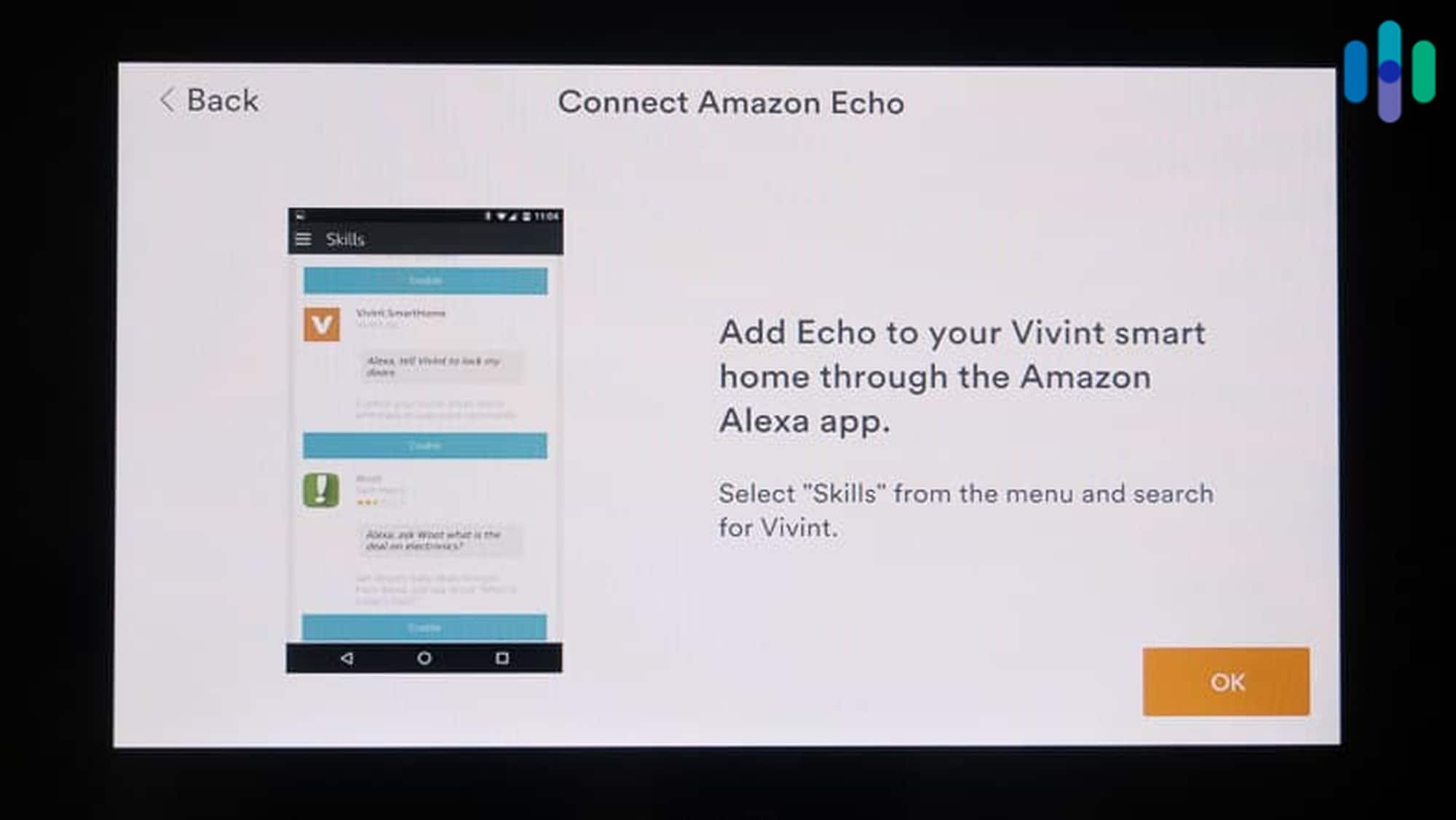 Google Assistant
Vivint's integration with the Google Assistant is also super comprehensive, allowing control for cameras, garage doors, lights, locks, thermostats, and of course, security systems. In fact, Vivint is also one of the best Google Assistant-compatible security systems. Here are a few commands:
OK Google, turn up the thermostat.
Hey Google, unlock the front door.
Hey Google, arm security.
OK Google, show the front door camera on the living room TV.
The integration between Google Assistant and Vivint security cameras particularly impressed us. It let us watch live footage coming from our cameras on our Nest Hub and Nest Hub Max easily. You can read our Nest Hub review and Nest Hub Max review for more details on how camera integrations work.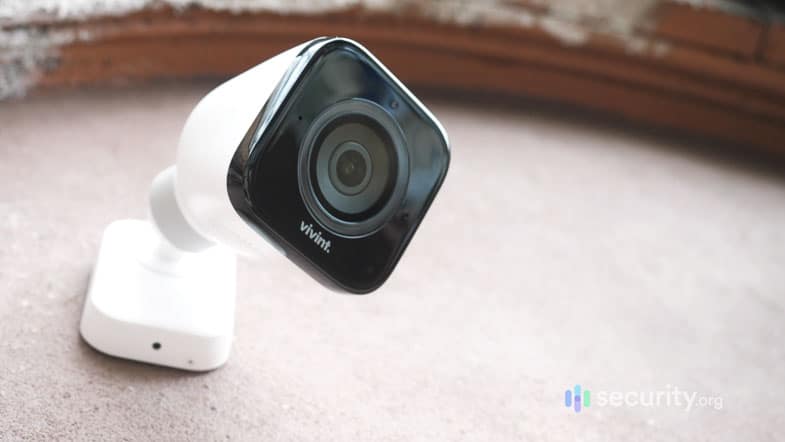 Other Smart Home Devices
Vivint also offers a number of add-on equipment pieces that integrate into its smart home security system so you can control them with the Vivint app, control panel, or your voice. Examples are:
Kwikset Smart Locks: In addition to using a key, you can control Kwikset Smart Locks using the Vivint app, your voice, with the help of voice assistants, or numerical codes. That means the chances of you getting locked out of your house will go way down. Plus, you'll get notifications if you or anyone else left the door unlocked, relieving you of the anxiety of trying to remember if you locked your door. On top of that, you can program the lock to trigger other connected devices; for example, having the security system disarm when the door unlocks. You can also let people in when no one is home. You can create up to 30 unique codes for guests to use, which is much more secure than leaving a key under the welcome mat.
Garage Door Controller: Got a garage? This controller will let you open and close your garage doors remotely and notify you if you leave your garage doors open. As cases of package theft continue to rise, garage door controllers can be quite useful. Instead of having delivery people leave packages on your porch, you can let them into your garage and have them leave your packages there, instead. Plus, Vivint's garage door controllers have tamper alarms, so you'll get alerts if anyone tries to mess with it. Let's be honest: your garage is part of your house, and Vivint understands that it needs protection, too.
Vivint Element Thermostat: Smart thermostats are some of our favorite types of connected devices. The reason? They can save you money on heating and cooling costs by using schedules, sensing your location using the GPS on your phone, and even incorporating information about the weather outside of your house. Obviously, you'll be able to control your home's temperature through Vivint's app or voice commands, but you can also receive alerts of any temperature changes (like if your wife turned the dial up again). The Element Thermostat even detects humidity, not just temperature, as this can be a major factor in how hot the room feels.
Nest Thermostat E: Vivint also offers a smart thermostat from Google Nest, one of the best smart home companies on the market. Or if you own one already, you can integrate it with your new Vivint system. Over time, the Nest Thermostat can learn your schedule without you even having to program it, a rare feature when it comes to smart thermostats. By sensing motion as well as passive infrared heat, this thermostat knows when someone is home and even what room they're in! Aside from that, you'll be able to hook it up with the GPS on your phone, control it manually through the Vivint or Nest apps, or use your trusted voice assistant to control your home's temperature. With so many easily accessible options, it's no wonder that Nest thermostats can save you an average of 10 to 12 percent on heating and up to 15 percent on cooling, according to an independent study

1

.
Philips Hue Smart Lighting: Philips Hue is perhaps the best-known lighting brand in the country, and smart lighting is its forte. Take the Philips Hue White and Color Bulb, for example. Not only will you be able to dim it and set it to 16 million different color options, but you can also schedule your lights just as you do your thermostats. Or, you can sync them to other connected devices, like having your mudroom's lights turn on when your garage door opens. You can even sync your lights with the sunrise and sunset, or the GPS on your phone!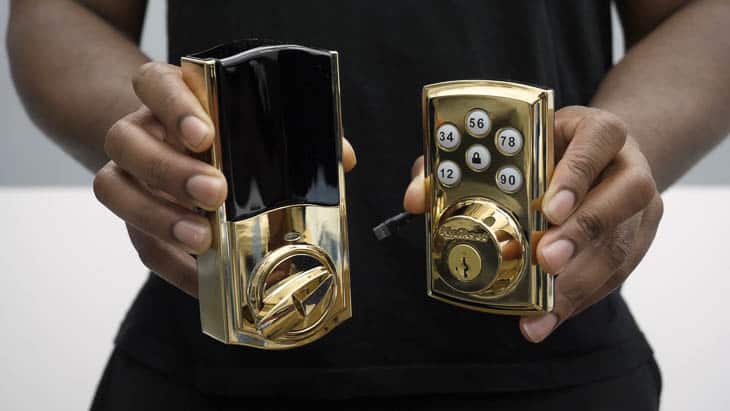 Although many of Vivint's smart home products come from third-party brands, the beautiful thing is that you'll be able to control everything in the Vivint Smart Home app and touchscreen panel, as well as through voice assistants. Vivint is more than just a security company; it's a smart home brand that's passionate about making your life easier. With all the equipment and smart home integrations it offers, it has the potential to make your life more convenient.
Recap/ Value
Having tested and used Vivint for over a year now, we like how it helps keep our home secure. With 24/7 professional monitoring, we know that someone is always there for us in case of an emergency – that is why Vivint continues to be one of our top smart home systems each year. While Vivint may not make much sense as a local alarm system only, for those who want 24/7 professional monitoring, remote control, notifications, and other features of a smart home security system, Vivint is a viable option.
Vivint doesn't stop at home security. They're a smart home company with tons of speakers, environmental monitors, smart locks, and other IoT devices to choose from. Explore your options.
Vivint FAQs
Having tested Vivint ourselves, we answered some of the questions our readers often ask us about Vivint's pricing.